Nowadays, it's normal to be concerned about the quality of the air inside your home. Yes, there's the new concern of Covid, and stopping the spread of disease. But air quality has been an issue before, and will continue to be an issue after the pandemic is over. And the reason may surprise you.
Modern homes are better insulated than ever before, to meet energy efficiency standards. In most respects, this is good news for homeowners. With tighter windows, house wrap, and other insulation features, our energy bills are lower than ever. Needless to say, this has also been a good trend for the planet.
Unfortunately, well-insulated homes come with their own attendant disadvantage. Specifically, they're designed to restrict air flow between the inside and outside. This keeps your home well sealed, but it means that any contaminated air remains trapped indoors. Mold spores, pet dander, and fumes from household cleaners can build up inside, creating an ever more toxic environment. This is bad enough if your lungs are healthy. But if you have any respiratory issues or suffer from allergies, it can be absolutely miserable. Thankfully, a HEPA filter can make all the difference.
Today, we'll be reviewing the Afloia Air Purifier. This is a mid-sized purifier with surprisingly wide coverage. But coverage only tells part of the story. To be effective, an air purifier has to have a good filtration system that removes a range of contaminants. It also needs to be easy to operate, and offer plenty of controls. So to find out if the Afloia purifier is any good, we'll have to take a look under the hood. We'll analyze all of the features, and see how it stacks up.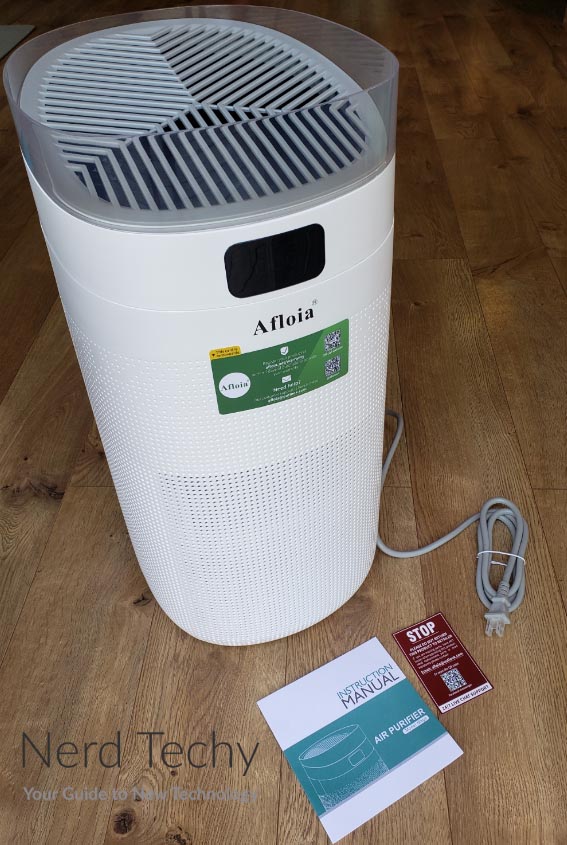 Design & Construction
The Afloia Air Purifier (30% Off Code: D2UBLY7G) has an all-white plastic housing with a rectangular profile. The corners and edges are all rounded, which lends it a sleek, modern profile and eliminates harsh lines. It also has a matte finish, so the intake is easy to clean off when it inevitably gets a bit dusty. The overall size is 23 inches in height, 12 inches deep, and 11 inches wide, so it's medium-sized. At 11.73 pounds, it's about what you'd expect for the dimensions, and the back panel has a built-in handle. This makes it easy to move from room to room, should that ever become necessary.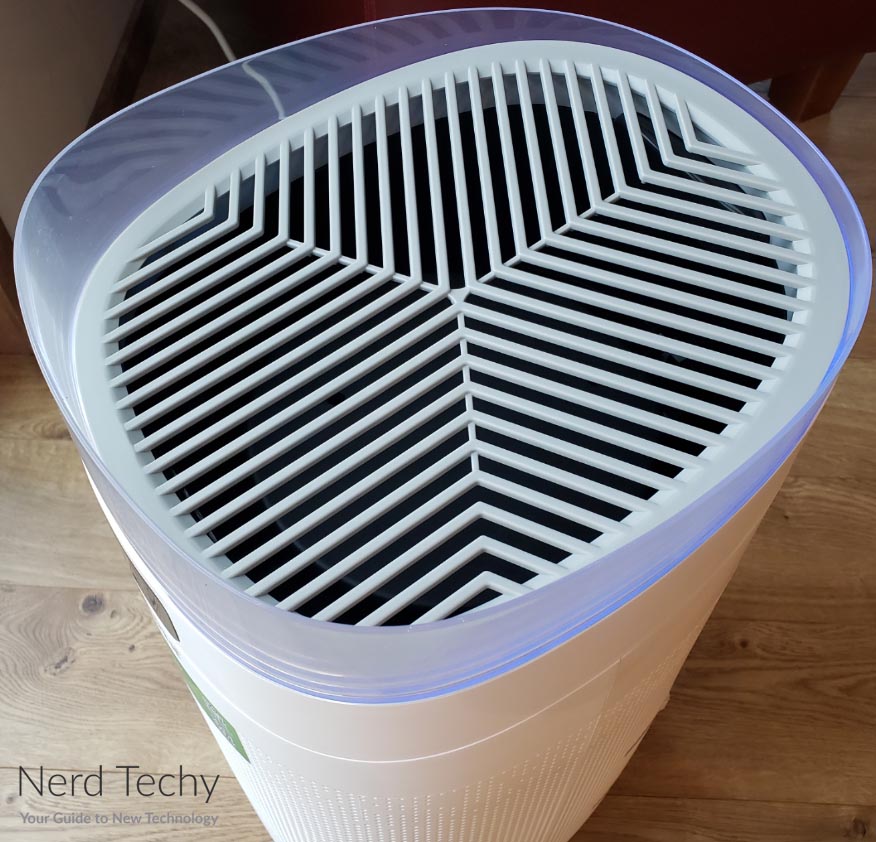 That said, there are always smaller, more portable options. For instance, look at the Air Choice HEPA Air Purifier. This is a tiny desktop-sized unit that's barely wider than the handle and exceptionally easy to move. Of course, the coverage is correspondingly limited, so you have to choose your priorities.
The front of the housing sports an intake grill, with a matching outflow grill on the back. The top is sloped slightly upwards, with a grooved vent for keeping the internal parts cool. An attractive LED ring runs around the perimeter of the top, an eye-catching addition. But this is far from just a cosmetic feature. In fact, the LED ring is wired into an infrared sensor that monitors the quality of your air. Depending on how dirty your air is, it can be red, yellow, or blue. Blue indicates good quality, while yellow indicates moderate quality and read means your air is bad.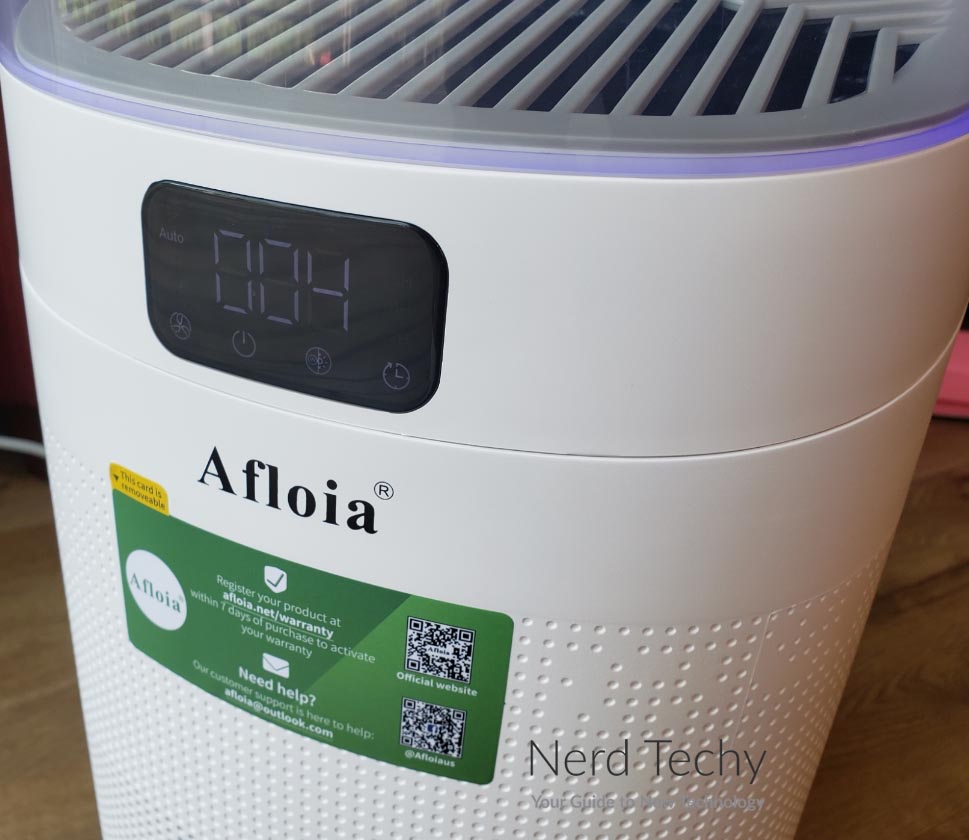 A small display and control panel is located on the front. This display shows your fan setting, your timer setting, and all your other various options. The controls themselves have a soft touch design, and are built right into the screen. You simply tap an LCD symbol to activate the corresponding function. This makes operation simple and intuitive, so you don't have to overthink things.
The purifier is covered by a 12-month manufacturer's warranty. However, this can be extended to 24 months simply by registering with Afloia. Since registration just takes a few minutes, it's more than worth your time.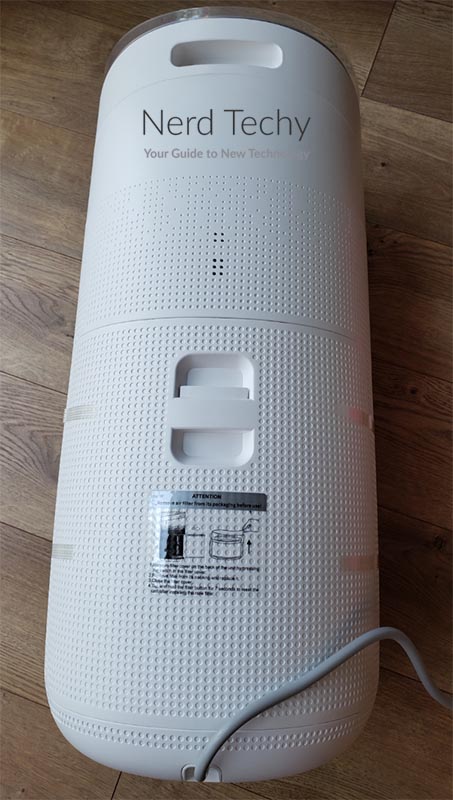 Everyday Operation
Using the Afloia's speed button, you can select between three different speed settings. Slower settings are quieter, and generally less obtrusive. That said, the air doesn't cycle as quickly. Conversely, higher settings can clean very dirty air or larger spaces, but the purifier will tend to be loud. On its highest setting, you can filter 620 square feet of space. This number is based on rooms with standard, eight-foot ceilings. If the ceiling is higher or lower, the total air volume will also be higher or lower. Make sure to factor this in if you don't have standard ceilings.
If you're not sure how to set the fan, don't worry. There's also an automatic mode designed to keep your air clean under virtually any circumstances. Auto mode takes advantage of the infrared air quality monitor to adjust the fan speed as required. When the air is very dirty, the purifier will run on its highest setting. In clean air, the fan speed will drop to the minimum simply to maintain the status quo. This way, your air stays clean, but you're also not wasting any extra energy.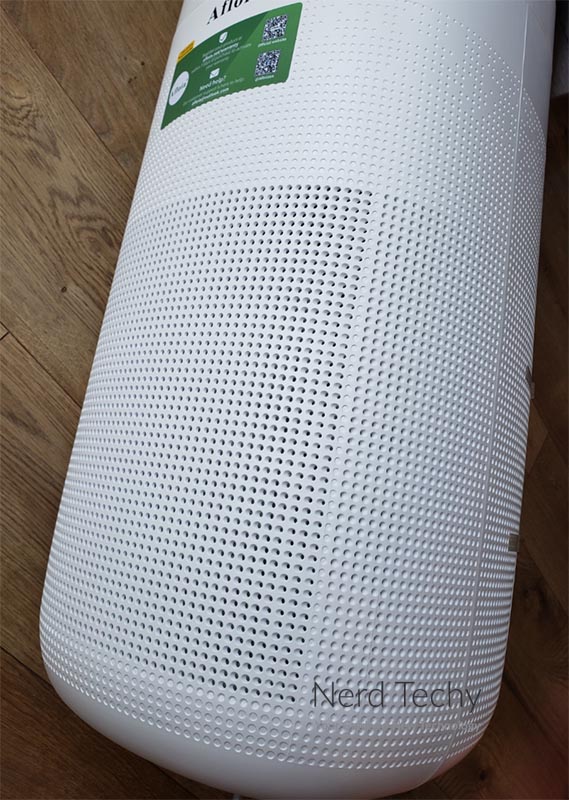 To help you save even more energy, there's also a timer mode. Tapping the clock icon will set the Afloia to run for two, four, or eight hours. Tapping it again will shut the timer off. This is ideal for running your filter at night, or during the day while you're at work. Another useful feature is the ability to shut off the LCD. If you're a light sleeper, you won't have to worry about a bright light ring keeping you up at night.
Unfortunately, there's no Afloia companion app. In the absence of a physical remote, your only way to control the purifier is with the control panel. If a smartphone app is important to you, consider the Airdog X3 Air Purifier instead. It has a dishwasher-safe filter and a built-in ionizer, all controlled via smartphone. That said, there's no HEPA filter, so you won't be removing as many contaminants.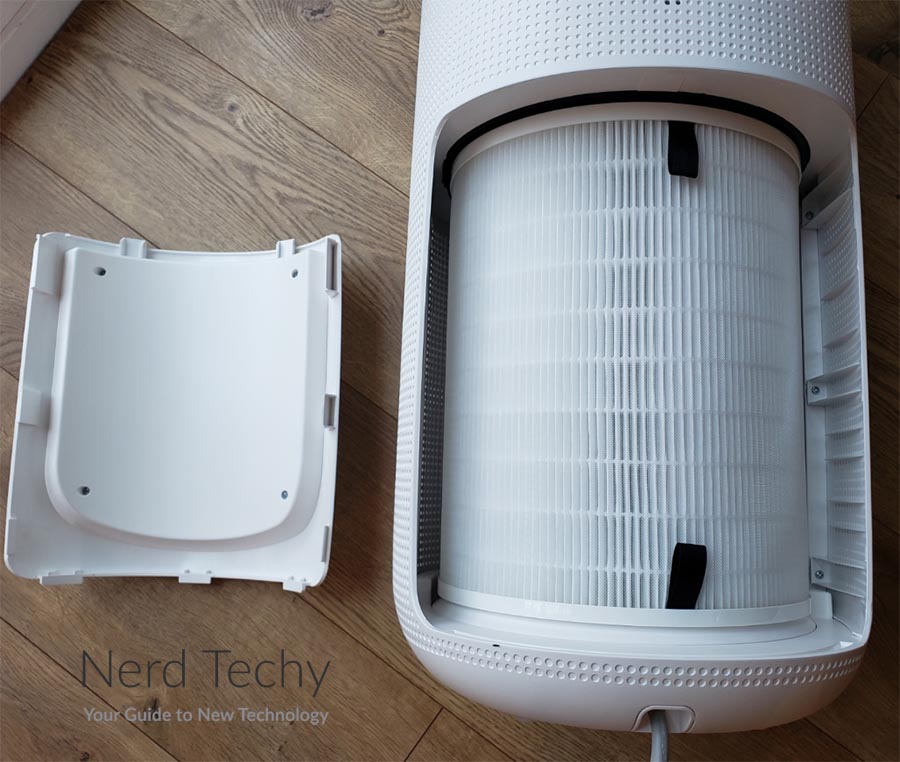 Filtration System
Like many home air purifiers, the Afloia uses a three-stage filtration system to keep your air clean. The idea is to use progressively finer elements to remove progressively finer particles. In fact, the front grill of the purifier could even be considered a fourth "stage". The small holes provide an obstacle to larger pieces of dust that could otherwise clog the pre-filter.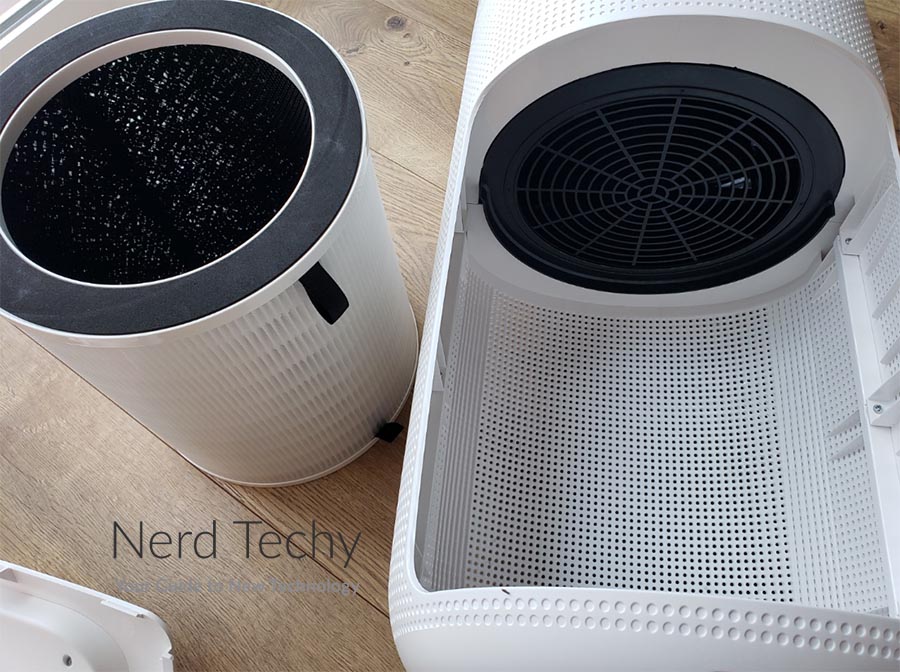 Inside the Afloia's housing, you'll find a single-piece canister that functions as an all-in-one filter. On the one hand, this system is very easy to change. When the filter is dirty, you just open the housing and swap out the canister for a new one. On the other hand, sometimes one part of the filter can wear out way before the others. Without a modular filter, you can oftentimes be stuck replacing perfectly good components. But replacements are affordable, so this isn't normally a big deal.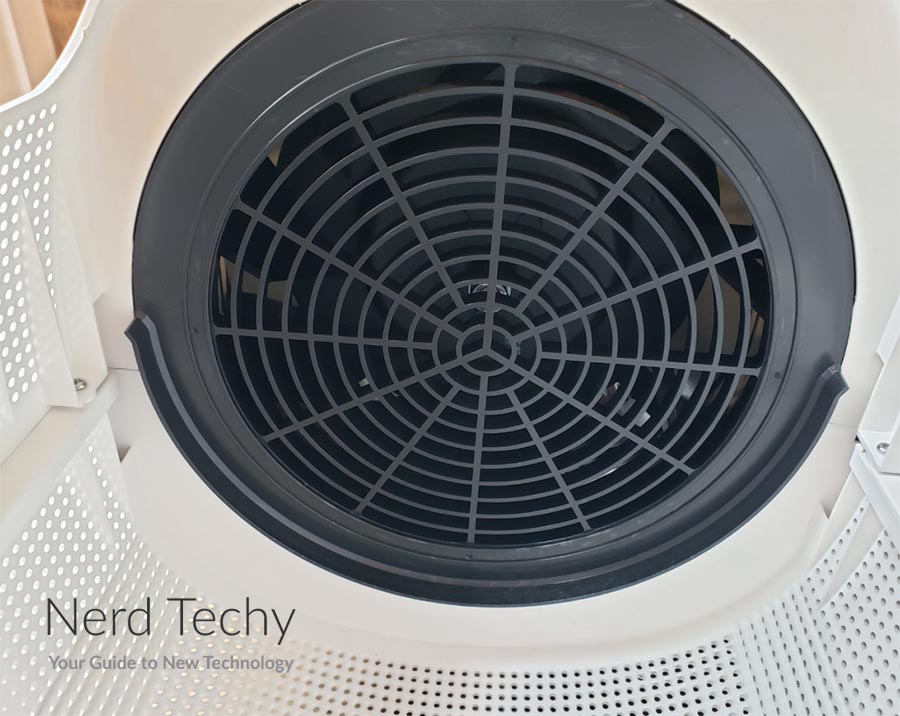 Furthermore, the canister only needs to be replaced every three to six months. You'll know when the time has come when the filter warning light illuminates. After replacing the canister, don't forget to press the filter button to reset the filter sensor. Otherwise, the light will remain illuminated, and you won't know when your new filter cartridge is dirty.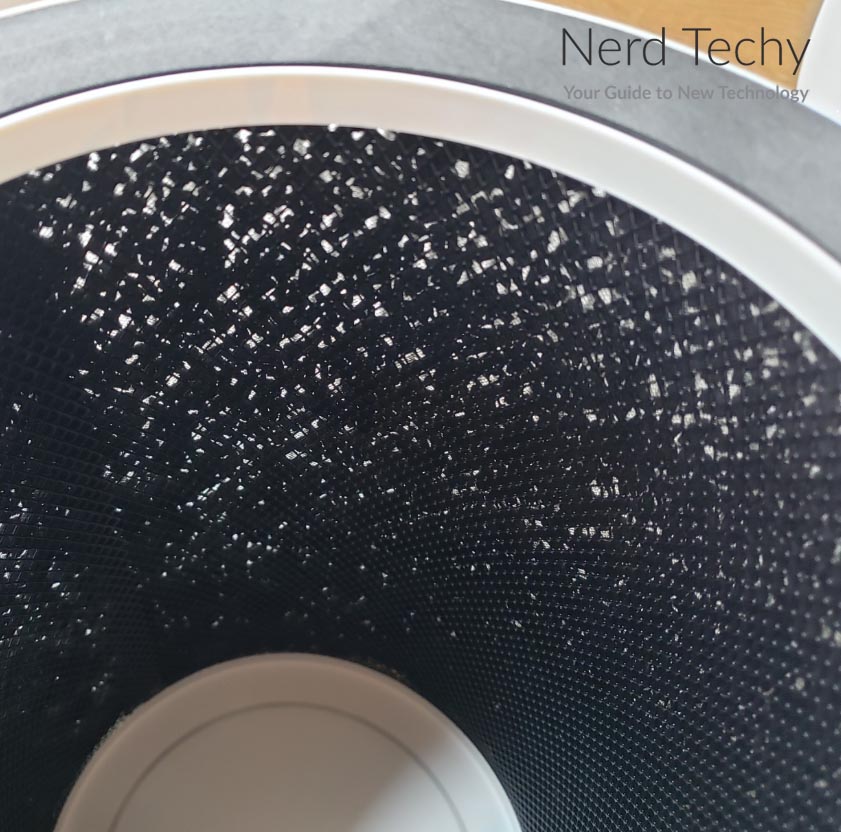 The outer layer of the cartridge is a simple pre-filter. The pre-filter is a plastic mesh weave, designed to trap pet dander, dust, and other big contaminants. The goal is to save the inner HEPA filter for smaller, more demanding particles.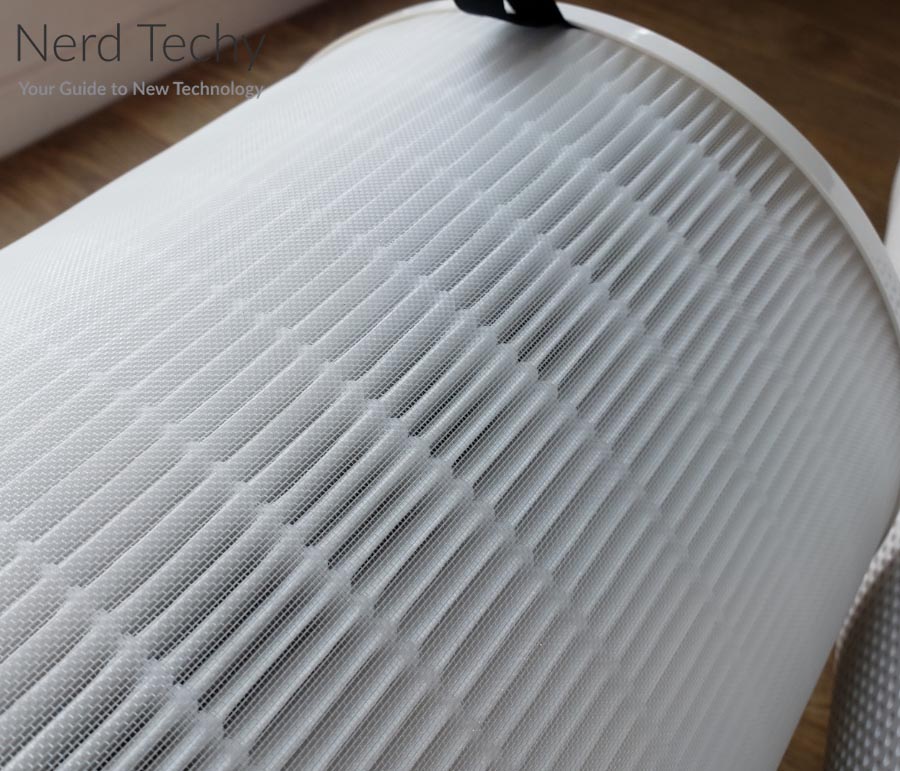 The True HEPA filter is where the real action happens. This means it removes 99.7 percent of particles 0.3 microns in diameter or larger. That means almost any irritants, including dust mites, mold spores, pollen, and even most bacteria. For the vast majority of allergy sufferers, a True HEPA filter will remove all offending allergens from your environment.
The last, inner layer of the cartridge consists of an activated charcoal filter. This doesn't actually remove any particles. Instead, it's meant to remove chemical vapors and foul odors. The charcoal filter is the part of the cartridge that removes litterbox smells, household cleaners, and smoke. It can even remove residual smells from tobacco smoke in older buildings.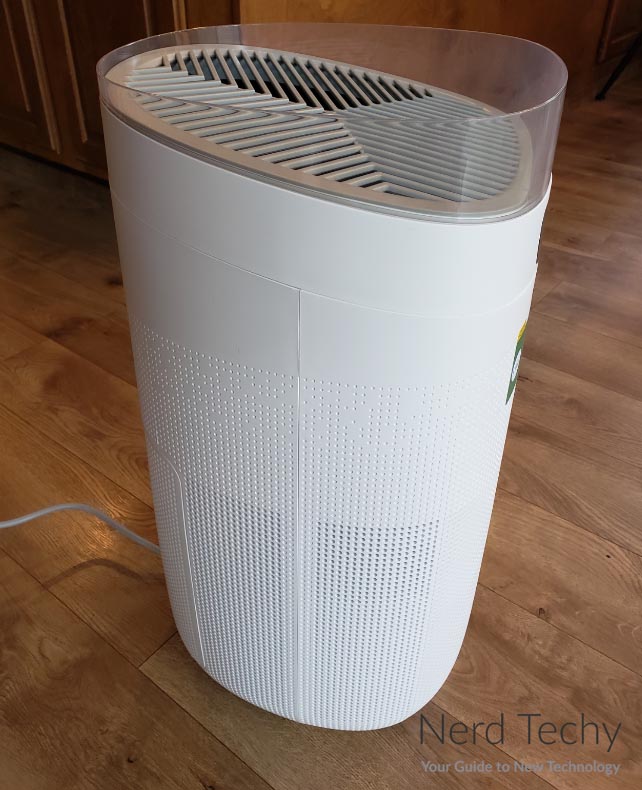 Inside all this, the air passes through a UV light sanitizer before exiting the back of the purifier housing. This UV light chamber is designed to kill germs, including any type of virus or bacteria. This is a great way to reduce the risk of spreading disease around your home. That said, we need to point out that the Afloia is not a medical-grade air purifier. Its germ killing properties are not meant to be comprehensive, or to protect from Covid-19. The UV sanitizer is just a nice addition to a strong particulate filter.
If you want a medical-grade filter, there are other options. For instance, the Okaysou AirMax 10L is a five-stage medical-grade filter that removes germs as well as allergens. That said, this kind of filter cartridge is pricey. Unless you really need a medical-grade air purifier, you may want a more affordable option.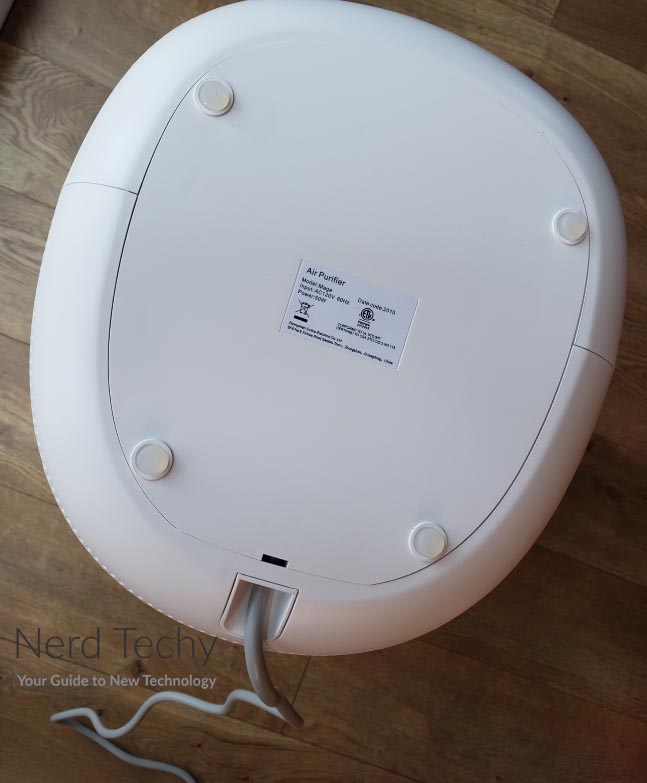 Final Verdict
So, is the Afloia Air Purifier (30% Off Code: D2UBLY7G) worth your money? In most respects, yes. Its downsides are negligible. The absence of an app isn't that big a deal for an air purifier. And the loud volume at high speeds is to be expected for a device with this kind of power.
Mostly, we were impressed with the capacity. Most mid-sized filters won't manage more than a room or two, which can be limiting. The Afloia, on the other hand, can easily handle an entire apartment. With three of them, you could cover most homes. Not only that, but there's a lot of added value built into the filtration system. Yes, you get a powerful three-part system with a HEPA filter. But the anti-microbial UV system goes a long way towards keeping your family safe from germs. And with its easy-to-master control scheme, you'll be able to operate this air purifier effortlessly from day one.