These days, you can't be too careful about keeping your home and your family safe. In one sense, this means doing the things you've always done. Lock the door when you're out. Have a neighbor collect your mail when you're on vacation. And never, ever leave your dog home alone with meat thawing on the counter. But in another sense, protecting your family also means staying on top of the latest technology. You wouldn't use a horse and buggy to drive to work. You wouldn't lock your front door with a wooden bar. Why not use a modern security camera to stay as safe as possible?
This hasn't always been a realistic option for most people. Old-school home security systems were a headache to install, and monitoring cost you a monthly fee. If you wanted to monitor your own recordings, you needed a bunch of extra equipment. And since the recordings were saved offline on VHS tape, you still couldn't use your camera to prevent theft. The best you could hope for was to identify a thief after the fact. Since this minimal protection cost an arm and a leg, many people steered clear.
But nowadays, an affordable WiFi camera can often perform better than a 20-year-old security system. We're about to review one of these modern cameras, the Tenvis 2K 3MP Indoor Security Camera. This is a small, affordable camera that's designed for use in your living room, entryway, or other indoor space. But does it perform well enough to instill confidence? To find out, we'll need to take a closer look at all of its features, benefits, and weaknesses. After we've given this camera a thorough examination, we'll be better situated to form an opinion. Let's look under the hood, and see how the camera performs!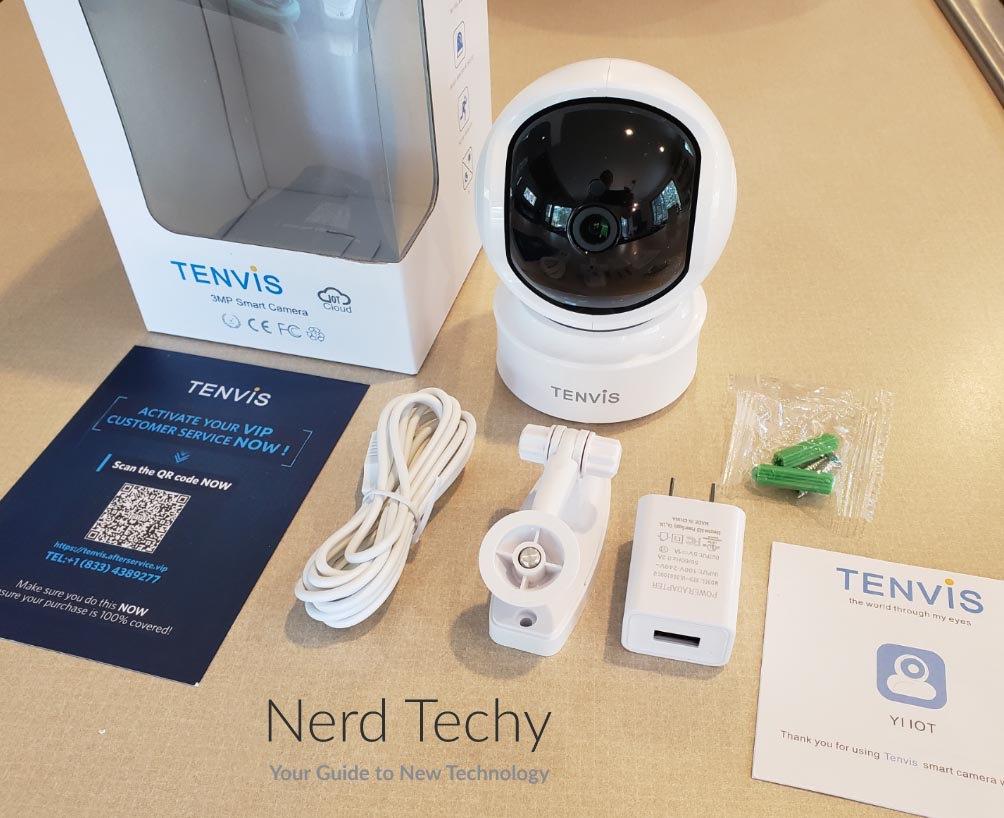 Design & Construction
The Tenvis 2K 3MP Indoor Security Camera consists of a spherical camera housing mounted on a hockey puck-shaped base. This design is common with indoor cameras, and it isn't just for the sake of looking futuristic. In fact, the base houses a motor, which can pan and tilt the camera housing as needed. Depending on how you position the camera, you can cover a fairly large area in this fashion. Both the upper and lower parts of the unit are constructed from white ABS plastic. The finish is matte, which makes it easy to clean, and also won't attract too much attention in most spaces.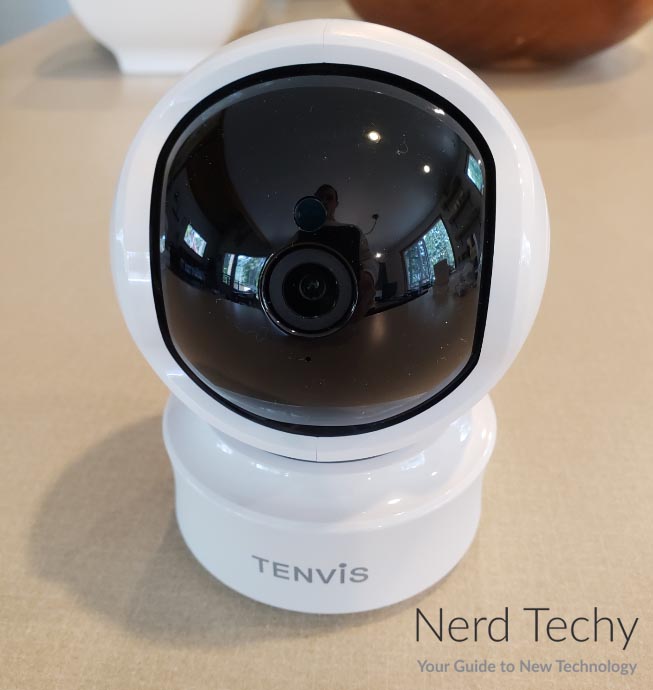 The upper housing has a wide gap on the front that reveals the lens. The lens is set in a glossy black inner housing, and forms a small purple-blue circle in the center. Just above, you'll see a fainter, smaller dot. That's the infrared motion detector, which we'll discuss more shortly. Other than that, the entire housing is fairly plain, which is exactly as we like it. There are no LEDs or other flashing parts to attract unwanted notice. There is a slate grey Tenvis logotype on the front of the base, but that's fairly understated. Similarly, the microphone and speaker holes on the right are barely noticeable.
One thing the 2K does not offer is weather resistance. It's not waterproof, and it will quickly fail if exposed to rain. As a result, it's really only suitable for indoor use. That said, if you need an outdoor camera, Tenvis makes the FHD (PTZ) 1080p Outdoor Security Camera. This camera is IP65-rated for weather resistance, so it's safe for virtually any environment. It also provides full HD 1080p video, but it's a bit pricey and it's more challenging to install.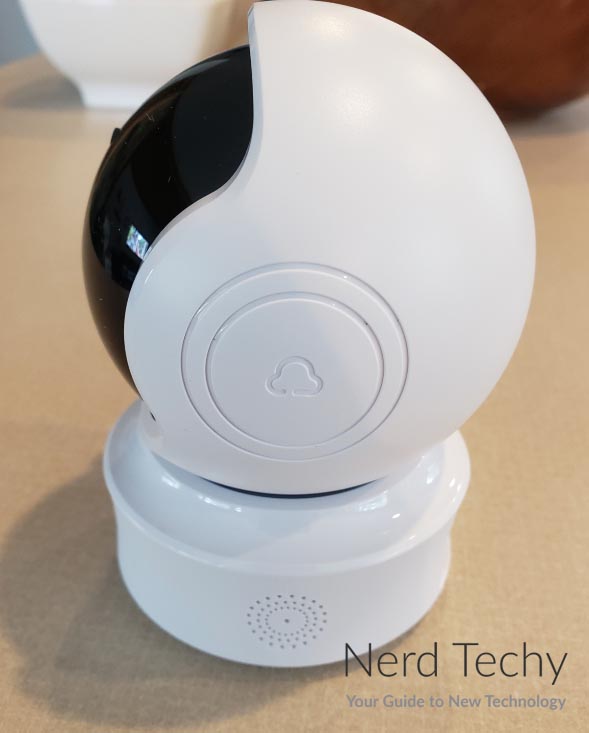 By contrast, installing the 2K is a breeze. You just set it down on a shelf, table, counter, or anywhere else convenient. There's no mounting hardware included or required, just a set of rubber anti-skid pads on the bottom of the base. The only limitation here is that it's not battery-operated. Because there's no battery, you'll have to be reasonably close to a power outlet to plug in. Moreover, the adapter is not USB, and uses a proprietary design instead. In theory, this should be a non-issue. But if you manage to lose or damage the AC adapter, you'll have to go back to Tenvis for a replacement.
Image & Video Quality
The Tenvis 2K doesn't actually record your video in 2K. It records in 720p, which is the bare minimum for home security these days. We used to see a lot of 720p systems, and they're adequate for most purposes. Keep in mind that indoors, you're not typically looking at any long distances. You don't have to worry about reading a package label from 10 feet away, or a license plate from 30 yards. You're trying to identify faces and other details across the length of a room. For most purposes, 720p is going to be just fine.
That said, there are plenty of reasons you may want a 1080p camera. Maybe you're also using your security camera for recording TikTok videos, or for aiming out a window. In that case, consider the Tenvis 1080p IP camera. As its name implies, this camera records in full 1080p, and is entirely wireless. Of course, it also comes with a correspondingly larger price tag.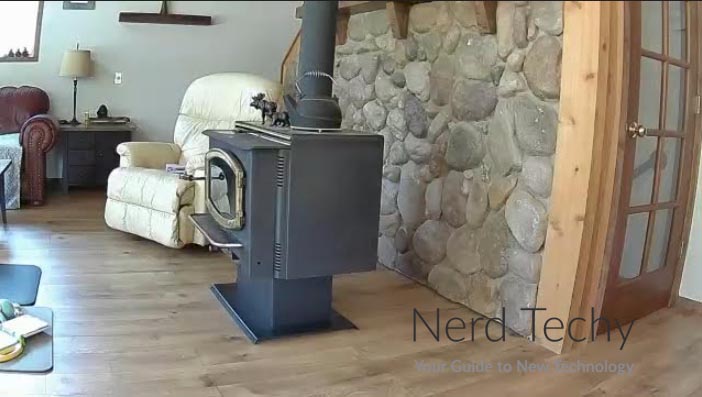 In addition to videos, the 2K can also snap photographs. The camera has a resolution of three megapixels, which works out to 2048 x 1536. Whether or not this is "good" is up to interpretation. It contains more than four times the number of pixels of a comparable 720p image. So from strictly a security perspective, 3MP resolution is more than good enough. That said, it's low by digital photography standards. Don't try and use this camera to take your family's Christmas card pictures.
At night, the 2K continues to capture all the details you need from a home security camera. The infrared night vision system has a range of 33 feet, more than enough for indoor use. And unlike many night vision systems, it records in greyscale instead of green. The videos are also crisp and sharp, not like the grainy night vision you're probably picturing.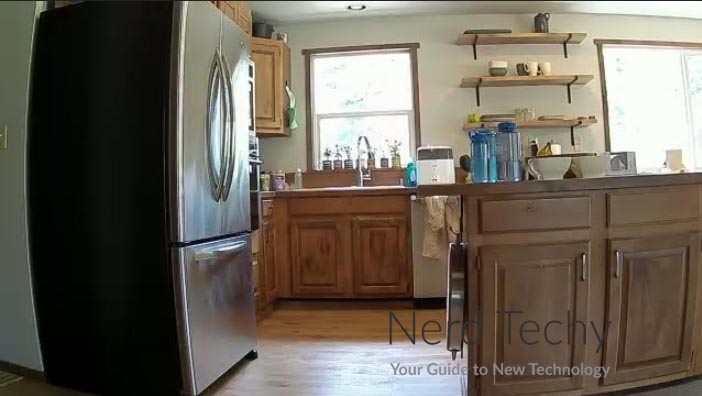 The camera has built-in motion and sound detection that will activate recording when it's needed. Depending on camera placement, you may want to turn this feature on when people are home. You don't need to capture a bunch of recordings of yourself making dinner, for example. When the camera is motion activated, it will automatically track whatever object is moving. If someone is walking around the room, the lens will continue to focus on them until they leave the camera's range.
The 2K's built-in speaker and microphone can be used for two-way audio communications. Using the smartphone app, you can chat with someone in your home via the camera. You can even make sure your pets are following the rules. Want to keep your dog off the kitchen counter? Your voice coming out of an inanimate object will startle them into behaving.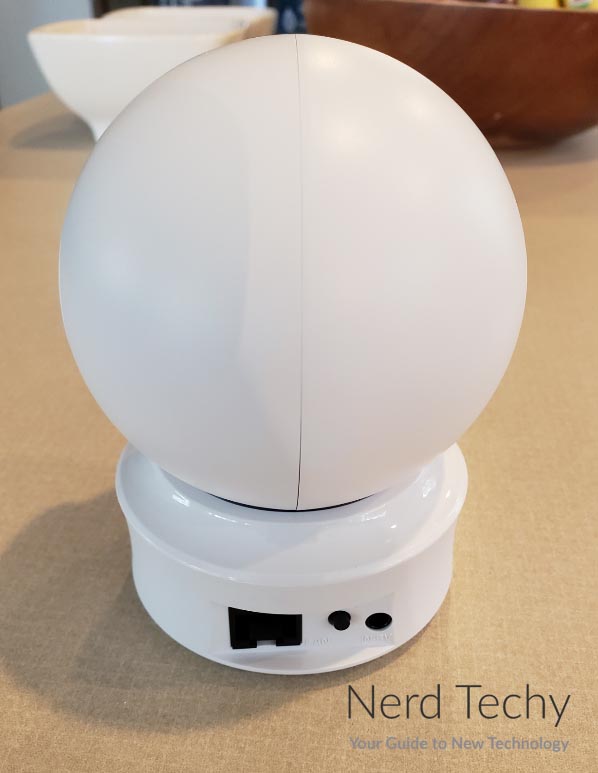 Connectivity & Storage
The Tenvis 2K connects to your home's WiFi network via the 2.4GHz frequency. This frequency offers less bandwidth than 5GHz, but significantly more range. As a result, you can position the camera just about anywhere in your house. If your smartphone is getting a WiFi signal, so will your smart camera. When connected, the 2K will use 256-bit encryption for all communications. This isn't just twice as secure as 128-bit encryption. Thanks to the power of exponents, it's actually an absurd 3,402,823,669,209,384,634,674,607,431,768,211,456 times as secure. At the time of this writing, nobody, not even the world's most powerful governments, can break 256-bit encryption.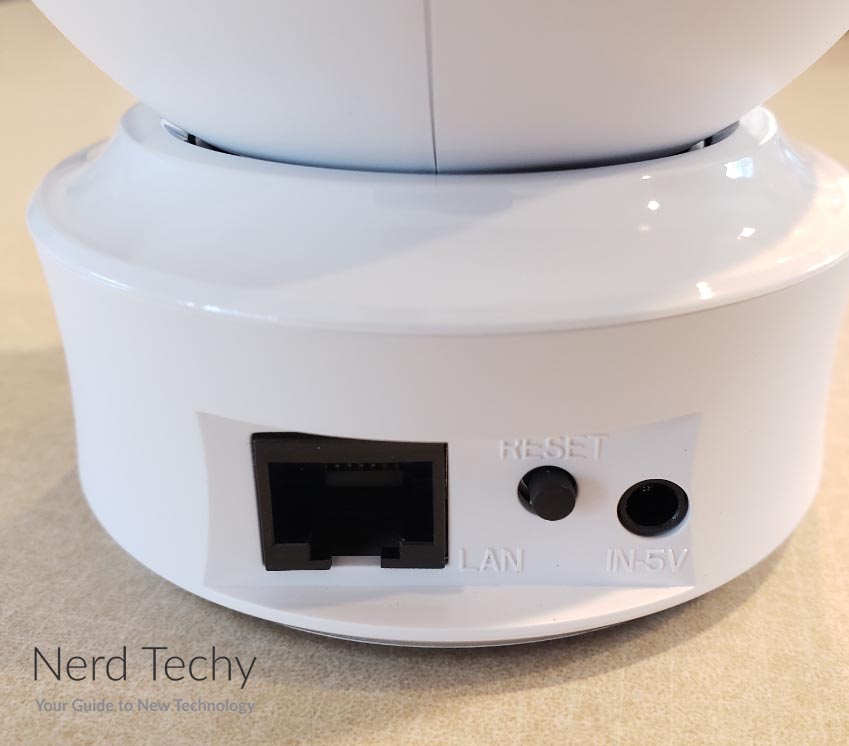 To use any of the online features, you'll need to install the smartphone app on your phone. The "YI-iot" app is free on both Android and iOS, and takes just a minute to install. Once that's done, you'll be able to pair your phone with the camera and take control remotely. You can aim the camera, view live footage, review old footage, or change your settings from anywhere in the world. Not only that, but up to four different smartphones can be paired with the camera simultaneously. If you want to share access with family members or business partners, you can.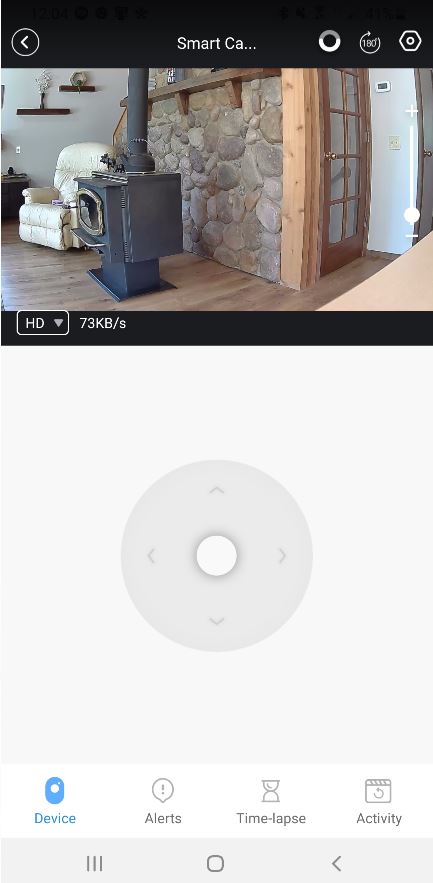 Tenvis makes a number of other cameras, including the Tenvis UCAM Security Camera. It has a similar design to the 2K, with most of the same features. But it also offers 1080p resolution, so you can enjoy a superior picture. On the other hand, it's priced higher than the 2K.
For storage, you get two different options. The first is to use a Micro SD card for local storage. The 2K camera will support up to a 64GB SD, enough for over 24 hours of footage. Considering the fact that recording is normally motion-activated, that's enough for weeks of use. When the SD card gets full, recording will continue to work. The oldest videos will simply be overwritten.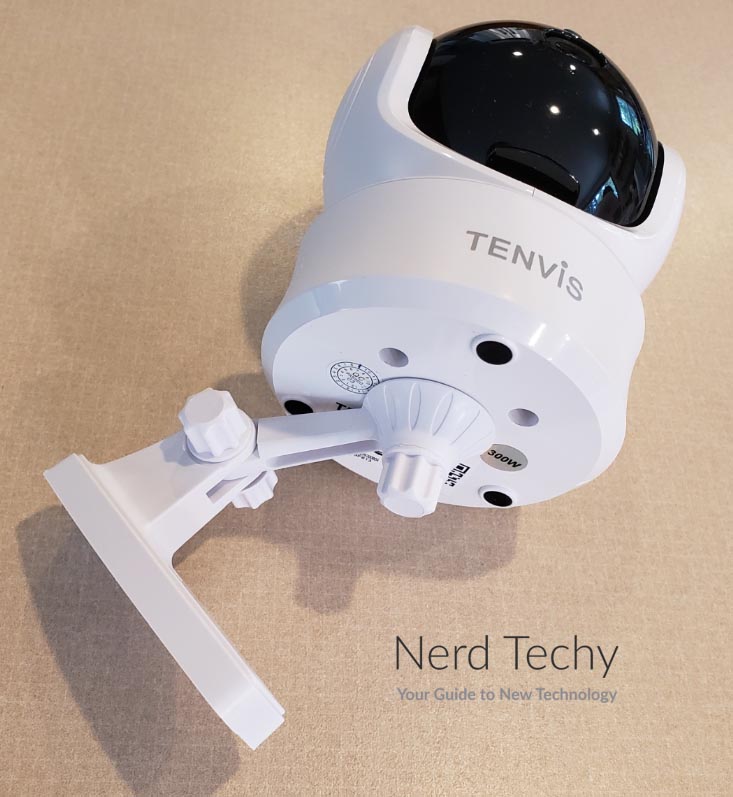 The other alternative is to take advantage of Tenvis' cloud storage service. Instead of being saved locally, your videos will be stored in the cloud. Keep in mind that the cloud storage costs an extra monthly fee. In addition, it's not all that useful. You can already review your recordings from anywhere in the world via the app. The only reason to use cloud storage is if you need to hold on to a large number of videos for some reason.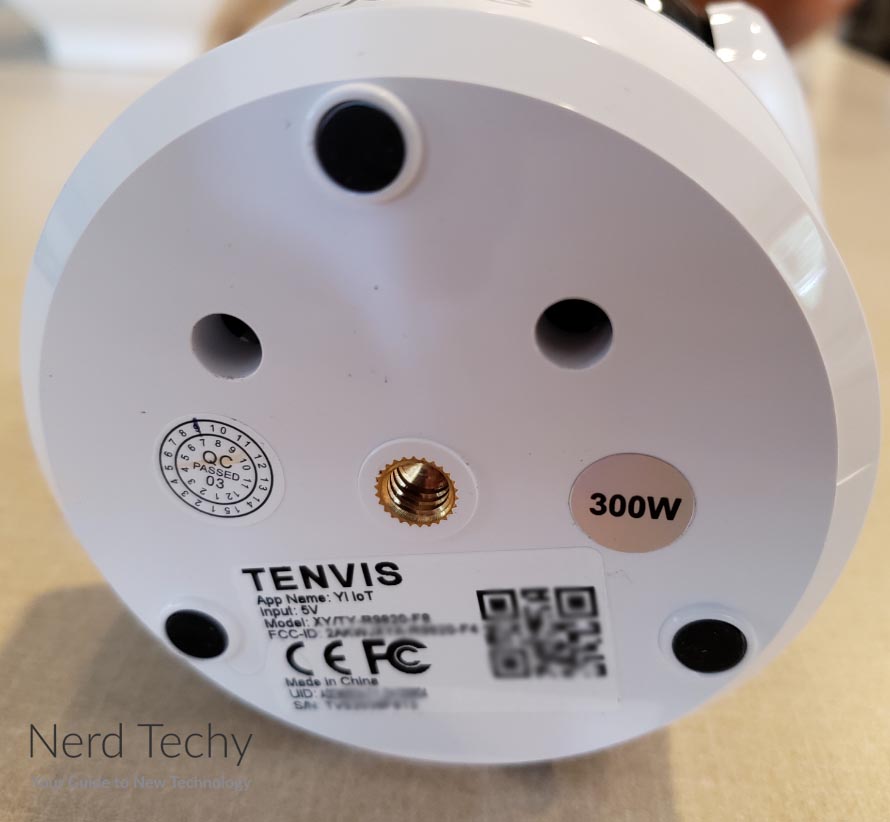 Final Verdict
The Tevnix 2K 3MP Indoor Security Camera isn't the best security camera we've ever seen. That said, it's among the best we've seen at this price point. This is an affordable camera that gets the job done. The 720p resolution isn't spectacular, but the picture still looks reasonably good. You can clearly make out faces and all the other details you need to see. With a full-featured app and quality night vision, you can monitor your home by day or night. All in all, the 2K is a solid choice.