If you're concerned about the quality of your home's indoor air, you're not alone. Americans have been using home air purifiers for years, to deal with issues like allergies, asthma, and chemical sensitivities. And with the coming of the Covid-19 pandemic, everyone has been thinking harder about what goes into their lungs. But why are our homes in particular so problematic? The main reason is ventilation.
Think of the last time you went to Walmart, or Home Depot, or another big box store. Unless you're allergic to the garden center, these stores generally aren't allergy zones. This is despite the fact that they move a ton of products, and are often full of dust. But big box stores generally aren't very well insulated. They have cheap, drafty construction, with big customers and receiving doors that are often left open. There's a ton of air exchange going on all the time! Meanwhile, we love to seal our homes up tight to save energy. But this causes dust, pollen, mold spores, and other contaminants to get trapped inside. If you have any kind of respiratory issue, that's a problem.
Thankfully, a good quality air purifier can keep you breathing freely. We're about to review the Air Choice AP-528 HEPA Air Purifier. This is a mid-sized purifier for mid-sized jobs, and it's designed to be easy to use. With an all-in-one filter and an automatic speed control, you don't need to be an expert to use it effectively. That said, we still wanted to take a closer look at how it works, and all the various features. Once we've given it a more thorough examination, we'll be able to form a more informed opinion. Let's dig in, and see what we uncover!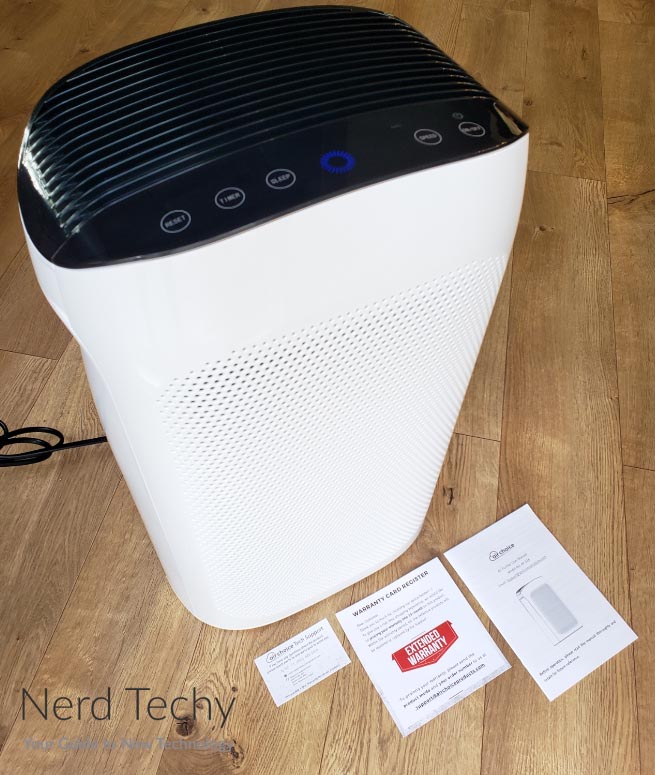 Design & Construction
The Air Choice AP-528 HEPA Air Purifier is constructed mostly from white ABS plastic, with a roughly rectangular shape. It measures 21.97 inches high, 12.87 inches wide, and 8.66 inches deep, and tips the scales at 11.02 pounds. This weight is about what you'd expect for the size, and is hardly excessive. It's also easy to carry, thanks to a handle cutout that's molded into the housing. All in all, we were very happy with the design, and there's not much we would have changed.
That said, this is still a mid-sized air purifier, which means it needs to sit on your floor somewhere. If you want something truly compact, consider the original Air Choice HEPA Air Purifier. This small, round purifier is made to be carried in one hand and sit on your desk. However, because it's so tiny, it's only suitable for treating one room at a time.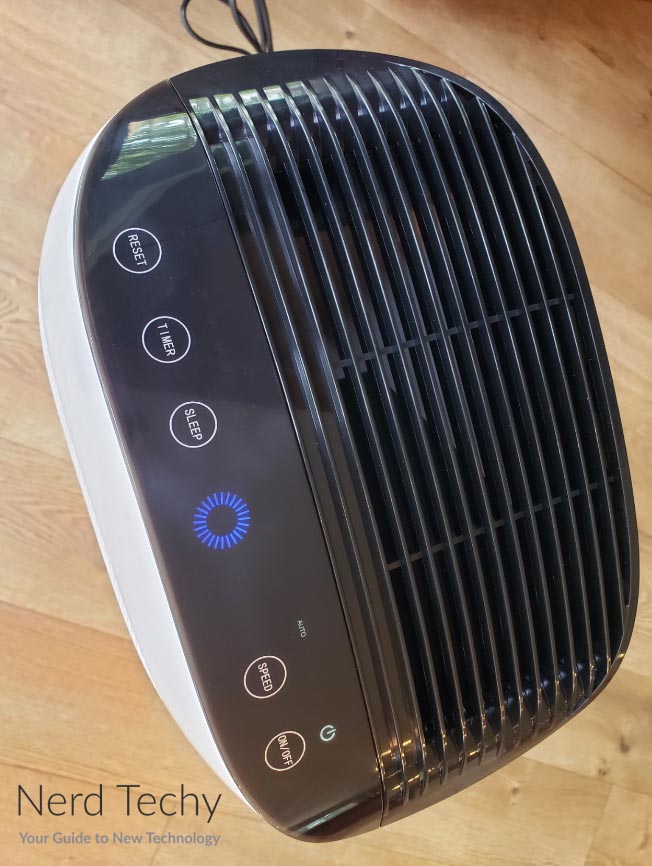 On the front of the AP-525, you'll see a grid of holes that perforate the entire front panel. These serve as an air output vent, and the ambient air is sucked-in through a similar grid of holes in the back panel. Because of this design, the purifier will need to be positioned so that both sides are clear. It won't work as effectively if it's backed against a wall or into a corner. You'll also notice venting in the top panel, which is black for decoration. This venting is to allow the internal electronics to stay cool. There's not a ton of air rushing in or out, but it should still be left reasonably unobstructed to keep the internals cool.
Also in the top of the housing, you'll find a control panel with built-in LED display lights. Between the soft touch controls and the display, you'll have full control over the purifier's operation. To the right, you'll find a basic on/off button, and a speed selector button. Just above these, there are corresponding LED indicators. To the left, you'll find the more advanced controls. These include the timer and sleep mode functions, as well as a filter reset button. Again, there are corresponding LED indicators just above them. It's all very intuitive, which makes for a painless learning experience.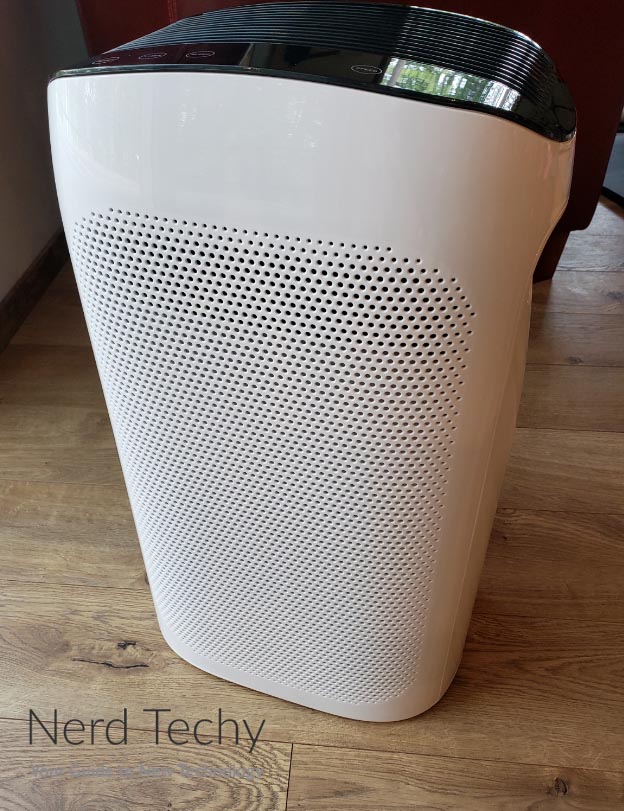 Between these two sets of controls, there's a bright LED starburst that changes color. Which color it displays depends on the air quality, as detected by an internal infrared sensor. When the air quality is good, the starburst will glow a relaxing green. As the quality becomes more questionable, it will change to a rich blue. When the quality becomes very bad, the light will turn red as a warning. This lets you know how clean your air is, as well as how well your filter is working.
Everyday Operation
The AP-528 is capable of treating up to 495 square feet of space. This rating assumes an eight-foot ceiling, which is standard for air purifier ratings. That said, remember that a filter's performance depends on the volume of air, not the room square footage. If the ceiling is higher, you'll be able to treat less square footage, and vice-versa.
One thing we didn't appreciate about the AP-528 is that their advertising is a bit misleading. Without getting too far off into the weeds, air filters have a rating called a CADR rating. CADR measures the volume of air a filter can purify in a given time. However, there are different CADR ratings, depending on the type of particulates removed. This only makes sense. Even a very good filter is more efficient at removing large particles than it is at removing small particles. The problem is that the AP-528's marketing material prominently shows a rating of 1,485 square feet. This is correct, if you're only trying to remove pollen. But the standard for indoor air purifiers is the smoke CADR rating, not the pollen CADR rating. By this stricter measurement, the AP-528 can treat 495 square feet.
Using the fan button, you can cycle between three different fan speeds. The highest speed will get you the most coverage, but will run louder. This is a relative measure, though. Even the highest setting is about the volume of a loud PC fan, much softer than most air purifiers. We really appreciated the quiet fan, since it makes using the highest setting more practical. On many purifiers, the fan can get so loud you can't have a normal conversation in the same room.
The same fan button can also be used to put the AP-528 purifier into auto mode. In auto mode, the fan speed will adjust automatically based on the ambient air quality. Using the infrared sensor, the fan will speed up when the air quality starts to go down. When quality is good, the fan will slow down. Auto mode is a great way to keep the quality light in the blue without wasting a lot of unnecessary energy. Usually, the fan will start at high power, and once the air has been cycled a few times, it will get slower.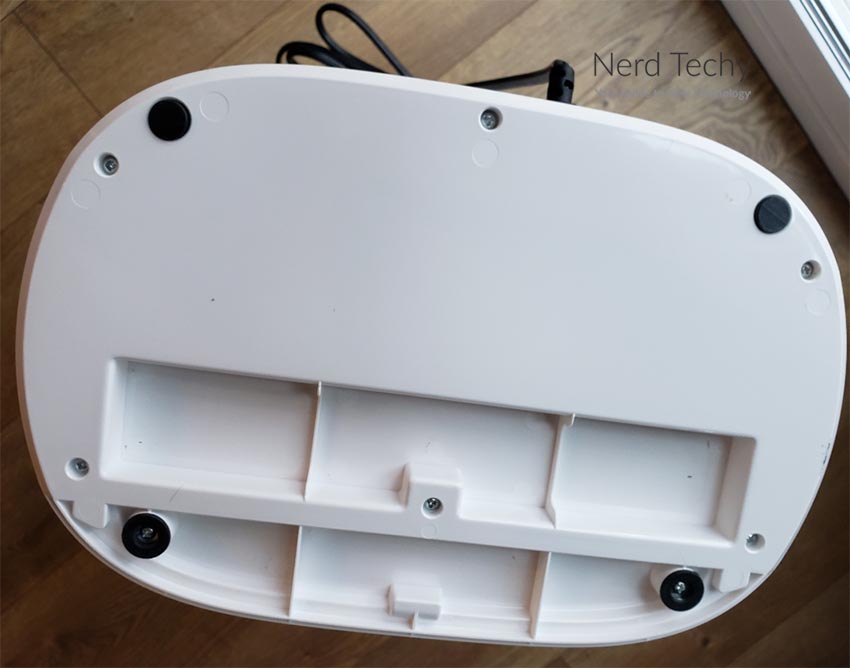 Sleep mode will set the fan to the slowest setting, and keep it there. This keeps the volume to 20 decibels, quieter than a whisper. Unless you have your ear near the vents, you won't be able to hear a thing. Sleep mode also turns off the LED lights, so they won't keep you awake at night. In addition, the timer function allows you to cycle through one, two, four, and eight hour timers. The most obvious use for the timer is nighttime, but it's just as useful during the day. Suppose you have a cat, and you're hosting an overnight guest with an allergy. You can set the filter in the guest room and set it to run while you're at work. When you arrive home, the room will be ready for you to house your guest.
One thing the AP-528 doesn't have is any kind of app control. This is hardly a necessity, but it's something you might be looking for if you prefer "smart" devices. In that case, the AirDog X3 Air Purifier is a solid choice. It features not only an easy-to-use app, but a removable, dishwasher-safe filter. That said, it's basically a dust filter and an ionizer, not a true HEPA filter.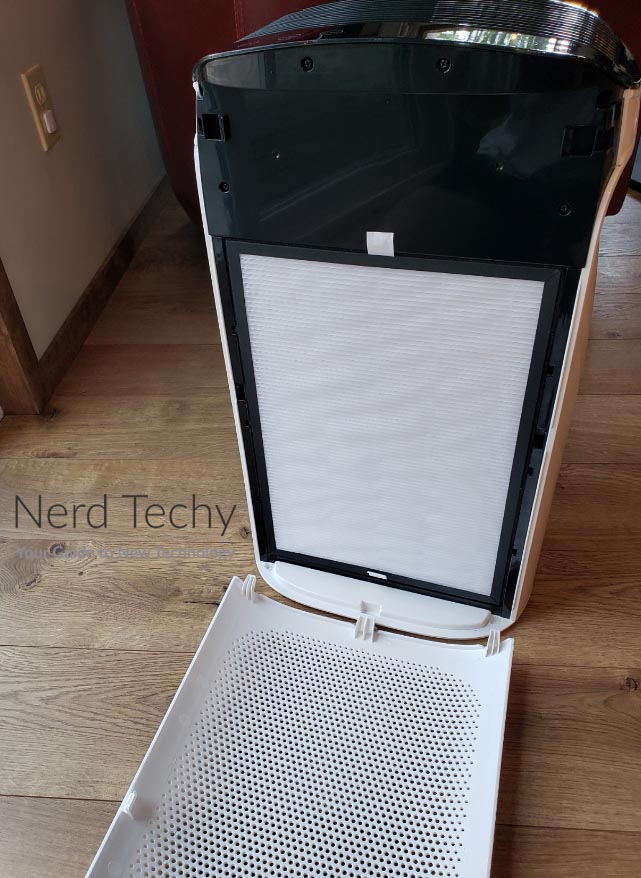 Filtration System
The AP-528 has a three-stage filtration system for keeping your air clean. The outer layer consists of a simple pre-filter. This is designed to remove pet dander, larger pieces of dust, and most bigger particles. It keeps the inner layers from getting gummed up prematurely. The next layer is an ionizer filter. This filter doesn't remove a lot of particles, although it can make them easier for the inner filter to remove. What it does instead is eliminate odors and chemical contaminants. Litter boxes, hamster cages, and other potentially sources of smell. Household cleaners and finishes can also leave harmful chemicals in the air, which the ionizer will help remove.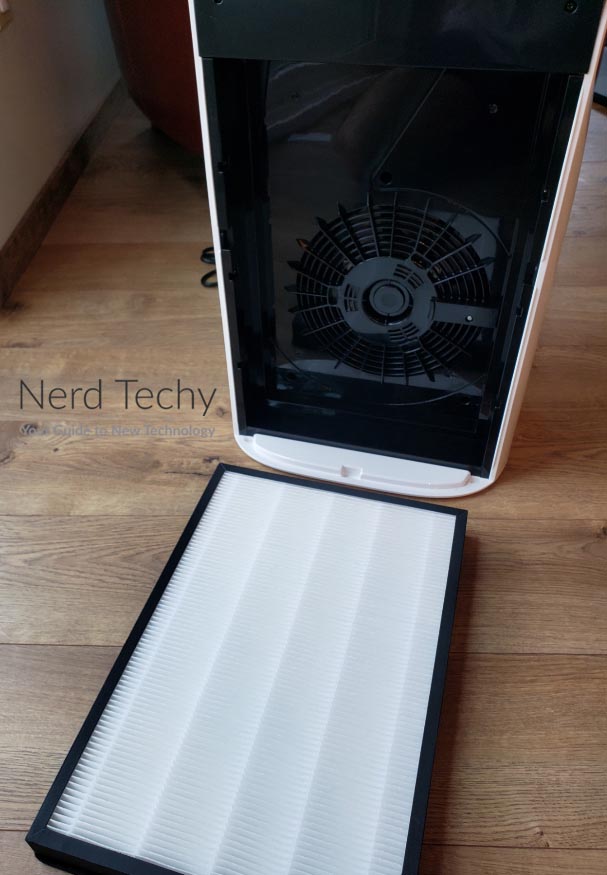 The third, inner layer is the true HEPA filter. This is what most of us think of when we think of an air filter: a fine, accordion-style membrane. It meets true HEPA standards, which means it eliminates at least 99.97 percent of particles as small as 0.03 microns. This means it removes pollen, dust mites, mold spores, and even some bacteria.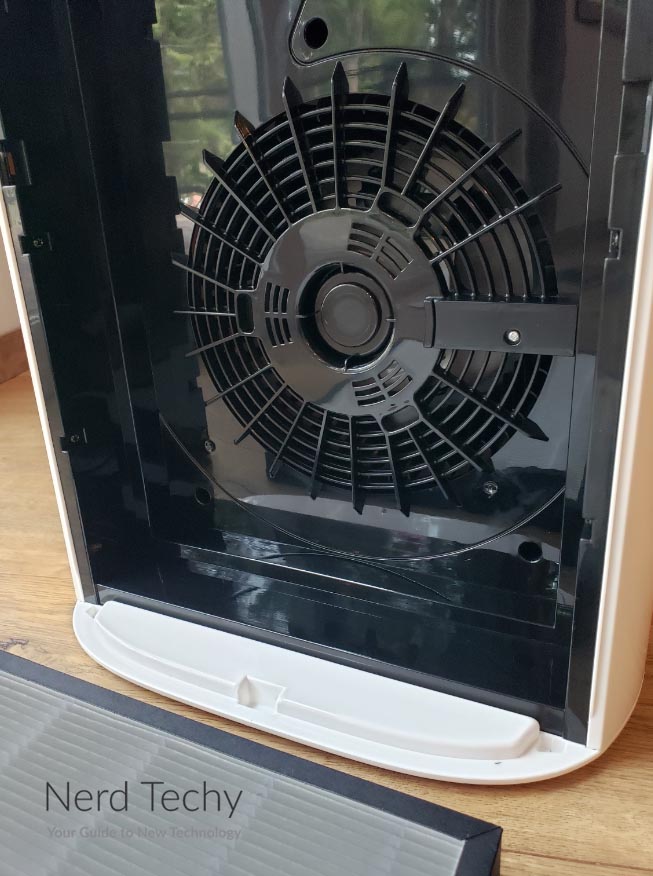 All three layers are built into a single cartridge, which is easy to replace. The downside of this all-in-one design is that you can't replace a single component. If the pre-filter is clogged, for example, you can't just change the pre-filter. You have to change the entire cartridge out. Thankfully, this doesn't happen all that often, roughly every six to eight months. When a replacement is needed, the warning light on top will illuminate to let you know. After changing the filter, just press the reset button to turn the light off again.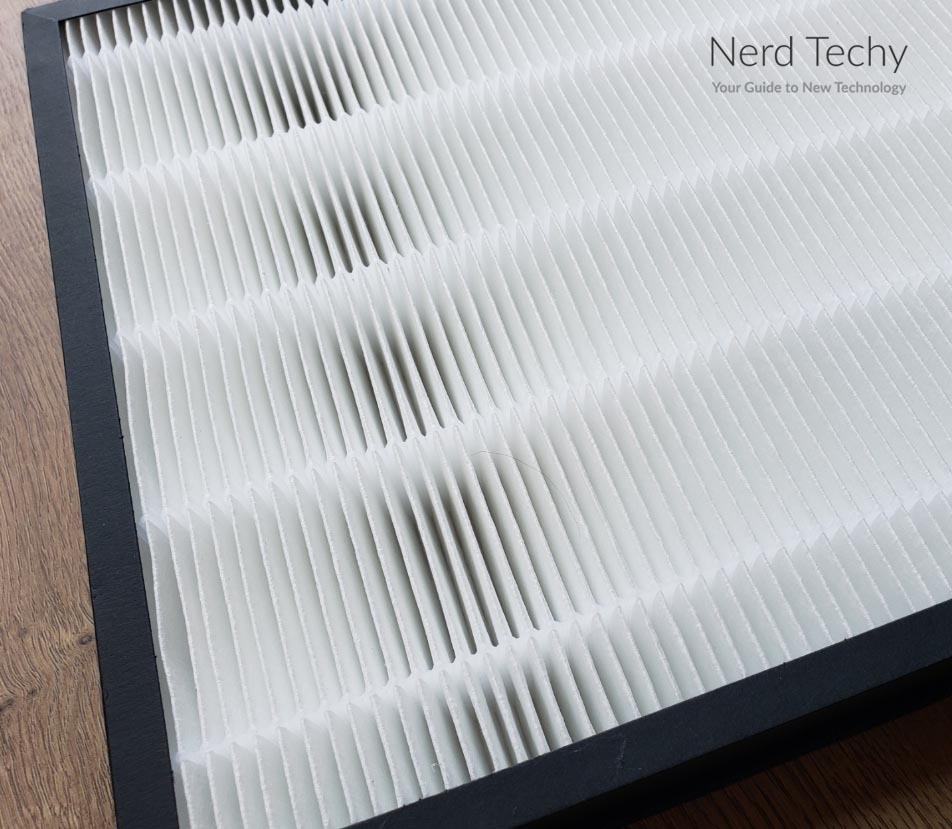 Final Verdict
The Air Choice AP-528 HEPA Air Purifier is one of the better mid-sized purifiers on the market. Potential misunderstandings notwithstanding, the coverage area is quite good. The fan runs very quietly, so quietly that you may even forget it's running. As for the control scheme, you'll have no trouble figuring it out in just a few minutes.
Meet Derek, "TechGuru," a 34-year-old technology enthusiast with a deep passion for tech innovations. With extensive experience, he specializes in gaming hardware and software, and has expertise in gadgets, custom PCs, and audio.
Besides writing about tech and reviewing new products, Derek enjoys traveling, hiking, and photography. Committed to keeping up with the latest industry trends, he aims to guide readers in making informed tech decisions.