Of all the places you need to worry about air quality, your home may not be the first that comes to mind. Even if your workplace doesn't have any chemicals or industrial waste, there's still dust and germs. And if you work in a city, you're also being exposed to all kinds of ambient pollution. By contrast, your home should be far safer than almost any everyday environment. Surely, it should be safe!
In fact, your home may contain all kinds of air contaminants that are hazardous to your health. Perhaps the most obvious of these is pet dander, an allergy trigger that's absent in most workplaces. But modern, heavily-insulated homes can trap a wide variety of materials that are simply not healthy. For one thing, seasonal pollen should normally be seasonal. But if a bunch gets sucked in on a pleasant day and you close your house up afterwards, it can remain trapped. The same phenomenon can occur with mold spores, which are not merely an allergy trigger. Mold can also be unhealthy for people with no allergies at all!
Other common indoor contaminants include smoke and cleaning chemicals. If you cook with a lot of oil – or brown a lot of anything, period – there's going to be some smoke. Smoke is even more of an issue if there's an actual tobacco smoker in the house. By now, we're all well aware of the dangers of secondhand smoke. And while an air filter is by no means a perfect solution, it can help mitigate the issue. Moreover, a good HEPA filter can help eliminate old odors if your home's previous owner smoked.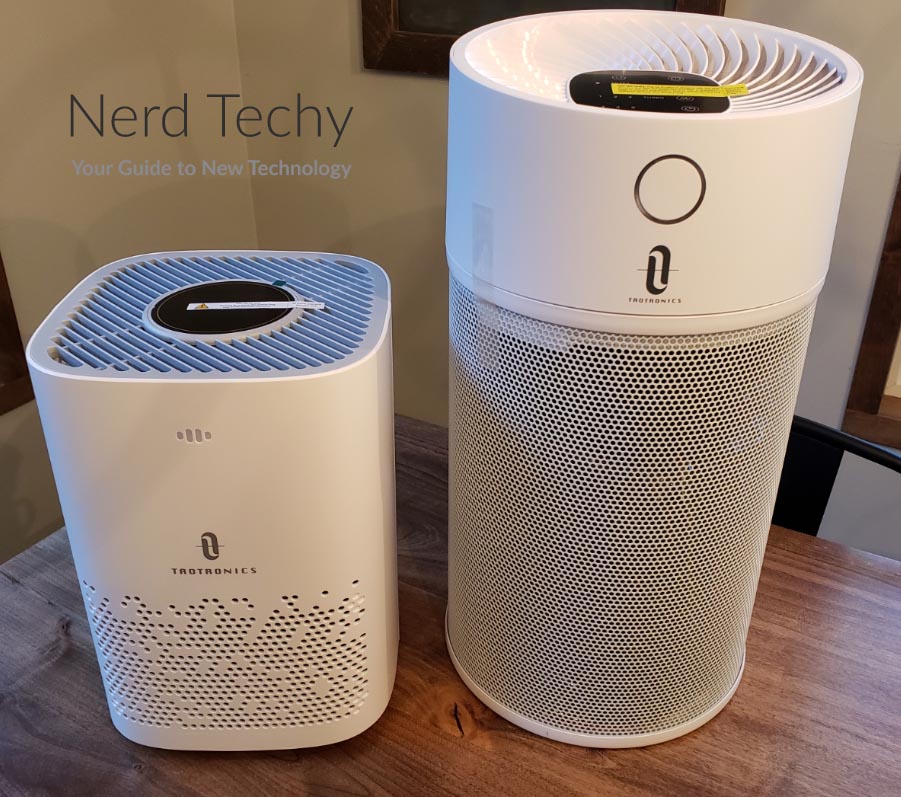 Today, we're going to review two different HEPA air purifiers from the same manufacturer. We'll be reviewing both the TaoTronics AP006 and the TaoTronics AP008. In fact, they're not just from the same manufacturer, but the same exact product line! TaoTronics themselves are known for producing an array of electronics. These range from totally unrelated offerings like wireless earbuds, to other indoor air treatment options like space heaters. How do these two air filters perform? We're about to compare them head-to-head, and see how they stack up. Once we've compared them thoroughly, we'll be ready to deliver our verdict. Let's begin!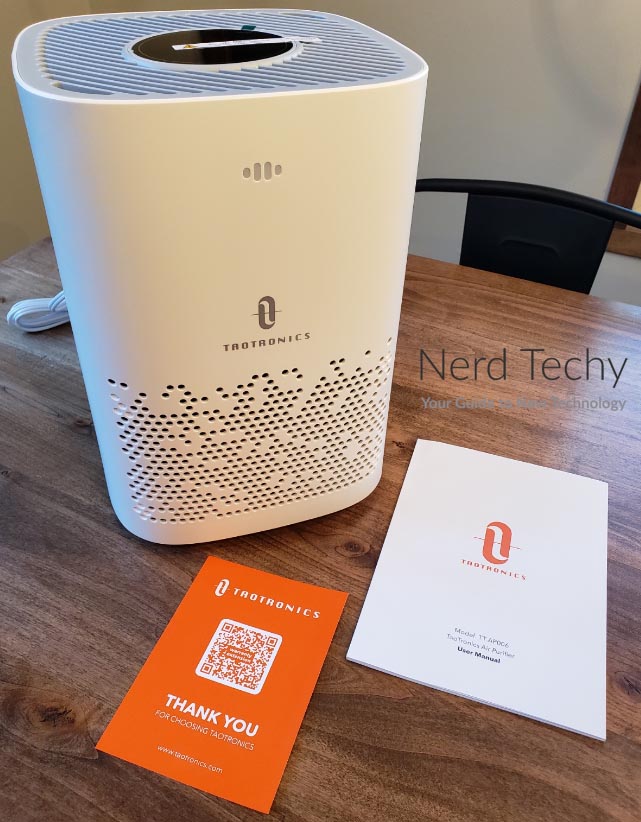 TaoTronics AP006 Air Purifier
The TaoTronics AP006 Air Purifier is a compact, rectangular filter that stands 11.65 inches high. It has a roughly square footprint, which measures 8.27 inches per side and has rounded corners to soften the profile. The intake vents are located on the front and back, and are shaped like an irregular grid. The plastic housing itself has a matte finish, which is easy to clean. That's an essential feature, since the vents will inevitably collect some dust. The filter is available in black or white, so it can match just about any home décor.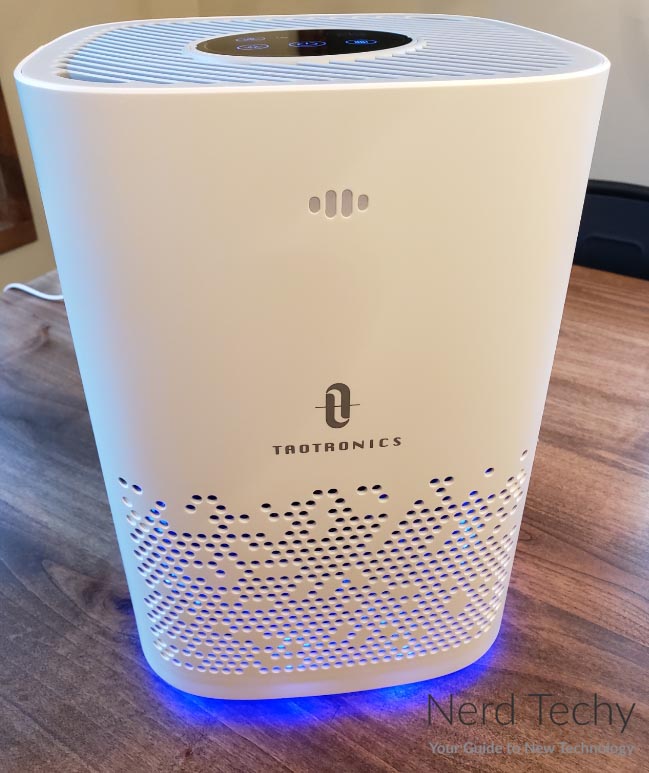 The outflow vent has a simple diagonal pattern, with a circular control panel in the center. The controls have a simple soft dome design, which makes them easy to operate with a fingertip or a knuckle. These buttons are grouped around a set of LEDs, which tell you what the filter is doing. They let you know how fast the fan is running, and how longer the timer is set for. There are three different speeds, and one, four, and eight-hour sleep timers available. Additional buttons control the night light, reset the filter, and turn the unit on and off.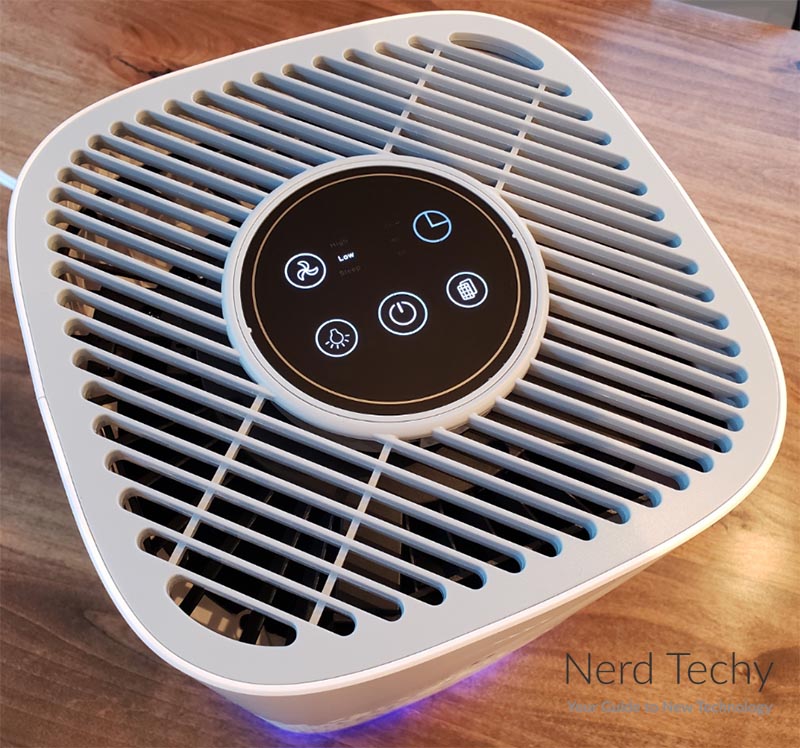 How loud the fan is depends on how fast it's running. At the highest setting, the volume is just over 50dB. That's the volume of a normal conversation, so it's audible, but it's not disruptive if it's in the next room. At the lowest setting, the volume is about 24dB. That's literally as quiet as a whisper, and most people will sleep through it without even noticing it. The AP006 is covered by TaoTronics' standard 12-month warranty, which protects you from manufacturer defects. It anything was done wrong at the factory, you'll receive a full refund or a free replacement.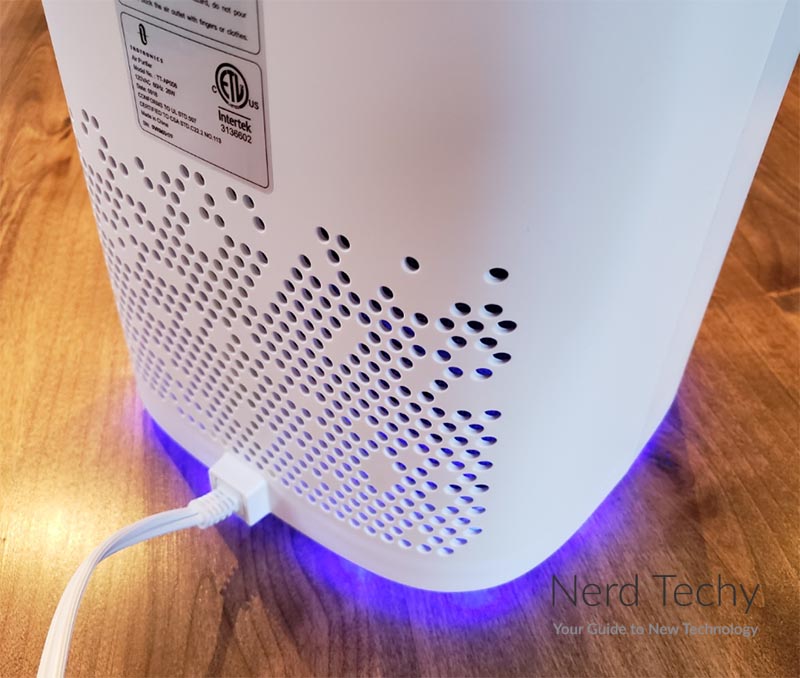 Performance and Effectiveness
The AP006 air purifier is rated to cover up to 215 square feet at full power. As with most air purifier ratings, this assumes that you have standard, eight-foot ceilings. Remember, the filter is treating the volume of air, not the area! If you have 10-foot cathedral ceilings, your coverage will go down by 25 percent. Conversely, a stepped-up room or dropped ceiling can reduce the volume and increase your square footage. Even so, your coverage area is relatively small, befitting a compact filter. You can reasonably manage a living room and kitchen by day, or filter a bedroom at lower power.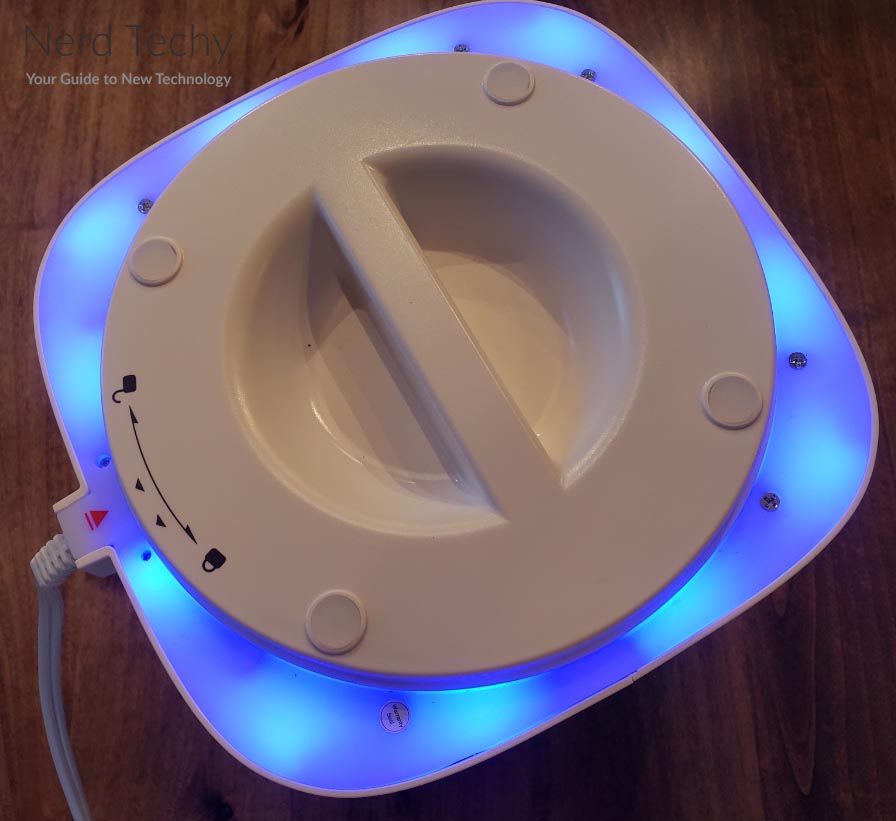 The internal filter consists of three layers, all incorporated in a single cartridge. This has its advantages and disadvantages. On the one hand, you can easily change the filter by dropping in a whole new cartridge. On the other hand, if only one part, such as the pre-filter, needs replacing, your options are limited. You can't simply replace the pre-filter and leave the rest of the cartridge in place.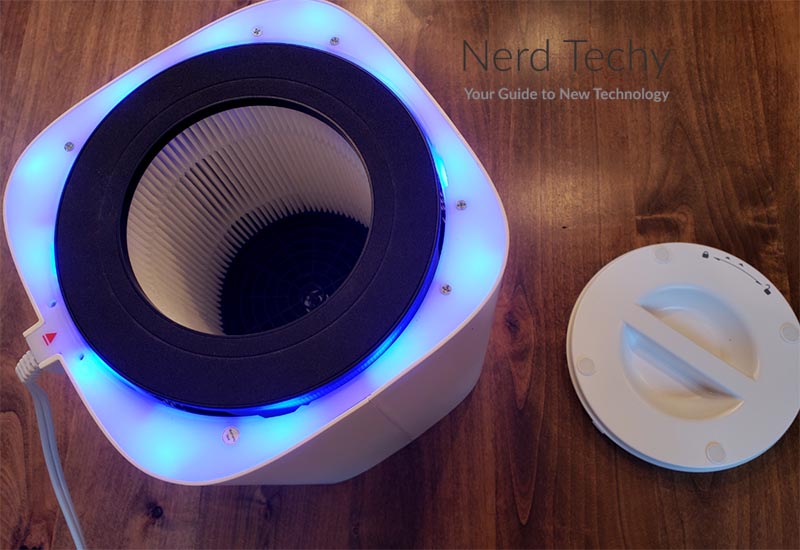 The design of the filter is such that the layers capture progressively smaller contaminants. The outer pre-filter is designed to remove the largest particles, such as dust and pet dander. It keeps these particles trapped, so they can't gum up the inner filter.
That inner filter is the actual HEPA unit, with an accordion-style shape and a very tight construction. It meets True HEPA standards, filtering out 99.97 percent of contaminants as small as 0.3 microns. This means it will clean out just about any allergen in the world. Pollen, mold spores, smoke particles, and even bacteria will get swept up in its V-shaped folds. Keep in mind, though, that this is not a medical-grade filter. It's not fine enough to remove small viruses like the one that causes Covid-19.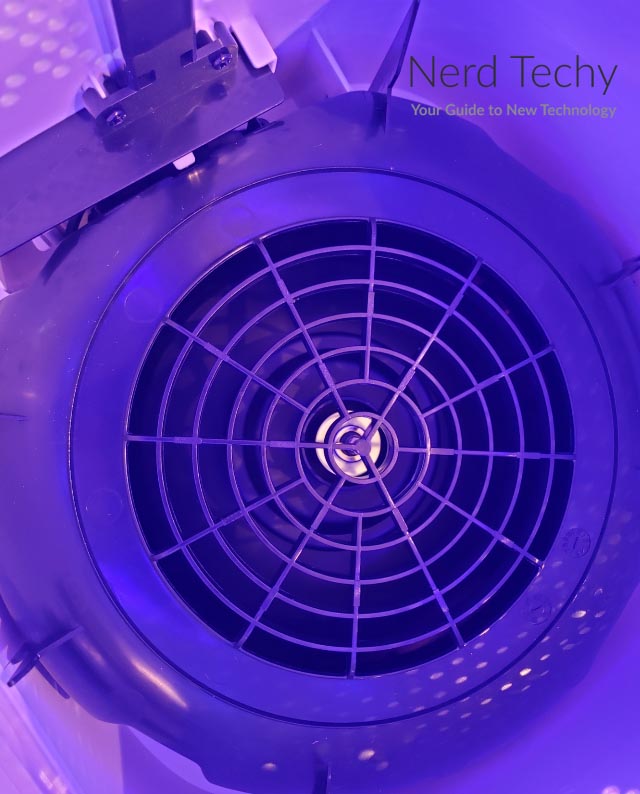 Inside of the HEPA filter, there's an activated charcoal filter. This doesn't remove particles, but is instead designed to remove odors and chemical contaminants. This is where cleaning chemicals and other harmful vapors get removed from your air. In addition to resolving health hazards, the charcoal filter makes your home more pleasant. You can cook a rich dinner full of garlic, run the filter overnight, and not smell the garlic in the morning.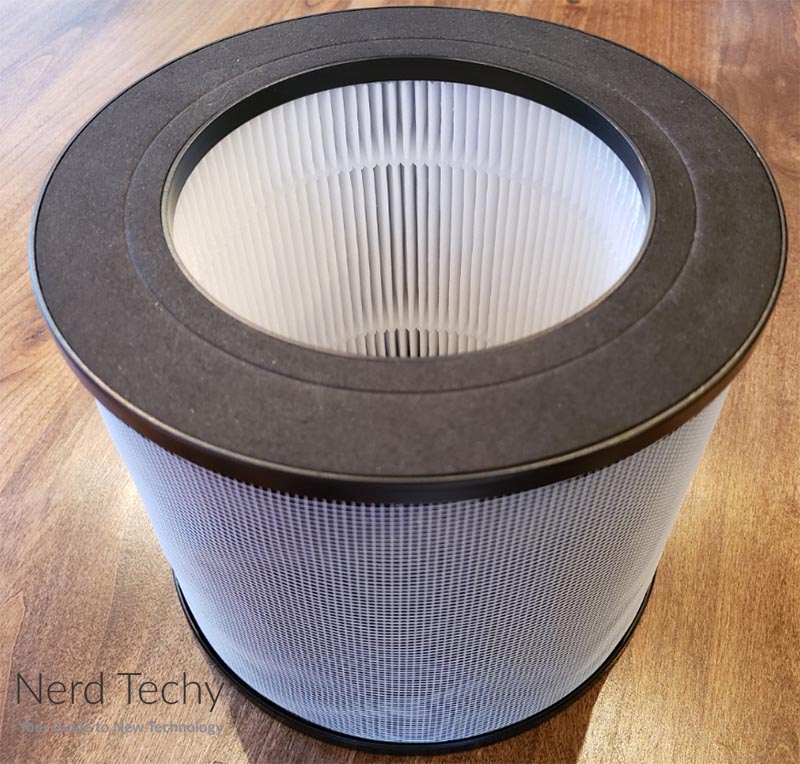 The filter cartridge will require replacement roughly every three to six months. Exactly how long will depend on how dirty your air is and how often you run the air purifier. When the filter is sufficiently dirty, the warning light on the control panel will begin to flash. After replacing the filter, simply press the filter reset light to get the warning light to stop flashing.
One thing the AP006 won't do for you is make winter air more pleasant. To keep your skin from chapping when the heat is on, consider an indoor humidifier like the TaoTronics 6L. It's not much bigger than the air purifier, and it can treat a very large area.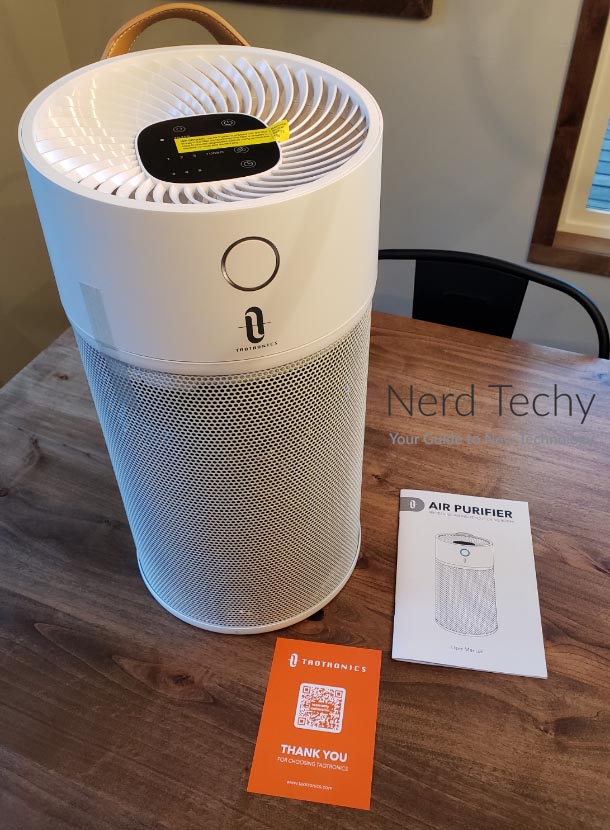 TaoTronics AP008 Air Purifier
The TaoTronics AP008 is a bit larger than the AP006, and has a round footprint instead of square. It measures 18.5 inches tall from base to tip, with a diameter of 9.45 inches.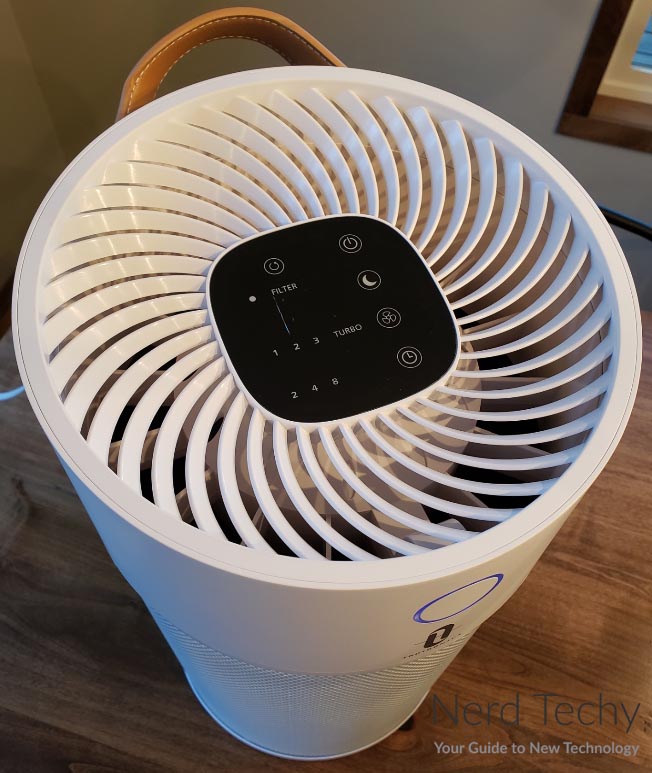 The outer housing is white plastic, and the entire vertical side is covered by a honeycomb of intake holes. At 8.6 pounds, it's reasonably light for the size, and it even includes a carrying strap. This strap is made of stitched leather, which is aesthetically a bit odd but very effective.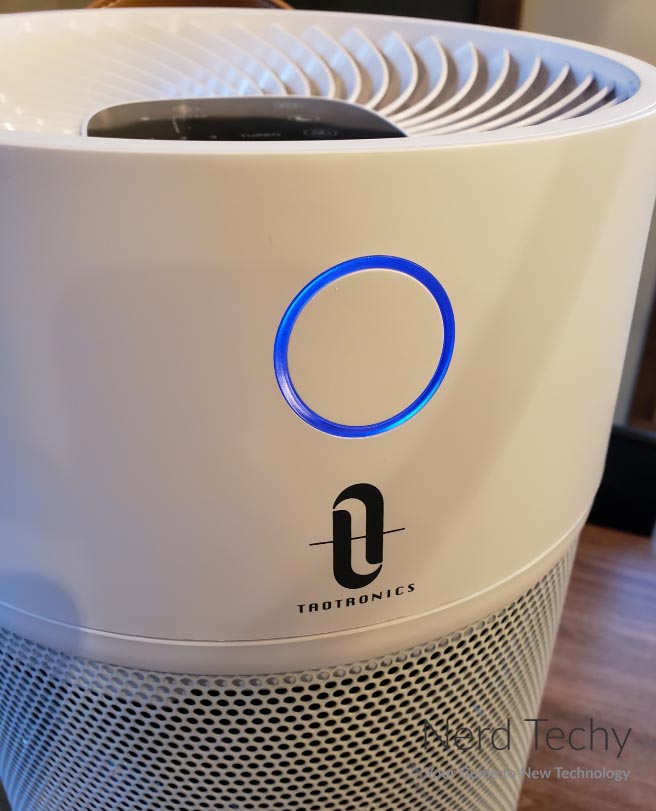 The top is very similar to the AP008's, but reverses the concept. Instead of a circular LCD control panel in a square vent, it has a square panel in a round one. There's also a spiral vent design instead of a diagonal one, once again going round instead of straight. The buttons themselves perform the same functions, but the overall layout is more intuitive. This is probably because the square panel has more real estate than the AP006's round one. There are also a couple of other minor differences.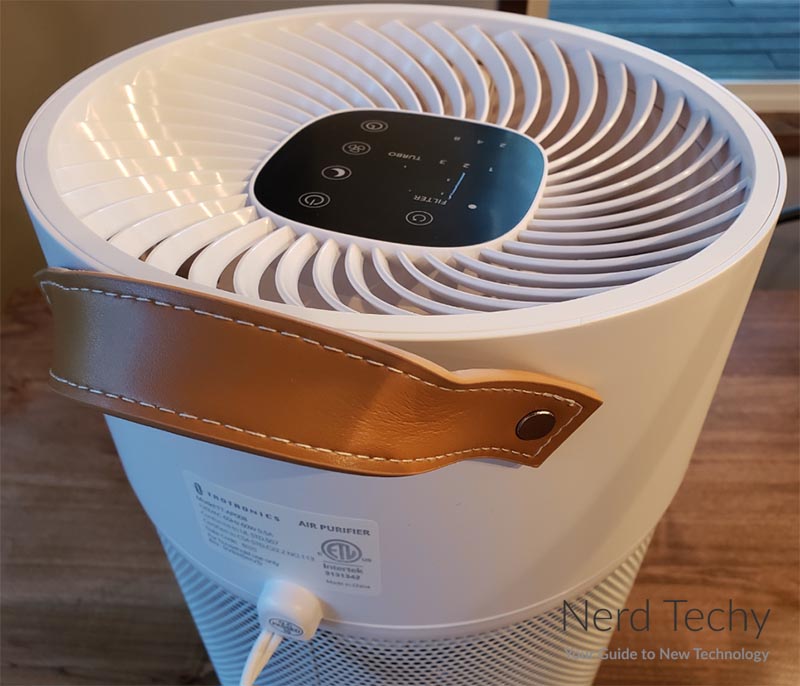 First off, the fan has four speeds instead of three. This gives you a bit more flexibility. There's also a sleep mode that deactivates the LCDs and switches to the slowest speed. On the other hand, the lowest speed is 33dB, which is still noticeable on a quiet night.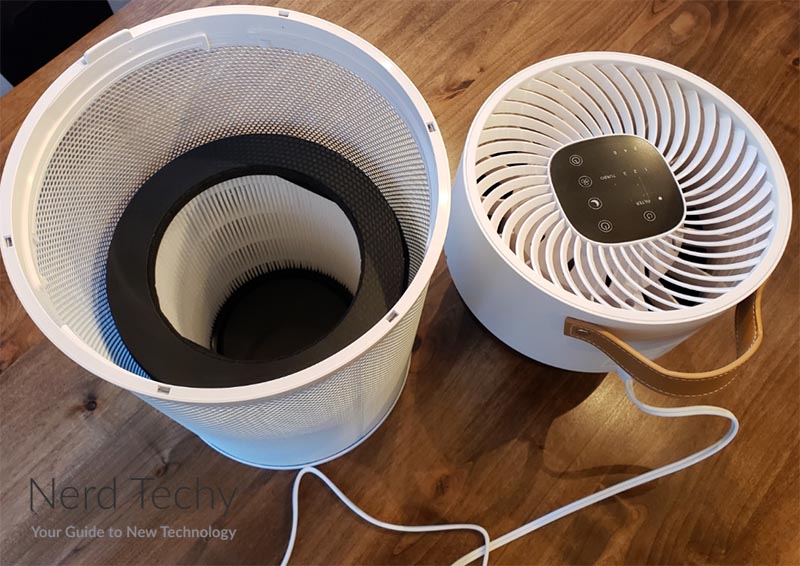 Secondly, the timer is a bit different. Instead of running for one, four, or eight hours, it runs for two, four, or eight. Is this actually going to matter to anyone? We can't really imagine why it would be the deciding factor. But it's a difference nonetheless, regardless of how important it was.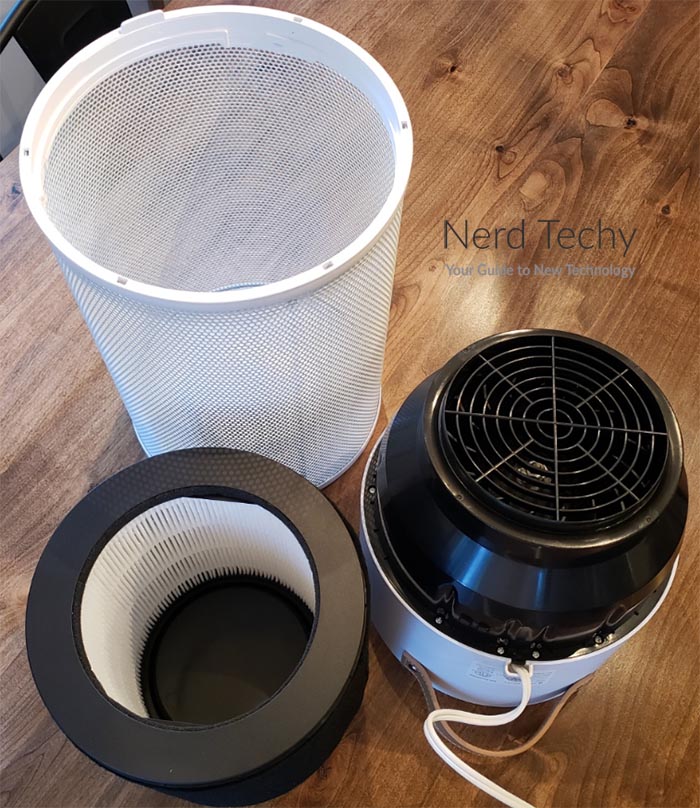 Performance and Effectiveness
The AP008's True HEPA filter is equivalent in most regards to the AP006's. It has the same three-layer design, the same ratings, and lasts for the same period of time. There's even the same expected life and the same replacement/resetting system. With that being said, it has a 50 percent larger coverage area. With 312 square feet of coverage, it can handle larger rooms, or treat the same sized rooms at a lower speed.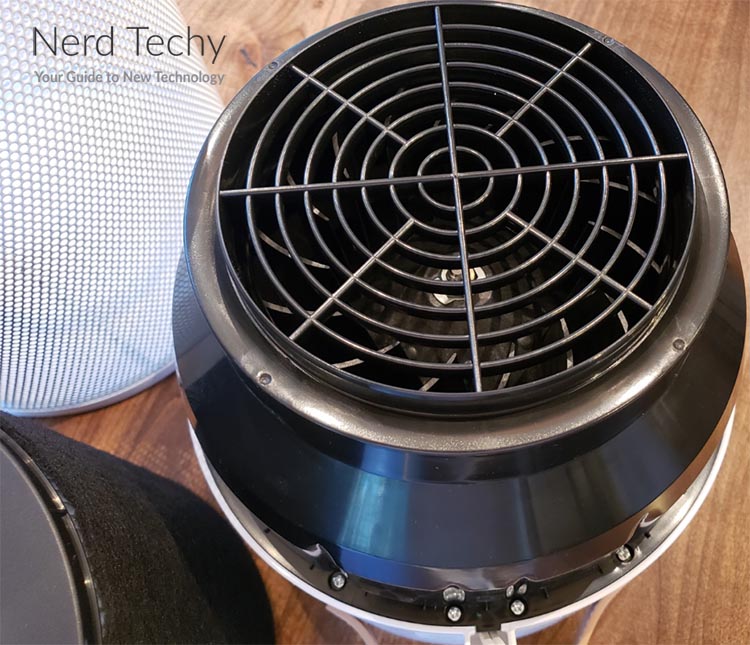 If you want the quietest possible filter, the original TaoTronics air purifier beats both of today's options. That said, it's an ultra-compact unit with an ultra-small coverage area. If you need to manage more than a bedroom, it won't be powerful enough for the job.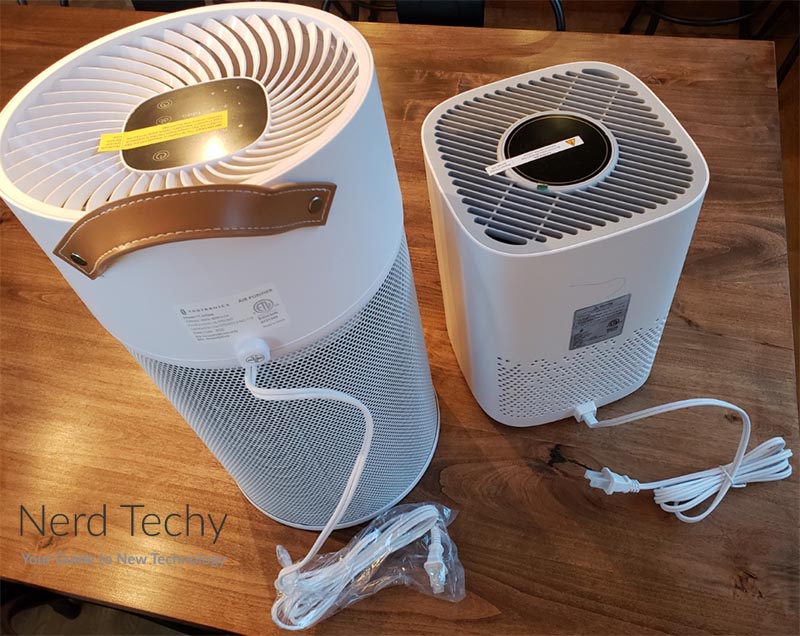 Final Verdict
As you can see, these two filters are very similar in terms of what they filter out. Both the TaoTronics AP006 and the TaoTronics AP008 are True HEPA filters that remove ultra-small particles. They also remove odors, chemical contaminants, and other nasty pollutants you don't want in your home. The AP008 is bigger, and covers half again as much space, but that's about it. That said, the aesthetic and size differences are not to be ignored. The AP006 is smaller, and has a squat, square profile that many will find more appealing. The AP008, by contrast, is taller and rounder, with a more regular intake grill. If that aesthetic is more appealing to you, that's something to be said in its favor.