If you want to enjoy a movie the way it was meant to be experienced, it's tough to beat a home projector. Once used only by hardcore movie enthusiasts, home projectors are now more affordable than ever. And thanks to digital media, you don't have to use bulky, reel-to-reel film. With a projector, you can ditch the 70-inch TV and watch full-sized, floor-to-ceiling video. But why limit yourself to your home? Right in your own backyard, you can show a movie on the side of your house or on an outdoor screen. If you want to entertain 50 guests and host your own movie night, you can.
But using a projector outdoors can be a risky proposition. If it starts pouring, your projector will be ruined. Not only that, but you can't leave a projector permanently installed outside without protection. If it doesn't get rained on, it can still be stolen or vandalized. Thankfully, an enclosure can protect you from all of these risks.
We're about to review the DeerTV Outdoor Projector Enclosure. We've looked at some DeerTV offerings in the past, including their outdoor TV enclosure cover. Since we liked the TV enclosure, we thought their projector enclosure would be worth checking out. As it turns out, we were right. This is a heavy-duty, all-steel enclosure that keeps your projector protected. It's water-resistant, it's well-ventilated, and it even comes with a tripod stand. But it's also a bit pricey. So we wanted to take an even closer look and see if it's worth the investment. Here's what we discovered.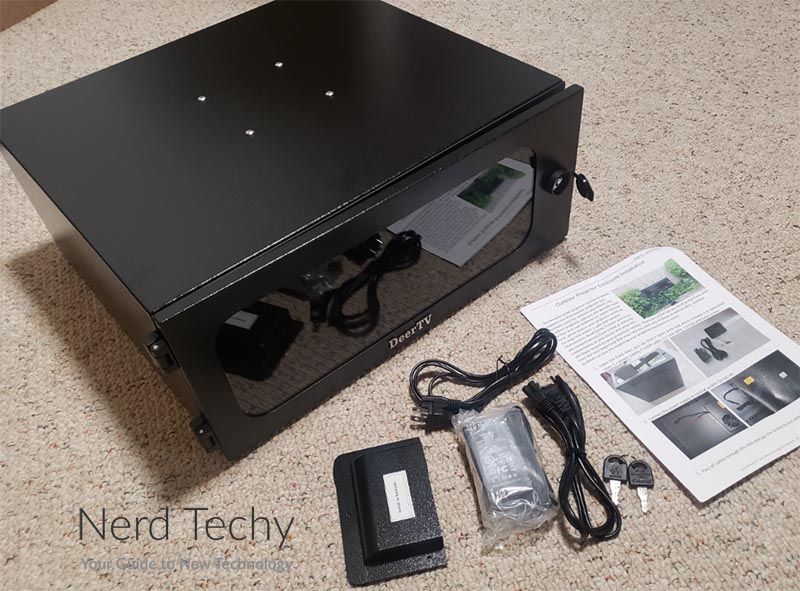 What to Look For in an Outdoor Projector Enclosure
Before we proceed, let's talk about what makes an outdoor projector enclosure worth buying – or passing up. You want to look for security, airflow, air filtration, versatility, ease of installation, cable management, and size. Let's quickly go over each of these things.
Security
First and foremost, you need security – protection from vandals, thieves, and the elements. If an enclosure is leaky or easy to break open, it's not going to do its job. It should also keep dirt and dust out as much as possible. Otherwise, even if the projector is kept dry, it can still get damaged. Ultimately, though, water-resistance is the most important thing to look for. As for theft protection, remember that even the most robust enclosure is only as safe as its mounting system. If it's not attached to anything, someone can just walk away with the enclosure – projector and all. Make sure your enclosure is VESA mounted or otherwise bolted down to deter casual thieves.
Airflow
As anyone who's ever accidentally touched the lens on a running projector can confirm, they produce a lot of heat. Heat, in turn, stresses all of the projector's components. The hotter it gets, the shorter the bulb will last, and the higher the risk of components getting damaged. Of course, projector manufacturers are well aware that their products get hot. This is why they install ventilation systems, including fans that can get fairly loud.
Unfortunately, these fans depend upon good airflow. When you close your projector in a box, you protect it from the weather, and expose it to heat instead. Without good ventilation, a projector will quickly overheat under these conditions. In the best case scenario, thermal protection circuitry will kick in, shut down the projector, and end your movie night. In the worst case scenario, that circuitry will fail, and your movie will keep playing until you smell burning plastic. For these reasons, it's important for a projector enclosure to allow for plenty of airflow. It should also have a powerful fan to keep fresh air circulating through the inside.
Air Quality
When you're indoors, you can assume that the air is reasonably free of dust, dirt, and smoke. Unless you just burned some food, the quality of the air flowing through your projector is of little concern. But outdoors, you have no such guarantee. In dry weather, the wind can kick dust into the air. If you're having a barbecue, Murphy's Law will kick in and smoke will blow right at the projector. In order to prevent this, a good projector enclosure will have a filter system built into its air intake. This will ensure that the air flowing over your projector is as fresh as the air inside your home.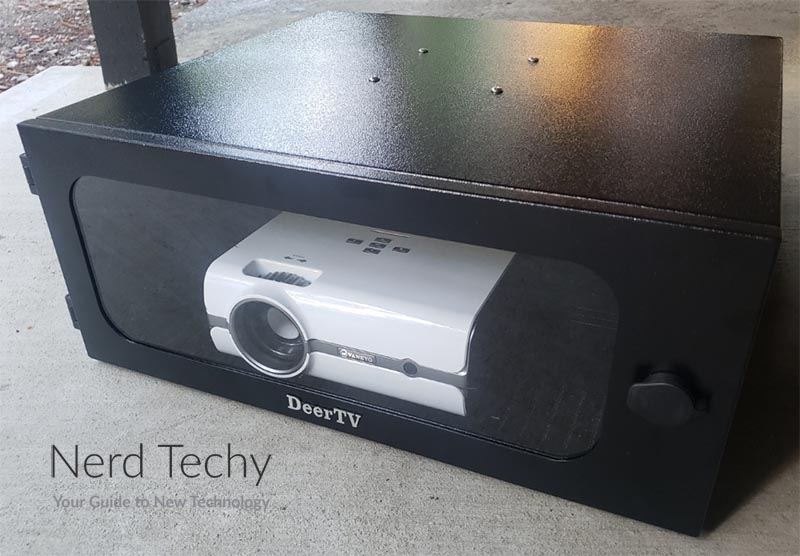 Versatility
Depending on your setup, you may want to move your projector around or adjust it from time to time. This isn't normally a concern for permanent installation, such as in a pavilion. But if you're in your own backyard, you may want to adjust the angle, particularly to prevent glare. Depending on where the sun is in the sky, tilting the projector a few degrees can make all the difference. Similarly, you may want to turn the projector around altogether. Or you may want to transport it from place to place.
The point is, you shouldn't be tied into a single mounting position. Even if you just want to attach your projector to a ceiling, you still want to be able to tweak things a little. A good projector enclosure should give you more than one way to set up your system.
Installation Location
We've talked about versatility, but your installation location is perhaps more important. For example, suppose, you want to ceiling mount your projector enclosure. You're going to need one with VESA holes on the top. Otherwise, no matter how good an enclosure is, it's not going to meet your needs. The same goes if you're putting your projector on a horizontal surface. It should be able to attach firmly, and there should be some way to level the surface. Before you buy, make sure you have a plan for this. And if you need any extra hardware, make sure to order it at the same time as your enclosure. DeerTV posts all of their owner's manuals online, so you can easily figure out your installation in advance.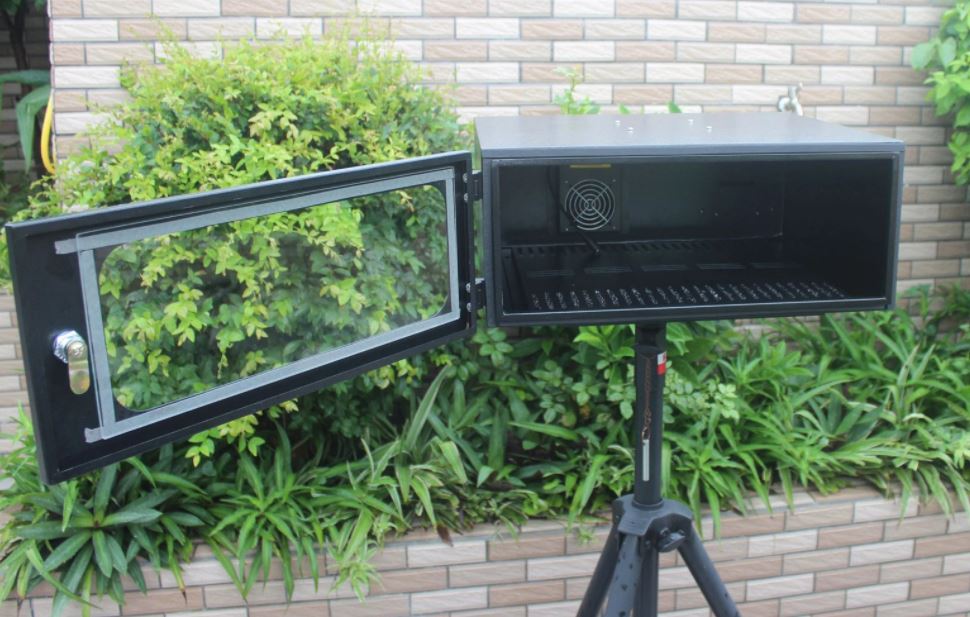 Cable Management Options
When you're putting your projector in an enclosure, you run into a problem. You need some way to connect all of your cables! A well-engineered projector enclosure will provide you with an easy, hassle-free way of routing them. Some enclosures also have a built-in plug or power strip for connecting your projector. The DeerTV enclosure doesn't have an outlet, but it's something we should mention, since not all these plugs are safe. If you end up choosing an enclosure with its own outlet, make sure the outlet is surge protected. If it's not, your projector could easily get damaged by a routine power fluctuation.
Size of the Enclosure
Last but not least, think about the size of the enclosure. Not all projector are the same size, so make sure you have an enclosure that's big enough to meet your needs. At the same time, keep in mind that an enclosure that's bigger on the inside is also bigger on the outside. There's no benefit to buying an enclosure that's "too big" for your projector. It's best to choose the smallest size where your projector can reasonably fit with all of its cables plugged in.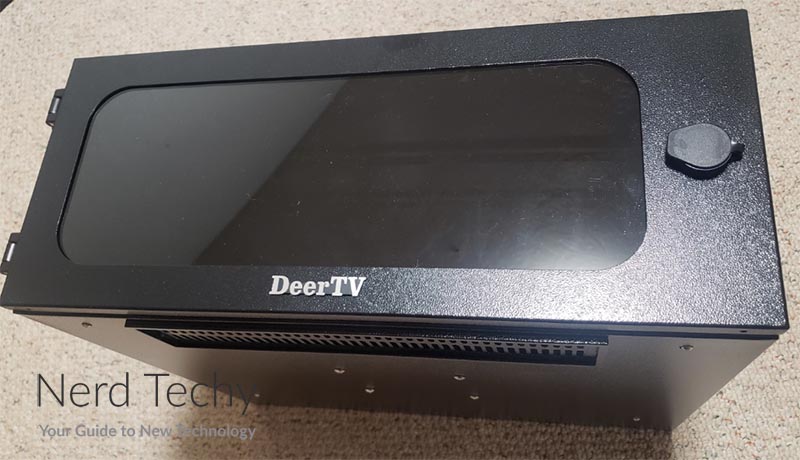 Overall Design
The DeerTV Outdoor Projector Enclosure is a rugged, heavy-duty box that's constructed entirely from steel. This makes it considerably more durable than your typical aluminum housing. We're not saying it's theft-proof, but it's certainly a pain to get into. Of course, this construction also increases the weight. The smallest sized enclosure weighs 16.6 pounds, and the largest weighs a hefty 33 pounds. We're not complaining, though. It's a pain to steal, and it's still light enough to move around when you have to.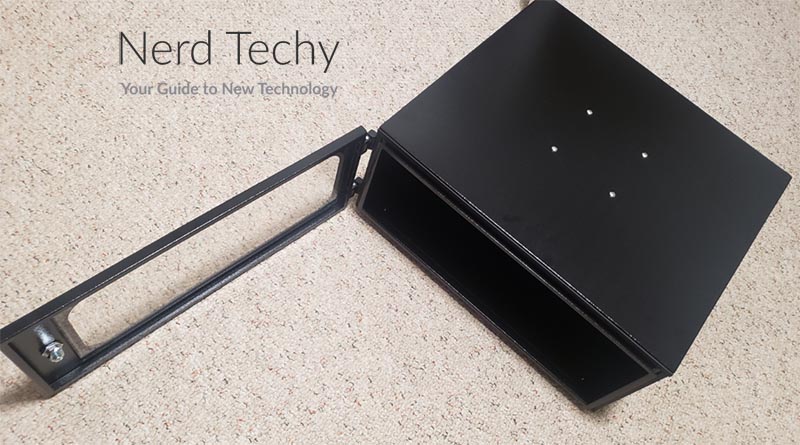 The front panel opens like a door for easy access, and locks with a key. There are two keys included in the kit, so you can easily share. The panel itself has a steel frame, but the center is UV-resistant acrylic. This material isn't quite as clear as glass, but it's very, very close. More to the point, it's far more durable than glass, which is important here.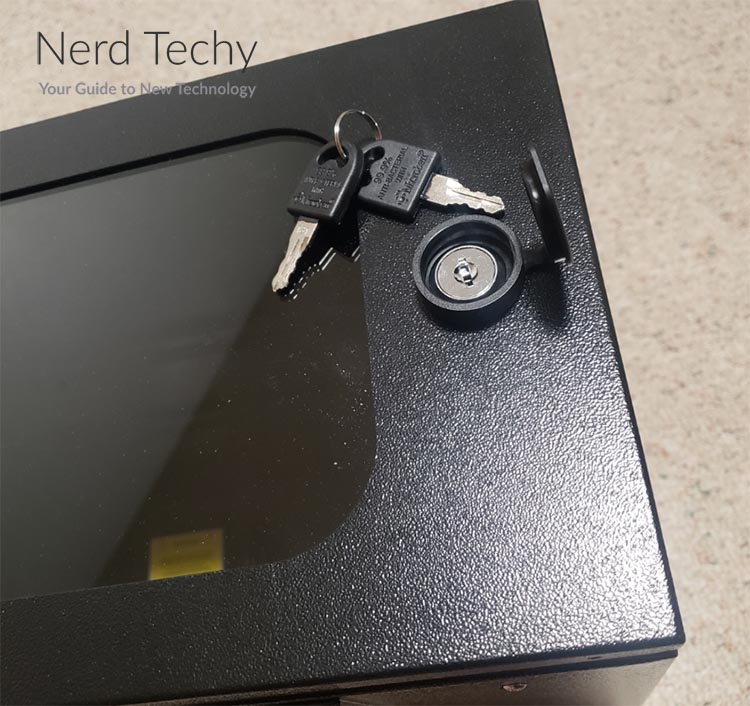 The enclosure comes in three different sizes, with the following interior dimensions:
Small – 17.1 inches wide, 15.7 deep, 6.1 high
Medium – 18.3 inches wide, 21.9 deep, 6.9 high
Large – 23.6 inches wide, 24.4 deep, 8.66 high
The outside dimensions are slightly different for each unit. However, they're roughly an inch and a half larger in each dimension on the outside. Remember, bigger does not mean better! Choose the smallest size that will comfortably accommodate your projector.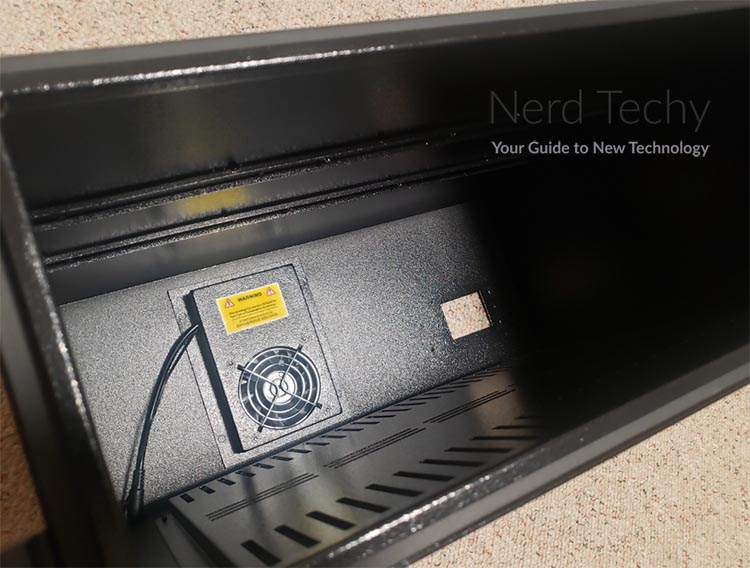 The DeerTV enclosure has a weather-resistance rating of IP65, which means it can stand up to any kind of dust or rain. Be careful washing it with a hose, though, since there are slots in the bottom. These slots are designed to allow for plenty of airflow, and are located in front of and behind your projector. They're also an important part of weatherproofing, since they airflow even when the fan is off. This ensures that temperature and humidity remain equalized. In other words, you don't have to worry about condensation forming inside your enclosure.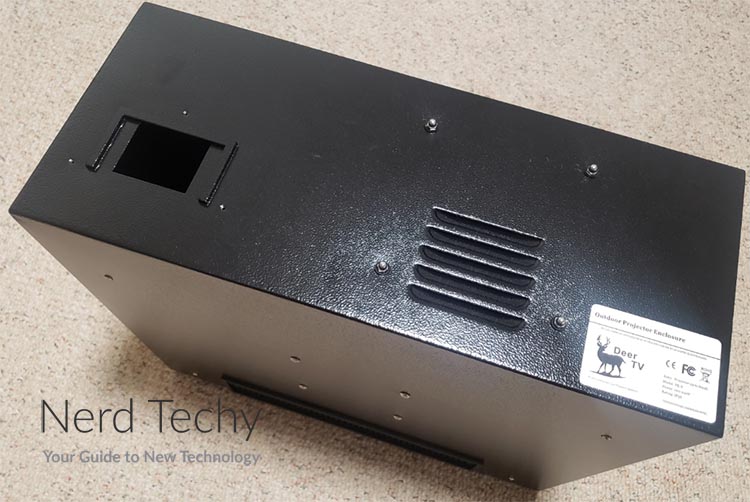 Cooling is provided by a thermostat-controlled fan on the back of the housing. This fan will speed up when the enclosure gets very hot, and slow down when it's not needed. As a result, it will keep your projector cool without producing unnecessary noise. In addition, the air intake has a filter to prevent dust infiltration. As long as you clean it periodically, it should last pretty much indefinitely.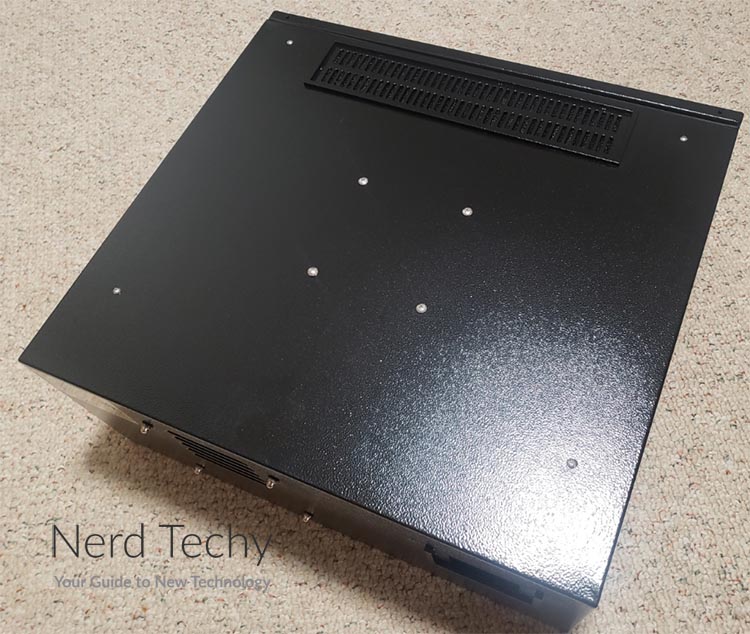 Other Considerations
The back of the DeerTV enclosure's housing also sports a curved duct that allows for cable routing. Because the duct is curved downwards, it can admit cables without rain getting inside.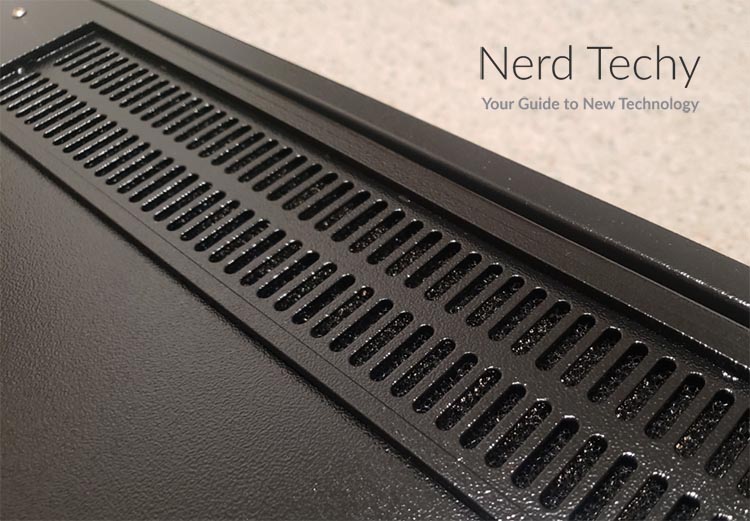 As far as mounting goes, you've got a couple of options. The first is to use the VESA holes, which are located both on the top and the bottom. This allows for mounting on just about any VESA system. Be careful when using the bottom holes, though. If you do, you'll still want to put the screws in the top holes. Otherwise, there will be open holes in the top of your enclosure! In addition, a sturdy tripod base is included in the kit. This makes it easy to set up the projector temporarily.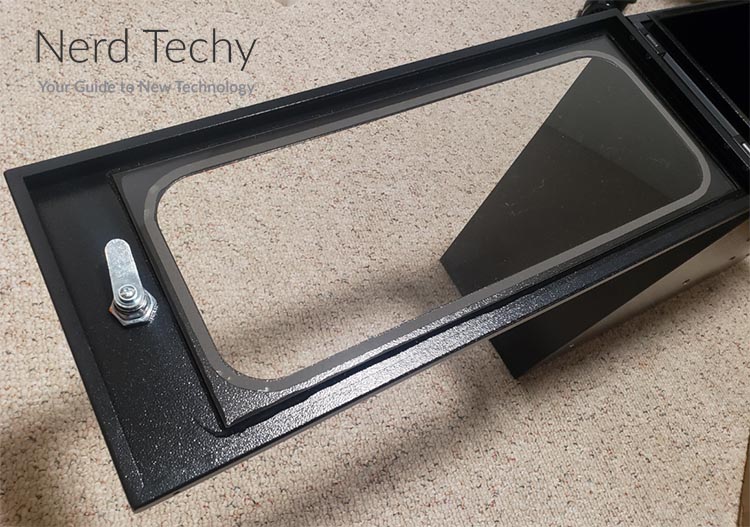 Final Verdict
As you can see, the DeerTV Outdoor Projector Enclosure provides a lot of value. It's weatherproof, it's durable, and it allows for plenty of airflow. It can also be easily mounted just about anywhere. And with three sizes to choose from, you don't have to worry about your enclosure being the wrong size. There's a lot to like here, and nothing significant to complain about.