Votomy VT360
Pros
Powerful, 30-watt drivers.
Can be paired in stereo mode.
High-quality housing and submersion-proof design.
Doubles as a power bank.
Cons
Somewhat limited battery life.
Cannot connect via a 3.5mm aux cable Ratings:.
If you're in the market for Bluetooth speakers, you'll have plenty of options. This is both a blessing and a curse. On the upside, with so many choices, there's going to be one that meets your needs. On the downside, having too many options can lead to paralysis. Your brain is constantly telling you that you need to look at one or two more choices. And since there are so many to choose from, you end up going with nothing at all. How do you narrow things down to a more manageable number of options?
There are a few things you could do. First, you could choose a particular brand. This is helpful if you already own a pair of speakers you're comfortable with. If a brand's last speaker was right up your alley, chances are good that you'll like their next offering. That said, you won't be able to do this if you're buying your first set of speakers. Another good way to search is to narrow down the features you care about most. Do you want to prioritize sound quality or durability? Battery life or portability? This will help you quickly weed out speakers that don't meet your basic specifications.
Today, we're going to review the Votomy 30W VT360 Portable Bluetooth Speaker. This is a compact, portable Bluetooth speaker that's designed to travel along with you. It has a rugged, travel-ready housing, and a water-resistance rating of IP67. It also doubles as a power bank. But how well does it perform in the real world, as opposed to in theory? The only way to find out is to take a closer look at all of its various features. We'll talk about the quality of the audio, and what it's best for listening to. We'll talk about the battery life, as well as the control scheme and the Bluetooth connection. After that, we'll have a clear enough picture to render our verdict. Let's get started!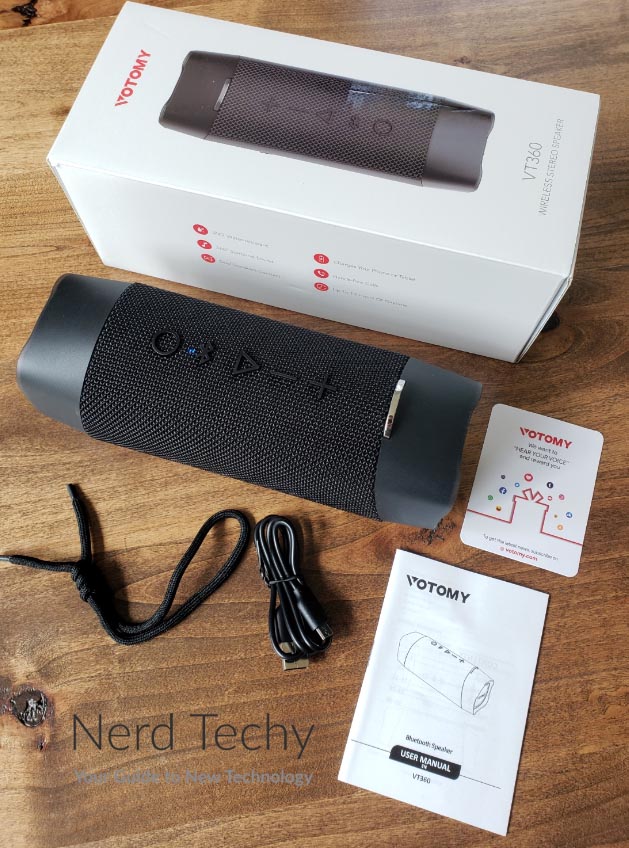 Overall Design
The Votomy 30W VT360 Portable Bluetooth Speaker is a chunky little beast with a black polymer housing. The matte finish is easy to keep clean, although it only encloses the area near the two ends. On either end, you'll also see a grey Votomy logo, in the center of a glossy cap. The bulk of the housing is actually wrapped in a fine mesh, which forms the cover for the speakers themselves. This material is surprisingly durable, and is virtually impossible to cut. You could take a razor to it, perhaps, or take some other kind of extreme measure. But under normal circumstances, it's not going to easily get damaged. You can take this speaker pretty much anywhere you go.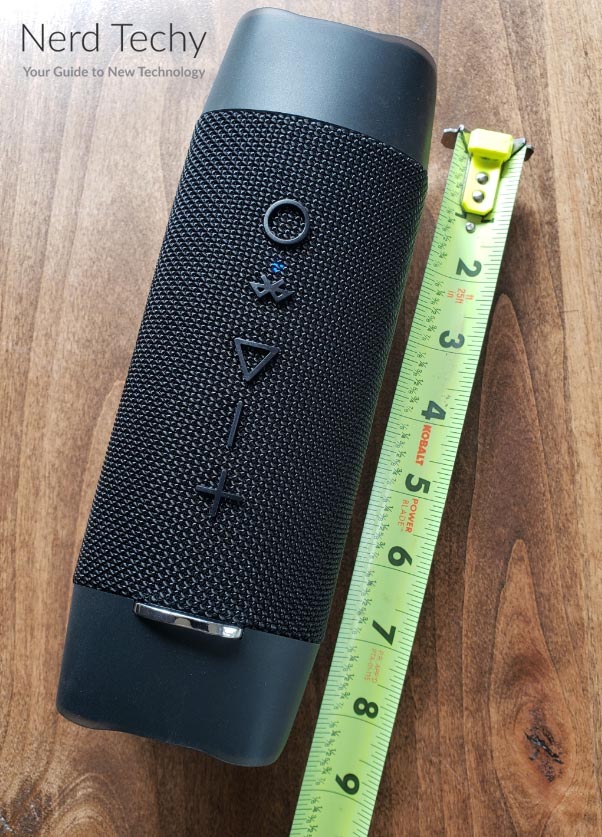 The housing is about the size of a 20-ounce water bottle, and is easy to carry in one hand. There's also a lanyard loop where you can attach a lanyard if you want to tie it to something. This makes transport simple and convenient, which plays right into the speaker's overall portability.
On the front of the housing, you'll find a row of five buttons. These provide for some basic functionality, without the need to pick up your smartphone. The top two bottoms are up and down volume, which are pretty self-explanatory. The next is the play/pause button, with the Bluetooth pairing button underneath. The bottom, circle button is simply the power button. Again, these controls are pretty rudimentary, but they're the ones you need to use 90 percent of the time. If you need to do more, you can always use the app, which we'll cover more in a second.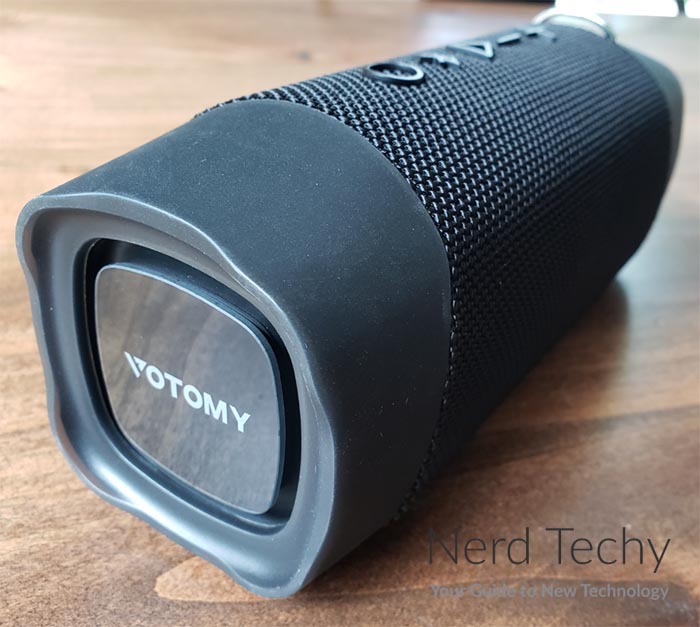 This speaker has a weather-resistance of IP67. The 6 indicates the highest possible level of dust-resistance. It can stand up to even very fine particles, so you don't have to worry about using it on dry, windy days. The 7 indicates that it can withstand full submersion. It can be submerged at depths of at least one meter, for a minimum of 30 minutes. In practice, you wouldn't want to actually use it underwater. But if it's dropped in the pool, you just fish it out and it keeps on playing. More to the point, you can take it in the shower, so it makes as good a shower speaker as it does a travel speaker.
If you want even more features, you should take a look at the Tribit Home Speaker. It sports a built-in alarm clock, as well as a night light that can also be an RGB light. On the other hand, it's not as loud as the Votomy VT360, and it's not suitable for outdoor use.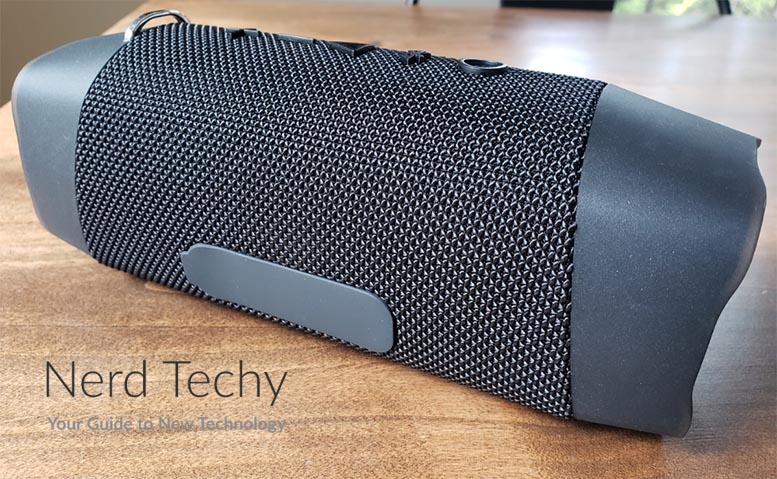 Battery and Connectivity
A Bluetooth speaker is only useful as long as the battery is charged. As a result, battery life is one of the more important considerations when you're choosing a speaker. The Votomy speaker is rated for 12 hours of playtime at medium volume. At full volume, you can expecting something more in the neighborhood of eight to nine hours. Still, that's plenty of time for most people's needs. How long are you really going to listen without stopping? Moreover, the USB Type-C charging cable will charge the battery in only about two hours. As long as you're near a power outlet, you can just plug in for limitless playback time.
In addition, the Votomy VT360 will also function as a power bank. There's a USB Type-A port, where you can plug in your smartphone, tablet, or other device. The total charge of the battery is 5,200mAh, or about 1 ½ charges on an iPhone 12. Keep in mind, though, that when you use the battery as a power bank, your speaker gets less playtime. Moreover, if you've already been using the speaker for a while, you'll have correspondingly less charging power. That said, it's nice to have the option, if only as an emergency backup.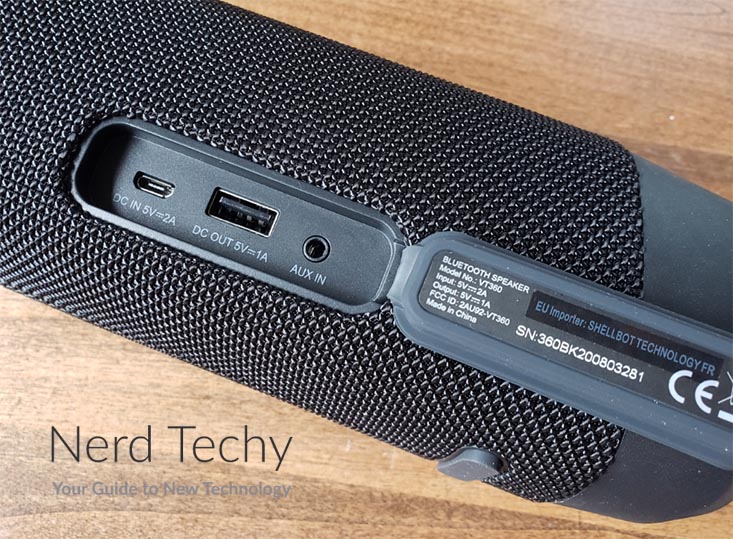 If you want a more powerful battery backup, there are a few options available. One solid choice is the Anker Soundcore Motion Boom. It has similar features to the Votomy, but twice the battery capacity and 24 hours of playtime. On the downside, it's correspondingly bigger and bulkier to carry around.
This speaker connects to your phone or other audio source via the Bluetooth 5.0 wireless protocol. This is the most popular Bluetooth version in current use, and it performs very well. The biggest benefit over earlier Bluetooth versions is the reduced latency. With older Bluetooth versions, there was a delay between audio and video signals. This made movies look bizarre, since the audio didn't sync up. With Bluetooth 5.0, the audio and video remain in sync. As a result, Bluetooth 5.0 speakers are ideal for watching movies. They also allow for higher audio bandwidths, and provide a more stable connection.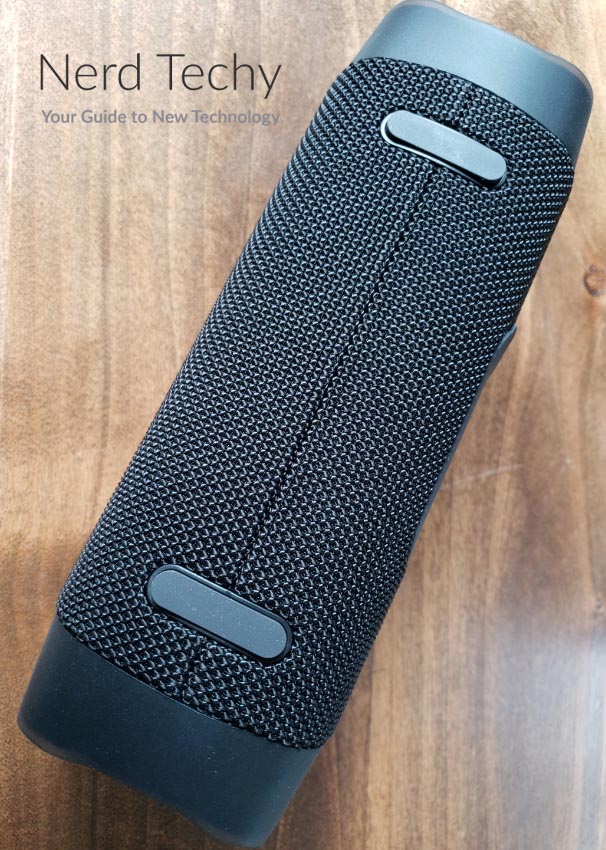 The VT360 also supports TWS pairing. Using the app, you can pair two speakers together to use them as a stereo system. One will work as the left channel, and the other as the right channel. This is ideal for backyard movie nights, or just for better quality when listening to music. On the downside, there's no SD card slot. This is a shame, since it would offer a backup method of playing certain audio tracks/files, can oftentimes come in handy. On the other hand, the Bluetooth connection itself works very well, and we had no complaints.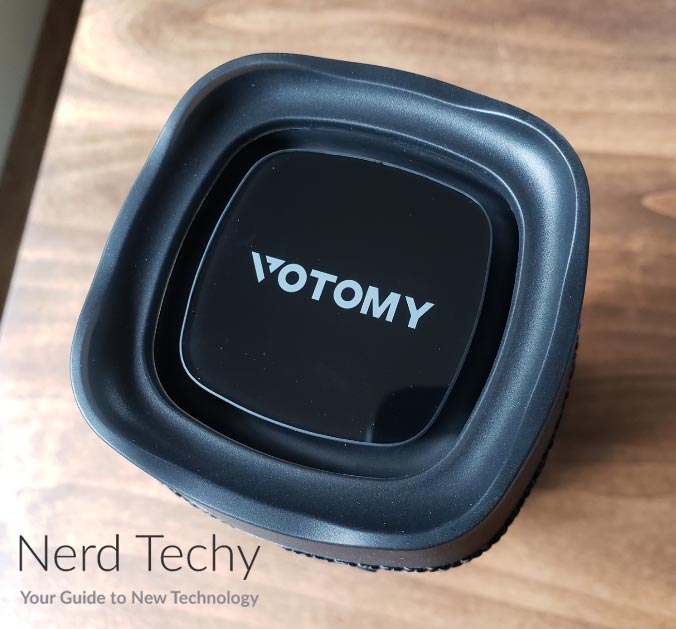 Audio Quality
The heart of the Votomy VT360 is the pair of 30-watt drivers. These are powerful enough to produce an impressive amount of sound. Despite the relatively small size of the speaker, one of them can easily fill a small backyard. It will certainly be plenty for any type of indoor application. If you're watching a movie outside with two speakers, you can entertain a fairly large audience. You'll also get a surprising amount of bass. No, we're not talking about soundbar levels of rumble. But there are passive radiators on both sides of the speaker that enhance the volume of the bass. They do a good job of providing a bit of punch without the need for dedicated subwoofers.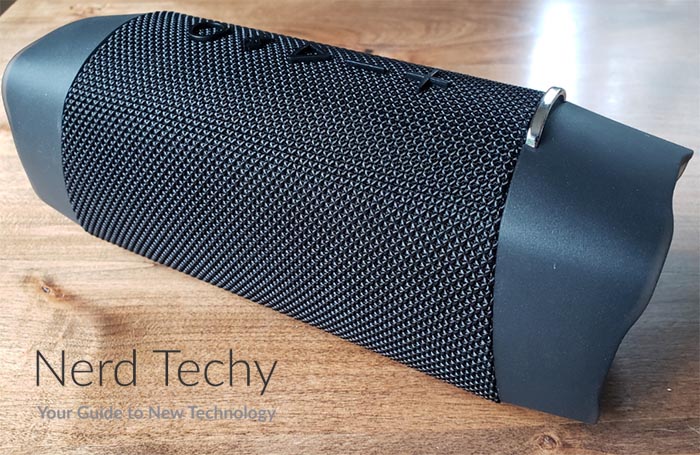 The trebles and medium frequencies also sound excellent. The human voice comes across very cleanly, which is essential for dialogue in movies or vocals in music. So do high-pitched, shimmery sounds like the hi-hat on a cymbal come across just fine. That said, the soundstage isn't as wide as we'd have liked. This makes it difficult to listen to very complex music. Simple instrumentations sound just fine, and movies are no issue. But if you're listening to classical music or symphonic rock, the music will start to sound squished.
If you want a different audio experience, consider the Ortizan X10. It has similar overall quality in terms of what you can get out of it. But the app includes multiple EQ settings, and the battery lasts nearly twice as long. On the downside, it's nowhere near as loud as the Votomy.
Along with its basic speaker functions, the Votomy VT360 also sports a built-in microphone. This can be used for hands-free calling, just as you'd use an old-school speakerphone. It also allows for Alexa controls, which is a nice added touch. On phone calls, the quality is about what you'd expect. Your voice comes across just fine, but so does any background noise.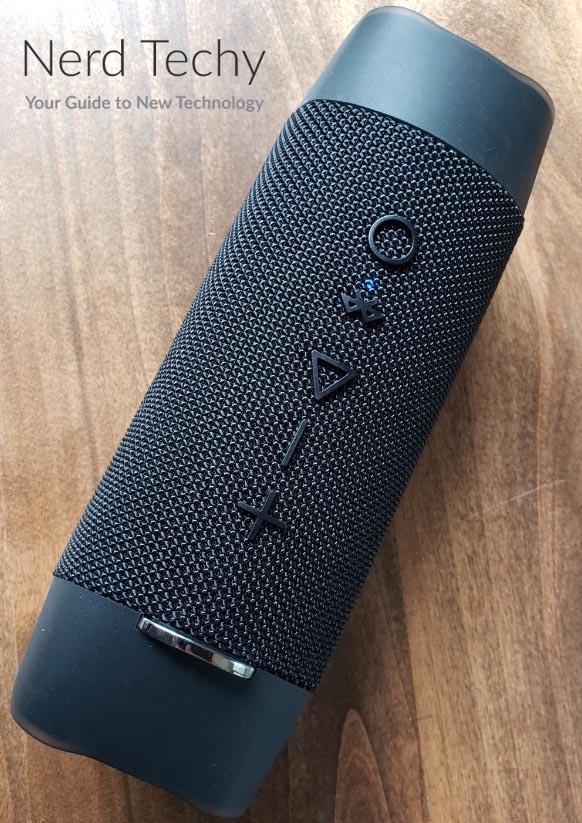 Final Verdict
The Votomy 30W VT360 Portable Bluetooth Speaker is a mid-priced Bluetooth speaker that lives up to our expectations. It's primarily made for watching movies. The stereo capability and low latency are both ideal for that purpose. At the same time, the narrow soundstage is less of an issue for movies than it is for music. The battery life isn't as long as some other speakers, but it's long enough for most purposes. And as far as the physical design goes, the housing is well-constructed and put together. If that's what you need, this speaker will meet your needs just fine.
Meet Derek, "TechGuru," a 34-year-old technology enthusiast with a deep passion for tech innovations. With extensive experience, he specializes in gaming hardware and software, and has expertise in gadgets, custom PCs, and audio.
Besides writing about tech and reviewing new products, Derek enjoys traveling, hiking, and photography. Committed to keeping up with the latest industry trends, he aims to guide readers in making informed tech decisions.