Choosing a good set of wireless earbuds is never easy. But nowadays, it can be particularly challenging. A variety of market factors has led to a flood of new products in the wireless earbud market. To a large extent, this has been a good thing. More competition has kept prices low, and has also encouraged companies to continue innovating. However, the earbud market has a very low cost of entry compared to other types of devices. Most of the components are easy to procure or manufacture, and costs are relatively low. Compare this to the cost of making a new laptop or tablet, and it's easy to see why startups would shoot for earbuds. This means there are a lot of new brands, and not all of them are reliable.
One way to narrow your options is to look for a brand you're already familiar with. The thinking is pretty simple. If you already like their existing offerings, you'll like whatever they make next. Of course, this is not a guarantee. Even the best manufacturers have flops. But a reliable manufacturer is far less likely to put out a substandard set of buds. Belkin is a top performer in that regard. While they've only recently started making earbuds, they've been in electronics for decades. They're well-known for their high-quality USB hubs and other connectivity-related devices. As a result, they're well-positioned to make any wireless technology.
Today, we'll be reviewing not one, but two of their latest earbuds. We'll begin by examining the Belkin SoundForm Rise. These compact buds are built mostly for audio quality, with deep bass and a low-latency Bluetooth 5.2 connection. The Belkin SoundForm Freedom also utilize the same Bluetooth 5.2 technology. However, instead of focusing primarily on audio, they're more geared towards connectivity and call quality. Of course, those are only the main differences between these two sets of buds. Let's dig a little deeper, and see how they compare!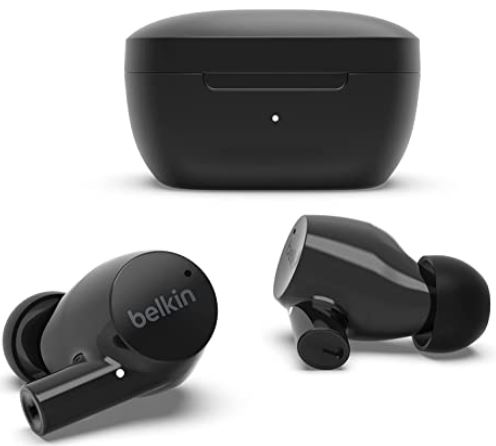 Belkin SoundForm Rise
The Belkin SoundForm Rise is a set of in-ear earbuds with a shell-style design. However, whereas most shell-style buds are curvy and compact, the SoundForm Rise buds are bigger and more angular. They're black in color, with a glossy finish that's attractive to the eye. To be fair, this material has a tendency to gather fingerprints.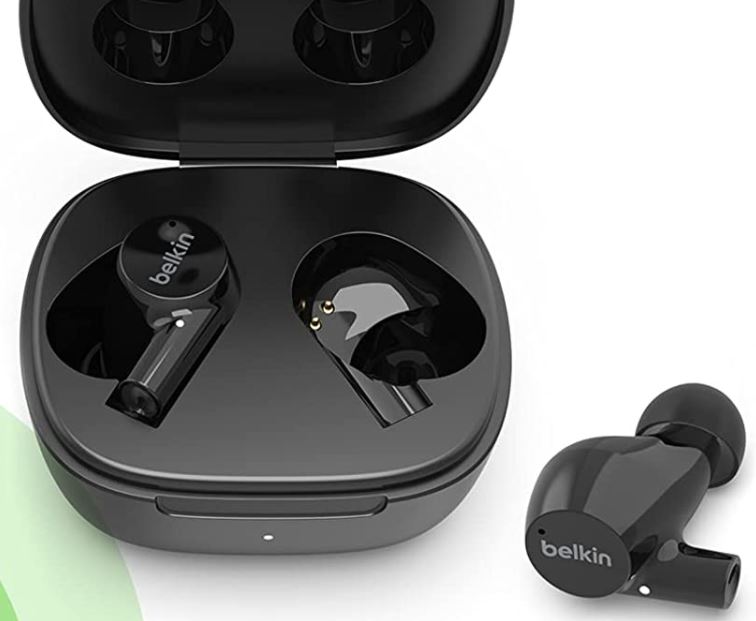 On the plus side, it's easy to wipe off with a damp cloth. And getting it a little bit damp is no big deal. These earbuds carry a water-resistance rating of IPX5, which means they're splash-proof. They can get a little bit damp or sweaty without any trouble. That said, they're not submersion-proof. They're made for workouts or light rain, not for showering.
The kit includes three sets of silicone ear tips, which is important for a couple of reasons. To begin with, it's important for comfort. If your tips are too big or too small, they're not going to fit right. This can lead to earbuds that are too tight, or which pop out of your ears because they're too loose. Not only that, but a secure fit creates an airtight seal. This helps prevent outside noise from leaking through and ruining your listening experience.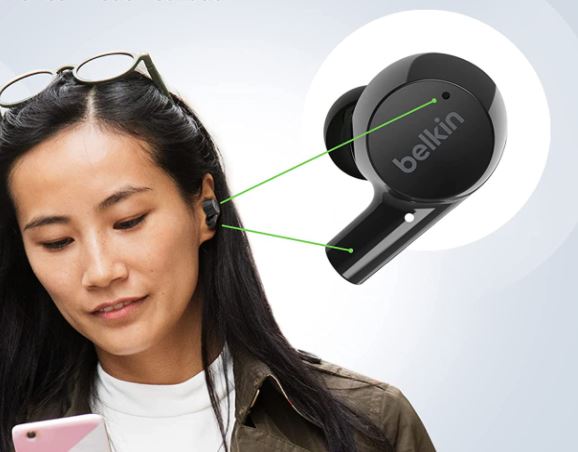 Along with the Rise earbuds, you get a horizontal carrying case. This case is constructed from a similar plastic to the earbuds, but with a matte finish instead of glossy. As a result, you can handle it freely without worrying about losing fingerprints. The earbuds lie flat inside for charging, and each one sits in its own molded well. The case has a clamshell-style lid, which is spring-loaded so it won't pop open by accident inside your pocket. There's a cutout underneath the front, which makes it easy to open with a thumb or a forefinger. Just underneath, you'll notice a single white LED. This illuminates when your case is plugged in, so you know that it's charging.
Battery & Connectivity
The SoundForm Rise earbuds each have an internal battery with enough juice for seven hours. This is a manufacturer's rating, so take it with a grain of salt. At full volume, a more realistic expectation is around 5 ½ hours. That's fairly standard for wireless buds, and we didn't have any complaints. In addition, the case provides a rated 24 hours, for a total of around 25 to 31 hours. The earbuds will charge in just under two hours, assuming their batteries that were already dead. The case will charge in a similar amount of time, if you're using USB Type-C. If you're using the Qi wireless charging feature, it will take a bit longer. However, you'll still be able to charge easily overnight.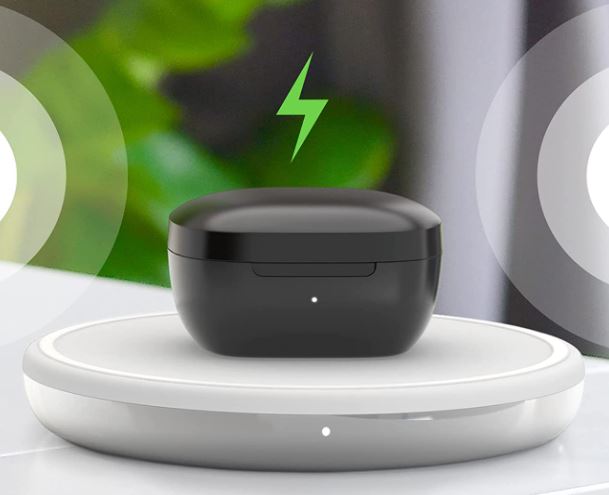 The Bluetooth connection is version 5.2, the latest update. This provides all the benefits of the standard Bluetooth 5.0 protocol. You get higher bandwidth, so you can listen to high-definition audio tracks. Moreover, you get a more stable signal, which means fewer dropped calls and janky audio connections. With Bluetooth 5.2, you also get near-zero latency. This means the audio and video are always in sync when you're watching a movie or gaming.
The SoundForm Rise buds can be paired with your phone either in stereo mode or in mono mode. Stereo mode is the norm for listening to music, and it's what you'll probably use most of the time. Mono mode is more limited, but it gives you better situational awareness. As such, it's a viable option for spoken word audio and hands-free calling.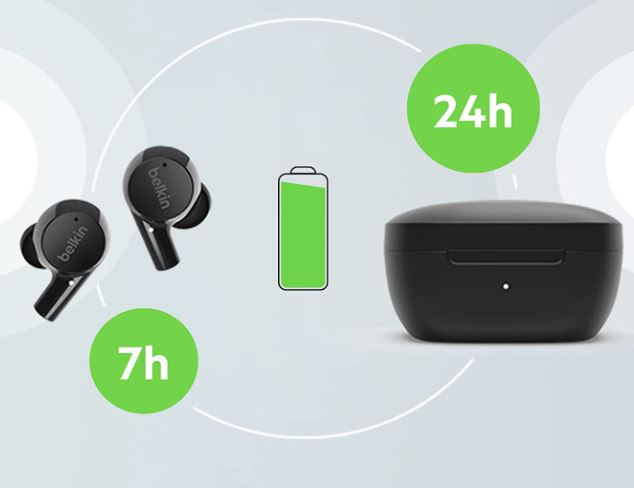 Audio Quality
These earbuds utilize 7mm drivers, which is about average for most wireless earbuds. This equates to a moderate maximum volume, which should still be fine for most people. One thing that impressed us was the richness of the bass. It's deep and powerful, and packs a lot of punch for the size. Belkin doesn't skimp on the highs and the mids, either. They're not quite as loud, but they're equally rich and detailed, with a wide soundstage.
If you prefer a flatter EQ, consider the original SoundForm earbuds. These are similar in most respects, but don't have the same boosted bass. Unfortunately, they also have shorter battery life.
When it comes to call quality, the SoundForm Rise buds are neither here nor there. Your voice sounds just fine, and the mics are nice and clear. On the other hand, there's no noise reduction feature to filter out background noise. If you're in a loud environment, the other person is likely to have a hard time hearing you.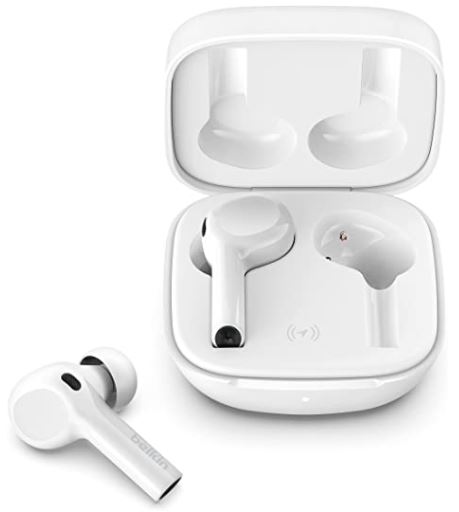 Belkin SoundForm Freedom
The Belkin SoundForm Freedom has a somewhat different design from the Rise. While the Rise has a shell-style design, the Freedom is more vertical, with external studs like the AirPod's. It's also available in black or white, instead of only black. The main difference here is that it sports a set of touch controls. By tapping or holding the backs of the earbuds, you can adjust the volume, skip tracks, and answer or end calls. You can even call up your phone's voice assistant to access more advanced features.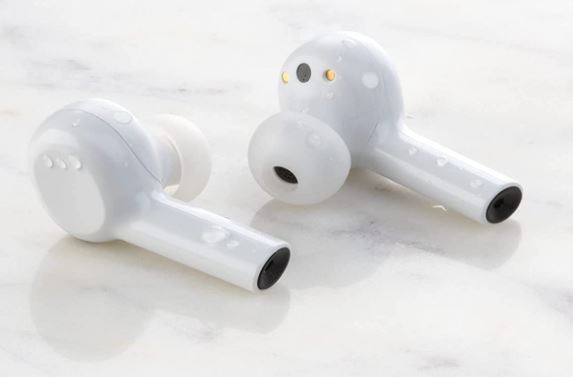 In most other respects, the design is remarkably similar. The water resistance rating of IPX5 is identical, so the buds are sweat- and rain-resistant. The case is also similar, with a horizontal design where the earbuds lie down. It's constructed from either black or white plastic, as appropriate to match the earbuds. There's even a white LED on the front, to let you know when the battery is actively charging.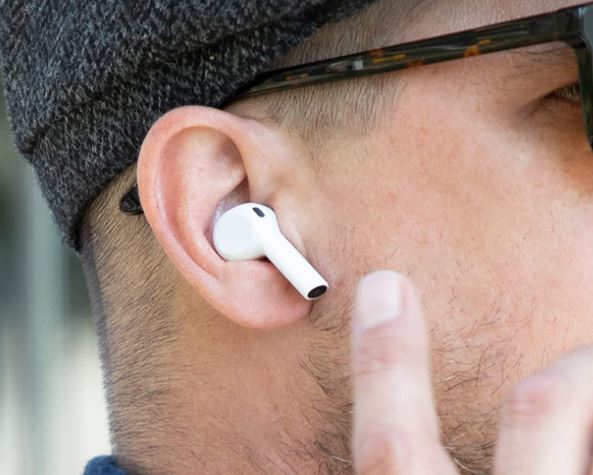 Battery & Connectivity
In terms of battery life, the Freedom earbuds perform a little bit better. They have a manufacturer rating of eight hours per charge, rather than seven. As before, this is a manufacturer rating, so you may actually get a bit less. But either way, you're getting a significant amount of juice. The case also provides a little bit more, with a rated extra playtime of 28 hours. This gives you 36 hours of playback in total, or around 29 if you're at top volume all the time. Charging is pretty similar, with about two hours required to charge both the earbuds and the case.
The Bluetooth 5.2 support is the same on the Freedom as it is on the Rise. However, there's a bonus connectivity feature that the Rise doesn't offer. The Freedom earbuds integrate with Apple's "Find My" network, which allows you to locate your devices. Once everything is set up, you can use the Apple Find My app to locate your missing earbuds. Keep in mind that this will only work with Apple devices. If you have an Android phone, you won't be able to take advantage of this function.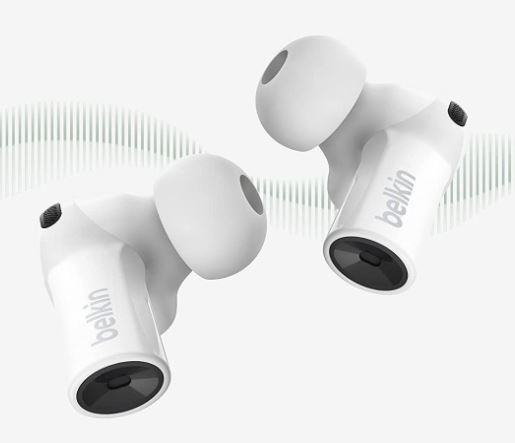 Audio Quality
Like the SoundForm Rise, the Freedom earbuds are tuned for a heavier bass, with a lot of low-end emphasis. This makes them suitable for workouts and other physical activities. That said, the rest of the audio quality isn't as good overall as the Rise. There's just not as much depth or richness. We're not saying it sounds bad. But if you're an audiophile, you should look at the Rise instead.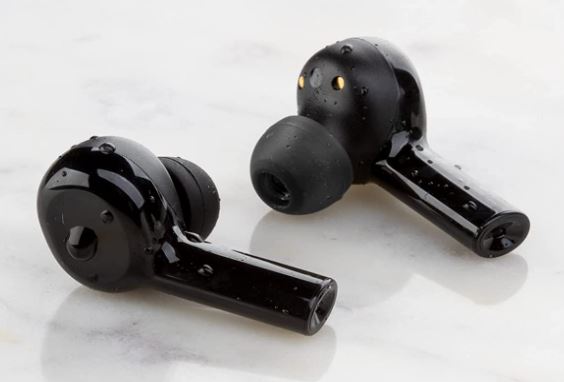 On the other hand, the Freedom is designed specifically for hands-free calling. They come with noise reduction for phone calls, which helps to cut down on background noise. It's not perfect by any means. But if you spend a lot of time on the phone while you're in traffic, you'll appreciate this feature.
One thing neither SoundForm earbud offers is active noise cancellation (ANC). If you want noise-cancelling earbuds, take a look at the Anker Soundcore Liberty Air 2 Pro. In addition to ANC, it also offers richer audio overall. On the downside, the batteries don't last very long.
Final Verdict
So, which one of these two sets of earbuds is the best choice? In many regards, both of them are similar. However, there are a few respects where they stand apart. The Belkin SoundForm Rise Earbuds provide better audio quality. There's a surprising amount of depth here, especially considering the tiny drivers. They also allow you to listen in mono or stereo mode. On the other hand, the Belkin SoundForm Freedom Earbuds provide superior battery life and connectivity. The "Find My" integration is a useful feature, and thanks to noise reduction, the call quality is superior.