If you haven't bought new earbuds in awhile, the marketplace can be confusing. Just a few years back, wireless earbuds were the exception, not the rule. In large part, this is due to changes in technology. Before True Wireless Stereo (TWS), wireless audio quality was downright dreadful. Bitrates were low, the sound was hollow, and you could only listen in mono. It was good enough for hands-free calling or listening to an audiobook, but not for music. Nowadays, you can get excellent quality from wireless earbuds.
Unfortunately, this has led to a conundrum. Because wireless earbuds are the hot new thing, everyone is trying to get in on the game. Some of these manufacturers, like Mpow and Soundpeats, put out a lot of quality gear. Others are not worth your time or money. Belkin is a bit of an oddball in this regard. They've been around for decades, and have an excellent reputation. However, they're best known for power and connectivity solutions such as charging docks, Thunderbolt hubs, and wall mounted surge protectors.
The Belkin SoundForm True Wireless Earbuds represent Belkin's first foray into wireless earbud technology. They have a compact, bud-style design that's well in line with today's market. But how well do they actually perform? Is the sound any good? Is the connection stable? We're about to find out. We examined the SoundForm earbuds from the ground up, and we're going to share our findings. We'll talk about the quality of construction, the battery life, and, of course, the sound quality. Let's take a deep dive, and see how they stack up to more established manufacturers!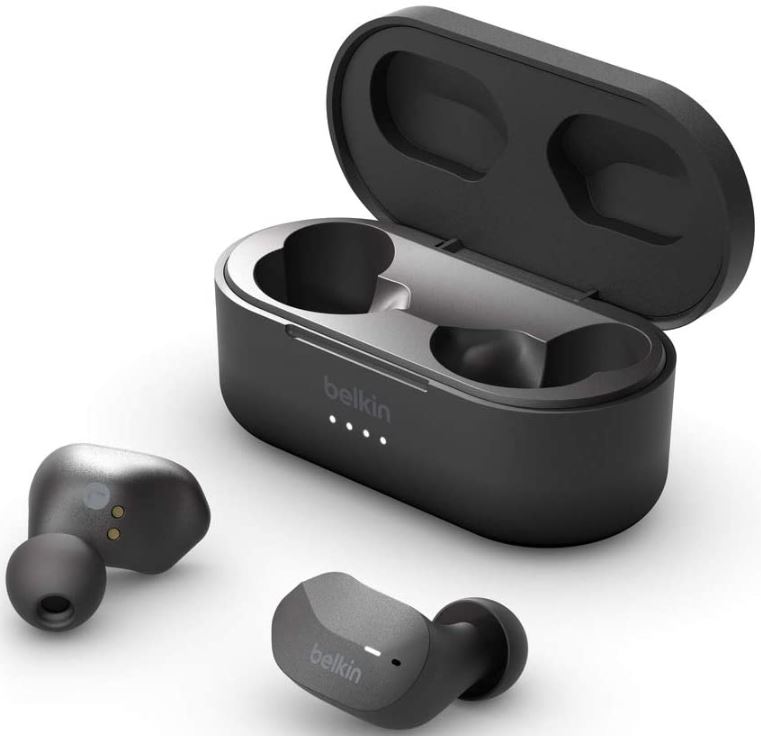 Overall Design
The Belkin SoundForm True Wireless Earbuds have a compact, comfortable design. They're engineered to sit in your ear canals, which provides noise isolation as well as security. That said, this depends on getting a secure fit. Too loose, and the buds are liable to fall out. Too tight, and they're going to be uncomfortable. As a result, getting the right fit is critical. The box includes three extra sets of earbuds in addition to the default size. If you're not comfortable with the initial fit, try a larger or smaller set. Doing this on day one will make the earbuds perform significantly better down the road.
One thing we really appreciated about the SoundForm earbuds is that they come in both black and white. This sets them apart from most of the market, where earbuds are typically only available in black. Either way, both the buds and the charging case have a matte finish. This finish is finely textured, and won't easily show fingerprints. It's also easy to keep clean, so dust and grime are only a minor concern. This is particularly useful on the white buds, since white surfaces show dirt so easily.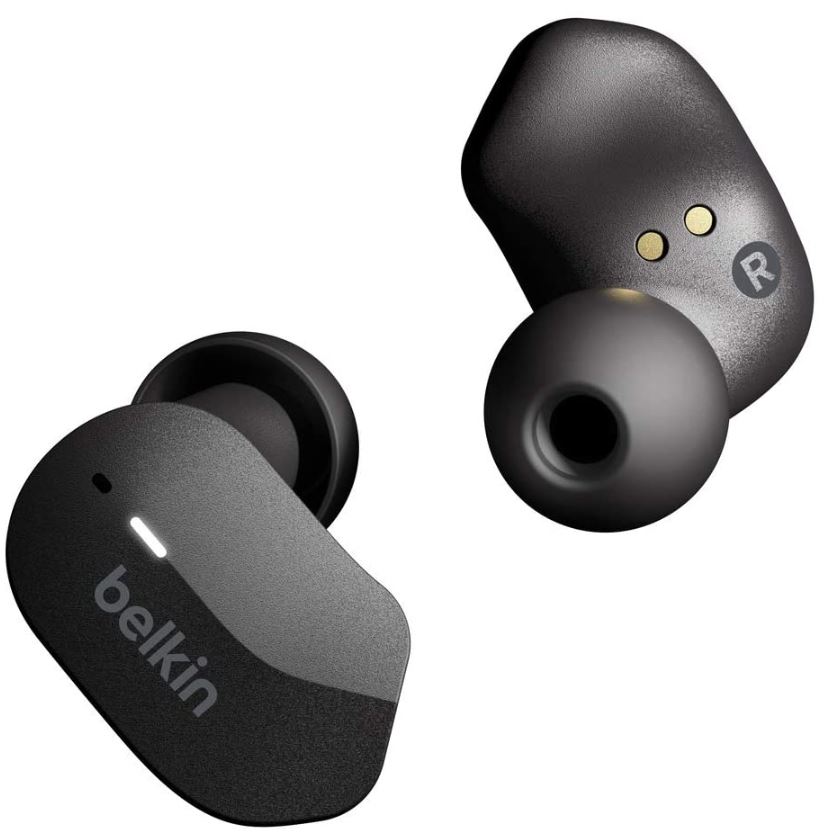 The SoundForm earbuds are IPX5-rated for water resistance. This equates to a rating of "splash-resistant" but not "water-resistant". In practice, you can get through a sweaty workout or a run in the rain without any issues. But when it's time to shower after your workout, take your earbuds out. If you bring them in the shower or the pool, they're going to suffer permanent damage.
On the back of both earbuds, there's a grey "Belkin" logo. This logo isn't just for advertising purposes. It also marks the location of the earbuds' soft touch controls. By tapping, holding, or double tapping these controls, you can operate a variety of smartphone features. You can play or pause music, answer or end calls, and activate your phone's voice assistant. You can also skip tracks and adjust the volume. Best of all, because these controls have a soft touch interface, you don't have to press hard. This is a blessing if you have sensitive ear canals that can't withstand a lot of pressure. When you tap them, your ears will barely notice. Next to the soft touch buttons, there's also a small LED light that lets you know the buds are connected.
The SoundForm charging case has a clamshell design that's more or less an industry standard. It's spring loaded, which means it won't easily pop open in your pocket or your backpack. Nonetheless, it's easy to open. Under the front of the lid, a small cutout allows you to pop it open with your thumb with minimal effort. Beneath this cutout, there's a row of four white LED lights that indicate the current battery level. Normally, they remain off to save battery life. But when the lid is open, they illuminate so you know where you're at.
The case itself is fairly compact, measuring 2.75 inches wide, 1.25 inches thick, and 1.4 inches deep. At this size, it's highly portable, so you can slip it in your pocket without any issues. And at 3.52 ounces in weight, it's easy to transport. That's less than the weight of a McDonald's burger. You can add it to your purse, backpack, or luggage, and it's not going to weigh you down.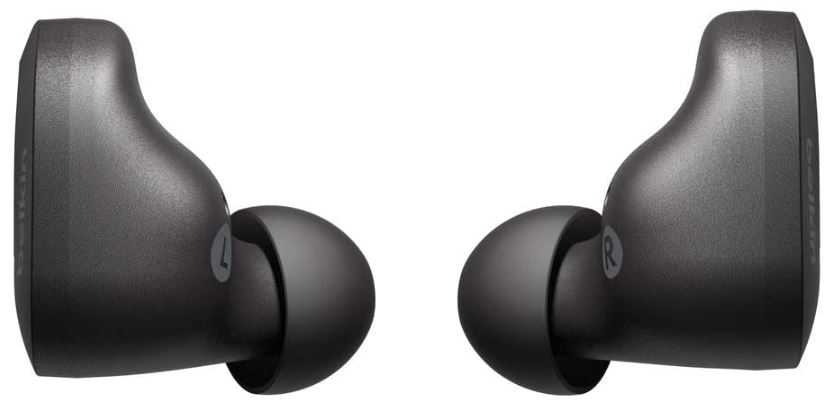 Along with the case and the earbuds, you also get a couple of extras. First off, you get a six-inch Micro USB cable for charging. This is a bit short, but it's long enough to get the job done in most cases. It plugs into a small port that's discreetly located under the hinge on the back of the case. You also get a 12-month manufacturer's warranty. This is more or less an industry standard, and is good enough to protect you from almost any common failure.
Battery & Connectivity
The Belkin SoundForm earbuds carry enough charge for up to five hours of playtime. This is sufficient for most people's purposes. Even if you have a fairly long commute, you shouldn't have any issues. Wear them during your morning workout, take them on the subway with you, and you can still wear them home. That said, we should point out that this is a manufacturer's rating, based on playback at medium volumes. In practice, your performance will vary based on how you use the buds. For instance, if you keep the volume all the way up, your battery life will be less. On the other hand, if you primarily use your earbuds for hands-free calling, you'll get longer life.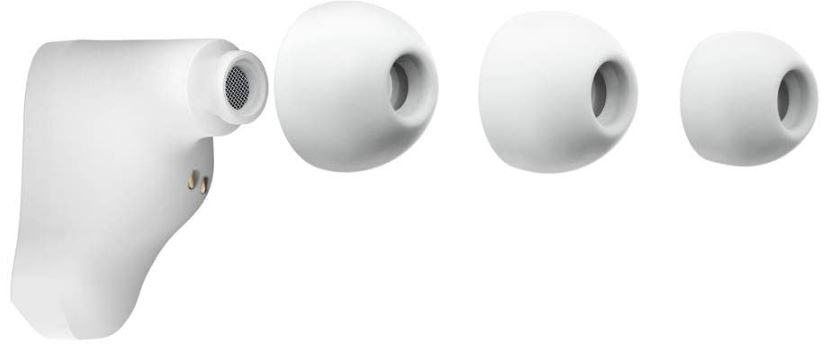 If you need even more battery life, you can take advantage of the SoundForm's charging case. The internal battery holds enough juice for 19 hours of additional playtime. As a result, you get up to 24 hours of playtime before you have to plug into a USB port. This is good enough for most people to get through a long weekend without recharging. That said, it's not the best battery life on the market by any means. These days, we expect to see about 30 hours of total charge time at minimum. So the SoundForm buds fall a bit short of the mark, but not by a tremendous amount.
The SoundForm buds connect to your phone or MP3 player with the latest Bluetooth 5.0 protocol. This version of Bluetooth supersedes the older Bluetooth 4.2 protocol, and has some great added features. For one thing, it's a far more stable connection. You don't have to worry about random dropped calls or stuttering music. Next, you get very low latency. Whereas older protocols were ill-suited for watching movies, Bluetooth 5.0 makes it a viable option. Finally, Bluetooth 5.0 supports high-bitrate audio. You can listen to ultra HD tracks without any bandwidth limitations. Combine that with a 33-foot range, and you've got yourself a very versatile set of buds.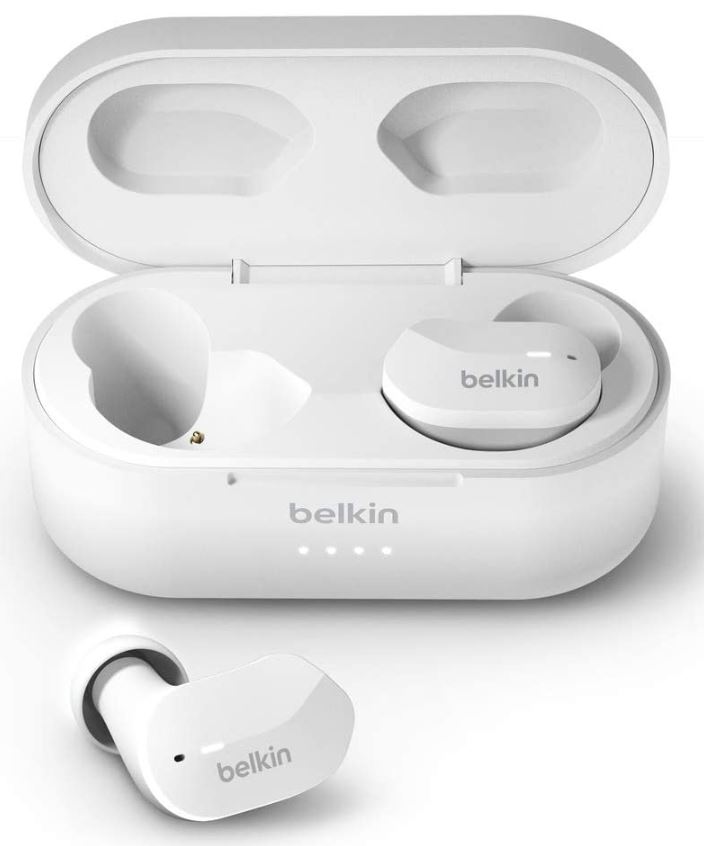 Sound Quality
Before we wrap up, let's talk about sound quality. The SoundForm earbuds have a small form factor, which means they have correspondingly small drivers. But considering the size, they perform quite well. The soundstage is particularly impressive. You get plenty of separation between frequencies, so there's no cross-talk between instruments. The highs and bass won't interfere with the mids, and you can hear each instrument clearly.
The frequency response itself is also fairly good. This is particularly noticeable in the high frequencies. There's plenty of shimmer and shine, without any fuzz or fizzle. Even at high volumes, cymbals and other high sounds aren't going to break down into static. Moving down to the mids, we see similar quality. Vocals, rhythm guitars, and other medium-frequency sounds are all very clear. If you favor vocal-heavy genres like country and rap, you'll appreciate this. Similarly, spoken word media like audiobooks also sound very good. Unfortunately, the bass response is a bit weak. Don't get us wrong. It's clear and distortion-free. But it's just not terribly present. This is understandable given the small size of the drivers, but it will disappoint true audiophiles.
When it comes to hands-free calling, the SoundForm earbuds perform adequately. There are separate mics on each earbud, so you get plenty of pickup. There's no noise isolation, though, so crowded environments can make it hard for the other person to hear you. That said, under normal circumstances, you should be just fine.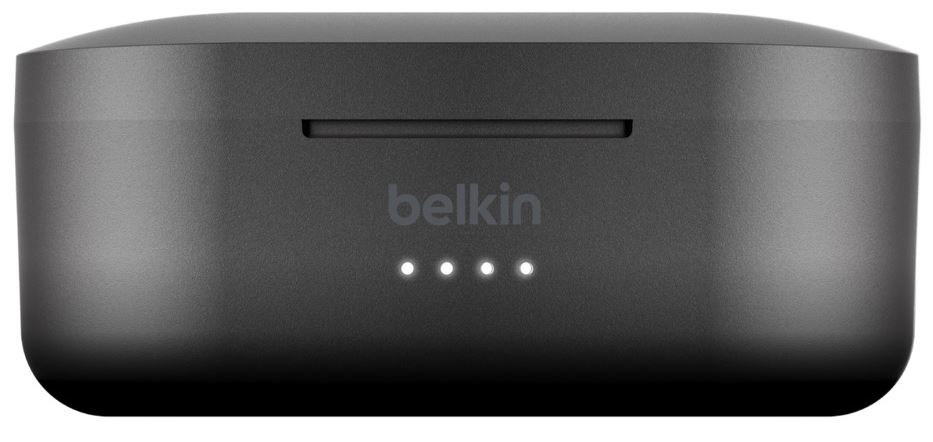 Final Verdict
At the end of the day, the Belkin SoundForm True Wireless Earbuds are a solid choice for the price point. They're an admirable effort for a company that's not known for audio devices. We're excited to see what Belkin does next! They're well-designed and comfortable, which makes them easy to wear even for long periods of time. The controls are responsive, so you can operate them without any discomfort.
The charging case is compact and well-engineered, which makes transport easy. You can carry it in your pocket or in a backpack with equal ease. The battery life is a bit disappointing, but it's not terrible. Unless you need to go several days without plugging in, you shouldn't have an issue. The sound quality, for the most part, is good. The bass was underwhelming, but still high quality. However, mids and highs are excellent, and the soundstage is nice and wide. You can enjoy most genres of music without feeling let down.