Photographs are an essential memento of special times. They don't just help you remember; they literally preserve your memories forever. Photos of family, of vacations, of a barbecue with friends, all help to keep us sane and happy. But with the coming of social media, photos are so much more than that. Now, you can use photos to share your experiences with friends and family no matter where they are.
Of course, social media is only useful for people who are actually connected and check in frequently. If you're not on the same platform, you're not going to be able to share all your pictures. Moreover, you can't hang a Facebook or Instagram post on your wall. A smart photo frame, on the other hand, allows you to do just that. You can watch your photos cycle through, and even share photos with your friends and family.
Today, we're going to be reviewing the Nixplay 10.1" Smart Photo Frame (Model W10F). Previously, we named the Nixplay Smart Photo Frame one of the best smart digital photo frames of 2020. The downside of a "best of" article is that it can be tough to do justice to any one device. So we decided we'd dedicate a more in-depth review to the Nixplay frame. We're about to take an in-depth look at all the features and benefits. We'll talk about connectivity as well as the general design and the video quality. Hopefully, we're able to give you a better picture of what this frame has to offer. Let's begin!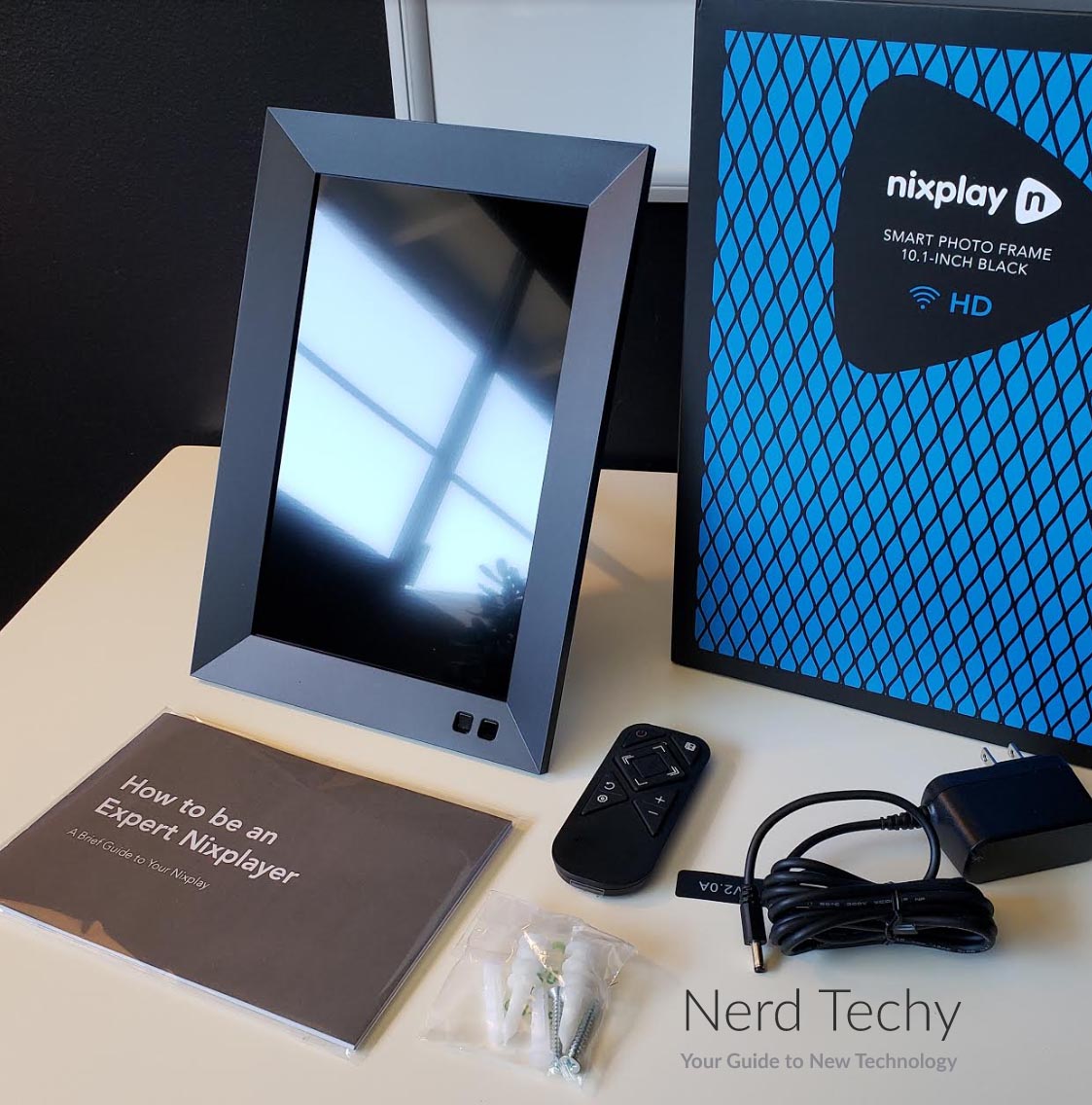 Modern Design
The Nixplay 10.1" Smart Photo Frame has a slick, modern design. From the front, it's relatively spartan, with a flat, angular frame. The frame is black ABS plastic, with a matte finish that won't collect fingerprints and is easy to keep clean. There's no border or fake matting around the screen. It runs right up to the edge of the frame, without any extra decorations. At the bottom edge, there's a small motion sensor, but it's not terribly obtrusive. In all, the frame measures 10.55 inches tall, 7.36 inches wide, and 1.22 inches thick in portrait orientation. And at only 1.3 pounds, it's easy to hang without the need for special hardware.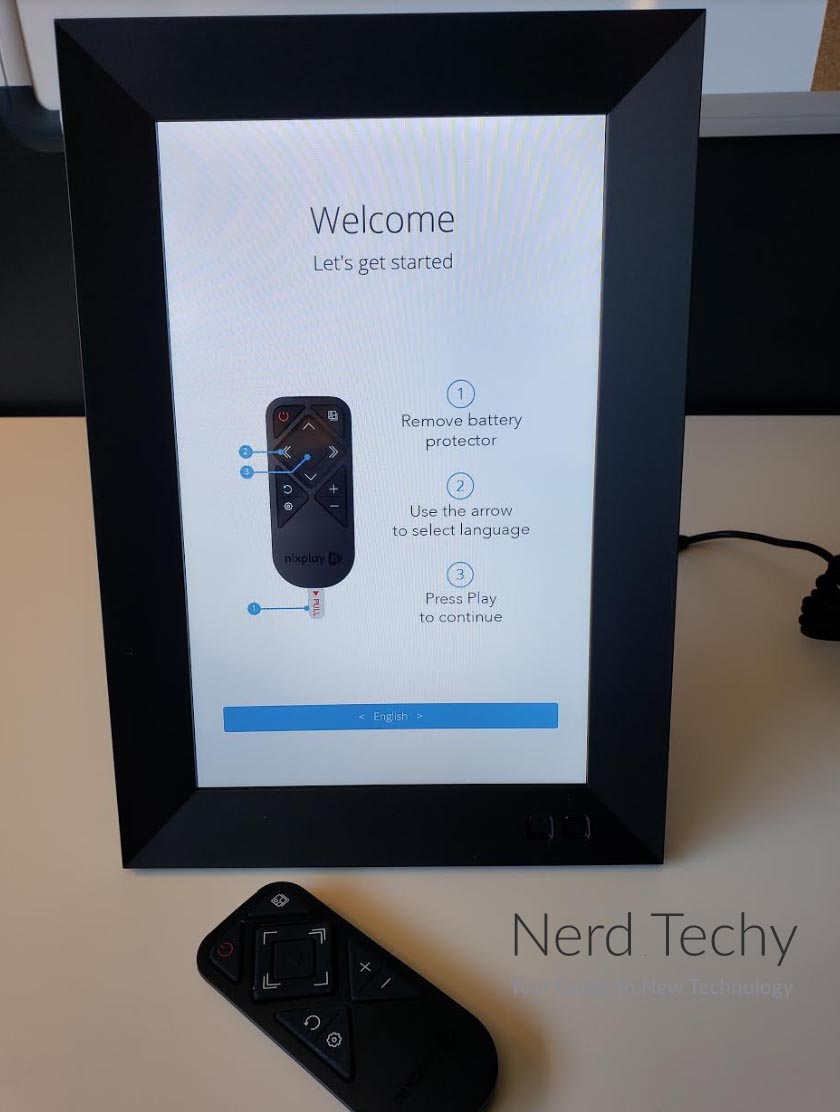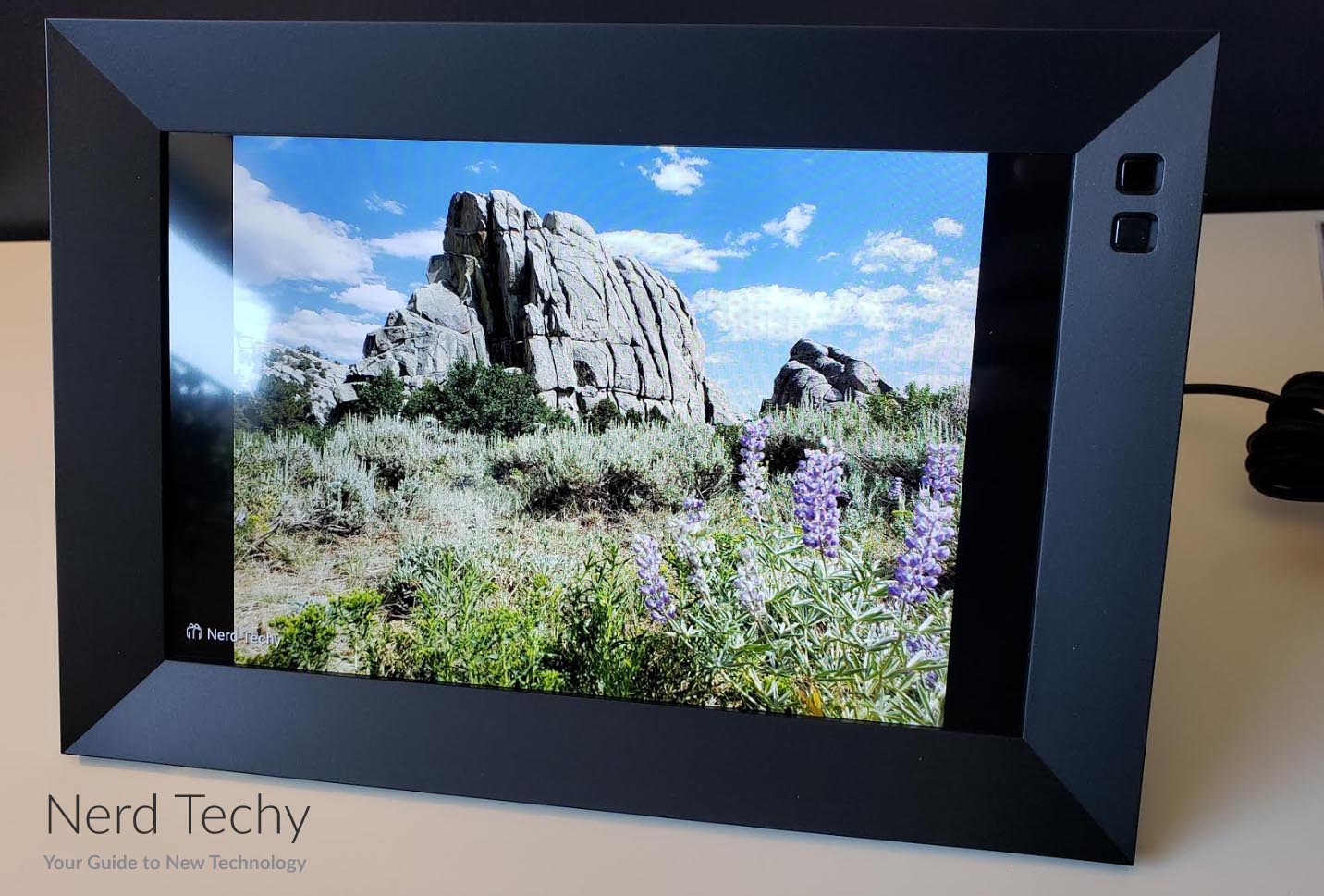 The Nixplay Smart Photo Frame has a scalloped design on the back, which seems superfluous at first. However, it increases the surface area, which improves heat dissipation. Not that heat should be an issue with a simple digital picture frame, but it's a worthwhile safety feature nonetheless. The power is supplied by a simple AC/DC adapter that plugs into your wall outlet. There's also an internal battery, but it's primarily designed as a backup in case your power goes out. The AC/DC adapter plugs into the bottom of the kickstand, which has a gooseneck design. You can flex it as needed for various angles, or for portrait or landscape orientation.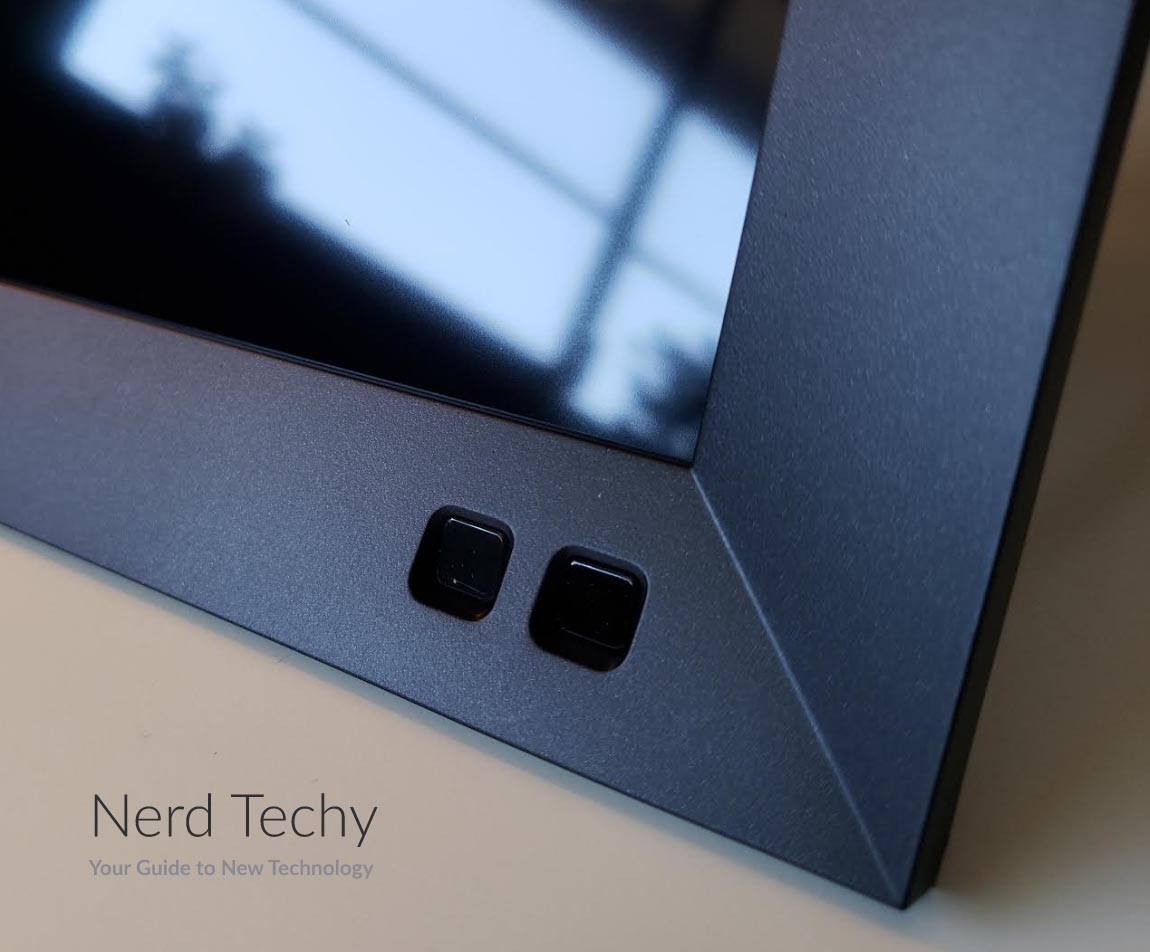 Alternatively, you can mount the Nixplay frame on your wall. There are a total of eight screw slots, which allow you to hang it in any orientation. To access them, simply remove the kickstand, then plug the power adapter in directly.
Along with the frame itself, you also get a nifty remote control. It has a full array of controls, which allow you to turn the frame on or off, skip photos, or choose a playlist. You can also access the frame's menu to adjust more advanced options. If you don't want to use the remote on a daily basis, there's a handy storage option. Part of the frame back is magnetized, as is the remote. Slap it in place, and you're good to go. It'll be out of sight, out of mind, and ready for when you need it.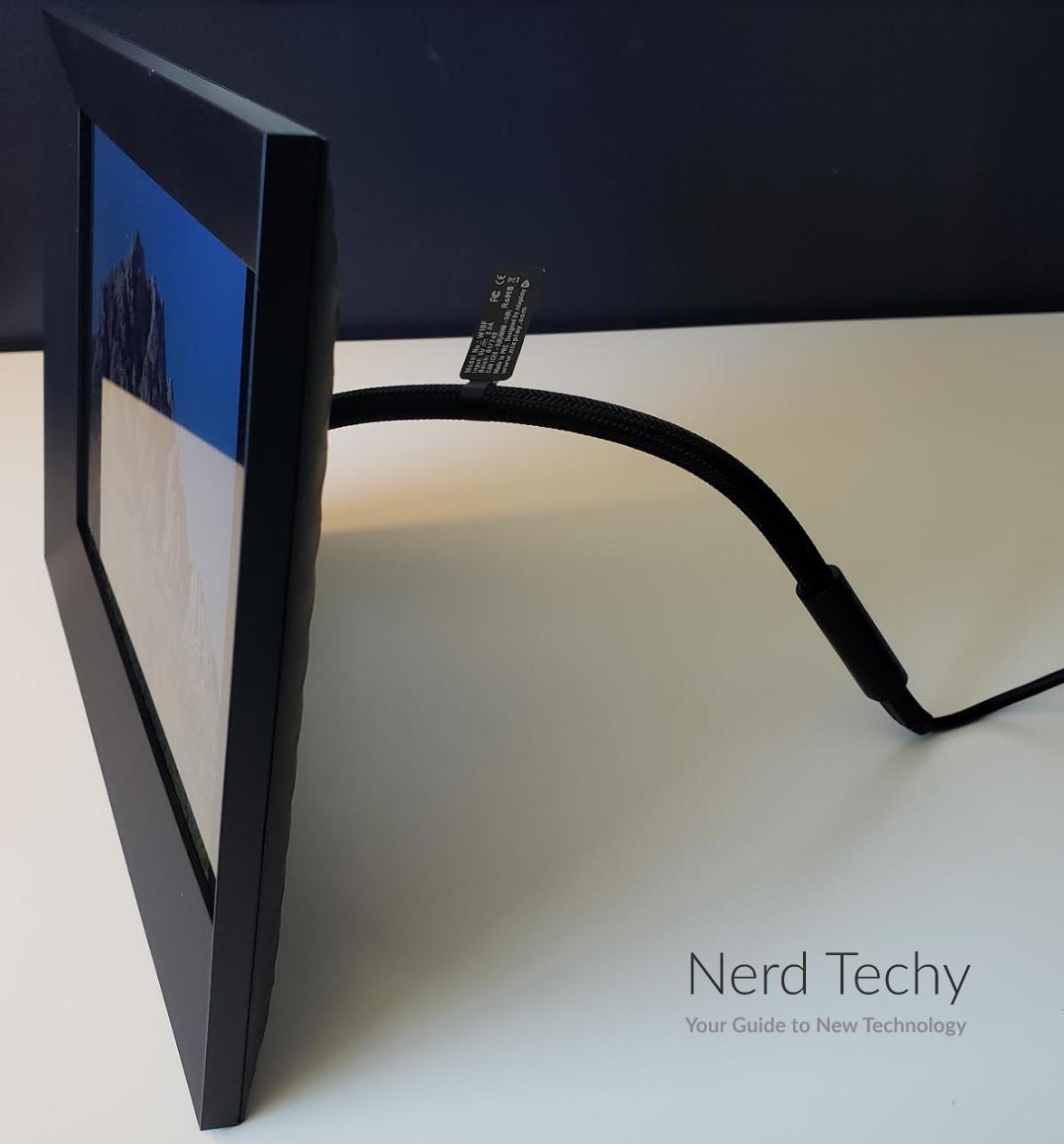 Cloud Connectivity
Many digital photo frames only allow you to add photos by inserting a thumb drive or SD card. But the Nixplay 10.1" Smart Photo Frame supports a wide variety of online options. In fact, there's no SD card slot at all. The first thing you'll want to do when you power on the Nixplay frame is connect it to your WiFi network. You can do this through the menu, and the process is relatively straightforward. However, it will only connect to the 2.4GHz wireless band, not the 5GHz band. As a result, it will need to be relatively close to your router or a WiFi booster. As long as you've got a relatively modern router, the range should be more than sufficient.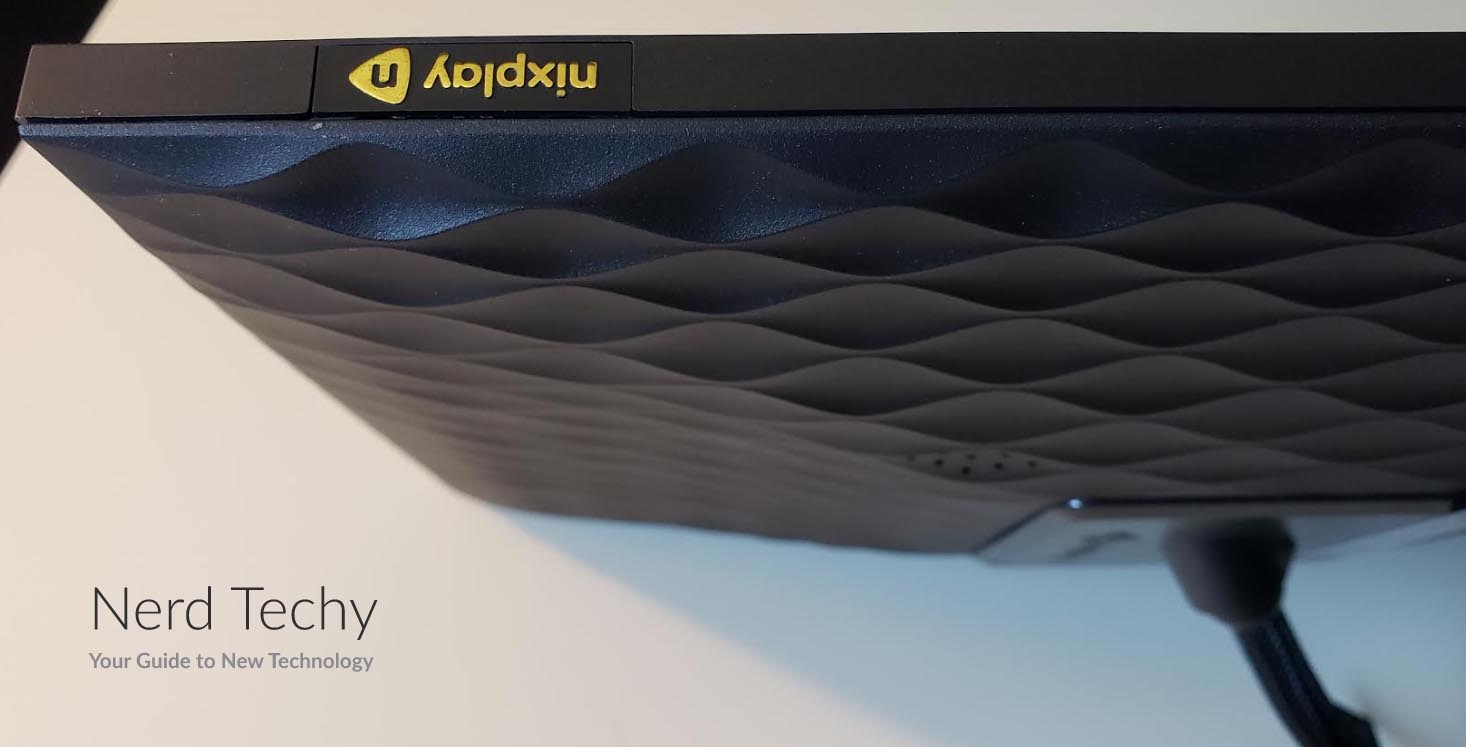 The next step is to install the Nixplay app on your smartphone. It's available for free on iOS and Android, and takes only minutes to install. With the app installed, you'll be able to pair your phone with the frame. Once that's done, you can start using the app to "text" your photos to the Nixplay frame. Of course, you might want to connect multiple users to the same frame. Each user will need to download the app, create an account, and pair it with the frame. When you set up your account, you also get access to your frame's unique email address. With the email address, you're not limited to just sharing from the app. You can email photos from your PC, your Mac, or any other device.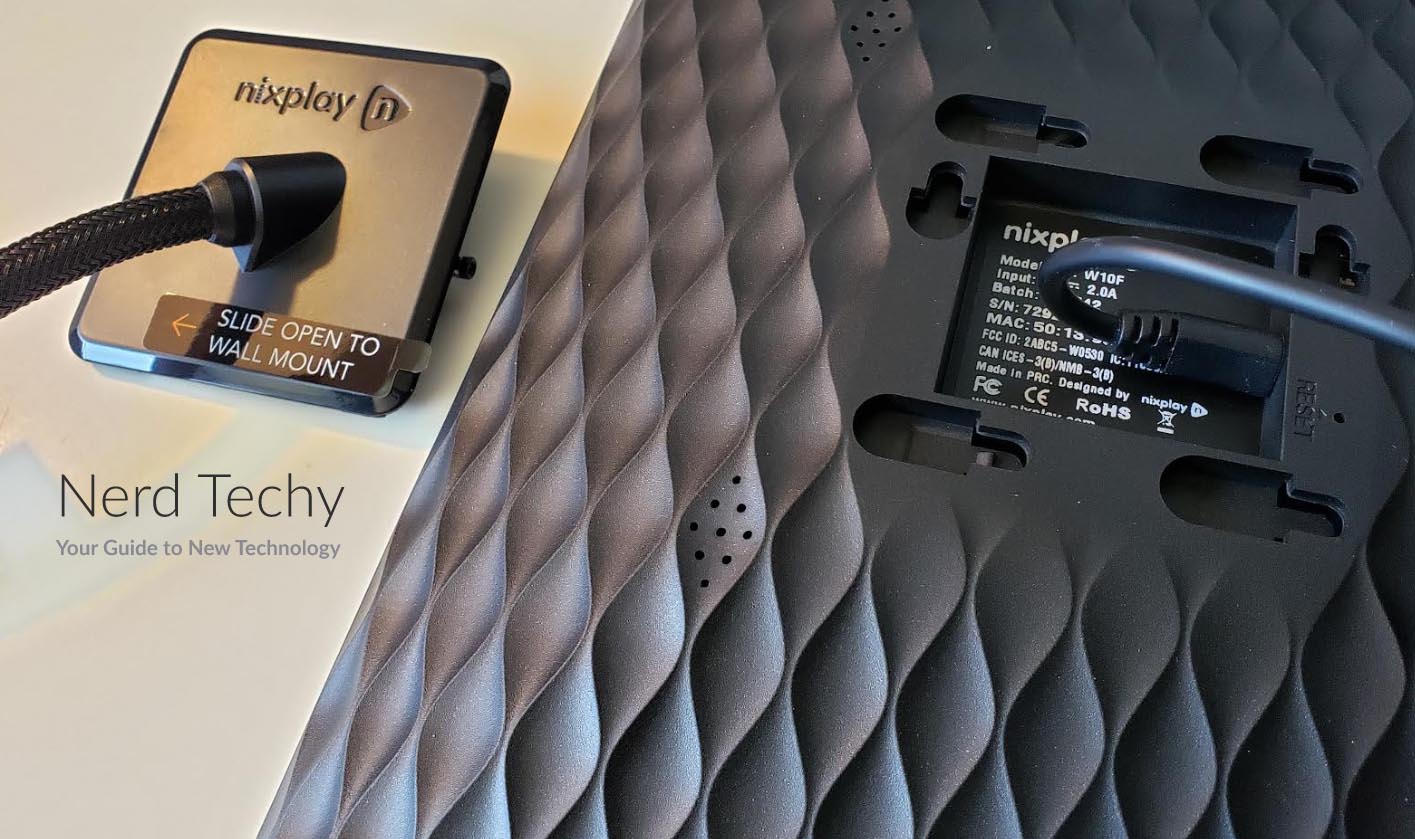 In addition to the app and email, you can also share photos through Dropbox, Facebook, and Instagram. This requires a few minutes to set up. But once it's done, you've got even more ways to quickly, easily update the frame. Whenever a new picture is added, the frame will display an alert, including the name of whoever added it. This is a great feature if you have elderly relatives you want to share your life with.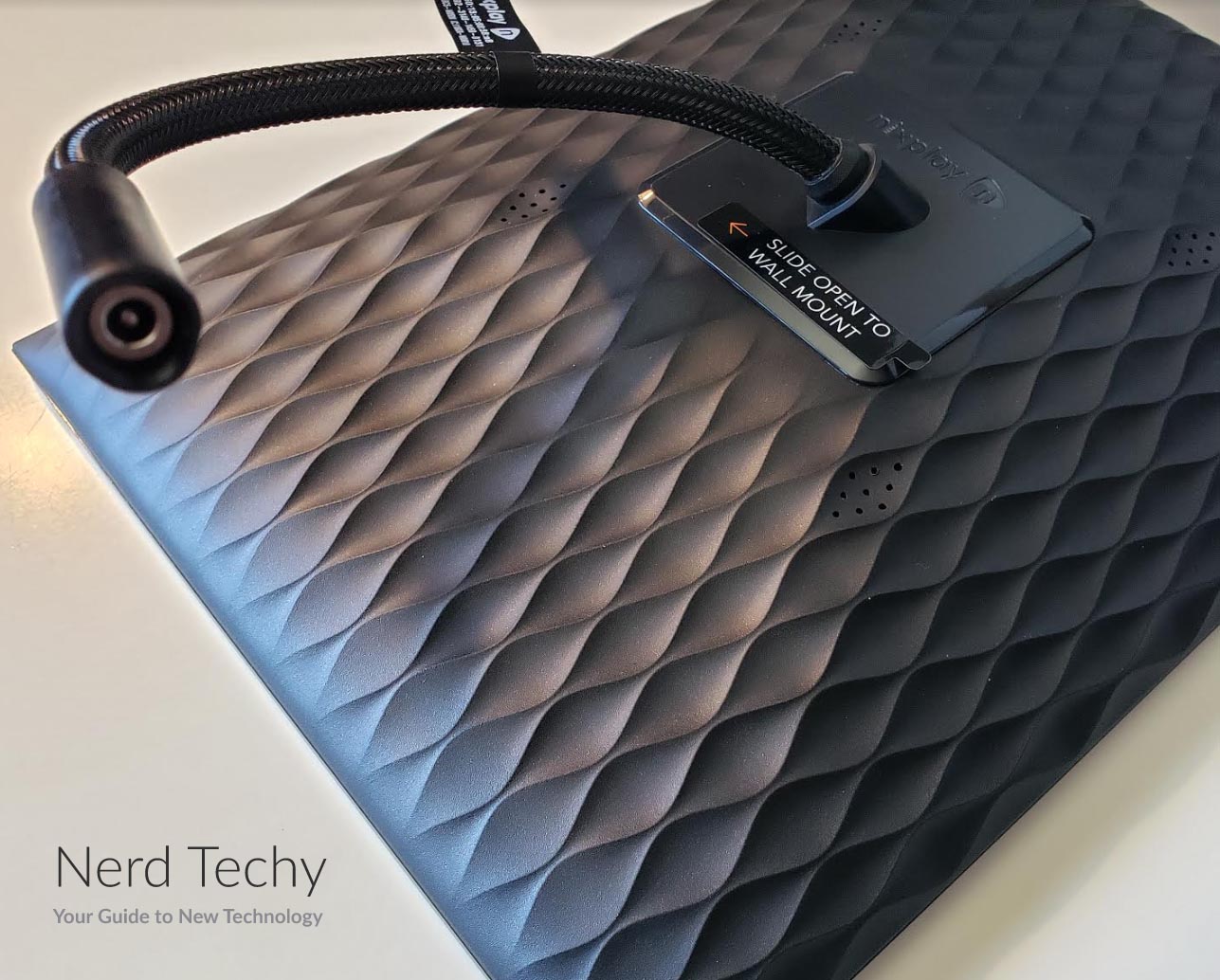 From the frame itself, you can order physical copies of the pictures in your slideshow. You can order standard-sized prints, large posters, mugs, tee shirts, and other mementos. Keep in mind that this costs an extra fee, so don't go crazy with it. On a more mundane — and less costly — note, you can create custom playlists. Set up different playlists for special memories, and you'll be able to relive them at the push of a button.
On the downside, all of this comes at a higher price than most digital picture frames. If you're looking for a more budget-friendly option, consider the Dragon Touch 10-Inch WiFi Digital Picture Frame. It's more affordable than the Nixplay, but you can only upload photos from the Dragon Touch app.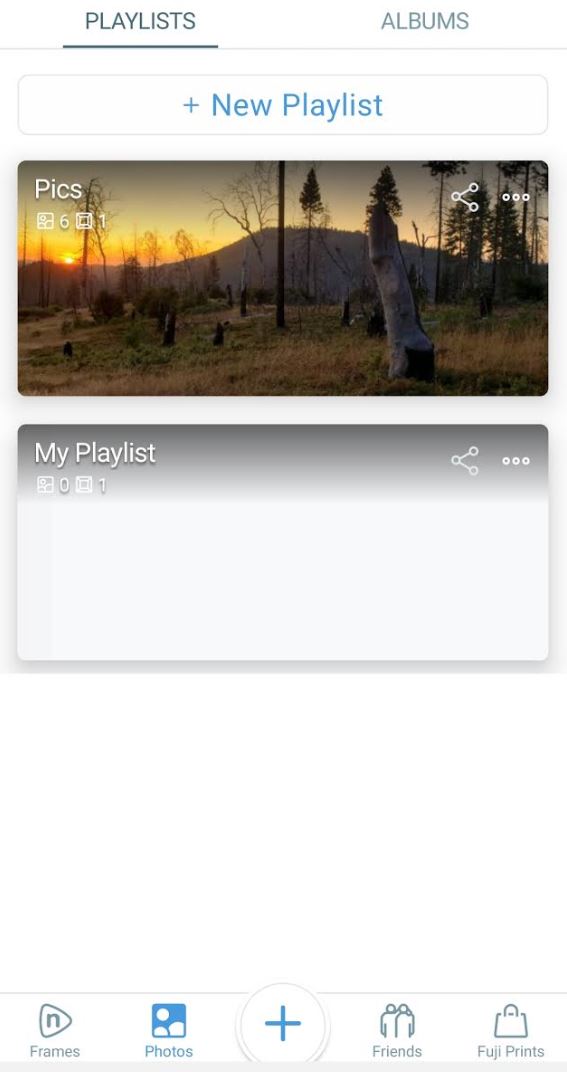 Image Quality and Options
The Nixplay 10.1" Smart Photo Frame sports an IPS display, which is better than older LCD technology. This type of display allows for a 178-degree viewing angle. In other words, your picture will look right from just about any angle. It's almost like you're looking at a physical print instead of a digital display. The resolution is 1,280 x 800 pixels, or between 720p and 1080p. At first glance, this might seem low, but it's really not. At this size, even if the display was in 4K, you wouldn't be able to tell the difference.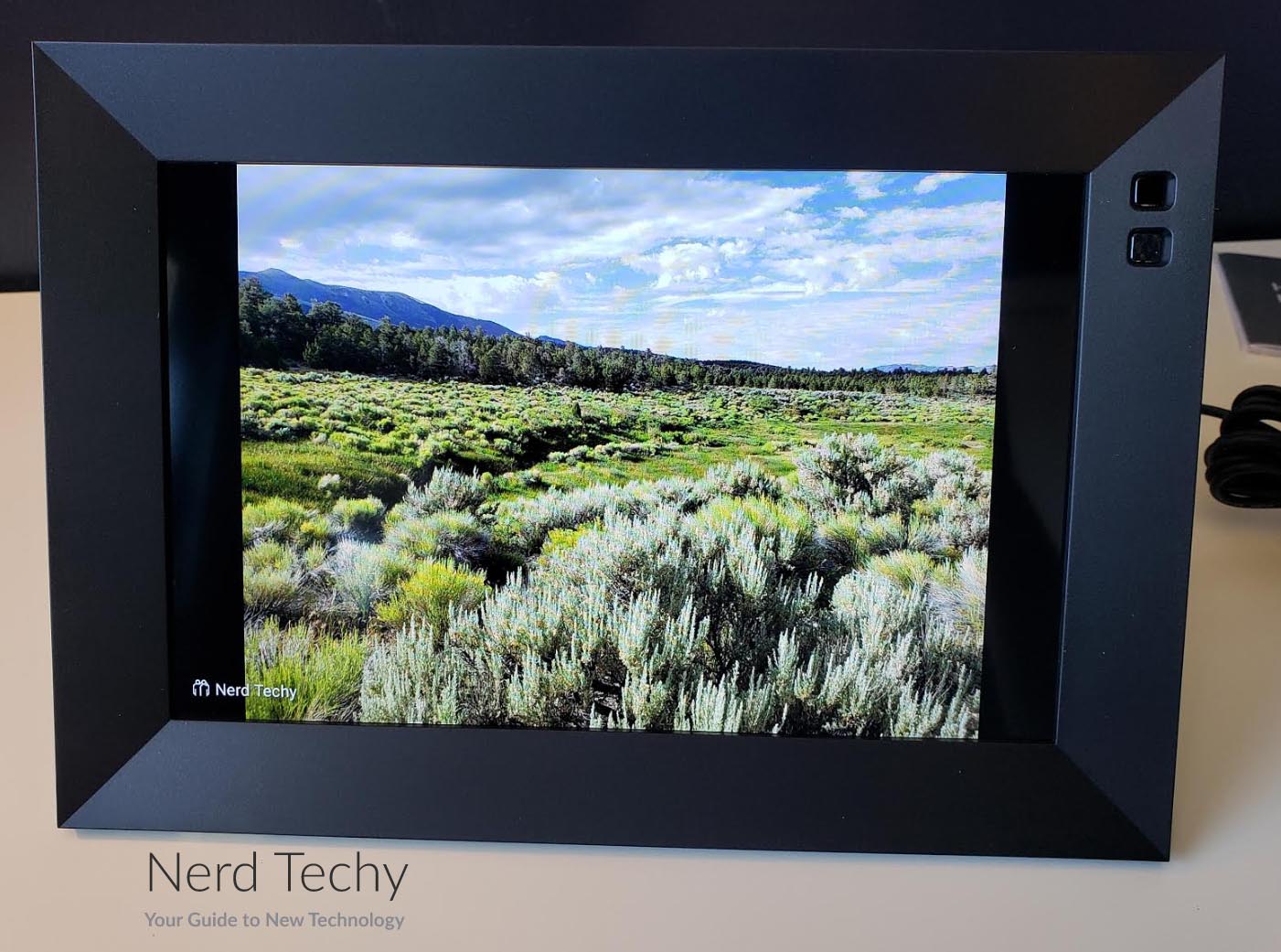 The display has a 16:10 aspect ratio, which is sufficient for most modern digital photos. It will automatically adjust to portrait or landscape mode, depending on your frame's orientation. This will result in some letterboxing. However, it will also ensure that your entire picture will display, without anything getting cut off.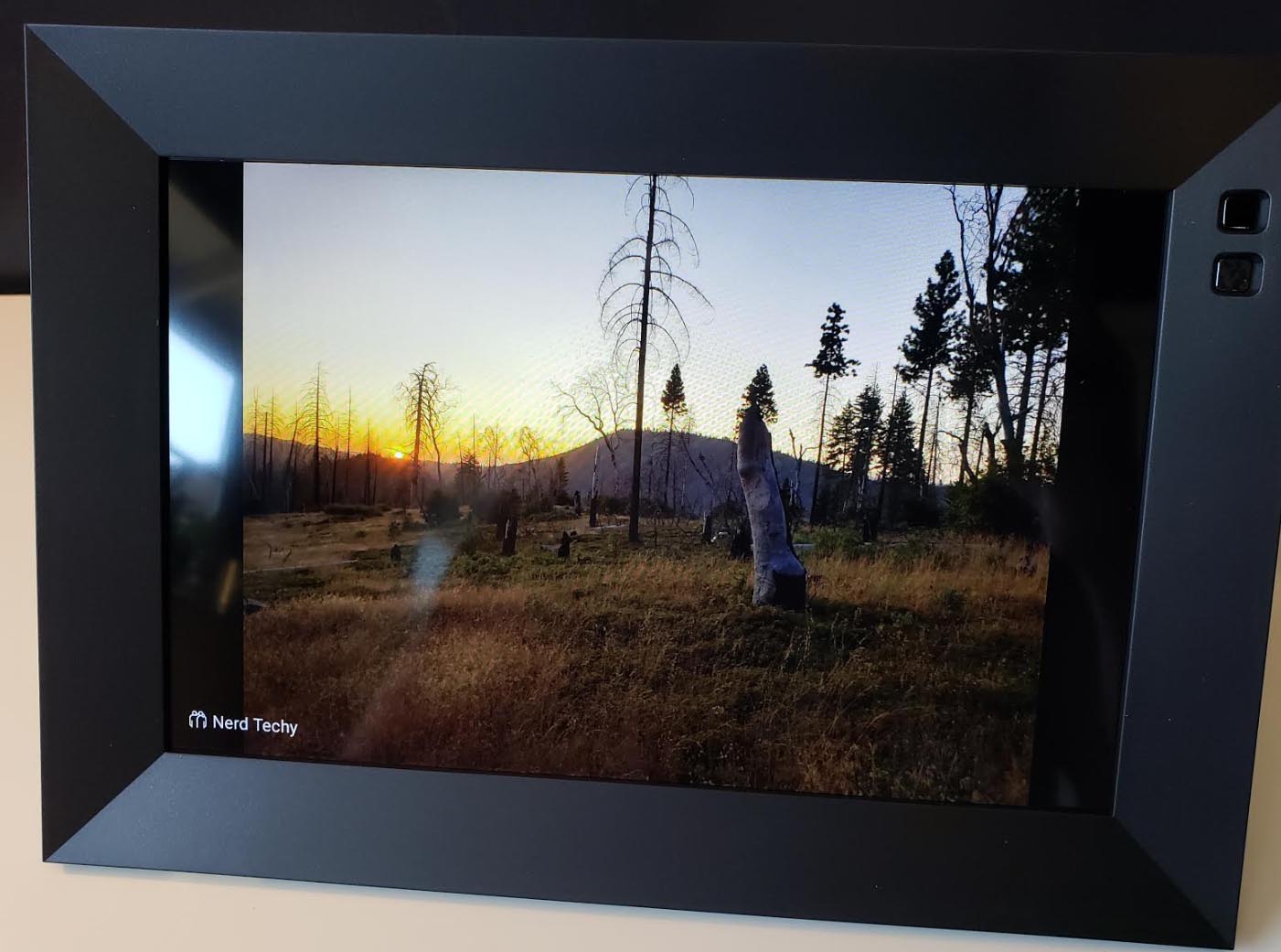 By default, the built-in motion sensor will turn your frame on or off automatically. When you enter the room, it will turn on, and it will stay on until there's no motion for 30 minutes. For many people, this is an ideal way to enjoy family photos and save power at the same time. That said, if you don't want the motion sensor, you don't have to use it. You can leave the frame always on, always off, or even set a custom on/off schedule.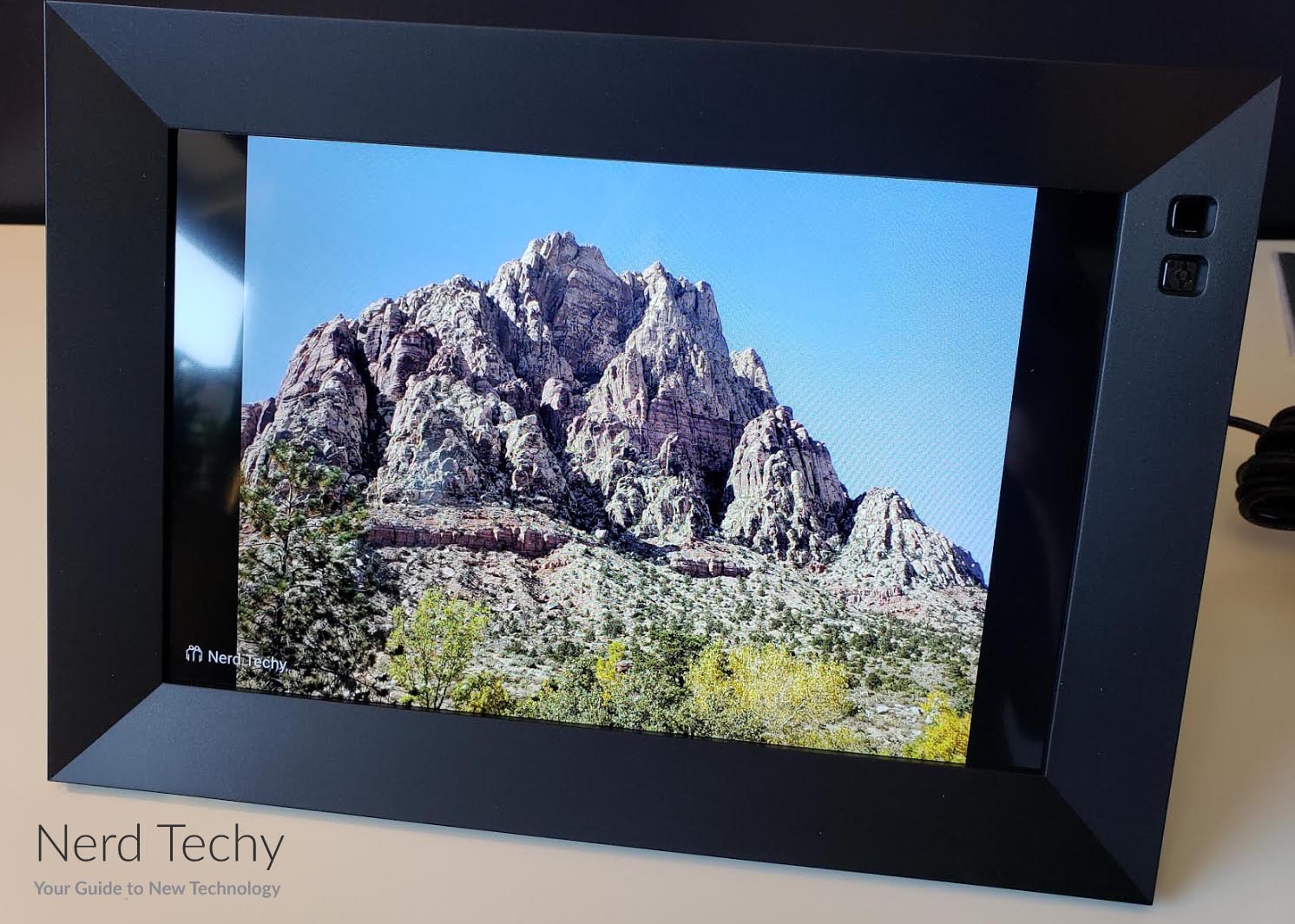 In addition to the remote, there's one other control option we didn't mention. You can control your Nixplay Smart Photo Frame with a voice assistant such as Amazon Alexa or Google Assistant. The voice control allows you the same options as the controller. You can even choose a particular playlist just by saying its name. Pretty cool!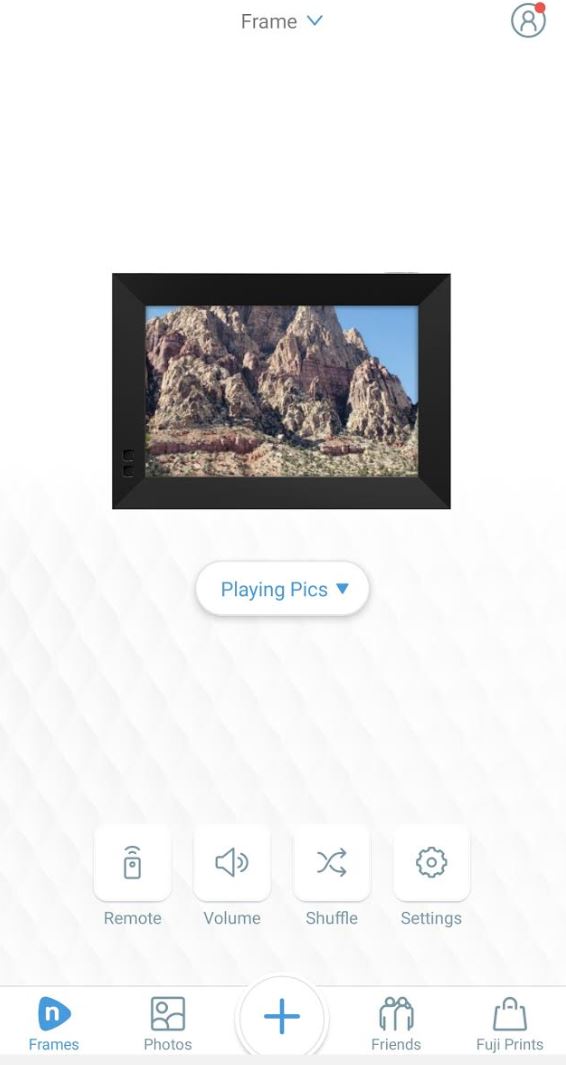 Final Verdict
The Nixplay 10.1" Smart Photo Frame (Model W10F) is one of the most innovative digital photo frames available. It offers a full array of smart features, so you can update it however you like. Whether you want to use the app, email, or your favorite social network, adding photos is easy. Moreover, it supports multiple users. All they have to do is download the app or have access to the email address. This makes it a great choice for the whole family. You can keep each-other posted on your lives, all in real time.
The physical construction is very good. You can set the frame on a table, or hang it on the wall depending on your needs. And the combination of DC power and an internal battery ensures that you won't unexpectedly run out of juice. The screen is correspondingly high-quality. The IPS panel allows for a very wide viewing angle, so it looks like an ordinary photo. Not only that, but the resolution is more than high enough for the screen size. Throw in voice control and motion detection, and you're looking at a great digital photo frame.