Finding the right set of wireless earbuds isn't easy. There are two different problems. First off, there are a lot of fly-by-night manufacturers out there taking advantage of Bluetooth's popularity. For every good pair of buds, there's another pair that's simply junk. In addition, not every pair of buds is right for everybody. Are you looking for battery life? Thumping bass? Ergonomics? Your friend's treasured earbuds might not meet your needs at all. Over the years, we've reviewed several models of earbud, so we've developed an eye for these things.
Today, we're going to be looking at two different wireless earbud models. First up, we'll be reviewing the Kurdene Wireless Earbuds. These are waterproof earbuds designed for intense workouts and outdoor use. Next, we'll look at the Pasonom Wireless Earbuds. These buds are designed to be incredibly compact and easy to transport. Which ones are the right choice for you? We'll take a deep dive into the design and features of both pairs. Once we've done that, we'll sum up what we've learned. At that point, you'll be well equipped to determine which pair is the right choice for you. Let's begin!
Note: At no extra cost to you, we may earn a commission for purchases using our links. Learn more.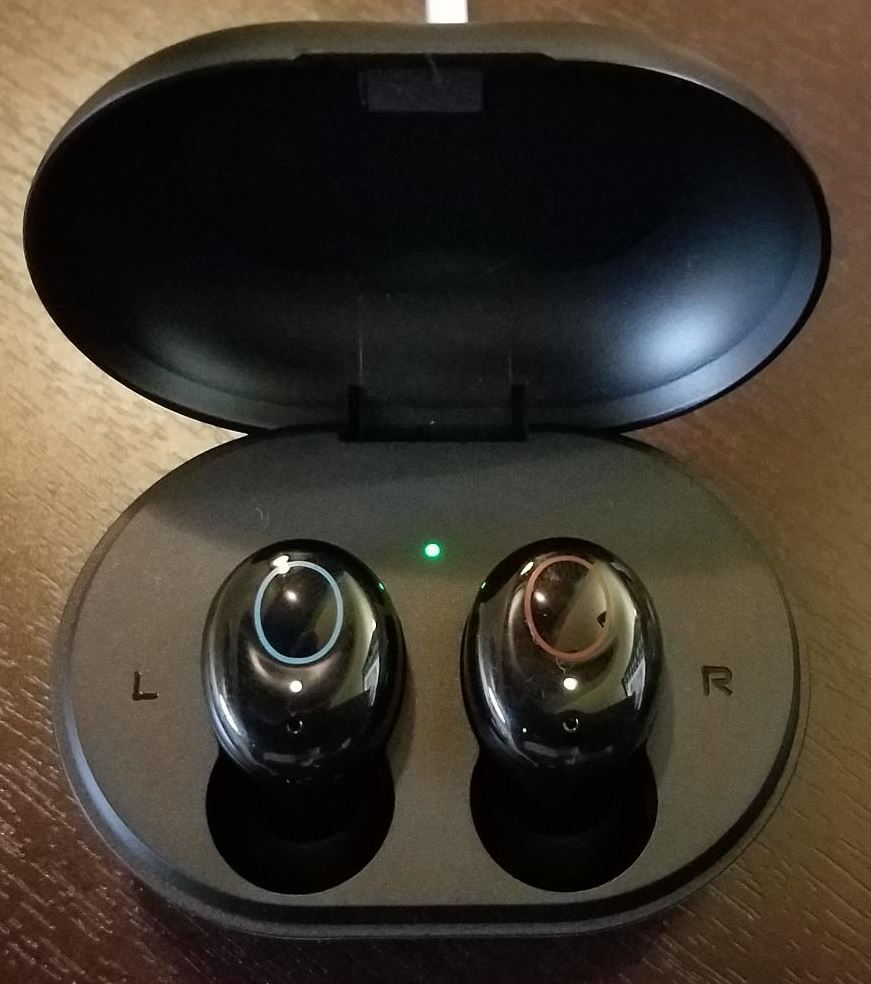 Kurdene Wireless Earbuds
The Kurdene Wireless Earbuds have a small form factor that's designed to fit comfortably in your ear. Like most earbuds with this kind of design, they have silicone ear tips to provide a secure fit. To ensure that everyone can get the best possible fit, there are six pairs of ear tips in the package. There are two each in small, medium and large. One of each size has a thin, lightweight design, while the other has a firmer tip with thicker silicone. As a result, you can find not only the most secure fit, but also the most comfortable tip for your needs.
The earbuds and charging case are available in three different colors: black, white, and pink rose. This is a marked cosmetic improvement over many wireless earbuds, which are usually only available in black. Regardless of color, the earbuds have a glossy finish and the case has a matte finish. This is an odd choice, since a glossy shell shows fingerprints easier than a matte one. Still, it's easy enough to wipe the buds down if this becomes an issue.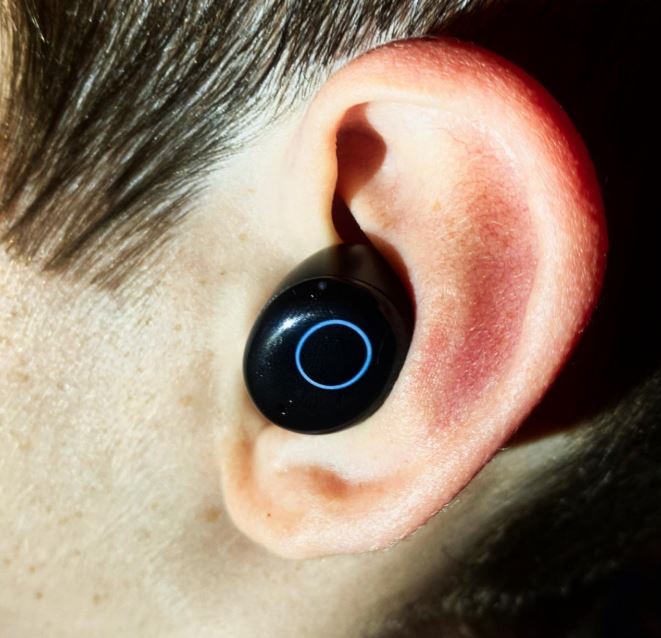 The back of each bud sports a soft touch control button. These buttons allow you to perform a variety of functions. You can skip tracks, answer and end calls, adjust the volume, and even activate your voice assistant. And because the controls have a soft touch design, they're very comfortable to operate. You don't have to worry about applying any unnecessary pressure on your ear canals.
The Kurdene buds are IPX8-rated for water resistance. This is a custom certification, even better than the usual gold standard of IPX7. The Kurdene earbuds were tested at a depth of 5 feet for 30 minutes, and came out just fine. This makes them a great choice not only for workouts, but also for showers and even for swimming.
The clamshell-style charging case has a spring-loaded lid, so it stays shut during transport. It has a small lip on the front of the lid, which makes it easy to snap open. At 2.36 inches wide, 1.77 inches deep, and 1.5 inches thick, it's also easy to transport. You can fit it in your pocket or a small purse without any trouble. Not only that, but it weighs only 1.59 ounces. This is exceptionally light, less than half the weight of a standard burger patty.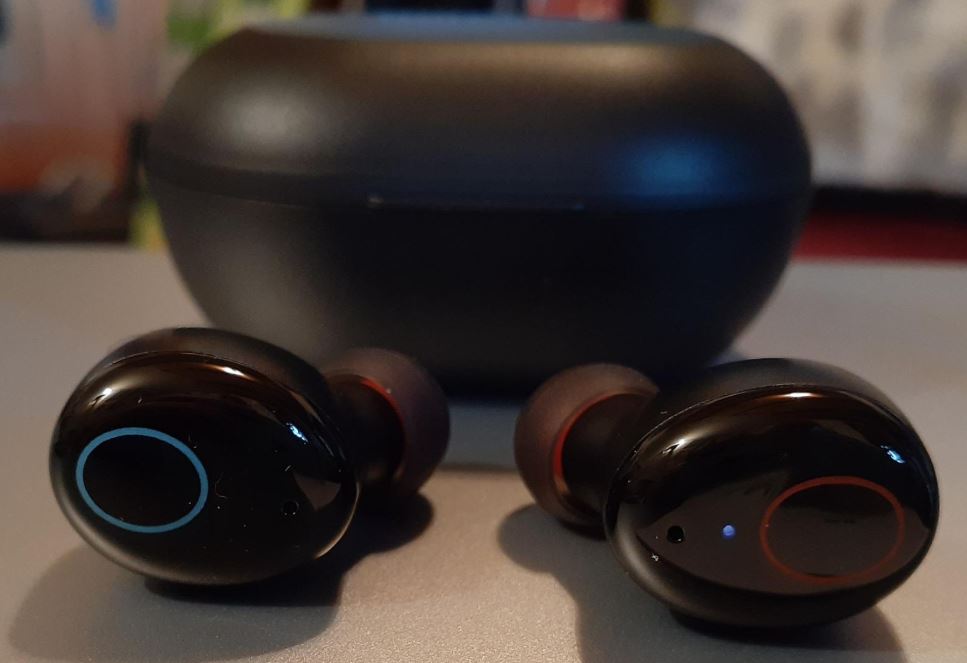 Both the earbuds and the case are covered by a 12-month manufacturer's warranty. You're protected from any defects in parts or workmanship. Most electronics will fail within the first year if they're going to fail at all, so this warranty is quite robust.
Battery & Connectivity
Each Kurdene earbud can provide up to 6 hours of playtime on a single charge. This is more than enough for most purposes. You can easily get through an entire day without needing to stop and recharge. That said, as with most earbuds, this is an official manufacturer rating. Because these ratings are based on playback at moderate volumes, your mileage may vary. Even so, you're looking at plenty of battery life, even if you prefer to listen at higher volumes. The charging case can provide four additional charges, which extends the battery life to 30 hours without plugging in.
The Kurdene Wireless Earbuds utilize the Bluetooth 5.0 protocol. This is the latest version of Bluetooth, with substantial benefits over the older variants. You get ultra-low latency, which means you can enjoy video without any audio desynchronization. You also get the ability to listen to high-bitrate music. Even if you're an audiophile who lives to listen to FLAC files, you're well-equipped. Finally, you get a very stable connection. You don't have to worry about janky audio or dropped calls. The signal offers an overall range of 50 feet. This is enough to walk around the house without carrying your phone or MP3 player with you.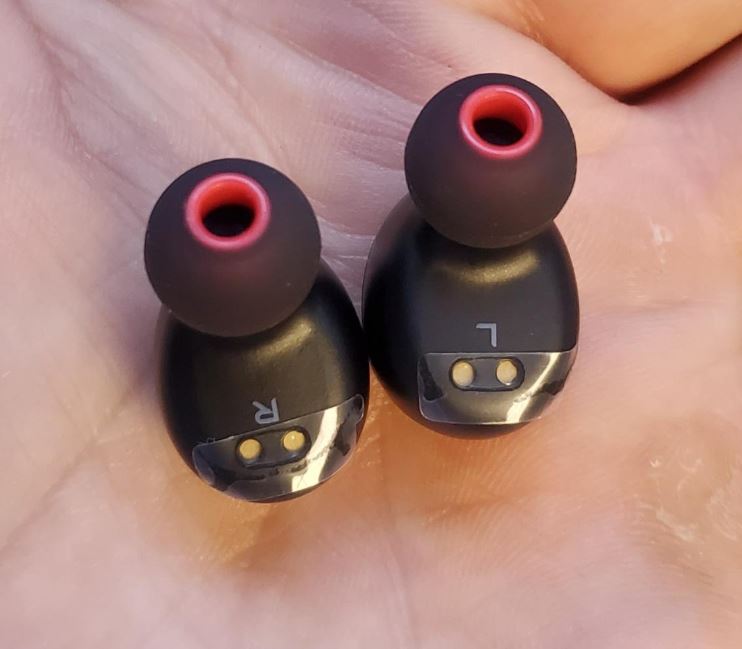 Sound Quality
When it comes to sound quality, the Kurdene buds offer some of the best at this price point. Now, let's be clear. We're comparing apples to apples. These are low-profile earbuds, not Mickey Mouse-style studio cans. Nonetheless, considering the size, you're getting an excellent value. The highs are crystal clear, with plenty of shimmer and no unwanted buzzing or frying. Mids are equally clear. You don't have to worry about vocals sounding flat or hollow. Finally, the bass is fantastic. You won't get the thumping, powerful performance you'll get from larger drivers. But the Horn loudspeakers still provide plenty of punch for the size. Moreover, you get a wide soundstage, so there's plenty of separation between instruments.
For hands-free calling, you're also looking at a solid choice. CVC 8.0 noise cancelling prevents background noise from interfering with your voice. The other person will be able to hear you just fine, even in a noisy environment. One thing we did notice is that there can be a bit of static when the volume gets low. This is probably due to the noise cancelling circuits becoming underpowered. Keep your batteries above 25 percent, and this should never become an issue.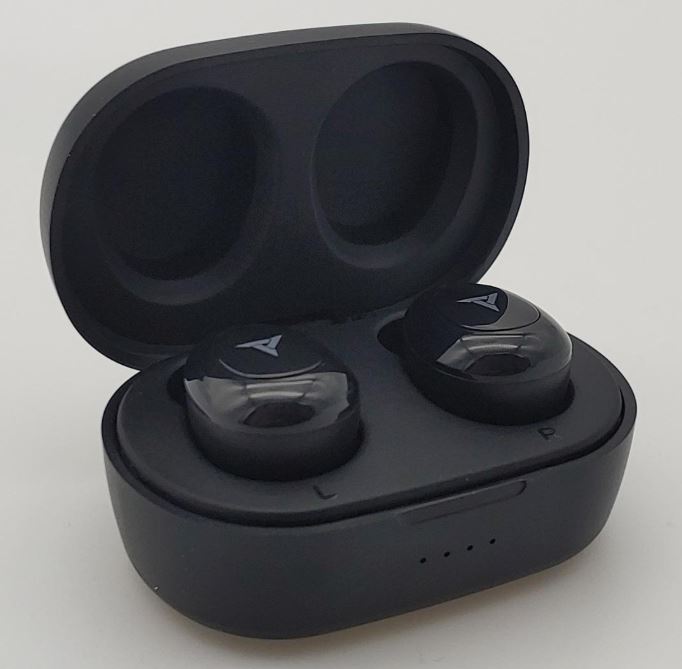 Pasonom Wireless Earbuds
The Pasonom Wireless Earbuds, in many ways, are very similar to the Kurdene buds. They have a similar compact form factor that's designed to fit neatly in your ear canal. They include three different sizes of ear tips, just as most wireless earbuds do. With a secure fit, they're very comfortable, and the tips also provide excellent passive noise isolation. The backs of the earbuds feature soft touch controls. These controls allow you to operate all of your smartphone functions, and they're comfortable to use.
The Pasonom earbuds are "sweat-resistant", although no IP rating is actually provided. This is a bit unfortunate, since most manufacturers take the trouble to obtain an IP rating. Still, the Pasonom buds are sufficiently well-protected for workout purposes. You can sweat all over them or take a run in the rain, and they're not going to fail.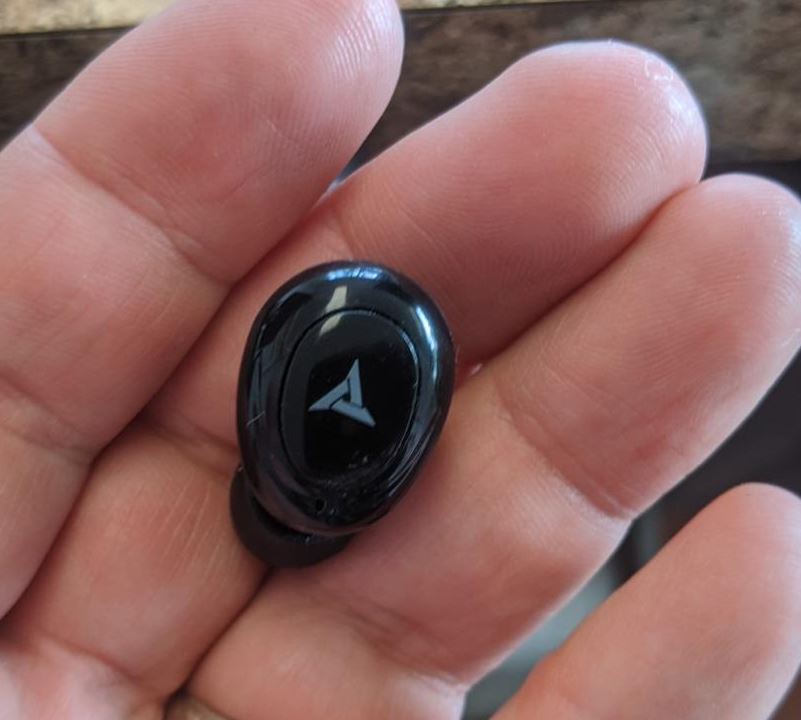 The charging case is exceptionally small, measuring only 2.17 inches wide, 1.46 inches deep, and 1.1 inches thick. This makes it very easy to transport, even easier than the Kurdene case. You can slide it into any sized pocket, and you won't even notice it's there. At 2.39 ounces, it's also very lightweight, no matter how you're carrying it. There's a spring-loaded clamshell-style lid that's easy to open but stays shut when you want it to. Underneath, you'll see a row of four white LED lights that keep you posted on the current battery level. All of this is protected by a 12-month manufacturer's warranty, comparable to the Kurdene buds.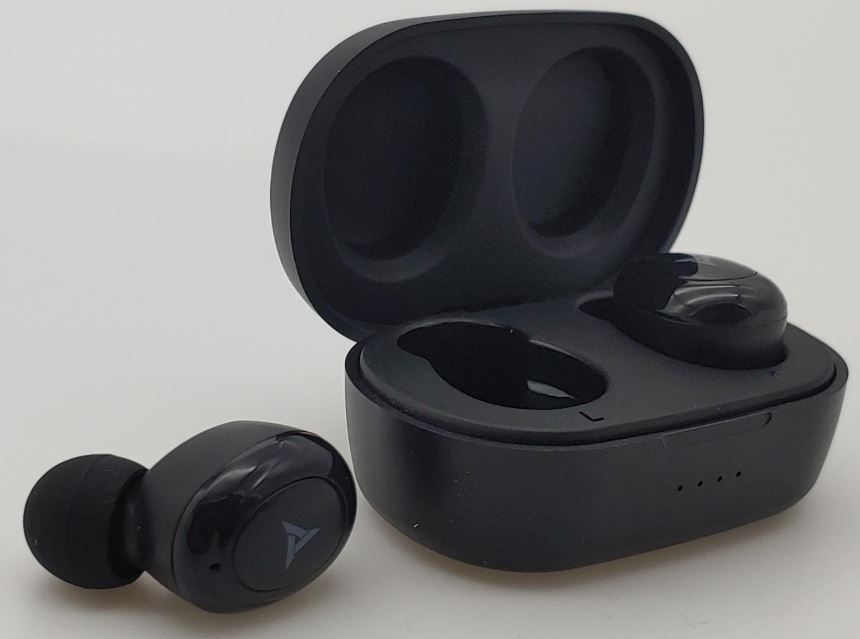 Battery & Connectivity
The Pasonom Wireless Earbuds will last for about four to five hours on a single charge. This isn't terribly impressive, but it's still good enough for most purposes. If you need to recharge on the go, the charging case will provide five additional charges. This is enough for up to 30 hours of total playtime without plugging in. When you do need to plug in, the case charges via USB Type-C. You can top it off in about 90 minutes, so charging is quick and convenient.
Like the Kurdene buds, the Pasonom buds utilize a Bluetooth 5.0 chipset. Since this is the latest version of Bluetooth, you get the most powerful, stable connection available on today's market.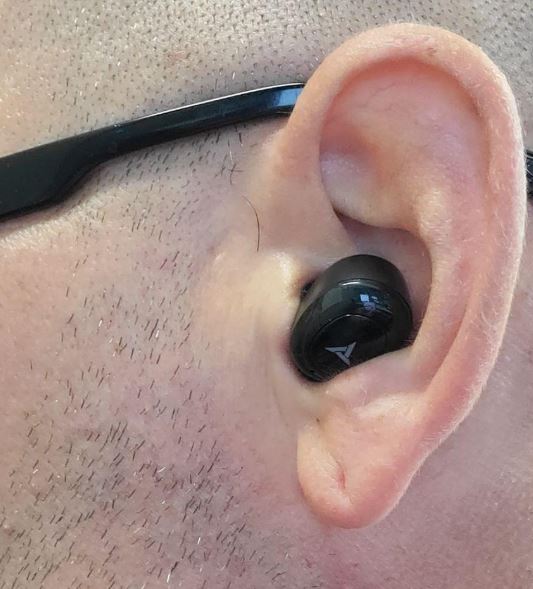 Sound Quality
The Pasonom Wireless Earbuds offer excellent sound quality for the size and price point. Again, we're talking about mid-sized, compact buds, not studio headphones. Nonetheless, you get plenty of clarity across the sound spectrum, as well as a wide soundstage. The highs and mids present no issues, and come across clearly and strongly. The bass isn't terribly loud, but it's deep and rich, with no loss of quality due to the small drivers.
The Pasonom earbud mics have built-in noise cancellation, so the other person can hear you clearly on a call. This makes them an excellent choice for hands-free calling.
Final Verdict
As you can see, both of these earbud sets bring a lot to the table. For one thing, the sound quality is excellent on both pairs. Obviously, we're talking "best in class", not "best overall", but they're still worth listening to. Similarly, they both offer very good hands-free calling performance. That said, there are a few differences worth noting.
To begin with, the Kurdene Wireless Earbuds are IPX8-rated for water resistance. This is an exceptional rating, one you won't find on most wireless earbuds. They can go just about anywhere, without the need to worry about any kind of moisture. They also offer plenty of battery life. With up to 30 hours total, playtime is not a concern. Finally, the availability of three color options is a nice bonus.
The Pasonom Wireless Earbuds, on the other hand, are a better choice for travel. With their exceedingly compact size, they're easier to transport than just about any set of buds on the market. They offer a comparable battery life to the Kurdene buds, as well as better hands-free calling quality. That said, the water resistance is not as robust.
Please consider sharing:
Note: At no extra cost to you, we may earn a commission for purchases using our links. Learn more.