For any kind of artist, using the right tools is a part of the job. For example, look at Willie Nelson. He's been using his guitar, Trigger, since 1969. It's become so iconic that it even has its own Wikipedia page. The same is true for visual artists. A painter needs brushes, and a digital artist needs a stylus and screen. To be fair, you could use a mouse and keyboard. But a mouse is a horrible way to actually do art. It doesn't move smoothly, the way a stylus or a pen does. With a touchpad, you can draw in Photoshop as if you were drawing on paper. This allows you to build your creations with more precision and finesse.
But not all touchscreens are well designed for art. In fact, most aren't. Your typical touchscreen is made primarily as an interface for people using their fingers. The idea is that you can touch icons to open programs, or maybe drag objects around. An artist's touchscreen needs to be a little bit more robust. To begin with, it needs to be very sensitive, so you can draw fine, thin lines. It also needs to be pressure sensitive, so you can draw lightly or boldly. Finally, it's got to have much better color clarity than your average monitor. The last thing you want is to complete a complicated project, only to find out the red balance is off.
Today, we'll be reviewing the XP-PEN Artist Pro 16TP. This is a ½-inch touchscreen display tablet designed specifically for artists. It's made to be super-sensitive, and to provide a wide color gamut. But that's just a starting point for a well-designed touchscreen. To find out how it really stacks up, we'll need to look at a number of factors. We'll talk about the physical construction, as well as the stylus kit. We'll talk about how you set it up, and the basics of operation. Finally, we'll analyze the design of the screen itself, and see if it performs up to standard. After looking at all of those factors, we'll be better prepared to deliver our judgement. Let's get started!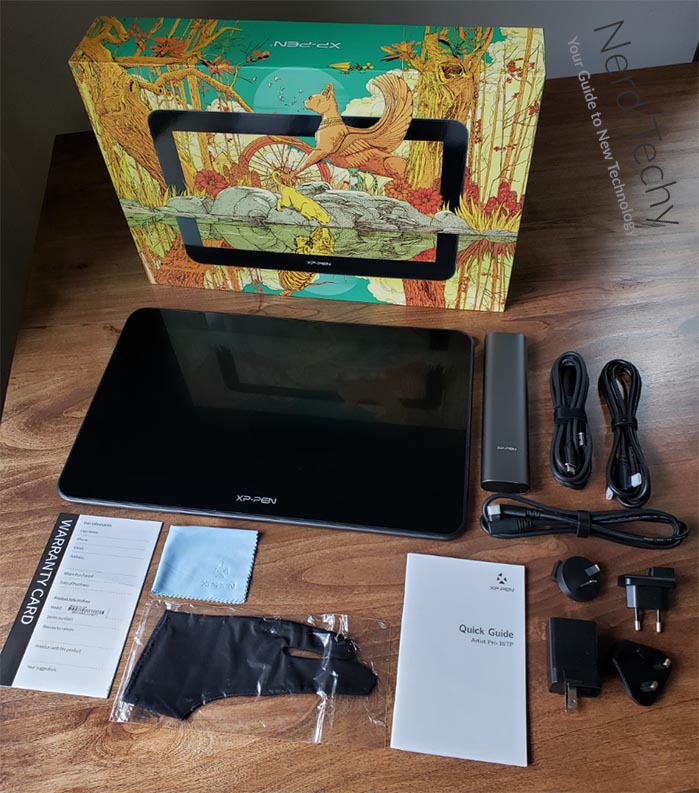 Overall Design
The XP-PEN Artist Pro 16TP is a slick, mid-sized touchscreen that looks a lot like a tablet computer. It measures 16 inches wide, 10.4 inches high, and a mere 0.6 inches thick. This slim profile makes it easy to transport wherever you take your laptop. It can slip right in alongside your computer, and go around in your laptop bag. The bulk of the front consists of the screen itself, which has an area of 13.6 inches wide and 7.6 inches high. This works out to a diagonal measurement of 16 inches, which is where the 16TP gets its name.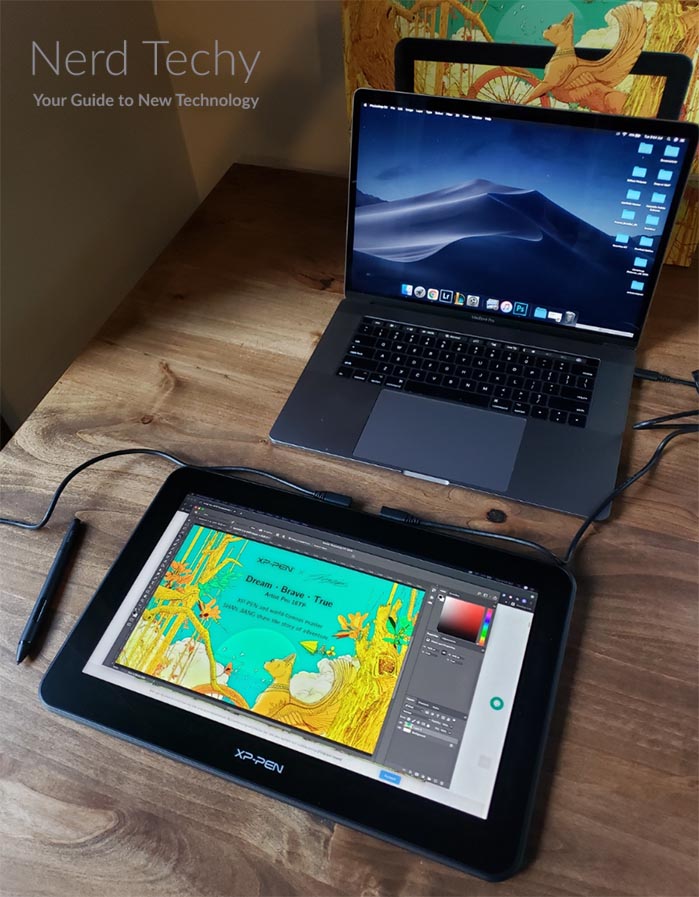 The screen is fully laminated, which means the outer glass has been applied directly to the screen material. In many screens, there's an air gap in between. This "partially laminated" design is cheaper to manufacture, but it's not ideal for artists. The air gap introduces a difference between where you touch the screen and where the touch is detected. It's subtle, but it can wreak havoc when you're trying to work on fine details. With a fully laminated screen, you don't have that problem. The screen detects your touch exactly where you want it to. We'll talk about the screen in more detail in a little bit.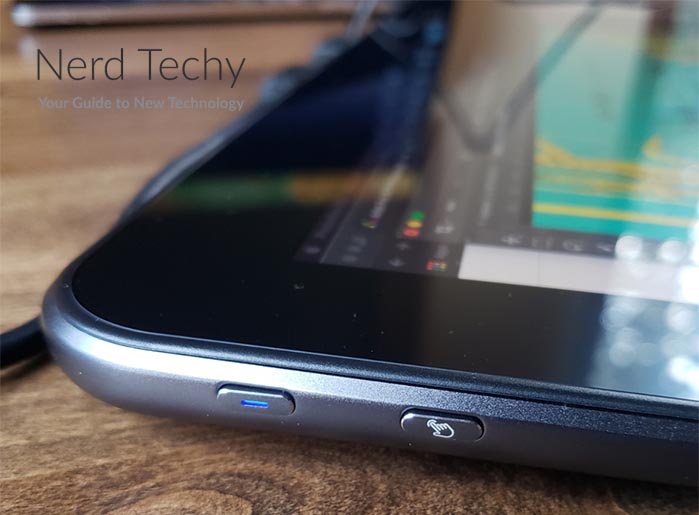 This touchscreen has a fairly wide bezel, a little bit more than an inch on the sides and top. At the bottom, it's nearly two inches thick, with an XP-PEN logo stamped in the middle. The bezel is black and smooth, and seems to be designed to spread out the internal components. This is what enables XP-PEN to produce a quality touchscreen that's this thin. At least, that's our best guess as to why the bezel is as wide as it is. The back side of the housing is mostly smooth, with rounded corners that won't jab you. However, there are four small rubber pads at the corners, which are helpful if the screen is laying down.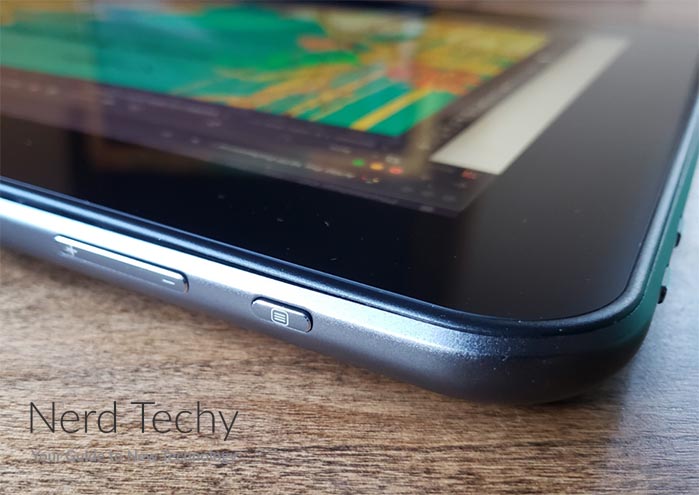 The controls, inputs, and outputs are located at the top of the housing. The controls are off towards the left, and consist of a power button and a menu navigation bar. This lets you adjust the brightness, contrast, and other settings, much as you'd expect from any display. At the center of the top, there are two USB Type-C ports, with a standard tablet security slot between them. The kit includes a pair of USB Type-C cables, as well as a 2-in-1 cable for connecting to an HDMI port. There's also a black drawing glove, which keeps your fingers from activating the touchscreen. That way, you can rest the side of your fingers against the screen if you have to.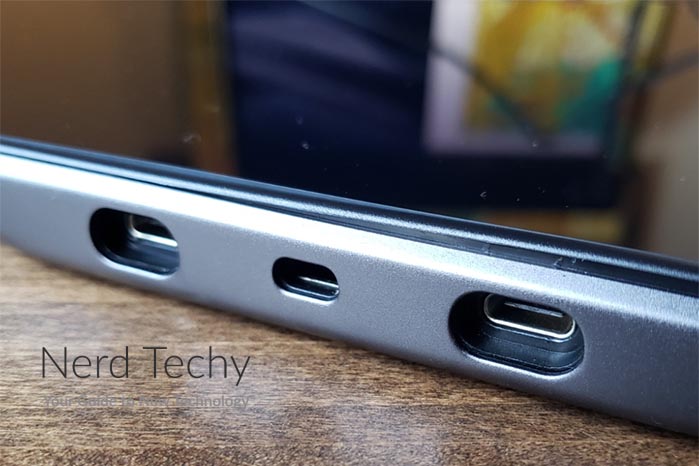 The stylus comes stowed in a slick case, with a sliding lid. In practice, this offers no benefit over a hinged lid, but it's awesome to look at. Inside, you'll find not just the stylus, but nine extra nibs. By the time you wear through that many, you'll probably already own a new touchscreen display.
The Artist Pro 16TP is fairly portable, but what if you need an even smaller screen? In that case, consider the XP-PEN Artist 13.3 Pro. It has a similar screen, but it's significantly more compact. On the downside, it relies on a proprietary cable to connect to your devices.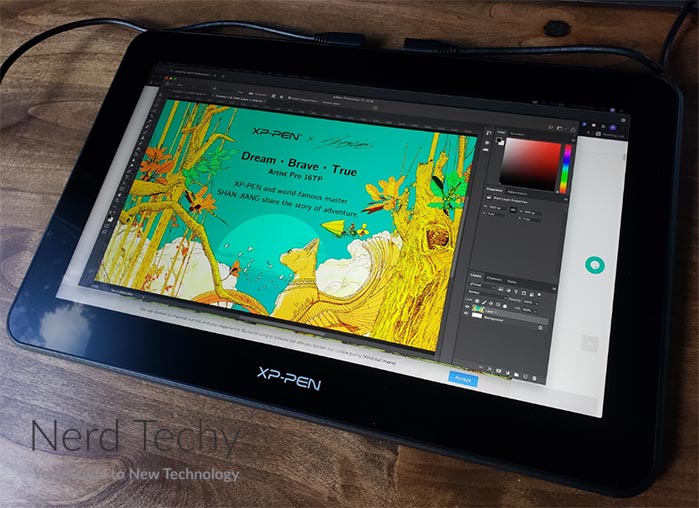 Connectivity and Ease of Use
The Artist Pro 16TP connects via USB Type-C by default. In this configuration, you would use one USB Type-C port for power, and the other to connect to your computer. But what if your computer doesn't support USB Type-C video output? In that case, you'd need to switch over to the 2-in-1 cable. This will allow you to plug into the HDMI port.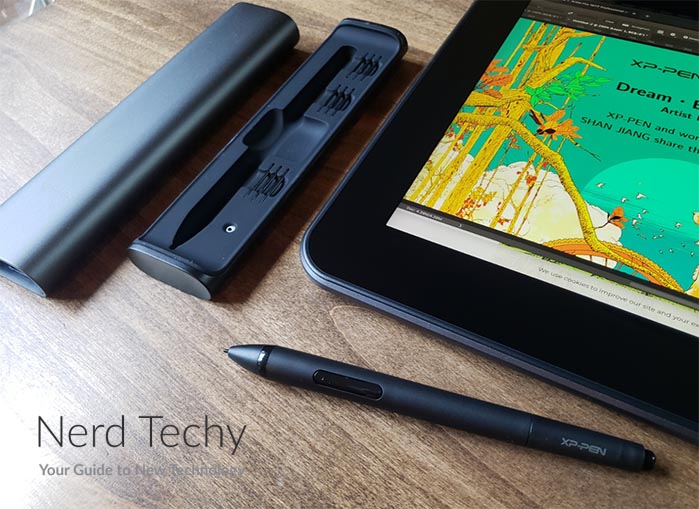 In terms of device compatibility, this screen works with just about anything. It's compatible with Windows, MacOS, iOS, Android, and ChromeOS. In theory, it should work with any flavor of Linux. In practice, there's so much variation that guaranteeing universal compatibility is impossible.
The stylus is easy to use and flows smoothly across the screen. We very much approved of the quality of both materials, since there's almost zero friction. This means you don't have to worry about irregular movement. To change the thickness of your brushstroke, you can simply tilt the stylus. It will work across a 60-degree range, which is fairly generous. Along the same lines, it supports 8,192 different pressure levels. For all intents and purposes, the pressure sensitivity might as well be stepless. As a result, it's easy to use features that rely on pressure.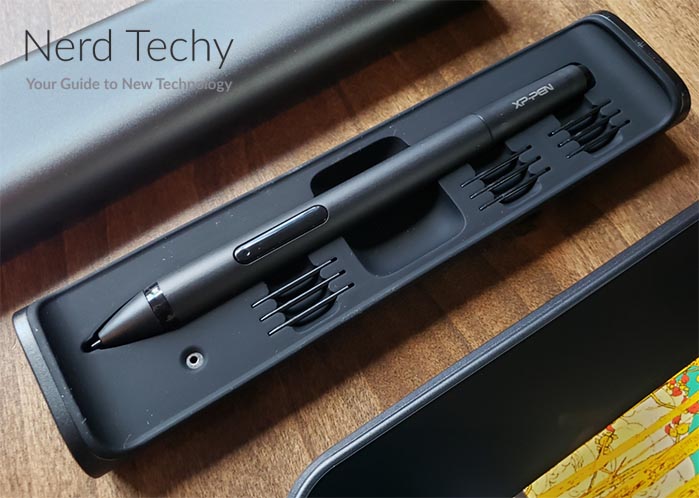 Another important thing to look at is the report rate. This is how many times per second the sensors will report back to the processor. The higher the rate, the smoother the overall drawing experience. This tablet has a report rate of 220 reports per second, which is fairly high. This allows you to work very quickly without your touchscreen failing to keep up.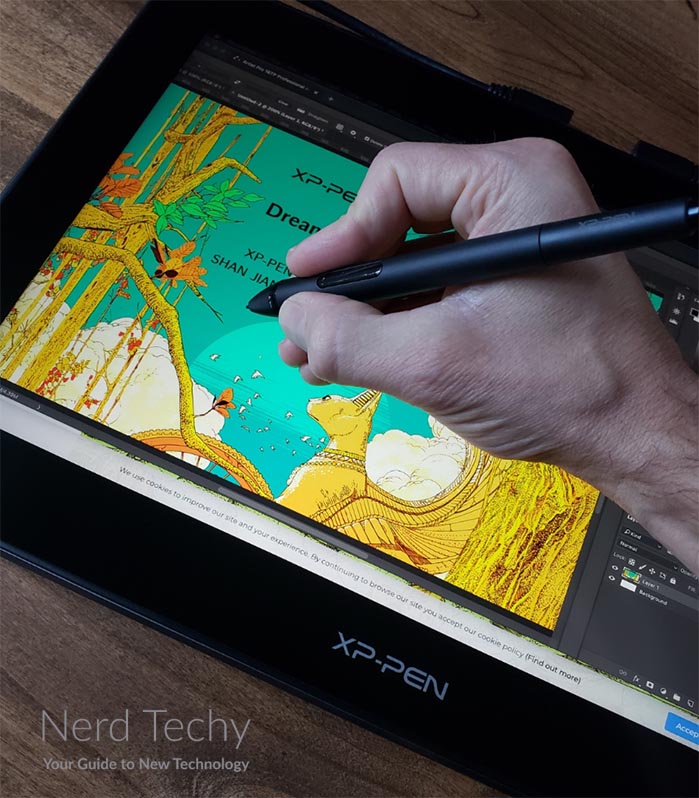 The back of the stylus functions as an eraser. This works well with all popular art software, so it's easy to get rid of your mistakes. You won't have to grab your mouse just to switch to the eraser tool and back. When you're not using the stylus, the Artist Pro 16TP supports multi-touch controls with your fingers. You can use two fingers to zoom in, zoom out, and rotate between portrait and landscape mode.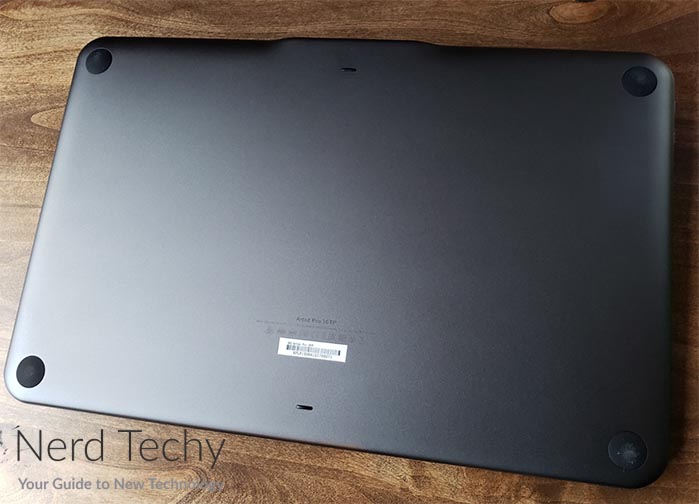 One thing you don't get are physical controls. If that's what you want, take a look at the XP-PEN Innovator 16. It has programmable knobs and buttons that you can use to interface with your art software. That said, the buttons occupy space, so the overall size is significantly larger.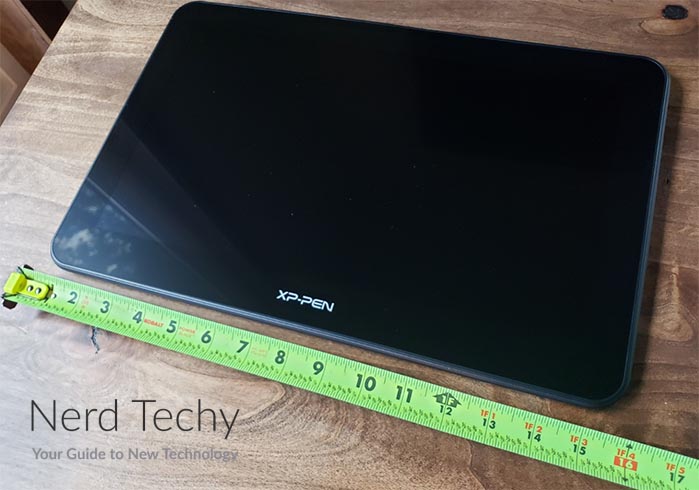 Screen Technology
The Artist Pro 16TP's screen is made with an IPS panel, with a viewing angle of 178 degree. This means you can look at the screen from just about any angle, and still see true colors. As a result, it's a great choice for collaborative projects, with many people looking at the same time. It's also just plain easier to work with. Without any viewing angle limitations, you can position the screen however works best for your needs.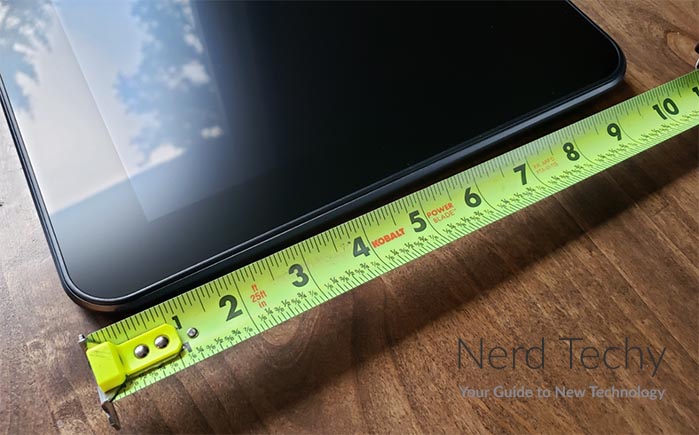 The resolution is 4K Ultra HD, which is 3,840 x 2,160 pixels. That's four times the pixel density of an equivalent 1080p screen, so you can see all of your details. In point of fact, this is more of a marketing thing than anything else. At this size, there's no functional difference between 2K and 4K. By the time you're using 2K, the pixels are already too small for the human eye to detect individually. Even so, you're looking at an incredibly sharp image.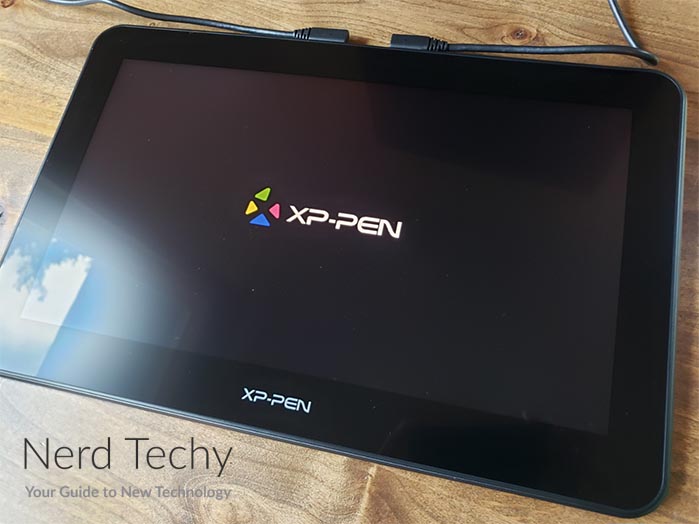 The color gamut covers 92% of the Adobe RGP space. That's equivalent to 88% of NTSC space, or 124% of sRGB. There's good vibrancy across all colors, and everything looks nice and rich. This is essential for a good art touchscreen, since it ensures that you're seeing colors as they will print. The contrast ratio is 1,000:1, which is reasonably good. You won't have trouble distinguishing different shades of black.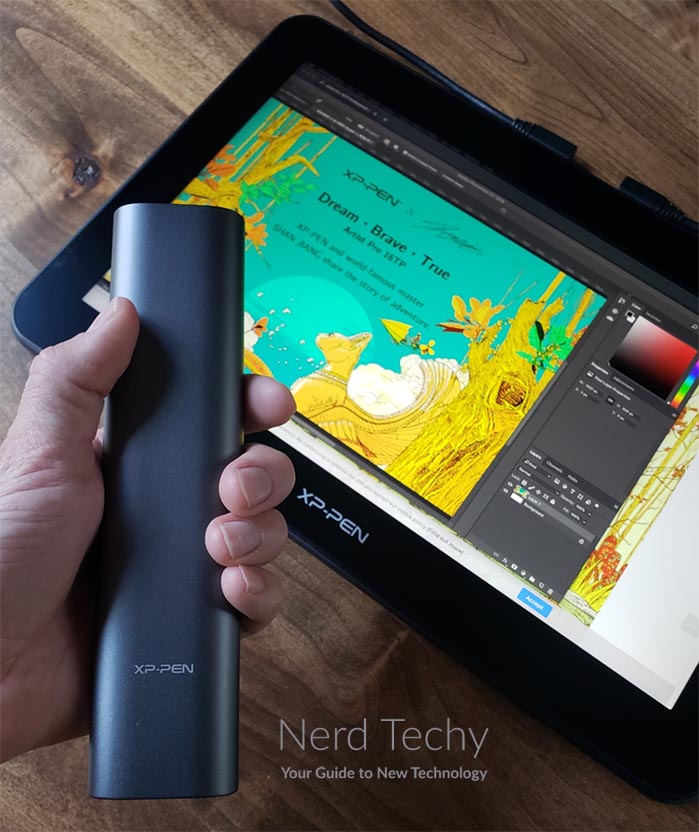 But what if you need more real estate? For a larger screen, check out the XP-PEN Artist 24 Pro. It has an enormous, 24-inch screen, but there's more parallax, and the reds aren't as vibrant.
Final Verdict
The XP-PEN Artist Pro 16TP is one of the better touchscreens on the market. Our only complaints were minor. For example, the screen is easy to set off accidentally, but XP-PEN gives you a glove to prevent that. The brightness and clarity are top-tier, as is the color fidelity. You get near-universal compatibility, with both USB and HDMI connection options. Not only that, but the 4K resolution looks really sharp. If you're in the market for a new touchscreen, this one should be on your short list.