Digital artists know how hard it is to work with a mouse and keyboard. They're a great interface for many things. Typing, programming, and even a lot of editing functions are just fine with default controls. But if you're actually trying to draw or touch up a piece of art, a mouse is a clumsy tool. It lacks the fine control and finesse of a real pen or stylus. This leads to awkward, clumsy brushstrokes, and hitting Ctrl+Z way more often than you'd like. If you want to get the best results, you need a stylus and a touchscreen.
But most touchscreen displays aren't actually designed for artists. They might do a decent job in a pinch, but they simply don't have the fine sensitivity of a proper drawing pad. You need a display that's specifically designed for artists and content creators. In the past, we've reviewed the XP-PEN Artist 15.6 Pro. We enjoyed the artist-friendly design, and the high quality of the touchscreen. So when we found out that XP-PEN made an even larger drawing display, we were excited to try it out.
Note: At no extra cost to you, we may earn a commission for purchases using our links. Learn more.
Today, we're going to review the XP-PEN Artist 24 Pro Drawing Pen Display. This is a flat screen panel that's designed specifically for artists. It comes with a stylus, has an adjustable stand, and even features built-in customizable controls. But just because it has all those features doesn't mean they all work well, or work as intended. To find out if the Artist 24 Pro is worthwhile, we had to see how it performs in the real world. We're about to take a close look not just at the overall design, but also at how it's used, and how well it works. Let's get started, and see what we discover!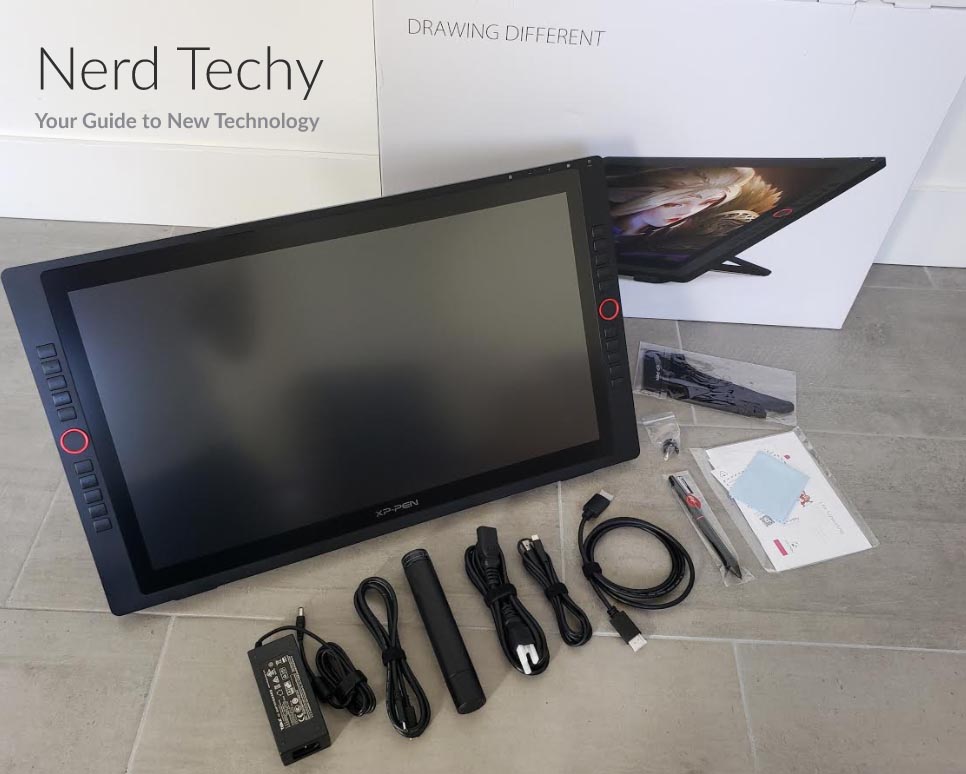 Overall Design
The XP-PEN Artist 24 Pro is a large display that measures 24.88 inches wide, 14.57 high, and 1.76 thick. It also weighs over 15 pounds, so it's not easily portable. We're not saying you can't carry it around if you want to. But it's more weight than you'll want in a laptop bag or backpack on a day-to-day basis. Think of this like a similarly-sized desktop monitor, and you'll get the idea. That said, the large size and weight are necessary for the big screen. The display itself measures 23.8 inches on the diagonal, with 2K 1440p graphics. You'll have plenty of real estate to perform even very fine work.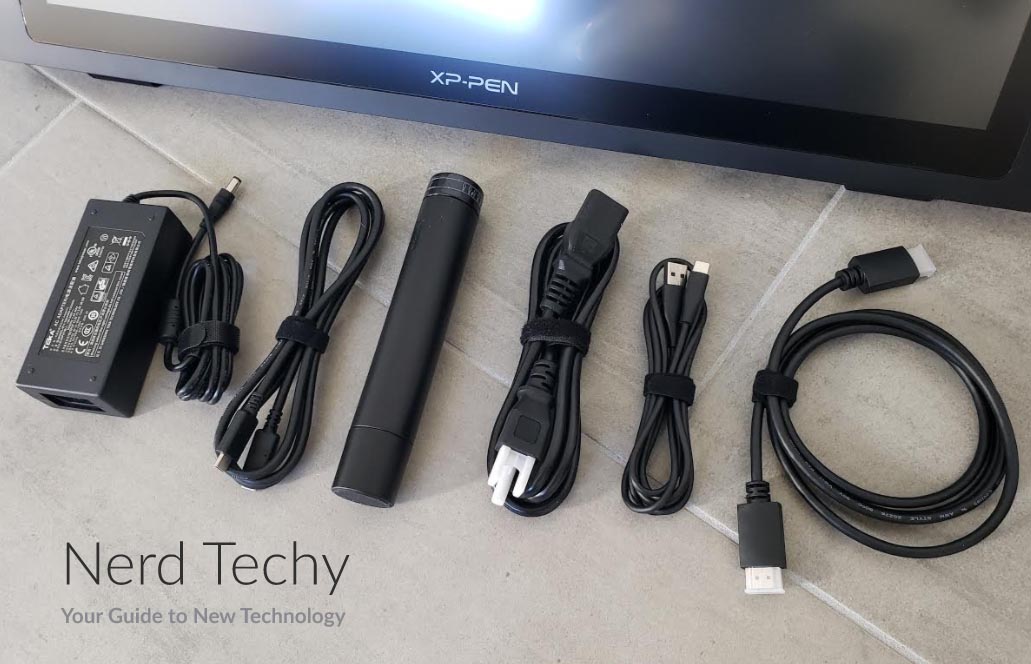 The frame is constructed from black plastic, with medium-slim bezels. There's enough space at the top right for a row of soft touch controls. The buttons are very small, but they're illuminated so as to be easily visible. These control the function of the display itself. There's a power button, and a menu with various adjustment options. On both sides, you'll see columns of 10 buttons. In the middle of each column, there's a rotating dial with a red bezel. This gives you a total of 20 buttons and two dials, all of which are customizable. You can map the dials to commonly-used functions such as brush size. Similarly, the buttons can be programmed to any shortcuts you frequently use.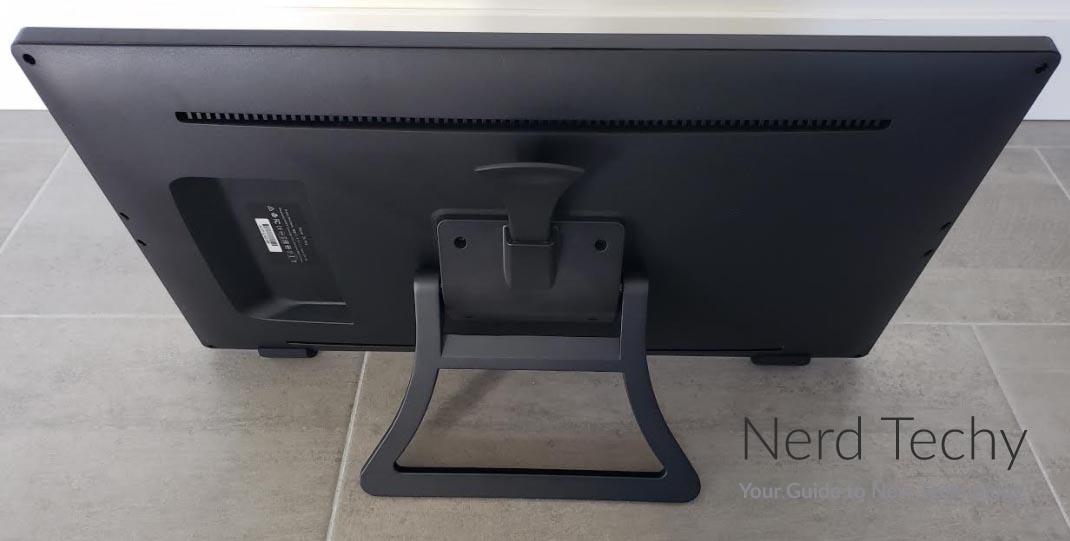 The back of the unit houses a kickstand, which can support the display at four different angles. At its shallowest, it can lay at 16 degrees. This is great for standing work, or for working on a low table. The steepest angle is 90 degrees, completely vertical for use as a traditional screen. Near the kickstand, you'll find the USB Type-C and HDMI ports for connecting to your PC. There are also two additional USB Type-A ports for attaching peripherals or charging your smartphone. You can easily hook up a mouse and keyboard for use alongside the stylus.
The display is also VESA-mountable. It has a 100 x 100mm pattern, which is within the normal range supported by most desktop and wall mounts. So if you prefer to mount your pen display on a stand, it's quick and easy to do.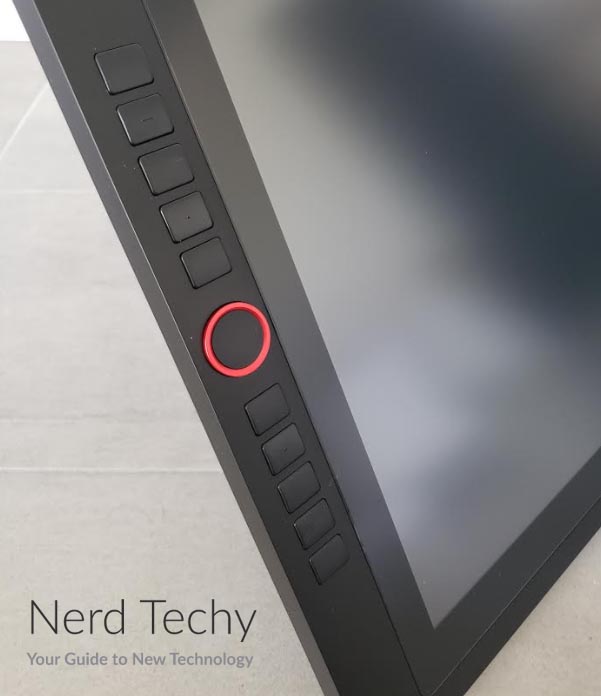 Along with the Artist 24 Pro itself, the package also includes all the extras you need to get started. There are two styluses, so you have a spare ready for day one. There's a USB Type-C to Type-C cable, an HDMI cable, and a power supply. There are even eight replacement nibs for the stylus, as well as a pen holder for organization. A cleaning cloth and a drawing glove round out the kit. All of this is protected by a 12-month manufacturer's warranty. You're protected from premature failure due to defects in material or workmanship.
Connectivity and Ease of Use
One thing we appreciated about the Artist 24 Pro is that it's easy to connect. For computers that support USB Type-C displays, you can simply use the Type-C cable. This will combine both the monitor and control signals in a single wire. Alternatively, for other computers, you can use an HDMI cable for video along with a USB cable. If your computer doesn't have a USB Type-C port, this will still work. However, you'll need to use a USB Type-C to Type-A adapter. This is a big improvement over the last XP-PEN offering we reviewed, which required a proprietary octopus cable.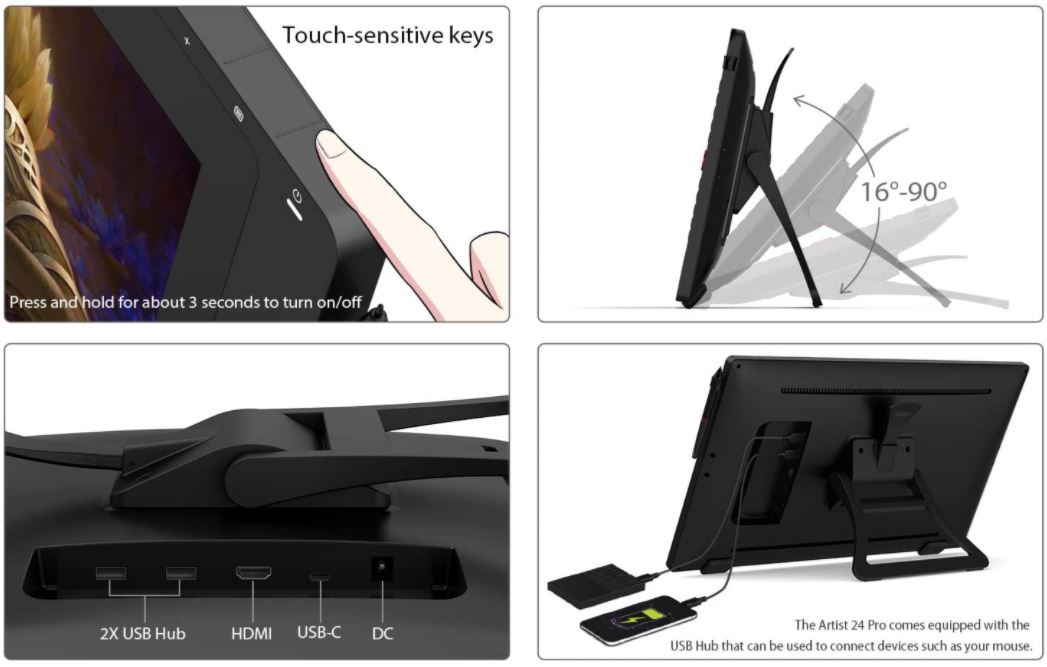 The Artist 24 Pro supports all recent versions of both Windows and Mac OS. On PC, it supports all versions of Windows from Windows 7 onwards. On Mac, it supports Mac OS X 10.10 or later. XP-PEN recommends downloading the latest drivers from their official website. The display will be plug and play on many computers. That said, the programmable buttons and other features require the proper drivers. By getting them directly from XP-PEN's website, you ensure that you're getting the latest version. You don't have to worry that you're getting an old version with a bunch of bugs.
This display will work with any major digital art suite. It functions with Photoshop, GIMP, Illustrator, Krita, CDR, SAI, Fire Alpaca, Blender 3D, and Medibang, among others. That said keep in mind that the shortcut buttons will need to be programmed. Because they simulate keystrokes or program functions, the same shortcut may do different things in different programs. If you need two different sets of controls for different programs, just divide them in half. Use the left side controls for one, and the right side controls for the other. That's just one more advantage of having 20 customizable buttons!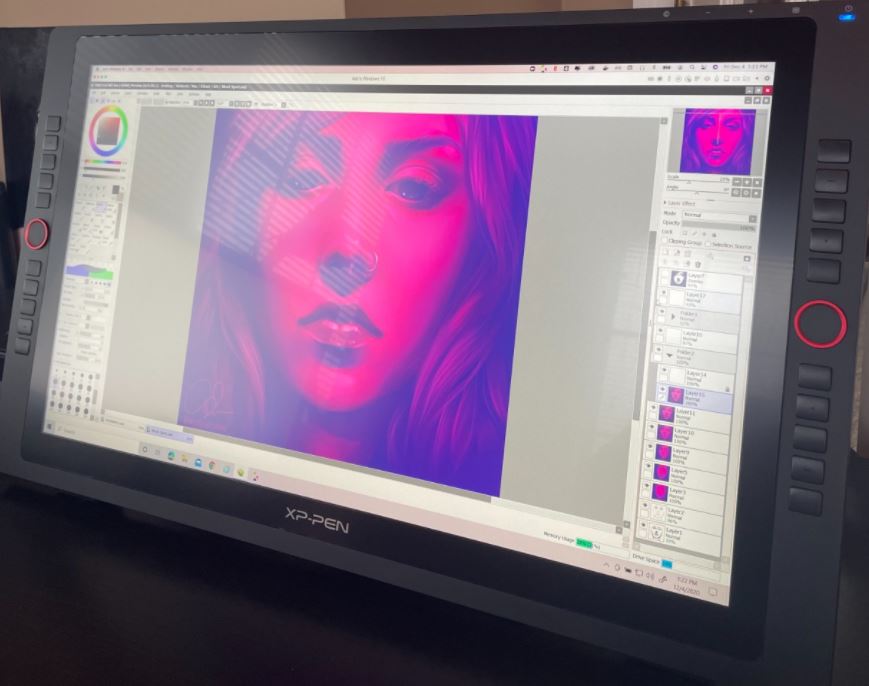 Screen Technology
At the end of the day, the Artist 24 Pro is made for artists. It can have all the fancy shortcut buttons in the world, but that's not enough, or even the main thing. The main thing is color clarity, and how well the display responds to your stylus. This display is rated for 90 percent of the Adobe RGB color gamut. That's pretty good! However, in practice, the color vibrancy isn't what we'd have expected. Reds in particular appear washed out and almost faded. Maybe the entire 10 percent of the Adobe RGB space that isn't covered is all in the red part of the spectrum. That's really the only explanation we can think of for such a disappointing lack of vibrancy.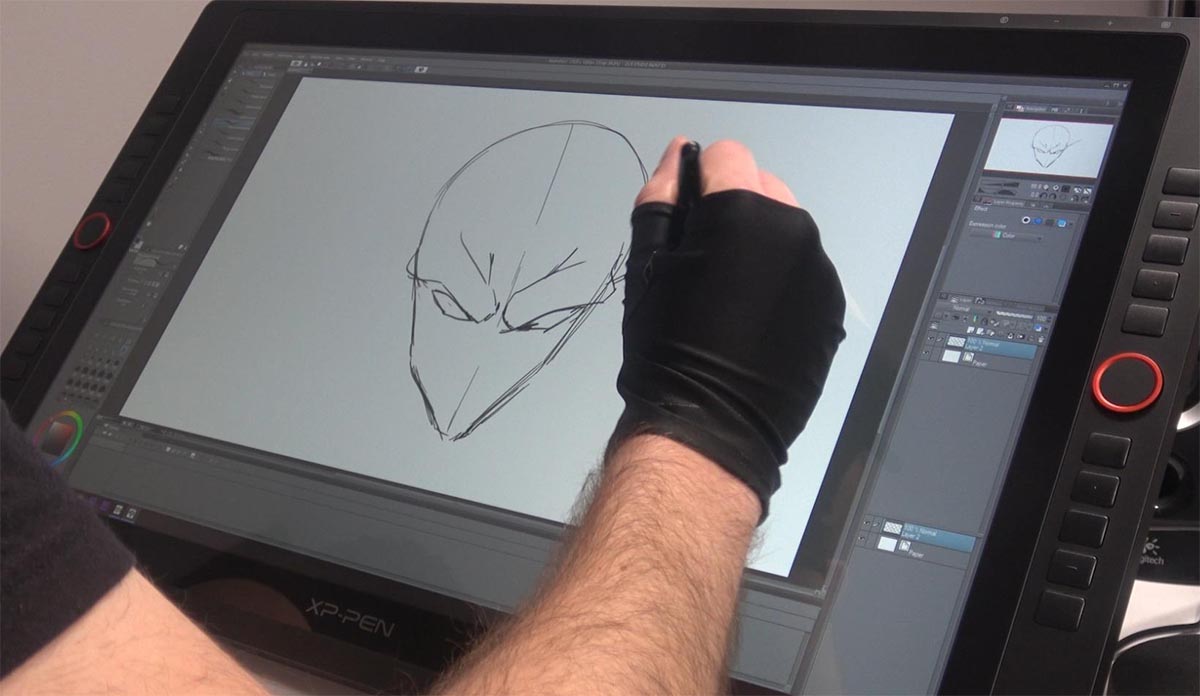 The contrast ratio is 1,000:1, which is reasonably good. If you're working with a lot of blacks, you might prefer 2,000 or even 3,000:1. That said, 1,000:1 is good enough for most purposes, and anything over 3,000:1 is superfluous. One thing we did very much enjoy is the wide, 178-degree viewing angle. The IPS panel can be viewed from almost any angle, making it easy to share your screen. This won't make much of a difference if you do all of your work solo. But if you're constantly consulting with other team members, a wide viewing angle is very convenient.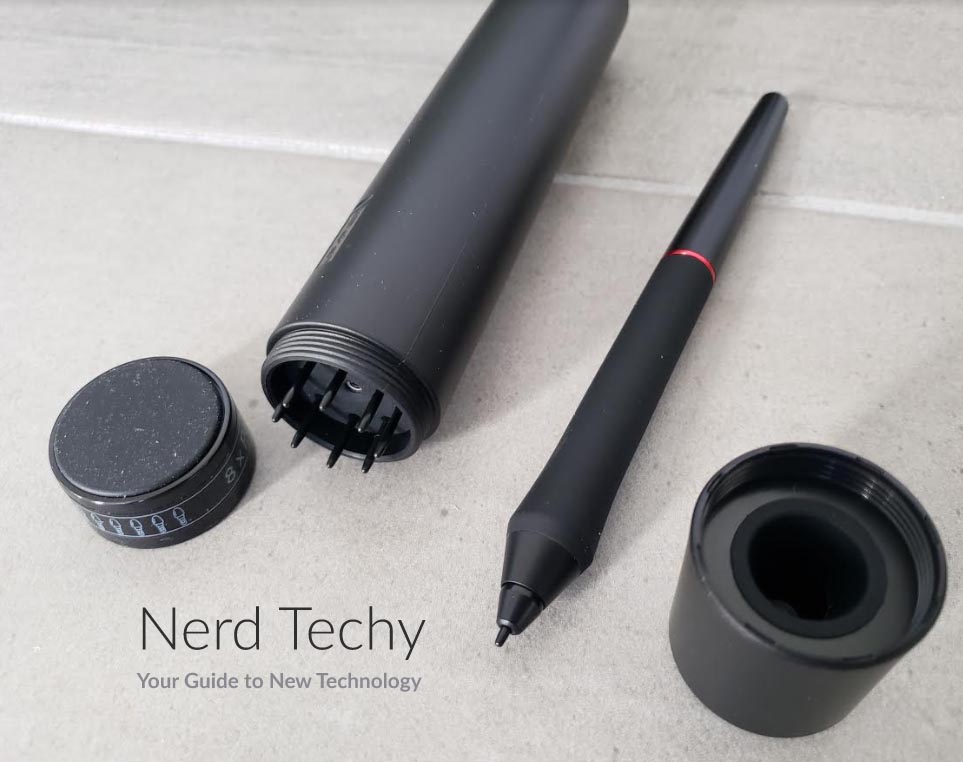 The stylus itself will support 60 degrees of tilt, which allows you to produce broad or narrow brushstrokes. You can angle the stylus as needed, just as you'd angle a pencil or a fountain pen. You can do even more fine tuning by using different tips on both styluses and switching between them. For most people, though, just angling the stylus will get you all the variation you need.
In addition, the screen has 8,192 levels of pressure sensitivity. If you're using effects that depend on pressure, you'll really notice the difference here. The screen is also sensitive to one one-hundredth of an inch. That's less than a single pixel, so it's as sensitive as physically possible. There's no learning curve here, where you have to get used to where to touch. When the stylus touches the screen, you'll see a mark exactly where you wanted it to be.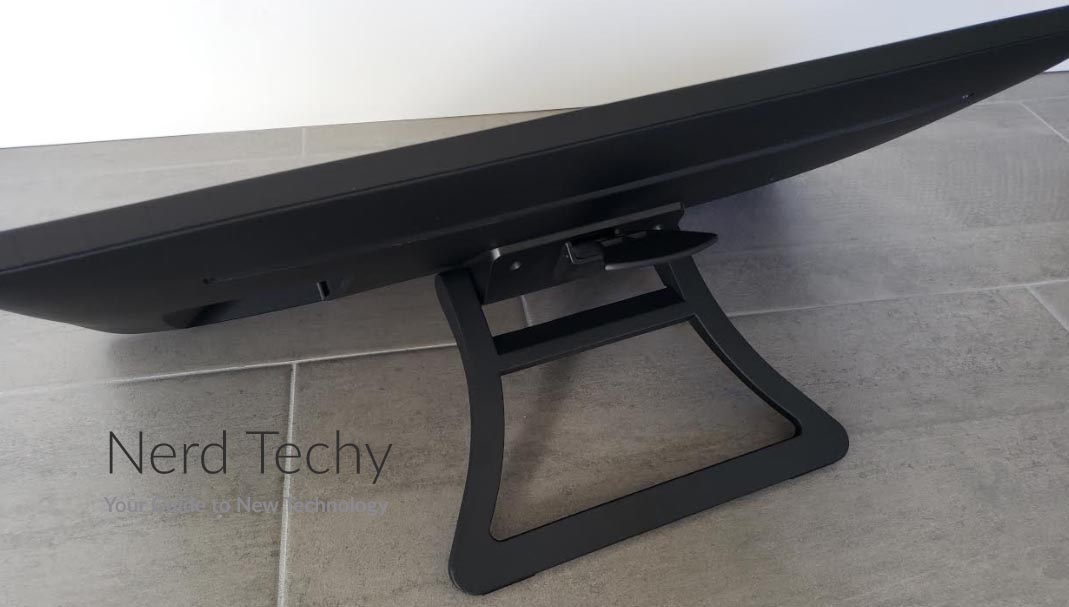 Finally, the styluses can also perform a couple basic controls. There's a button that functions as a right mouse click. A second button allows you to toggle between drawing and erasing mode. This is the button you probably use most, and now it's right by your thumb.
Final Verdict
As you can see, the XP-PEN Artist 24 Pro is a great piece of engineering with a major flaw. To begin with, the physical design is far and above the best we've seen for a display of this type. The 20 shortcut buttons are more than you'll ever need, but that's kind of the point. Furthermore, the two control dials allow for easy ambidextrous control. It's also VESA-mountable, and the four-stage kickstand is very well-engineered.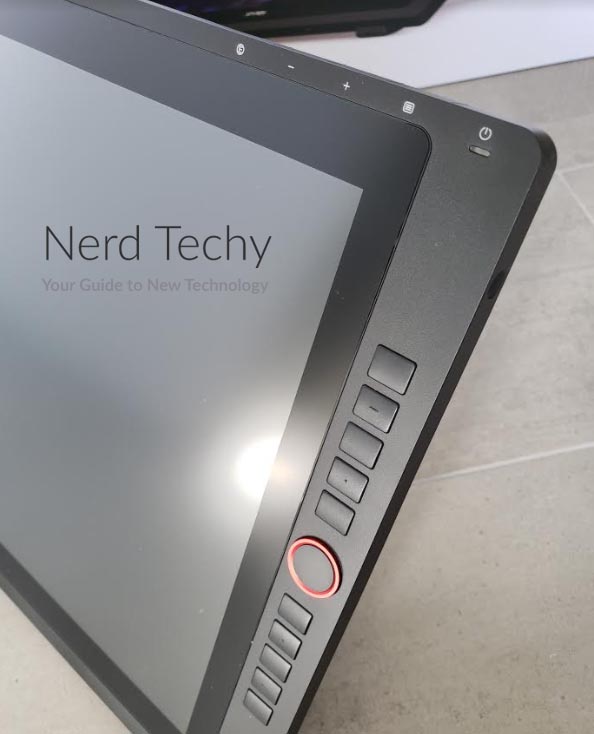 There's also a lot to like about the display itself. The sensitivity and viewing angle are excellent, and the contrast ratio is up to par. At this price, though, there's no excuse for anything less than the richest color. Here, the screen disappoints, particularly when it comes to reds. That said, if you're less concerned with perfect color than great control, you'll be pleased with the Artist 24 Pro.
Please consider sharing:
Note: At no extra cost to you, we may earn a commission for purchases using our links. Learn more.