It's hard to find a good set of earbuds these days. In fact, in many ways, it's even tougher than it was a few years ago. This is because there are so many options, and so many new manufacturers. For every worthwhile pair of buds, there's a pair of duds waiting to arrive in the mail and disappoint you. So, why the glut?
The short answer is that wireless earbuds are a relatively new market. Wired earbuds have been around since at least the 1980s, and headphones go all the way back to 1910. But wireless buds aren't depending on an old, reliable technology like copper wires. Instead, they rely on a wireless signal, and that was the limitation until a few years ago. Before the invention of True Wireless Stereo (TWS), even the best earbud technology produced terrible sound. Music could only be played in mono, and bitrates were so low that the audio sounded horrendous. But with TWS and the AirPods, Apple changed the rules of the game. Now, everyone with a fabrication shop is trying to compete.
To find a good pair, it helps to stick with brands you're already familiar with. This isn't to say that startups can't make a good pair of buds — many times, they do. It's to say that you don't want to be the first person to buy from an unknown brand. Aukey is already well-known for their previous earbuds, and they're one of those reliable manufacturers. Today, we'll be reviewing the Aukey EP-T21S True Wireless Earbuds. This is a vertical set of buds that's built similar to the AirPod Pro. But do they perform as well as they look like they do? Or is this slick package nothing but an empty shell? Let's take a closer look, and find out!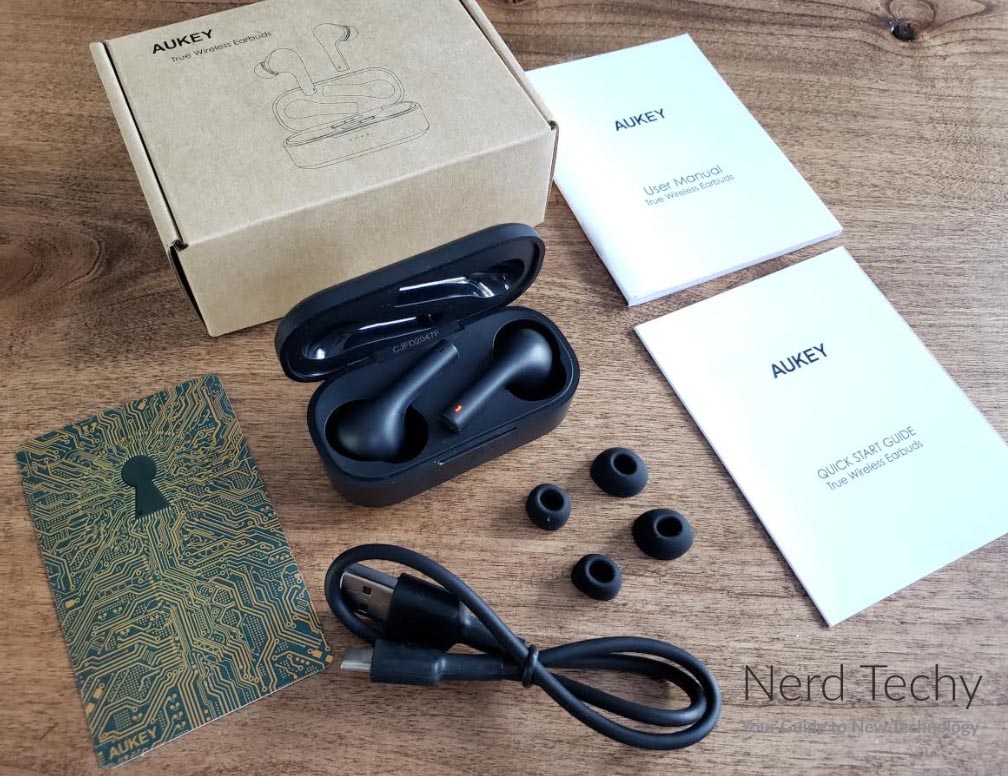 Overall Design
The Aukey EP-T21S True Wireless Earbuds have small, shells that are shaped like the Apple AirPods Pro. These have a compact main body, with slender battery studs extending down from the main unit. The studs ensure that the earbuds are bottom-heavy, so they stay securely in place. Not that that should be a problem; these earbuds have silicone tips that sit securely in your ear canals. The tips come in small, medium, and large sizes, so don't settle for an inferior fit. If you're not happy with what you're getting, try a larger or smaller pair. These tips are soft and comfortable and, when properly fitted, provide an excellent fit. That said, they provide relatively poor noise isolation compared to stiffer, thicker ear tips.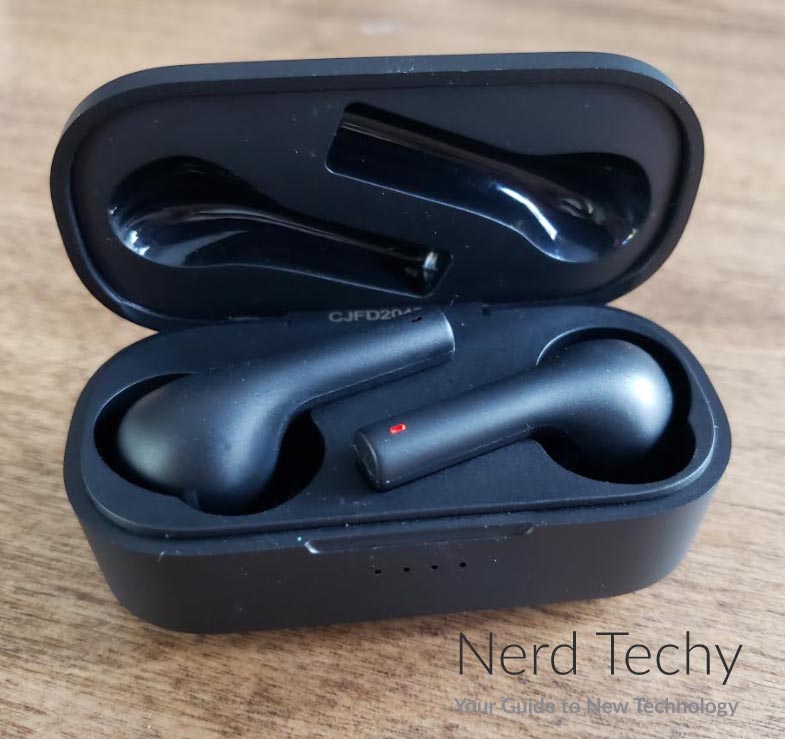 For an even more secure fit, check out the Aukey EP-T32 Wireless Earbuds. They have an ear hook design, so they're literally clamped over your ears for security. On the downside, pairing them in mono mode can be twitchy at best. You may want to avoid them if you're planning on a lot of single-earbud use.
The earbuds themselves are available in four colors black, blue, pink, and mint green. This means they can easily be matched with anyone's sense of style. The backs are fairly small, but they're nonetheless functional. When tapped, they serve as controls for skipping tracks and answering or ending phone calls. By triple-tapping either earbud, you can even summon Siri or Google Assistant. This will allow you to perform additional functions without the need for physical controls. There is one missing feature we would have liked to see: volume controls. You'll need to control the volume from your phone. That said, this was most likely done to make single-earbud use less complicated. As it stands, you can perform any function with just a single bud inserted.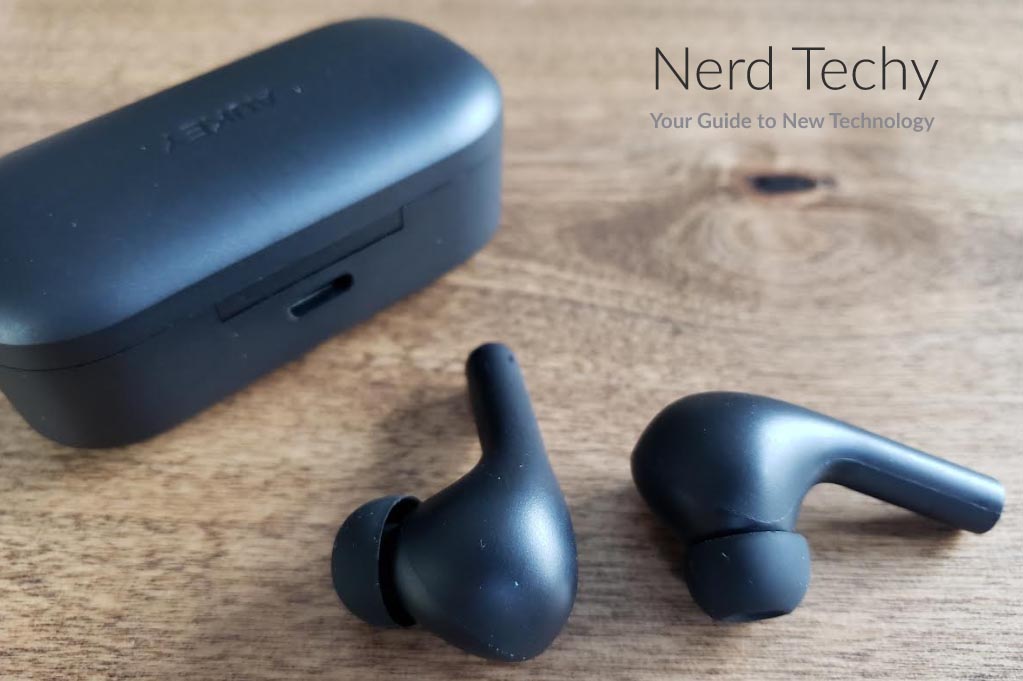 The EP-T21S earbuds come with a water-resistance rating of IPX6. This means they're resistant to intense streams of water, essentially anything short of full submersion. As a result, they're perfectly safe to wear during a sweaty workout, or if you're running in the rain. You can even wear them in the shower after your workout is over. As long as you don't drop them and submerge them, they'll be just fine.
Like most modern wireless earbuds, these come with a small charger that doubles as a carrying case. The EP-T21S case is made from the same plastic as the earbud shells, and comes in a matching color. If you bought the mint green buds, you'll get a mint green case. The earbuds lay inside horizontally, and fit in molded charging wells. A tiny blue LED will illuminate on each earbud to let you know it's charging successfully. On the front of the case, just under the lid, you'll see a row of four LEDs. These keep you posted on the charging case's internal battery, so it won't run out on you by surprise.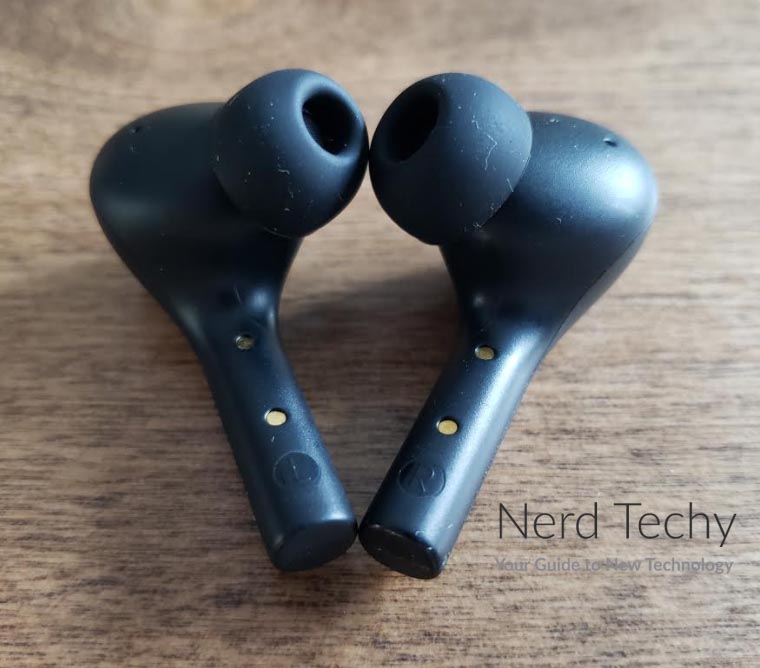 The case has a clamshell-style lid, which is spring-loaded so it stays shut properly. It's oblong in shape, with rounded edges that won't jab you in the thigh. It also comes with a USB Type-C cable, which you'll need to charge up the battery. To use it, remove the small plug from the back of the case, and plug in. Everything in the box is covered by Mpow's 24-month manufacturer's warranty. In the event of any issues with materials or workmanship, you'll get a full refund or free replacement. This is far superior to your industry-standard 12-month warranty.
Battery and Connectivity
Each EP-T21S earbud has enough battery life for five hours of playback on a single charge. This isn't terrible, but it isn't impressive, either. More to the point, it's a manufacturer rating, which means real-world performance will differ. If you're always listening at full volume, you can expect more in the neighborhood of four hours of juice. Temperature, bitrate, and other factors can also affect your maximum volume.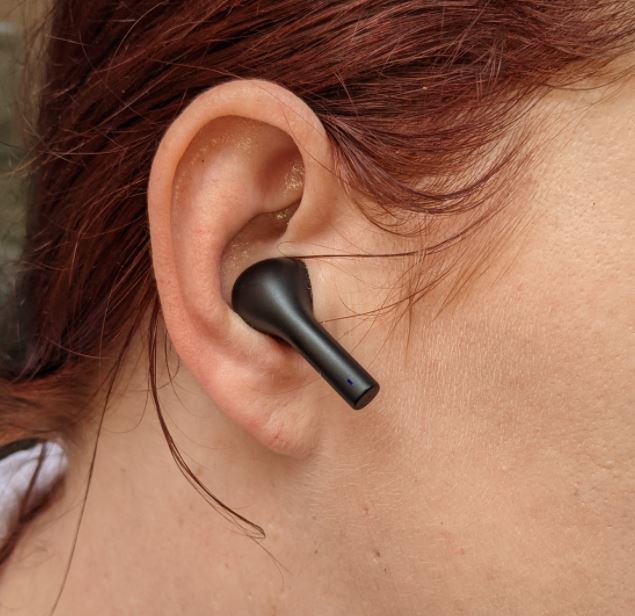 That said, the charging case provides enough juice for five additional charges. This means you have a total battery life of between 24 and 30 hours between plug-ins. As long as you have about 90 minutes to drop your earbuds into the case, you'll always have juice. When you do run out of power, the case can be recharged in about two hours via USB Type-C. As long as you have somewhere to plug in overnight, you'll basically never be out of power.
The EP-T21S buds utilize the Bluetooth 5.0 connection protocol, which is the current standard. It's backwards-compatible with older protocols, but has a few distinct advantages. To begin with, Bluetooth 5.0 is more stable, so you won't randomly lose your connection. Secondly, it allows for higher transfer rates. This translates to higher-bitrate music, and correspondingly higher audio quality. Finally, it has virtually no latency. This means audio and video will be properly synced while you're watching movies or playing games.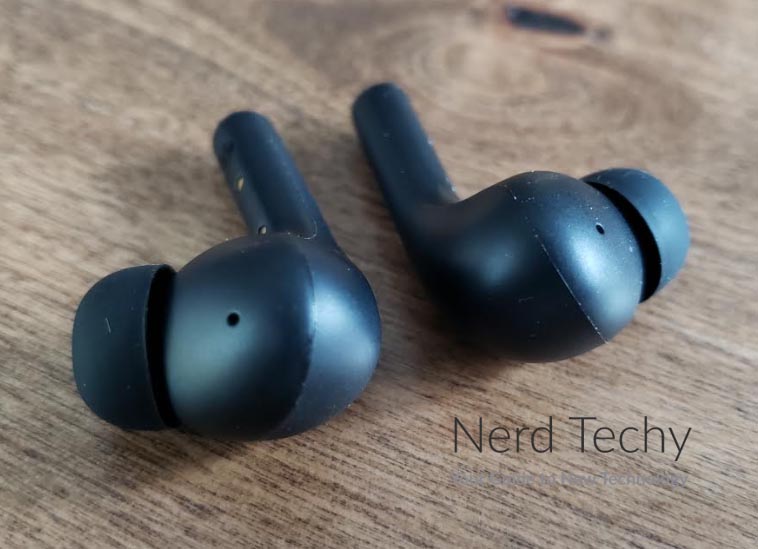 If you want even lower latency, the Aukey EP-T31 True Wireless Earbuds are a solid choice. They have a special, ultra-low-latency gaming mode that's perfect for competing online with your friends. On the other hand, their bass performance isn't as powerful as today's offering.
The EP-T21S earbuds have one more feature that many others lack; they can operate in both stereo and mono mode. In most cases, you'll want to use stereo mode for listening to music. This will allow you to enjoy the music as originally intended. On the other hand, you may prefer to have more awareness of your surroundings. In this case, you can simply use either earbud individually. In this mode, you'll also double your battery life, since you can use the earbuds alternately.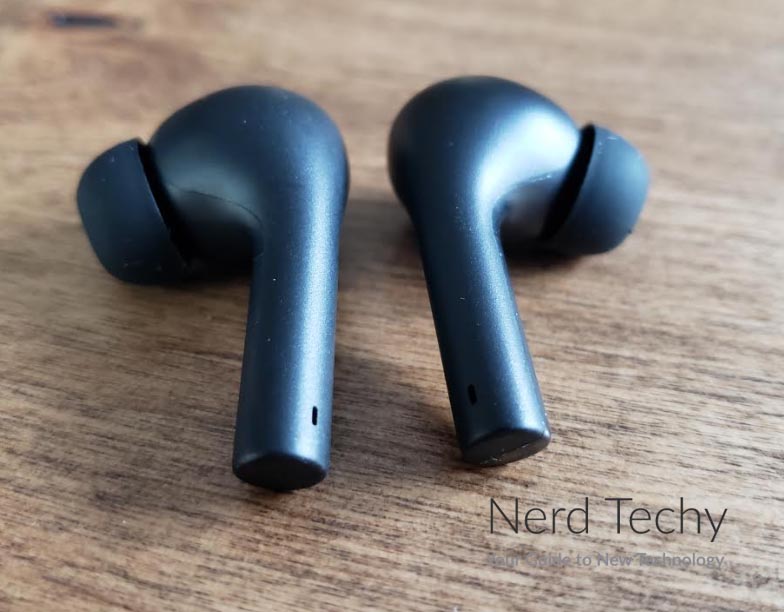 Audio Quality
The EP-T21S' 10mm drivers provide a good balance between size and power. As mid-sized 10mm drivers, they're not quite as punchy as some larger ones. They simply can't be. On the other hand, they're surprisingly loud for the size, especially the bass. In this price range, we typically expect the bass to either be absent or muddy. Neither of those things was the case here.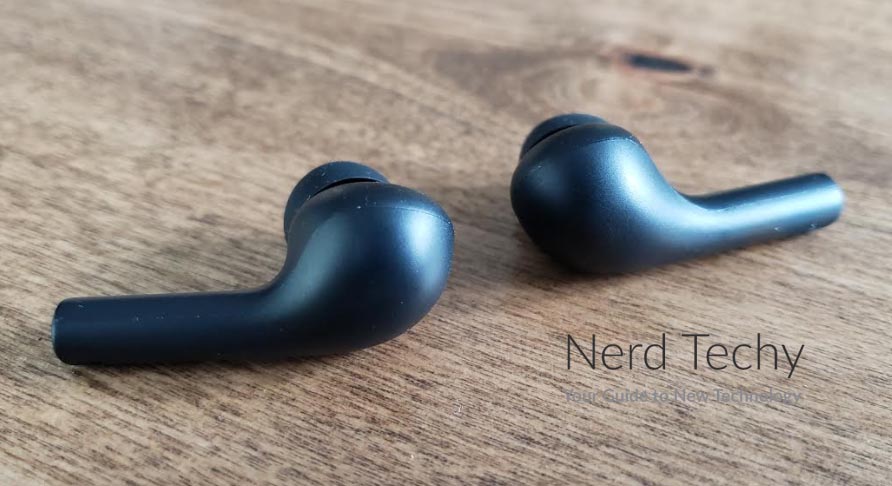 Moreover, the sound profile is very well-rounded. There's a wide soundstage, which means plenty of separation between instruments. It feels as if you're in the room with the band, listening to them in a real space. Not only that, but Aukey did not neglect either the middle or the high frequencies. The audio is rich from the bottom to the top of the spectrum, an impressive feat for affordable earbuds.
For even better audio, consider the Aukey Key Series T18NC earbuds. They have richer, deeper bass, and louder, bolder performance across the entire spectrum. On the other hand, you'll have to pay more for this kind of quality. The T18NC buds are a bit pricey.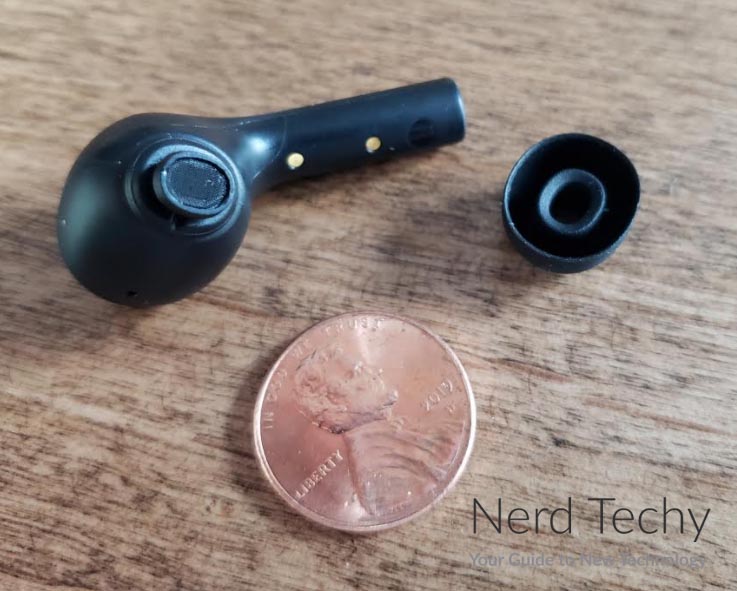 In addition to all this, the EP-T21S earbuds feature a built-in set of noise-isolating mics. Let's be clear. These are not Active Noise Cancelling (ANC) mics. They're not going to improve your listening experience. Instead, they're designed to focus on your voice while you're talking on the phone. They clean up background noise, so it's easier for the other person to hear you. You won't notice if you're sitting at home. But if you're on the road or sitting in a crowded airport terminal, the other person will hear you much better.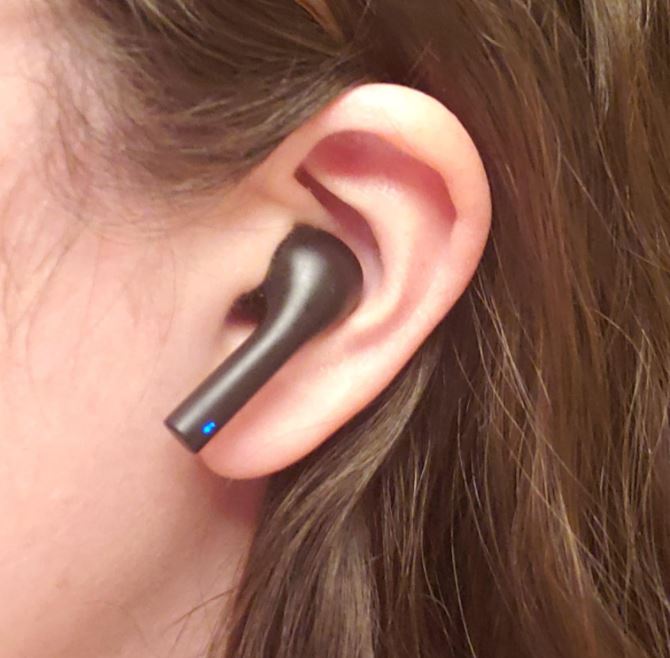 Final Verdict
The Aukey EP-T21S True Wireless Earbuds are an impressive — if flawed — addition to Aukey's product line. The design is beautiful, and sits comfortably in your ears. We would have preferred more traditional, stiffer tips; the noise isolation would have been well worth it. We would also have preferred a volume function. That said, this is more a matter of personal preference. If you spend much time in mono mode, you'll appreciate that using a single bud doesn't mess up your controls.
Beyond that, we really liked the audio quality. With affordable buds, you usually sacrifice bass, soundstage, or both. In this case, you have to sacrifice neither, and still get reasonable volume. Not only that, but the water-resistance rating and two-year warranty provide an added layer of confidence.