Last month, Microsoft released the new Xbox Series X alongside the PlayStation 5. The next round of the console wars has begun! But there are a lot of people still happily using their original Xbox One, or their S or X variant. The Covid economy has hit many people hard, and a launch day console isn't necessarily top priority. Not only that, but many of us just prefer to wait a year or two before buying a new console. Without any major exclusives on slate for 2021, there's no real rush. It makes sense to wait for the price to go down, and for more games to become available. With all of these reasons to hold off on a new console, why not upgrade the old box you know and love? And if you're getting the new Series X anyway, why not get a better controller?
A wired controller is one way to improve your system's performance. Today, we're going to review three of the best wired Xbox One, One S, and One X controllers. First, we'll be examining the PowerA Enhanced Wired Controller. This controller has a built-in volume control dial for your headset. Next, we'll look at the PDP Wired Controller. The PDP controller is designed with textured triggers and bumpers for improved precision. Finally, we'll review the AmazonBasics Xbox One Wired Controller. This is a more basic controller, but it's designed specifically for wired use. Which one is the best? Let's take a deeper dive, and find out!
Note: At no extra cost to you, we may earn a commission for purchases using our links. Learn more.
Why Use a Wired Controller?
There are two reasons you might want to use a wired controller as opposed to a wireless one. The first is latency, or the delay between when you press a button and when your console registers it. Modern wireless controllers have a latency of only about 100 milliseconds. You'll never even notice it in a single-player game. But multiplayer games are a whole different animal. Matches often come down to who has the fastest trigger finger, and every millisecond counts. A wired controller cuts this latency to the single digits, which makes a big difference in a one-on-one fight. This is the same reason most gamers prefer an Ethernet connection to WiFi.
In addition, Xbox headsets work through the controller connection. This means that the same latency that affects your button presses also affects your communications. A tenth of a second might not sound like much, but it's noticeable. The more latency, the more people are likely to talk over each-other and have other chat issues. Conversely, a wired controller provides less latency, so communications are easier.
The other benefit of wired controllers is that they don't require any batteries. Because they run on USB power, there's no time limit on your gaming session. Once again, this is a bigger issue for multiplayer than it is for single player. In a single player game, your console will automatically pause, and you can refresh your batteries. In multiplayer, you'll be racing to replace your batteries before your Warzone operator gets killed in the gulag. With a wired controller, you can play whenever you like, for as long as you like. You'll never have to choose between throwing out partially-used batteries or running out of juice during a match.
One last thing we should mention before we begin is that Xbox One and Series X controllers are cross-compatible. The Series X controller charges via USB Type-C, has a slightly slimmer design, and has added a share button. Other than that, the two are virtually identical. It's mostly a matter of charging speed and what form factor you prefer.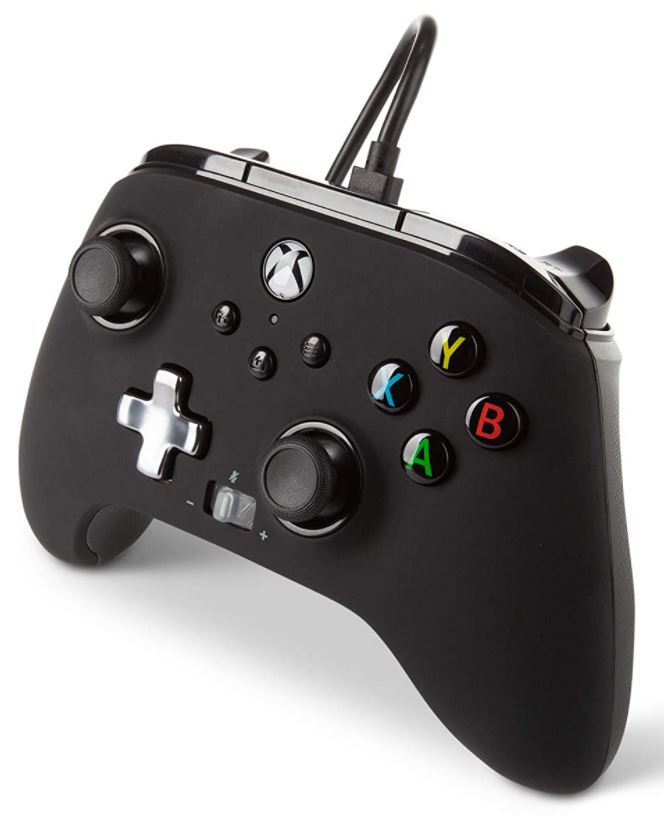 PowerA Enhanced Wired Controller
PowerA produces a variety of aftermarket controllers, including mobile game controllers for smartphones. Their Enhanced Wired Controller is a continuation of that same quality standard. The controller is available in six colors: black, white, blue, red, pink, and a blue/green faded two-tone. The case is well-constructed, with a matte finish that won't get slick even if your hands are sweaty. On the back, there's a textured, diamond-pattern grip that provides even more security. This controller has a standard layout, but with an upgraded, metallic D-pad. There's also a share button added near the start and back buttons. This makes it easy to share screenshots with all of your friends.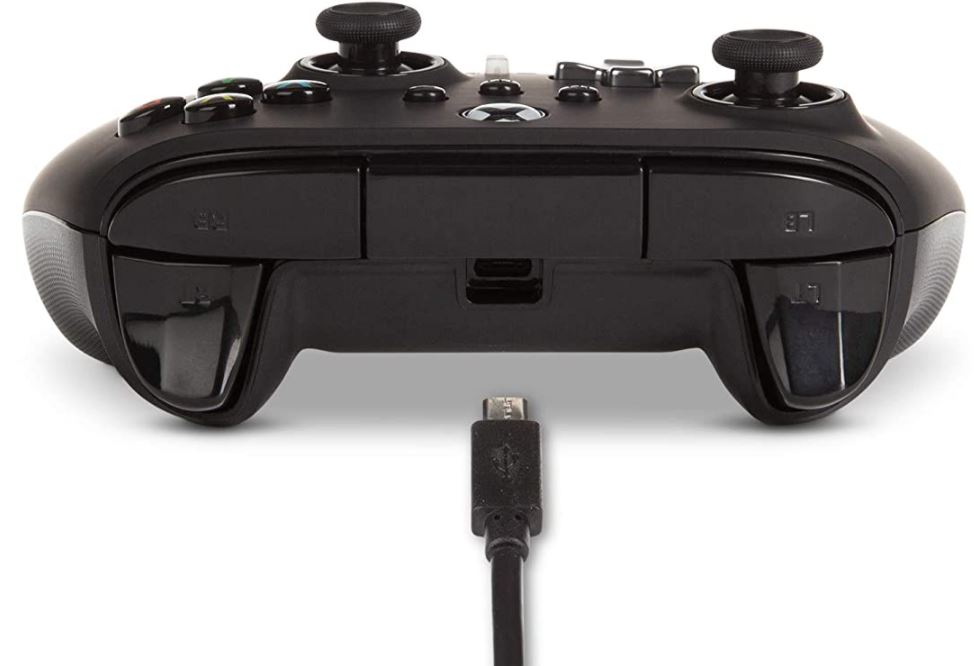 The USB cord is 10 feet long, the maximum length for USB 3.1 without extension cables. It's also detachable, so it can be used for other purposes. When you're not gaming, you can use it to charge your phone or tablet. In addition to a USB connection, the PowerA controller also sports a standard 3.5mm aux jack. You can easily connect your existing headset without the need for any kind of adapter. The headset can be controlled with a built-in dial. You can adjust the volume or mute your headset with just a flick of your thumb.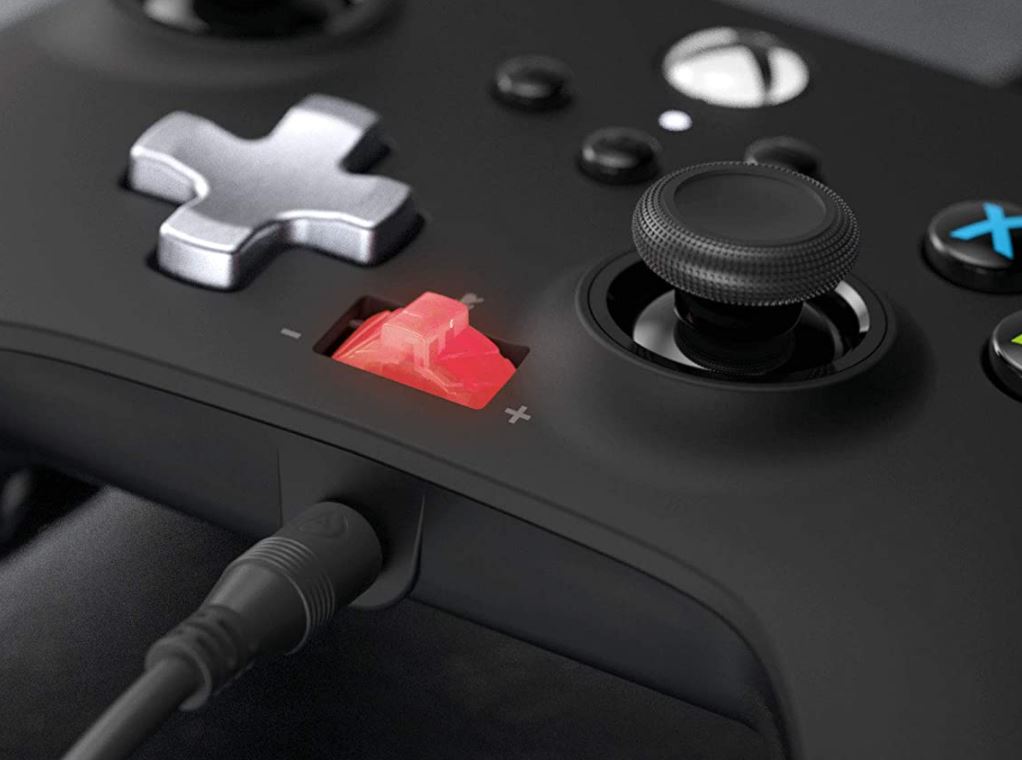 The PowerA controller is officially licensed by Microsoft, so you won't have any compatibility issues. It's designed for the new Xbox Series X, as well as the smaller companion Series S console. You can also plug it into an Xbox One, One X, or One S, since the controllers are cross-compatible. On the Series X or Series X, it comes protected by a two-year manufacturer's warranty. This is better than the one-year warranty we'd typically expect for a gaming accessory.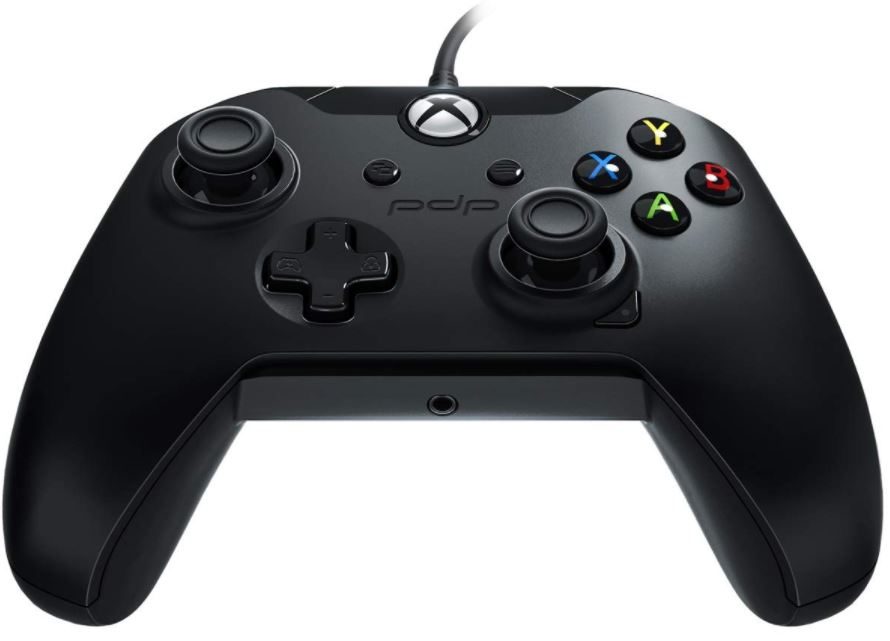 PDP Wired Controller
PDP is known for producing affordable, well-designed gaming accessories like controller charging stations. We've appreciated several of their past offerings, so we were eager to get our hands on the PDP Wired Controller. This controller makes a great gift, in no small part due to the number of color options. In addition to standard black and white, you get nine additional choices, including fun "camo" options. Obviously, cosmetics shouldn't be your first consideration when choosing a controller. But if you're buying for a young nephew or niece, it can make all the difference in the world.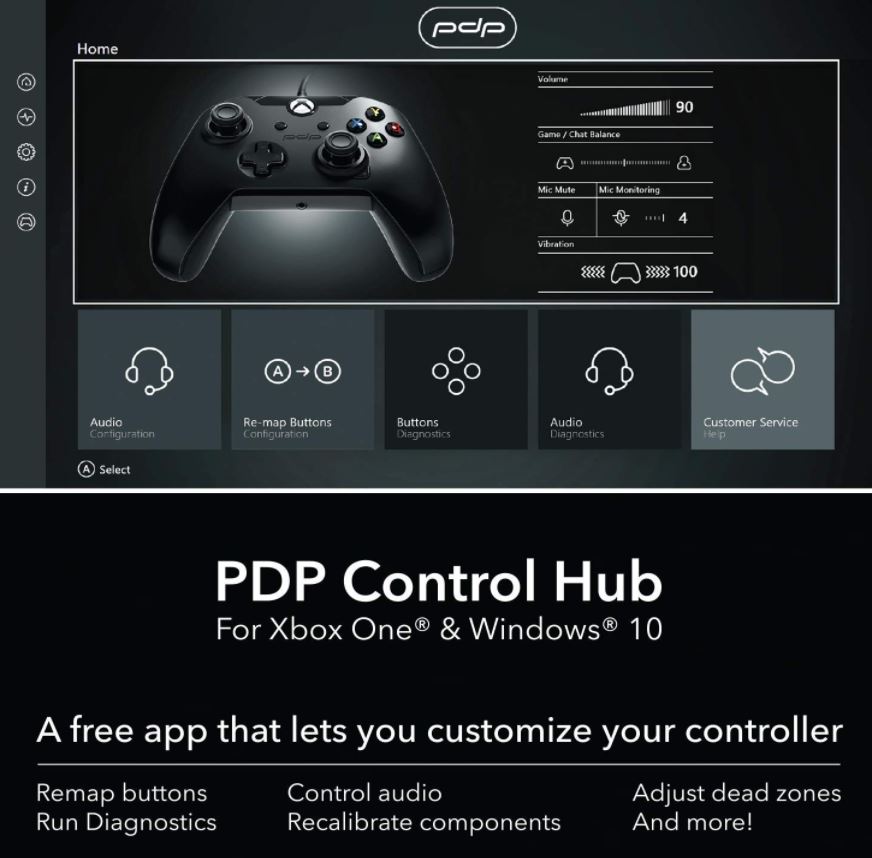 The controller case has a standard Xbox One-style profile, with a light texture on the underside. The shoulder and trigger buttons are also lightly textured for an easier grip. The USB cable is eight feet in length, which should be enough for most rooms. Like the PowerA controller's, it's detachable, so you can use it to charge other devices.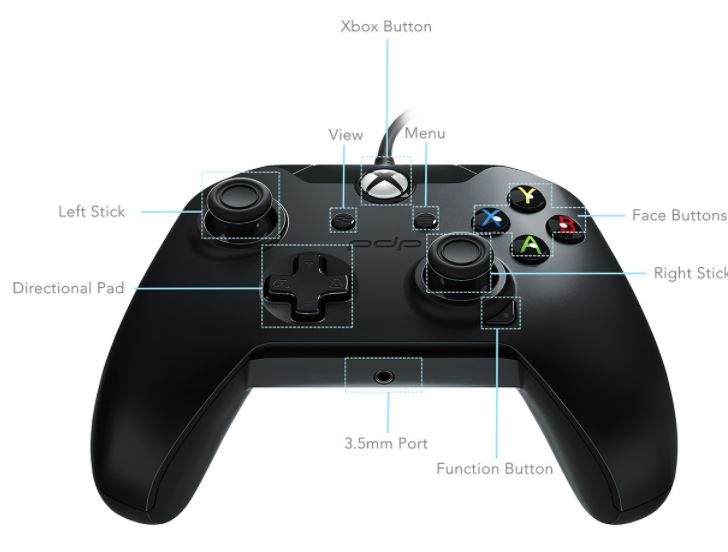 The PDP Wired Controller has a mostly-standard layout, with one important addition. There's a function button located just off the corner of the right thumbstick. Pressing and holding this function button allows you to use your controller to mute or adjust your headset. This is the case on Xbox consoles, at least. However, when you use the PDP Wired Controller on PC, the function button can be mapped within games. This effectively doubles the number of buttons on your controller. As a result, you can program macros and enjoy games with more complex control schemes.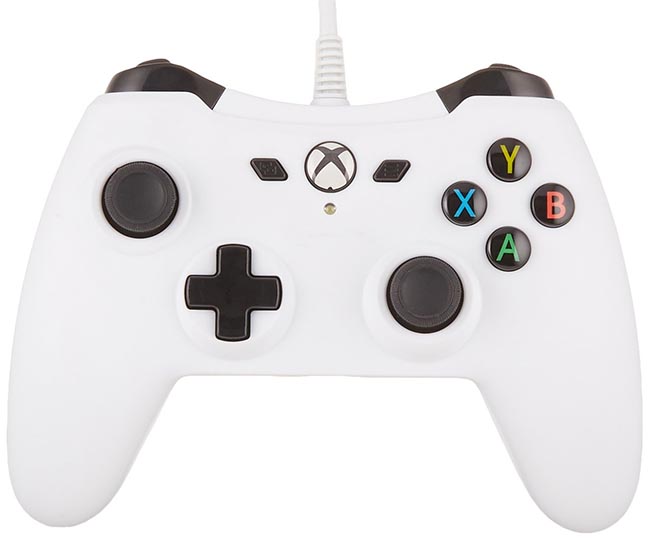 AmazonBasics Xbox One Wired Controller
When most people think of AmazonBasics, they think of home goods. However, AmazonBasics also produces a number of gaming accessories as well. For instance, we've reviewed their Nintendo Switch kickstands in the past, and we liked what we saw.
As befits the brand name, the AmazonBasics Xbox One Wired Controller is a fairly simple creation. In most respects, it's identical to the original Xbox One controller. However, the frame is actually somewhat larger, extending further out to the front before you reach the bumpers. This makes the controller tougher to use for people with small hands. The Xbox One controller is already fairly beefy as is, so going bigger was an odd decision. You'll also only be able to use a 3.5mm headset, not an early-generation Xbox One headset. This is less of a limitation, since most people are using those old headsets these days.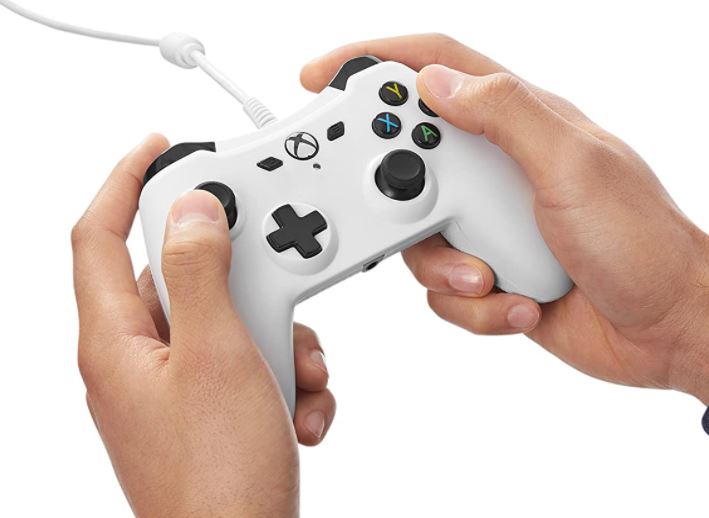 The AmazonBasics controller has a built-in 9.8-foot USB cable, rather than a removable one. Because of this, the cord cannot be used for charging other devices. On the other hand, it also can't accidentally get yanked out of the controller while you're playing. The connection point is heavily reinforced, so it can stand up to tugs without the cable getting damaged.
The Xbox One Wired Controller is officially licensed by Microsoft, and is covered by AmazonBasics' one-year warranty. In addition to working with the Xbox One and Series X, it's compatible with PC's running Windows 8 or later.
Final Verdict
So, which wired controller is your best choice? To begin with, it depends on which Xbox console you're buying for. If you have an Xbox Series X or Series X, the PowerA Enhanced Wired Controller is going to be your best option. This is mostly because you'll be able to take advantage of the share button. Otherwise, it's a matter of preference. Do you prefer the Xbox One's fat, beefy controller? Or do you like a compact, slim controller like the Xbox Series X? That said, the PowerA controller has one other standout advantage: the headset dial. It allows you to keep your hands on your controller while you mute your headset, which is a huge plus.
The PDP Wired Controller is the most versatile of the bunch. This is mostly because of its function button, which is incredibly useful on PC. Of course, it's also helpful on an Xbox when you need to adjust your headset. Other than that, the design is nearly identical to a stock Xbox One controller. The only thing missing is the connection for old-school, early-generation Xbox One headsets. This shape and size comes with its own attendant costs and benefits, but once again it's a matter of preference. There's no right or wrong answer here.
The AmazonBasics Xbox One Wired Controller is the most barebones of the bunch. It doesn't have any extra bells and whistles like a screenshot button or headset controls. That said, it does feature a built-in power cord. This cord is tough and durable, and won't get tugged out of the controller by accident. This is a major design advantage, and it's not to be taken lightly.
Please consider sharing:
Note: At no extra cost to you, we may earn a commission for purchases using our links. Learn more.