The PlayStation 5 is one of the most anticipated consoles in the history of gaming. Coming seven years after the last-generation PS4, Sony fans were ready for an upgrade. The new console boasts faster speeds, better graphics, and support for 4K TVs. Basically, you're getting the same types of advances you get every console generation. In addition to the console itself, the controller has also been redesigned. The new DualSense controller is fatter than earlier PlayStation controllers, with a white finish instead of black.
If you own a PlayStation 5, congratulations! A lot of people still haven't been able to get their hands on one. Between high demand and pandemic-related supply shortages, US retailers are still struggling to keep up. Sony doesn't anticipate availability getting any better until mid-fall at the earliest. In other words, those of us who are lucky enough to own a PS5 are very fortunate.
Note: At no extra cost to you, we may earn a commission for purchases using our links. Learn more.
But now that you own your new console, you want to keep it safe. This means taking common sense measures, like using a surge protector and keeping the vents unobstructed. It also means periodic cleaning to get rid of dust. And if you want to spend less time cleaning, a dust cover is a good alternative. A dust cover significantly reduces the amount of dust that gets into your console in the first place. As a result, you won't have to clean it as often. Not only that, but a cover can provide a splash of color to brighten up your room.
That said, keep in mind that the PS5 relies on airflow in order to keep cool. If it's not able to suck air through the console and vent it, the system will heat up. Eventually, it will overheat. If you're lucky, the safety circuitry will kick in and automatically shut down your PlayStation. If you're not, the safety measures will fail, and your new console will be an expensive doorstop. All of this to say that you should never, under any circumstances, use your dust cover while you're gaming. You're almost guaranteed to overheat your console. You should also disable automatic updates, so your console won't turn on by itself. The dust cover is only for keeping dust off your console when it's not in use.
Today, we're going to be reviewing three of the best PS5 dust covers available online. First, we'll look at the PlayVital Black Nylon Dust Cover. This vertical nylon case comes in 10 colors, and sports a slim vertical cable slot on the back. Next, we'll examine the Esimen PS5 Dust Cover. This cover has a similar design, but comes with different colors and a wider cable slot. Last but not least, we'll review the Foamy Lizard PS5 Dust Cover. This cover is designed to be used in both the horizontal or vertical configuration, and features a soft microfiber liner. Which one is going to be the best choice for you? To find out, we'll need to look a little bit closer at each of our choices. We'll look at the materials used, the design, and the fit. Once we know those details, we'll be able to give a fair judgement. Let's begin!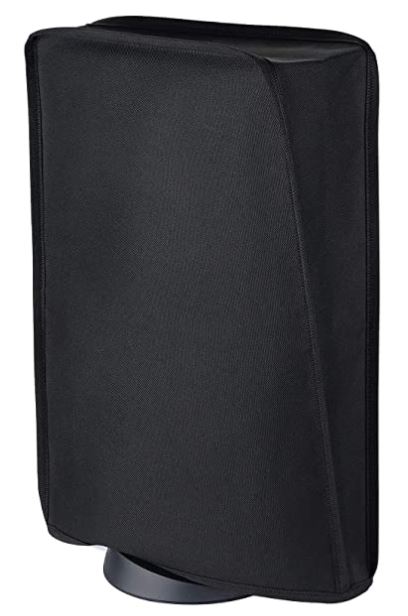 PlayVital Black Nylon PS5 Dust Cover
PlayVital is an experienced manufacturer of third-party console gaming accessories. Not long ago, we reviewed some of their DualSense controller skins, and we liked the design. So when it came time to review PS5 dust covers, PlayVital's cover caught our eye.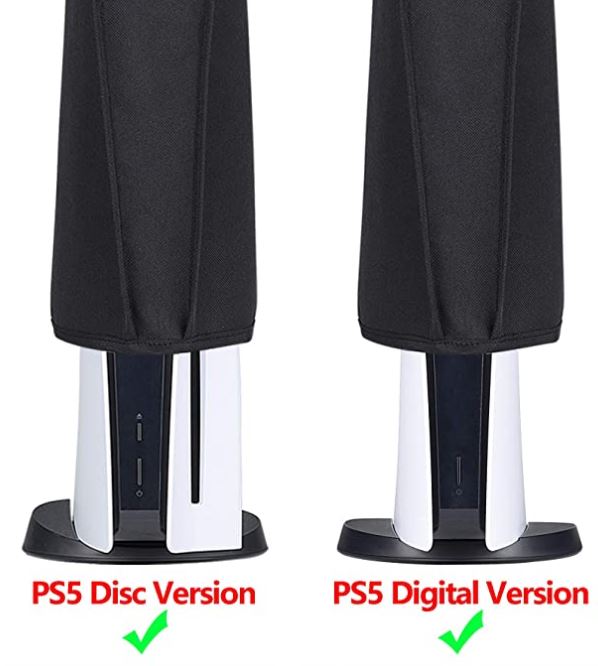 The case is stitched from high-quality nylon, which has a dense, durable weave. It's available in 10 different color options. These include black, pink, grey, two types of green camo, and pink camo. It also includes black with red, orange, grey, and neon green trim. Incidentally, you can also order a horizontal case made from the same material, which only comes in black. But we're looking at the standard, vertical variant. The inside of the cover is lined with a softer material that feels like a lightweight cotton. It does a good job of protecting your console from scratches, as well as keeping off dust. That said, it's not slash-proof. If for some reason you were to take a knife to it, you'd probably slice right through.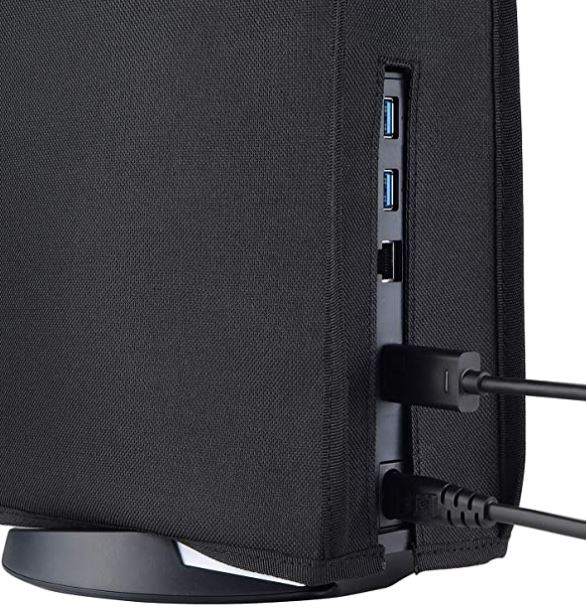 One thing we liked about the PlayVital Black Nylon Dust Cover is that it's washable. After all, its primary purpose is literally to collect dust. By definition, it's going to get dirty. Thankfully, you can hand wash it with soap and water in your sink. Just make sure to let it dry thoroughly before you put it back over your console. For what it's worth, the material can also be ironed. We're not sure why you'd want to iron your console dust cover, but now you can.
In addition to that, the material is also water-resistant. If you spill on it, the liquid will bead up on the surface and roll off. It's not immersion-proof, but it keeps your PS5 safe from everyday mistakes. At the same time, the shell and liner are both breathable. As a result, moisture won't build up inside due to condensation. This keeps your system from getting damaged due to moisture build-up.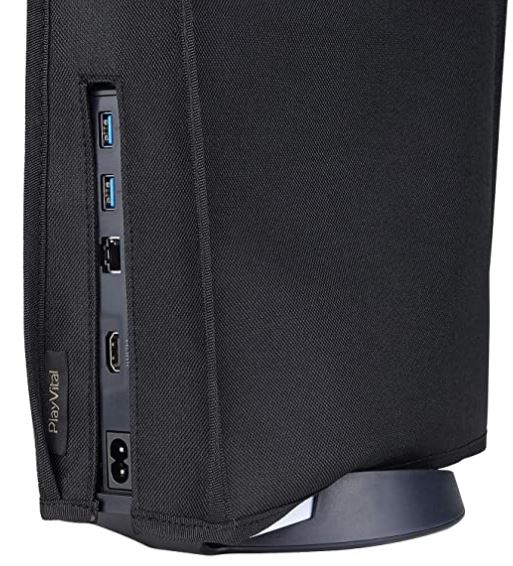 The edges are put together with reinforced stitching, and wide strips around the edges with thicker material. It has a tapered shape, and the front is slimmer at the bottom to match the PS5's profile. It's also open on the bottom. To set it up, all you have to do is drop it over the top of your console. It fits both the digital and the disc version. To fit it over the disc version, you sometimes need to wiggle the front portion down into place. There's also a narrow cable slot on the back, so you can leave your console plugged in. Remember, you're not supposed to actually use your console with the cover on. This slot is just so you don't have to unplug it every time you're done playing.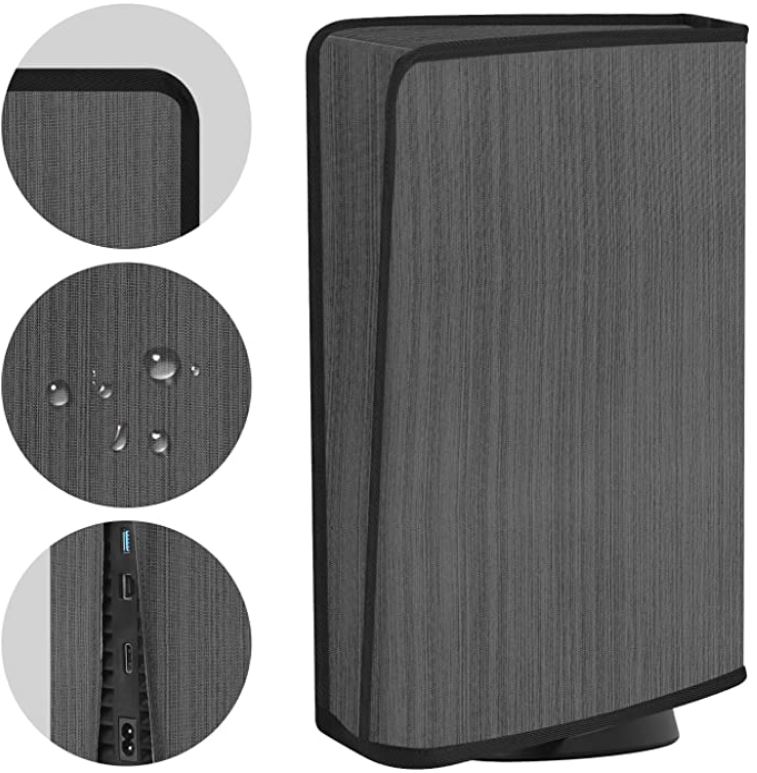 Esimen PS5 Dust Cover
The Esimen PS5 Dust Cover is similar in many respects to the PlayVital cover. It drops over the top of your console, and it has a cable slot in the back. However, upon further examination, you'll notice some subtle differences. For one thing, the cable slot on the Esimen is tapered, with a wider opening at the bottom. This makes it easier to slip over the console, at the expense of exposing more of your console. The nylon weave is also a bit different. Where the PlayVital's outer shell is coarser, the Esimen is smoother and softer. That said, the inner lining is basically the same. So you're getting a similar level of scratch protection.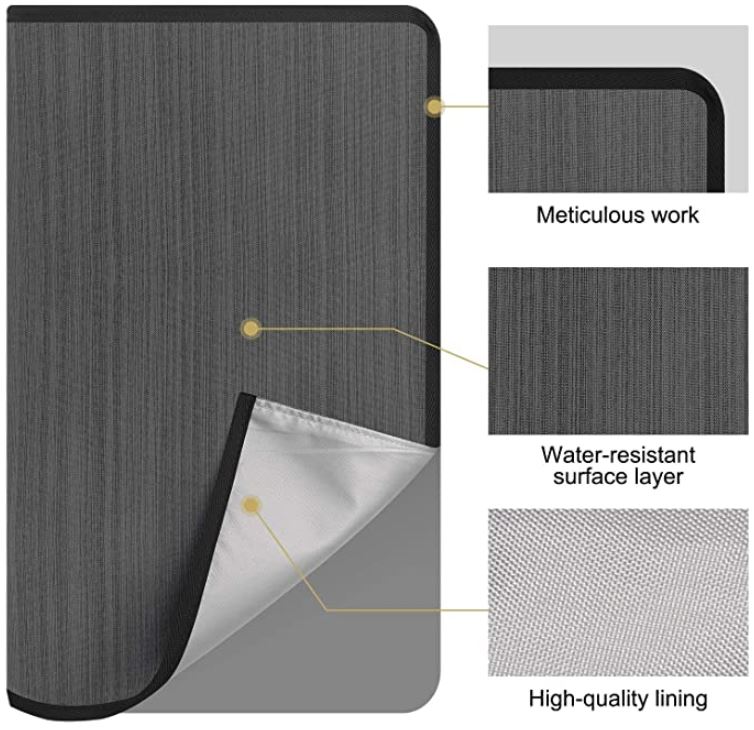 The Esimen cover is available in five colors. The first three are black, blue, and grey, although the black is more of a charcoal than a true black. The other two options feature patterns on a black background. There's a red spider in a web, and a white eagle in front of a mountain. If you're looking for something a little more distinctive than a plain color, this is it.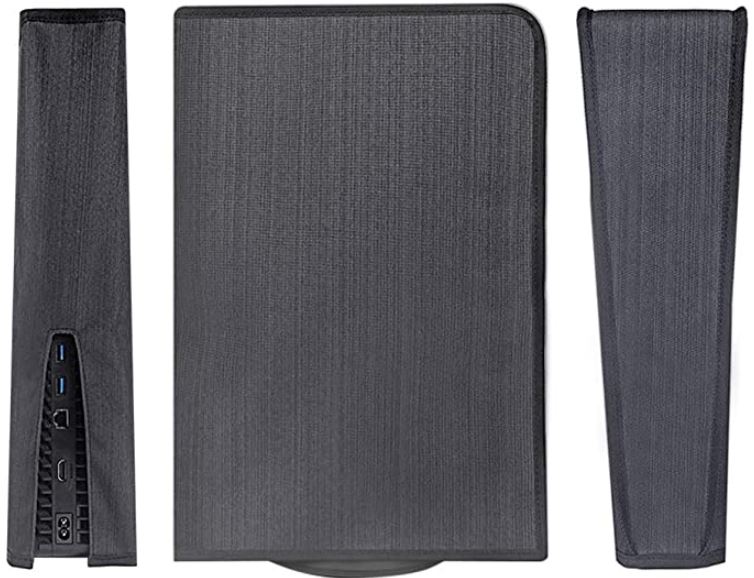 Like the PlayVital cover, this one is hand-washable, so you don't have to worry about it getting dirty. It's also ironable, although we're baffled why companies keep advertising this. The stitching around the edges is also reinforced, with heavier material forming a border. The material is breathable, and allows for plenty of air flow. At the same time, it's also water-resistant. Just like the PlayVital, any spills will bead up on the surface and roll off.
The last important thing to note about the Esimen dust cover is that it's smaller than our other two options. While the PlayVital and Foamy Lizard covers will fit any PlayStation 5, the Esimen only fits the digital edition. If your console has an optical drive, this cover is going to be too tight to fit.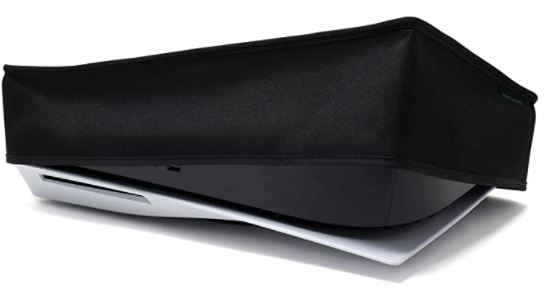 Foamy Lizard PS5 Dust Cover
Foamy Lizard is another company we've reviewed recently. Not long ago, we looked at their DualSense controller charging cable, and it was well-designed. Now, let's see how their PS5 dust cover compares to the competition.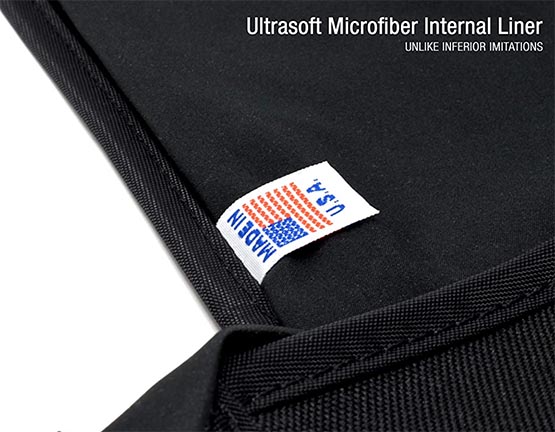 Unlike our previous two offerings, the Foamy Lizard Cover is designed for horizontal or vertical use. Although horizontal is a less popular way to position your console, it has its place. For example, you may be on a low shelf where the PS5 can't sit vertically. In that case, this cover will be a perfect fit for your configuration.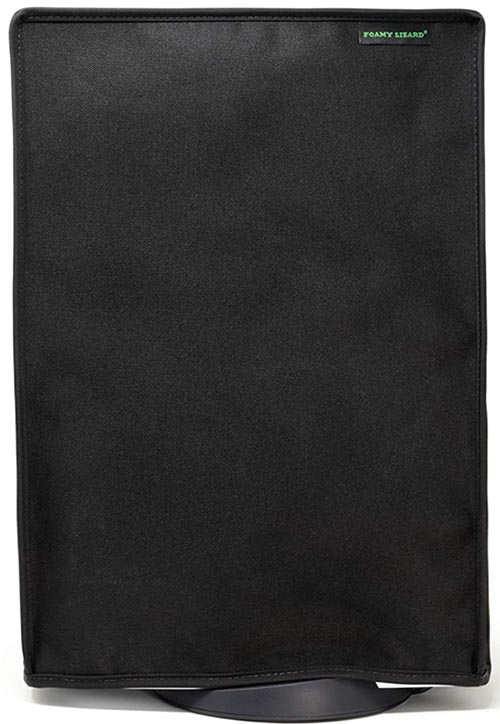 The Foamy Lizard PS5 dust cover comes in one color: black. It's made from water-resistant nylon, and is breathable like the other two covers. The inner liner is made of microfiber, and provides a surprising amount of cushion. Again, this is a dust cover, not a bulletproof Kevlar case. But it does a reasonably good job of keeping your console safe from scratches and minor dings. Around the edges, you'll find reinforced stitching that prevents it from coming apart at the seams. On the back, there's a cutaway at one end, which makes space for your PS5's cables. This cover will work with both the PS5 digital and disc editions.
Final Verdict
Which PS5 dust cover is best will depend mostly on two factors: your PS5 type, and how it's positioned. If you own the PS5 digital edition, you'll be able to use any of today's options. This makes it more or less a matter of preference. The PlayVital Black Nylon Dust Cover has more color options and a smaller wire slot. The Esimen PS5 Dust Cover has fewer options and a wider slot. Other than that, they're virtually identical. Choose the one that fits your style, and remember that the Esimen cover has a few neat symbols. Of course, if your console is laying on its size, you'll need to choose the Foamy Lizard PS5 Dust Cover, instead.
Since the PS5 disc edition is a bit larger, it won't fit under the Esimen cover. You'll need to choose between the other two options, based on how your console sits. Personally, we prefer the vertical orientation, since it saves shelf space. That said, if height is a concern, you might not have an option.
Please consider sharing:
Note: At no extra cost to you, we may earn a commission for purchases using our links. Learn more.