As more of us spend time at our desks for work, leisure, and study, there's a growing demand for devices that can help us optimize our posture, declutter our workspaces, and make better use of our equipment. One that's been gaining popularity in recent years is the under-desk laptop mount.
These mounts are made to hold laptops securely under desks and tables. This gives users more room on their desks to put larger monitors and other important peripherals. Ultimately, this makes it easier to organize your space and improve your work flow.
There are several options available, each with its own set of features and benefits. To help sift through and find the best under-desk laptop mount for your needs, we've gathered a team of experts to test and review the top models. In this article, we'll be sharing our findings and recommendations to help you make an informed decision.
Criteria for Choosing Under Desk Laptop Mounts
Compatibility: Make sure the mount is compatible with your specific laptop model and size. Check the size and weight limit to make sure your laptop will fit and stay in place. Most mounts have limited height, so you'll want to make sure you have enough clearance.
Durability: Look for a mount that's made of sturdy materials and can withstand regular use. We surveyed many real-world users to see how they held up over an extended period of time.
Stability: You'll want one that's sturdy and won't let your laptop slide or fall over. We particularly like brackets that have some sort of non-slip protective lining.
Ease of Installation: Look for a mount that's easy to install and, if needed, remove. Installations that require minimal tools are ideal.
Easy Access: Some mounts have a cable management system, making it easy to route cables and keep a clean setup. Also, make sure that it doesn't get in the way of your laptop's ports.
Price: Compare the price with the features and choose the one that best fits your budget and needs.
1. IFCASE Under Desk Laptop Mount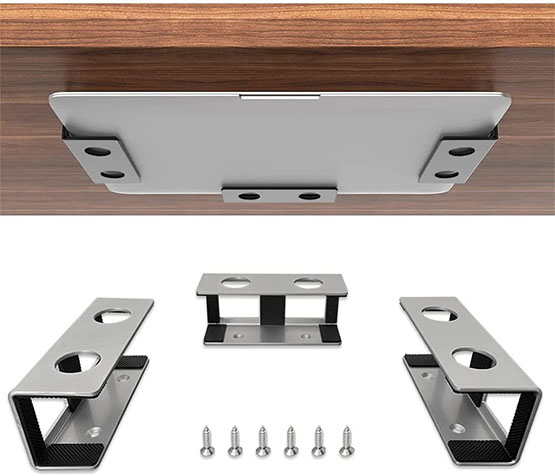 Key Features:
Fits most laptops and some gaming consoles.
Non-slip, anti-scratch silicone padding.
Mounting screws included.
Stainless steel construction.
Accommodates 1.5″ thickness.
The IFCASE Under Desk Laptop Mount is a standout option for its simple and straightforward design and easy setup. The stainless steel finish, which comes in black or silver, is simple and will match most desk styles. The low-profile design of the brackets is a nice approach, as it keeps your laptop from hanging too low and getting in the way of your legs.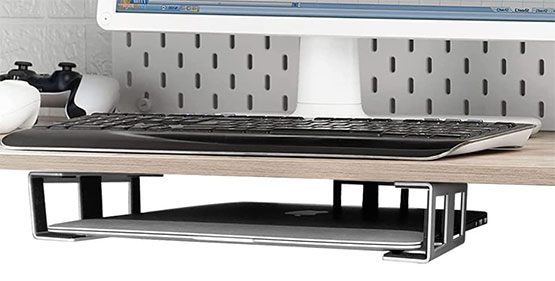 One of the key features of the IFCASE is its non-scratch silicone pads, which make it easy to slide your device in and out while keeping it free from potential damage. This makes it a great option for those who alternate between working at a coffee shop and their office desk. The padding is also anti-slip, offering plenty of stability, especially if you use it in a sit-stand height-adjustable setup. However, it's important to note that the pads don't cover the front-facing surface of the brackets. That said, extra care should be taken when initially inserting your laptop into the cradle.
Another versatile feature is that it comes in three pieces, allowing it to fit any form factor or laptop size under 1.5 inches thick. This versatility is a big plus, but it also comes with a downside: thicker devices can't be raised or lowered. If you're planning to use the IFCASE for something other than a laptop, this is an important consideration.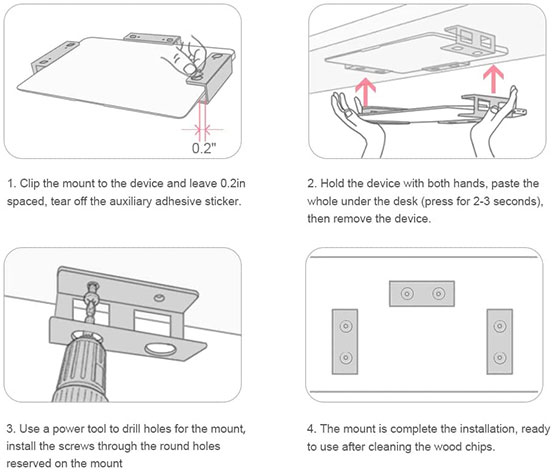 We gave a lot of thought to how easy it would be to setup. It turned out to be one of the easiest to setup. It comes with the mounting screws and adhesive strips to hold the brackets in place while you install the screws, making it quick and frustration-free. We were able to get it installed in less than 10 minutes, which is a stark contrast to other brackets that took much longer and caused tremendous frustration.
The IFCASE is a durable and long-lasting solution for your device. It has a simple design, is easy to setup, has non-slip silicone pads and comes in three pieces. The stainless steel finish is not only nice to look at, but it's also durable to keep the mount in good shape for a long time.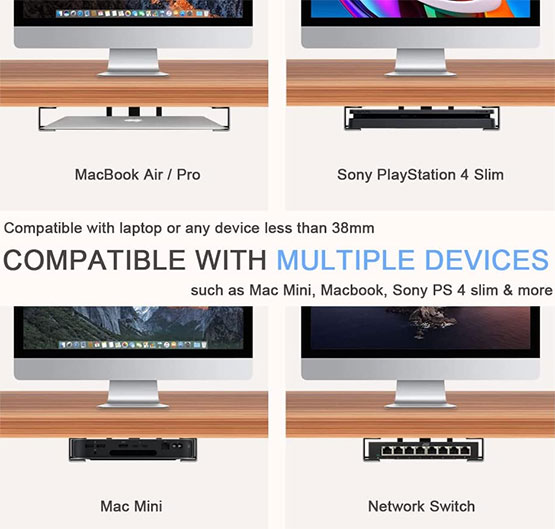 It's a great option for those who prioritize simplicity, versatility and durability in their under-desk laptop mount. The low-profile design, ease of setup, anti-slip silicone pads and ability to accommodate various device sizes make it a top choice. Whether you're working at your office desk or a coffee shop, the IFCASE will provide a secure and stable solution for your device.
Overall, if you're looking for an option that's aesthetic, low-profile, easy to install and safe for your laptop, the IFCASE Under Desk Laptop Mount is a strong contender.
What We Liked:
Low profile design stays out of the way.
Anti-slip silicone keeps things safe and secure.
Installation is a breeze.
High quality materials.
Two color choices.
What We Didn't Like:
Lack of height adjustment function.
2. YYST Under Desk Laptop Holder

Key Features:
3-rack design.
Self-drilling mounting screws included.
Accommodates 1.57″ thickness.
The YYST Under Desk Laptop Holder is another solid option for those looking for a durable and functional setup. This mount is made to work with laptops and other devices of different sizes and shapes. It's equipped with a three-piece setup like the IFCASE, making it easy to cater to the exact width and depth of your laptop. It's available in a shiny silver finish that may fit well with most desk or office aesthetics.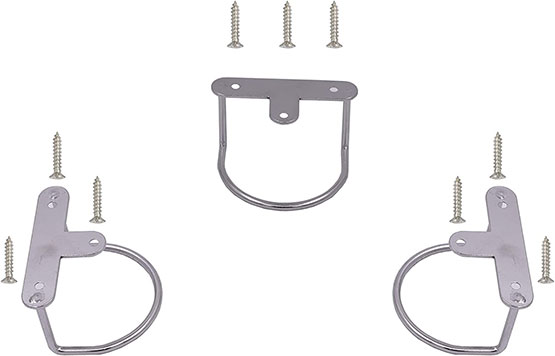 In terms of thickness, the YYST mount can handle slightly thicker devices compared to other models, maxing out at 40mm (1.57″) thick. This makes it ideal for those who want to secure alternative devices like an Apple Mac Mini or other similar devices under their desk. It's also good for people who need easy access to the ports on their laptop. With a protruding design towards the center, it provides better support for different devices and makes it easier to connect to wired peripherals with ease.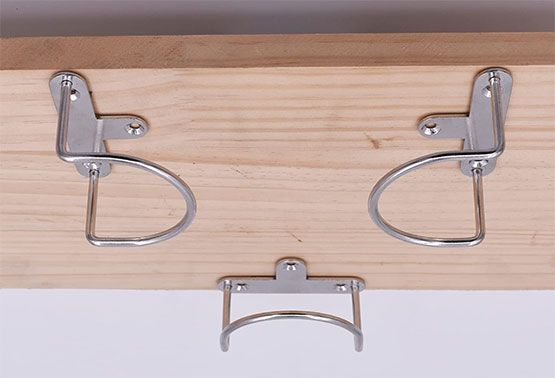 Like other similar models, it doesn't offer height adjustment. However, it's relatively easy to install. The mount comes included with the screws you need to secure it to your desk, although it would have been nice if the package included adhesive strips to hold the brackets in place while installing the screws. Alternatively, you could use a few strips of tape for this purpose. It would help stop the brackets from moving around while installing.
One potential drawback of the YYST mount is the lack of protective padding where the laptop rests. While the surface of the mount is smooth and free of abrasive materials, some extra padding would provide added peace of mind, especially for more delicate surfaces like Apple laptops. But even after a lot of use, our laptop didn't get scratched or scuffed in any way.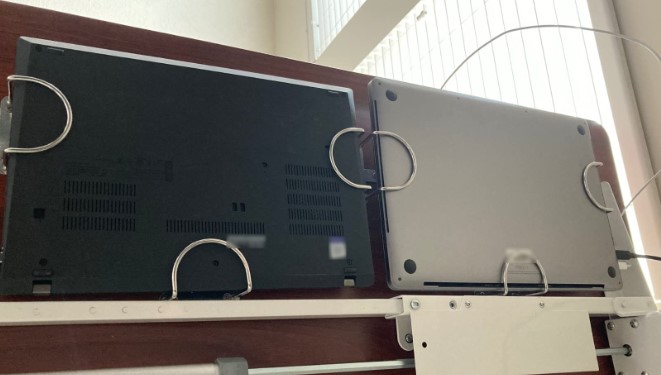 Overall, the YYST Under Desk Laptop Holder is a great option if you're looking for an option that gives you easy access with a sleek, useful design. With its three-piece design, durable construction and compatibility with different devices, it's a great option for those looking for a versatile and practical under-desk mount.
What We Liked:
Most inexpensive option.
Easy access to ports.
Mounting screws are included.
Sturdy construction.
What We Didn't Like:
No padding or silicone for added protection.
Only available in silver.
3. BRAINWAVZ Under Desk Laptop Holder Mount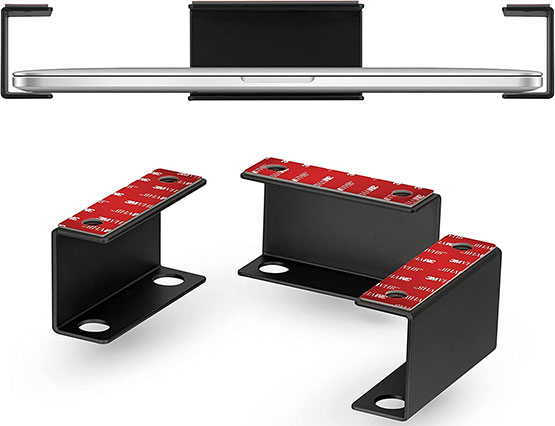 Key Features:
3-bracket design.
Screw or adhesive mounting options.
Accommodates devices up to 1.8" thick (without foam pads).
The BRAINWAVZ Under Desk Laptop Holder Mount is one of the most attractive-looking options we've come across. This is due in large part to the industrial, straight-angle design. It's a no-nonsense mount that provides a solid place to keep your laptop.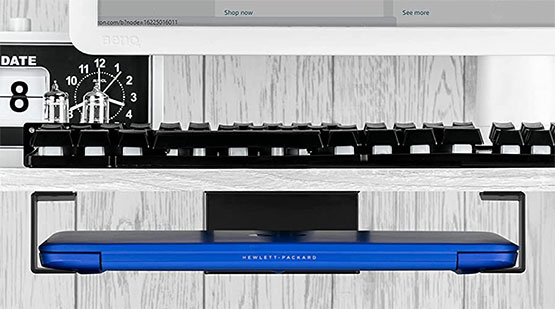 It's just like our other selections, with a 3-piece design that allows you to adjust the width as wide as you may need. The third piece serves as a backstop to ensure proper placement every time. We found that the length of the brackets was just enough to provide support without being so long that it got in the way of any laptop ports that you might need to access. That said, an important thing to note about any of these brackets; you'll want to ensure that the left and right brackets are not too far back or forward where they get in the way of your laptop's ports. It's best to get a clear understanding of this before installation.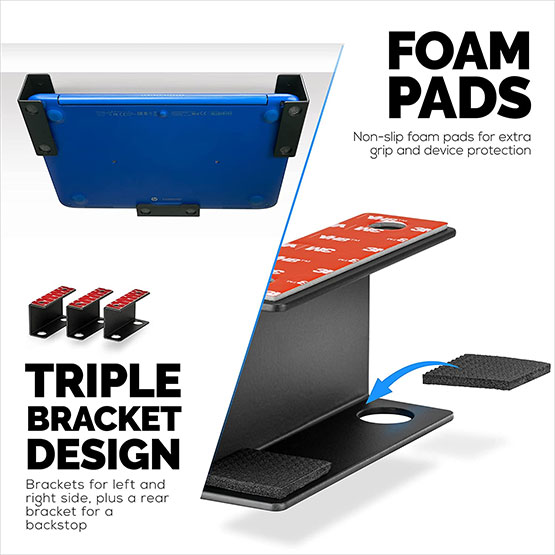 The bottom lip is not as wide as the YYST mount. This means that you'll need to be more precise with your sizing upon installation. In terms of device thickness, the literature states that it can fit items up to 1.8 inches thick. While the opening is 1.8″, the addition of protective foam reduces it to 1.5″. That's still thick enough for nearly every laptop out there.
This brings us to installation. This is our top pick if you're looking for tool-free installation. It comes with very strong 3M adhesive preinstalled on the brackets. As long as you have a non-porous surface, this adhesive makes for an incredibly quick install. And after 2 hours, it'll be able to support the weight of your laptop. One thing we didn't like about this mount was the lack of countersinking. This results in the heads of the screws slightly sticking out. While they provide caps to go over them, it would have been better to have these screws flush with the mount.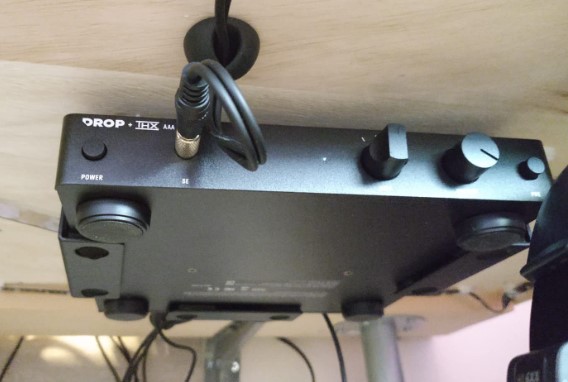 Not needing screws is a big advantage for people who simply don't want a permanent installation. If your laptop or device is heavier than 2-3 pounds, we do recommend that you add the included screws for peace of mind. All in all, the BRAINWAVZ Under Desk Laptop Holder Mount is a very high quality option that's made quite well. It's slightly more expensive than other options, but not by much.
What We Liked:
Minimal, industrial design.
Comes with foam protective padding.
3M adhesive for a tool-free install.
What We Didn't Like:
Screw heads stick out when they could have been flush.
Slightly more expensive than other options.
Only available in black.
4. Maluwei Under Desk Laptop Mount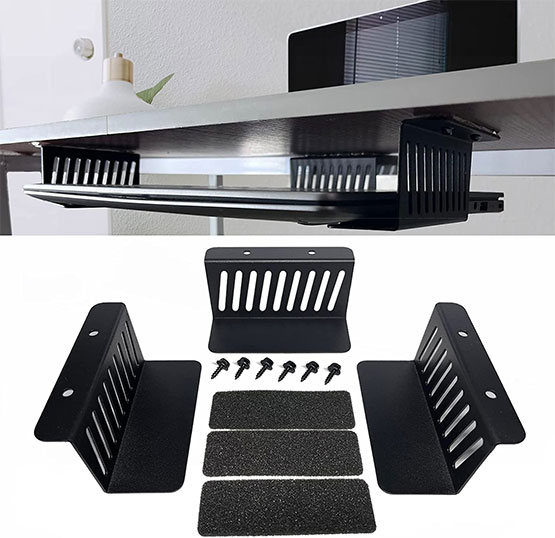 Key Features:
3-bracket design.
Installation screws included.
Foam pads included.
Accommodates 1.9″ thickness.
We've included the Maluwei Under Desk Laptop Mount for several reasons. In addition to being made from high-quality materials, we feel it's the best option for those who may use their under-desk mount for various devices and not just their laptop.
For example, if you have more than one laptop or want to use your mount to pull double duty with your iPad Pro and Macbook Air, this mount has one of the widest lower lips of any other brackets we've seen. However, it's not so wide as to get in the way of cooling fans or ventilation. Paired with its ability to fit thicknesses of up to 1.9″, it gives users a little more flexibility when it comes to the overall fit.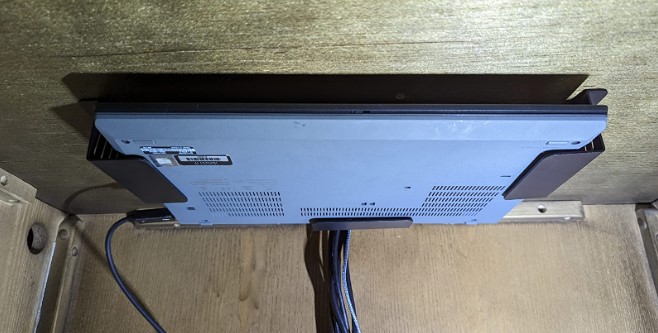 The higher clearance may also be a better for those who don't like how careful or precise they have to be with low-profile mounts. There are also certain instances when you may want to leave your laptop slightly open. For example, if you're downloading updates but need the desktop real estate, the height of this mount can accommodate that very easily.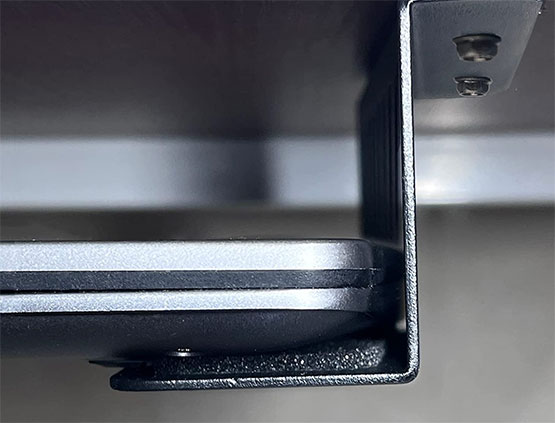 Another aspect we liked was the inclusion of foam padding. While they're not anti-slip, we feel they provide a great deal of scratch protection, which is important for accommodating regular use.
Overall, we are very pleased with the quality of the Maluwei Under Desk Laptop Mount. We think it's a good option for users who may want to fit several, slightly different-sized devices without needing a mount for each one. The taller height can be a game changer for certain users and needs.
What We Liked:
Fits laptops up to 1.9" thick.
Foam pads offer good protection.
Wide bottom lip for more versatility.
What We Didn't Like:
Width of the brackets may limit port access.