Keeping your home secure is no laughing matter. When you invest in a wireless garage door keypad, you want to know that it's going to be effective.
At the same time, it also needs to be easy to use. A keypad should open reliably when you enter the right combination. It should be easy to read the numbers by day or night. And it should be tough enough to stand up to the elements without getting damaged.
Today, we're going to review four of the best wireless garage door keypads we could find. There's plenty to discuss about each of today's options. But if you just want the quick and dirty version, here's what you need to know:
Of course, there are many more details we'll have to go over. We'll talk about pairing and how you set up each keypad. We'll talk about how many openers they work with and any other relevant features. After we've given each one a thorough evaluation, we'll be ready to deliver a fair conclusion.
1. Chamberlain 940EV Garage (Keyless Entry)

Key features:
Backlit keypad.
Supports temporary guest passwords.
Optional safety sensors.
The Chamberlain 940EV is a straightforward garage door keypad. It's off-white in color, with a vertical rectangular profile. There's a cover to keep the rain off of the buttons, with a hinge at the top so it's easy to open. Underneath the cover, you'll find a 10-key keypad with "*" and "#" buttons and an enter key. The buttons are white with large black numbering, with backlights that illuminate when each button is pressed.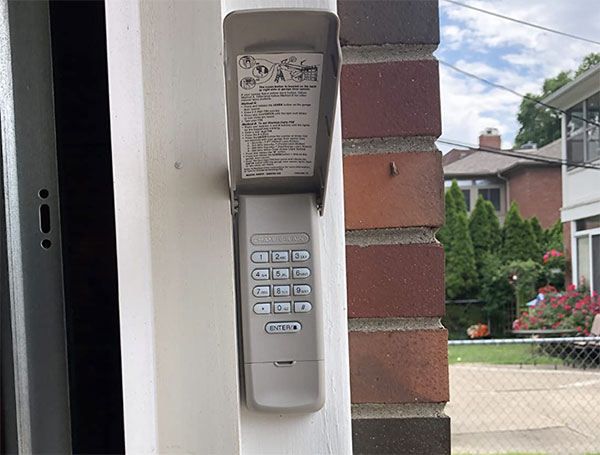 The standard method of operation is via a 4-digit PIN number. When you set up the opener to begin with, you program this number. Thereafter, you use the same number any time you want to open your garage door. However, you can use the large button at the bottom of the keypad to close the door. This single-button closure feature saves time when you're leaving your garage on foot. Meanwhile, you can set up temporary PIN numbers on the fly. These can be used by guests, contractors, and delivery personnel.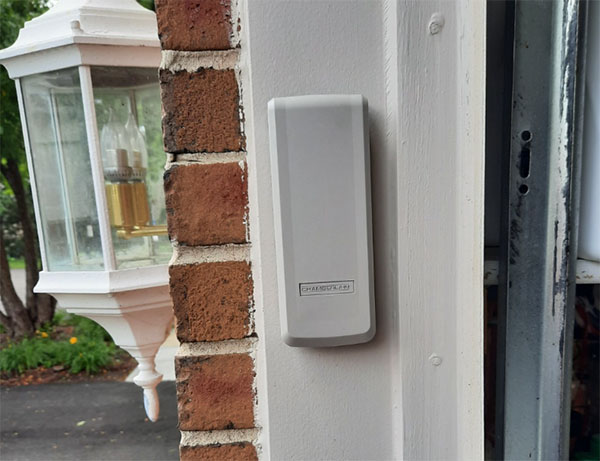 Setup is pretty straightforward. There's a slot in the back that you hang over a screw on the door trim. Then you drive a second screw through the back of the battery compartment. The compartment houses a single 9-volt battery, which is included in the package.
The pairing process is also simple, with wide compatibility for most garage door openers produced after 1993. It's easy to tell by looking at the color of the Learn button on your opener. If it's green, red, orange, yellow, or purple, you're good to go. This includes Chamberlain, Lift Master, and Craftsman models (except the Craftsman Series 100). Just make sure that your opener's light bulb is in working order. You'll need it in order to complete the programming process.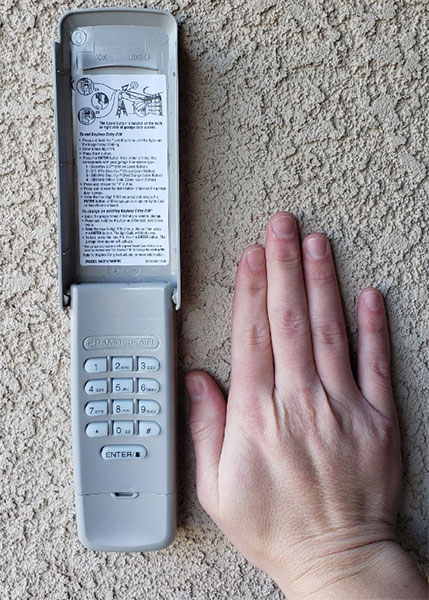 Along with the keypad, you can order an optional set of safety sensors. If your garage door was installed recently, it should already have a laser sensor and you won't need any. But if you don't own one, this is a great opportunity to bring your door up to modern safety standards. You also get a 12-month manufacturer's warranty. If there are any defects in parts or labor, you'll receive a free replacement or full refund.
2. Genie GUK-R Wireless Universal Garage Door Keypad

Key features:
Backlit keypad.
Supports temporary guest passwords.
Can pair with up to three garage doors simultaneously.
The Genie GUK-R has a 10-key keypad. However, instead of star or pound keys, there's an up/down arrow key. You'll also notice a solo Program button at the top. Of the pad. The buttons themselves are large and square, with backlighting that makes them very easy to operate. There's a protective cover to keep out the elements, and it flips up for access to the controls.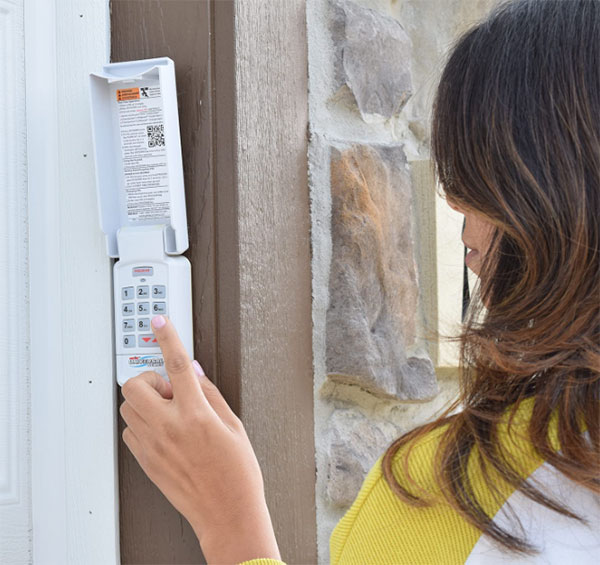 Like the Chamberlain keypad, you can use a 4-digit PIN to get in and out of your house. You can also create a temporary PIN number for non-household members to gain access. However, you can control up to three different garage doors. Using the up/down arrow key, you can quickly cycle through different openers. This allows you to control even a three-bay garage with just a single keypad.
Installation is very easy. The kit includes a pair of screws, one of which is used to hang the keypad from near the top. The second goes through a hole in the battery compartment and secures it tightly to your door frame. You'll also have to install a pair of AAA batteries.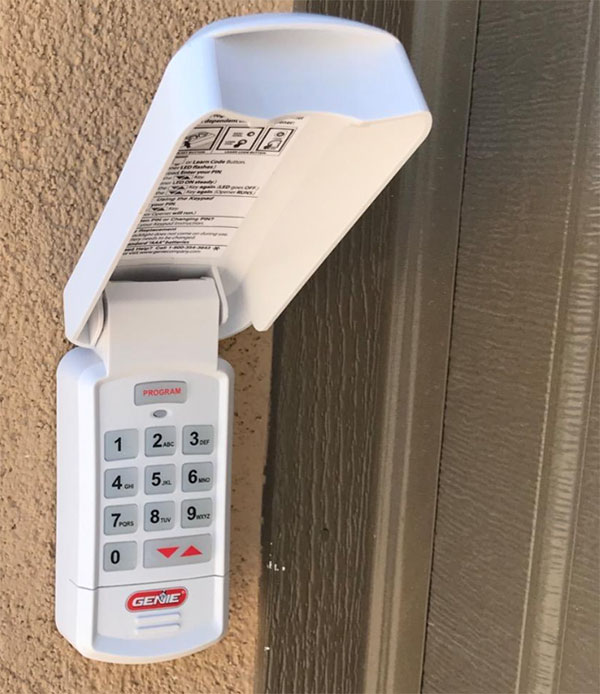 Compatibility is a non-issue for most modern openers. The keypad can be paired with any garage door opener with a green, red, orange, purple, or yellow Learn button. If your garage door opener was manufactured in the last 30 years, you should be good to go. And if anything goes wrong, you'll be protected by a 12-month manufacturer's warranty. You don't have to worry about getting stuck with a failed keypad.
3. Overhead Door Wireless Garage Door Keypad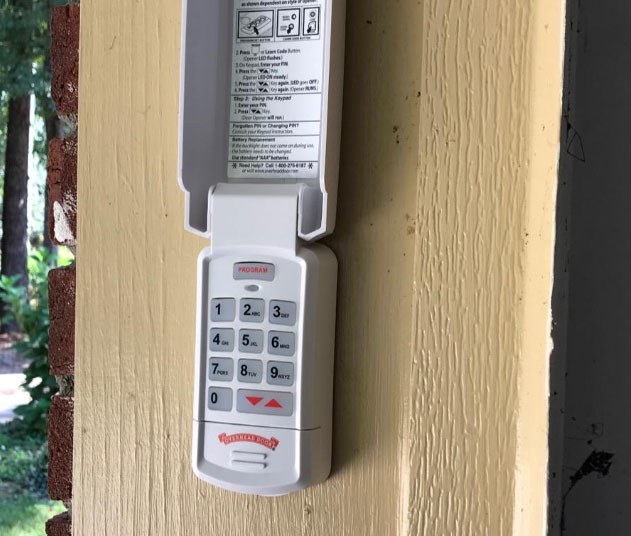 Key features:
Operates up to three garage door openers.
Large backlit buttons.
Built-in low battery alert light.
The Overhead Door Wireless Garage Door Keypad is a white keypad with a vertical rectangular shape. It sports a flip-up cover to protect the buttons from rain, and a 10-key keypad. The keypad has a Program button at the top, with up and down arrows near the bottom. The numbers are large enough to be easy to read. And backlights pop up when you press a button, so you know you've successfully entered your PIN.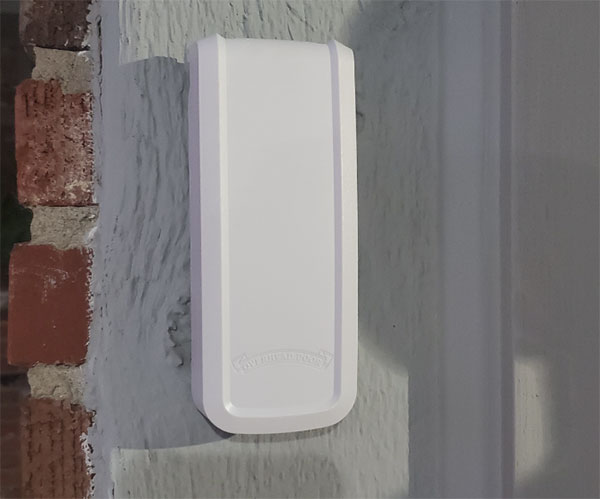 Compatibility is very wide. This keypad works with any opener that uses the Overhead Door Code Dodger or Genie Intellicode systems. That's a lot of openers. As always, check your garage door opener before you buy. But if it uses one of those systems, it should work.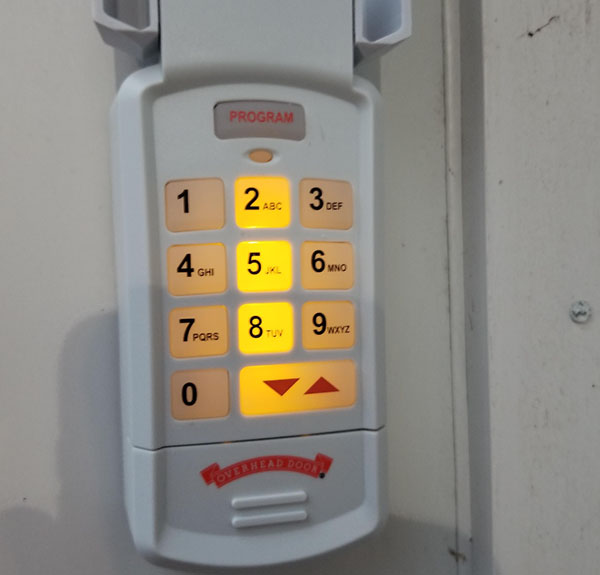 The Code Dodger technology is particularly handy. It allows the signal to change frequencies as needed to avoid interference. If that's not enough, you can pair three garage doors at once and use the same keypad for all of them.
The keypad takes a CR2032 battery, which is on the small side. However, there's a built-in battery alert light. It will illuminate when your battery is low, so you know when it's time to change.
4. Acvoce Universal Garage Door Opener Keypad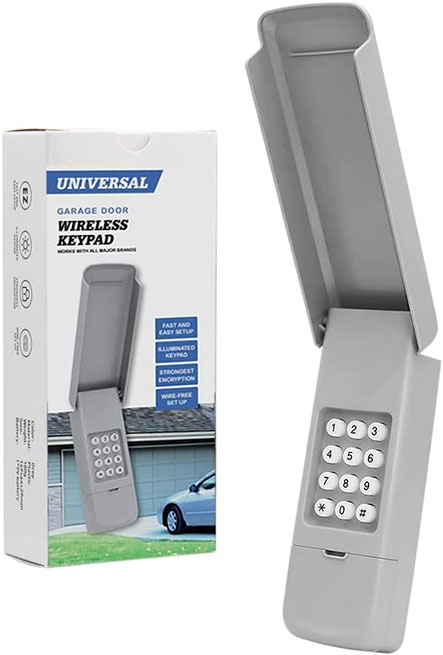 Key features:
Controls up to two doors.
Wide garage door opener compatibility.
Pink LED backlighting.
The Acvoce Universal Garage Door Opener Keypad has a grey housing that's rectangular and vertical. It has a protective cover that's hinged at the top for easy access. It's also available with a sliding cover.
The 10 buttons are round rather than square, and are arranged in a standard 10-digit layout. This includes a set of "*" and "#" symbols. When you press each button, it lights up with an attractive pink LED. This makes it easy to identify when your button press has been registered.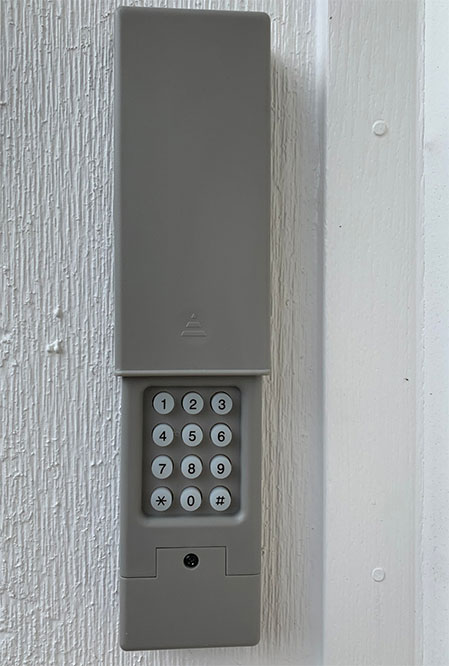 This keypad is compatible with an absurd range of garage door openers. To begin with, it works with the color-coded Learn button system. It's compatible with green, orange, red, purple, and yellow buttons. In addition, it's capable of being programmed to work with a dip switch system. This is far from universal, but you're looking at an extreme number of openers. You can even work with some garage door openers as old as 1983. Make sure to check Acvoce's compatibility list before you pull the trigger.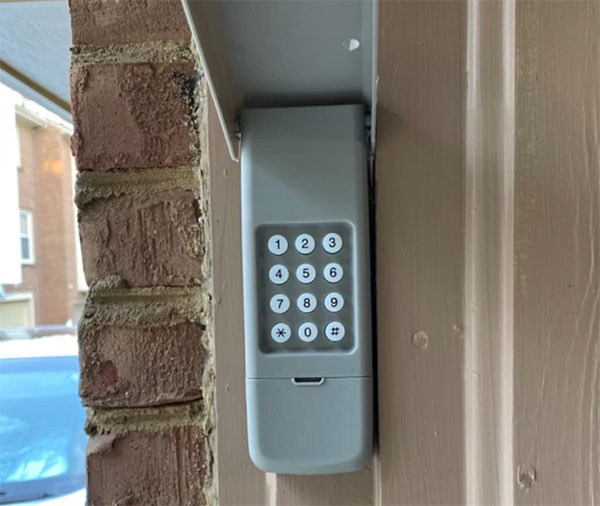 Besides plenty of compatibility, you can also control two garage doors simultaneously. Changing channels is quick and painless, making it easy to operate both doors. Installation is easy, with a pair of screws and a 9-volt battery included in the package. All in all, it only takes a few minutes to set up a new keypad.
Why Use a Wireless Garage Door Keypad?
So, why would you use a wireless garage door keypad instead of a traditional remote? Here are a few of the benefits:
They're convenient. If you're just popping out to walk the dog or go for a jog, you don't have to bring a remote with you. If you're out doing lawn work and realize you need to grab a gas can, you'll be able to. You won't have to go back through the house.
They provide an emergency entrance. Teenagers are bound to forget their keys at some point. If you're not at home, they won't have any way to get in. With a wireless garage door keypad, they can let themselves back into the house.
You can save money. Instead of buying individual key fobs for everyone in the family, everyone can use the keypad. You also don't have to worry about losing your keypad and needing to buy a replacement.
What Makes a Good Wireless Garage Door Keypad?
Before we finish, what makes one garage door keypad better than another? Here are a few things to look for when you're making your selection:
Ease of access. You want your garage door opener to be secure, but you also want it to be functional. Features like temporary passcodes can be a huge help. You can give other people short-term access to your property without giving up your code.
Compatibility. If nothing else, your garage door keypad needs to be compatible with your opener. If not, it's not going to work. And if you want to buy a new opener soon, you should look for a keypad with good forward-compatibility.
Overall design. A good garage door opener will be weatherproof. It should also have easy-to-read buttons, with intuitive control functions.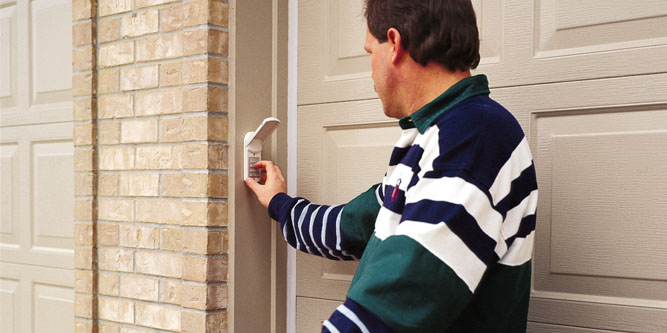 Conclusion
All four of these wireless garage door keypads could be a great choice under the right circumstances. But which one is the best choice for you? Here's what we discovered about each of these options.
We started out by evaluating the Chamberlain 940EV. This straightforward door keyboard has large numbers and easy-to-use backlit buttons. It's compatible with most garage door openers manufactured in the last 30 years. It also takes just a few minutes to install and program. And with the ability to set temporary codes for guests and contractors, it's very convenient to use.
After that, we looked at the Genie GUK-R. This keypad is designed with even wider compatibility. Not only that, but it can be used with up to three garage door openers at once. That's incredibly useful if you have a multi-bay garage. Instead of messing with multiple keypads, you just change your selection with the arrow keys. Then enter your PIN and you're good to go.
Next up, we checked out the Overhead Door Wireless Garage Door Keypad. This keypad has a different set of compatible openers, which can be handy depending on your needs. The Code Dodger technology is great if you're dealing with a lot of interference with your existing keypad. We also appreciated the low battery warning light, since it prevents you from running out of juice unexpectedly.
Fourth on our list was the Acvoce Universal Garage Door Opener Keypad. This keypad has the widest compatibility of all. Even if you need to pair it with a 40-year-old garage door opener, you might be able to. Being able to use it with two doors at once is another plus. And despite the wide compatibility, it's still fairly painless to set up and pair with your garage door opener.