Quick Analysis
Design & Construction
9.0/10
Multi-Device Charging
9.5/10
Pros
Can charge a laptop, phone, and tablet at full speed.
Supports all quick charge technologies.
Compact and travel-friendly.
Advanced GaN+SiC charging technology.
Cons
A bit expensive.
Doesn't ship until May.
Not long ago, there wasn't any need to buy an advanced USB charger. In fact, there was no such thing. USB devices were able to charge only via USB Type-A, and one AC adapter was just as good as another. In recent years, this has started to change. With the advent of USB Type-C and quick-charge technology, you can charge your phone faster than ever before. Most modern laptops have even gotten in on the game, using USB Type-C for their power supply. On the one hand, this has been a boon to consumers. You don't need to juggle a whole bunch of different chargers for all your devices. The downside is that your old-school AC adapters are no longer sufficient. These days, a quick-charge adapter with USB Type-C ports is a must.
Today, we'll be reviewing the Galio: Ultimate GaN+SiC USB-C Charger. This charger was launched via a Kickstarter project in February, and is slated to ship in May. This shipping date is tentative at the current time, due to the current global supply situation. The manufacturer says that they already have some number of chargers ready to ship. However, they may not be able to meet the full demand immediately upon launch.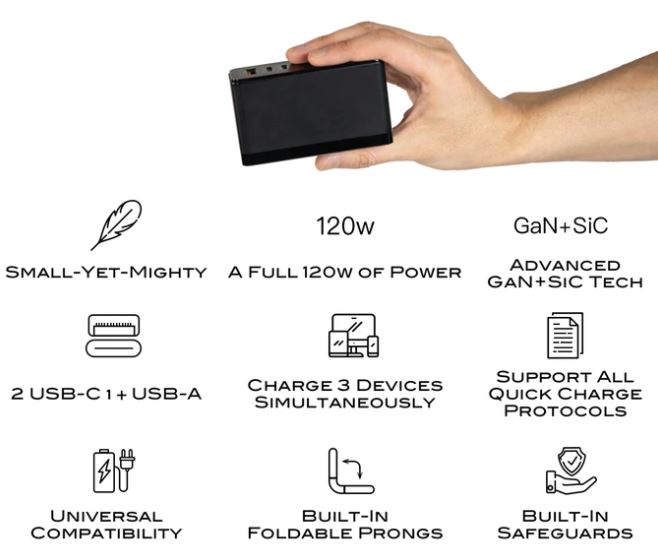 The Galio is manufactured by Baseus, which is an interesting firm in its own right. The company performs their manufacturing in the Shenzhen region of China. That's also where most of their management is based. However, they also have a US presence, incorporated in Newark, Delaware. Their name is a combination of the words "BASE on USer", and their Kickstarter approach is innovative. Instead of launching products directly, they like to use Kickstarter to gauge user interest. Clearly, people have responded to the Galio; it met its funding goal within hours of launch.
Of course, that doesn't tell us anything about whether or not the Galio is worth buying. To do that, we'll need to take a closer look. Here, we'll talk about the design, the compatibility, and the extra features that Baseus has added to sweeten the pot. Let's dig in, and see what the Galio has to offer!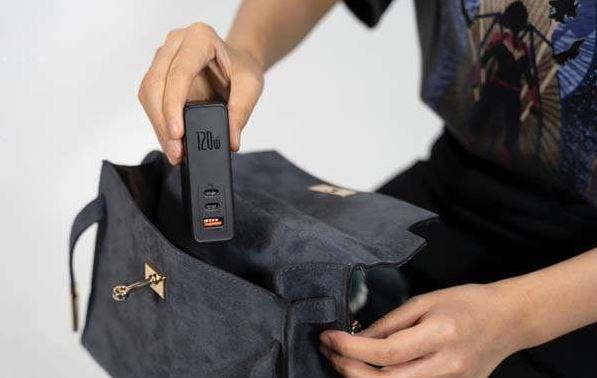 Overall Design
The Galio was developed with two principles in mind: small size and maximum power. We'll talk about power in a minute. But when it comes to size, the Galio has clearly delivered. It measures 3.73 inches tall, 2.16 inches thick, and 1.17 inches wide. The profile is smaller than a credit card, and it's easy to slip into your pocket. As a matter of fact, it's 15 percent smaller than Apple's flagship USB Type-C AC adapter. The overall weight is 7.62 ounces. This is about what you'd expect for the size, and won't weigh you down while you're carrying it.
In keeping with the portable design, the plugs are foldable, so they won't poke into your leg. There are two variants available: US and EU plugs. Both designs are compatible with 110/120v power or 220/240v power. If you travel frequently, there's an international adapter available for a nominal fee. This adapter allows you to plug the Galio in just about anywhere in the world.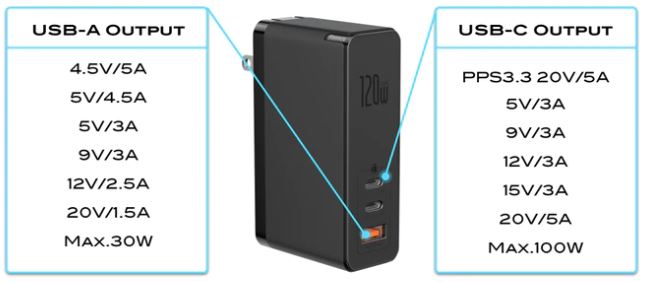 The design is simple and understated, with an ABS plastic case. There are two color options: a satin black finish or a glossy white finish. No matter what your choice in aesthetics, you'll have a color option to match. On both variants, there's a grey "120W" stamp located on the face, boasting about the total power capacity. Underneath the stamp, you'll find the three USB ports. Two USB Type-C ports are located in the middle, with a USB Type-A port on the bottom. The Type-A port has an orange tab inside, so it's easy to see which way you need to orient the plug.
Of course, an AC adapter is only going to help you if you have access to a power outlet. If you want to charge your devices on the go, you'll need a portable power bank. In that case, take a look at the RAVPower 20000mAh Portable Charger. It packs enough juice to charge your smartphone several times, so you'll never get stuck with a dead battery.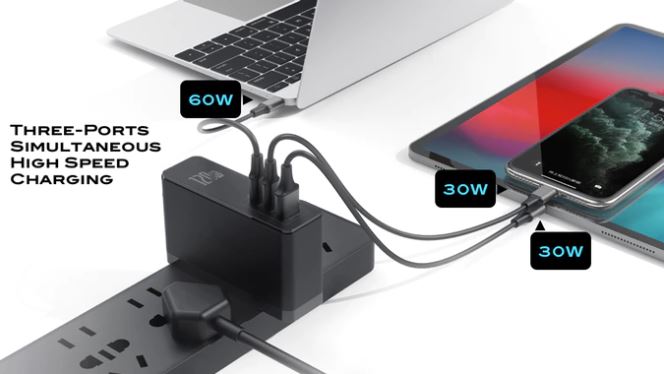 Compatibility & Performance
As we mentioned, the Galio features two USB Type-C ports and a single USB Type-A port. The Type-C ports are rated at 100 watts, and the Type-A port is rated at 30 watts. As you'll note, this adds up to a total of 230 watts, well over the 120-watt total capacity. Let's break this down to see how it works.
If you're using just a single USB Type-C port, you can get up to 100 watts of total output. In practice, this shouldn't be necessary for most devices. For example, a MacBook Pro 16" can accept a maximum of 96 watts. Similarly, a Samsung Galaxy Note 10+/S10 can accept a maximum of 45 watts. At this rate of charging, you'll be able to charge either device in less than an hour.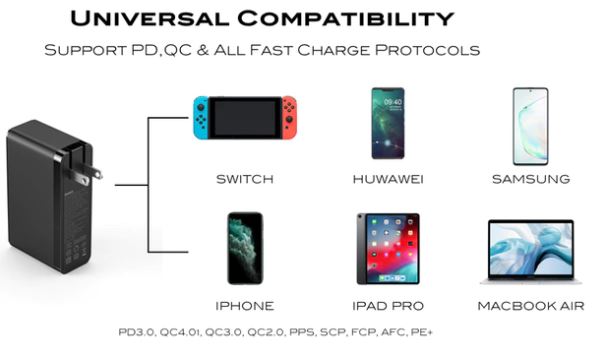 So, let's say you're charging two USB Type-C devices. In that case, each individual Type-C port will be limited to 60 watts, for a total of 120. This is still sufficient to charge a MacBook Pro 13" in an hour. And you can fully charge your smartphone at the same time.
Now let's look at what happens when you charge a device via USB Type-C and Type-A. In this case, the Type-C port will provide 90 watts, while the Type-A port will provide a full 30 watts. This will allow you to charge just about any laptop at full speed. And at the same time, your Type-A device will charge faster than on most AC adapters.
But what if you want to charge three devices at once? No problem! The top USB Type-C port will provide 60 watts, while the other two ports will push out 30 watts. This is good enough to charge a laptop, a tablet, and a smartphone simultaneously.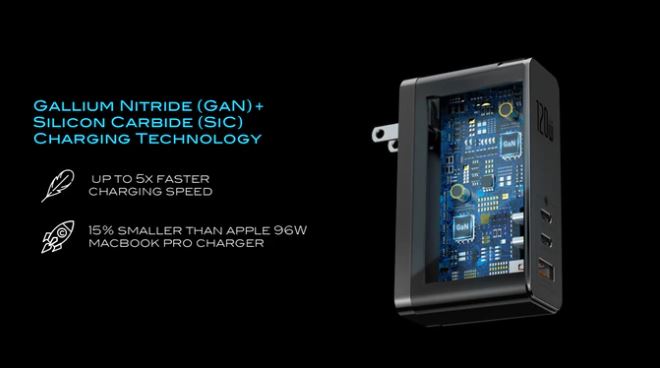 The Galio uses PFC technology, which stands for "Power Factor Control". A PFC charger will automatically adjust its power output to whatever the device requires. As a result, all of your devices will charge at the maximum possible speed. The Galio is also compatible with just about every quick-charge technology on the market. It supports PD3.0, QC2.0 and up, and other more obscure technologies like SCP. This will allow you to get the maximum possible charge rate on almost every device.
The one thing the Galio doesn't provide is wireless charging. If you want a Qi charger, you'll need a dedicated wireless charger. In that case, consider the TOZO W1 or the Yootech Wireless Charger. Both of these chargers are well-engineered, compact, and easily portable.
Safety & Extras
The main advantage of the Galio versus other AC adapters is the Gallium Nitride (GaN) and Silicon Carbide (SiC) technology. These are advanced semiconductor components, which are faster than other technologies. This allows for higher voltages, all while producing less heat. It also performs the job with a smaller size. To get the same performance from a basic silicon semiconductor, you'd need a device five times the size.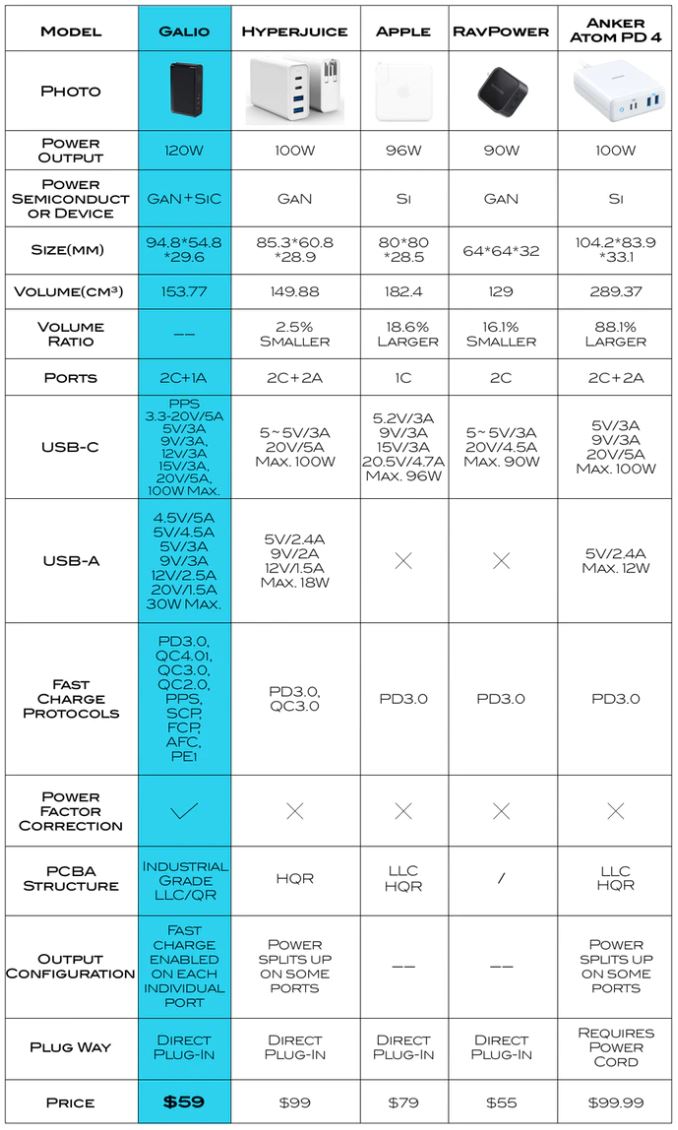 The Galio also has a number of built-in protection features to keep your device safe. There's overcurrent and overvoltage protection, which works hand-in-glove with the PFC technology. This ensures that your phone or laptop won't suffer from excessive power input. There's also protection from overcharging. Overcharging protection ensures that the charger won't draw excessive power when it's not charging. Finally, the Galio also includes overheating protection. If for some reason it tries to get too hot, it will automatically shut down.
In addition to the charger itself, you also get a couple of sweet extras. Baseus set some stretch goals for their Kickstarter campaign. The first stretch goal was $150,000, and they've blown right past that. Because they met this goal, they'll be including a small zipper storage bag with the Galio. At the time of this writing, the Kickstarter campaign sits at just over $226,000. If it hits $350,000, Baseus will also include a USB Type-C to Type-C cable in the kit. Cool! No matter what the funding level, you get a 12-month manufacturer's warranty. If you have any issues, you're covered.
As you can see, the Galio is a very powerful charger. But this kind of performance also comes with a steep price tag. If you want to save money, check out our review of the AUKEY USB-C (PA-D5) Wall Charger. It's more affordable, but it's not as fast as the Galio.
Technical Specifications
Before we wrap up, let's take a look at the technical specifications. Most people will want to skip this part. But if you want to get into the nitty-gritty details, here's what you need to know.
Dimensions: 3.73" x 2.16" x 1.17"
Weight: 7.62 ounces
Charging ports: 2 USB Type-C, 1 USB Type-A
Total power output: 120W
Input: 100v-240v AC
USB Type-C power output: 20v/5A, 15v/3A, 12v/3A, 9v/3A – 100W max
USB Type-A power output: 20v/1.5A, 12v/2.5A, 9v/3A, 5v/4.5A, 4.5v/5A – 30W max
Quick-charge support: PD3.0, QC2.0, QC3.0, QC4.0+, PPS, SCP, FCP, AFC, PE+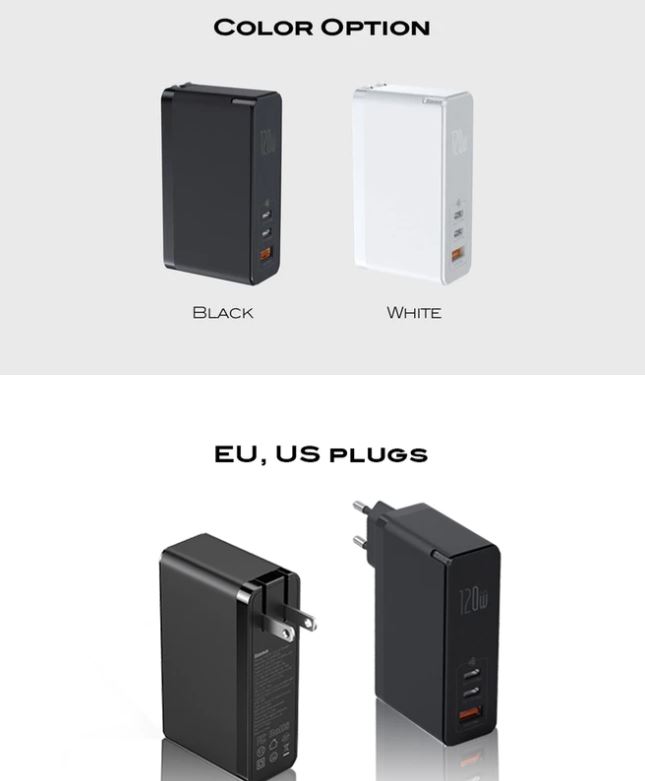 Final Verdict
So, should you go out and buy a Galio charger? If you can afford it, it's well worth the investment. For starters, you get an insane amount of charging capacity. You can charge three devices simultaneously, at very high speeds. Not many AC adapters allow you to charge a laptop, tablet, and phone at once, much less this quickly. In addition, you get compatibility with pretty much every quick-charge technology. Provided you have quick-charge compatible cables, you're ready to go.
The design itself is also well worth looking at. The form factor is nice and compact, with folding prongs for portability. The orange USB Type-A port was a nice touch, so you don't have to worry about inserting your plug incorrectly. Combine that with plenty of protection against mishaps, and you've got yourself a well-engineered AC adapter.