In the past few years, smartphones and particularly laptops have started drawing more and more power. This means they need powerful batteries that can keep up with modern demands. And the more powerful the battery, the longer the charging time. Because of this, manufacturers have started utilizing PD charging technology. PD charging allows for much higher wattages than USB Type-A or even ordinary USB Type-C.
If you own a modern laptop or smartphone that uses PD charging, you might not be getting the best performance. The reason is that not all PD charging blocks or cables carry the same rating. So a charging block that works with, say, a smartphone won't be powerful enough for most laptops. In other words, what type of wattage you need will depend on the type of device.
Of course, wattage isn't everything. You also want to look for the best safety and travel features. One way to find better quality is to choose an established manufacturer. Aukey has produced the Pa-B3 and PA-B4 Omnia and PB-Y24 wall chargers. They also have experience with battery technology, such as the Basix Pro PB-WL02 Power Bank.
The Aukey (PA-B5) OMNIA 100W PD Charger carries the highest possible wattage rating. It can recharge any device, even a large laptop, even while you're using the device. It also has a compact design that makes it excellent for transport. So, how does it compare to other, similar power banks? Let's take a closer look, and find out!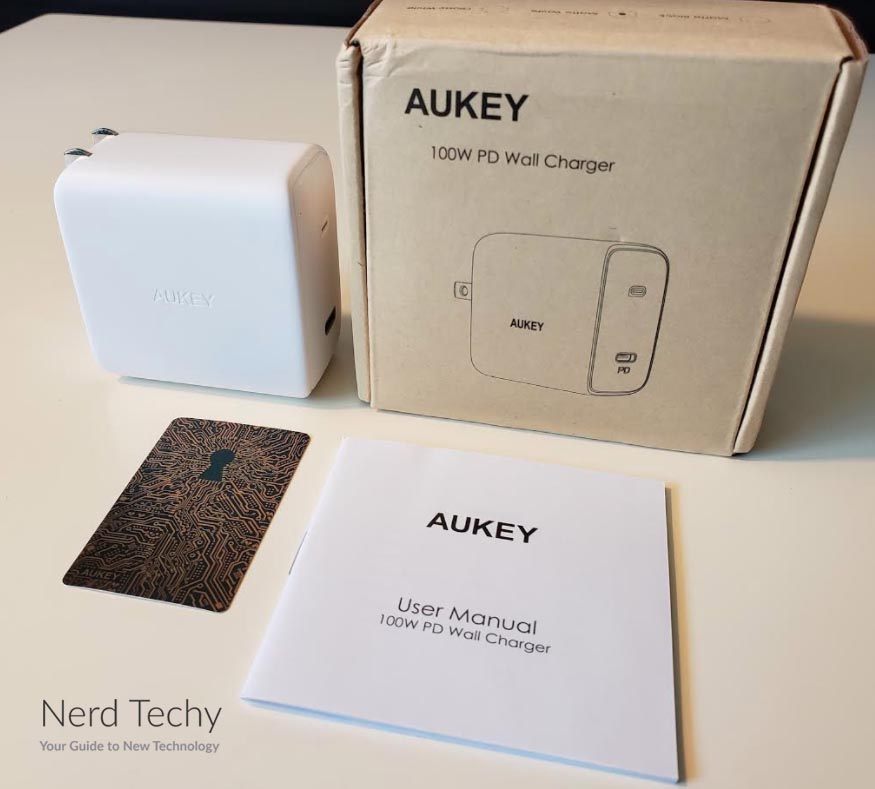 How Does PD Charging Work?
We've briefly touched on PD charging. But how much does it really differ from ordinary USB charging? In short, it's radically different. Ordinary USB cables were not designed to carry power in the first place. They were designed for data, to replace old serial bus standards that differed from manufacturer to manufacturer. Hence the term "Universal Serial Bus" – USB.
However, manufacturers soon realized that USB would be even more useful if it carried power. In the year 2000, USB 2.0 was released, and it provided 2.5 watts of power. This was enough for small devices, and allowed for overnight charging of phones. USB 3.1 upped this even further, to 15 watts. Now you could charge your smartphone in a couple of hours, even while you were using it. That said, 15 watts is still not enough to charge a laptop. That's where USB Type-C cables and ports come in. They can be equipped with power delivery (PD) technology, with enough power for laptops and other more powerful devices. Keep in mind that this is not true of every Type-C cable or plug. They must be rated for PD power.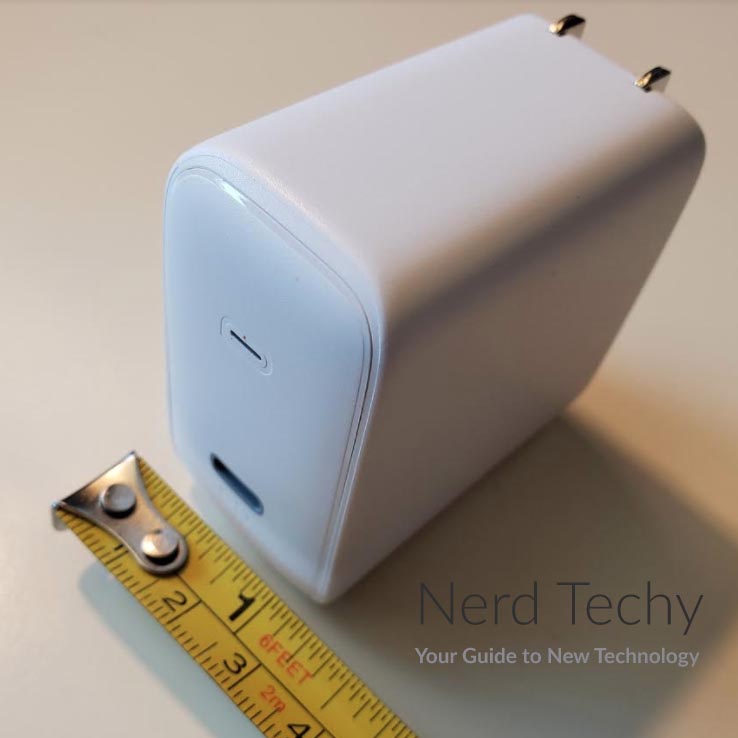 PD power follows a variety of standard industry specifications, much like ordinary USB. And like ordinary USB, PD cables can still be used to transfer data. However, their primary purpose is to maximize the amount of power a Type-C cable can carry. They come with up to 100 watts of power, much more than any smartphone needs. However, 100 watts is also sufficient for any laptop. Even the beefy MacBook Pro 16" only requires 96 watts to charge while playing it.
Not all PD power components are rated for 100 watts. As a matter of fact, PD power also comes in wattages of 7.5, 15, 27, and 45. This wide variety of wattages allows many smaller devices to be PD-compatible. Any PD charger will adjust to a smaller wattage, but cannot adjust higher than its maximum wattage. So, for example, a 100-watt charger can also charge at 45 watts, 27 watts, and so on. A 45-watt charger can also charge at 27, 15, or 7.5-watts, but cannot charge at 100 watts.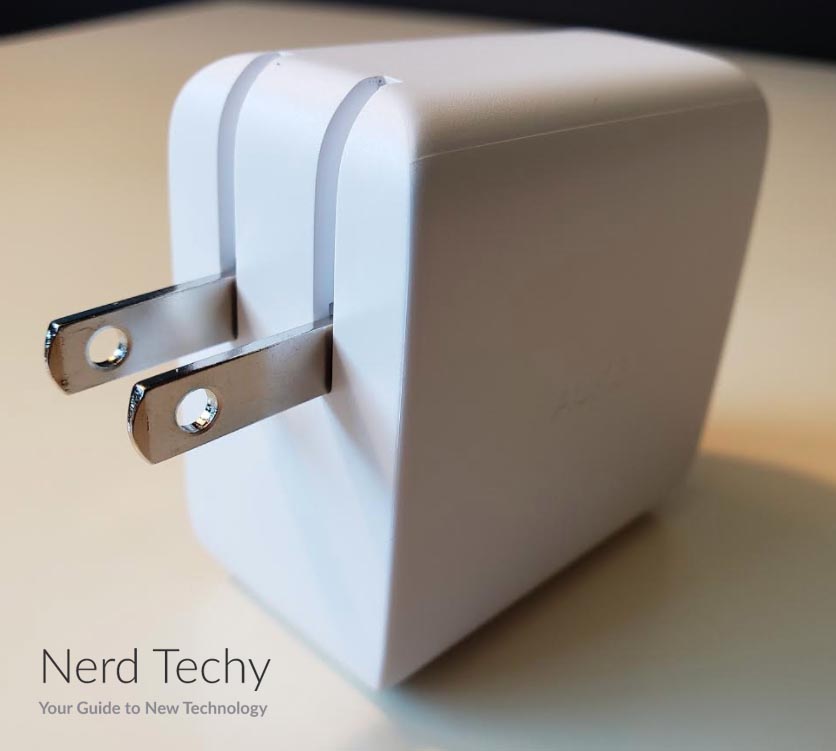 Overall Design
At first glance, you wouldn't assume the Aukey (PA-B5) OMNIA 100W PD Charger is as powerful as it is. It's tiny, only 2.4 inches by 2.4 inches in height and thickness, and 1.26 inches in width. It also has a collapsible folding plug that makes it easy to carry. You can carry it in your pocket, put it in your laptop bag, or tote it in your carry on bag. At 5.29 ounces, the PA-B5 feels "full" for its size. It's not exactly heavy, but it's no cheap featherweight.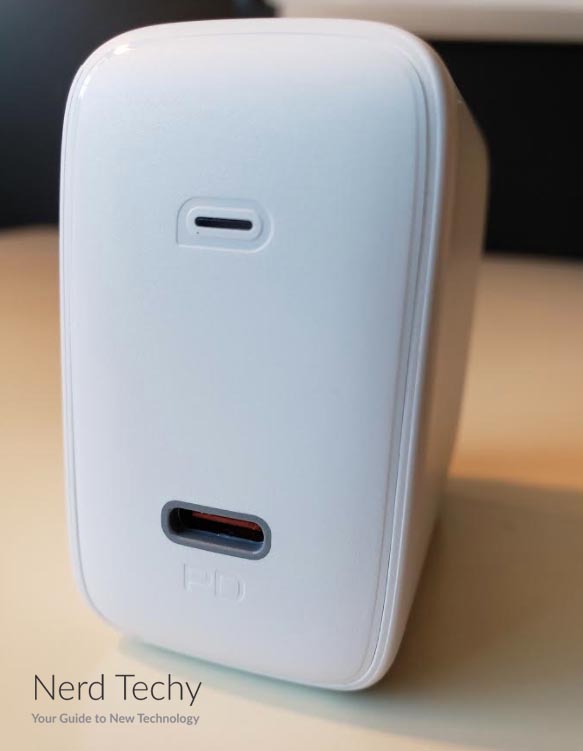 The reason for this is twofold. First, there's an internal aluminum frame that provides extra durability. Second, there's a Gallium Nitride (GaN) power system. GaN is more powerful and more compact than even the most advanced traditional power systems. In fact, it allows you to manage the same amount of power in half the space. Hence, the PA-B5's petite profile.
The outward design is elegant. The case is constructed from white ABS plastic, with curved edges and corners that won't jab you in the leg. The finish is matte, and doesn't easily show fingerprints or collect dirt. On each side, an engraved Aukey logo provides the only decoration. On the front, there's a single USB Type-C port near the bottom. This port is helpfully marked with a glossy "PD".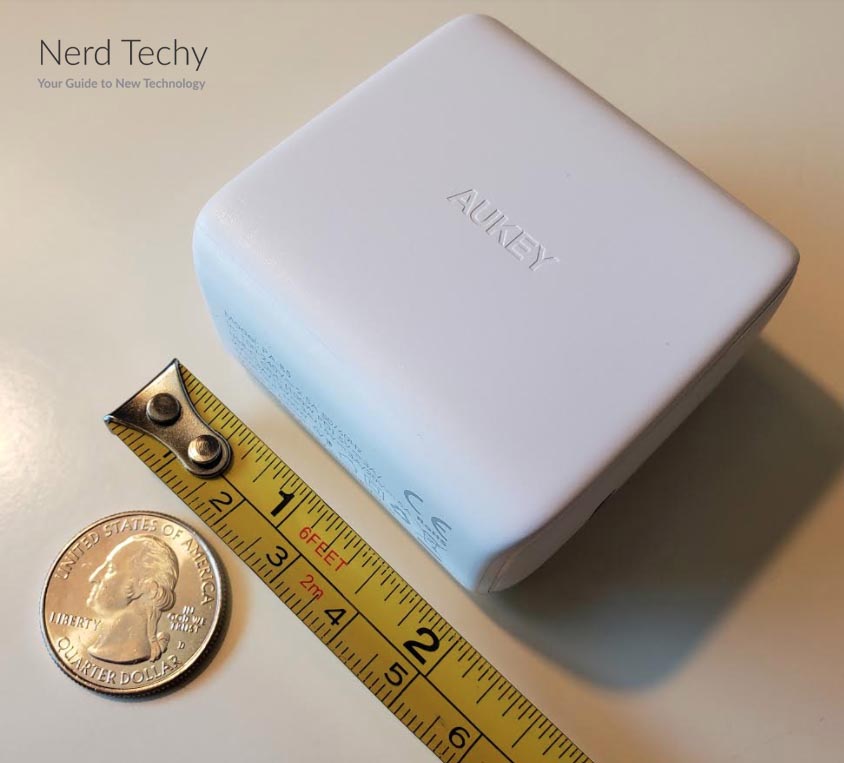 Towards the top, there's a rectangular LED light that illuminates when a device is actively being charged. This provides quick visual confirmation that everything is connected properly. Unfortunately, there's no PD cable included in the kit. You'll need to find your own. In order to get the full 100 watts of power, you'll need a USB Type-C to Type-C cable with a 5A E-marker chip.
Charging Technology
As we've already mentioned, the PA-B5 provides up to 100 watts of power. This is the maximum amount of current for PD power, so you can use it with any PD device. But what exactly does this mean in practice? Let's start with the most demanding task: charging a MacBook Pro 16". The PA-B5 can fully charge Apple's biggest MacBook in less than two hours. You can even use the MacBook Pro 16" while you're charging it. Keep in mind, though, that depending on what you're doing, your charge speed will be decreased. The more drain your putting on your battery, the slower it will charge.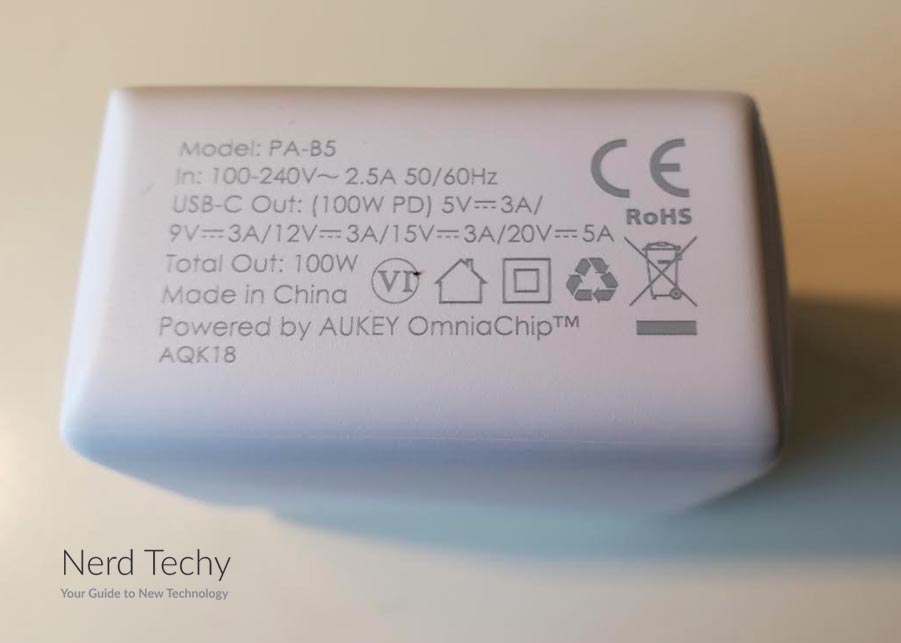 Similarly, you can charge an iPhone or Samsung Note10 in just over an hour. If that's too much, you can charge an iPhone 11 by 50 percent in only half an hour. And because the PA-B5 is fully compliant with all PD standards, it can charge at lower wattages as well. You can charge a pair of wireless earbuds as easily as your laptop or tablet.
We talked about how compact the GaN power chip is. But what we didn't talk about is how much easier GaN power is to keep cool. Because it offers a charging efficiency of 90 percent or more, less energy is wasted as heat. This in turn allows for better cooling, even in a more compact case. But Aukey has gone a step further to watch out for your safety. They included a built-in temperature reader. If the power supply starts to get too hot, power will be throttled back to 60 watts. When everything has cooled back down, the power will automatically be restored to 100 watts.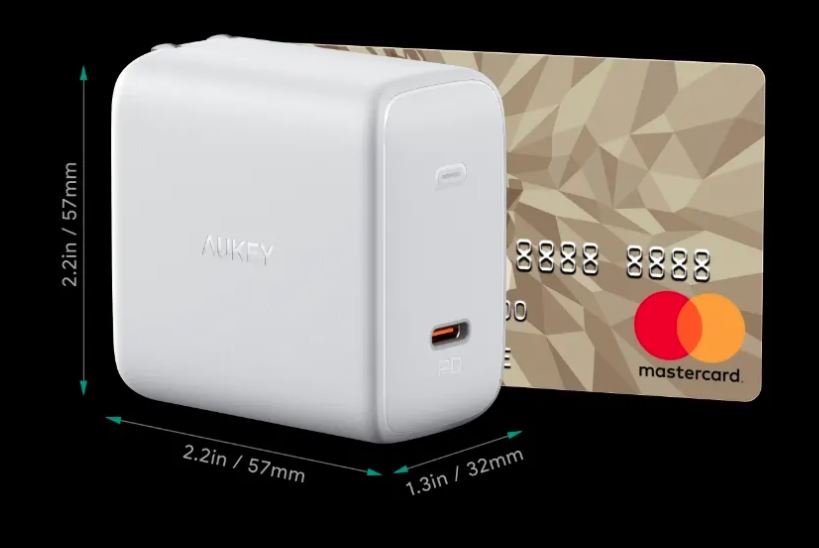 In addition to temperature protection, the PA-B5 provides a few other features to keep you safe. The first is short-circuit protection, protecting both your device and the charger. The second is overcurrent protection. This ensures that your charger won't supply too much wattage for your device. Finally, overcharging protection keeps your batteries from getting damaged.
Compatibility
We mentioned that the PA-B5 is compatible with most devices. So, what can you use it with? We already talked about the MacBook Pro 16". Similarly, it can power any of the smaller MacBook Pro laptops as well as MacBook Air. Not only that, but it works with other similar laptops, such as most Lenovo Yoga and ThinkPad models. HP ZBook, EliteBook, and Spectre computers are included, aw well as the Google PixelBook and Chromebook Plus. Aukey's website has a complete listing of all compatible models, but you can see it covers pretty much everything.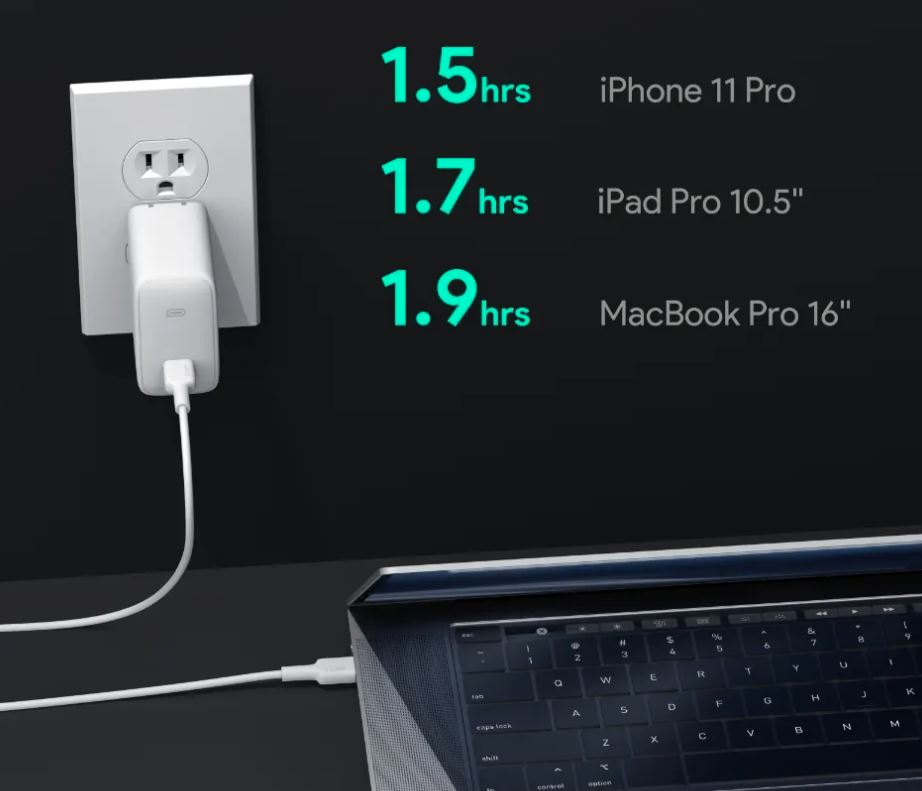 In a similar vein, the PA-B5 is compatible with pretty much every USB Type-C smartphone on the market. It's supported on every iPhone from the 8 Plus forward. This includes the iPhone 11, 11 Pro, 11 Pro Max, XS, X, XR, and XS Max. On the Samsung guide, you get compatibility from the S7 and Note 8 forward. You can also charge the Google Pixel 2 and later, the HUAWEI Mate 10 and later, or the LG G5 and later. There are additional phones, including some Sony models, listed on Aukey's website.
Other devices include the iPad Pro, so even MP3 fans can get in on the game. Not only that, but the Nintendo Switch also uses a USB Type-C PD charger. If your Switch charging block has failed, the PA-B5 makes a suitable replacement.
Final Verdict
So, is the Aukey (PA-B5) a worthwhile USB charger or should you look for something different? To begin with, let's talk about what the PA-B5 is not. It's not an all-purpose charger for powering multiple devices. It's a single wall charging block that only charges one device. It's also only compatible with USB Type-C PD devices.
That said, it does a great job at what it's designed to do. To begin with, it's exceedingly compact for the amount of power it supplies. The PA-B5 is a true pocket-sized charger, with a collapsible plug that won't easily get damaged. The inner aluminum frame adds plenty of durability, so physical damage is not a major concern.
In terms of power delivery, the PA-B5 is tough to beat. With 100 watts of power, there's no PD charger on the market that's going to offer you more. Depending on what you want, you might need to buy your own PD cable. On the other hand, if your device already has a PD cable, you're ready to plug right in. If you want a lot of power in a small package, the PA-B5 is an excellent choice.