Lydsto R1
Pros
Vacuum and mopping functions in the same machine.
Dust bin empties automatically into base station.
Intelligent LIDAR detection and smart mapping features.
Powerful suction.
Cons
Large base station.
The Lydsto brand is new and not yet popular.
Over the past few decades, technology has changed virtually every aspect of our lives. Back in the 1800s, our ancestors went through a similar time, and we call it the Industrial Revolution. Perhaps our descendants will call our times the Silicon Revolution. Regardless, the first revolution is similar to the second in that it created a ton of labor-saving inventions. Some of these were flashy and exciting, like the automobile or the airplane. Others were less thrilling, like the humble vacuum cleaner.
Before the vacuum cleaner, simply cleaning your rugs was an all-day affair. You had to take the rugs outside, hang them up, and beat them with sticks to knock out dust and dirt. It was nasty, sweaty work, and the best thing you could say was that it was a good workout. And unless you were very wealthy, you could forget about maintaining a wall-to-wall carpet. Vacuum cleaners saved countless hours of labor, freeing people to spend their time more productively. They also made wall-to-wall carpeting practical for the average household.
Note: At no extra cost to you, we may earn a commission for purchases using our links. Learn more.
Today's technology helps us to save even more time, by skipping vacuuming altogether. A good robot vacuum will keep your floor clean with minimal intervention on your part. So instead of spending an hour or more running a vacuum, you just empty a dust bin periodically.
Now, we're going to review the Lydsto R1 Robotic Vacuum Cleaner (with Self Emptying Dustbin). As you may have guessed, this robot vacuum comes with a self-emptying dust bin. Instead of changing a small vacuum bin frequently, you change a larger bag in the base less frequently. This saves you even more time than your typical robot vacuum. But how powerful is the suction, and how efficient is the cleaning pattern? These are also important considerations, so we'll take a deep dive into all aspects of the R1. When we've got a complete picture, we'll render our verdict. Let's get started!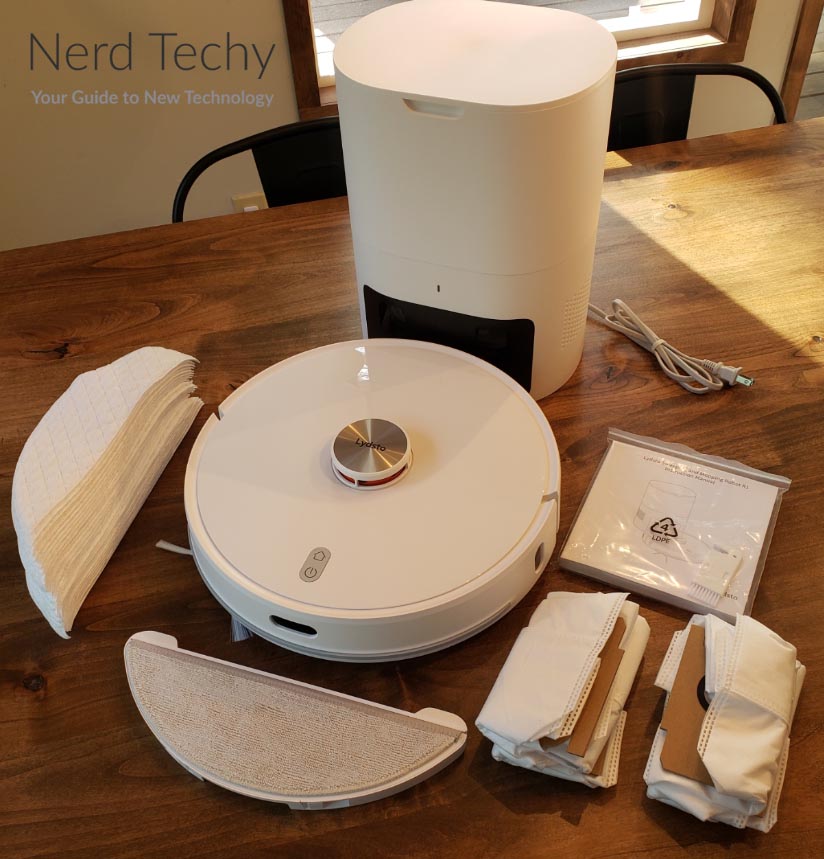 Overall Design
The Lydsto R1 Robotic Vacuum Cleaner is a circular robot vacuum that comes with a charging base. Yes, a charging base is more or less standard on a modern robot vacuum. But this one is fairly large, the size of a miniature trash can. That's necessary for the self-emptying function to work, but it makes placement a more important consideration. That said, you can order the kit in black or white, so you can match more décor schemes. So while your base station is liable to be more visible, it doesn't have to be unattractive.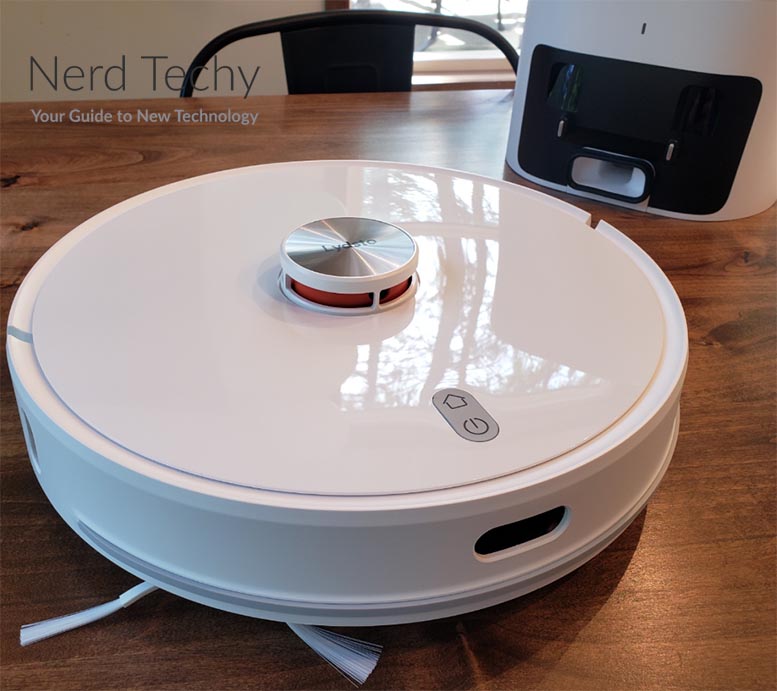 The vacuum itself is round, with a small protrusion in the top center. This protrusion houses the 360-degree LIDAR sensor, which helps with navigation and mapping. Also on the top, you'll find a power button and home button for basic operation. There are plenty of other controls, but you'll find them in the app, not on the vacuum. An additional, forward-facing infrared sensor is located on the front face of the housing.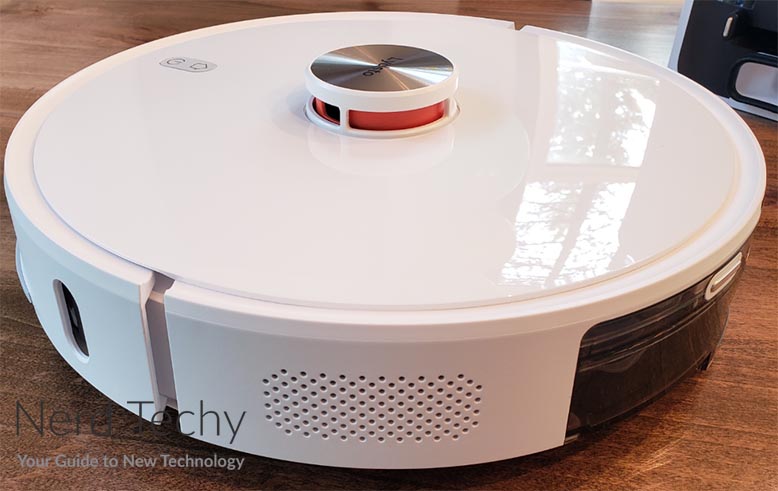 On the bottom side of the vacuum, you'll see a pair of large rubber wheels, which are used for propulsion. In between and towards the front, there's a standard roller brush like you'll find on most vacuums. To either side, there are a pair of long, horizontal brushes that sweep debris into the main roller. These brushes don't do much on carpets, compared to the main roller. However, on a hardwood or tile floor, they counteract the main brush's tendency to fling debris outward.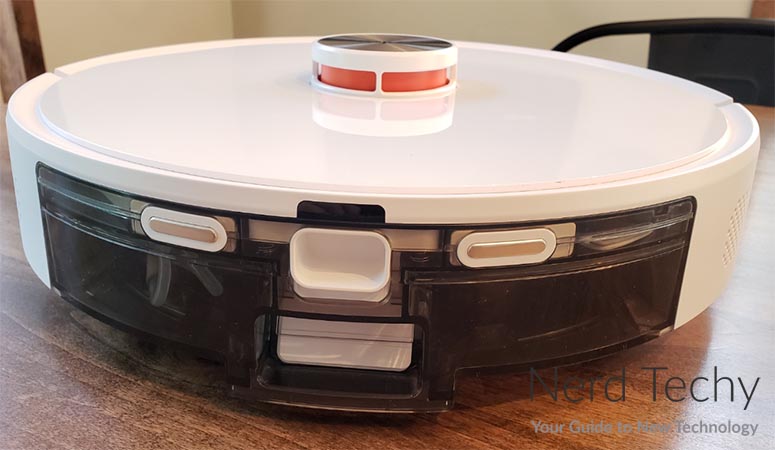 In addition to the brushes, there's also a mopping surface on the bottom. This surface relies on a mop pad, which can be removed easily for cleaning. Using the mop will also require you to fill the water reservoir. With a capacity of 8.45 ounces, it's large enough for a full cleaning cycle but still small enough for the housing. There's also an on-board dust bin. In theory, you should never have to mess with this because of the R1's self-emptying function. However, it's very easy to access in the event of a clog or jam. All of this is covered by a 2-year manufacturer's warranty. If the vacuum fails in this time, Lydsto will replace or repair it at their option.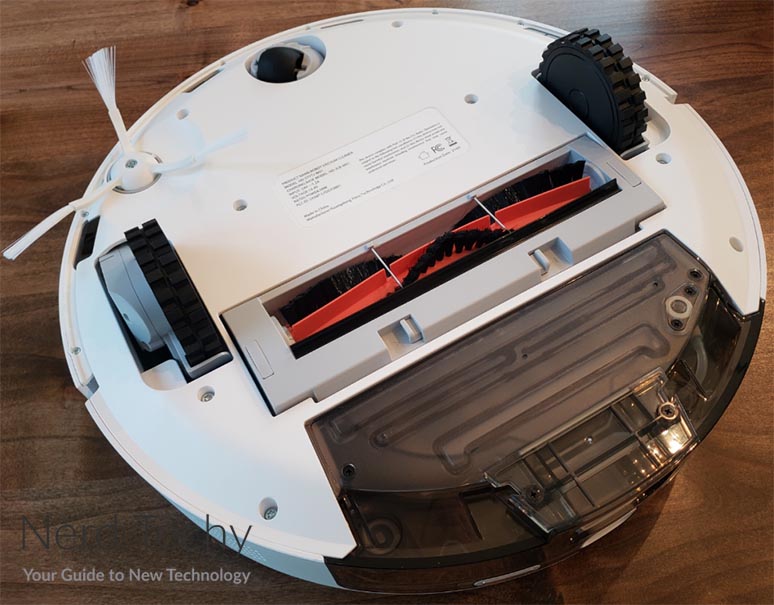 If you're looking for a more affordable robot vacuum that also mops, there are options. One good example is the Yeedi K700. It's a mopping vacuum with an affordable price tag, but it lacks the R1's smart features. When it's running, it roams around randomly.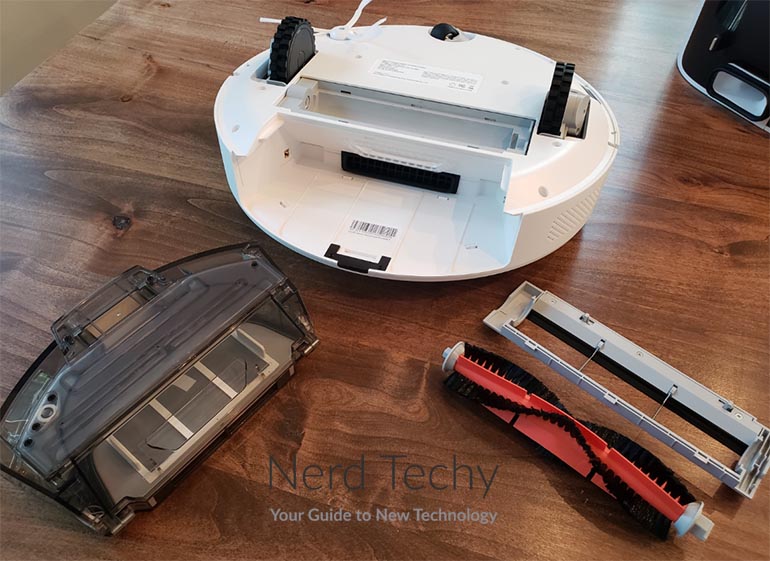 Vacuum Performance
The Lydsto R1 provides 2,700 Pascals (Pa) of suction power. By comparison, the average robot vacuum provides around 2,000Pa, so the R1 is quite strong. That said, this is not an upright vacuum. Upright vacs average around 14,000Pa, which is quite a significant jump. However, you can still do a lot of work with 2,700Pa. It's enough to clean up rock salt, cat food, and dry rice. Considering that you'd normally sweep these things up rather than vacuum them, you've got plenty of power.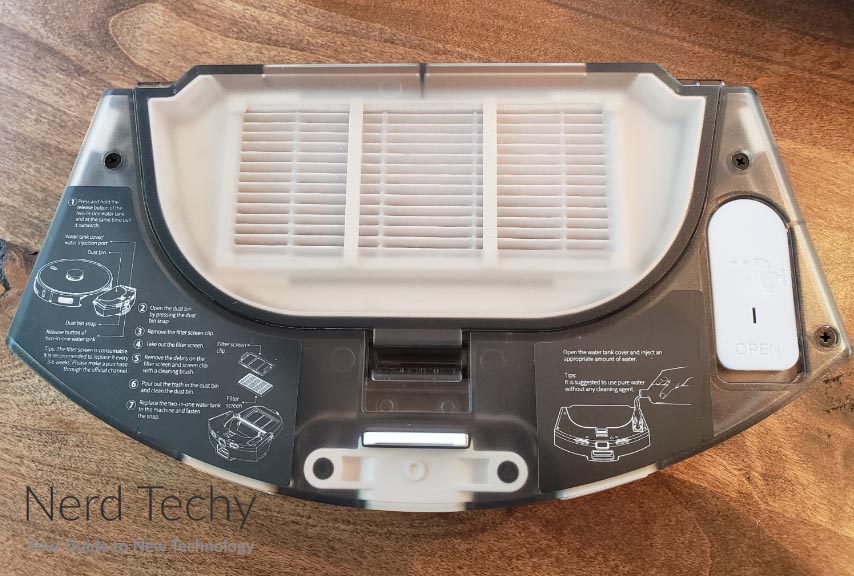 The mop function is more for light-duty use. In theory, you could use it for heavy messes. But you'd need to keep cleaning the small mop head, and you'd need to go over the mess multiple times. This is a light dust mop, made for everyday cleanup. It will clean up some dirt in front of your doorways, or clean caked-on salt in the winter. But if you're cleaning these kinds of areas, you'll want to make doubly sure to clean your mop head regularly. Otherwise, you'll just be spreading dirt around without actually cleaning anything.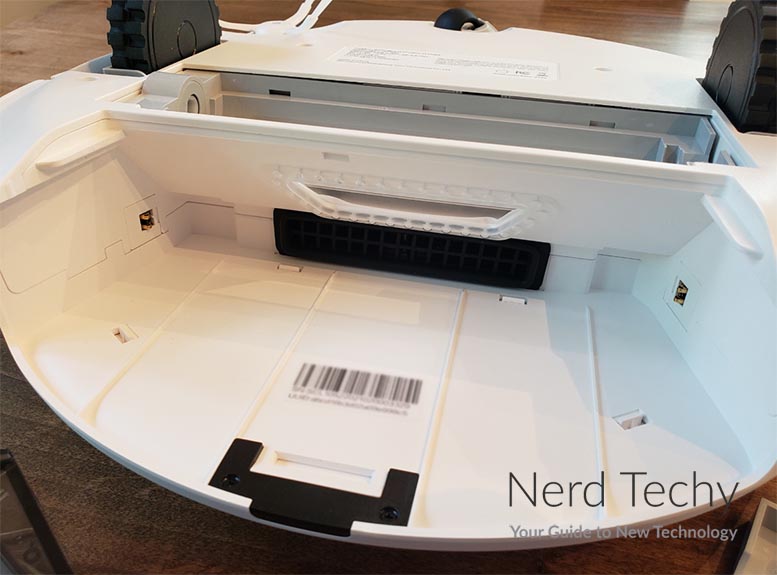 The R1 is capable of transiting a ledge as high as 0.78 inches. At that height, you've got just enough wiggle room to cross ¾-inch metal and hardwood transitions. To be fair, there are some unusual rises you might not be able to handle. For instance, a lot of older homes have one or even two inch drop-offs between rooms. But in most modern homes, you won't have any trouble with the vacuum moving from room to room.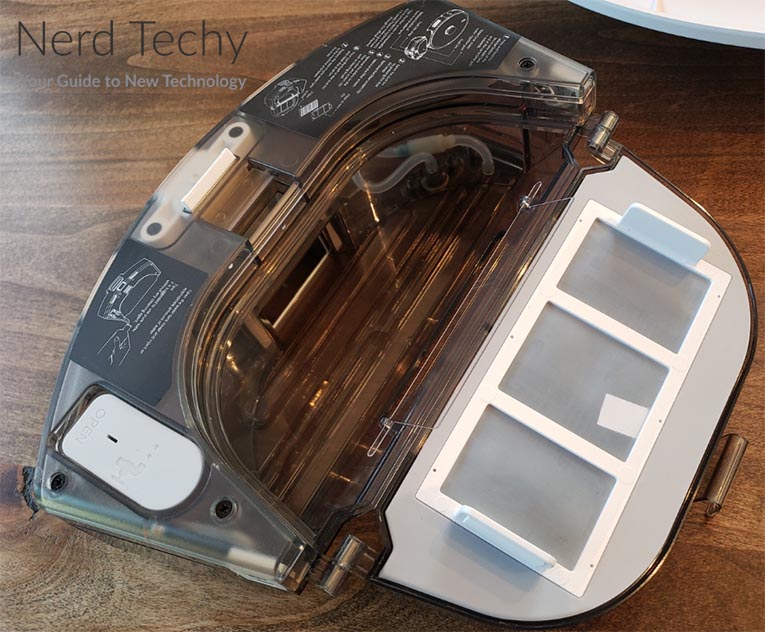 One useful feature related to transitions is the R1's automatic surface detection. As it moves, it can reliably tell when it's moving over carpet. During a mopping cycle, this detector will automatically shut off the mop when the vacuum reaches a carpet. When the R1 reaches the other side of the carpet or rug, it will automatically resume mopping. This allows you to mop your whole house without supervising your vacuum or walling it off from your carpets. Note that this is not the same as mopping and vacuuming at the same time. If you want to clean your carpets as well, you'll still have to run a second vacuum cycle.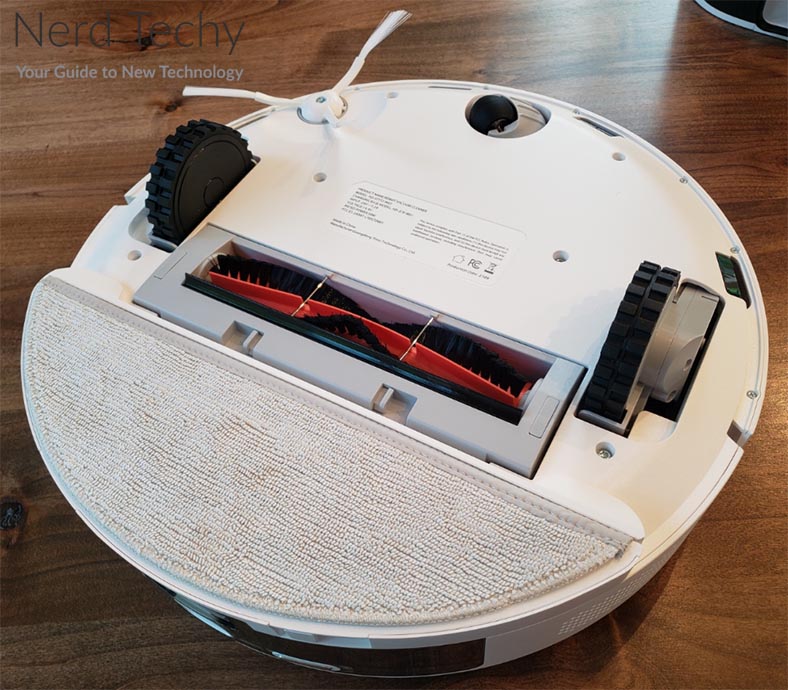 When the dust bin gets full, the R1 will automatically return to its base station. With many robot vacuums, this would temporarily halt cleaning until you emptied the dust bin. With the self-emptying dust bin, the base station uses its own motor to suck debris from the vacuum. At that point, the vacuum will go right back to work, without any intervention on your part. The storage bag in the base has a capacity of 3 liters, and can be easily emptied or replaced.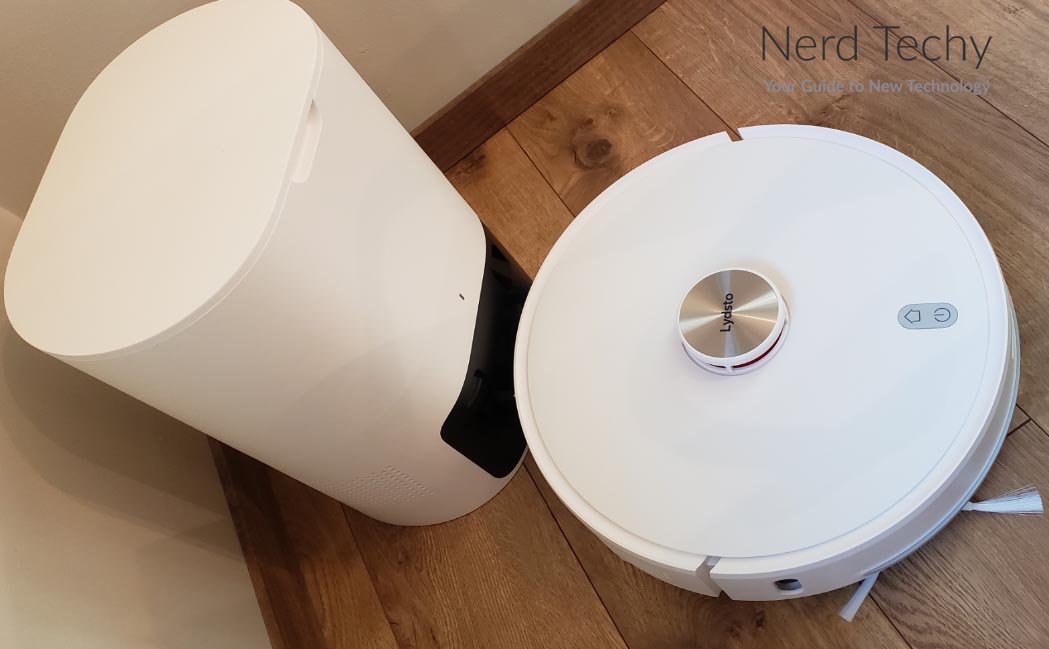 Setup and Everyday Use
The first time you run the R1, it will seem to be moving around randomly. This is by design. The 360-degree sensor on the top is hard at work scanning your home and creating an internal map. Once it's created a map, you'll be able to open the map in the app and make any changes. For example, you can mark specific rooms as off-limits, or even create a virtual wall to block a small area. Within the app, you can also schedule specific cleaning times. You can schedule on a daily or weekly basis, or schedule separate vacuuming and mopping cycles.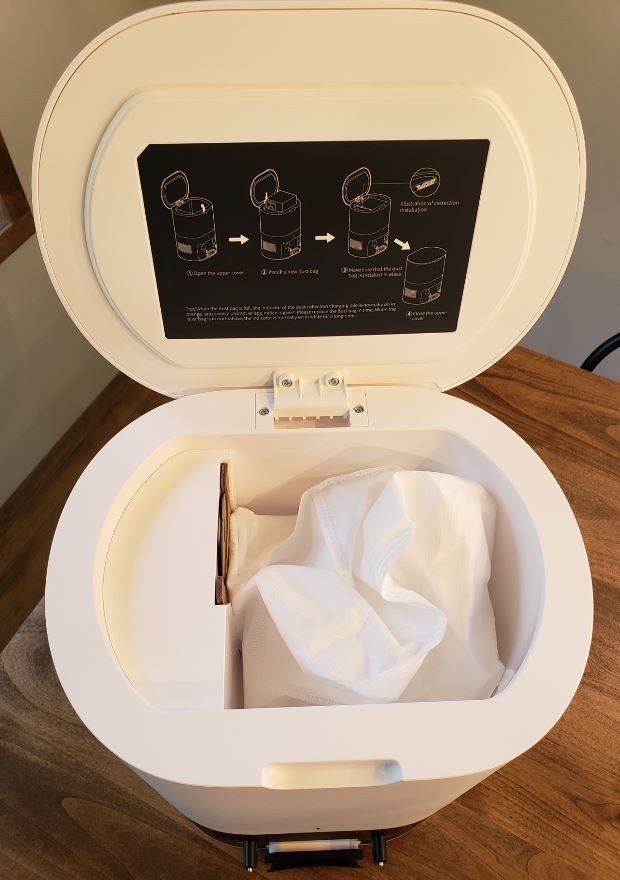 Another thing to be aware of is that the R1 supports multiple floors. For instance, it can store separate maps for upstairs and downstairs. However, you need to make sure to change maps within the app when you move from floor to floor. Otherwise, the vacuum will get confused, and can create phantom rooms and other glitches. But as long as the app settings are correct, the system works very well. All you have to do is physically move the vacuum from one floor to the other.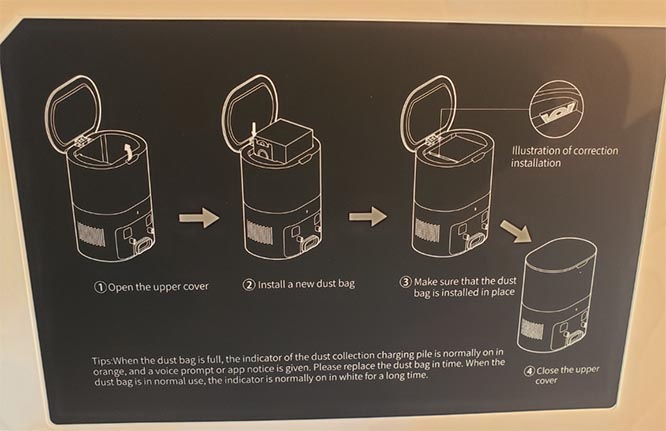 If you prefer more manual control as opposed to a fully automated system, consider the Moosoo MT-720. It sports six cleaning modes, including spot cleaning and edge cleaning. On the downside, it has a small, non-self-emptying dust bin, and fewer smart features.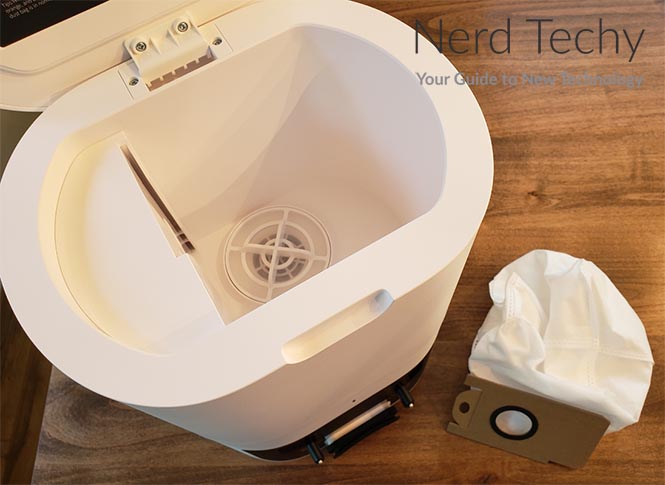 The R1's internal battery has enough capacity to clean 1,614 square feet. This should be sufficient for most people's homes, particularly a single floor. However, you'll start to run into capacity issues if you're cleaning a large ranch home. When the battery does run dead, it's not a big deal. In fact, it will never actually run out completely. Instead, when it drops to 15%, it will automatically return to the base station. At that point, it will complete a charging cycle, which takes about 2 hours. Once it's fully charged, it will return to where it left off, and resume cleaning. Unless you absolutely need your vacuum to clean the entire house in one go, battery life is not a concern.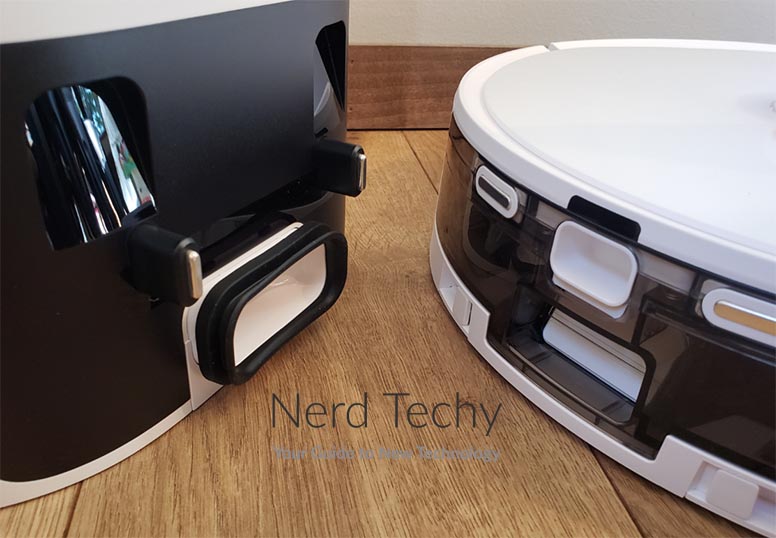 Final Verdict
The Lydsto R1 Robotic Vacuum Cleaner (with Self Emptying Dustbin) is a truly unique robot vacuum. The main attraction is that it empties itself, and that feature alone makes it worth considering. It also provides reasonably powerful suction, and plenty of smart features. Our only complaints were minor – a small battery and a large base station. The upsides are much more significant, and it even mops as well as vacuuming. If you're looking for a powerful robot vacuum that saves you as much time as possible, look no further.
Please consider sharing:
Note: At no extra cost to you, we may earn a commission for purchases using our links. Learn more.