This year, Apple released the iPhone 14 to much fanfare. It came with a bunch of extra features, including an upgraded camera and accelerometer. It also boasts a more powerful processor than any previous iPhone. Additionally, it even has an impressive satellite-based emergency SOS systems. And like previous versions of the iPhone, it comes in a few different variants.
The most full-featured of these is the iPhone 14 Pro Max. Like the iPhone 14 Plus, it's big and beefy, with an oversized touchscreen display. Like the iPhone 14 Pro, it comes with a 48-megapixel camera. That's a fourfold improvement over the 12-megapixel camera on the base model.
These features don't come cheap. If you've sprung for Apple's premium smartphone, you probably want to protect your investment. That's where a good phone case comes in.
We're about to review the Mkeke Magnetic Case for iPhone 14 Pro & Pro Max. This is a transparent protective case, made from a combination of polymers. But is it the right choice for you? To find out, we'll need to look under the skin and see what it's really capable of. After that, we'll be able to deliver a fair verdict. Let's get right into it.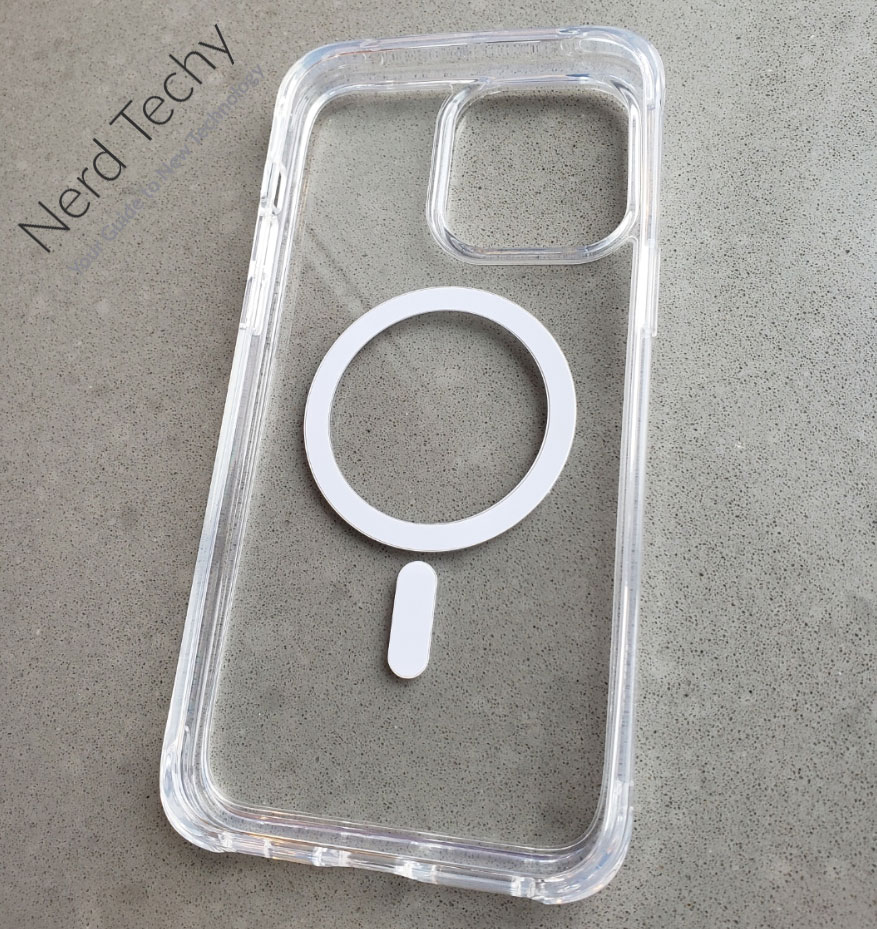 Overall Design
The Mkeke Magnetic Case is entirely clear. It's completely transparent, so you can see your phone's natural color. If you bought a brightly-colored iPhone because you want to show it off, you can. You don't have to hide it behind a solid or semi-transparent phone case.
Most of the case is ultra-slim, so you'll barely notice the added thickness. The material is a blend between rigid polycarbonate and a flexible, rubbery TPU rubber. The combination is lightweight and very secure. It's just flexible enough to install, while remaining rigid enough to hold its shape. It's scratch-resistant, scuff-resistant, and can take a beating with the best of them.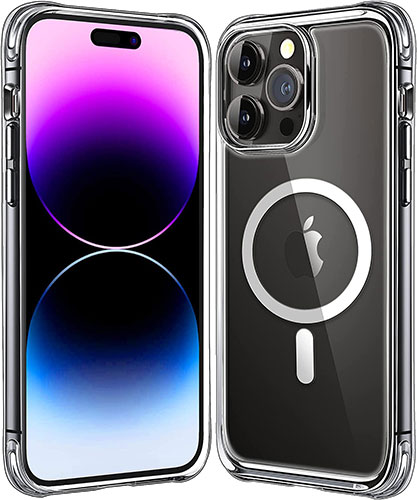 The material is also sweat and stain-resistant. It won't yellow over time from skin oils and UV rays like some cheap plastics will. And with its smooth finish, it's easy to wipe clean when need be. Under normal circumstances, this case should last through the life of your new iPhone. You won't have to throw it out after a few months because it got dinged up.
To protect your screen, there's a 1.9mm bezel around the front edge. If you drop your phone on its face, it won't land directly on the screen. The bezel will support it, and the screen will remain un-damaged.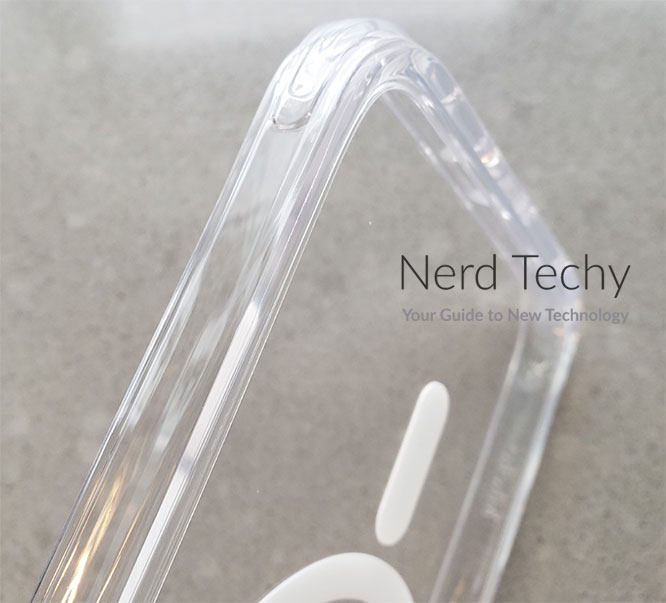 At the corners, there's a set of fat bumpers that rise to 3.1mm. These bumpers feature built-in air bags that absorb shock when the phone is dropped. Your phone's corners are its most delicate points, and the easiest to damage in a drop. Adding bumpers in these areas is a smart call, and can save you a lot of headache. The bumpers are also entirely transparent, without discoloration around the air bags.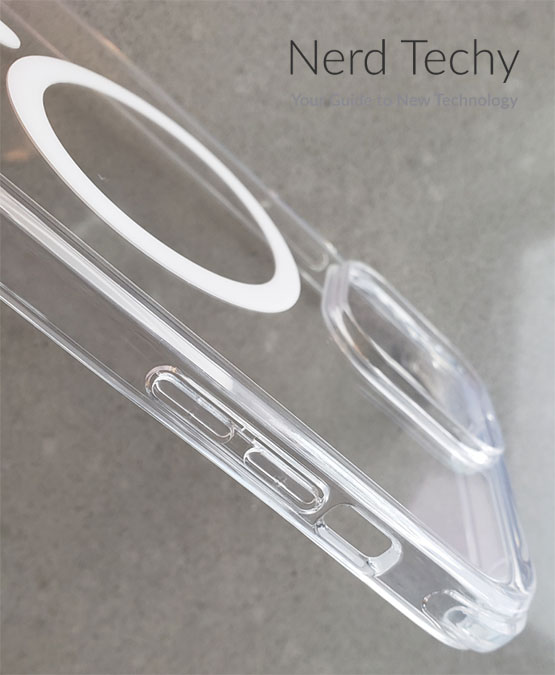 One thing to note about the air bags is that they might interfere with some stands. Of course, it depends on how the stand attaches. If it sticks to the back of the case or has a wide support, it will work fine. But if your phone sits in a narrow groove, it could be too fat to fit.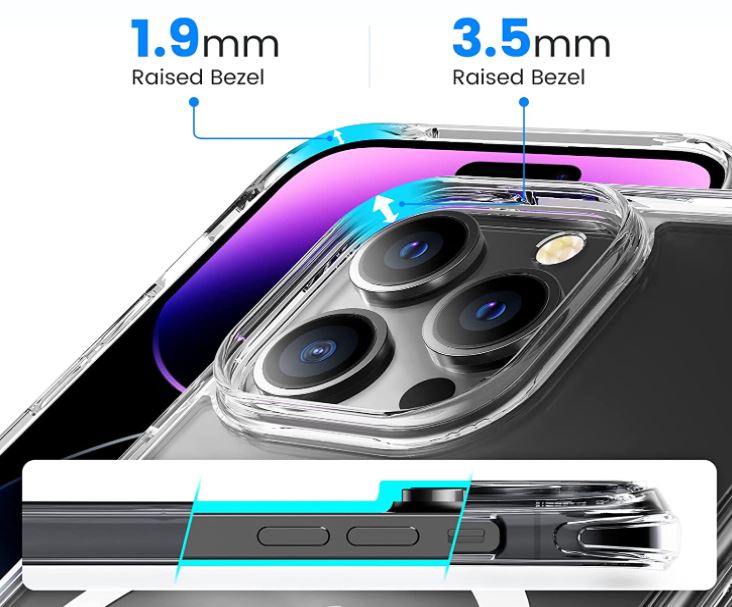 Finally, you'll find a large, 3.5mm bezel around the rear camera lenses. This provides superb protection for your 48-megapixel camera. You'll also notice that there's a black ring in the bezel around each lens. This is to prevent the flash from diffusing through the plastic and creating a halo on your photos.
Attachment and Compatibility
Attaching the Mkeke case is easy. You flex one edge to fit the end of your phone into it. Then you press your phone back into the rest of the case. The edges will snap into place, and it won't wiggle once it's secure. If you do need to take it off, it's as simple as peeling it away, again starting from one end.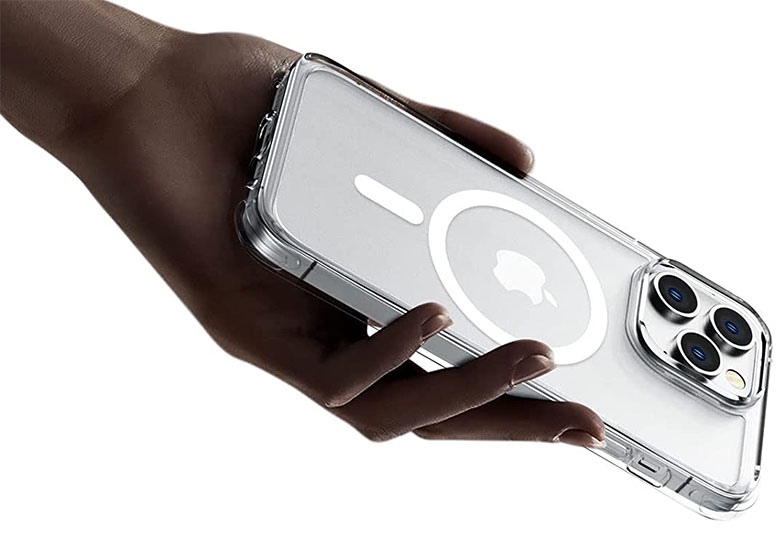 The fit is absolutely pristine, with precise cutouts around your Lightning port and comfortable buttons. That said, this fitment relies on using the right phone. Despite the similarities, this case will not work properly on the iPhone 14 Plus. While the screen is the same size, the camera bezel will be slightly off, wrecking your photos. Thankfully, the Mkeke case is also made from the iPhone 14 Pro.
In the back of the case, you'll notice a metal ring embedded in the plastic. This isn't just for show. This is a magnet, with an attraction force of 2,600G. That's fairly strong, more than twice the magnetic pull of the bare iPhone 14, which provides 1,200G.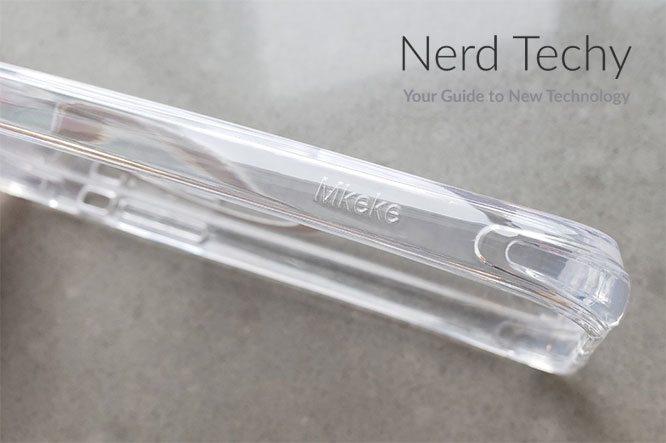 This feature makes the case perfect for any MagSafe accessory. You can even use it in situations where a magnetic mount wouldn't otherwise be prudent. For example, you can use it in your car and not have to worry about the road vibrations shaking it loose. Even around the house, a little added security never hurts. It's also compatible with Apple's MagSafe charger.
What Is a Magnetic Phone Case?
MagSafe technology is relatively new, and can be confusing. If you're unfamiliar with how MagSafe works and what that has to do with cases, here's a quick summary.
MagSafe is an Apple technology for charging and mounting. A magnetic ring is built into all new iPhones, so it can mount to metallic surfaces. This ring is also meant to pair with Apple's MagSafe charger. That's a small, key fob-sized magnetic charger that sticks to the back of your phone. No cumbersome charging pad required!
So, what does this have to do with phone cases? Unfortunately, the term "magnetic phone case" has become ambiguous. It can mean one of two things:
Magnetized covers – These are phone cases that fold shut like a book to enclose your entire smartphone. They attach to the back of your phone with a magnet, but they're not magnetic on the back. In other words, you can't use them to attach your phone to a magnetic mount. They certainly won't work with Apple's MagSafe charger.
Cases with built-in magnets – These are cases with their own built-in magnets, similar to the Mkeke case. They're designed for magnetic mounts, and can even attach to your refrigerator. Even so, there can be differences in performance. Not all magnetic cases with built-in magnets are compatible with MagSafe charging. This could be a deal-breaker if you prefer to avoid wired charging.
As you can see, it's important to do your research before investing in a magnetic case. Otherwise, you might not get the performance or features you expect. This is particularly true if you're looking for a case that's MagSafe-compatible. Thankfully, the Mkeke case meets that standard.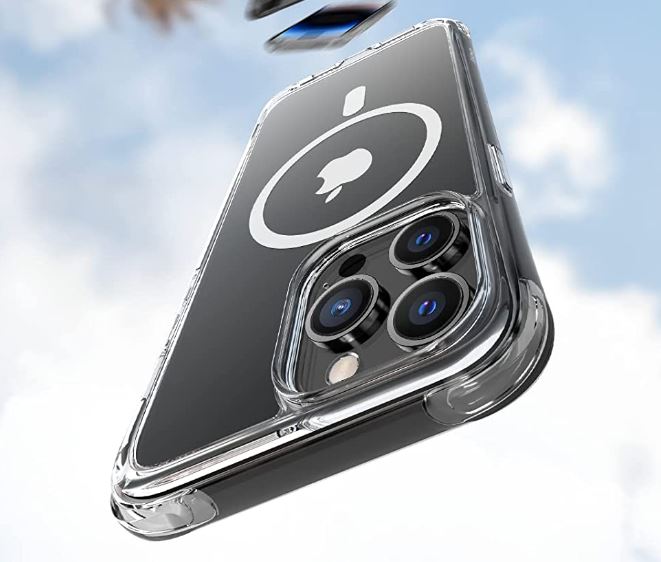 What Makes a Good Phone Case?
Of course, magnetization is only one of several features that makes a good phone case. Even the most powerful magnet won't do you much good if the case isn't durable or comes off too easily. Before we finish, let's talk about a few features to consider when you're in the market for a new case.
To begin with, look at what type of material is being used. A floppy, rubbery case is not a good idea. It's easy for that type of case to fall off. And if there's a magnet in the back, it can even get yanked off. The best materials are TPU and polycarbonate. They have the flexibility to install and remove easily, but they're stiff enough to provide reliable protection. Metal cases are also a great choice, but you have to be careful. Many are incompatible with MagSafe charging.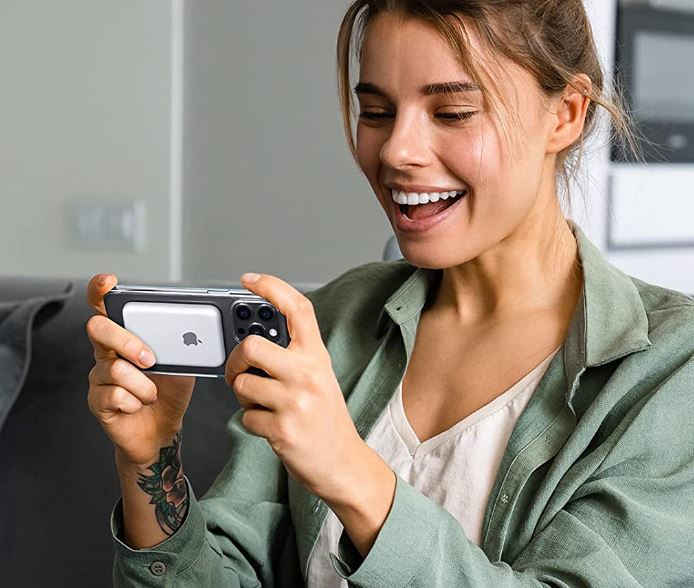 Durability is an area where you may have to make some trade-offs. As a general rule, the toughest phone cases are fatter. The more material, the more it can protect your phone. Manufacturers can compensate for this to some extent with air bags and bezels. But at the end of the day, if you need maximum protection, you want a thick case. This can be inconvenient for carrying around, and it can make it hard to find a suitable phone stand. In other words maximum protection isn't generally ideal.
The other thing you need to think about is your other phone accessories. You may already have chosen a particular magnetic mount or wireless charger. If you love your other accessories, you may end up choosing a case in part because it's compatible. Alternatively, you may need to replace some accessories. The MagSafe feature on the iPhone is a perfect example. If you're using a MagSafe charger, choosing a compatible case is a no-brainer.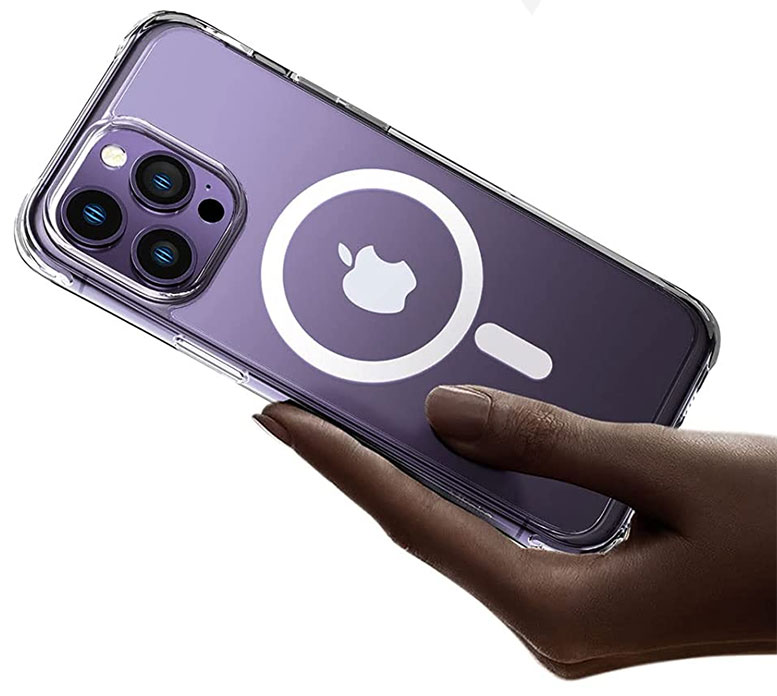 Final Verdict
The Mkeke Magnetic Case is perfectly designed for its purpose. To begin with, the material itself is very high quality. The TPU and PC blend is as durable as it gets, and it's very easy to fit. We loved the corner air bags, since they provide the most delicate part of your phone.
We also liked the bezel design. This is an afterthought for many manufacturers, whose bezels can be irregular (or non-existent). The bezels here are smooth and precisely cut, and are thick enough to protect your screen. The rear camera bezel is also well-designed, with built-in flash protectors for the lenses.
As for the built-in magnet, the Mkeke case performs admirably. It doesn't just allow you to use your MagSafe charger. It actually augments your iPhone's existing magnet to provide more than double the gripping power. You can use it in your car, or in other applications where security is a major concern.
All in all, we liked what we saw here. You're looking at a durable case that's not absurdly thick. The magnet works very well, and your surfaces are safe from damage. We also appreciated how clear the material was. If you like a bright, colorful iPhone, you'll be pleased.