For quite some time, movie buffs have known that the only way to get the true movie theater experience is with a digital projector. Digital projectors allow for the large screen images not currently possible with LED televisions, and give users flexibility with where and how they are used.
Projectors are designed for all kinds of purposes. Some models are suitable for presentation purposes, with their brightness and resolution geared for a well-illuminated office or classroom. Others are designed to recreate the 4K movie theater experience, with the same color depth and clarity of a top-of-the-line television.
Unfortunately, not everyone has thousands of dollars to throw at a digital projection system. Some consumers are just looking for something simple and affordable that can provide the same experience. The Crenova XPE470 seems to be one of these projectors, but the price seems almost too good to be true. Since it's cheaper than almost any television on the market, we wanted to find out exactly how far your money can go. We'll explore the specifications and show you what they mean in the real world, and help you decide if the XPE470 is a worthwhile buy.
First Look
Although this projector has the same form factor of more expensive models, we couldn't help but be surprised at how compact it is. At 21 by 18 centimeters, the external dimensions of this projector are similar to that of a small tablet. Although it's much thicker than a tablet, this means that you would have no problem chucking it in a bag to take with you on a trip, or hauling it out to the backyard for an impromptu summer movie night.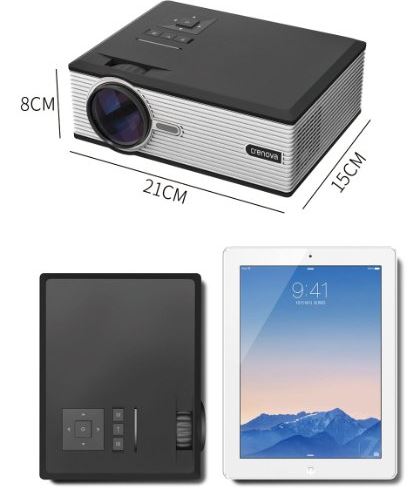 Design & Layout
The XPE470 has a professional, no-nonsense look about it. The top and bottom of the enclosure are capped off with plastic caps, while the sides have a striped white appearance. The grill like visual given off by the sides allow Crenova to hide the cooling port, keeping the design sleek and professional.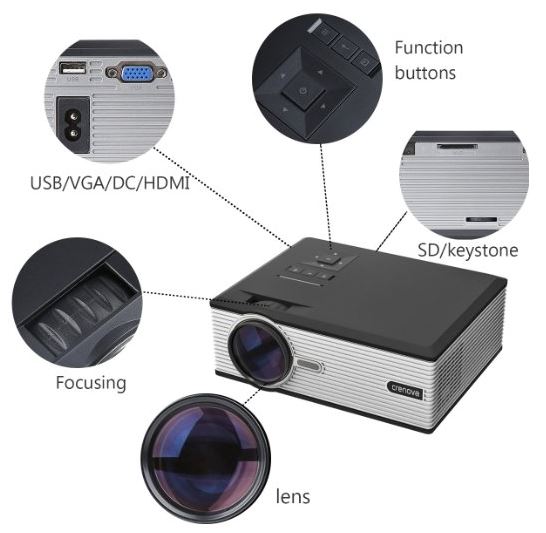 On the left side of the top, you can find all of the controls grouped together. At the front is the focus ring that allows you to adjust the projector to different distances. Behind that are three buttons (select, menu, and back) combined with a digital navigation pad that lets you choose different settings from the on-screen menu. These buttons are only necessary during initial setup, and with certain media types.
If you're playing media off of a USB key, you'll need these buttons to navigate through the files. But if you're plugging into the projector directly, you won't find them particularly useful. This factors into your placement a little. If you need access to the buttons, you're not going to want to mount it on the ceiling or somewhere out of reach. Fortunately, thanks to the projectors short throw (which we'll get into soon) you won't find it necessary to mount it far away from your screen.
Screen Size
This projector is capable of producing an image between 37" and 130." We found that there is definitely an ideal range, as the image tends to go a little out of focus at the extremes of that range. Personally, we found that a 60" screen looked the best, although everything from 50" to 100" was great.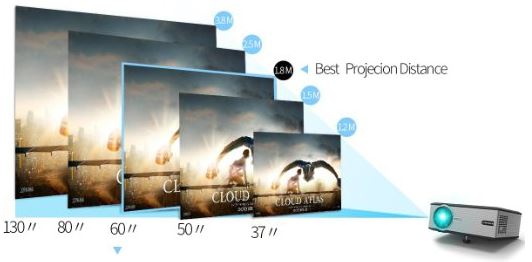 How large of a screen you have depends on where you place the projector. The closer you are, the smaller the screen. The further you are away, the larger it is. This projector has what's known as a "short throw distance." This means that you can get a very large display without having the projector too far from the screen. For example, to attain a 60" screen you only need to place it 1.8m away from the display. The total throw distance can be anywhere between 1.2m and 3.8m.
One of the nice things about this projector is that, despite its low price, it still includes keystone correction. Without keystone correction, the projector has to be dead center to the screen, or else the display won't be totally square. This can be incredibly frustrating, but keystone correction allows the projector to optically adjust the image so it's correct. This only takes a few moments, and is a feature we're very happy to see included.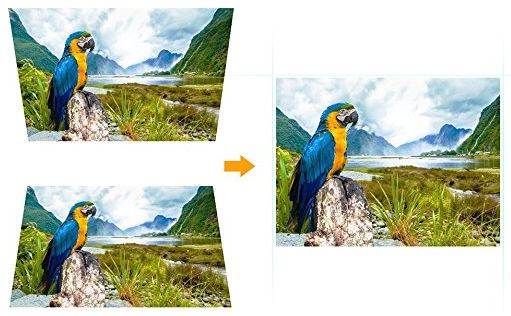 Resolution
The 800 x 480 resolution isn't quite high definition, but it's not standard definition either. This is what's known as "extended definition." ED used to be quite popular when high definition TVs were just hitting the market, as full HD sets were much too expensive for the average consumer.
With this new line of affordable projectors, EDTV is making a comeback. Where standard definition is 320×240 resolution, 800 x 480 provides the best compromise between price and quality. Since this is a naturally wide screen resolution, you're not forced to stretch the images. We played back several 1080p and 720p clips and found that, in both cases, the image was surprisingly sharp. Of course, it doesn't provide the exact level of detail you'd get with a 720p set, but the image still seems very sharp. Comparing the image side by side, it seems more like a subtle loss of small details, rather than the general blurring we've seen with other projectors.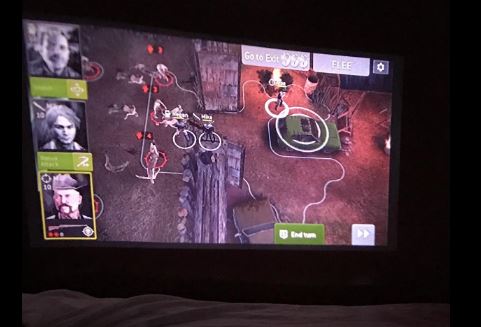 Brightness
One of the nice things about this projector is it's 1200 lumen bulb. Many pico projectors produce as little as 300 or even 100 lumens of light. In those scenarios, they absolutely must be used in a pitch-black room, and even then the colors seem a little washed out. With a 1200 lumen bulb, the image looks great in the dark. Colors were bright and vibrant, while the darker details weren't washed out at all.
The nice thing about a 1200 lumen screen is that you can use it in a moderately lit room. Like most projectors, you do want to make a note of turning off the light, or closing the blinds if possible. But just because the sun hasn't quite gone down yet doesn't mean you won't be able to enjoy a quality movie.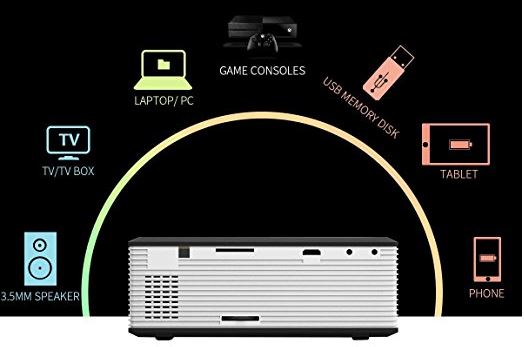 Connectivity
We've got so many different devices these days, it's hard to find a single method that can keep all of them connected. Fortunately, the XPE470 projector has a number of connectivity options. For wired connections, most users will use the HDMI port. This can accept up to a 1080p signal, automatically downscaling it to the corrective native resolution. There is also a VGA port that can be used with computers. Although this port can downscale the signal as well, you'll be much better off to set the native resolution directly from the PC. Due to the nature of VGA, downscaling this signal can cause some distortion, so using native resolution is the best way to get a decent signal.
The projector itself has a video processor built right in, so you can play video files directly off a storage medium. It accepts both USB memory (external hard drives or flash drives) and full-size SD cards up to 64 gigabytes.
Disadvantages
There are very few disadvantages to using this projector over any other pico projector. But if you're choosing between this and a full size model, there are some compromises. Personally, we'd prefer to have a full HD projector. Although it may be several times the price of this affordable model, we're used to enjoying full HD content. Additionally, there are some models available that have a built-in battery. This allows you to use the projector away from a power source, for a short amount of time. Unfortunately, if you want this feature, you're going to have to pony up a few more dollars.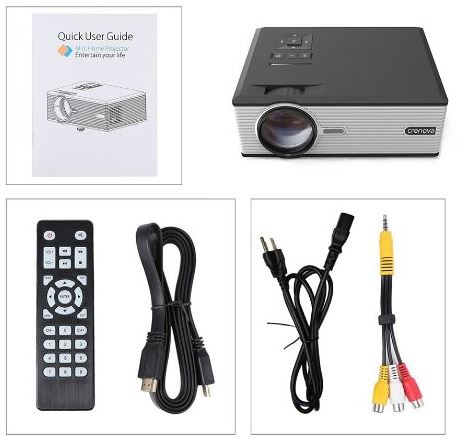 Final Verdict
Given the lost cost of the Crenova XPE470, we were very surprised at how good it looks. This is probably the best bang for your buck in the industry. We'd recommend it to anyone who's looking for a fun little projector to use casually. Whether you're looking for something to set up once in a while for the kids, or something that you can take with you to hotel rooms and camp ground.
Not happy with the resolution? If you spend a little more, there are plenty of great 1080p projectors on the market. We've rounded up the best of them in our best 1080p projector roundup.
No matter which option you choose, you'll want a projector screen to get the best possible image quality. We took a look at a number of them in our home theater projector screen article.
Buying a projector can seem like a complicated task, but if you do your research, the choice is easy. No matter how you intend to use your projector, you're certain to appreciate the cinema-like experience that is beyond anything you have experienced with a standard LCD television.