With so much media available to us nowadays, staying connected is essential. Nearly everyone has a smartphone or tablet that allows them to watch movies, TV shows and listen to music from virtually anywhere. As a result, we've developed pretty high standards for how we take in these various forms of media. We've become very particular about screen size, video resolution as well as streaming speed. However, sometimes we overlook one key element: sound.
When it comes to portable entertainment, whether it be music, TV, movies or even YouTube clips, sound is one of the most important things to consider. Many devices come packed with a pair of headphones that, while not cheap, are on the lower end of the spectrum when it comes to quality and durability. Not to mention, the headphones you get with your iPhone or Android device are usually not wireless. Typically, it's a pair of earbuds that doesn't fit well and leaves a lot to be desired when it comes to creating an immersive listening experience.
Luckily, there are better, more robust options for optimizing sound from your smartphone, table or home entertainment system. Bluetooth headphones have become increasingly more popular, and the technology contained in them has become equally as impressive. You can essentially shrink studio-quality sound into a pair of headphones that can fit in a backpack or suitcase. It may be an additional cost to what you already pay for your tablet or phone, but the results are usually well worth the price.
In this review we're going to be taking a look at the newly released OUCOMI Active Noise Canceling Bluetooth Headphones. They're a heavy-duty, over-the-ear listening option, geared toward those who are more concerned with sound quality than portability, but would still like some integration of both in their audio gear. We're going to be looking at the design, special features, sound quality and any drawbacks the headphones have to give you a fully comprehensive idea of exactly what they can do.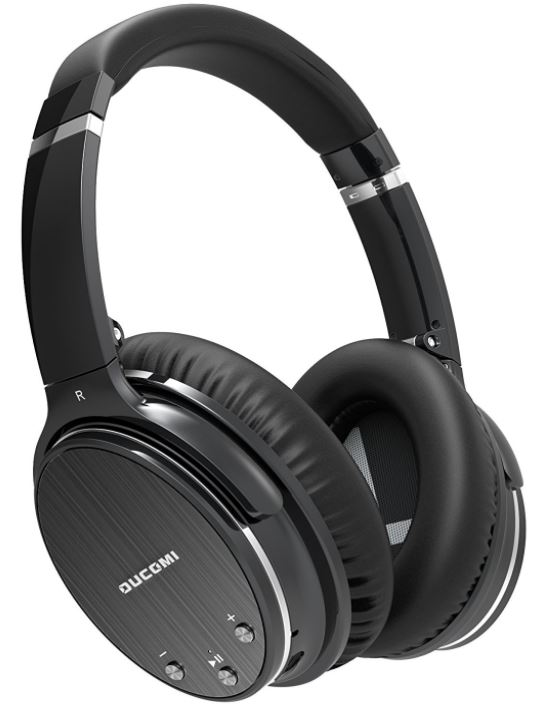 Design
The OUCOMI Active Noise Canceling Headphones have a very robust, durable look to them, and right out of the box, imply that they are of high-quality. They only come in black, but given the impressive build of the headphones, we were willing to forgive the lack of color options.
Each earpiece is fitted with a brushed gunmetal exterior, with the OUCOMI Logo printed in the center in plain view. On the right earpiece you'll find some basic controls: a power light, a play/pause button, volume buttons, as well as an AUX line in and Micro USB port. On the left earpiece, you'll see the ANC Indicator light as well as a switch to active the ANC (Active Noise Canceling) feature.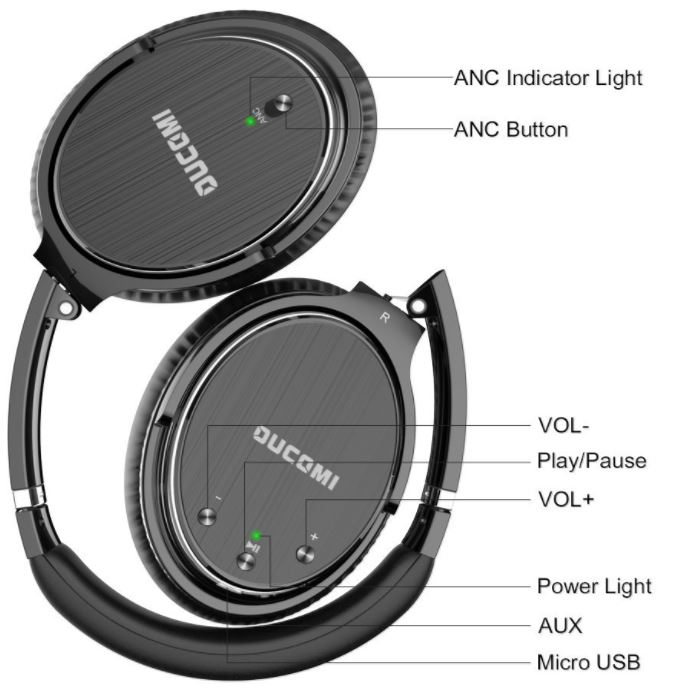 Each earpiece is labeled with a small L or R on the outside as well as larger letters on the inner mesh. The material of each cushion was also incredibly soft and comfortable. It was able to adjust to the shape of the user's head, almost like memory foam, and the entire headband was fully adjustable.
There was also a little bit of variability in the movement of the earpieces themselves for added comfort. Each one pivots about 90 degrees. The body of the headphones is made of a shiny, plastic material, but still felt strong. Over the headband, you'll also find a thick pad that was made of the same cushioning material as the foam on the earpieces.
Overall, we really liked the design, mostly because of their robustness as well as their simplicity.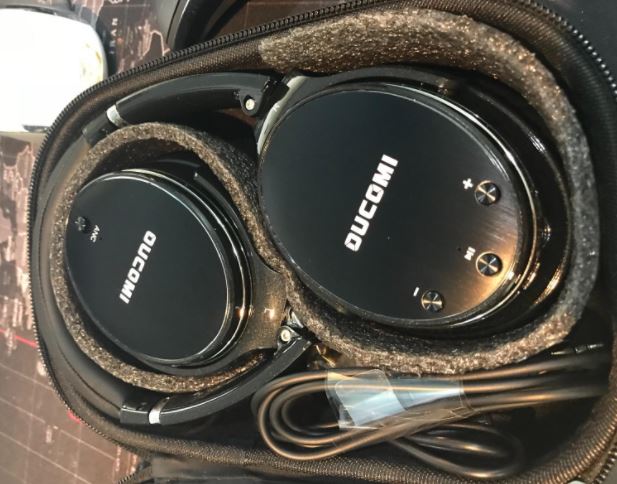 Active Noise Canceling
One of the most impressive features contained in the OUCOMI Headphones is the Active Noise Canceling option. Active Noise Canceling or ANC is a feature built into many high-quality headphones that enables the user to effectively muffle or completely eliminate background noise. By flipping the ANC button on the OUCOMI Headphones, you can reduce up to 20dB of background noise.
This held up pretty well, especially when we tried the headphones out ourselves. When we turned the ANC, it instantly blocked out people's voices, passing cars and even some other music we had playing at a low volume. Combined with the snug, over-ear design, the ANC feature really gave the OUCOMI headphones an immersive feel that we felt would be perfect for traveling, studying or even some light exercise.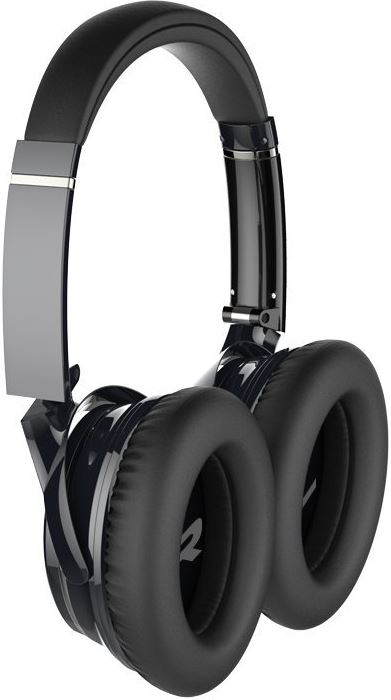 Connection Options
The OUCOMI headphones can connect to smartphones and tablet two different ways: wired and wireless. They are fully compatible with Bluetooth 4.1 and maintain their signal up to 10 meters. We couldn't think of a scenario that would involve walking 10 meters away from your phone or table with headphones on, but it was still impressive to know there was an option if necessary.
You can also connect the headphones to your preferred smartphone or tablet using the included 3.5mm AUX IN cable. We really liked this feature because it meant that you could continue using the headphones even after the batteries run dry. For someone looking to keep listening on a long trip with no way to charge up while traveling, this was a great addition.
We found that the clarity using both Bluetooth connectivity as well the wired connection was about the same. It was clear with no static or distortion, and was pretty consistent across a variety of different tablets and phones.

Charging and Power
Contained inside the headphones is a powerful 360mah rechargeable battery. On a full charge, it will yield about 12 hours of play, but this will depend on how often you use the Active Noise Canceling feature. Like most electronics, the more you make these headphone work, the quicker you'll drain the battery. 12 hours is certainly a good amount of time, and is sufficient for situations like long plane rides or road trips. However, even if the battery does run out, the headphones can still be used as a wired device with the included cable.
One thing that we found strange was that it didn't come with a charger or a cable. There is a charging port for a micro USB cable, but when we opened the box we didn't find one. It wasn't a huge issue. It's just worth mentioning that you'll have to provide your own cable.
Accessories
Despite the fact that they don't come with a charging cable, the OUCOMI Headphones do come with some other nifty accessories. First and foremost, you'll find a storage case to keep them safe when you travel. We've seen sturdier cases included in headphones similar to these, but it was still a nice addition. It won't prevent the headphones from getting crushed by a piece of luggage, but it'll keep them clean and free of dust. You'll also get a 3.5mm AUX IN cable so that you can use the headphones as a wired device if you choose.
It seemed like something that should have been included, especially considering the wired option is a huge selling point for these headphones. The included wire essentially made them ready to use right out of the box. The headphones also came with an aeronautical audio adapter so that it could be used on a plane.
An adapter like this simply converts the single 3.5mm jack into two so that it can be plugged into an airplane's audio system. We didn't feel like this was absolutely necessary to include, but it was still a cool accessory to find in the box, especially for those who think they may be taking these headphones traveling.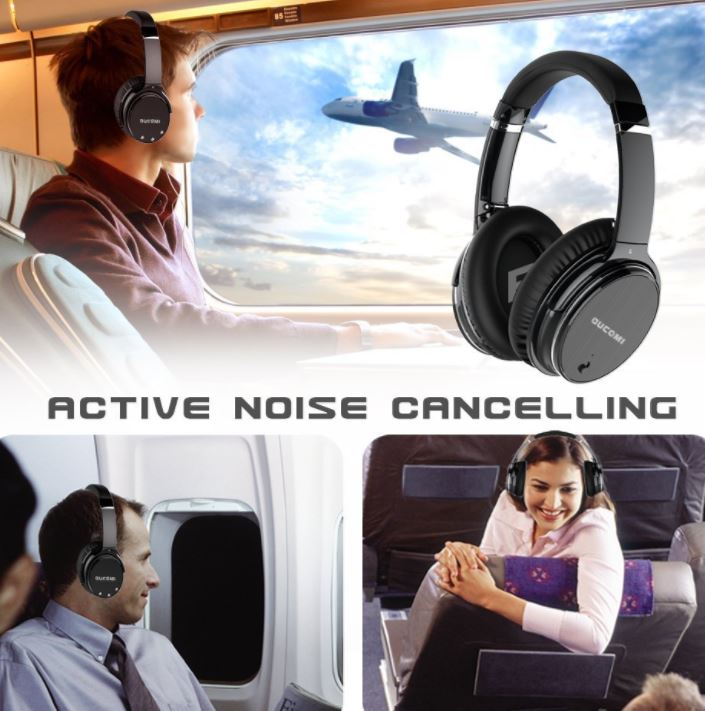 Sound Quality
These headphones were not only well-made but they performed extremely well when it came to sound quality. Each 40mm speaker has a sensitivity of 105+/-3dB and a frequency range of 20 ~20KHz. When we turned them on the first thing we noticed was the heavy, full bass. Considering the small size of the actual speakers in these headphones, the fact that bass rumbled like it was coming from big stereo was a real selling point.
The mids, highs and trebles were also pretty smoothly integrated into the overall sound. They were clear, punchy and at times almost a little too overpowering. Still, the entire experience of using the headphones gave us a studio-quality feel, regardless of what we listened to. Also, the included Active Noise Canceling significantly improved the already powerful sound quality when we turned it on. All in all, we give these a big thumbs up when it comes to performance.
Drawbacks
We did have a few minor issues with them, specifically with regards to their size. They are comfortable—no argument there—but they can feel a little bit bulky at times, especially when wearing them for long intervals. While the soft padding helped with some of the mild discomfort, it still got a little tiring to keep these on for hours at a time.
Granted, there is a trade-off between performance and size, and the larger build of these headphones was somewhat justified by their outstanding sound quality. Still, we felt that they would have been near perfect had they been just a little bit smaller.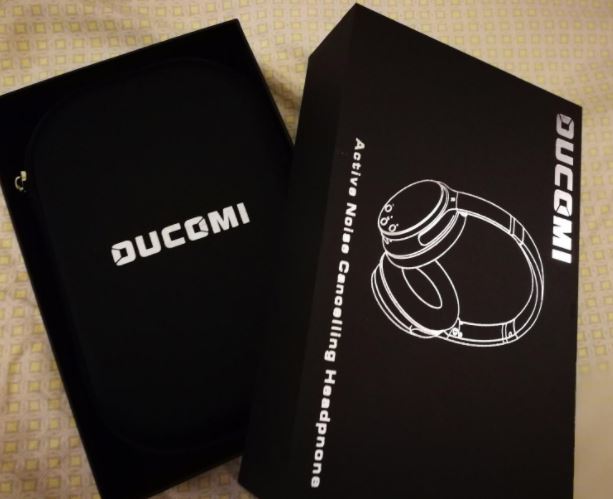 Final Thoughts
The OUCOMI Active Noise Canceling Headphones are a very high-quality, robust piece of listening gear that are perfect for travelers or music enthusiasts. The design is certainly heavy-duty and at times a little clunky, but overall these can really satisfy where it counts. Despite their larger build, they had some really excellent usability.
All features and buttons were clearly labeled, and it didn't take us a lot of guesswork or combing through the manual to get started using them. The Active Noise Canceling feature, as well as the option to use them both wired or wirelessly made them extremely versatile, and eliminated some of the need to keep them charged every time you want to use them.
They aren't the best headphones for someone doing heavy physical activity, but for a student, a professional or someone who finds themselves on the road often, they can get the job done and then some. If you're looking for an affordable, well-made pair of headphones that puts sound quality first, the OUCOMI Active Noise Canceling Headphones should definitely be considered.