Imagine you're at an outdoor party or a social gathering. All of your friends are there, everyone seems to be having fun and the overall vibe is great. Still, something is missing. You realize that there's no music. You can hear everyone chatting and laughing but, for a party with this many people, the tunes are conspicuously absent.
Unfortunately, all anyone has is their smartphone and, while the speakers are powerful enough for solo listening, the music easily gets drowned out by the guests. Considering that you're all outdoors, there aren't many other options for music, so you're essentially stuck trying to better the atmosphere with less than sufficient audio.
This is just one scenario where high-quality, portable audio gear would have been the perfect thing to have on hand. We're not talking about a big, bulky stereo that you need to set up in your yard, but something smaller that still produces enough sound for indoor and outdoor events. There are number of these kinds of speakers on the market today that make portable audio easy in just about any situation.
Most of them are wireless, rechargeable and pack a lot of power when it comes to sound. For someone looking to listen to music at the beach or spice up a party with some tunes, they're an excellent solution. However, like any gadget some are better than others.
The DOSS SoundBox XL Bluetooth Speaker is just one of these handy speakers and we're going to be taking a look at it to see how well it performs as a portable audio solution. In this review we're going to be taking a look at the design, features, sound quality as well as any drawbacks to the speaker to give you a full 360 degree view of what it can really do.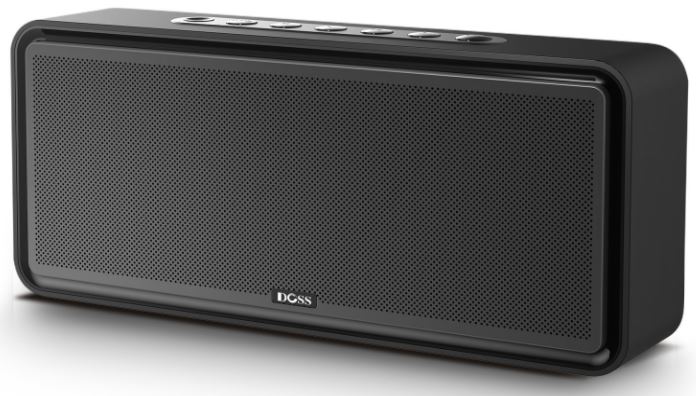 Design
The DOSS SoundBox has an extremely stripped down design and made us think that using the speaker would be extremely intuitive and easy. Like most similar speakers it is completely portable, weighing in 3.46 pounds and measuring at 11.8 x 2.6 x 5.2 inches.
The front of the speaker has an aluminum dotted grill to protect the drivers and subwoofer. It wasn't overly flashy or decorative and had nothing except the DOSS logo printed on the bottom. The body itself is made of scratch-resistant plastic that felt sturdy, well-made and durable while also appearing sleek and stylish. On the top of the speaker you'll find the control buttons sunk into a gorgeous piece of brushed metal.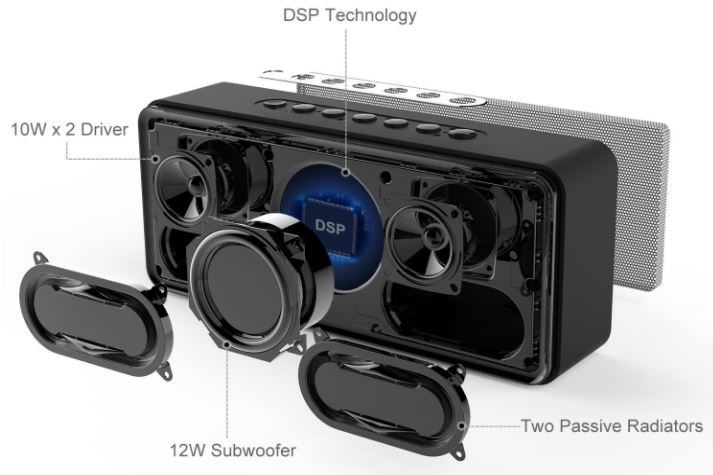 There's a power button, an audio input button, volume buttons, skip forward and skip backward buttons, as well as a play and pause button. Each one was clearly labeled except for the audio input button. It has a letter "M" on it, which didn't seem like it made a whole lot of sense. It was a minor point of confusion, but still had us wondering what the button did at first. Under the buttons, you'll also find a battery indicator light. It's small, consists of four illuminated dots and isn't immediately obvious when the speaker isn't turned on.
The back of the speaker body is also very basic. You'll find nothing else except a DC 12V 2.5A port, an AUX IN port as well as a TF Card slot. Much like the buttons on the top of the speaker, each of these was clearly labeled and easy to identify.
Generally, we really liked the design of the DOSS SoundBox. We found it to be incredibly simple, and it made us think that we might not even need to read the manual to get started.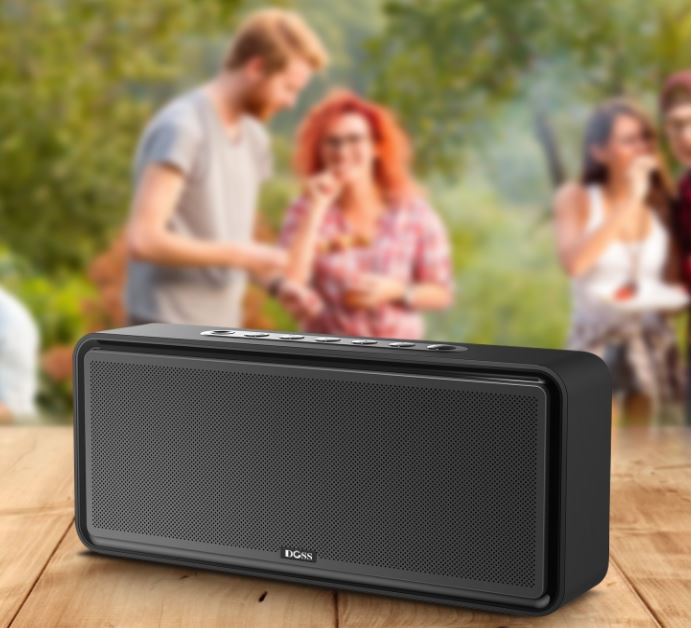 Hardware and Accessories
The SoundBox XL has some pretty powerful components built in that we felt would be powerful enough to fill rooms of many sizes. The actual sound system itself is comprised of a 20W driver with a 12W subwoofer for some added bass. There are also two passive radiators built in to the speaker. For those that don't know, a passive radiator is an added component found in some speakers that can enhance sound quality.
Essentially, it's a secondary speaker without the electrical components that works by reacting to the air pressure caused by the other speakers in the enclosure. By reacting to the backward and forward movement of the drivers and subwoofer, the radiators create sound frequencies in the same way the other speakers do. In a way, it's like have an extra two speakers on board.
The SoundBox XL does come with some accessories, but nothing that really blew us away. You'll get the speaker itself, a 12V 2.5A Exchangeable Charger, and AUX-In Cable and a user manual. We did appreciate the AUX-In Cable, considering that the speaker is capable of functioning as a wired unit, rather than one that is strictly Bluetooth compatible. With this included accessory, you can use this option right away.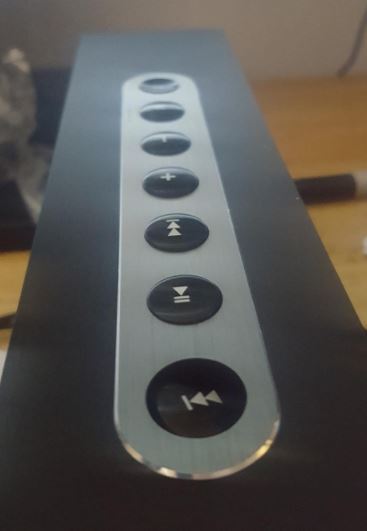 Audio Modes
The SoundBox enables you to play music from a number of different sources. First and foremost, it is compatible with Bluetooth 4.0, which means you can synch it to just about any smartphone or tablet. It will stay connected up to 84 feet, and is easy to locate on your phone or tablet's Bluetooth menu. This is probably the most hassle-free way to listen to music on the SoundBox.
However, if you choose, you can connect to it using the included AUX-In Cable. The clarity was about the same as connecting to Bluetooth, so this feature is really only useful if you want to play music from an MP3 player that isn't Bluetooth enabled. Lastly, you can play tracks from your very own TF card.
Considering that most people don't usually store music on memory cards like this anymore, this option wasn't essential, but it was still a nice addition to have on board. For the most part, we felt that the SoundBox had all the bases covered when it came to playing music in a number of ways.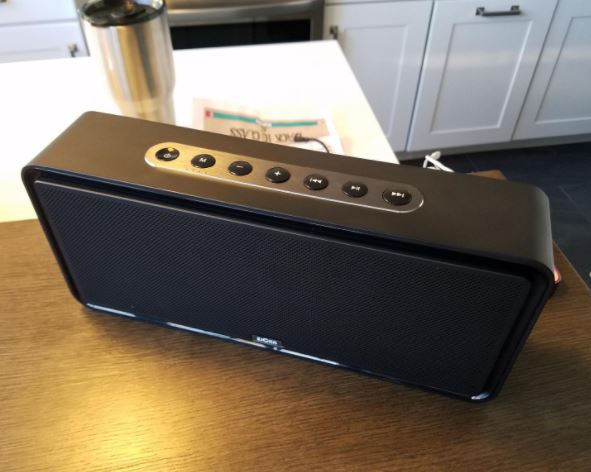 Charging and Power
The SoundBox XL has a built-in rechargeable 2200mAh lithium-ion battery. It can hold a charge for up to 10 hours at 50 percent volume, and has a battery indicator light installed to signal when it's time for another charge. 10 hours per charge is about average for a speaker this size, but we noticed that it was greatly reduced if we pushed the speaker to the limit.
This was a slight drawback, mainly because it limited the capabilities of the speaker when it came to filling larger rooms. Yes, it was loud enough to fill large spaces, but the louder we turned up the volume, the sooner the battery drained. For indoor events this wasn't much of a problem because we could just leave the speaker plugged in, but for traveling or outdoor parties where an outlet isn't available, it certainly posed a problem.
We also weren't terribly satisfied with the battery indicator light. It consists of four LED lights that begin turning off as the speaker loses its charge. When it's time to recharge it, the remaining light will blink red. It would have been more convenient for an LCD display or a symbol to display remaining battery life, especially when it could be easily affected by higher volumes.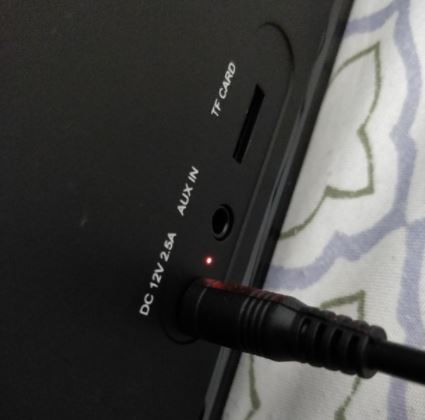 Sound Quality
The SoundBox XL yielded some impressive sound quality, but still had some limitations. However, for its size, it was certainly powerful enough for parties and small get-togethers. The 12W subwoofer made for some thumping, full bass that was clear at all volumes, and the 20W drivers along with the passive radiators made the trebles and mids punchy and sharp.
It doesn't quite give off a surround sound feel because it is only one unit, but when positioned appropriately, it's enough to fill small to medium-sized rooms. You'll have to turn the volume up pretty high for it to drown out background noise and this will drain the battery faster. That being said, while it's on, the SoundBox XL does pack a punch. Even outdoors the sound didn't feel distorted or like it was coming from a cheap set of speakers. Given the price and the speaker's portability, we found the sound quality to be spot on.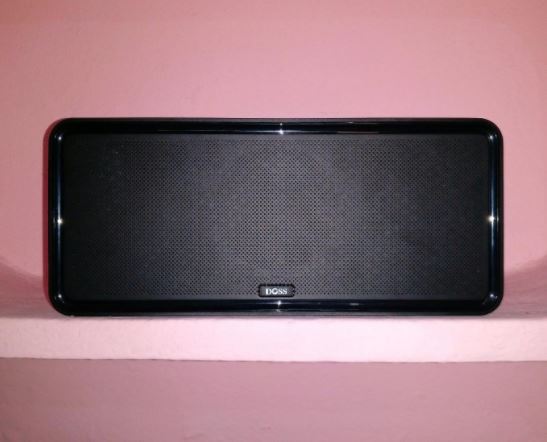 Drawbacks
One feature that we felt was missing from the SoundBox XL was the ability to pair it to additional units. Many Bluetooth speakers can connect to one another for a surround sound experience, but the SoundBox can only be used as a standalone speaker.
While the sound quality was impressive and the speaker is powerful in its own right, the ability to purchase two and pair them together would have enabled users to use them in larger rooms with more people. Considering that this is not a new feature in other speakers, it would have been a solid addition and we were a little disappointed that it wasn't included.
We also weren't thrilled with the battery indicator light. It wasn't particularly accurate, and wasn't clearly visible on the speaker body. It was a step in the right direction, but we would have preferred for the battery indicator to be something a little larger and easier to see.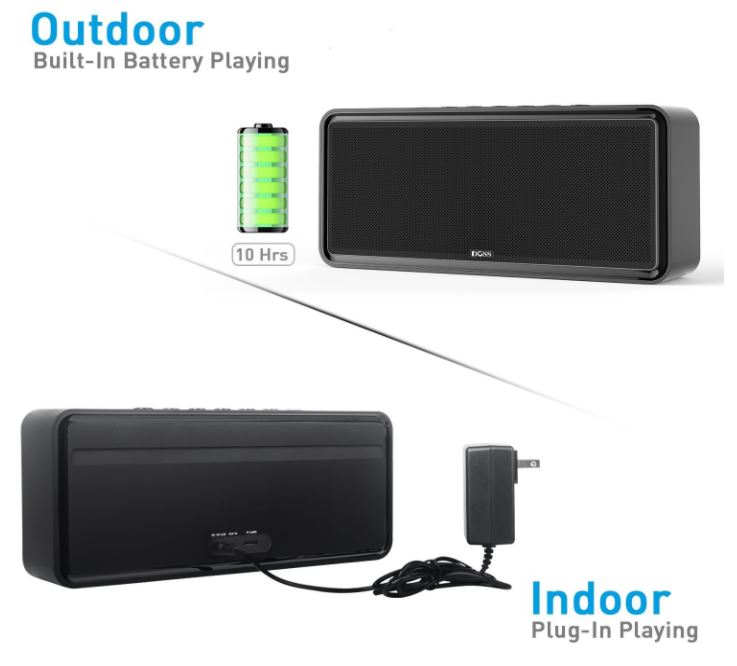 Final Thoughts
Overall, we really liked the SoundBox XL, and thought it was an affordable high-quality speaker that could have a place on trips, parties and small events. The design was simple, sleek and easy to maneuver for new users, and it offered a ton of options for playing music in a variety of formats.
We would have liked for it to be able to pair with a second unit for a surround sound feel, especially since many other similarly priced speakers already have this feature. It would have required purchasing two identical speakers, but still would have made it more versatile when it came to sound quality and power.
That being said, as a standalone speaker, it had some really impressive hardware that did make it a powerhouse considering the low price point. We were especially impressed by the passive radiators and felt that they really added something noteworthy to the overall sound.
If you're looking for an affordable speaker that is well-made and can get the job done at your next party, the SoundBox XL is definitely worth a look.
Meet Derek, "TechGuru," a 34-year-old technology enthusiast with a deep passion for tech innovations. With extensive experience, he specializes in gaming hardware and software, and has expertise in gadgets, custom PCs, and audio.
Besides writing about tech and reviewing new products, Derek enjoys traveling, hiking, and photography. Committed to keeping up with the latest industry trends, he aims to guide readers in making informed tech decisions.