Home monitoring can mean different things for different people. For some, it's a full surveillance system with multiple cameras, an alarm system and maybe even a gated entrance to the property. This might be a little excessive, but that doesn't mean that keeping your nest secure in some way isn't important.
Maybe you aren't concerned with an intruder per se, but rather keeping tabs on someone who enters your home on a regular basis to perform maintenance, care for your pets or babysit your children. Or maybe you're a stay-at-home parent who can't be in every room at once and just wants a way to make sure the kids are safe while they're playing.
Whether you spend a lot of time at home or find yourself traveling often for long periods of time, finding ways to always have eyes and ears in your home isn't easy. Until recently, most security video systems could generate a live feed, but only to a monitor that was close by. In this kind of scenario it's certainly nice to review footage in case something happens, but it'll likely be after the incident occurs. It may help identify an intruder or a thief, but you won't be able to stop them in the act.
Luckily, there are ways of having a twenty-four hour view of exactly what's going on in your space from anywhere in the world. Nowadays, you can use a small, home monitoring camera that sends a live feed to your smartphone to keep track of what's happening when you aren't around. They're small, high-quality cameras that usually connect to your home's WiFi signal in order to generate real time video. The applications for cameras like this are endless when it comes to home monitoring, but like most electronics some are more reliable than others.
In this review we're going to be taking a look at the Motorola Focus 68 Wi-Fi HD Home Monitoring Camera. We'll be checking out the design, special features, video resolution, the integrated app as well as any downsides the camera may have to give you a full comprehensive idea of whether or not this camera can give you the peace of mind you might be looking for.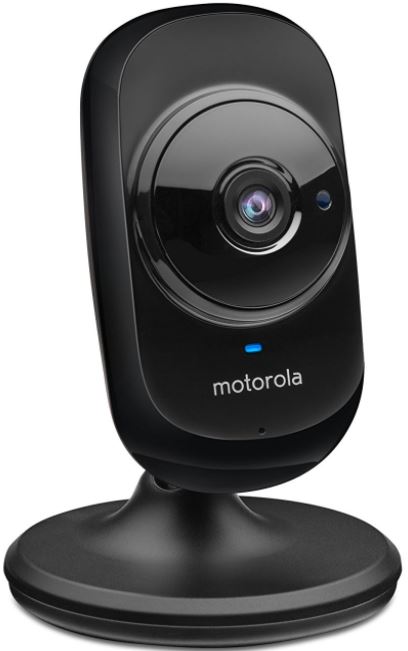 Design
The Motorola Focus 68 had a very simple design, and didn't seem like it would be hard to install. It's small and lightweight too, measuring at 4.7 x 3.1 x 3.1 inches and weighing in at .2 pounds. The only problem with it is that it's pretty obvious that it's a camera. The lens is clearly visible and while it does come in both black and white, it doesn't seem all that easy to hide because of the wire coming out of the back. For a camera that many people may want to use as part of a home security system, we thought that this was a pretty major flaw.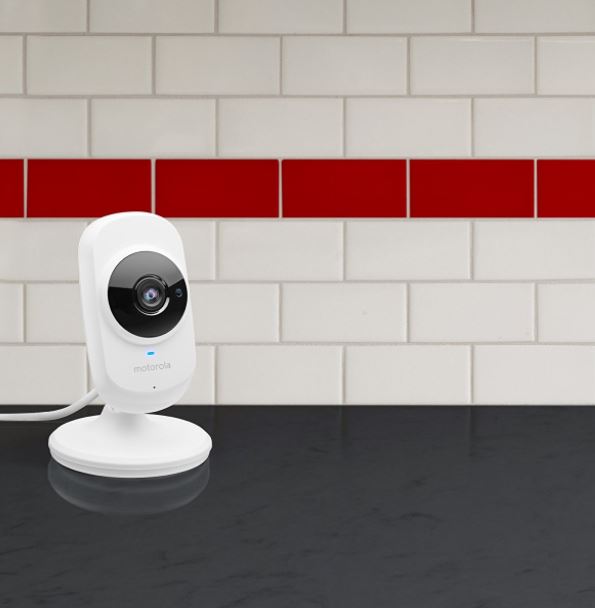 Theoretically, if an intruder saw the camera on a countertop or desk, they could easily damage or disable it. It also didn't have any mounting options, which meant that it was limited by where it could be set up.
That being said, it does have a sleek, futuristic look with very little to be confused about when it came to its functions. On the front of the camera you'll find the lens, the microphone and speaker combination, as well as the Motorola logo. On the back of the camera you'll find a pairing button, a WPS button and a Micro USB port. On the right hand side, you'll also find the ON/OFF switch. There was a wire coming out of the back that didn't seem to plug into anything, but we assumed it was there to enhance the signal of the live feed.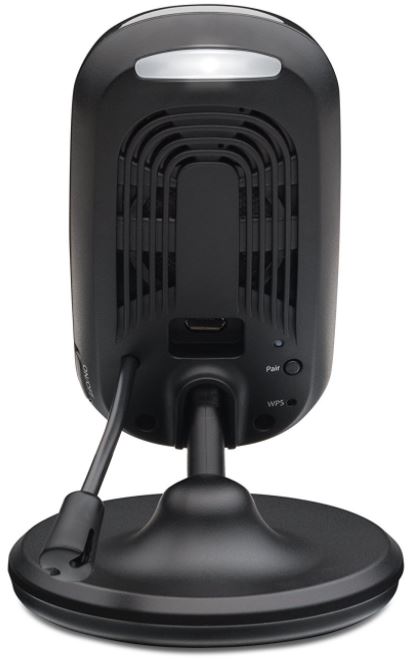 Video Resolution and Field Of View
The Motorola Focus 68 is capable of shooting in 720p, with a 110 degree field of view. On the spectrum of video resolution this is pretty low. However, this is not the kind of camera that is designed for capturing cinematic footage.
It's more of utility, and the image needs to be just sharp enough for you to make out what's going on. Considering that you'll likely be watching on a smartphone or tablet with a smaller screen, 720p was a reasonable level of clarity for this camera. The images captured likely won't ever be modified or edited, making a higher resolution unnecessary. It would have been nice, but we didn't think it would have made the camera that much better.
The 110* field of view was a little disappointing, mainly because a subject could easily step out of the frame if they wanted to. For monitoring larger rooms, this poses a problem and in some ways, defeats the purpose of the camera. We would have liked for the lens to be a bit bigger with a wider range of capture closer to 270 degrees.
This would have made the Motorola Focus better for watching over even larger spaces for added peace of mind. Furthermore, there are also cameras on the market right now that offer a full 360 degree view and we didn't see why Motorola wouldn't consider beefing up the lens on the Focus 68 to compete with these monitoring systems.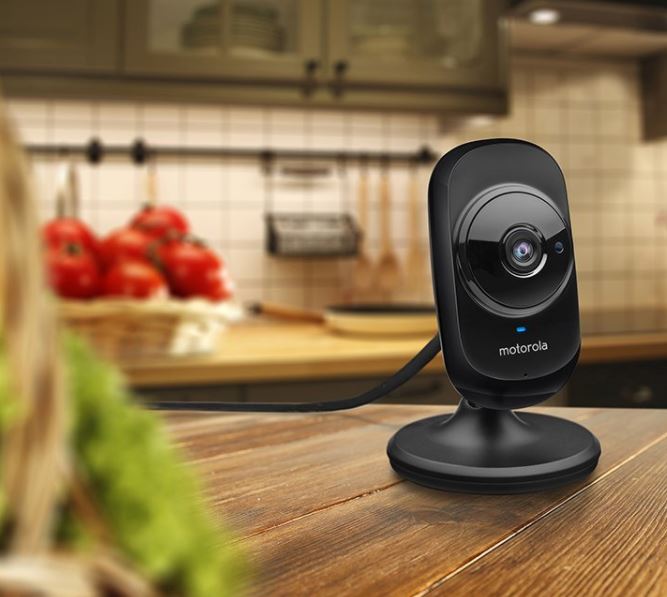 Notifications, Two-Way Communication and Infrared Nightvision
We were very impressed by the Motorola Focus' ability to notify the user based on a variety of triggers. It sends a message to your smartphone via the Hubble app whenever it detects sound, motion or changes in the temperature in the room. This was really exciting because it added a level of security to the app that made up for things like the smaller field of view.
Essentially, even if an intruder or a subject only enters the video frame for a short time and you aren't watching when they do, the camera will alert you that something isn't right. The sound notification was also especially useful for this reason. This made us think it could even be used as a baby monitor or a camera you could use to check on your pet during the day.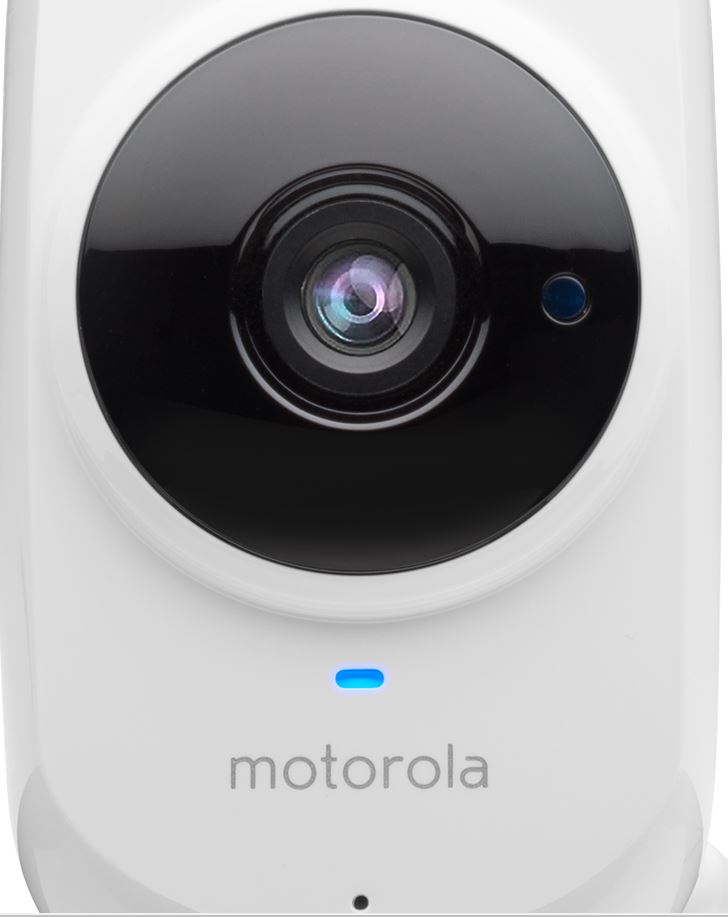 The camera also allows for two-way communication via the speaker and microphone combo. Not only can you speak directly to an intruder if you catch them in your home, but you can also communicate with family members if you're away on a long business trip. The applications for the two-way communication feature are endless, and we found it to be a really excellent addition. It also worked well, with very little lag-time between speaking and sound transmission. It was almost as easy as making a regular phone call.
Last but not least, the Motorola Focus 68 has built-in, infrared night-vision. This added yet another element of versatility to the camera, insofar as that it allows you to use it even you're away in a different time zone. Also, considering that it's hardest to see at night, this is a great feature to have in case you encounter a break-in or an incident after the sun goes down. The clarity isn't as sharp as the standard daytime feed, but it is still clear enough to let you see most of what's happening on the Hubble app.
It's also worth mentioning that the back of the camera has a nightlight built in. You can control it from the app, and while we didn't feel that it added anything to the security capabilities of the camera, it was a cool addition for nighttime use.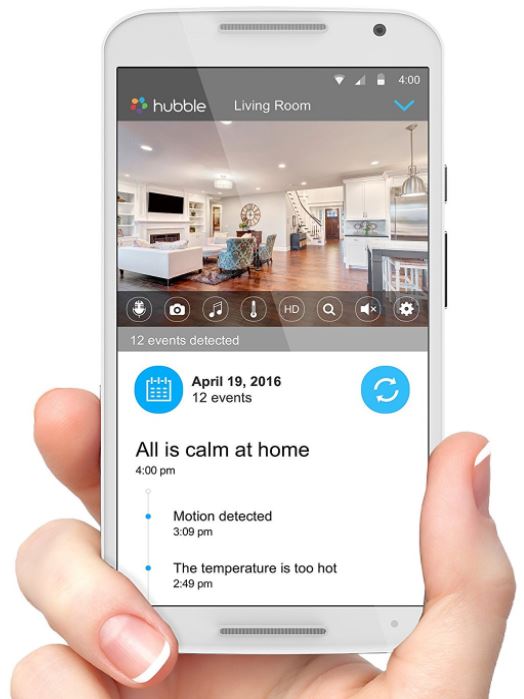 The App
The Hubble App is available in both the App Store and Google Play. While it was somewhat intuitive, there were still a few roadblocks that required us to tinker with it before we got it working. First of all, the app requires you to make an account with your username, email and password. Not only does it require you to enter this information, but the app then asks that you enter a confirmation code that it sends to your email address. This posed as a mild annoyance, mainly because it inhibited us from using the camera right out of the box. We would have liked for the app to boot up and connect after a few easy steps. Making an account just didn't feel necessary.
Once you finally log in with your new account, you'll have to turn the camera on and follow the steps in order to sync it to your phone or tablet. You'll have to select the camera's WiFi signal from your list and then wait for it to pair to your phone. Pairing took about a minute or so, but the whole process could have been a lot faster had it not been for all of the additional steps.
We're not against the use of an app for wireless cameras like this one, but we feel that they should be easy to use and shouldn't make setting up the monitoring system a pain. In the case of the Motorola Focus 68, the app just made things a little bit inconvenient. However, once it was up and running, the interface itself was very easy to use. Each feature was clearly labeled with either text or an icon, and the video feed was crystal clear when we were connected to the camera.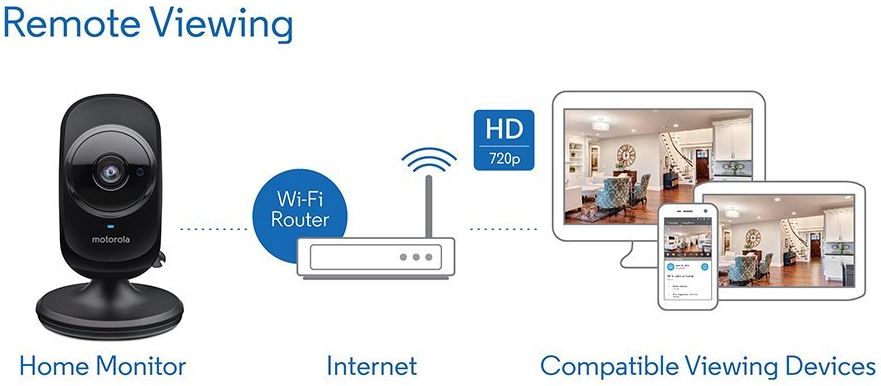 Final Thoughts
Overall, we felt that the Motorola Focus 68 fell short in a variety of ways, but was still a useful home monitoring option given its shortcomings. Our main issues were with the tediousness of setting up the Hubble app, as well as the inability to sufficiently conceal the camera. We would have liked for the camera to simply connect to the app once we downloaded it, but the registration as well as the pairing process was complicated and just took too long.
Also, the design of the camera was too obvious. It could be easily disabled by an intruder or someone who doesn't want the user to see what they're doing. The design was still sleek and efficient, but for a home security item, was just too conspicuous.
Despite these flaws, the Motorola Focus 68 still yields excellent video, clear night-vision, as well as a useful two-way communication feature that still make it a contender when it comes to home-monitoring gear.