Over the past few years, Amazon has been revolutionizing the way that we connect with technology. Most notably, the now-famous "Alexa", is a voice-controlled intelligent personal assistant service that continues to impress us. It offers a unique way to speak commands through supported devices, so you can have instantaneous answers and results without waiting.
The popular Amazon Echo is the probably the most well-known integration of Alexa, but it's not limited to just that. Over the past few months, we've seen more adaptations of Alexa, but not necessarily from Amazon-owned products. One example is the Cowin DiDa – a good-looking Bluetooth speaker full of some pretty cool features. Quite similar to the Echo, but over half the price! Recently released a couple of months ago, we've noticed a huge rise in popularity and knew we had to check it out for ourselves. Today we're going to go in-depth and thoroughly test it out. We'll take a look at everything it has to offer and justify whether or not it's worth the investment.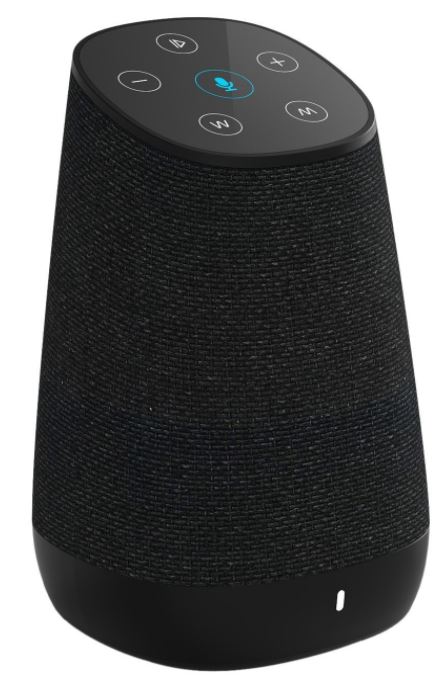 First Look
When the Cowin DiDa first arrived, we were genuinely impressed with how compact and portable it was. Measuring just 6.04″ x 3.67″ x 3.67″ and weighing in at 473 grams (just over a pound), we could immediately tell that it would bode well with traveling or on-the-go use. In addition, the overall build-quality seemed to be top-notch. Although made of plastic, it feels extremely sturdy and well equipped, with strong yet durable fabric encased around the entire body.
Along with the speaker itself, in the box was a micro USB charging cable, 3.5 millimeter auxiliary cable and a user guide. Best of all, when we powered it on for the first time, there was plenty of battery life to get it up and running, with no wait required! (More on this later.)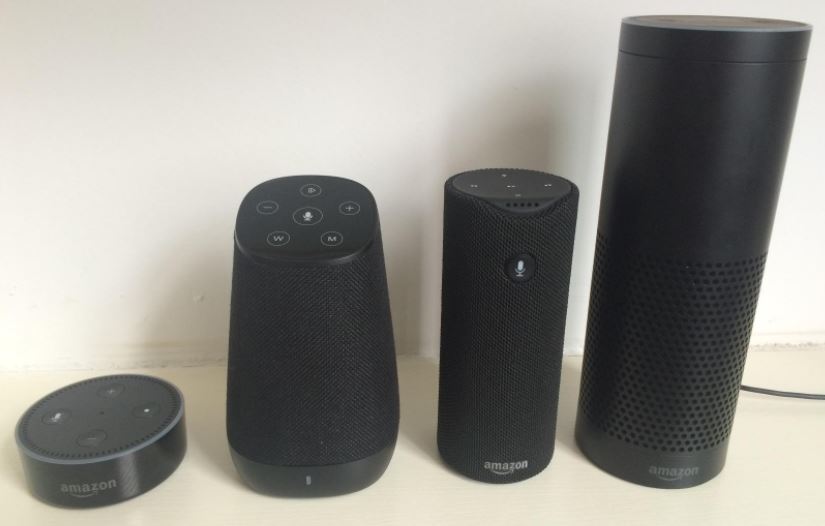 Control and Use
Located on the top, you'll see an assortment of six different buttons that enable you to control just about everything. Specifically, the following: play/pause, next/volume up, previous/volume down, voice control, mode, and WPS. On the rear base, you'll notice the on/off switch right new to a small flap that unveils the micro USB port and aux/line-in port. Last but not least, there's a small LED on the front/center base. Keep your eye on this for the next steps.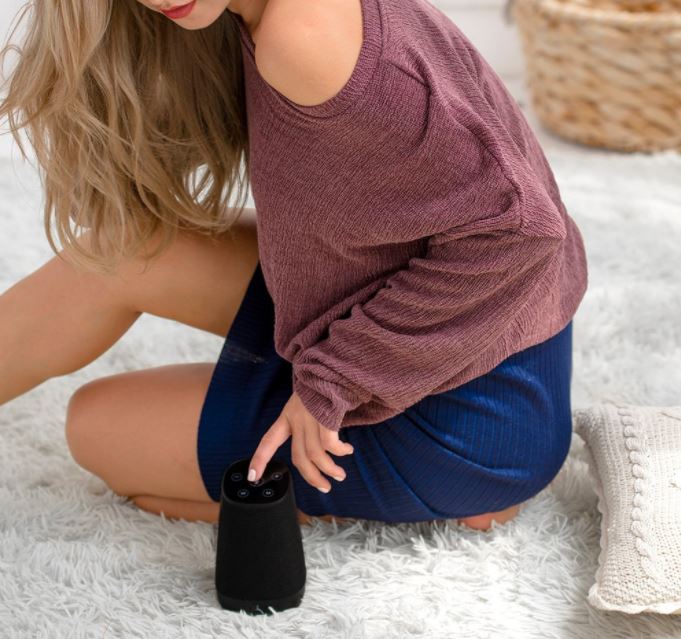 Powering it up is simple. Just press the on/off button and the configuration process will begin. First, we recommend pairing it with your smartphone or tablet, so make sure you have Bluetooth enabled on your device(s). The speaker will automatically begin looking to pair – you should see the LED intermittently blink. At this time, take a look at available Bluetooth connections (on your smartphone/tablet) and select "Cowin DiDa". Once it's paired, the next step will be connecting it to your WiFi network, which will allow the Alexa feature to kick-in.
First, you'll need to install the Cowin App on your iOS or Android device. This will allow you to access all of the features and manage the speaker's personalization options. Simply search "Cowin" in the Apple app store or Google Play. Once installed, you can configure the WiFi settings, log into your network, and start using Alexa. The app is very user friendly and doesn't take any technical experience to utilize. We found the user interface to be really well laid out and straight to the point.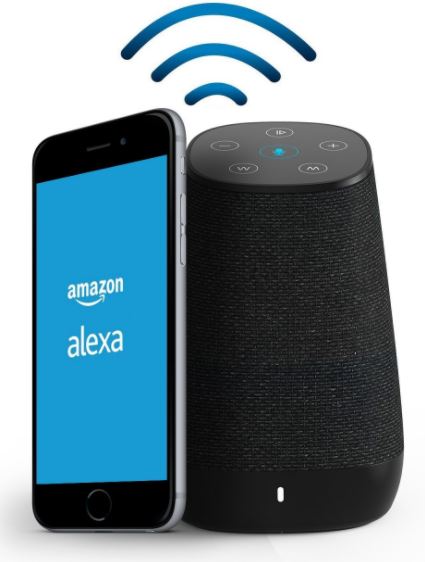 Alexa Integration
One of the most anticipated features of the Cowin DiDa goes well beyond a simple speaker that lets you listen to music. Since Alexa is fully integrated, you can verbally communicate with it so there's never a need to manually enter the music you'd like to play.
To start, simply press the microphone button located on the top-center, and ask whatever you'd like. "Alexa, play ACDC." "Alexa, play my College playlist." You can ask for it to play any track that you can think of, and it'll search a variety of the built-in services like iHeartRadio, TuneIn, QQMusic, Napster, Spotify, Amazon playlists, etc. Don't worry though, you can disable any services you don't prefer.
It's not limited to just music though. You have the freedom to ask Alexa literally anything. Topics ranging from the weather forecast to any random question you may have. It takes your question and verbally communicates back to you with relevant answers each and every time. Pretty phenomenal and a really cool way to get multiple things done at once!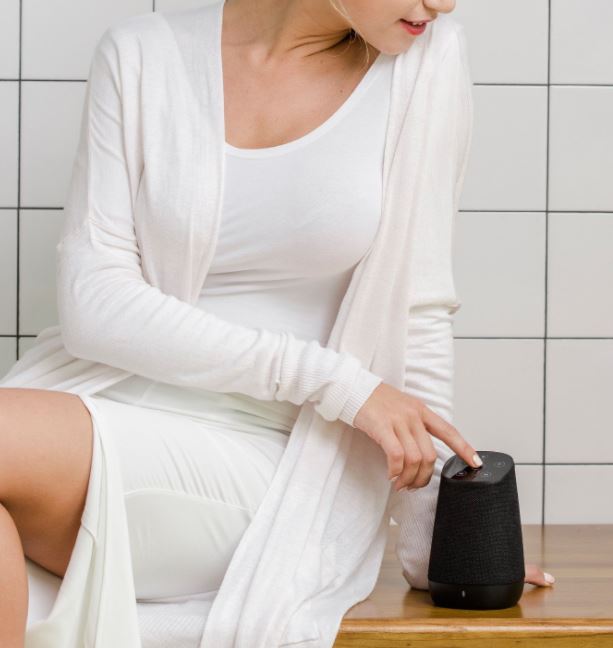 Sound Quality
Inside the DiDa are dual 7.5 watt acoustic drivers with a frequency response of 50 Hz to 20 KHz. While this may not sound like much, it's quite a lot of power and range for such a compact-sized speaker. We were fairly impressed with the overall sound quality, especially with the variety of the genres of music we played. From heavy metal 80's rock songs to modern-day mainstream music, it seemed to provide a nice balance of both power and harmony. The lyrics seemed to shine through, and the sound of bass never seemed to drown out the melodies and rifts of most music we listened to. Although the bass isn't the heaviest we've ever felt, we didn't expect it to be as powerful as it turned out to be.
We don't recommend consistently blasting the volume, but we cranked it up all the way on several occasions. The volume range is definitely impressive, with high levels that only seem to be distorted when the songs were originally recorded poorly or had a lot of quick percussion. We couldn't imagine anyone wanting to turn up the volume to it's maximum, unless you're in a busy environment like a party or special occasion.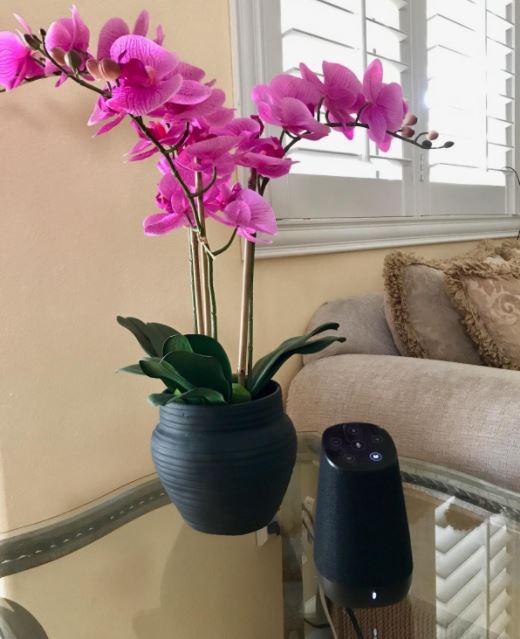 Battery Life
While the actual battery life may vary based on a wide range of reasons, we wanted to get a sense of how often you'd need to charge it if you're using it every day. As advertised, Cowin describes a 9 hour battery life, but we wanted to see if that was actually the case.
When you first receive the speaker, it'll come with a partial charge. So it's a good idea to plug it in and top-off the battery before really using the speaker to its full potential. To do this, unravel the included micro USB cable and plug it into the port underneath the rubber flap on the bottom-back side. Keep it plugged in for at least 2-3 hours, or until the LED turns green.
We've been using the DiDa for about 3 weeks now, putting it to use about 5 days a week, for roughly hours per day. Within about a week, we're looking at approximately 8 to 10 hours of total use. We listened to it consistently, at a moderate volume, and only spoke to Alexa on occasion. Just about every Friday, we experienced a low-battery indication and needed to plug it in. Meaning that the ~9 hour advertised battery life seemed right-on.
Now of course, if you're playing music at a higher than average volume or utilizing Alexa's features much more frequently, the battery may not last as long. As to be expected, but just thought we should throw that out there.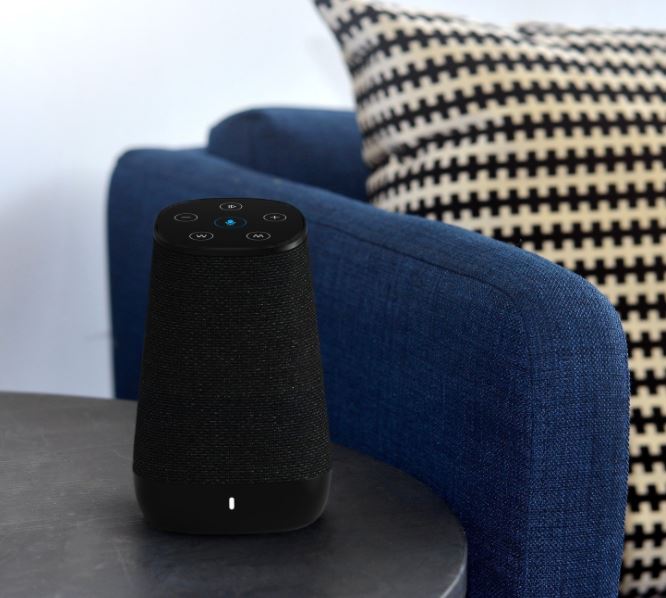 Potential Downsides
There were a few things that we noticed about the DiDa that left us wanting a bit more. We know not all of our expectations would be met at the budget price-point, but a couple of things are worth noting.
Although the speaker seems adequately durable and built to withstand a normal amount of use, there's no protection against water, shock or dust. It'd be best to keep the usage to indoors-only and only take it outside on days that you know won't have rain or high winds. There's no knowing what will happen if you expose the speaker to the elements, but it's better that you don't find out.
Another qualm we had was with the lack of voice activation. Again, we know you can't expect everything, but the requirement of "touching the voice button" may take away the futuristic aspect that many are seeking. Not really a huge issue, but definitely good to keep in mind.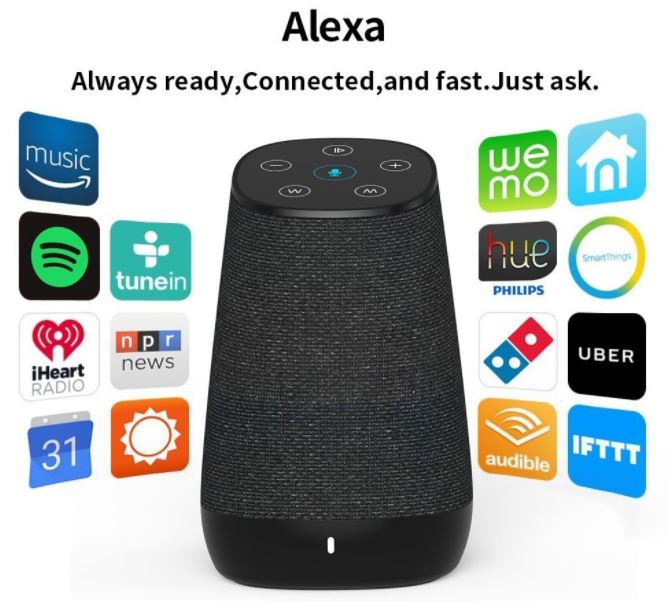 Final Thoughts
We're always a fan of a high-quality Bluetooth speaker, and the Cowin DiDa is just that, and more. With the somewhat-unique integration of Amazon's Alexa service, it brings an exciting element to those who don't want to fork over an extra $100 for the Echo.
The speaker sound-quality is top-notch and loud enough for virtually everybody. It doesn't emit "tinny" or "off balance" effects and seems to project strong, vibrant and powerful volume without any extra bells and whistles.
Best of all, the DiDa is backed by an impressive 12 month warranty with an additional 6 months once you register it with Cowin. They're not exactly Sony or a huge name-brand manufacturer, but they've given themselves a proud name over the past few years with offering a wide range of budget-friendly options. In addition, 24/7 technical support is always available and ready to assist you, should you have any questions or concerns about using the DiDa and getting more familiar with it.