360 degree cameras hit the market a few years ago, and allowed many influential videographers to produce video that was simply stunning. These cameras can be used in one of two ways. You can produce a true 360 degree video file that can be played back using special software, enabling the viewer to use their touchscreen or mouse to rotate the visible range. Alternately, videographers can simply capture a 360 degree video and later edit it into a standard visible range in post processing.
No matter what option you choose, it's been proven that a 360 degree camera can be a powerful ally in your next project. The first generation of these cameras were definitely game-changing, but as with any first-generation product there were drawbacks. Some of the cameras use a proprietary format that required viewers to download an app if they wanted to view the 360 degree versions of the video. Additionally, many models offered limited resolution and clunky interfaces.
With the launch of the Theta V, Ricoh has created a follow up to their popular Theta S. This camera looks very similar to it's predecessor, but offers a ton of upgrades to a highly regarded platform. Is it worth the upgrade? To find out, we decided to try it out for ourselves.

First Look
The very first Theta series camera came out in 2013, with a slightly upgraded model following along shortly. We reviewed the Theta SC a little while ago and found it to be an extremely impressive application of this technology. The Theta V is the follow up to this model and acts as a replacement. The candy-bar shaped enclosure is very similar to the older model, offering both ergonomics and convenience.
The camera works by pairing two fisheye lenses on either side of the camera body. A few controls are located on the side, and video files are saved in a standard H264 format on the cameras internal storage. This footage can be edited with a special suite of software included with the camera, or you can simply play it back in any media player.
This upgrade brings along the ability to shoot 4K video, as well as spacially aware audio recording. The pricing is similar to the previous model, so we're excited to see how things have changed.
Design
The Theta V is premium in both design and durability. The appearance looks very professional and modern, with a large aluminum-clad enclosure covering all sides of the camera. The two image sensors are located at the top of this portrait-oriented case, and there is a lot of blank space along the bottom. This gives you somewhere to hold it without covering any of the image sensors or microphones.

Controls are located along the side of the camera. There are three separate buttons. The button closest to the bottom is used to turn the camera on or off, while the middle button enables WiFi. The top button is your menu button and can be used to activate certain features of the camera, depending on how you have it configured. The record button is located on the front of the device (or back, depending on how you have it oriented) and can be pressed with your pointer finger. This button lays right where your finger naturally rests, so it's very easy to access.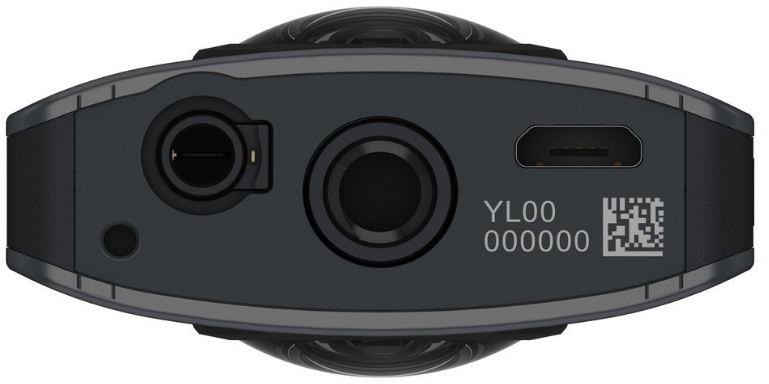 The camera has two LED lights located right below the start button. These buttons indicate whether WiFi is enabled or disabled, and when the camera is actively recording.
Overall, the camera is very professional looking and comfortable to hold in the hand. The controls are extremely simple, but this makes the camera easy to use. Though the design has not changed much when compared with previous models, there is no sense in fixing something that isn't broken.

Optics
In order to capture 360 degree video, the camera needs two separate lenses and image sensors. These are located on either side of the camera. Each lens is a fisheye style lens that provides 180 degrees of visible range.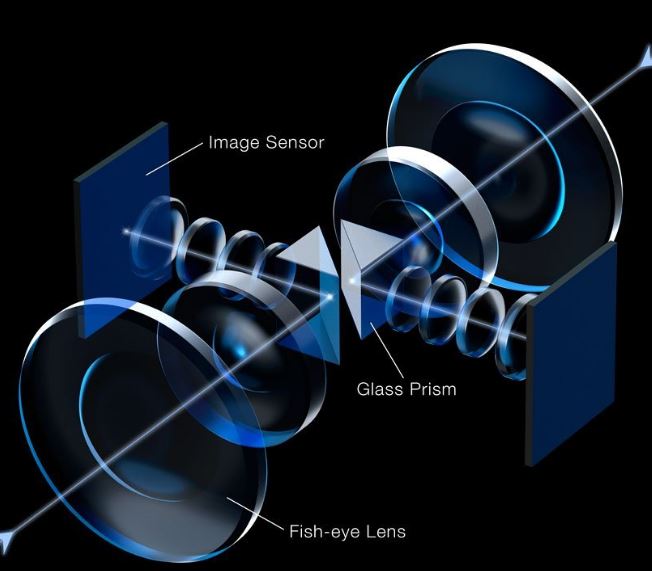 Typically, fisheye lenses are known for their odd appearance. When viewed in a normal display, fish-eye lenses appear as if you're looking at the world through a fish bowl. Images are distorted, bend, and skewed. But with a 360-degree camera, this is not the case. Video can be post-processed to give you a regular field of vision, or zoomed in to crop out the distorted parts of the video. This system produces the best possible 360 degree video, even if there is a small 'stitch' or glitch that you see due to the distance between the two image sensors. Despite this small issue, the optics used in the Theta V are still among the best on the market. It uses a single-lens glass optical system that produces extremely crystal clear images with very little uneven distortion.
The sensors themselves are also quite impressive. Ricoh uses a pair of 12 megapixel sensors and combines them into a 14 megapixel 4K image. Each image is slightly downscaled and filtered to reduce noise, with 7 megapixels of data being taken from each sensor for video, and the full image taken for photos.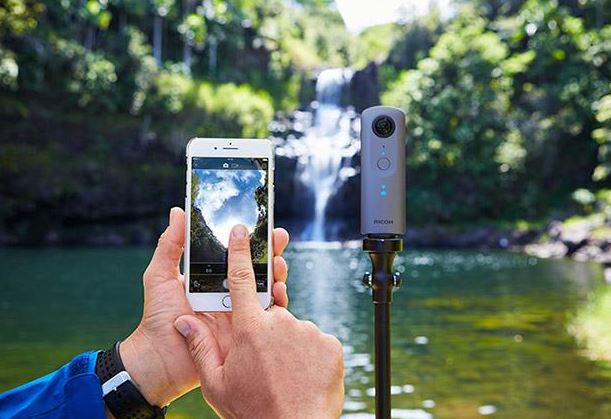 The most important specification to look at here is ISO speed. ISO speed refers to the sensitivity of the sensor. ISO 100 is a very low sensitivity, and can only be used in bright sunlight. On the other hand, ISO 64,000 is among the best on the market, and can be used in almost total darkness. These sensors have an ISO speed of 3200 for photos and 6400 for video. These ratings are extremely high for such a compact camera, especially when you consider that the last Theta camera only had a sensitivity of 1600.
Another feature that helps you capture video at night is the aperture. At f/2, the image has a nice, wide open shutter that allows lots of light in. With all of these features taken into consideration, this compact camera has many of the same features as other high end video cameras, even ones that don't take 360-degree video.
Sound
Audio is one of the few ways that the limited size of this camera can become a disadvantage. Professional cameras are large, which gives manufacturers an easy way to attach acoustically sensitive microphones to capture high quality microphones. Early models of the Theta cameras had acceptable audio, but they weren't all that impressive. For this reason, one of the biggest improvements Ricoh made to their cameras was in the audio department.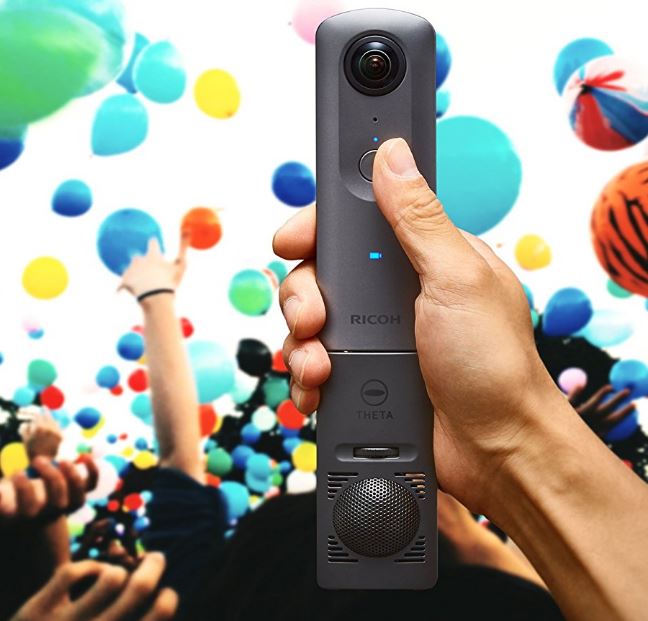 If you're purchasing a 360 degree camera in order to produce virtual reality content, it's important to know the direction that audio is coming from. This idea is that as a user rotates the field of view, the audio track is adjusted so that viewers hear the audio that is directly in front of them better than the audio behind them.
Ricoh made this possible by using directional microphones. There are two separate stereo tracks recorded, which enables the audio to be separated based on what direction it is coming from. Ricoh refers to these microphones as being "four channel" as well as "quadrophonic". Technically, both of these terms are correct.
However, it's important to understand how this works. By the sound of it, it seems as if there are four microphones pointing in all directions. In reality, there are only two. Because each microphone is stereo, each of them records two channels. To create 360 degree audio, a software feature is used to understand how the direction of the camera influences the audio. Overall, this system actually works quite well. However, you shouldn't expect it to be a replacement for surround sound. The end result is still stereo, just like you get with any other camera.
Although these microphones are compact, they are extremely sensitive. They produce clear, easy to hear audio that provides a true-to-life recreation of the world around you.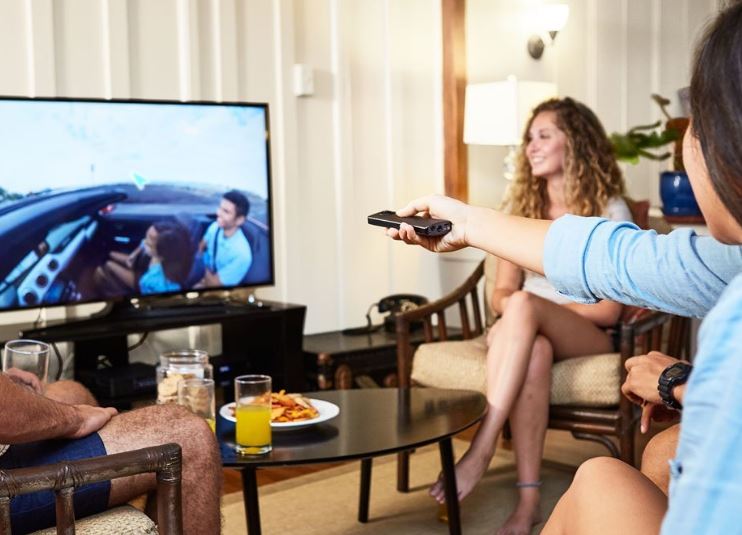 Hardware
The hardware inside of the Ricoh Theta V is responsible for processing the video you record, and distributing it to devices. If you're familiar with the older models, you'll know that video was transmitted over HDMI or WiFi. In the V, the HDMI port was removed. Instead, all data is transmitted over WiFi. The Theta V uses 802.11ac WiFi which is capable of sending live video, as well as download it to a local device.
802.11ac is twice as fast as the older standard, capable of transmitting a 2 hour video in just a few short minutes. If you're streaming it wirelessly, Ricoh supports Miracast. This is an open source communication protocol that is compatible with smart TVs, ChromeCast devices, as well as streaming sticks like Roku.
All of this is made possible by a Qualcomm Snapdragon 625 processor that is used in many smartphones. The camera actually runs a stripped down version of Android, and Ricoh has opened up the software to developers which allows the features to be expanded.
The camera has 19 GB of internal storage available, which can store 4800 images or 60 minutes of 1080p video. If you're shooting at 4K, you can store 19 minutes of video. Recordings can also be saved to your phone wirelessly, although you're going to want to have a large SD card on hand.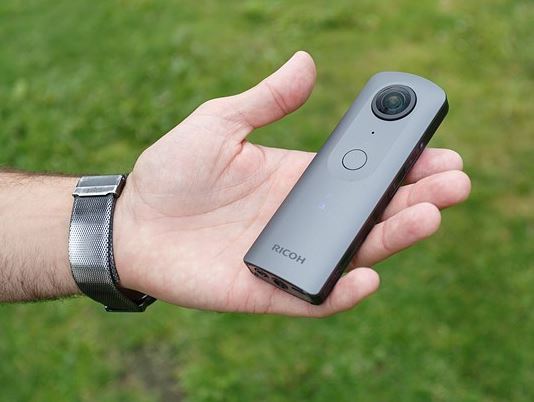 Disadvantages
The biggest downside to the Ricoh Theta V is the side of the video produced. With the internal memory, 19 minutes is pretty limiting. If you want to shoot longer videos, you're going to want to carry around an external device to save the video files as they are completed. We found that a laptop worked the best, as file transfer speeds are fast and laptops generally have much more storage space. The downside of this is that you lose some of the portability of this compact camera. A cellphone is much more portable than a laptop, and files can be saved there as well. But like the camera itself, cellphones are usually fairly limited in terms of space.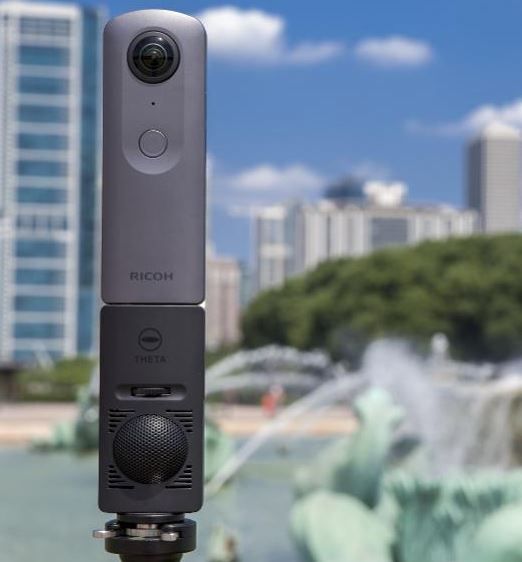 Final Verdict
Ricoh has made some pretty major improvements to their Theta V camera, and brought their popular 360 degree video system into 2017. The most notable improvement is the ability to collect 4K video. Because you don't view the entire frame on a 360 degree video, a higher resolution results in better video quality even when you are playing it back on a 1080p screen.
Now that 360 degree video is becoming popular on YouTube and Facebook, anyone who likes to play around with video can benefit. The Theta V is currently one of the best 360 degree cameras we've tried, as we'd recommend it to anyone who's looking to experiment with the format.
Should you upgrade and replace an older model? Not always. The Theta SD is still a great camera, and the modest specification bump doesn't necessarily warrant throwing the old one out. But if you're on the market for a new one, we'd definitely recommend spending a few dollars more on a new one instead of trying to buy the last generation.