We've got DSLR cameras that let us capture life's most important moments in exactly the way we want, and point and shoot cameras that make photography simple. We've got action cams that can be used in even the toughest environments, and instant cameras that produce a physical keepsake that we can enjoy for years to come.
No matter which you choose, there is still one problem. You've got to select your subject, frame it, and take the shot. If you've accidentally cropped something out of the image, there is no way to get it back. Unless, of course, you have a 360-degree camera. These cameras capture everything around you, so absolutely nothing can be missed. Although this is a relatively new technology, it couldn't have come at a better time. With Virtual Reality becoming common place, we now are able to enjoy 360 degree video like never before. Alternately, simple photo editing software can help us review our films and crop it to the important bits, allowing you to focus on the moment instead of on your camera.
Ricoh is the latest manufacturer to the 360-degree camera bandwagon. Their SC camera looks to be both easy to use, affordable, and powerful. Ricoh has a proven track record of creating high quality cameras, so we'd expect the same from the Theta SC. Let's take a look and see if the 360-degree camera hype is all it's cracked up to be.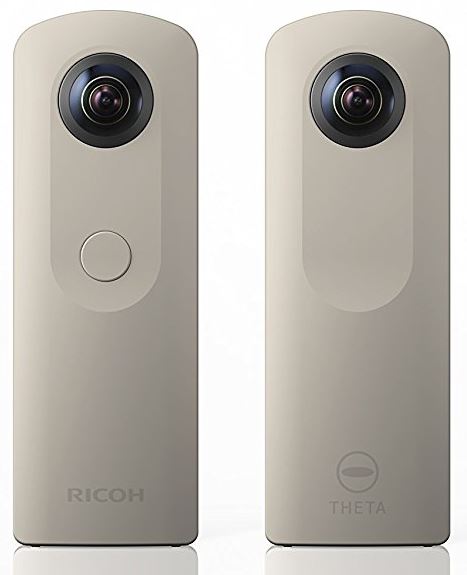 First Look
The Ricoh Theta SC looks unlike any camera you've seen before. It's quite tall, and a bit skinnier than a smartphone. The control layout is simple, allowing it to be used with just one hand. Alternately, you can connect it to your smartphone, place it on a table somewhere, and operate it remotely. The design is very sleek and modern, with a large number of colors to choose from.

Design
The Ricoh Theta SC has a candy bar design, much like a slimmer version of an old-school cellphone. It's got a soft, powder coated metal finish that feels comfortable and study in the hand. The sleek design is extremely attractive, but there a few handy features hidden underneath it's peppy exterior. There are three indicator lights on each face of the camera. A glowing LED to indicate that it's recording, a Wi-Fi light to let you know if wireless communication is on or off, and an indicator that differentiates between photo mode and video mode.
Each side is virtually identical. It's slightly rounded around the base, but flattens out where the lenses are. The main shutter button is just below the lens, exactly where your thumb would rest. The sides are wrapped with a sleek aluminum band where you've got buttons for power, wireless, and to change the mode.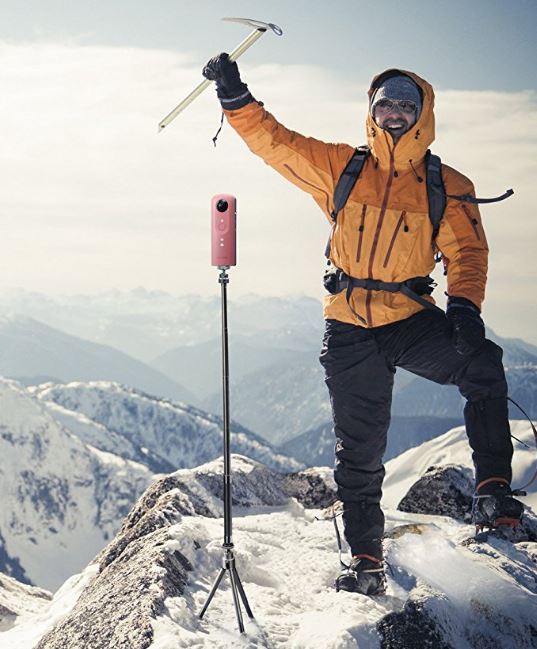 Video Quality
If you've never seen a 3D video before, you'll be in for a treat. When playing back the recordings, you'll notice that the video is spherical. It's almost as if you're looking into a snow globe. But you can take your finger and swipe it along the video to rotate it, and see the action from every angle. It's a lot like using Google Earth, only instead of a map you're looking at a single moment in your life.
This 3D effect does mean that the video is a little distorted. It's a lot like the fish-eye look you get when using an action camera. But everything in the center of the video looks natural, so you just need to scroll around to change your focal point. It's really unlike any video you've used. Reviewing it feels more like an interactive experience than a simple recording.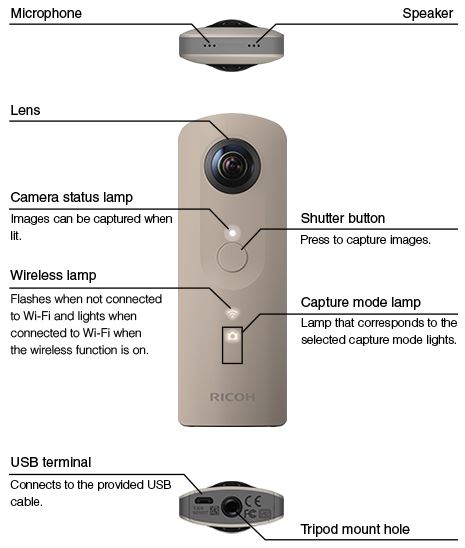 You're not forced to use the fish-eye look. There's also a built-in filter that will stretch your video to fit in the standard 16×9 frame. This looks incredible for landscape photography, since you get so much more in your screen. The video does seem to warp a little. For example, if you have a road in your shot it will appear to bend around the center of the screen. But this is compensated for by the large field of view, as you'll capture more than you ever thought possible.
The video itself is nice and clear, about on par with that of a modern smartphone. The colors are vibrant, the details are sharp, and the high dynamic range means that you're not going to suffer from under or over exposure. An SLR may produce slightly cleaner images, but we've never seen a camera that can produce such interesting looking shots.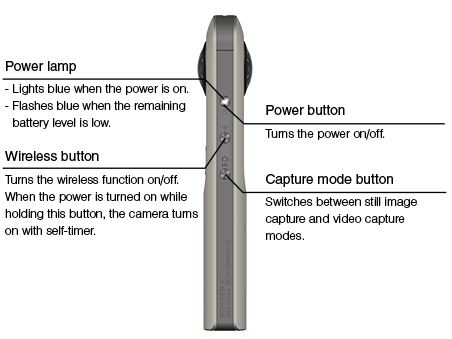 There are two options for video resolution. Most people will want to record 1080p at 30FPS. This gives the most realistic looking images, and they play back very smoothly. If you're tight on space, you can record at 720p 15FPS. These videos still look pretty decent, but not quite as sharp as the 1080p ones.
With the Ricoh Theta SC, you're restricted to 5 minutes of recording time per video. You'll be able to store several hours of footage on the included 8GB of storage, but the individual video limit still remains. In our experience, 5 minutes is plenty. You can always edit them together in the Theta+V app if you like. Playing back spherical videos is a pretty demanding task, so they likely put this limit in place so that you can still enjoy the videos on older smartphones.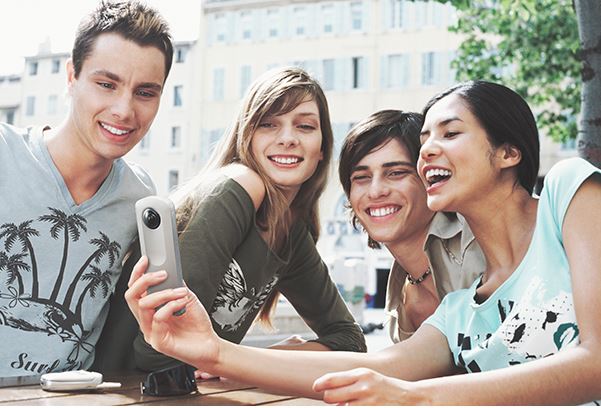 Image Quality
Images are captured at 14 megapixels. Just like the stretched video mode, images are also recorded into a standard frame. You end up with a final image size of 5376×2688 pixels. The images come out quite a bit sharper than the videos. We'd be satisfied to make prints with them, putting the Ricoh Theta S on par with your average consumer camera.
In our tests, we found that the camera works best during the daytime. The colors are a little saturated, making for bright, vibrant images you'll be happy to share. The details weren't lost, and we noticed very little noise. Thanks to the f2.0 aperture, night photography also works quite well. We did notice that the images were slightly grainy, although that's to be expected with any consumer camera.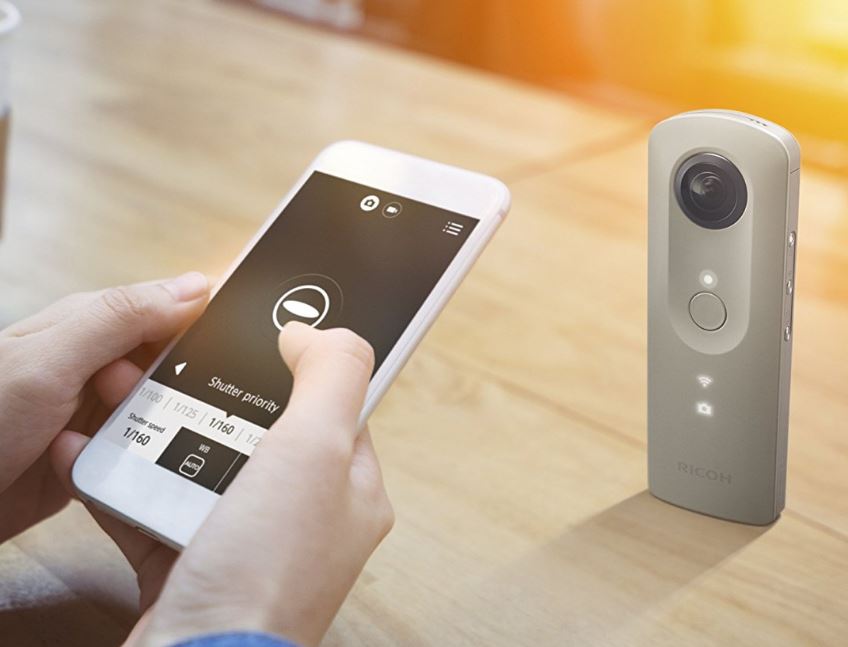 Smartphone Connectivity
Using the camera on its own is a lot like using auto mode on your point and shoot. But with the Theta+ and Theta+V apps, the power of the camera is really unleashed.
Your smartphone connects to the camera through Wi-Fi direct. If your phone doesn't support this (most do) it can create a hotspot that you connect to just like any other. Then, the apps will give you access to all of the photo settings you've wanted. You can control the shutter speed, exposure, color, saturation, white balance, and dozens of other photographic settings that will help you make your photos unique.
After your shots are taken, you can use the Theta+ app to edit them. You can crop and tweak almost any part of the image, helping you get it exactly the way you want. Theta+V is used for video editing, giving you a huge number of options to share with your friends. You can convert square videos to spherical ones, and vice versa. Since many people don't have the Theta+V app to interact with spherical videos, it's great that they give you the ability to standardize them.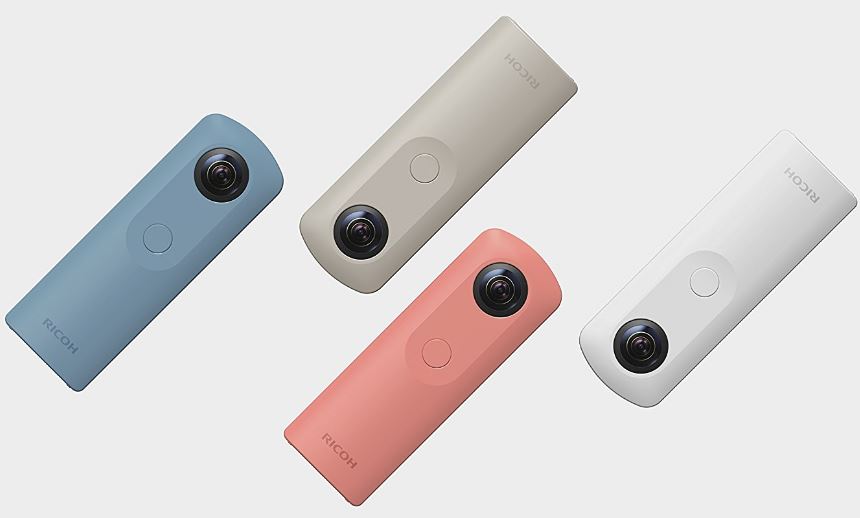 Final Words
360-degree video is certainly a cool trend, and the media you produce will be unlike anything you've seen before. Before the Theta SC hit the market, 360-degree cameras cost an arm and a leg. For the first time, you can now find this technology for an affordable price.
The Ricoh Theta SC is certainly fun, but we probably wouldn't recommend using it as your only camera. If you're just looking for an inexpensive way to beef up the photography capabilities of your existing smartphone, consider the DxO ONE. Alternately, perhaps you're the type of person who wants unparalleled photography capability and a plethora of controls. In that case, you might want to take a look at once of the mirrorless cameras we've reviewed such as the Olympus PEN E-PL8.
But it doesn't matter how much money you spend on a fancy DSLR camera. Nothing else on the market can come close to recreating the unique effect of the Ricoh Theta SC. In our opinion, this is a great additive to any photography arsenal, and we'd highly recommend that you check it out.
Meet Derek, "TechGuru," a 34-year-old technology enthusiast with a deep passion for tech innovations. With extensive experience, he specializes in gaming hardware and software, and has expertise in gadgets, custom PCs, and audio.
Besides writing about tech and reviewing new products, Derek enjoys traveling, hiking, and photography. Committed to keeping up with the latest industry trends, he aims to guide readers in making informed tech decisions.