Technology has changed the way we access a lot of different services. Instead of expensive monthly cable subscriptions, many of us are instead choosing streaming services like Netflix and Amazon Prime. The same changes are happening in the home security industry. A few years ago, the only way to keep your home safe was with an expensive home security system that came bundled with a monitoring service. Now, we can set up our own video security without the monthly bill.
For basic protection, some companies have created an all-in-one system. The Arlo Pro is a great example, enabling families with a simple way to set up home security. But if you take security seriously, you might want to take a look at some higher end cameras. Outdoor wireless IP cameras provide you with everything you need to set up video surveillance, and generally offer much higher video quality than simple solutions.
When you're shopping online, you'll probably notice that there are hundreds of different options to choose from. Not all of these cameras are created alike, so we had to test them ourselves. After comparing our results, we found the three best outdoor wireless IP cameras for 2017 that are now available. First, we'll see how they perform. Then, we'll help you choose the one that's right for you.
Phylink Bullet Pro
Phylink focuses almost exclusively on home security systems, and happen to make some of the best IP cameras on the market. The Bullet Pro is one of their top end models, offering a high-quality camera at a reasonable price.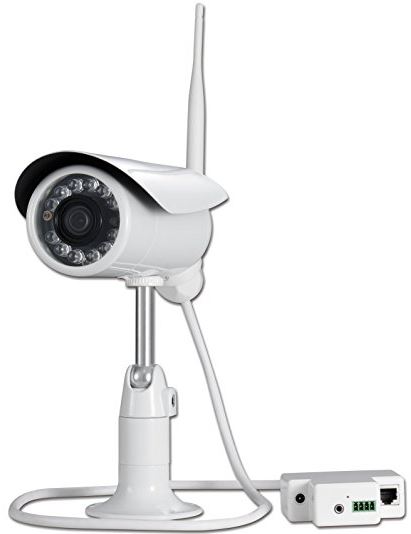 Setup
The last thing you want to do is mis-configure your security camera, or spend hours struggling through a complicated setup procedure. The Phylink Bullet Pro is compatible with almost every operating system out there. You can use it with a Mac, Windows PC, or Linux computer. If you want to go mobile, it will communicate with both iOS and Android.
The first step is to get your camera connected to your Wi-Fi network. All you have to do is push the WPS button on your router (sometimes designated with two concentric arrows) followed by the WPS button on the back of the camera. It only takes about 30 seconds, making it one of the easiest systems on the market.
Next, all you have to do is download the free application. You can get it for your computer from their website, or on your mobile device from the app store. Additionally, there's a CD included in the box. Our camera connected right away and without any issues, making it the easiest installation yet.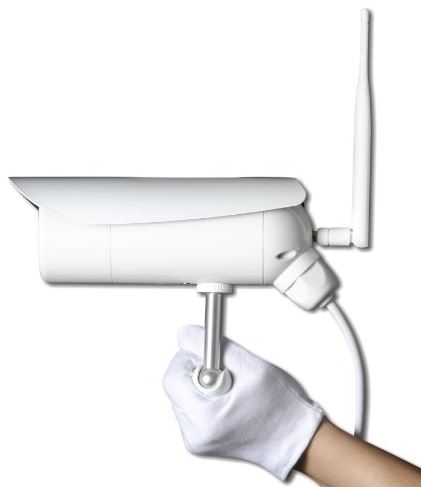 Durability
As an outdoor camera, the Bullet Pro is designed to withstand all types of environmental challenges. It's fully IP-66 certified. This means that it's not just rainproof, it could survive being sprayed rigorously by pressurized water jets and still function 100% properly. The camera is made from a highly durable, white-painted metal, and its weather treated so it won't crack or break when it gets cold. Additionally, all of the moving parts are made from metal, making sure that it won't wear out or become unstable overtime.
Nobody wants to scale a wall in the middle of winter to chip ice or snow off of the lens, so the camera comes complete with a full-size hood that prevents lens flare and obstruction of both the lens and the lighting.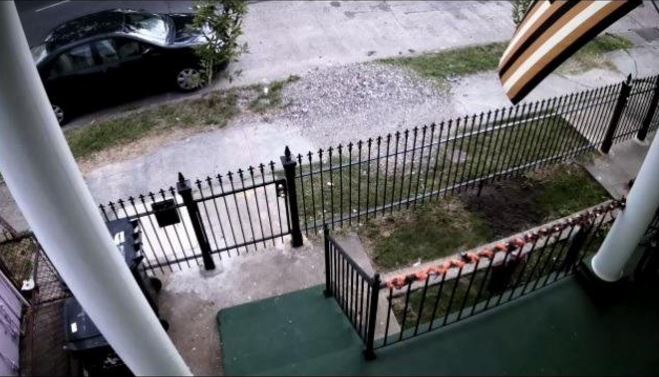 Video Quality
The 2 Megapixel 1080p image sensor produces some of the highest quality footage we've seen from an IP camera. The image is clean, free from noise and distortion, and picks up every tiny detail in the picture. It's got a 4mm lens that provides the camera with an 80-degree viewing angle. This is a very wide angle, so you'll get a lot of coverage with just a single camera. It may not be as wide as some of the 180 degree cameras on the market, but that means that there is no distortion or warping of your image.
Infrared night vision means that the camera is just as impressive in the dark as it is during the day. It's equipped with a ring of super bright LEDs around the lens, acting like an invisible floodlight that only the camera can see. Video can be saved as H.264 for high quality, MPEG4 for small file sizes, or MJPEG for compatibility with existing security camera systems.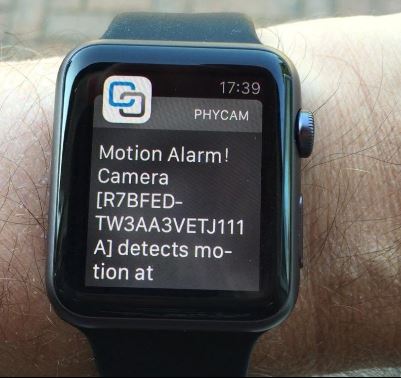 Storage
There are plenty of ways that you can get access to your footage, making the Bullet Pro useful in almost every situation. The easiest to set up would be DropBox. Just register an account, enter your details, and you'll have your video files saved online, ready to be accessed from any computer or mobile device. You can also configure FTP upload to a cloud service of your choice, or connect to a local NAS drive on your home network. Should there be a network failure, you can insert an SD card (up to 128 GB) and save your video locally.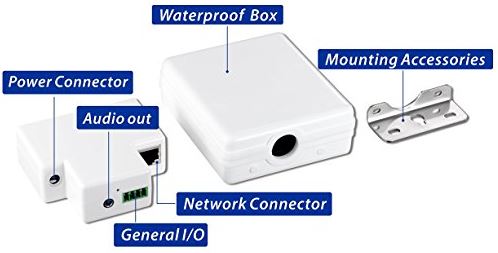 Security Features
The Phylink Bullet Pro has the essential security features you'd expect to see from such a high-quality camera. It's equipped with motion detection, ensuring that video is only saved when there's activity in the frame. You can set it up to only be activated by certain zones, or reduce the sensitivity so that it's not triggered by small movements.
You'll always be kept in the loop with the Bullet Pro. You can set it to send notifications to your phone whenever the motion sensor is triggered, and stream the video in real time. Alternately, you can easily setup the notifications to be sent by email.
Trivision NC-335
Having been around for many years, Trivision supplies security solutions to both consumers and businesses. Their products are known for being durable, reliable, and well made.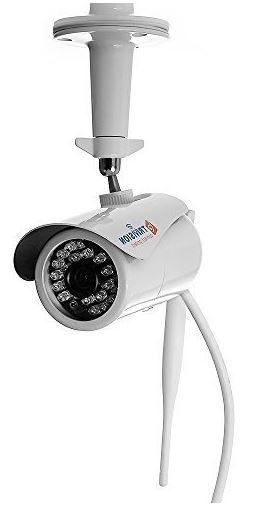 Setup
Like all of the IP cameras we're reviewing today, the Trivision NC-335 is a piece of cake to setup and configure. Following many other video security companies, Trivision uses a mobile app to set up their camera. Once mounted and powered on, simply download the app on your Android or iOS device. After scanning for a few moments, your phone will quickly identify the camera.
You'll need to then enter your Wi-Fi networking information, give the camera a name, and select your storage options. Overall, the camera is pretty simple to configure. The remote storage does require a little extra work, but we'll explain that later.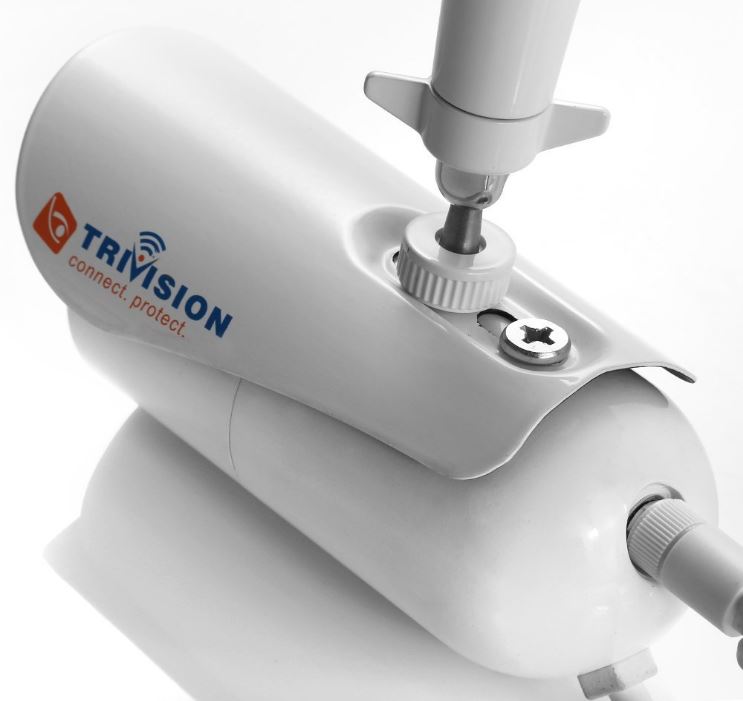 Durability
The camera itself is very similar to the Phylink Bullet Pro and is also IP-66 rated for standing up to the elements. The entire frame is metal, and has been treated with a special coating that makes it rust-proof. It feels very well built, if not a little heavy. This camera is marketed for both consumer and business use, so it's been toughened up to withstand just about everything you throw at it.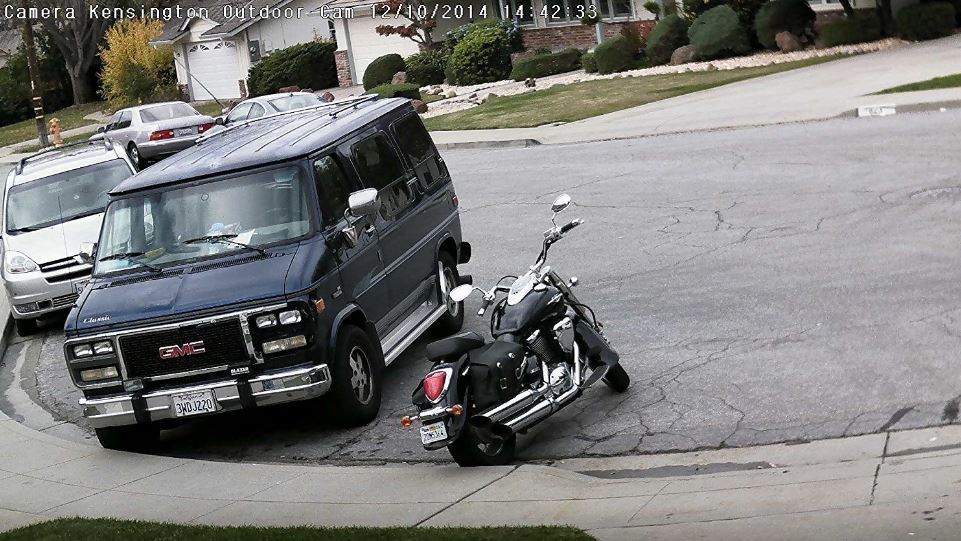 Video Quality
Utilizing a full 1080p resolution, it's very impressive in the video department, thanks to an excellent image sensor and lens combination. It has a 60-degree field of view, which is very similar to what your eyes see. Because the lens is so natural, the image comes across as very crisp and sharp. In a high security environment, this is very important. You'll be able to pick out details such as the clothes somebody is wearing, or the license plate on a car. It does, however, slightly restrict the visible area, so it might not be the best if you're trying to get a lot of coverage.
This camera, like most, comes equipped with full infrared night vision, giving it a range of 50 feet. At night, the images appear in black and white. But all of the detail is still retained, giving an impressive result.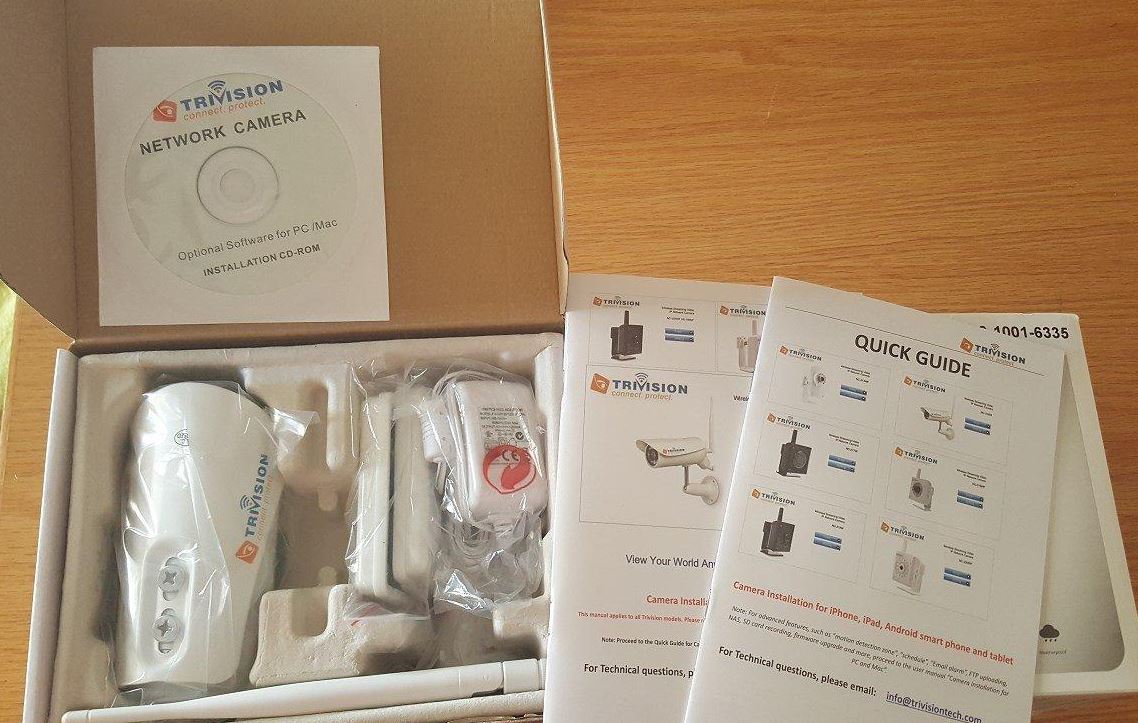 Storage
The easiest way to set up the NC-335 is with an SD card. Just like the Bullet Pro, it can take up to 128GB, and also acts as a DVR. This means that, as long as you're on the same Wi-Fi network, you can review and delete videos from your phone. It does support remote file storage over FTP or on a local NAS drive.
These systems are a little more technical, but can be learned quite easily. FTP requires a website address, a username, and a password. NAS requires that you enter the address of a local network share. Despite the extra few minutes of setup time, this does mean that you can operate the camera without paying any monthly fees. CAT5 network cabling is also supported as the camera can be powered over Ethernet (POE) without the use of an AC adapter. You will, however, need a power over Ethernet adapter.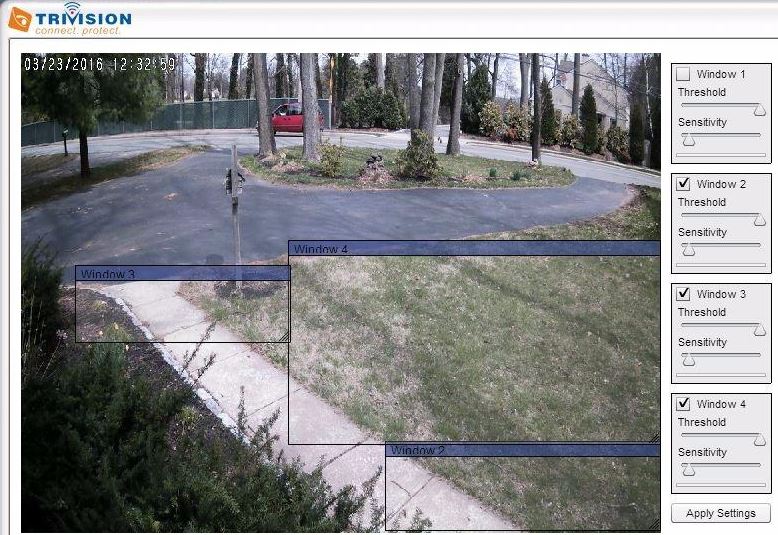 Security Features
The NC-335 gives you full motion activation control, letting you choose one or several zones to be watched. This is perfect for keeping an eye on the garage door, or blocking out areas where your pet might wander around. But there are also a few features which are not commonly found on IP cameras. License plate recognition records the license plate numbers of any vehicle that gets within 30 feet of the camera.
Amcrest ProHD
As a popular manufacturer, Amcrest re-brands many different types of consumer electronics. The ProHD camera is one of their higher end models, offering impressive performance at an affordable price.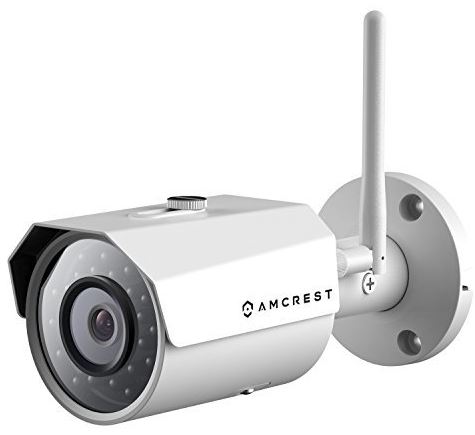 Setup
Amcrest has joined the ranks of all the other cameras that offer a simple mobile setup procedure. The Amcrest ProHD configuration process is a little longer than usual, although still quite straightforward. Simply plug in the camera, and download the app. It will search for the camera, eventually prompting you to begin the setup procedure. It's a multi-page setup process where you select your Wi-Fi network, enter the password, select your storage location, and choose from a list of configuration options. The whole process takes around 10 minutes, although most of that is waiting for the camera to initialize.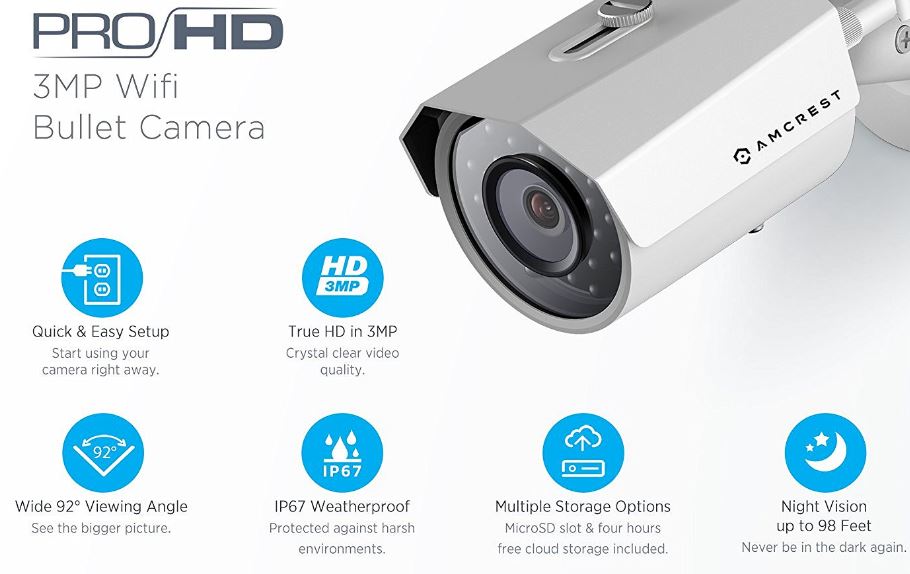 Durability
Despite being the cheapest, the Amcrest ProHD seems to be one of the more durable cameras we've reviewed. Instead of a long, flexible adjustment arm, they used a small pivot point that is much sturdier. You are a little more restricted to your positioning, but a criminal wouldn't be able to break the camera off or divert it. It's got an adjustable shade hood that provides varying levels of cover for the lens, and an easy to install mounting plate. It's all metal construction is certainly rigid, so you won't have to worry about it falling apart.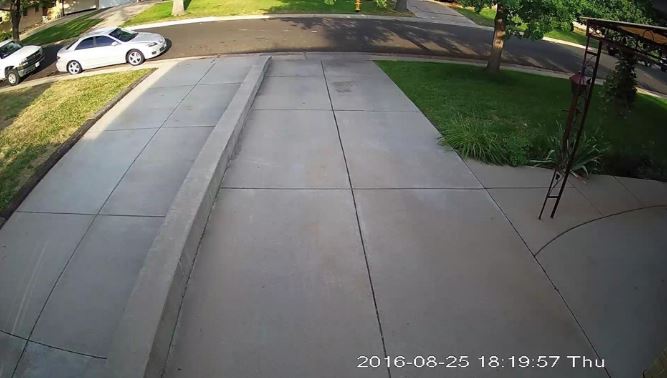 Video Quality
You've got two options for video quality. It can produce 1296p video at 20FPS, or 1080p video at 30FPS. Lower resolution is better for recording activity, as it's smoother. But 1296p is better for capturing detail, as the resolution is much higher. Additionally, it's got a 100-degree lens, one of the widest we've seen. This offers unparalleled coverage of a single area, saving you from having to purchase multiple cameras.
The infrared night vision is also impressive, providing coverage for up to 90 feet in ideal scenarios. Remember, the camera covers a very large area, although the night vision tends to illuminate a spot in the center. For most purposes, however, the image will be clear enough. Also, keep in mind that reflective or warm objects like license plates and faces will be the first to illuminate when it's pitch black.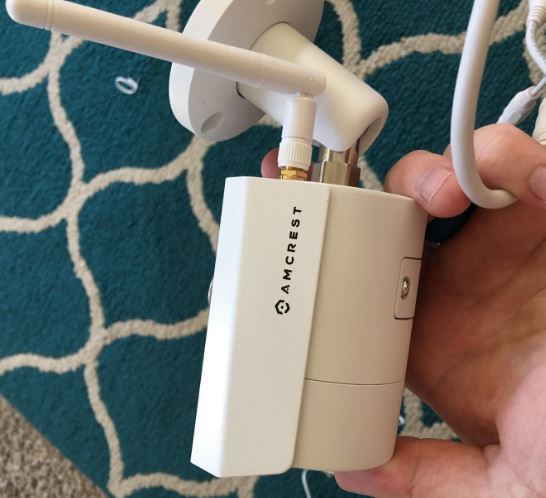 Storage
There are two primary storage options with the ProHD camera. The simplest to set up is their built in cloud service, Amcrestcloud. They do have a free option, it allows you to live stream at any time, and videos are stored locally for up to 4 hours. If you're using the notifications, this means that you'll have to download the video pretty quickly after you're notified of activity. If you want more storage, you can upgrade for $6 per month. Alternately, you can always use an SD card and store video locally.
If you're comfortable with a bit of more-advanced technology, you can install a program called OpenCVR on your home computer and use that to record the video, although this won't be ideal for everyone. If you have an FTP server, you can use that as well.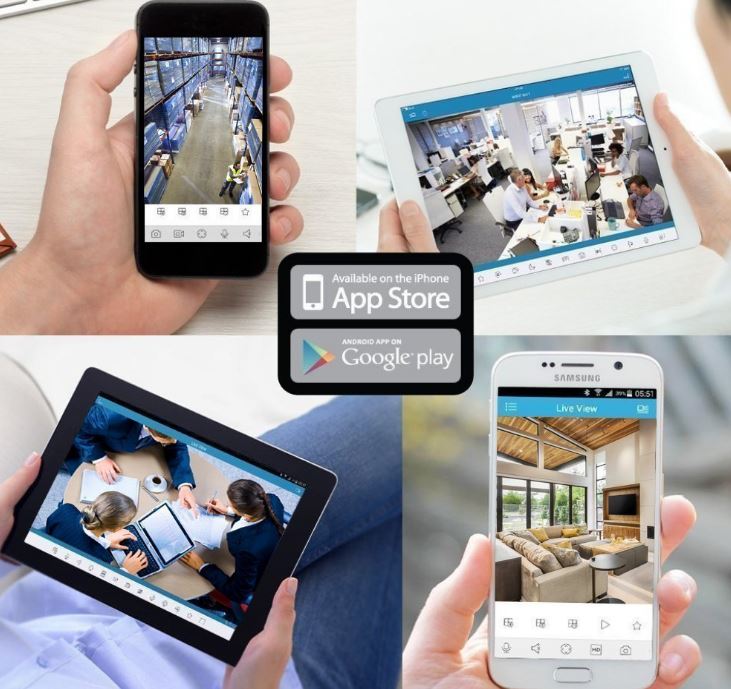 Security Features
The Amcrest ProHD has direct to phone notifications, letting you know when activity is detected. Recording is triggered by motion. There are no zone settings, but there is a sensitivity option you can change in the app. While you're live streaming, the digital zoom feature allows you get a close up and keep tabs on activity.
Which Outdoor Wireless IP Camera Should I Buy?
All of these cameras may seem similar in appearance and features, but there are a few key differences between them. If you do not have any strict requirements, you'd probably be happy with either of these three cameras. They all offer multi-platform viewing across iOS, Android, PC and Mac and each configuration of setup process is quite easy and straightforward. Additionally, every one of the IP cameras we've gone over don't require a cloud subscription service, shoot in full 1080p and are equipped with powerful infrared night vision and are built with effective weather-proofing.
If you're looking for the best image quality and most cutting-edge IP camera technology, we highly recommend going with the Phylink Bullet Pro. It's packed with just about every feature you could ever want and boasts a strong and reliable wireless signal. We really love how the connections come included with a waterproof box that assures long lasting connectivity without any threat of weather, including cold, heat or moisture.
The Trivision NC-335PW is another great option that's quite similar to the Bullet Pro, but much less expensive. Although it doesn't come with a waterproof box, it boasts just about every feature most home or businesses could ask for.
If you're on a budget but still don't want to skimp on quality, look no further than the Amcrest ProHD. It's not quite as 'high-end' as the other two options, but it has a better night vision range and improved viewing angle. The image clarity is still fantastic and you're able to configure it just as easily as the other two options.
Meet Derek, "TechGuru," a 34-year-old technology enthusiast with a deep passion for tech innovations. With extensive experience, he specializes in gaming hardware and software, and has expertise in gadgets, custom PCs, and audio.
Besides writing about tech and reviewing new products, Derek enjoys traveling, hiking, and photography. Committed to keeping up with the latest industry trends, he aims to guide readers in making informed tech decisions.