Netgear, a company generally known for its home networking equipment, made waves when they released the Arlo home security system. With the Arlo Pro, they've taken everything that made the original great and added in a number of impressive features.
What inspired the Arlo Pro? Prior to its release, home security cameras represented a pretty significant expense for homeowners. They've have to be mounted, wired in, and configured to connect with whatever management system was included. The Arlo Pro has done away with all the headache, creating a system that is easy to use, easy to install, and can be easily adapted to suit your families changing needs. Let's take a look and see how it performs.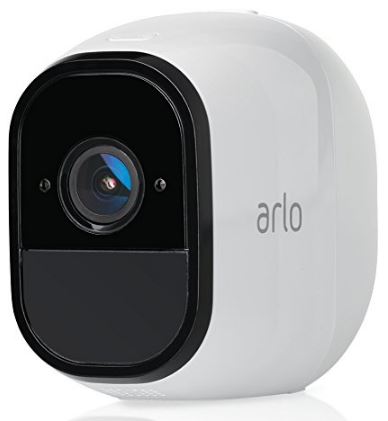 First Look
The Arlo Pro is one compact little camera. Other brands attempt to make their products blend in, while the Arlo takes another approach. It measures 3.1″ x 1.9″ x 2.8″, making it one of the most compact security cameras on the market. It's capable of 720p high resolution video, and has all the features you'd expect from a home security camera. But the most impressive feature is its battery. Despite its compact size, it's capable of operating for months before requiring a charge. It's designed to be used both outdoors and in, so it should cover all of your home security needs.
The Arlo Pro includes the battery, a micro-USB power cable, and a magnetic wall mount. Once you grab the base station, you'll have everything you need to get started.
Design
Netgear went for a simple, clean design with the Arlo Pro. It's got a plain white plastic case, with a black plastic cover for the front. You'll find the micro-USB port and a mount point on the back. When mounted, the head swivels in all directions, so you'll always be able to get a clear shot.
The black faceplate includes a special skin that is water resistant, keeping moisture from building up and obstructing the field of view. The camera is quite compact, but doesn't blend in with its surrounds very well. For some, the fact that it stands out a little may be an asset. The simple fact that a security camera is present may be enough to ward off criminals.
Features
The last thing you want to do is pour through hours of pointless footage trying to find a specific occurrence. With the Arlo Pro, unnecessary recording is a thing of the past. The infrared motion sensor hidden beneath the faceplate can detect movement from up to 23 feet away, and the camera will only start recording if it's detected. This means that every minute of footage you record shows activity, making it a useful security device. But motion isn't the only thing that can trigger a recording, the included microphone will pick up sound. Even if activity is out of the line of site, the sound activation will get the camera rolling until the subject enters the frame.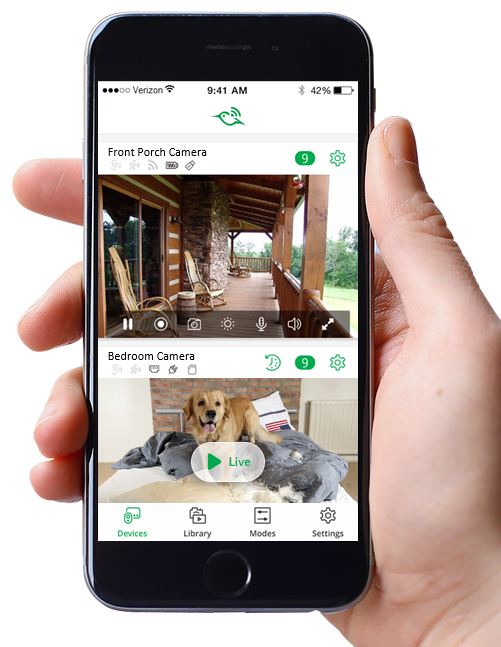 You can also configure it to send a notification to your phone when activity is detected, and tap into the real-time feed. For a long time, security cameras have been a reactive measure – only useful after an event has taken place. With the notification feature, you can be proactive and prevent incidents before they happen.
If you like that, then you'll be really happy about the push to talk feature. When you're viewing a live stream, you can actually just tap a button on your phone and speak into the mic. Your voice will be relayed through the base station, and audio will return through the camera. This lets you have a conversation with anyone on the other side of the camera, giving your family additional safety and security. If you're not able to communicate, you can always activate the 100-decibel siren. Believe us, this is very loud. If you want to clear the area in a hurry, this feature will be your savior.
The Arlo Pro includes a free cloud service, storing your motion or sound activated clips for up to 7 days. This will be enough for most users, although subscriptions are available if you want long-term storage.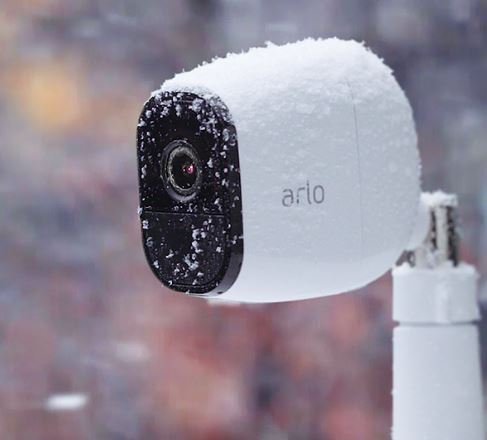 Durability
Due to its compact size, the Arlo Pro is a pretty durable little camera. The face is covered with a tough plastic material that prevents scratches from ruining your image quality. It's not exactly bomb proof, but it's so light that it will surely survive a drop or a fall.
It's designed to be used both indoors and out, so Netgear made sure to weatherproof the entire system. Rain or shine, the camera is always ready and waiting to jump into action.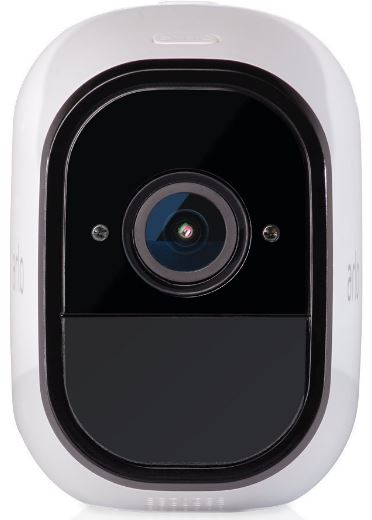 Connectivity
One of the biggest frustrations with setting up a home security camera system is running all the wires. You've got to have a power feed, and a video feed back to your base station. The Arlo Pro does away with all of that. It connects to the base station over its own wireless network. This gives it a pretty good range. If you had the base station in the center of your home, you'd be able to cover the exterior of a 3000-square foot house. The WiFi offers superior bandwidth with less drop outs, so you can be sure that your video will be complete and clear without any stuttering.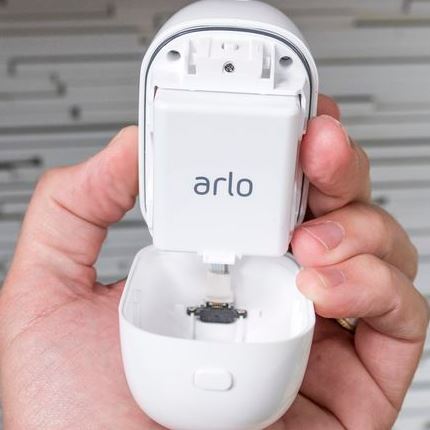 The second thing to consider is how it's powered. Security cameras work best when they are placed in unique locations. You won't always have an electrical outlet there. The Arlo Pro includes a rechargeable Li-Ion battery that keep the camera running for six months. The batteries support quick charging, taking only a few hours to fill up once completely drained. This means that you'll rarely be without a live camera, something we can't often say about battery powered systems.
If battery power isn't convenient for you, an AC adapter is included. The AC adapter will keep it running at all times, but won't actually charge the battery. In order to do that, you need to remove it and bring it back to the base station.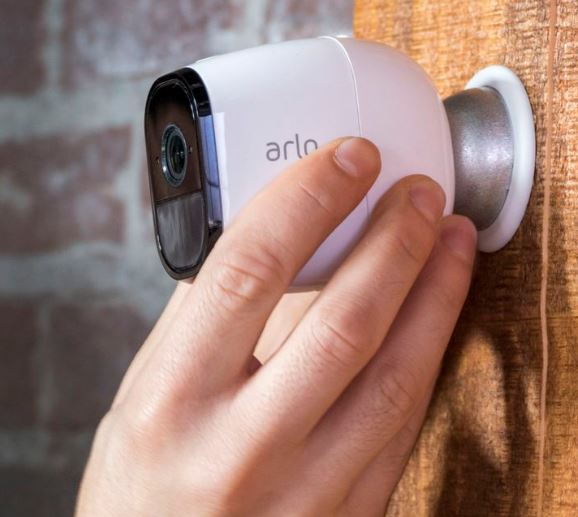 Video Quality
The 720p video produced by the Arlo is crystal clear. Although it's not a full 1080p resolution, it's still plenty sufficient. The most impressive thing about it is the dynamic range. Have you ever taken a photo only to find out that half of it was so bright you couldn't see anything? This is the result of overexposure, and can be a major problem for security cameras. But the Arlo Pro has a higher dynamic range than most, so it's capable of recording both brighter areas and darker areas without any loss of detail.
The camera has a 130-degree field of view. This is a very wide angle for a camera, but let's one unit cover a very large area. There is a small amount of distortion, as is to be expected with such a wide lens, but the image is still clear and easy to view.
Night vision is impressive thanks to the RGP-IR technology. Essentially, this is an infrared flood light. The camera can see it, but people can't. This means that your nighttime shots are still clearly illuminated, but would-be criminals aren't wise to your system.
Packages
The Arlo Pro isn't a camera you can set up and use on its own. Netgear has produced an entire ecosystem, and it's available in many different packages.
The simplest would be the one camera kit. This includes one wall-powered camera, and the wireless base station. If that's not enough, you can purchase the kits with anywhere from 2 to 4 cameras as well. This doesn't mean that you can't upgrade later, as additional cameras and rechargeable batteries are always available if you need them.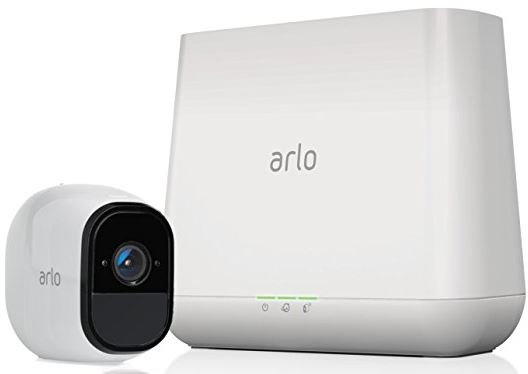 So, Should I Buy the Arlo Pro Security Camera?
The original Arlo was one of the bestselling home security cameras on the market, and the Pro is even better. It's got everything you could ask for: impressive picture quality, easy to install, and a wide range of handy features.
For us, the main selling point is the notifications. There is no point in having a security camera if it's only useful after an incident occurred. With life streaming and real-time notifications, you can stay up to date with everything happening in your household.
Cost is another factor in your home security system. The Arlo Pro isn't the cheapest on the market, but it's very competitive for the quality. Cloud storage is included for free, and you'll save a lot of money on installation. With those costs factored in, we'd recommend the Arlo Pro to anyone.
Meet Derek, "TechGuru," a 34-year-old technology enthusiast with a deep passion for tech innovations. With extensive experience, he specializes in gaming hardware and software, and has expertise in gadgets, custom PCs, and audio.
Besides writing about tech and reviewing new products, Derek enjoys traveling, hiking, and photography. Committed to keeping up with the latest industry trends, he aims to guide readers in making informed tech decisions.