No matter what aspect of your home you want to control, you can be sure that there is a smart device designed for you. The lighting, our power use, the temperature, and our appliances are all getting the tech treatment. Unfortunately, there are some things that we simply cannot control. One of those things in air quality.
If you're living with a young child or person with asthma, air quality is of great concern to you. But even if you're healthy, the hazards of urban living have been well publicized. How are you able to track the quality of your air? Netatmo has a solution.
There haven't been many smart air monitors on the market, but the Netatmo Healthy Home Coach looks like one of the best. It uses a large number of metrics to measure your air quality, and the companion app is designed to alert you to issues specific to certain health problems. This is a pretty unique solution to a wide-spread problem, so we couldn't wait to try it out.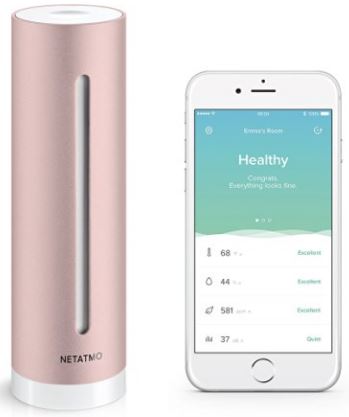 First Look
If you've seen the Netatmo Home Weather Station or the Home Security Camera, you'll probably recognize their unique design. The sensor is a large cylinder with an attractive pink casing. It looks very sleek and modern, although the function won't be apparent at first. It's very well made, and you'll notice that the first time your hands touch the aluminum finish. There are no controls and no display attached to the unit, everything is handled from the bundled app. It does, however, have a vertically aligned light bar on the front. When the device is taking a reading, it will illuminate to let you know.
The Home Coach tracks three important metrics: Carbon dioxide, humidity, temperature, and noise level. These can be viewed in real time on the included app, or connected to an additional smart-home system. Let's take a look and see how difficult it is to get it running.
Setup
Manufacturers have learned that customers are sick of complicated setup procedures. Many of the latest products we've reviewed have had incredibly simple configuration procedures, and the Healthy Home Coach is no different.
The first thing you'll have to do is install the companion app on your Android or iOS device. After the app is open, you can remove the sensor from the box and plug it in using the included AC adapter. It takes about a minute to turn on, but then you'll see that it's been detected by your phone. The app will walk you through a simple step by step procedure to configure the Wi-Fi network. From start to finish, you'll be taking your first reading within five minutes.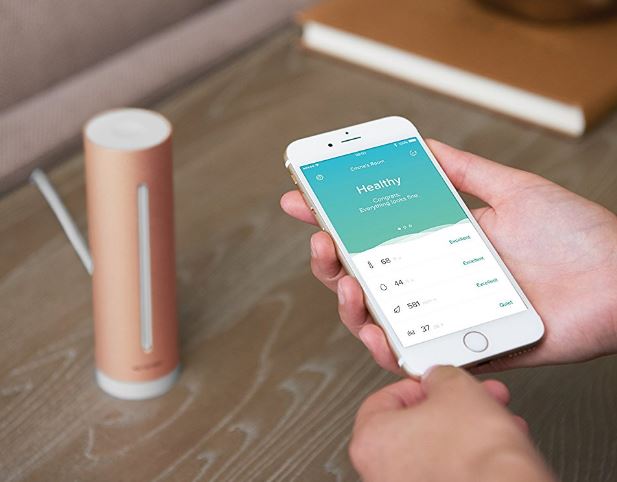 Usability
Once configured, we couldn't wait to see how it performed. We first tested it in the bathroom. Thanks to the shower, this room is the most likely to have a humidity issue in the house. Fans can pull the moisture out, but they're not always incredibly effective.
After placing the sensor on the bathroom sink, we waited patiently for the first reading to come through. Since we had just powered it on, we waited about a minute. Before we knew it, the readings had come in. Our room was rated as "healthy", showing a 61% humidity level. The app reassured us with a message stating, "Don't worry everything is fine!"
Below the overview, you've given an itemized breakdown of the different factors. Temperature, humidity, carbon dioxide levels, and noise levels are each given a rating. Most are rated as either excellent, good, or poor. But some, for example the noise level, have their own custom rating like 'peaceful'.
The main dialog at the top will either identify the room as healthy, or alert you to a specific issue. If any issues are found, you'll be given a suggestion to alleviate the issue. For example, if it's hot, you'll be told to keep hydrated.
You can take the readings manually, or set a schedule to be done automatically. All of your readings are logged, so you can go back and track data over time.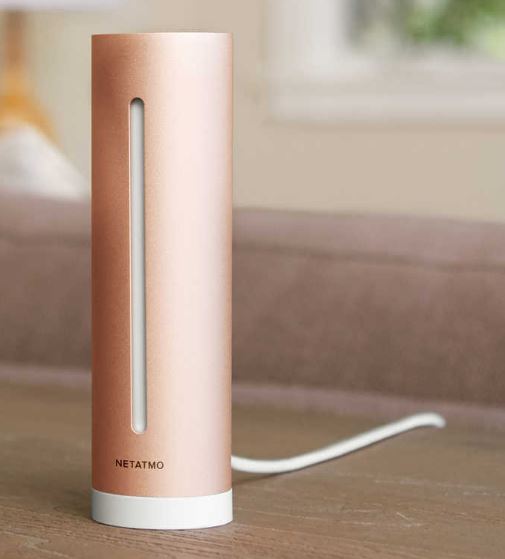 Advice
There are two additional settings you can use for specific situations. You can set the app up for a person with asthma, and it will take measurements at regular intervals to check the air quality. If the humidity or temperature is off, you'll receive a notification on your phone suggesting you turn on air conditioning, a humidifier, or another situation specific solution. This is actually pretty handy, as the sensor is really measuring changes to the rooms atmosphere and predicting the outcome. If the air is getting dry, you'll know to close your windows before it gets too late. This can help to stop asthma attacks before they become a problem.
Baby mode isn't just for babies, but any young child. Any parent knows that it can be a challenge to keep your children happy and comfortable. With the Healthy Home Coach, you've got one less thing to worry about. It will let you know if there is excess noise pollution, if the temperature is too hot or too cold, or if the humidity is reaching an uncomfortable level.
The app will send you notifications even when you're out of the house, so you'll be able to relay this information to another member of the household or a babysitter.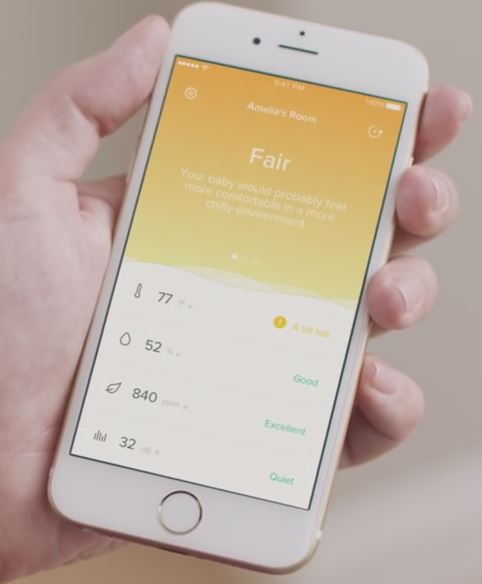 Integration
The Healthy Home Coach certainly makes some useful suggestions, but it's not actually designed to control any aspect of your home on its own. It's fully configured for Apple's HomeKit automation system, so rules can be set up in relation to any measurement the Home Coach can take.
If you haven't played around with it, HomeKit is an incredibly powerful piece of home automation software. In conjunction with the home coach, there are all kinds of rules you can change depending on the situation. The most obvious one would be temperature. If it gets too hot in one room, you can turn off the heat. If it's too cold, you can turn it back on again. You could control automation enabled fans to remove humidity, or any other condition you can think of.
The fact that it's HomeKit enabled also means that you can access information through Siri, making the system that much easier to use.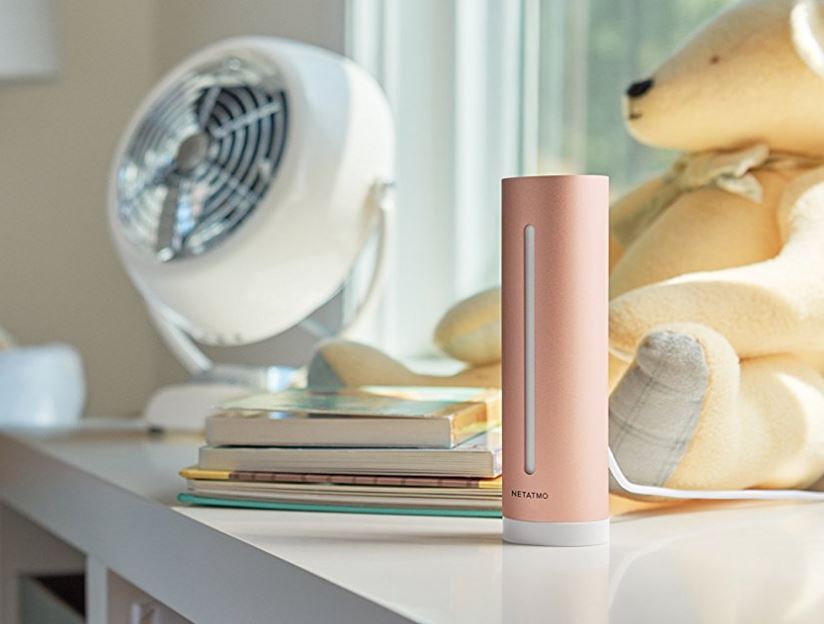 Compatibility
The Netatmo Healthy Home coach is compatible with both Android an iOS. Android requires 4.2 or above, while iOS 9 and up will work with Apple devices. You're able to connect as many sensors as you like to your phone, and they can all be accessed through the same interface.
Currently Apple's HomeKit is the only home automation system that is compatible. Although it is new on the market, it looks to be one of the most universal systems available. If you're still setting up your home automation system, we'd highly recommend going with HomeKit.
Should I Buy the Netatmo Healthy Home Coach?
There are certainly a few situations that would warrant the Netatmo Healthy Home Coach, although it's not going to be for everyone.
If you have children, then it's an obvious choice. Young kids are much more sensitive to small changes in temperature and humidity, so what may feel fine to you will be quite uncomfortable for them. In this case, the notifications will be very valuable to you. You'll be able to address problems at night before your child wakes up, and keep a close eye on the environment during the day.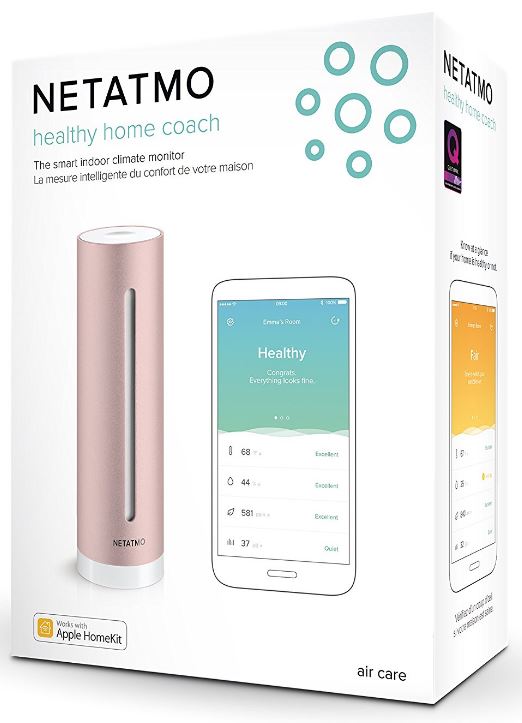 If you live with individuals who suffer from asthma, Netatmo has designed the app to work with your specific needs. You'll be able to track air quality and identify problems before they cause a flare up, allowing you to live a much more comfortable life.
Another reason you might want to keep track of your homes air quality is if you have had issues with moisture in your home. Especially with older homes, ventilation can be a major problem. A humid environment may feel fine at first, but can certainly lead to mold problems. This sensor will help you identify the problem, so you can take steps before it becomes an issue.
If you're just looking for a way to control the temperature with your HomeKit system, then this may not be the best option. It's a great bonus for anyone who is already taking advantage of the air quality tracking features, but probably isn't enough to justify the device on its own. It's certainly designed with a specific purpose in mind, but the Healthy Home Coach is very well designed for those purposes.
Meet Derek, "TechGuru," a 34-year-old technology enthusiast with a deep passion for tech innovations. With extensive experience, he specializes in gaming hardware and software, and has expertise in gadgets, custom PCs, and audio.
Besides writing about tech and reviewing new products, Derek enjoys traveling, hiking, and photography. Committed to keeping up with the latest industry trends, he aims to guide readers in making informed tech decisions.