We've already got smart televisions, smartphones, and even smart toasters. Why not have a smart camera? There's no doubt that a home camera can give your security system a much needed boost, but who wants to deal with the headache of false alarms? NETATMO seems to have an interesting solution to the problem. They propose that home cameras should be integrated with a computer that can differentiate between different issues. Whether your pets are in the yard, somebody is loitering around your house, or even an attempted break in, they believe that you need to know. Their Presence camera claims to be able to do all of the above and more. Let's take a look and see how it performs in the real world.
Initial Impressions
It's not often that a security system could be described as decorative, but the NETATMO Presence is one sleek looking device. Thanks to its ultra-modern design, potential criminals probably won't think to try and avoid it. The camera itself only takes up about a quarter of the unit, with the rest of the space dedicated to the huge floodlight. The camera is solidly built, something that we look for in any electronic device that we plan to stick outside in the harsh weather. It comes with a wall mount, so straight out of the box you should have everything you need to get started.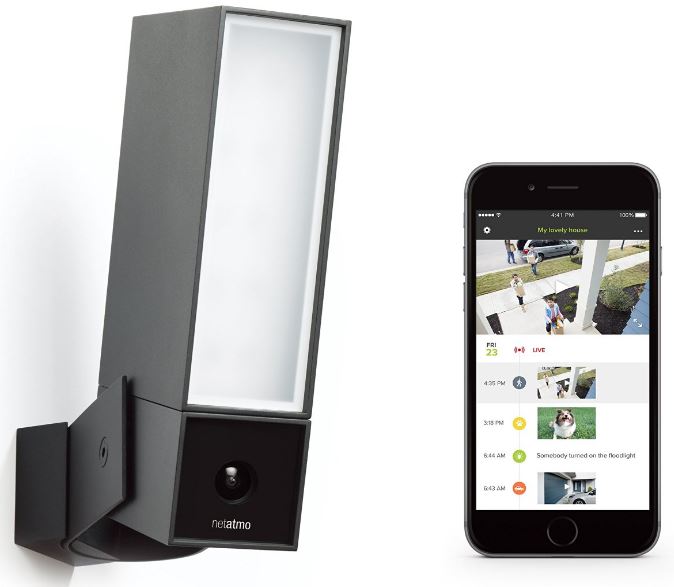 Event Detection
Your use of the camera is going to depend entirely on what features it offers, and fortunately the NETATMO Presence is far from basic. The camera is designed to run only when it detects motion. This is extremely important as this prevents you from filling up your storage space, and allows it to notify you when it detects activity. However, if you have a poor quality motion sensor this feature simply won't work well. Luckily, the Presence has an incredibly powerful 65-foot detection radius that can pick up even the smallest motions.
The camera doesn't just tell when something is happening, but what is happening. The software in the camera is capable of differentiating between a car, and animal, and even a person. They call this Smart Detection, and you can enable or disable alerts for any or all combinations. In our tests, we found this to be incredibly accurate no matter what type of car went by or what clothes a person is wearing.
Another common problem with security cameras is that they are often triggered by unimportant events. Who wants to get a notification every time a pedestrian walks by your house? To ensure that every notification counts, you're able to set detection areas through the cameras included app. This lets you identify which parts of your security area are your private property, and which you would like to ignore motion from.
Video Quality
If you watch a lot of movies, you're probably used to seeing plenty of grainy, hard to see video footage come from security cameras. Fortunately, the NETATMO Presence has incredibly pristine video no matter what conditions you're filming in. We found that whether it was sunny, rainy, or even overcast, the camera automatically adjusted itself to the correct conditions and produced excellent looking video.
Night is usually where cameras struggle the most. Unfortunately, this is often the most important time for your camera to work as thieves often strike in the dead of night. The Presence has two was to combat this. First, infrared light is used to illuminate the field of vision when it's dark. Although this light is highly visible to the camera, it's impossible to see with the naked eye. Any time somebody enters a restricted area, the floodlight will illuminate. This works to both improve the video quality, and warn the perpetrator that they are on camera.
If you're wondering how your video will look, just throw on a Blu-Ray. That's right, the Presence offers a staggeringly impressive 1080p video stream. You'll be sure that no matter what happens on your property, you'll have crystal clear footage of the entire thing.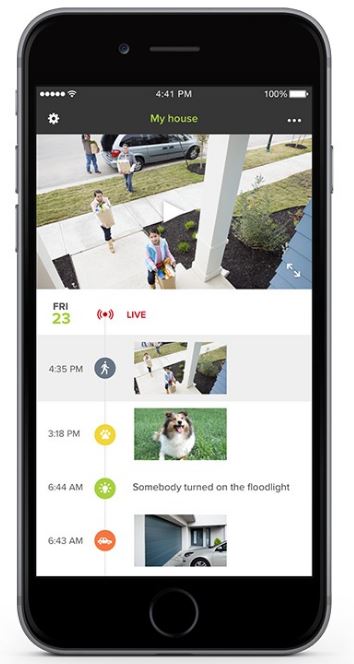 Storage
It's fantastic that the NETATMO Presence can record such high quality video streams, but how can you store all of this crystal clear video? There are a few ways that the Presence ensures that you'll never be caught without storage space. The first of which is compression. All the video is stored in a format known as H.264. This is a compression algorithm that allows huge video files to be shrunk down in size without losing their detail or clarity. The H.264 standard means that the video is roughly 8x smaller than an uncompressed file, with 1 hour of video taking up only about 600MB of storage space. Not only will this keep your storage free for additional video files, but it makes it possible for the video to be streamed in real time to your phone or computer.
The next way that the NETATMO Presence keeps your video files small is by recording only when predefined rules are met. However, the camera does keep temporary track of events as they happen. For example, let's say that you have the camera set to only record when somebody enters your yard. The recording doesn't start the moment they enter your yard. It actually starts the moment they come into the field of vision. If it just happens to be a passerby, the video will not be saved. But if they enter your hard, you'll have the entire event on film from the time they came into the field of vision until they leave.
Finally, it gives you multiple ways to store your files. By connecting it to your household Wi-Fi, the camera uploads all of your videos to NETATMO's free FTP service. This gives you two primary benefits. First, you'll be able to live-stream the video files to your portable devices quickly since it's independent from your household wireless connection. Next, you'll never have to worry about running out of space. Just in case there is a problem with the connection, the camera includes a 16GB SD card to store all the files locally.
Installation
For something that is often a complicated process, the NETATMO Presence is surprisingly simple to set up. Both the mounting holes and the electrical connections are designed to match those of a standard lighting fixture. Simply close off the breaker and remove your old light from the wall. Connect the two wires to the provided terminals: Hot and Neutral. Then attach the two quick screws to bold it back into the wall. Your camera will power on and is just one step away from being up and running.
Next, you'll want a smartphone. Either Apple IOS or Android will do. Standing near the camera, open the NETATMO app and wait for it to find the camera. Once found, all you need to do is enter your settings and your home Wi-Fi password. The total set up only takes about fifteen minutes.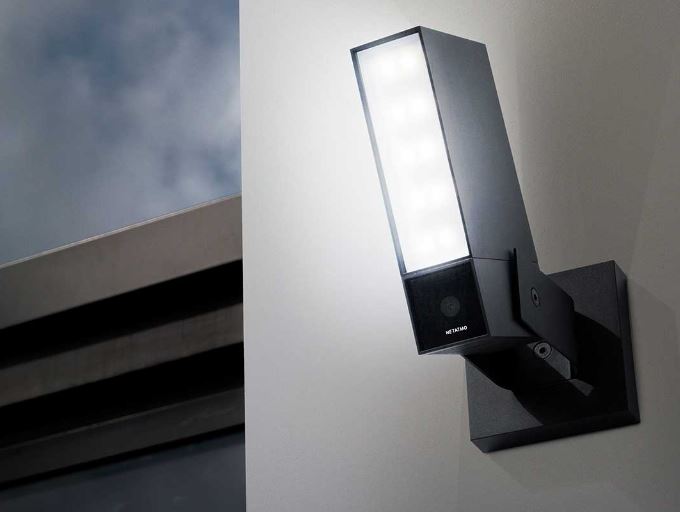 So, Should I Get The NETATMO Presence Outdoor Security Camera?
The NETATMO Presence represents the best fusion of technology and functionality that we have seen in quite some time. But what we consider the most important feature is what it offers outside of the camera. If you're concerned about your home security, what is the point in simply getting video documentation of somebody attempting to break into your house? You want a device that will both protect your home and dissuade criminals from attempting to break in. Just like its name, this security camera is just as much a presence as a guard dog. As soon as the perpetrator gets close to your house, the built in flood light will activate and inform them that they are on camera.
Although not the cheapest camera on the market, once you consider everything you are getting you'll realize what an incredible value it is. All of your online storage is free, the memory card is included, and it's simply an all-in-one unit that acts as a fully-featured home security system. For the price, you actually can't get much better.
The only users who we would dissuade from purchasing the NETATMO Presence is those who have already invested significant financial resources in an existing smart home security system. The Presence is designed to operate on its own, or with NETATMO's indoor camera. Therefore, it won't integrate particularly well with your existing system. However, if you do not have a smart home security system than the NETATMO Presence is a fantastic addition to household exterior.
Meet Derek, "TechGuru," a 34-year-old technology enthusiast with a deep passion for tech innovations. With extensive experience, he specializes in gaming hardware and software, and has expertise in gadgets, custom PCs, and audio.
Besides writing about tech and reviewing new products, Derek enjoys traveling, hiking, and photography. Committed to keeping up with the latest industry trends, he aims to guide readers in making informed tech decisions.