Garmin has released a few handheld action cameras over the past few years, but most agree they have somewhat missed the mark. Many people think of action cams as synonymous with GoPros, so it's not surprising that if a company's camera doesn't have features and specs that compete with the GoPro line of cameras, it may go overlooked. With the VIRB Ultra 30, however, Garmin has stepped up their game and released a 4K Quality action cam with some very impressive features. These include Slow motion, high-sensitivity microphone, live-streaming capabilities, "travelapse", image stabilization, and more. The VIRB Ultra 30 may make Garmin a solid contender in the handheld action cam market.
First Looks
The Garmin VIRB Ultra 30 has a small black body, with two red sides and an off-centered lens. The exact dimensions of the camera are 57.5 x 45.9 x 31.3 mm, and it weighs 3.1oz with the battery inserted. It looks almost identical to the GoPro Hero4. Unpacking, you'll notice that the VIRB Ultra 30 has a ton of great accessories included. Of course you get the battery and cable, but they also threw in two adhesive mounts. One flat for something like a ski or snowboard, and one rounded for something like a helmet. Plus, you get several mini-attachments to change the orientation of the mount, and the waterproof case. The 1.75in touchscreen monitor is large bright and responds well to touch.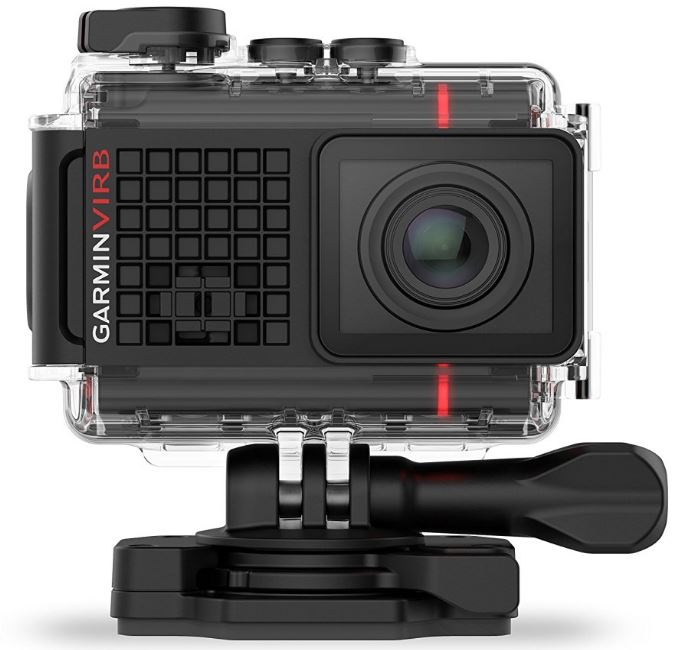 Hardware
The 2.73mm focal length wide-angle lens with a fixed aperture of f/2.6 produces beautifully clear and sharp video and images with minimal fisheye distortion. The VIRB Ultra 30 holds a 12-megapixel 1/2.3in backside-illuminated CMOS sensor, which accurately converts what you're shooting into crisp digital image. Backside-illuminated sensors are relatively new on the market, and offer significant improvements over previous style sensors. The removable battery included with the camera is a 1250mAH 3.6V rechargeable lithium-ion. The camera holds micro-USB and HDMI outputs, and can hold microSD cards up to 128GB. The built in high-sensitivity mic is rugged, designed to stand up to the abuse these cameras are subject to. There is a 3.5mm connection for use with an external mic, should the internal one disappoint you.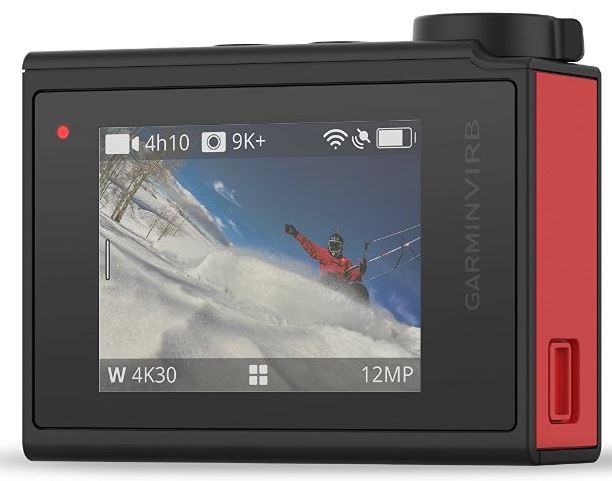 Battery Life
The included rechargeable lithium-ion battery gives you approximately one hour and fifteen minutes of recording at 4K 30FPS. Dropping the quality down to 1080p 30FPS bumps the battery life up to 2 hours and 15 minutes of recording. This is an impressive amount of battery life at very high qualities. Having the ability to remove the battery and carry a backup when you're out filming for longer periods of time is a great feature for those who want additional battery life.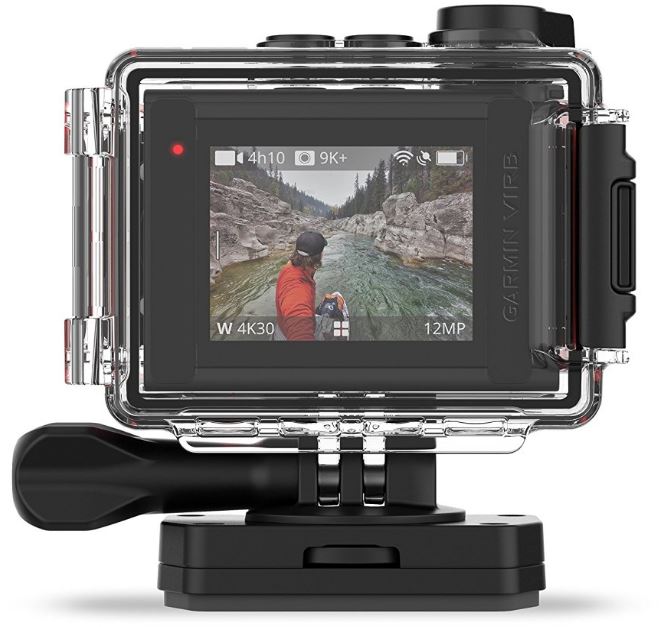 Image Quality
The VIRB Ultra 30 can record several qualities of video at varying frames per second. With resolutions ranging from 4k to 720p, the video produced is always crystal clear and detailed. When you're filming at 4K, you are limited to between 24 and 30FPS. This is pretty standard for real time video, and produces a nice smooth playback.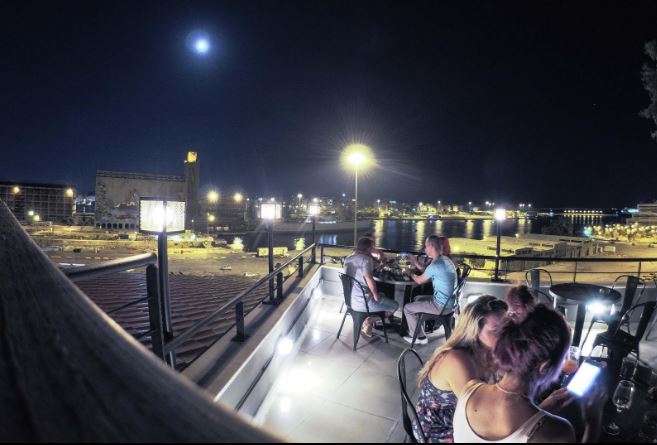 If you're looking for slow motion, you can crank the FPS up to 240 (8x slower than real life) at a resolution of 720p. Image stabilization to reduce shake and provide smoother video is only available up to 1440p quality. We feel that this is still acceptable, as 4k hasn't really caught on yet.
Still photos look great on the Ultra 30, but you're better suited to use this camera for video, use it for what it's made for.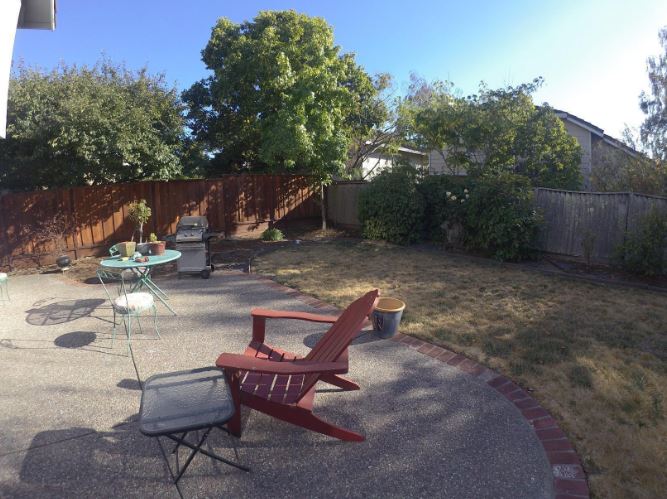 Lapse Modes
You have several capture modes available for filming and shooting with the VIRB Ultra 30. Time lapses take pictures at specified time interval then combines it into one larger video. The camera actually sleeps in between shots to conserve battery life, so you'll get many hours out of a single battery. "Travelapse" is quite similar to time lapse, however shots are taken at specified distance intervals. This makes your travel movies feel much more smooth and professional than what you would get with time lapse. Both create awesome videos of your adventures.
Durability
Garmin is focusing on consumer value, so they didn't make their camera bulletproof as so many others manufacturers claim. For example, it isn't rated as shockproof to 6ft like the Nikon KeyMission 360. So you don't want to go dropping the Ultra 30 thinking it will be just fine. For many users, that feature would be overkill. The Garmin is still designed to take a beating as is to be expected with any action cam. With the included waterproof case, it gains a waterproof rating of up to 40m, making it good for most casual water sport enthusiast, but maybe not primary function as your diving camera.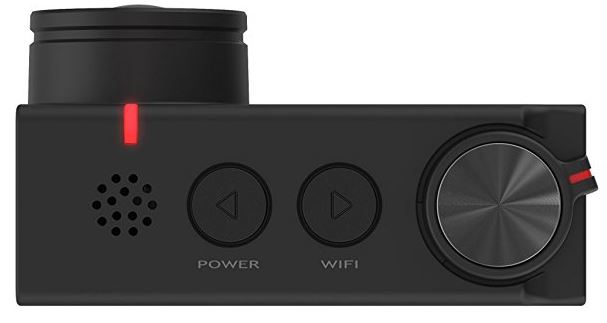 Connectivity
The VIRB Ultra 30 is Bluetooth and Wi-Fi capable, and can be used to connect directly to your iPhone, Android or another smart device using the VIRB app. Once connected, you can use your device as a remote control, or just quickly upload, edit, and share your footage and photos. Using these wireless technologies will cause your battery life to take a hit though. Garmin has also included some features not often found on such an affordable camera such as live-streaming, and integration between multiple cameras.
Data Tracking
Garmin's patented G Metrix technology is a huge step up from other action cams. Many other cams on the market will allow you to overlay your videos with GPS data but G Metrix takes this to a whole new level. Aside from just speed, temperature, direction, depending on the sport you are performing, G Metrix records several different types of more specialized data to overlay on your videos.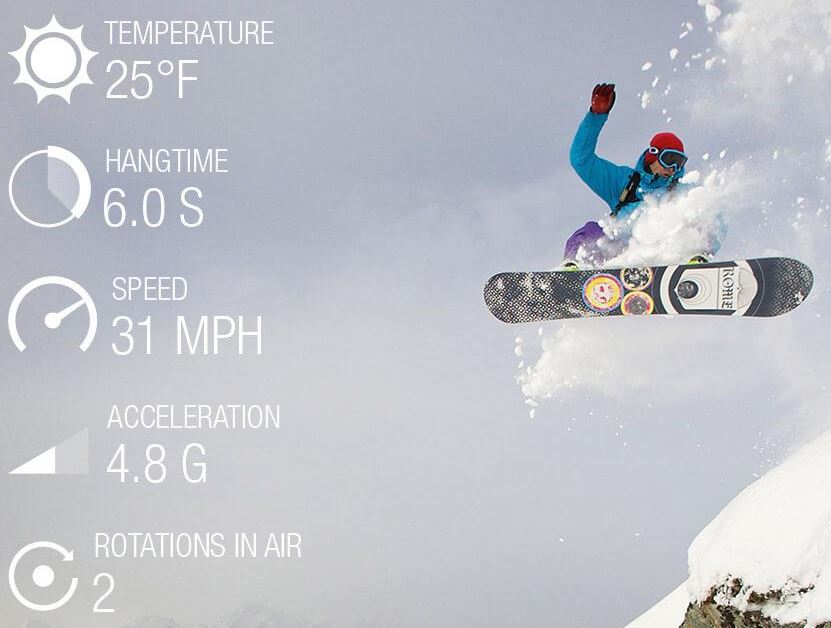 If you're out skiing or snowboarding, G Metrix can measure hang time, elevation, and rotations in the air. For water sports and cycling, you can overlay speed, heart rate, distance traveled, cadence, power and grade. When mountain biking, G Metrix can record jump height, number of jumps, rotations in air and hang time. You'll record heading, vertical speed, GPS coordinates, heart rate and total speed when performing aerial sports like skydiving or when the camera is secured to a drone.
Best of all, once you have your videos exported into the VIRB XE desktop app, these settings are fully customizable, allowing you to overlay whatever data you think is best. There are even more settings here we haven't listed here, including G-force, track shape and more. If you're willing to purchase extra sensors, there are plenty more things that the VIRB can track.
Accessories
There are tons of accessories available for the VIRB Ultra 30: cases, cables, mounts, tripods, remotes extra batteries, and sensors for G Metrix. Depending on your chosen sport or activity you have lots of choice for personalizing the camera to your uses. If you're a drone user, the VIRB has a huge array of drone accessories for you to use. Among all the accessories available, we'd recommend you pick up an extra battery for those longer days, and look into what G Metrix features you think you'll use most and find the corresponding sensor (ex. Heart rate monitor).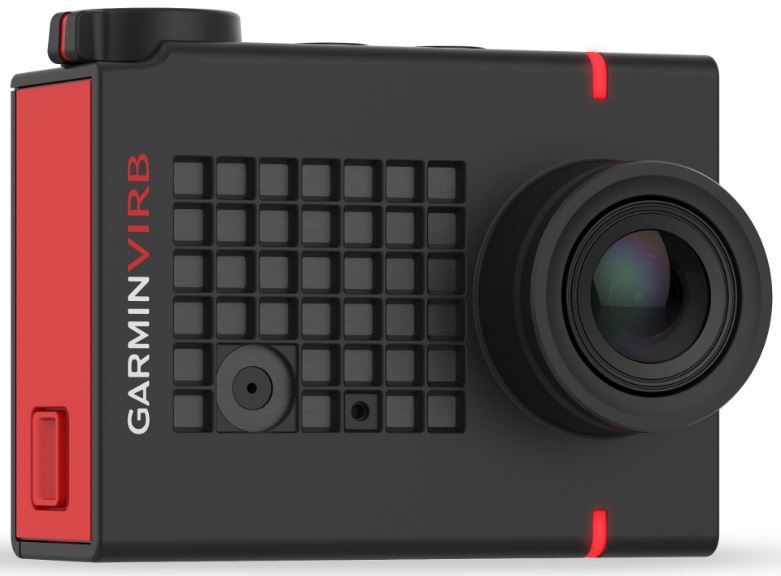 Voice Control
Another unique feature the VIRB Ultra 30 is its voice control setting. Voice control allows you to instruct the camera to capture photo, video or identify a highlight while filming, with no hands, using just your voice.
When the camera is mounted to a helmet or somewhere else, it can be tedious to fumble with buttons while performing whatever sport you are out doing, so the voice control removes that necessity. To initiate the voice control, you need to first speak the command "OK Garmin," followed by the function you'd like "Garmin" to perform.
The commands you are able to use are as follows: "Take a Picture," "Start Recording," "Stop Recording," "Remember That." "Take a picture" (or "take a photo") will take a still photo at the settings you have initiated. "Start Recording" and "Stop recording" allow you to save your battery and storage space to record just when you're ready.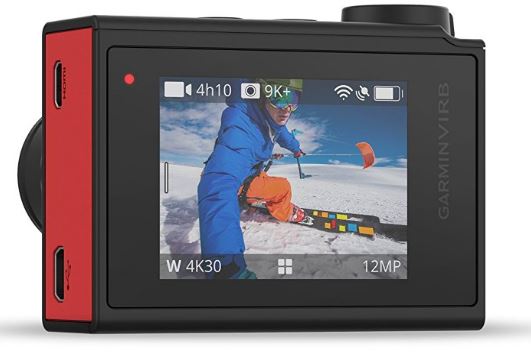 While recording video, speaking "Remember That" will instruct the camera to mark that spot you've just tagged as highlight for later viewing. This is great for when you are mid-run on the ski hill or biking course and want to easily find a certain section of film later on.
A small LED will light up on the front of the camera when the command is successfully received, and if you're behind the camera, you can see the change of the LCD monitor when video begins filming or a picture is taken. The voice control actually works surprising well, especially when you are close by, and speaking clearly.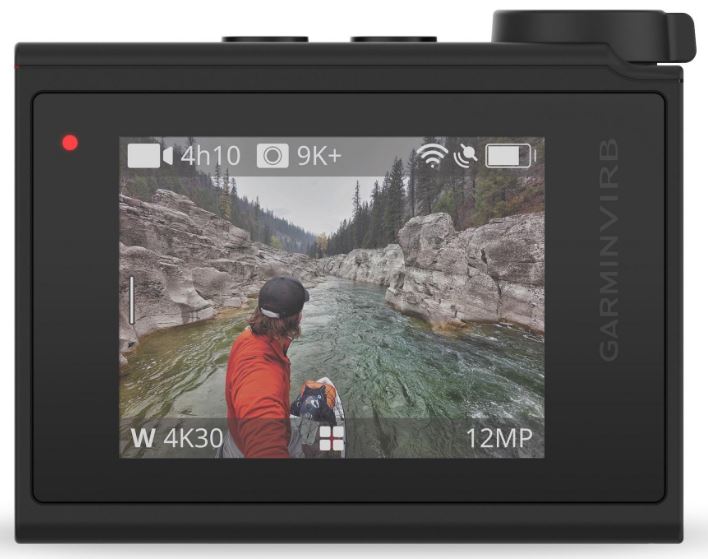 Summary
With the creation of the VIRB Ultra 30, Garmin has produced a handheld action camera to rival the GoPro cameras. Although it's not as durable as some other models, it's packed with loads of features that will make your videos pop, and it's got much of the same technology as other cameras of today.
Like most cameras of its kind, it's capable of shooting in 4K video quality, take it underwater, and mount it almost anywhere. But two things make the VIRB Ultra 30 stand out most from its competitors: the ease in which you can use it will performing your sport or activity, using the voice control feature, and the various overlay settings through G Metrix that are available with the necessary sensors. The battery life is among the best, with over an hour at 4k, and the waterproof case gives you a decent amount of depth for water sports. In all, the VIRB Ultra 30 is a great camera, and deserves a serious look when you're shopping for your handheld action camera.