Today, many of the major electronic tech companies such as HTC, Sony and Garmin have all released several versions of handheld action cameras. Most recently, Nikon, one of the most respected names in the high end camera industry, has released a line of action cams designed to compete with the best of the best. Given that Nikons experience is in high end cameras, we're excited to see what they brought to the table with their top-level KeyMission 360.
First Looks
It's easy to see that the Nikon KeyMission 360 is the most unique action cam available right now. With two ultra-wide-angle Nikkor lenses mounted back-to-back providing a 360-degree field of view, the KeyMission 360 is the first of its kind: combining existing technology of 360-degree recording with the durability and ruggedness of an action camera.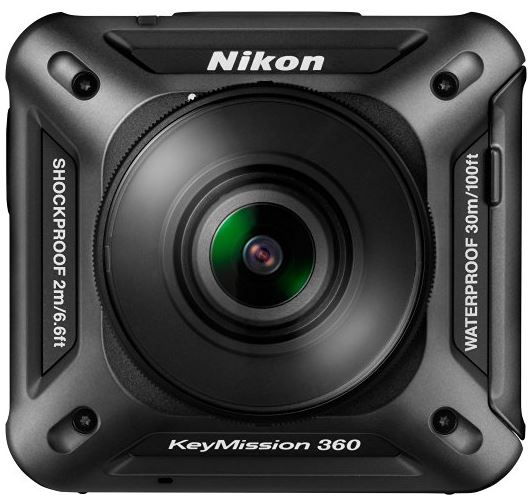 The small black body that houses the two cameras is 2.6″ x 2.5″ x 2.4″, and weighs just 7 ounces. The 7 ounce weight includes the battery and having a microSD memory card inserted, making it the heaviest of the KeyMission cameras. The second lens results in the KeyMission 360 lacking space to sport an LCD display, so the camera requires you to use a smartphone and the SnapBridge app if you like to review your footage and pictures while on the go.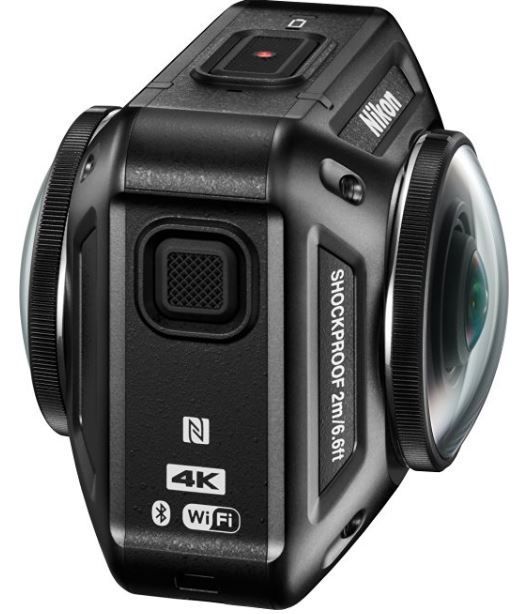 Hardware
Both ultra-wide angle Nikkor lenses of the KeyMission 360 have a fixed focal length of 1.6mm, and maximum apertures of f/2.0. The mounting and the lenses provide the camera a 360-degree field of view that produces truly unique videos. Both lenses are supported by two 20-megapixel CMOS sensors (an effective 23.9 million pixels) which result in a fairly large image size of 7744 x 3872 pixels. The lenses autofocus technology allows focusing from approximately 1 foot to infinity from the center or front surface of the lens. The camera supports microSD, SDHC and SDXC memory cards, and has available inputs behind a locked, waterproof hatch. It also includes a HDMI micro connector and USB-micro connector outputs. The built-in mic records clear AAC Stereo audio. The CMOS electronic shutter can vary speed from 1/8000 to 1.0 seconds.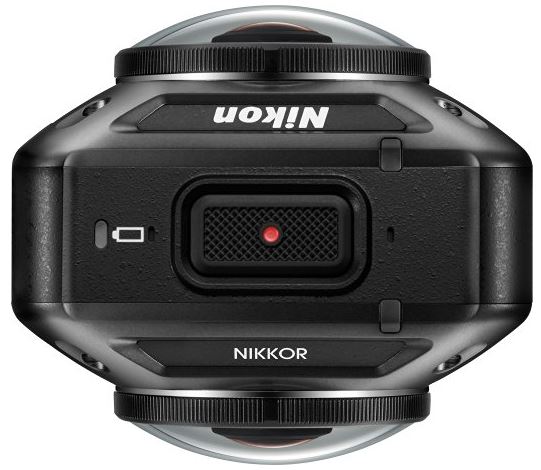 Battery Life
The KeyMission 360 includes one EN-EL 12 rechargeable lithium-ion battery. Without WiFi or Bluetooth enabled, the battery will allow you to record up to one hour and ten minutes of video, or snap 230 still pictures. The battery is removable, allowing you to purchase an additional battery for a backup while you're out exploring and are unable to recharge the provided battery. The batteries take about 2.5 hours to fully recharge from zero, so make sure you plan ahead.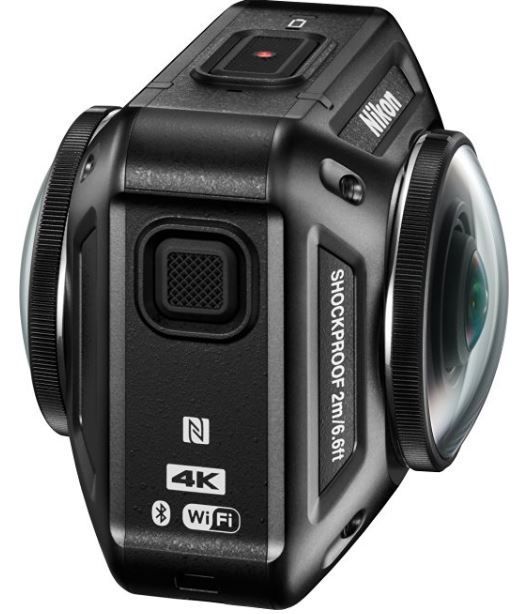 Video Quality
The KeyMission 360 records 4K Ultra-HD video, producing beautifully clear and sharp footage. There are several settings for movie quality, easily adjustable for depending on what you are shooting, and how long you want your battery to last. Always keep in mind the trade-off of video quality to battery life when you're deciding on what settings to shoot at. Higher quality typically will drain your battery at a higher rate. When set to NTSC, the KeyMission 360 can shoot in quality ranging from 3840×2160 (4K) at a 24 FPS framerate to 240×320 (SD) at 240 FPS. When set to PAL, the KeyMission 360 shoots in quality in a range from 3840×2160 at a 24p framerate to 240×320 at 200p. Videos are captured as MOV files – H.264/MPEG-4 AVC with AAC stereo audio. Still images are shot at a size of 7744×3872 pixels, and are bright, well contrasted and the f/2.0 aperture of the lenses compensate well for low-light conditions.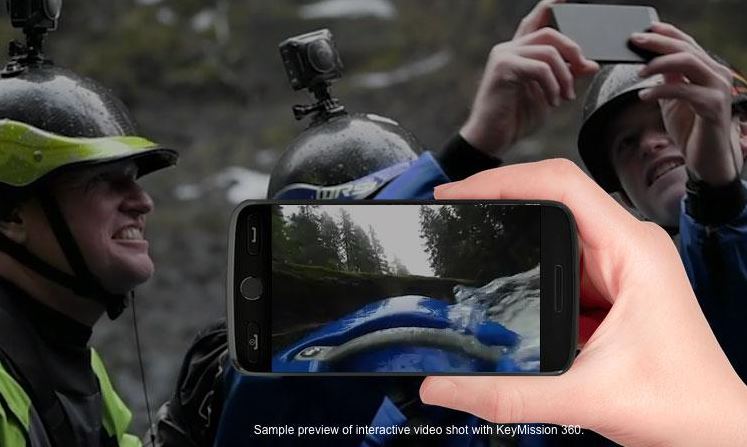 Capture Modes
Besides shooting in 4K UHD-quality video and beautiful still pictures, the KeyMission 360 has some other great alternative shooting modes. These include Slow Motion, Loop Recording and Time-lapse modes. Shooting in slow motion is a great feature for the KeyMission 360, and a great way to add some new types of footage to your videos. Loop Recording allows you to set a time loop interval and continuously record smaller video clips, so you never miss the perfect moment. Time-lapse mode is great for creating beautiful time-lapses of your adventures; you can squeeze an entire day into one short video.
Durability
The KeyMission 360 is extremely durable and rugged, perhaps more than any other action cam that's currently available. It's perfect for the outdoors and all sorts of activities. Even without a case, the camera is rated as freeze-proof, dust-proof, waterproof and shockproof. Like the other KeyMission cameras, the 360 is freezeproof to 14 degrees farenheit. It shouldn't be left out for long at that temperature, but should be fine as long as you don't live in Siberia!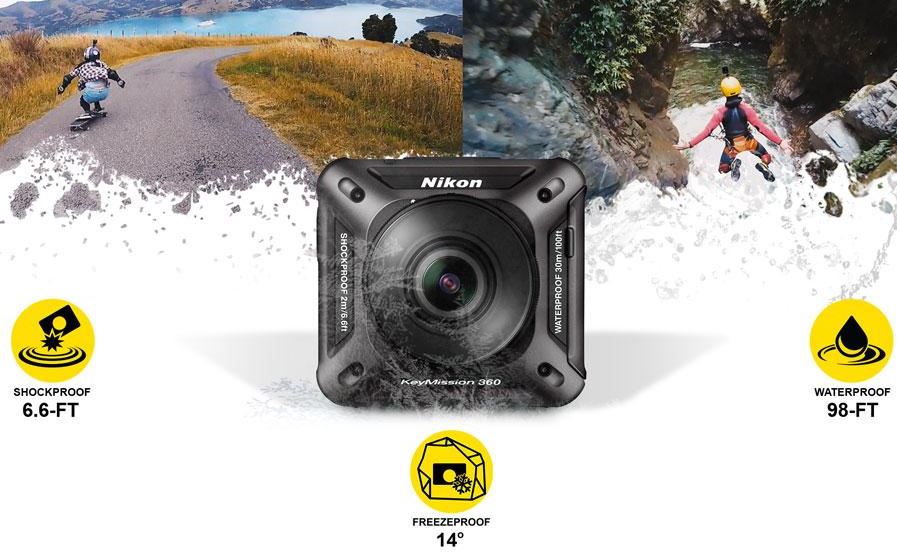 The body is sturdy and sealed well, protecting it from dust and dirt, as long as you keep the hatches for the connector ports closed. The KeyMission 360 is waterproof to 98 feet, which is quite impressive for an action cam. If you're going to be doing any filming underwater, it is recommended you use the AA-15A Underwater Lens Protector (included). The flat surface will allow the camera to focus properly while underwater – this is similar to earlier versions of the GoPro cameras in order to account for lens and water distortion. The camera is shockproof to 6.6ft, but again, we recommend you just not try to drop it to begin with. The included AA-14A Lens Protector (also included) should be used whenever you're not underwater in order to protect the lenses during everyday use. Nikon also provides you with a silicon jacket for the cam that acts to reduce some of the impact if the camera knocks on something like the ground.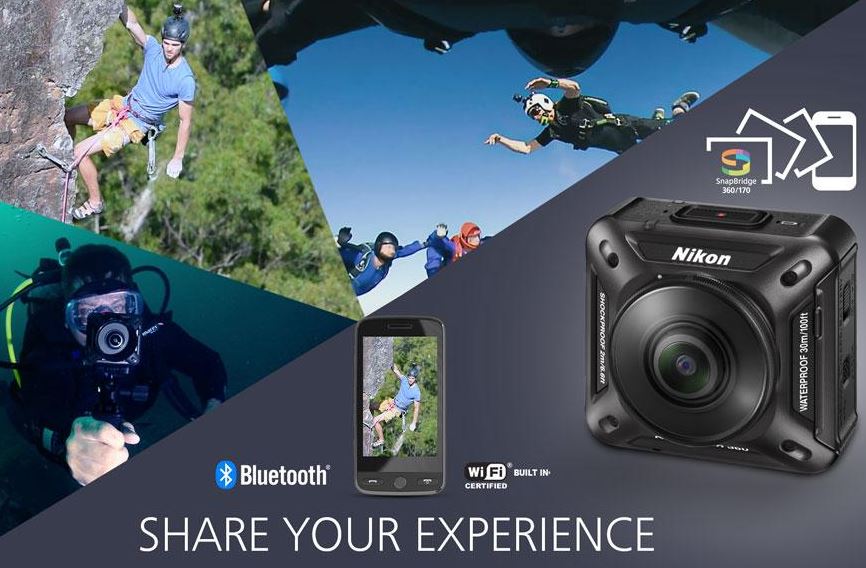 Connectivity
Connectivity is important for the KeyMission 360 due to the lack of a display monitor. You can connect to your iPhone, Android or other smart device via either Wi-Fi or Bluetooth and using the SnapBridge app, can control the camera, then review, upload and edit photos quickly. The pictures all have associated GPS, time and date metadata for documentation as well. If you're going to be using the KeyMission 360 with a device to review and/or control the camera, be aware that your battery life could take a significant hit as a result. The ML-L6 remote is also compatible with the camera, which could be a better option for having remote control of the cam with better battery life.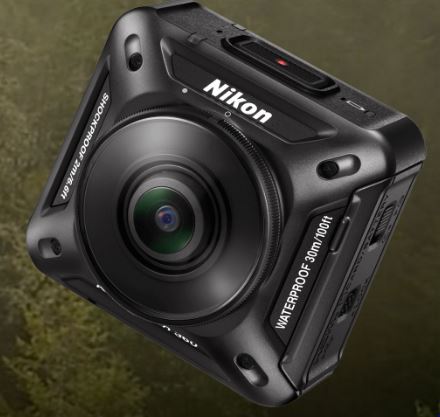 Vibration Reduction
The Optical Vibration Reduction (VR) is great in the KeyMission 360 – A company like Nikon that produces great lenses and cameras clearly knows what they're doing with technology like this. The VR results in smooth and steady video. However, the KeyMission 360 isn't yet capable of making use of the VR when shooting in 4K UHD yet, but most users will want to shoot in 1080p for special considerations.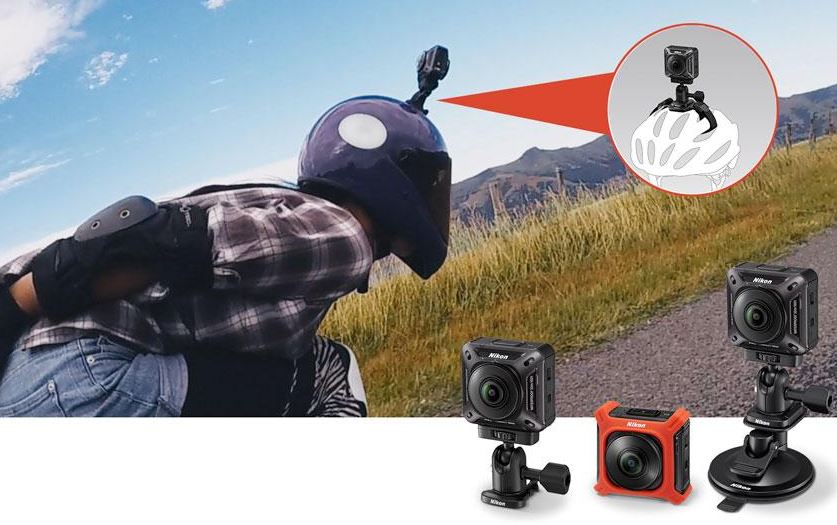 Accessories
Nikon supplies you with a number of accessories in the box, but there are also many available. Nikon includes an AA-1A Base Adapter, AA-2 Base Mount F, AA-3 Base Mount C, AA-17 Head-Mounted Display. If you need more specialized mount options, for equipment like helmets, surfboards, chest and wrist straps, there are quite a few available. The recommended KeyMission accessory pack includes a tripod, extension arm, replacement rechargeable battery and carrying case.
So, Should I Get The KeyMission 360?
Nikon's KeyMission 360 is a truly unique camera. No, Nikon is not the first to produce a 360-degree camera. And no, they aren't the first to create such a small and rugged handheld action cam. But until it hits the market, these two qualities have never been combined. The videos that are produced are so incredible; it's like nothing you've ever seen before. The KeyMission 360 really does augment whatever activity you're performing with the view that is capable with 360-degree lenses.
Plus, the battery life is actually very good, all things considered. With such a durable and rugged body, this thing will follow you anywhere. Not only does it produce awesome 4K UHD video, but beautiful still shots, time-lapses, slow-motion footage and more. Of course there are trade-offs when you mount two cameras back-to-back on a small body, so the lack of a display monitor can be a turn-off for some. Wsing a device for a display will hurt your battery life, or you may want to purchase the Nikon remote control for less of a battery drain.
All that aside, the Nikon KeyMission 360 is the perfect camera for sports enthusiasts who want to make eye popping videos that are sure to capture the attention of anyone who looks. For the very first time, you'll be able to strap on your action cam assured that, no matter what happens, you'll capture the entire thing on video.