For years, Bose has been a trusted brand in audio equipment from home theaters, to headphones, and finally portable speakers. While they are often known as the kings of mid-range sound cancelling headphones, Bose has also made a name for themselves as leaders in portable headphones that pack a huge punch in a very compact size. As the name would suggest, Bose's Virtually Invisible 300 Wireless Surround Speakers fall under that category, and they deliver accordingly. Many of Bose's past models are designed to stand alone, but the Virtually Invisible 300s are designed to work in unison with the Sound Touch 300 sound bar and the Acoustimass 300 wireless bass module.
The great thing about the Virtually Invisible 300 Wireless Surround Speakers is that they are not exclusively part the 300 set including the sound bar and bass module. While these units undoubtedly enhance the overall sound quality and deliver an awesome surround sound experience, the speakers remain exceptional on their own.
Note: At no extra cost to you, we may earn a commission for purchases using our links. Learn more.
Wireless audio equipment is really taking off, and Bose has been a front runner in this category with their portable speakers for some time. Wireless is a seamless, easy way to enjoy your music and TV without having to worry about jumbled wires and complicated set up. The one down side is that with wireless equipment, you will inevitable sacrifice a little bit in sound quality. But, with the Virtually Invisible 300s you have the option of wiring up if you really want every last drop of sound quality in your home system. We're excited about a versatile, portable wireless speaker that can double as a home theater, so let's break them down.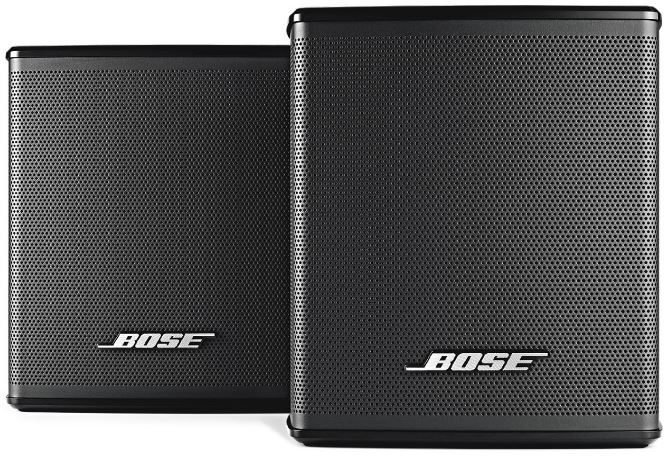 Design
From afar, you can't draw many first glance conclusion about the Virtually Invisible 300s. They're rather inconspicuous looking, just your average rectangle speaker. They stand at 3.2 x 3.3 x 3.7 inches and weigh only 2.2 lbs, so they're incredibly small for such a powerful speaker. Compared to the other portable Bose speakers, you might thing that they appear a tad large. However, this product is in an entirely different class than their standard offerings. The bulkier size can only mean they've managed to get a better quality sound out of them.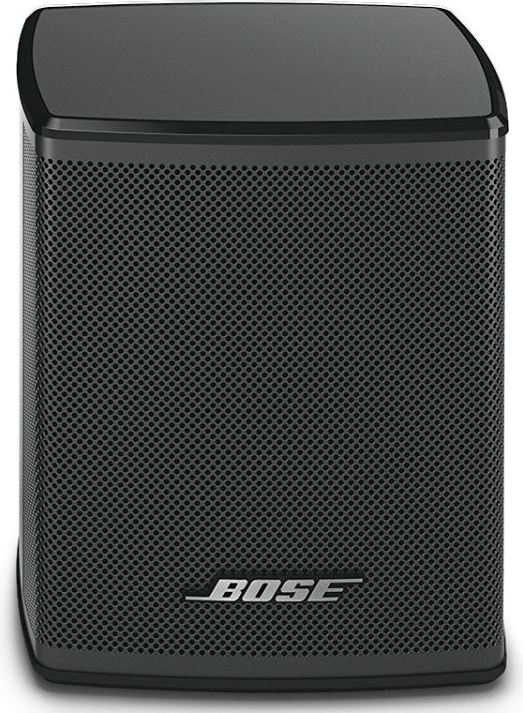 The speakers are wall mountable, a feature that works great for those looking for the home theater use. They are definitely compact enough to be moved from room to room if necessary. Their modest shape, size and color work great in their favor, and its clear Bose intentionally wanted to draw attention away from the speakers and onto the sound quality and functionality.
They blend in easily with any surrounding, whether you intend to use them at your home office, in your bedroom, or make them part of your home theater feature wall. If you go for the home theater look, you'll be pleased at how well they complement any surroundings regardless of your taste in decor. The sound bar and bass module follow suit. The sound bar is long, plain black, and slim. You might think it's just a large Wii receiver. The bass module basically looks like a larger version of the speakers, no bigger than your average subwoofer which a staple in any surround sound home theater. So even if you go for the whole package, you can still take full advantage of the inconspicuous design.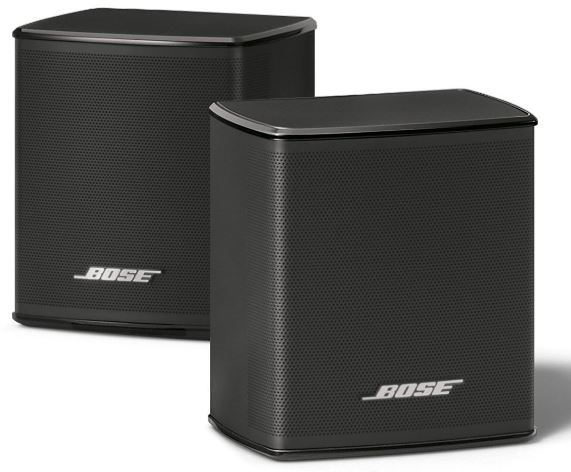 Build Quality
If you don't like that cheap plastic feeling, you've come to the right place. The speakers have a distinctly premium feel for a home theater speaker, even though you likely won't spend a lot of time handling them. They are designed to blend into your environment, and act as the subtle accent that brings your whole home theater together.
Compared to other speakers on the market, they can surely endure your average wear and tear. If you opt for the wall mount option, you won't have any concerns about their durability. In all, they're a solid speaker that won't disappoint you, as long as you use them for their intended purpose and take care of them as you would any speaker.

Sound Quality
Most Bose portable speakers are simply not designed to function as home theater speakers, so you will certainly appreciate the heightened quality with the Virtually Invisible 300s. They certainly deliver on a caliber higher than most portable speakers, and even most compact sized speakers. You get a great soundscape with shining, clear treble, booming bass and a smooth mid range. Having the two speakers as a duo means they really deliver a high quality surround sound feel, even if you've just got them for use in your home office or bedroom.
The real magic happens when you pair them with the Sound Touch 300 sound bar and the Acoustimass 300 wireless bass module. As a unit, these components are designed to deliver captivating surround sound audio that feels like it's coming out of thin air. It's actually a rather magical experience. You get those crisp, clear highs and thundering lows with such a smooth soundscape that it's shocking it comes from such compact equipment. Bose has a long history of designing compact speakers that really pack a punch, and the Virtually Invisible 300s are no exception. For such a small speaker they definitely live up to the Bose standard.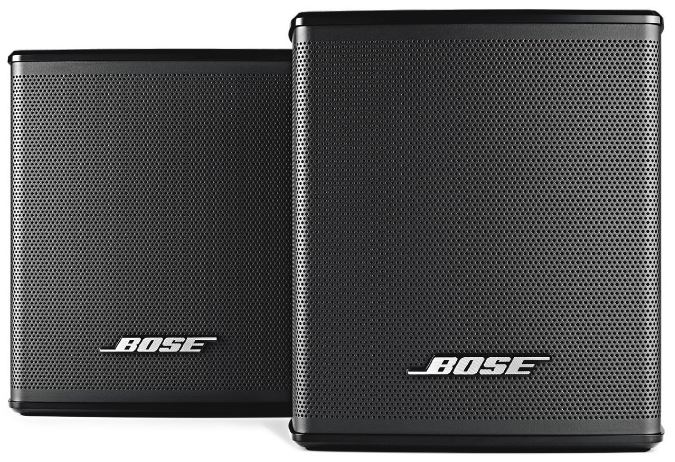 Functionality
The functionality is really one of the greatest highlights of these speakers. They are one of these gem items that seems to fit perfectly in a multitude of different markets. Let's start with portability. As mentioned, these are not the speakers you pack in your Westfalia and drag out to a lake somewhere. Their portability is limited to within your household, but that means they are able to offer a sound quality that other portable speakers simply can't. They're wireless, so you can easily pair them with your favorite Bluetooth device, or opt for the wired option for a slightly more enhanced audio experience.
Alternatively, when paired with the Sound Touch 300 sound bar and the Acoustimass 300 wireless bass module, the Virtually Invisible 300s create a home theater that is worth bragging about. Their compact size makes them ideal for small rooms or apartments where large equipment simply isn't an option, but high quality is a must. Yet even if you have room for equipment that dominates the landscape, there is still good reason for choosing the Bose 300 set. Their intentionally inconspicuous design will blend in with your theater surroundings, no matter what your interior design style is like. They are extremely easy to setup, wireless or not, saving you time, hassle, and of course the eyesore of jumbled cables. It is worth pointing out that the whole feeling of your surround sound booming out of thin air is exceptional, and something that is unachievable with huge sound systems.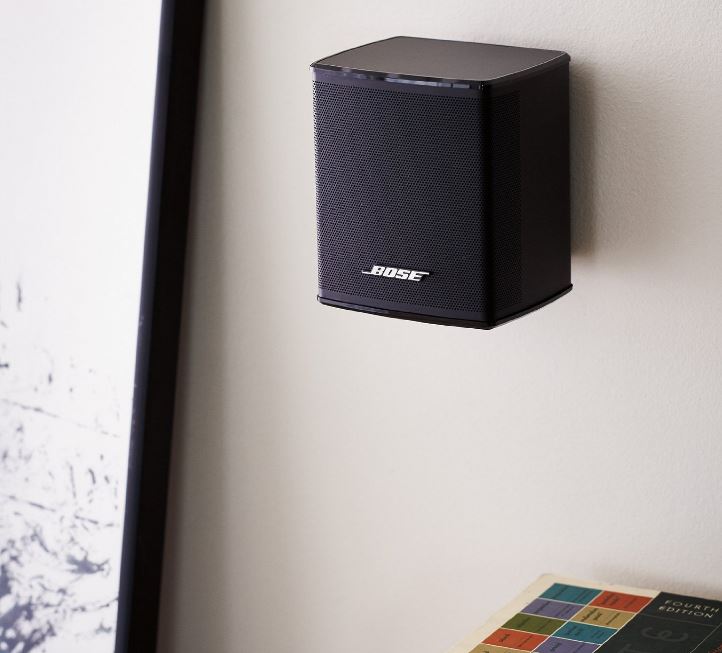 Value
If you're already a fan of Bose and their ability to create huge sound with compact equipment, then you'll love the Virtually Invisible 300 Speakers, especially in combination with the sound bar and bass module. Separate or together, they certainly live up to the Bose standard and offer an experience that is incomparable. If you're someone who likes multi-functional equipment but finds it difficult to get true multi-functionality without sacrificing quality, these are absolutely ideal speakers for you. The only thing better than their sound quality is the fact that you can use them for your home theater, as portable speakers around the house, or both.
They deliver great sound with both options, and are dead easy to set up either way or interchangeably. They will also last a lot longer than most portable speakers because they are designed to act more a portable home theater than a traveler's speaker. On top of that, they are simply a great option for anyone who wants a sound system to complement their living space, both aesthetically and in sound quality.
Final Thoughts
Bose has succeeded once again with providing excellent surround sound in a compact speaker. These speakers are ideal for Bose fans who want a high quality, versatile speaker that is easy to set up and maintain. While they are great for wall mounting, the perfect complement to the feng shui of your living space, you can also take advantage of their multi functionality and get surround sound in any room of the house. While you'll get the most out of the Virtually Invisible 300s when you pair them with the Sound Touch 300 sound bar and the Acoustimass 300 wireless bass module, they remain an exceptional compact speaker on their own.
Please consider sharing:
Note: At no extra cost to you, we may earn a commission for purchases using our links. Learn more.