Bose is known around the world for making high quality products that come in compact packages. With their 300 series home theater system, they've created an ecosystem of products that work in perfect harmony with each other.
The centerpiece of this system is the SoundTouch 300 Soundbar. Despite it's compact looks, this capable little speaker is able to produce a full-bodied sound that will take your home theater to the next level. If you want a surround sound system, you can pair it with the virtually invisible surround speakers. Alternately, you could throw in a wireless bass module to give your music and video that extra kick you've been craving. But if you just want a quick and easy way to improve the performance of your home audio system, the SoundTouch 300 Soundbar can work on it's own.
While soundbars are already all over the audio marketplace, they're often sold as cheaper and inferior alternatives to the full size speaker system. But Bose claims that this speaker is in a class of it's own. This may seem like an unreasonable expectation for a soundbar, but let's investigate and see how well this speaker really performs.
First Look
Even from a distance, the Bose SoundTouch 300 Soundbar is something that will stand out. Many sound bars on the market look bulky and awkward, but Bose lives up to its brand by producing a stylish sound bar that can suit any living room. Its dimensions are a tiny 38.5" width, 4.25" length and 2.25" height, so it can easily fit on any TV without taking up too much space or looking out of place.

The top is made of premium glass, which has a very clean, sharp look to it. It's incredibly thick and well made, which gives it a very mature appeal. The metal grille is pure black, wrapping all the way around for a consistent and sleek look.  
The SoundTouch 300 comes with an easy-to-read universal remote. It has all the qualities you want in a remote, from the sturdy buttons to the simple, intuitive layout. It's not one of those obnoxiously large and colorful remotes with more functions you know what to do with. Rather, it falls in line with the pure black simplicity of the sound bar and has all the familiar features plus a few more that are easy to grasp.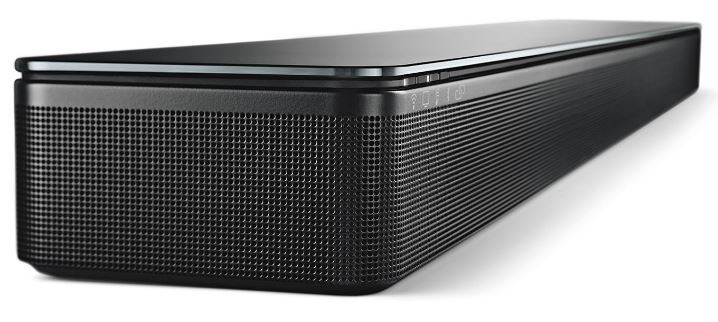 For anyone that prefers the look of a sound bar to a set of speakers, we think the Bose SoundTouch 300 will certainly live up your high standards. It looks especially great under larger TVs wider that 40". The black color matches most TV room electronic setups, but also compliments white or grey devices nicely. The setup is designed to be simple as well. It's as easy as connecting the sound bar to your TV. For those with a wall mounted TV, Bose has used their forward thinking to include a wall bracket with the sound bar so you can mount it below a wall TV for an exceptionally sophisticated look.
Build Quality
If you've used Bose products before, you know the high standards they set for themselves. With the SoundTouch 300, they've met this standard in every way. As elegant as the thick premium tempered glass top looks, don't be fooled. It's as strong as an equally thick piece of aluminum would be, despite looking much better. The thickness of the glass and its position on top of the device leaves little doubt as to how well it can stand up to general wear and tear.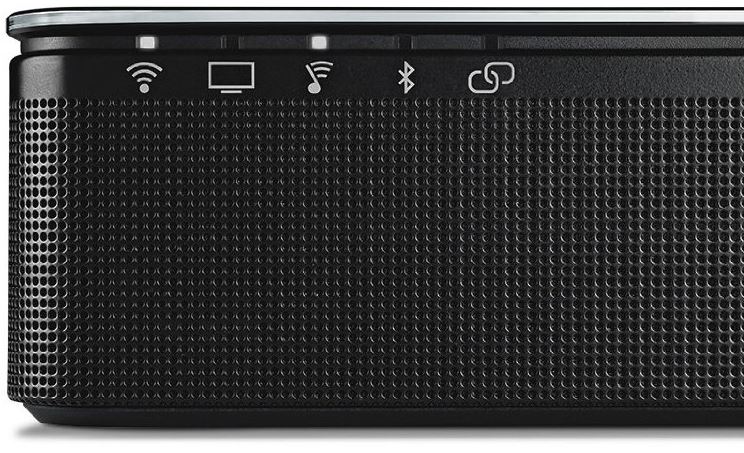 The same goes for the metal grille. Many sound bars come with plastic grilles that not only look cheap, but don't last as long. Plastic grilles have a tendency to scratch and dent much more easily than metal, which can take away from the inconspicuous elegance you want from a sound bar. The metal grille gives you all that, along with peace of mind that your sound bar won't fall apart on you.
Craftsmanship was clearly valued when Bose designed the SoundTouch 300. It's one of those devices you pick up and can feel that it was built to last. All of this is even more appealing given that Bose didn't cheap out on the stylish look and feel. The remote is solid as well, with buttons that respond quickly and don't feel as though they will wear out. Overall, it is an excellently crafted sound bar that is much more than just looks.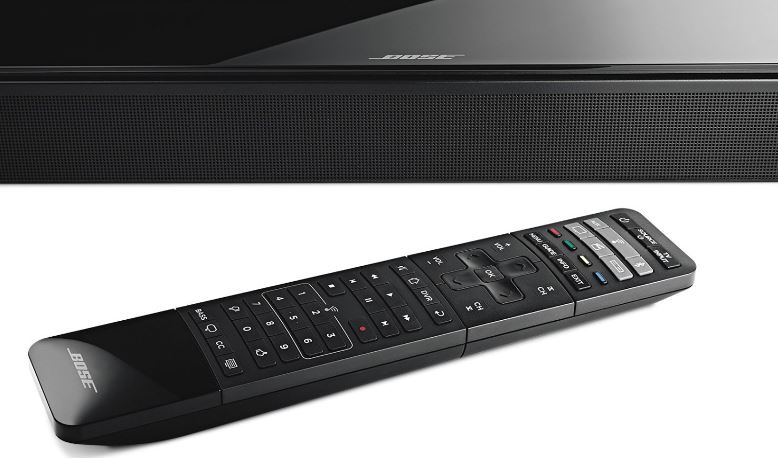 Sound Quality
If you're just entering the market for a sound bar, the Bose SoundTouch 300 is a great place to start. Generally, selecting a compact speaker over a full size model requires you to make some sacrifices in sound quality. With the SoundTouch 300, Bose proves that you don't have to make any sacrifices. The obvious risk of purchasing a sound bar is that you will lose the immersive sound offered by high quality, separate speakers, and many sound bars on the market bring this risk to fruition. Thankfully, you can pair this speaker with other affordable 300 series speakers that provide you with an immersive sound that won't break the bank.
The SoundTouch 300 gives you an immersive, spacious sound that, with your eyes closed, is indistinguishable from what you'd get with standard speakers. Bose has always been a leading brand in compact speakers that deliver a shockingly large sound, and the SoundTouch 300 is no exception. Once again, Bose has proven to be leaders in creating big sound out of small devices.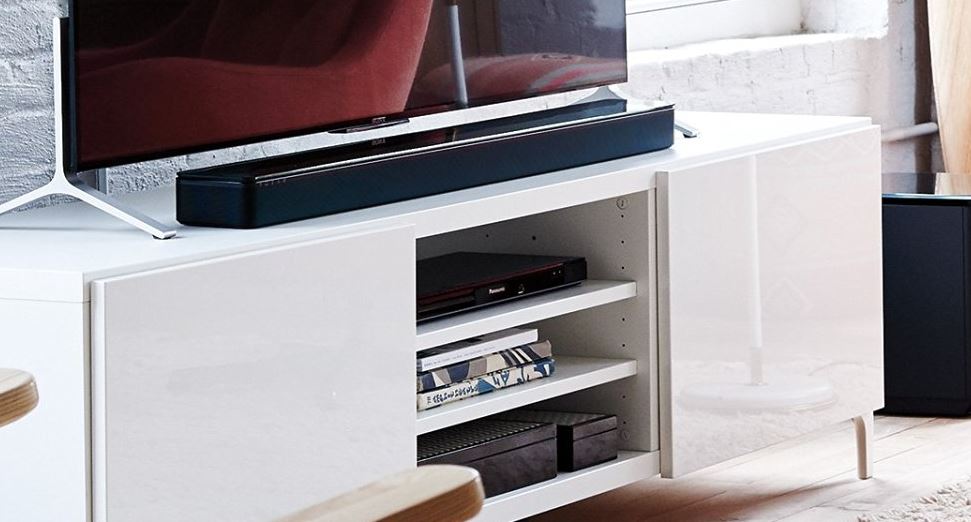 Just one listen to the Bose SoundTouch 300 and you'll understand why it's worthwhile. The experience is completely different from listening to the cheap speakers that come bundled with your TV. You'll experience complete immersion in your audible environment, almost as though the sound is coming out of nowhere.
The SoundTouch 300 is built with custom drivers to deliver the best possible punch and clarity. The QuietPort and PhaseGuide technology work together to reduce vibrations and direct sound as intended by the producers. The QuietPort diminishes distortion to absolute minimum so you can experience crystal clear, realistic sound. The PhaseGuide is a transmission tube that optimizes sound dispersion so that you feel as if you're listening to a surround sound system, even though the only device is the SoundTouch 300. However, for an even more exceptional sound, you can complement the SoundTouch 300 with its neighbors in the series, the Acoustimass 300 wireless bass module and the Virtually Invisible 300 wireless surround speakers. Together, they deliver even deeper bass and greater surround sound that you can feel.
Finally, the SoundTouch 300 comes with ADAPTiQ technology that calibrates the sound based on your room's acoustics. You get a fully customized sound that is optimized for the size and shape of the room you use it in.
Features
Bose included a ton of great technology to improve the sound, but they didn't skimp on features either.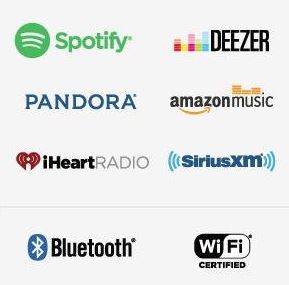 First, it includes NFC pairing and Wi-Fi technology. That means you can stream any of your music to the device completely wirelessly. Your entire library of music from Spotify, Prime music, or your own personal device can be wirelessly transmitted and enjoyed from the SoundTouch 300. This feature works with the optional speakers and bass module in the 300 series as well, so if you're investing in the full 300 series kit you'll have no problem enjoying the maximum sound quality. Wi-Fi offers significantly improved signal quality over Bluetooth, so you can be sure that there will be no downgrading at all.
If you have an older model device, you can play music directly from your phone or tablet with the Bluetooth feature. This way, even your guests can experience their library of music on your sound bar.
If you're watching movies on your home theater (and let's be honest, who isn't?) you'll want to make sure that it's compatible with your receiver. Because so many receivers don't support a second line out with 4k, you'll want a speaker that supports pass-through audio. The Bose SoundTouch 300 has the latest version of this feature, so it's even compatible with the latest copy-protection standards. This means that you'll be able to enjoy high quality audio even once 4k becomes commonplace.
Finally, the SoundTouch 300 is meant to grow with you. Adding another SoundTouch 300 to any room gives you the same great features, and they all work together. You don't have to pay for an expensive house-wide sound system installation. Any additional SoundTouch 300 can communicate and work with any other SoundTouch 300, so you can play your music throughout the house from a single device like your phone.
So, Should I Buy the SoundTouch 300?
If you're stuck using the built in speakers on your television, you should give the Bose SoundTouch 300 a serious look. On its own, it's enough to significantly improve the audio performance of your home theater system. But when paired with the other 300 series audio products, the system is capable of producing sound that's almost as good as the theater.
What makes this soundbar such incredible value is that it's not an "all or nothing" system. If you don't have enough money for a full size audio system, you can purchase the soundbar now and upgrade later. All you'd need to do to further improve the sound is add another component of the 300 series home theater system. You're not going to find a system like this anywhere else on the audio marketplace.
Meet Derek, "TechGuru," a 34-year-old technology enthusiast with a deep passion for tech innovations. With extensive experience, he specializes in gaming hardware and software, and has expertise in gadgets, custom PCs, and audio.
Besides writing about tech and reviewing new products, Derek enjoys traveling, hiking, and photography. Committed to keeping up with the latest industry trends, he aims to guide readers in making informed tech decisions.