Quick Analysis
Pros
Very good design for athletes.
Good charging case battery.
Comfortable for long hours of wearing.
Excellent connectivity.
Good sound across most frequencies.
Cons
Low earbud battery.
No music noise canceling.
Wireless earbuds are everywhere these days, but only some pairs of buds are really worth your time. Most wireless earbuds aren't made to facilitate really stable wireless connections, and plenty more don't have drivers or musical hardware that help you truly enjoy your favorite music.
Athletes have it even harder since many wireless earbuds advertise themselves as being perfect for sports enthusiasts. But they have no features that make them actually worth it for folks on the go, whether it's their shape or their general connectivity issues. Several "sports" earbuds don't even work properly when you work up a sweat!
So we examined the Axloie Goin' Wireless Earbuds to see if they're a bit different from the rest. We dove deep into all their specifications and performance metrics and even felt the buds' tips and comfort levels. After all, functionality is just as important as comfort when it comes to sportswear and gear. Keep reading if you'd like to see if these buds are a good choice for an athlete.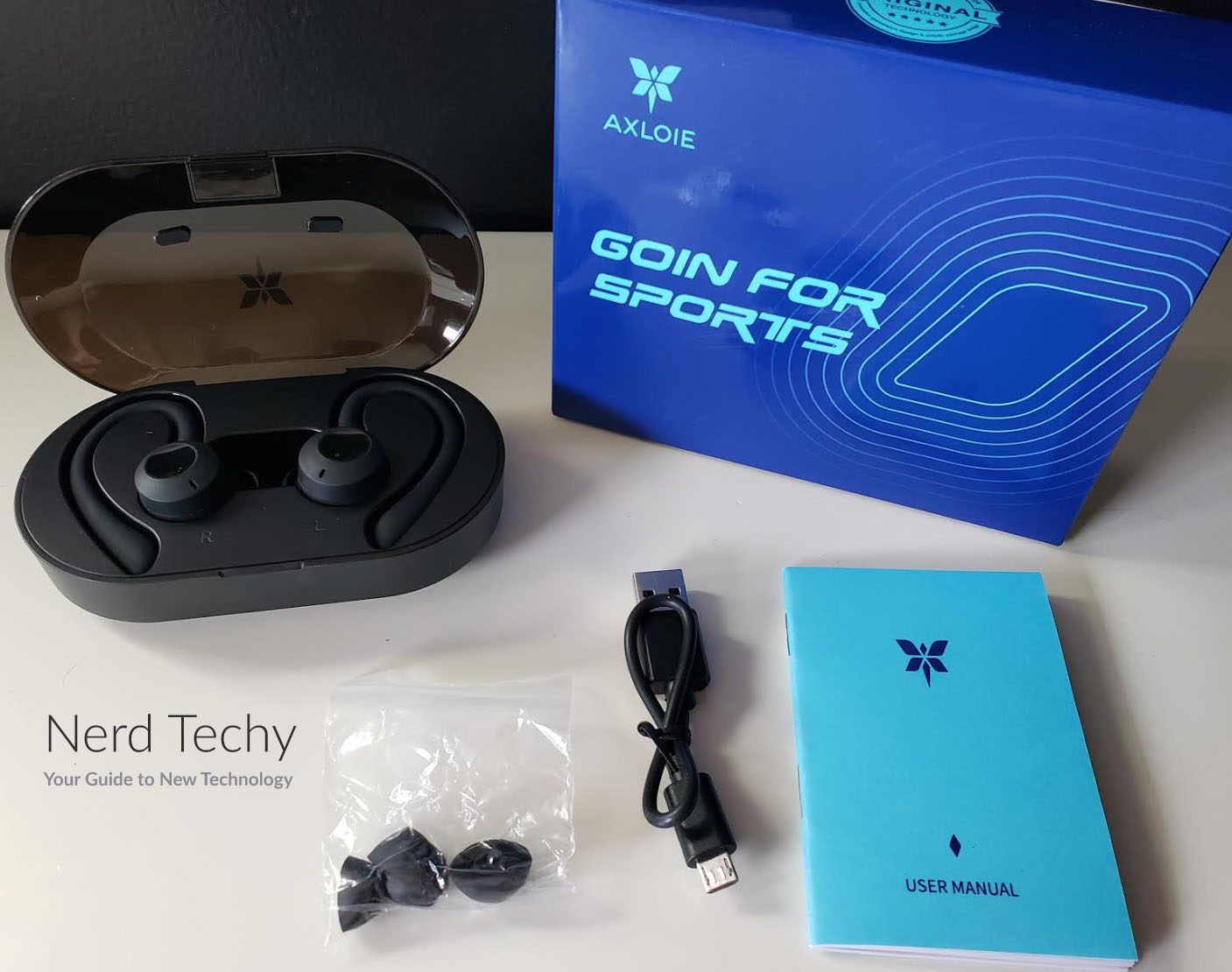 Sound Quality and Connection
The Axloie Goin' Wireless Earbuds can be easily connected with any Bluetooth 5.0 capable devices, regardless of the operating system they use. Even better, the buds can connect to any device really rapidly as soon as you remove them from the charging case. They automatically pair with one another upon removal from the case, and all you have to do is hit the Bluetooth list on your device to find the buds and connect. It's much smoother than many other wireless listening devices on the market.
The Bluetooth signal you'll enjoy is pretty clear and stable, especially compared to other wireless devices.
Additionally, you'll enjoy even more convenience because the earbuds will automatically pair to your phone after the first connection session. The software within each earbud remembers the phone to facilitate even faster connecting. You can literally grab them and walk out the door without needing to tinker with your phone after the first setup.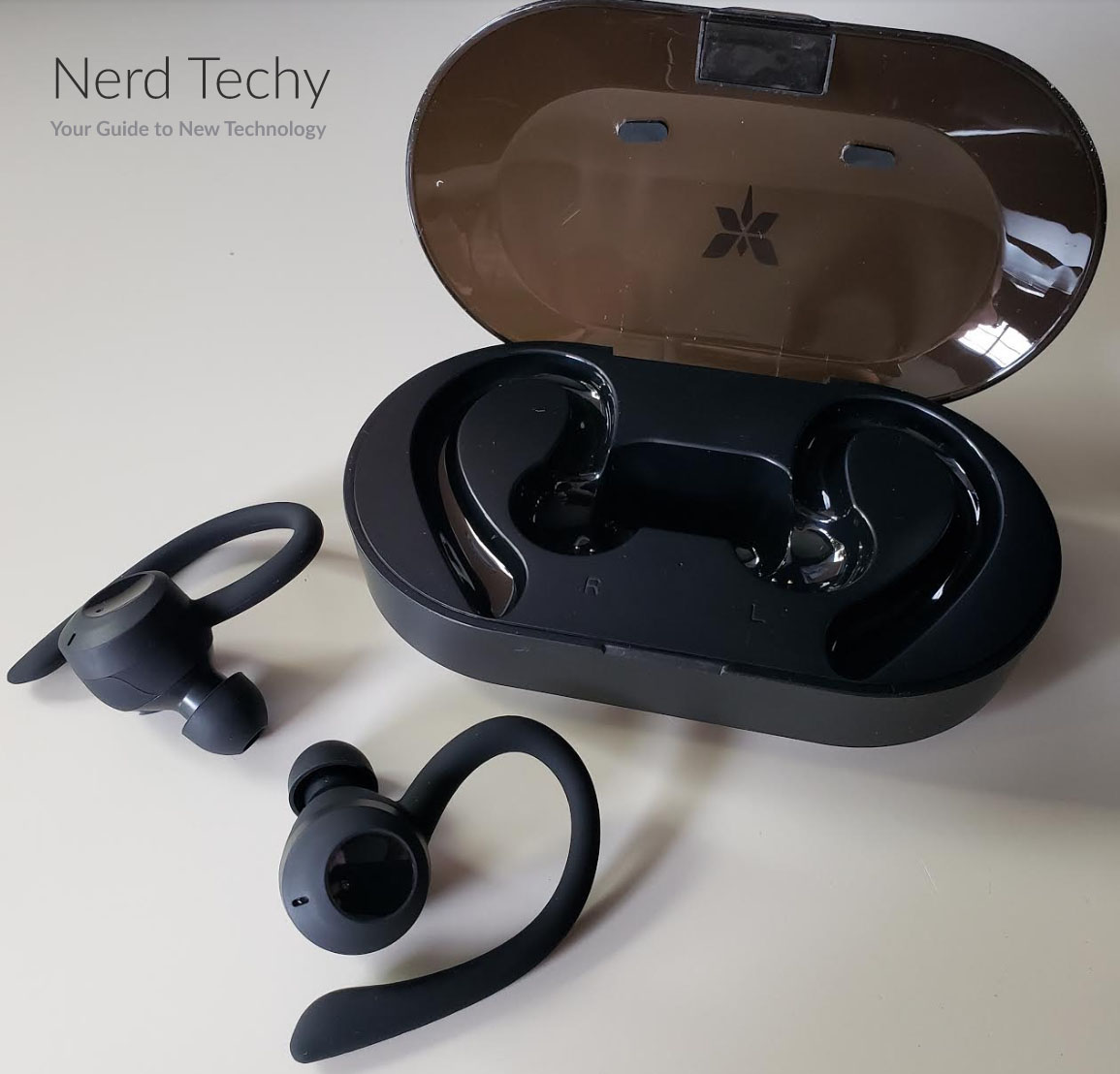 The Bluetooth tech uses a special LDS antenna to facilitate a really strong connection. This antenna helps the signal remain clear even if you head into a crowded gym with lots of other Bluetooth devices fogging up the space. General effective ranges for signal stability are pretty common for the market – you can expect about 10 m or so of connection stability before you'll start to see spottiness here and there. Then again, this is more than enough for most workout enthusiasts will likely have their phone in their pocket or near their current machine.
The Axloie Goin' Wireless Earbuds use a set of proprietary drivers and software algorithms that perform real-time analysis on your music tracks. It's all of the complicated, but this basically results in intensified experience in the low-frequency sounds. You'll hear about 30% more bass sound with excellent crisp results.
While the bass sounds are great, high and midrange sounds are also well-supported thanks to the quality drivers in each earbud. The higher sounds can get a little weak if the algorithms detect a particularly vibrant bass track and adjust accordingly, although this isn't an issue you should run into very often. Most users likely won't even notice, as it's a very subtle effect.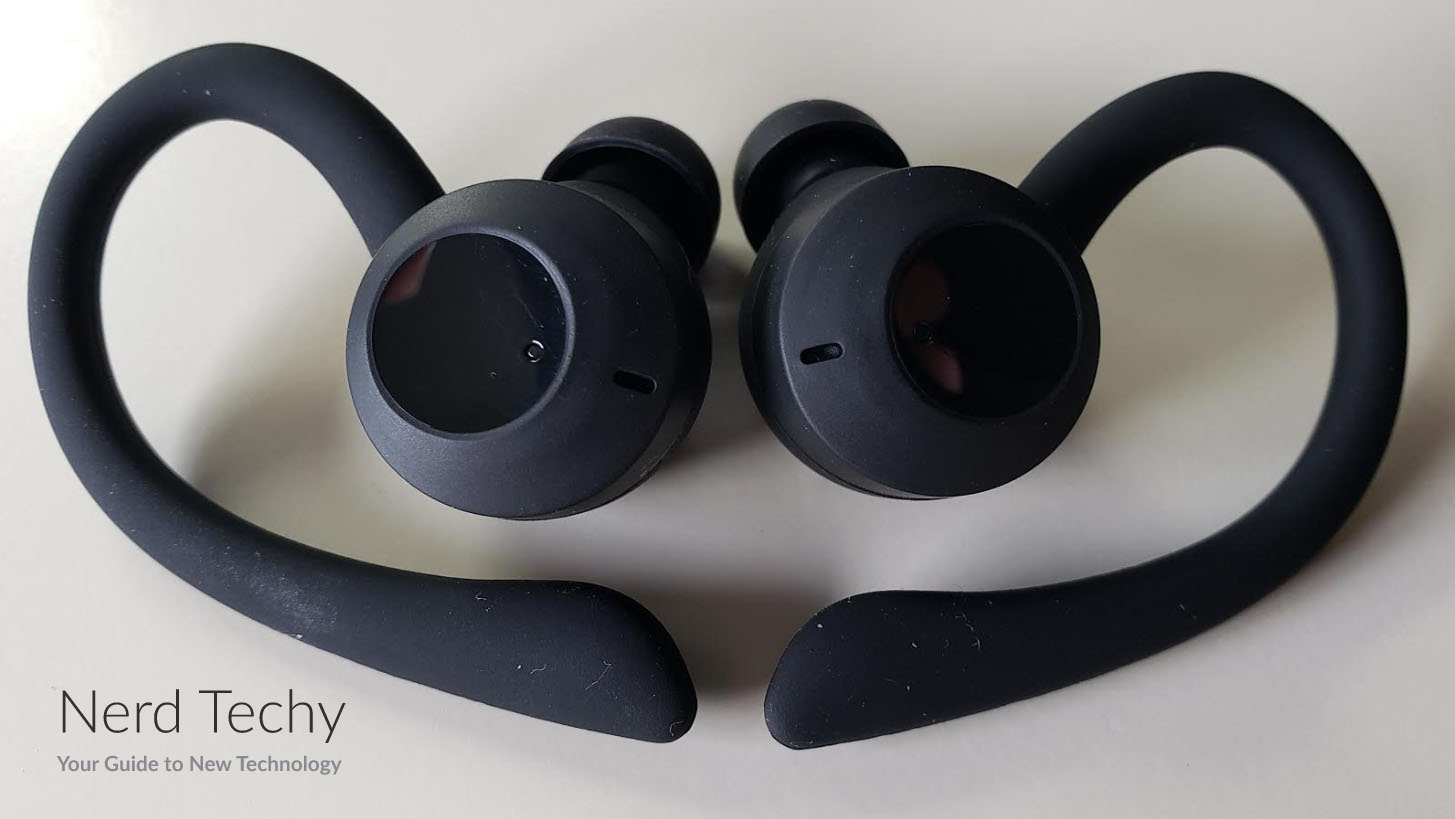 The Axloie Goin' Wireless Earbuds are also equipped to take your phone calls on the go. They utilize noise-canceling technology during all phone calls, so you should hear your conversational partner fairly clearly as it mutes surrounding ambient noise. In fact, a variation of the same algorithm that boosts bass sounds can be found here doing similar work.
The buds are equipped with a built-in electric microphone that brings your voice to your conversational partner. It's a decent microphone but far from the best in the industry. Still, even having the ability to take or reject phone calls with these affordable earbuds is a great advantage, as you usually have to pay much more for this functionality.
One noticeable aspect of these earbuds is that lower volumes work better with the enhanced bass algorithms and projection. This will be a great blessing or a negative depending on your normal ambient environment.
If the gym or outdoors aren't too loud, you can comfortably enjoy your music at lower volumes and take advantage of a longer battery lifespan. However, noisier gyms will require you to crank the volume up, which will prevent you from enjoying the enhanced bass to its maximum extent.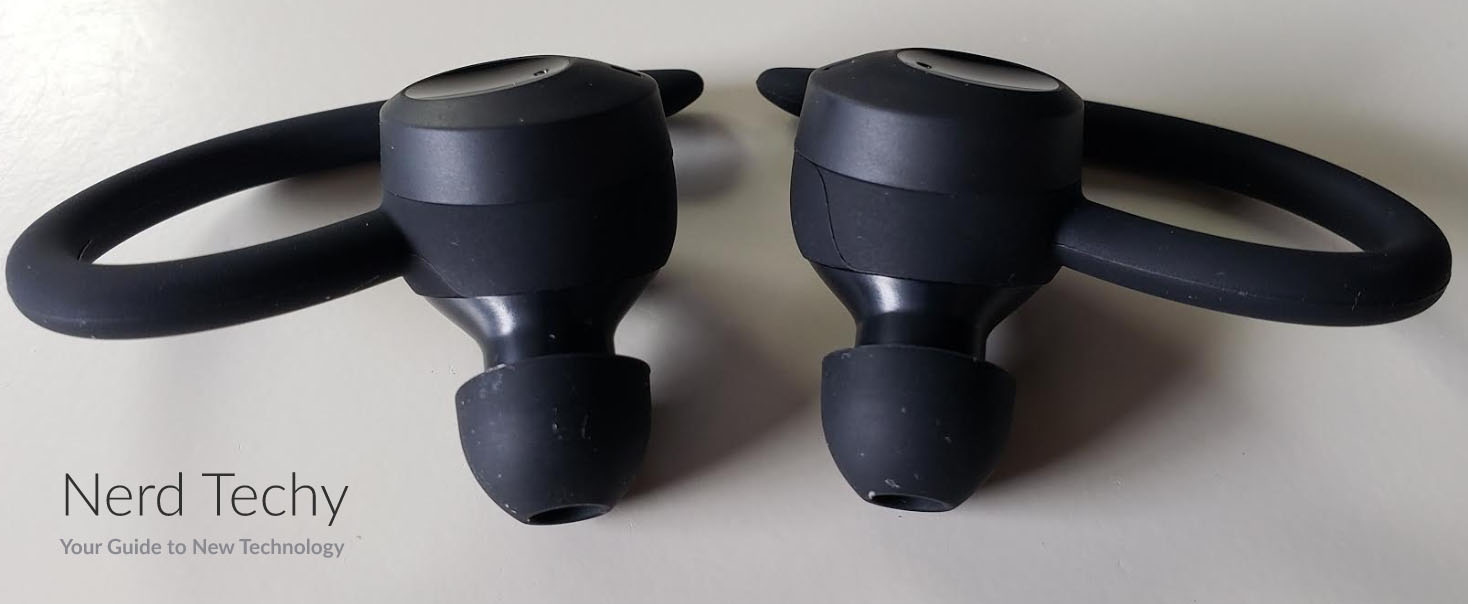 Even with outdoor noise, you never want your earbuds to be too loud or noise-canceling, as it can become a safety hazard. In this sense, maybe it's a good thing the Axloie buds don't let you block out ambient noise on an outdoor run!
Additionally, we found it a little unfortunate that there isn't any noise-canceling tech for music alone; it only works for phone calls. This isn't necessarily surprising, given the low asking price for the earbuds, but you do wonder why the manufacturer excluded this feature when noise-canceling tech already exists within the earbuds' software.
Design and Control
The buds are made with skin-friendly ear hooks – basically, they won't cause skin irritation and can be worn for long stretches of time without making you feel uncomfortable. That's also partly because they have soft ear tips that are made of ultralight materials like silicone that will eventually alter their shape to better fit the contours of your inner ear.
At the same time, the hook design ensures that the buds will stay on your ears, even if you wear them while running. They're much more secure than traditional earbud designs, like the ones employed by the NYZ Space Series.
Controlling the Axloie Goin' Wireless Earbuds is very easy, as you can switch songs, adjust the volume, answer or reject it all and ask for Siri alter using a single button located on the left earbud. Different operations are engaged by pressing the button the different sequences or for holding it for different lengths of time. This is a little confusing at first, especially if you try to remember the different combinations. Once you get it it's not a big deal, but it can be frustrating at the beginning.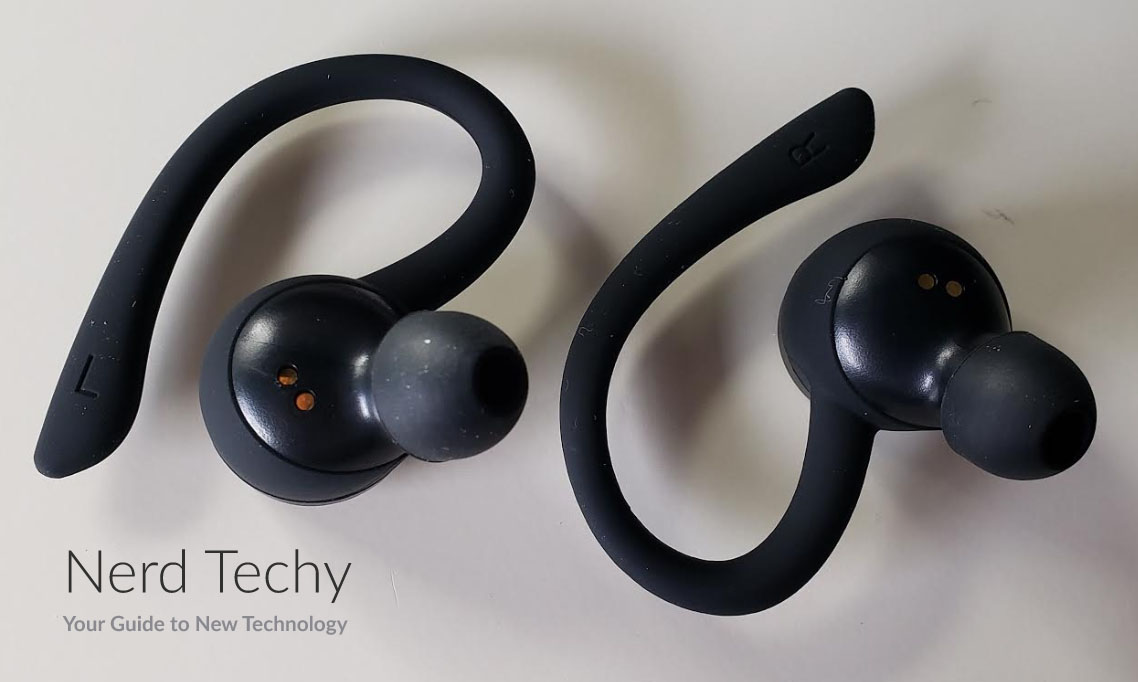 In terms of durability, the Axloie Goin' Wireless Earbuds have a lot to offer. Not only are the soft but lightweight materials fairly tough to withstand regular use, but they are also IPX7 certified. This marks them as capably waterproof for sweat and rain: perfect additional benefits for regular exercisers or runners who like to jog outdoors through all months of the year. They aren't waterproof enough to survive being thrown in a pool, of course, but no electronics really are.
Additionally, the manufacturer Axloie provides an additional 18 months of service and support so you can purchase these with peace of mind. They'll happily cover any manufacturing errors or problems as a result of regular use and can even help you troubleshoot the earbuds if you've never used wireless listening devices before.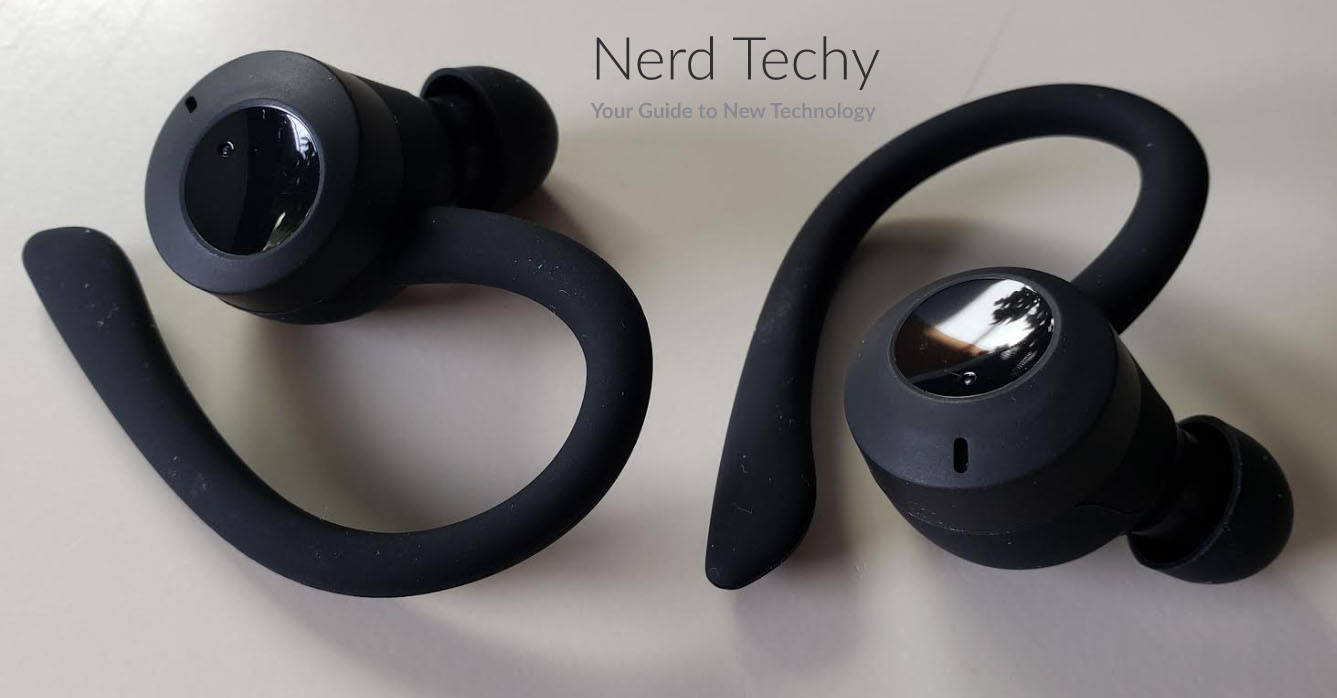 Charging and Battery
The Axloie Goin' Wireless Earbuds are built to run with low power so you can enjoy them for long stretches of time before they need to recharge. They last for about five hours on a full battery played at regular volume. This is a little lower than several other wireless earbuds on the market, but it should be enough for any workout session or long run.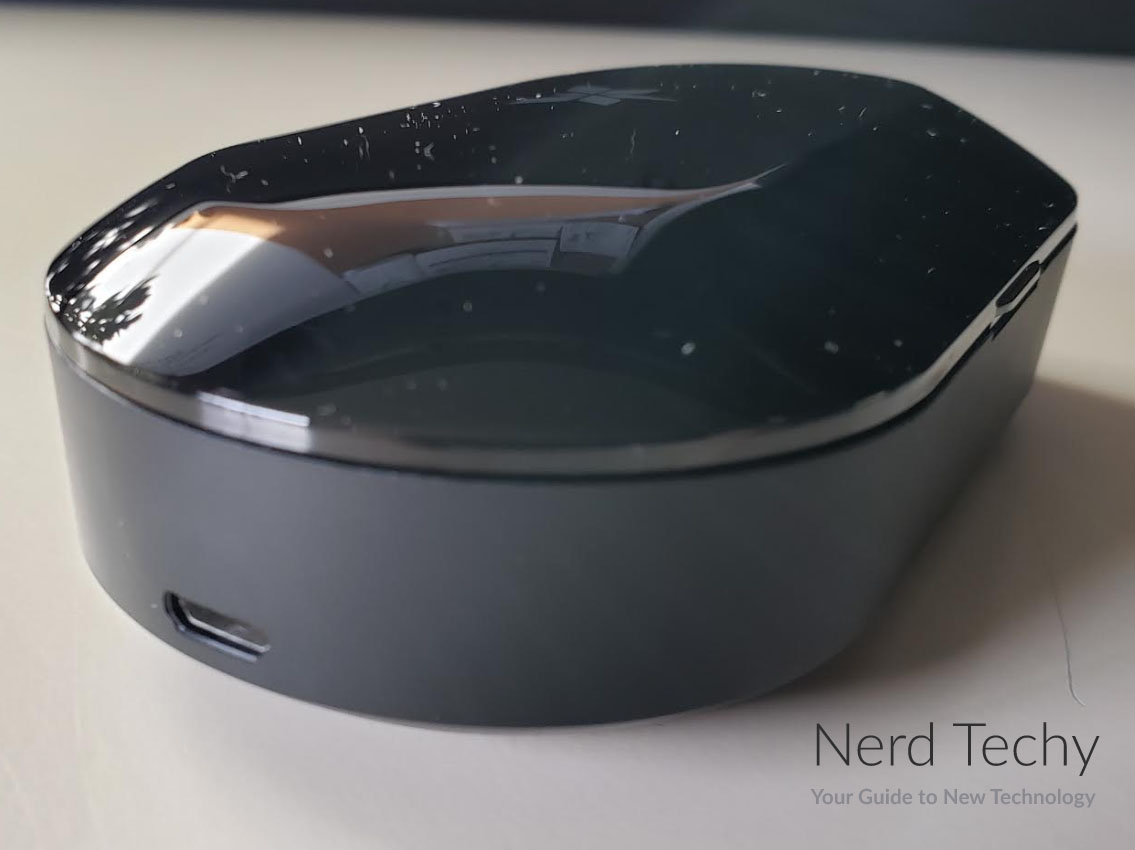 Technically speaking, these buds actually have a stored charge time of about 20 hours of music because the charging case also has a battery that can also be charged at the same time. Slipping the earbuds into the charging case will let you refill their battery in about 15 minutes. The case itself has an additional 15 hours of playtime stored within its capacitors.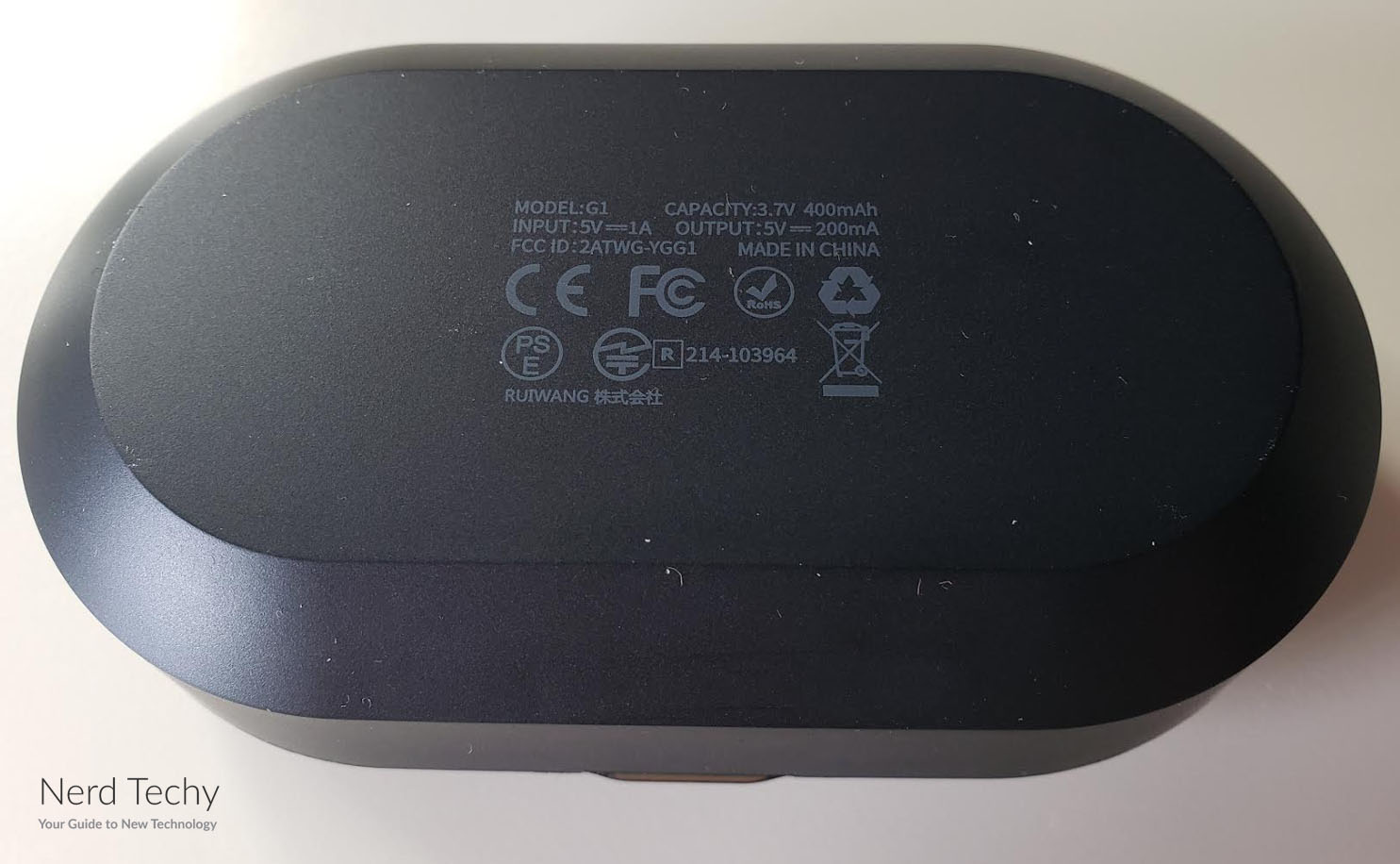 The ideal charging scenario is, therefore, this: use the earbuds during your workout, then place them in the charging case after you are done. Every three or four uses, you'll need to recharge the carrying case itself; the charging cable is included with your purchase.
Final Verdict
Overall, we have to give the Axloie Goin' Wireless Earbuds generally high marks. The lack of dedicated musical noise-canceling tech isn't enough to counteract all the positive points they bring to the table, like a comfortable hook shape, soft materials that retain durability regardless, and good Bluetooth connectivity even if you have your phone in your pocket.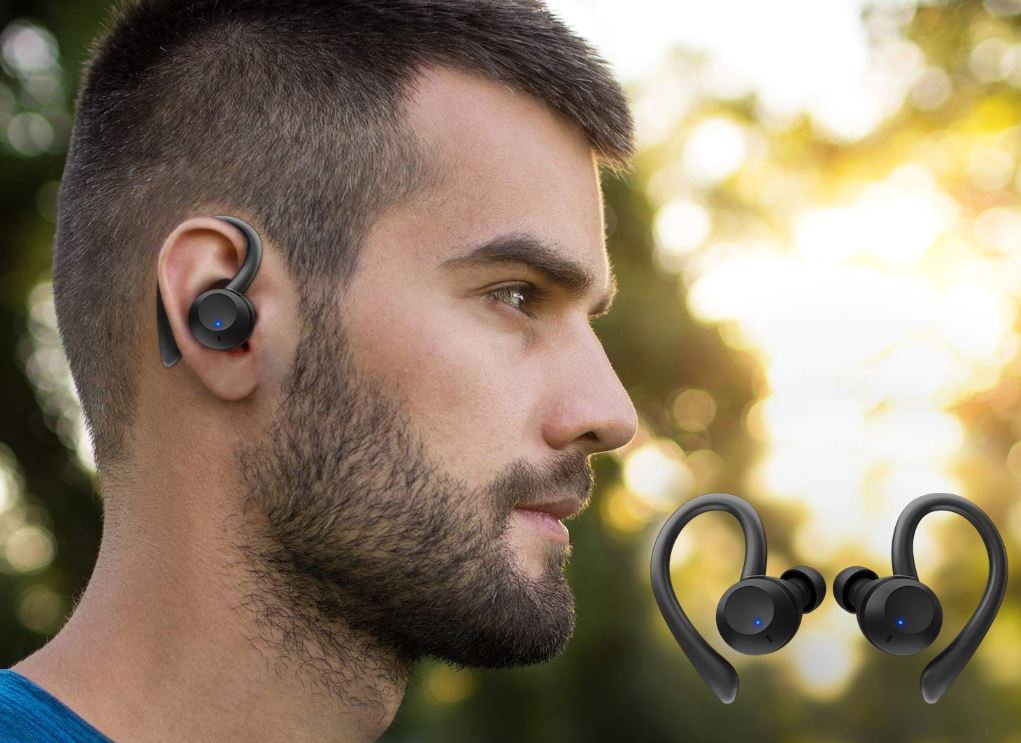 They work quite well in the rain or if you are a heavy sweater, and they provide particularly exceptional bass sounds. We'd easily recommend these buds for those with lots of bass-heavy tracks for this reason alone. Through and through, there are a solid pair of wireless earbuds that you can get for an affordable asking price, to boot.