Looking back, it's hard to believe how far wireless audio technology has come over the past decade. Go back just a few years, and wireless headphones were a joke. There just wasn't enough bandwidth to get good audio quality. You could only listen in mono, and only at low bitrates. For anything other than hands-free calling or listening to podcasts, they were utterly useless.
When Apple CEO Tim Cook announced that the iPhone 7 would be wireless-only, many audiophiles cringed. But Cook was taking advantage of a new technology called True Wireless Stereo (TWS). TWS allows you to stream music in stereo and at high bitrates. It's everything you need to build a good pair of wireless headphones, and the market has exploded since then.
Of course, this has come with an obvious downside. With so many TWS headphones on the market, how do you know which ones are good? That's where we come in. We're about to review two of the hottest new wireless headphones on the market. First up are the COWIN SE7 ANC Headphones. These powerful headphones offer excellent active noise cancelling (ANC) performance, along with good sound. Next, we'll check out the Tribit QuietPlus ANC Headphones. These headphones provide a bit more bass, but the ANC performance isn't quite as good. Which one is best for your needs? Let's take a look at all of their features, and render a final verdict!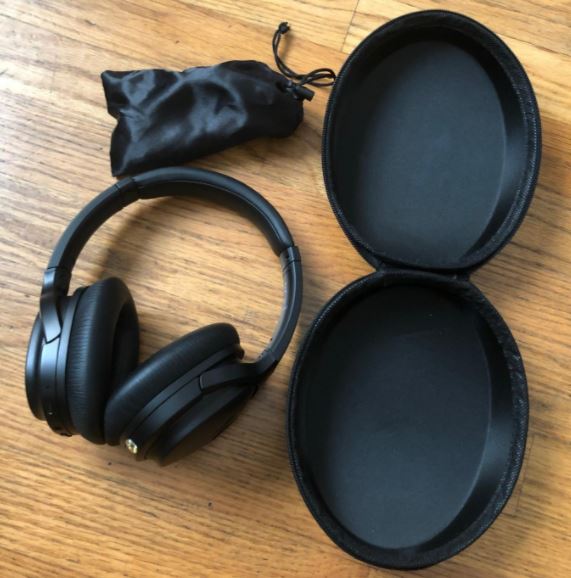 COWIN SE7 ANC Headphones
COWIN is an established manufacturer, with a long track record of producing high-quality ANC headphones, such as the E7 Pro and E8. Because of this, we were excited to check out their new SE7 ANC headphones. Right out of the box, you'll have a pair that matches your personal sense of style. No, we're not clairvoyant. It just so happens that the SE7 headphones come in five different colors. With black, white, green, red, and pale gold options, at least one is going to work well for you.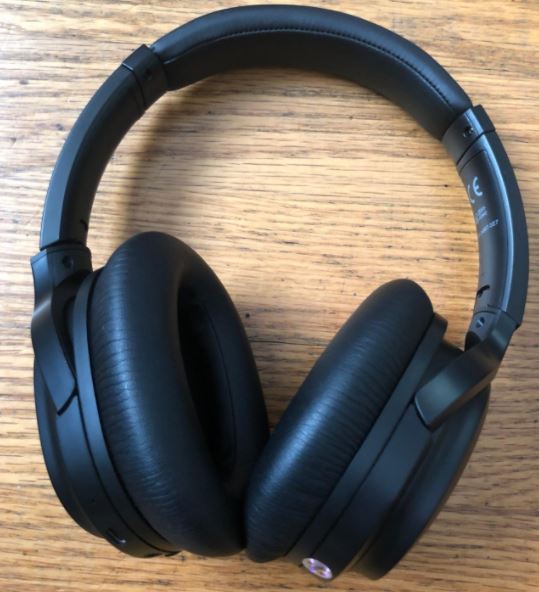 The SE7 ANC Headphones have soft, comfortable memory protein ear cups. They're soft and cushy, but still provide a good seal around your ears. They're also nice and flexible, with a hinged design that can fit most ears. They won't pivot, though, which was a bit of a disappointment. That said, the hinges will close all the way, allowing you to fold the ear cups for storage or transport. Internally, the ABS plastic head band and ear shells are supported by a metal frame for durability.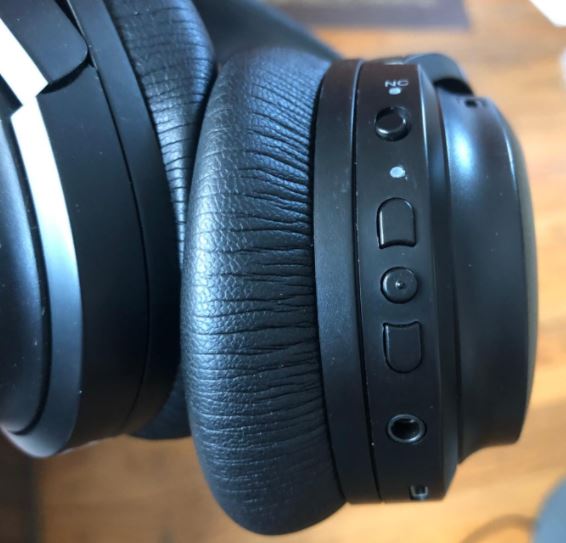 Most of the controls are located on the left ear cup. Here, you can adjust the volume, answer and end calls, or change tracks. The right ear cup is where you'll find the ANC toggle switch, as well as a 3.5mm aux input. The kit includes a 3.5mm cable, a stereo splitter, a ¼-inch adapter, and a soft drawstring pouch. This offers wide compatibility, along with some scratch protection from the couch. Everything is protected by COWIN's 18-month manufacturer's warranty, so you don't have to worry about premature failure.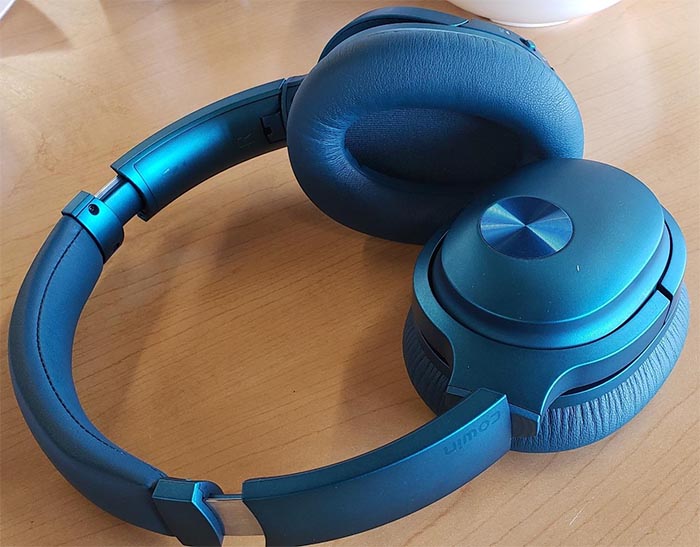 Battery and Connectivity
The COWIN SE7 ANC Headphones will provide up to 30 hours of playtime on a single charge. As with similar ratings for wireless earbuds, this number is a rough estimate. It's also based on manufacturer testing at medium volumes. If you want to turn the volume up all the way, expect more like 25 hours of playtime. Regardless, it's a long time, and you won't have to worry about charging constantly. Moreover, you can use the 3.5mm jack and cable to plug into a headphone jack. This won't work on a wireless-only device like the iPhone, and it won't work with the headphone controls or ANC. That said, wired operation doesn't require any battery, so your performance is basically unlimited.
Of course, these are wireless headphones, and you're generally going to want to use them in wireless mode. In this case, a Bluetooth 5.0 connection provides wide bandwidth and minimal latency. Within about 15 meters (45 feet), the Bluetooth connection remains very stable. This gives you a bit of space to roam around if you don't want to be tied to your phone.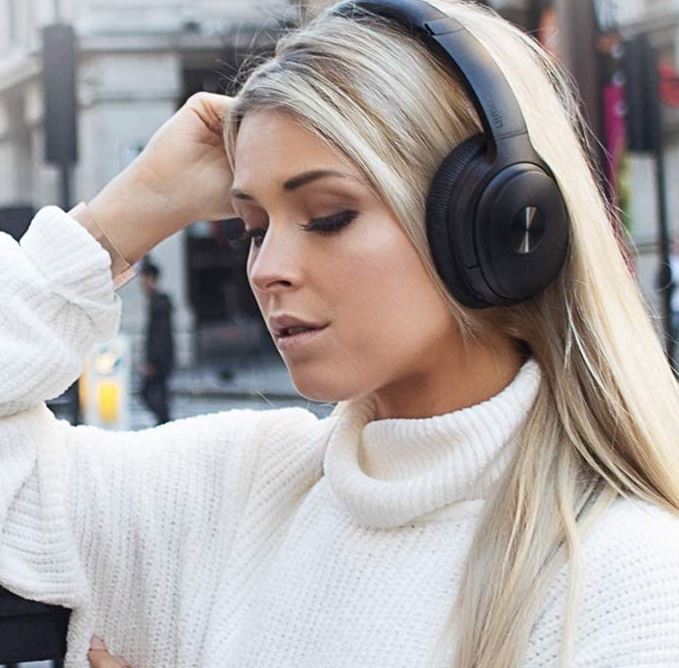 Sound Quality
So, the COWIN SE7 ANC Headphones are a model of design and connectivity. But what about the sound quality. Audiophiles can rest easy. The SE7 offers plenty of clarity across the board. Mids, bass, and treble all come through just fine. Oddly, the EQ is a bit heavy on the mids. This is an unusual choice, but it provides top quality vocals as well as classical instrumentals. It's also not to say that the high or bass frequencies are bad. There's plenty of texture, and you can hear them just fine on a wide soundstage. It's just that the mids are emphasized in the mix.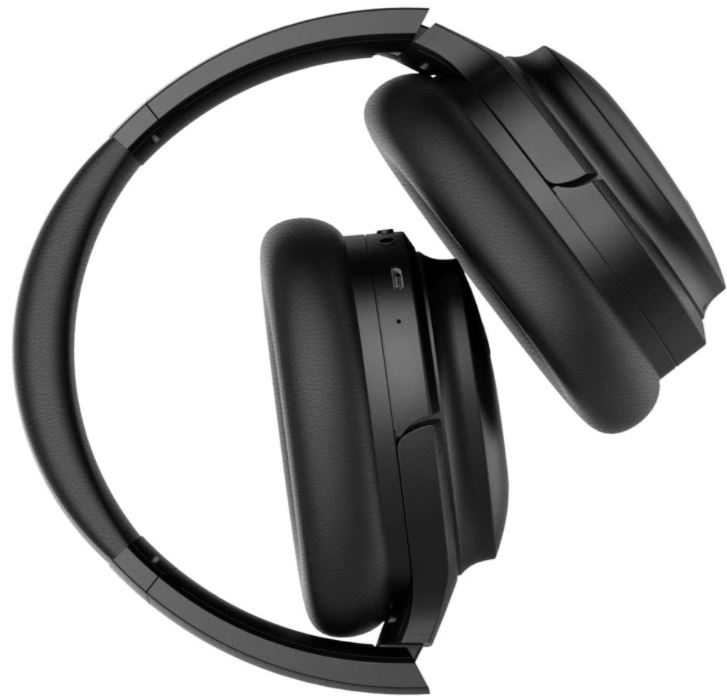 The ANC function really makes the SE7 headphones shine. It's great for blocking out conversation hum, which makes it ideal for crowded areas. It also performs very well for low frequencies like trains and airplane engines. Like all ANC headphones, the system is reactive, not proactive. This means it does better with steady, constant sounds than it does with short, sudden sounds.
The built-in dual mics don't have any built-in noise cancellation feature. Considering the ANC speakers, we were disappointed to learn this. Then again, it shouldn't be too surprising considering the price. Call quality remains good, since the mics do a decent job of focusing in on your voice. As with any hands-free calling, how well you hear the other person will depend mostly on their mic.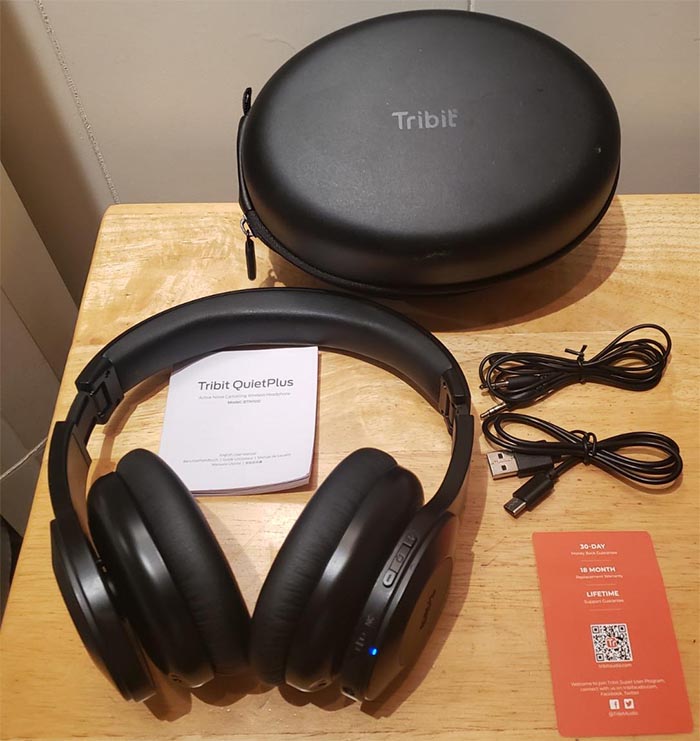 Tribit QuietPlus ANC Headphones
Tribit is another well-known audio manufacturer, although they're primarily known for their Bluetooth speakers, like the Tribit StormBox. Nonetheless, we were eager to get our hands on some ANC headphones from them. The QuietPlus ANC Headphones are a bit more laid back, with a plain black design. This doesn't mean they're unattractive, though. They're sleek and modern-looking, with oval ear cups and an easy-to-clean satin finish.
The ear cups are constructed from urethane, which is a bit stiffer than memory protein. It can smell for the first few days, but that's just normal outgassing. If this is a major problem for you, just leave the headphones to air out for a bit before you wear them. In terms of comfort, the cups are nice and supportive, with a genuine cowhide leather shell that won't get sticky.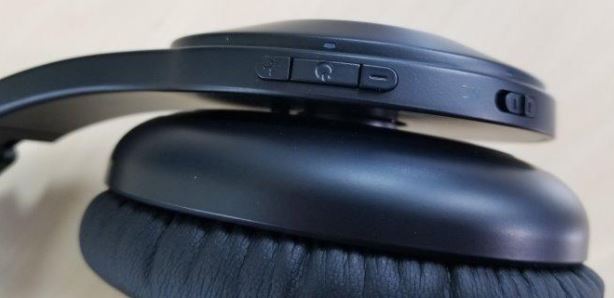 The QuietPlus' foldable design is similar to the SE7's, complete with a hinged armature. It also has a similar internal aluminum frame to keep everything supported. Along with the headphones, the kit includes a 3.5mm aux cable, a USB Type-C charging cable, and a travel case. This isn't just some wimpy pouch or soft case, either. This is a fairly tough case that's durable enough for air travel. You also get Tribit's 18-month warranty, just in case anything happens to go wrong.
Battery and Connectivity
The Tribit QuietPlus ANC Headphones offer impressive battery life. With 36 hours of playtime on a single charge, you don't have to worry about running out of juice. Even using a more conservative estimate of 30 hours, you're looking at some excellent performance. Keep in mind that turning off the ANC can extend your battery life. To do this, simply flip the switch on the right ear cup. As with the SE7, you can also connect via a 3.5mm aux cable. This method won't drain any batteries, but you also won't be able to use the ANC function.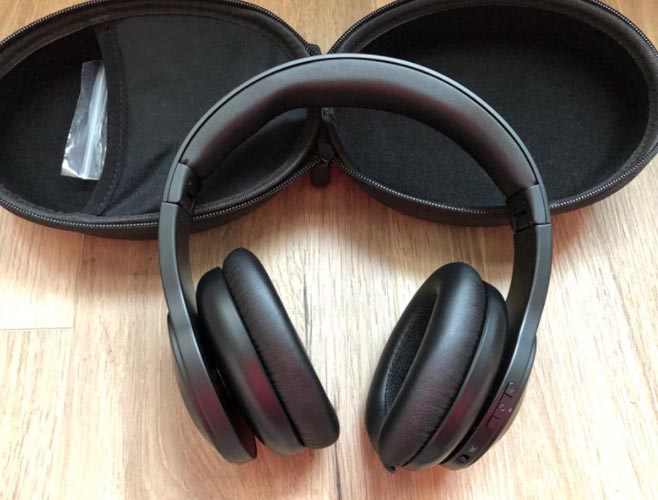 The QuietPlus also connects to your phone via Bluetooth 5.0. The range is a bit shorter than the SE7's, at only 33 feet. Still, it should be long enough for most people. Unless you need to do a lot of walking around, 33 feet should be more than enough.
Sound Quality
As before, our review wouldn't be complete without looking at sound quality. The QuietPlus cans perform very well, with a relatively flat EQ. This means that bass and treble are a bit more present than on the SE7, but the mids are more staid. The clarity is excellent across the board, to the point where you'd swear you were wearing wired headphones. The soundstage is also nice and wide. It provides good separation between instruments, which makes these headphones a treat for audiophiles.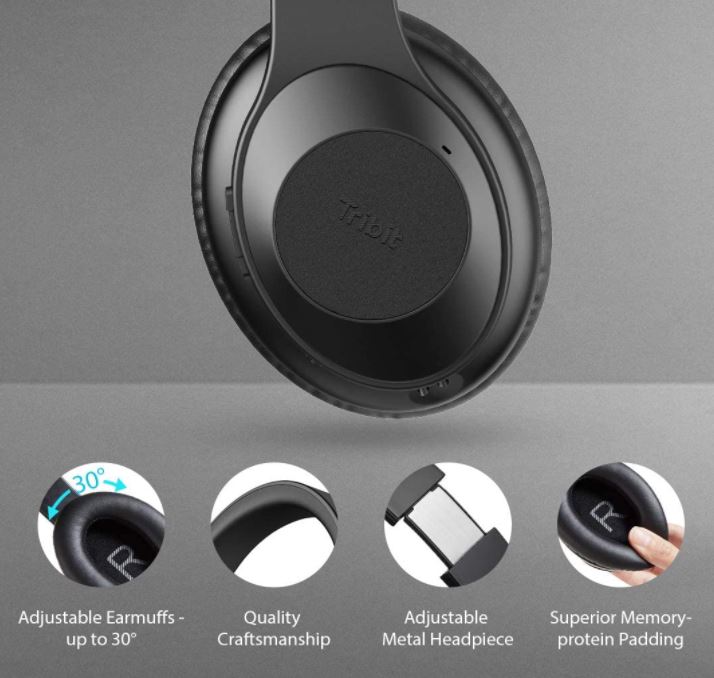 The ANC on the QuietPlus headphones offer reasonably good performance. They do a good job of blocking out low rumbles in particular, as do most ANC headphones you'll find. They aren't quite as responsive in the middle frequencies as the SE7, though. This probably has to do with the flatter EQ, as opposed to the SE7's relatively mid-heavy EQ.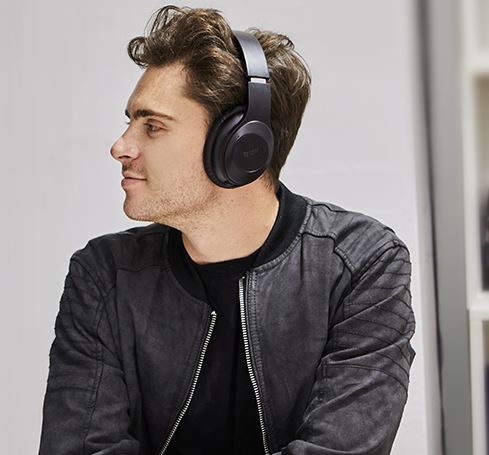 One thing the QuietPlus headphones offer that the SE7 cans don't is CVC 8.0 noise cancellation. This is a software protocol for the mics that focuses the sound in on your voice and filters background noise. As a result, the other person will be able to hear you more clearly when you're on a phone call. It has no effect on how you'll hear the other person, however.
Final Verdict
No matter how you cut it, these are both solid headphones in the middle price range. But there are important differences between them. Which one is the best for you will depend on what you're looking to do with your headphones.
The COWIN SE7 ANC Headphones offer better ANC performance, which makes them better for commuters. When it comes to filtering out background conversation hum, there's really nothing out there like the SE7. Not only that, but the mid-heavy EQ is ideal for country music, classical, and anything with lots of vocals. The only area where they fell short is call quality, where we would have liked to see some noise cancellation.
The Tribit QuietPlus ANC Headphones outperform the SE7 in this regard, with CVC 8.0 noise cancellation. They also have a longer-lasting battery, with a rated performance of 36 hours, and a durable carrying case. On the downside, the Bluetooth range is a bit shorter, and the QuietPlus is only available in black. The flat EQ is neither better nor worse, just different. Which sound profile you prefer will depend on what genres of music you like best.
Meet Derek, "TechGuru," a 34-year-old technology enthusiast with a deep passion for tech innovations. With extensive experience, he specializes in gaming hardware and software, and has expertise in gadgets, custom PCs, and audio.
Besides writing about tech and reviewing new products, Derek enjoys traveling, hiking, and photography. Committed to keeping up with the latest industry trends, he aims to guide readers in making informed tech decisions.