Quick Analysis
Durability/Build Quality
8.0/10
Pros
Super-rich, bass heavy sound with vivid mids and highs.
Three EQ effects that let you 'customize' the sound based on your preferences.
Ability to pair two Mega Pros simultaneously.
IPX5 water resistant and sealed from dirt and dust ingress.
NFC offers quick and easy pairing to your smartphone.
Cons
Battery life is somewhat lacking, especially at higher volume levels.
A bit bulky for some scenarios.
Not available on Amazon.
Portable speakers have come a long way over the past decade. Back in the day, you only had a few different options to choose from. Simply put, most people would have to choose between popular brands like Sony, Panasonic, etc. Nowadays, there are literally hundreds of different manufacturers producing wireless speakers of all shapes and sizes. The influx of Amazon and other online shopping giants have flourished a new growth of second-tier brands. One such is Tronsmart.
Tronsmart is not a brand new manufacturer, but they've been gaining much popularity over the past several years. Here at NerdTechy, we've had the pleasure of reviewing several offerings from them. From the T6 Plus to the Apollo Bold and Spunky Beat earbuds, we've always found their offerings to be top-notch. They typically come in at a sweet spot that blends affordability with excellent audio quality.
Their latest release is the Mega Pro Bluetooth speaker. Needless to say, we were quite excited when we heard that it was coming soon. Fortunately, we're one of the first to get our hands on this new model. Today we're going to take a close look at each of its features and see if it's a worthwhile choice in today's market. We'll examine multiple aspects of it and ultimately determine if it's a worthwhile investment for audio-lovers alike.
First Look
The Tronsmart Mega Pro is a wireless speaker that utilize the latest Bluetooth 5.0 protocol in a larger than average, but still portable physical size. Measuring 9.84″ long, 3.23″ deep and 4.09″ tall, it weighs in at just under 63 ounces. At first glance, it's a very attractive design that comes in a matte-black finish, built with a solid, high-quality feel.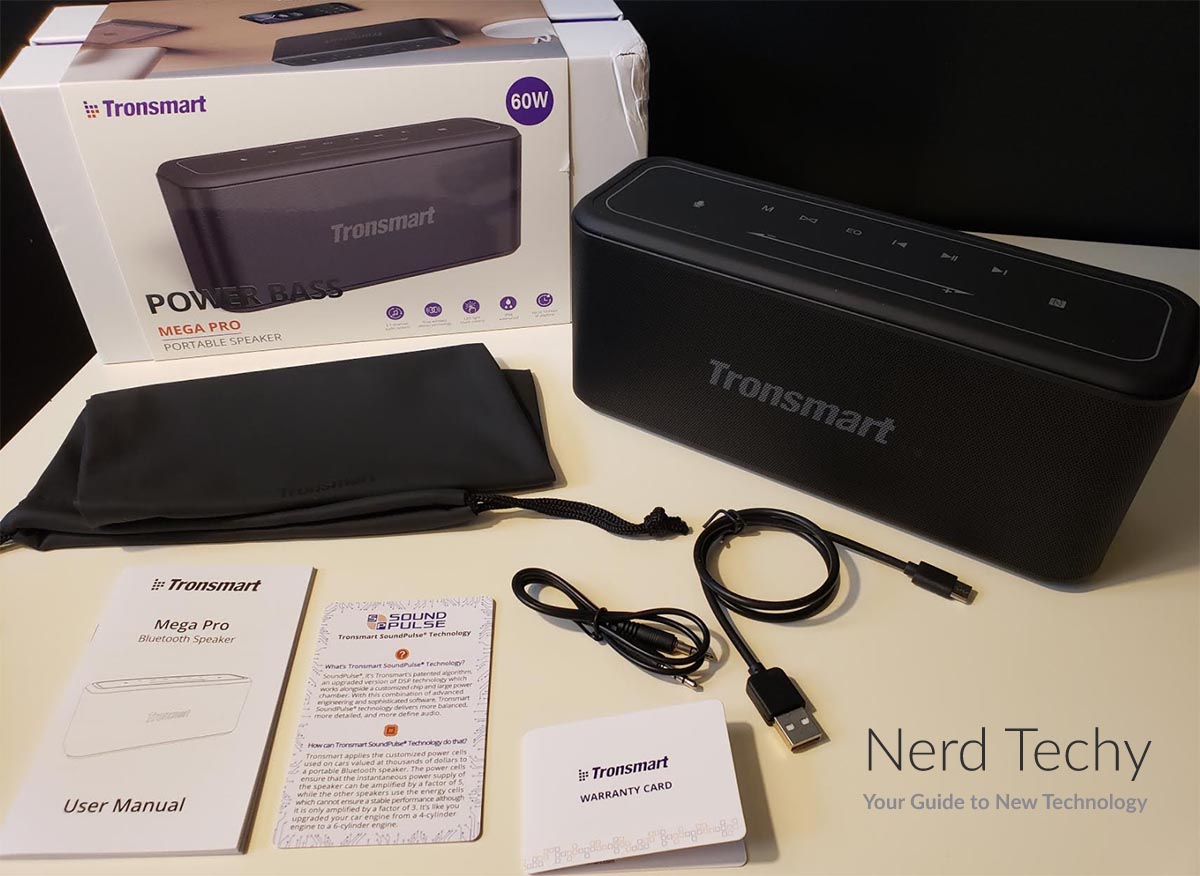 It boasts a typical speaker design with all of the functionality at your fingertips on top, a metal grille wrapped around. On the back is the power button, auxiliary input, micro SD card slot with USB-C and USB-A charging ports. Flip it over and you'll see a rubberized finish with four tiny feet that seem to grip the surface of your desk quite nicely.
In the box, you'll also receive a user manual, warranty card, carrying pouch and USB-C charging cable. It's everything you need and nothing more.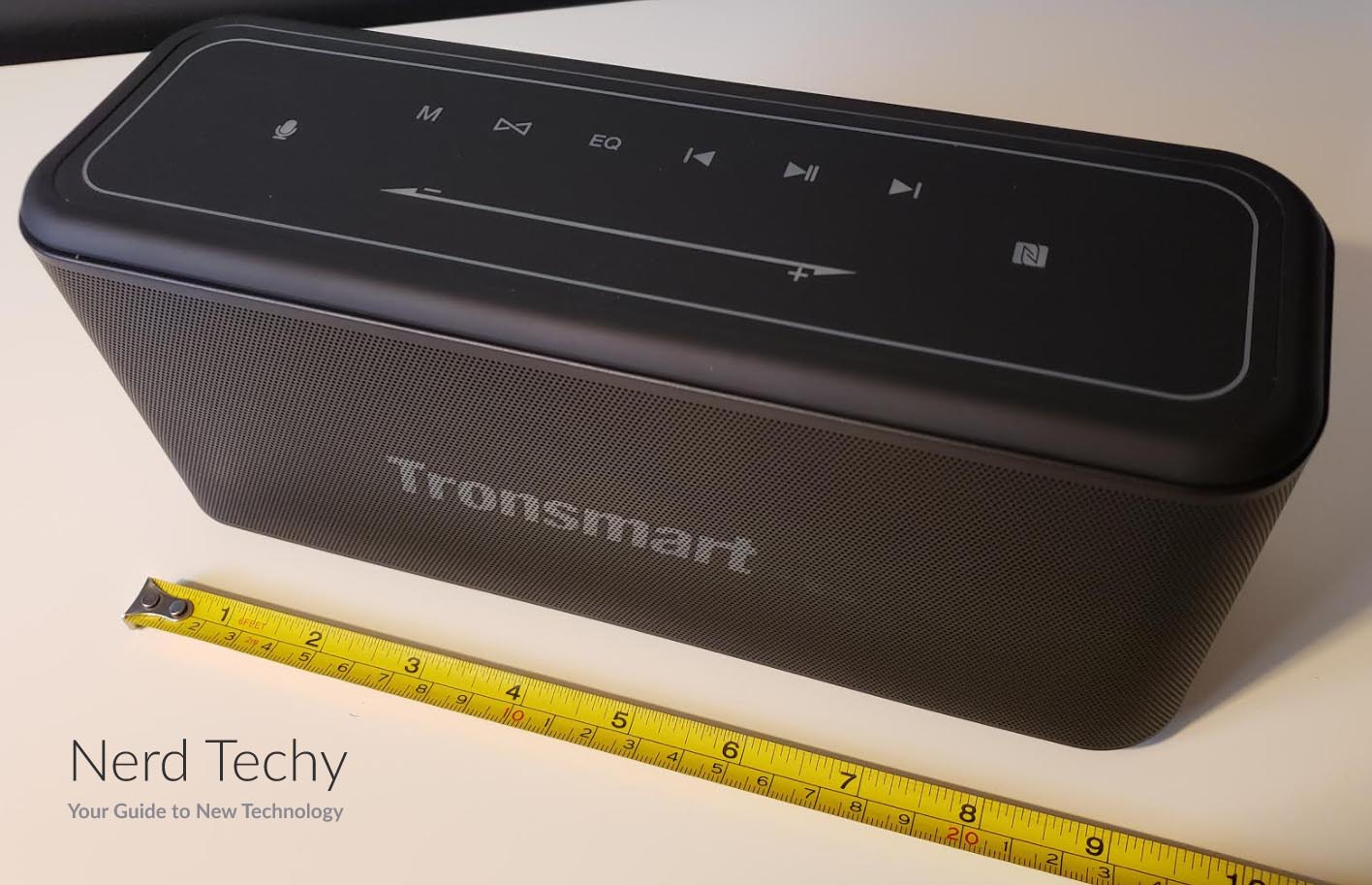 Functionality
On top of the speaker is an intuitive touch panel that has integrated lighting. This offers backlighting on all of the buttons so you can always see what you're pushing. The Mega Pro is easy to control from the top panel. There's a wide range of buttons including one for the TWS function, Equalizer settings, previous/next tracks, modes, NFC and call functionality. In fact, there's even a volume slider that lets you slide your finger to raise or lower the volume.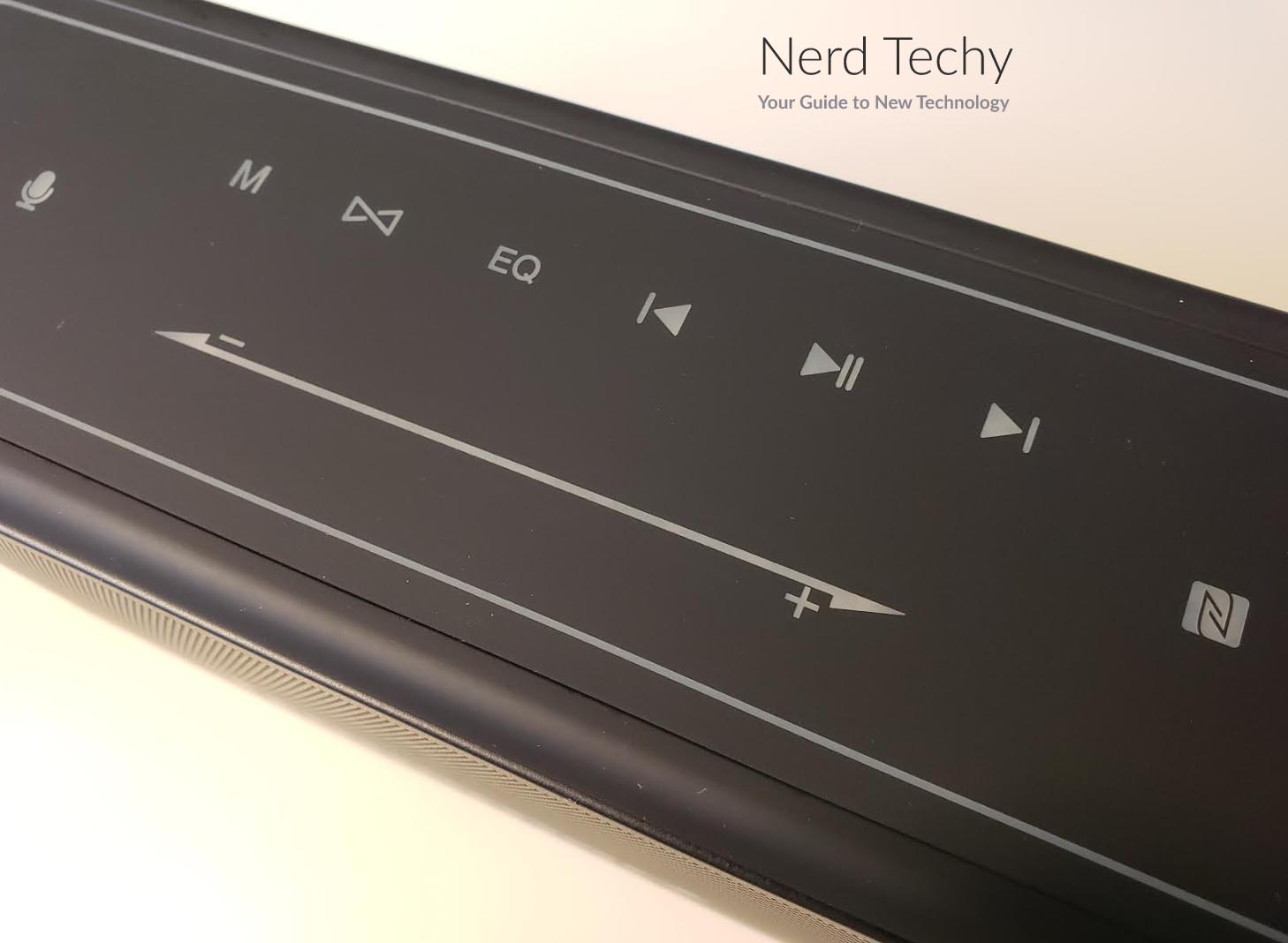 Pairing it to your phone, laptop or other Bluetooth-enabled device is simple. Especially with NFC, simply tap the NFC button and hold your phone close. It'll automatically pair in a matter of seconds. This feature seemed to work well and was a very nice inclusion, in our opinion.
Sound Quality
Internally, the Mega Pro is equipped with dual tweets and a subwoofer that's paired with a passive radiator and two amplifiers. Capable of 60 watts, it's definitely not weak or underpowered in any regard. In fact, it's quite impressive how Tronsmart managed to integrate all of these into its design.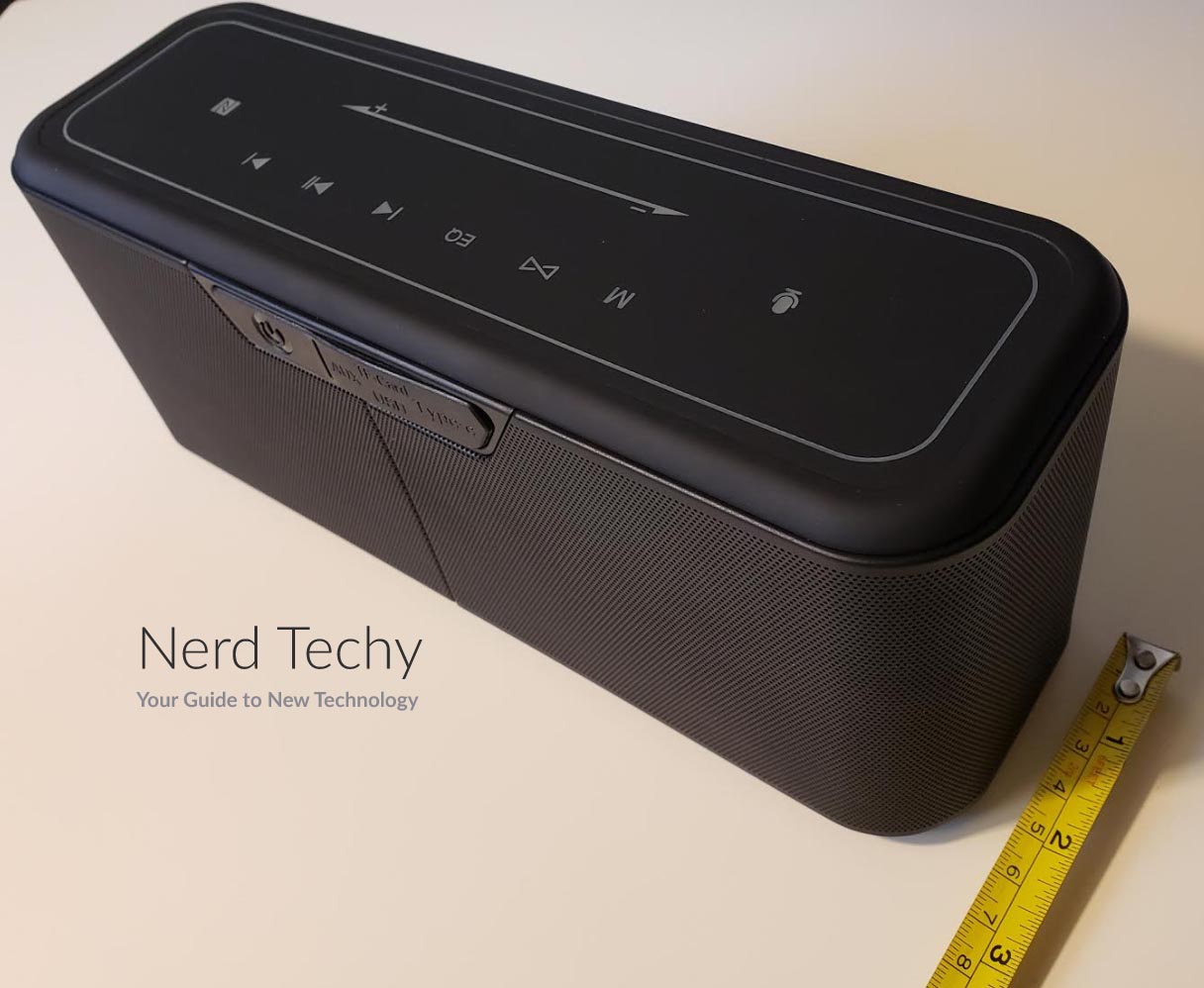 But how does it actually sound? Pretty nice! We tested it out with a wide range of genres, from fast paced hip hop music to bass-heavy trance. We never encountered distortion or fuzziness and the mids and highs seemed to carry a nice, vivid effect. To put it bluntly, it excelled at everything we wanted to play and really shined with emitting thumping bass. Tronsmart claims it uses something called "SoundPulse Technology". It sounds like a fancy and almost gimmicky feature, but we truly believe it made the sound much more rich and vivid. What is it exactly?
SoundPulse Technology is Tronsmart's very own patented algorithm that's an upgraded version of DSP that works in conjunction with a customize chip and large power chamber. It's specifically designed to give more balance, better detail and more defined audio. It does this by counteracting sound defects and eliminating harsh tones. It also changes the sound output position of the chamber to broaden the sound range and strengthen the stereo sound effect. This allows the DRC processing to keep the original sound wave without any distortion. Ultimately, this enhances the bass and produces pristine vocals simultaneously.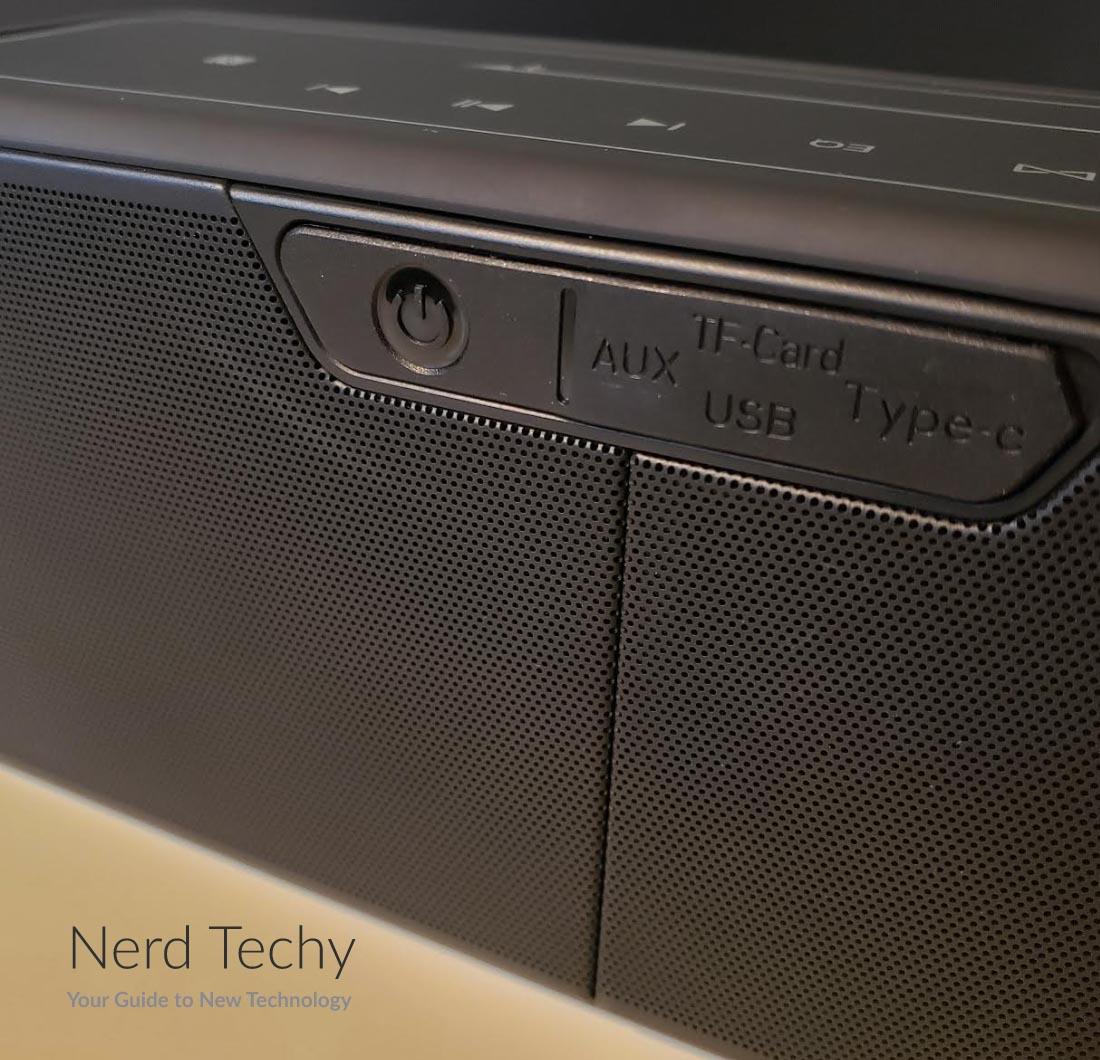 Another feature we loved that directly effected the audio quality was the three switchable EQ effects. On the top of the speaker is a small "EQ" button. Tap this to toggle between deep bass, vocal and 3D. With bass being the default EQ mode, it was what we found to use the most. However, the vocal mode made the lyrics "pop" and over-power any overly-heavy bass effects. 3D mode is something a bit different. It allows a nice blend of bass and vocals giving nice spatial clarity, almost a theater-like effect that's ideal for watching movies or playing videos.
Two Mega Pro's at Once
One really nice feature that we fell in love with was the Mega Pro's ability to pair together simultaneously. If you own two of them, this allows you to play music through both of them at the same time. Therefore, it'll give a surround sound-like effect since you can place each speaker apart from each other. This isn't something we typically see, so we're quite happy Tronsmart included this ability.
To take advantage of this, first, you'll need to two of them. On each speaker, simply press the TWS button one time. The indicator LED will emit a yellow glow and begin flashing. At this time, both speakers will audibly prompt you and the LED will stay solid yellow. Once you're done, simply press the TWS button again to unpair them from each other.
Battery Life
Inside the Tronsmart Mega Pro is a 10,400 mAh lithium battery that's capable of playing up to 10 hours straight on a single charge. However, keep in mind that this estimate is only that – an estimate at 50% volume. The battery life can be adversely affected by higher volume levels, bass-heavy music, ambient temperature, etc.
In most cases, we experienced around 7-9 hours of battery life with each single-charge. This duration doesn't seem that impressive, but for a speaker of this caliber, it is. Smaller speakers don't have the amount of power that the Mega Pro carries. Simply because of this, they last longer. As previously stated, the 60w power output and multitude of internal components have much more of a demand on the internal battery – it's just the way it is.
Once the speaker reaches a low battery, you can charge it up in a matter of about 3-4 hours. Using the provided USB-C cable, simply plug it into any USB charging nub or outlet.
Power Bank
Something that really stood out to us when we tested the Mega Pro was the USB inputs on the back. Remove the rubberized flap and you'll see two of them – a USB-A and USB-C input. The speaker charges the internal battery with USB-C, which is pretty straightforward. However, the USB-A input is used as a power bank to charge up virtually any device you could think of. Most commonly, it's used to charge your smartphone. It uses the battery within the speaker to charge-up whatever you decide to plug in with a DC 5V/1A output.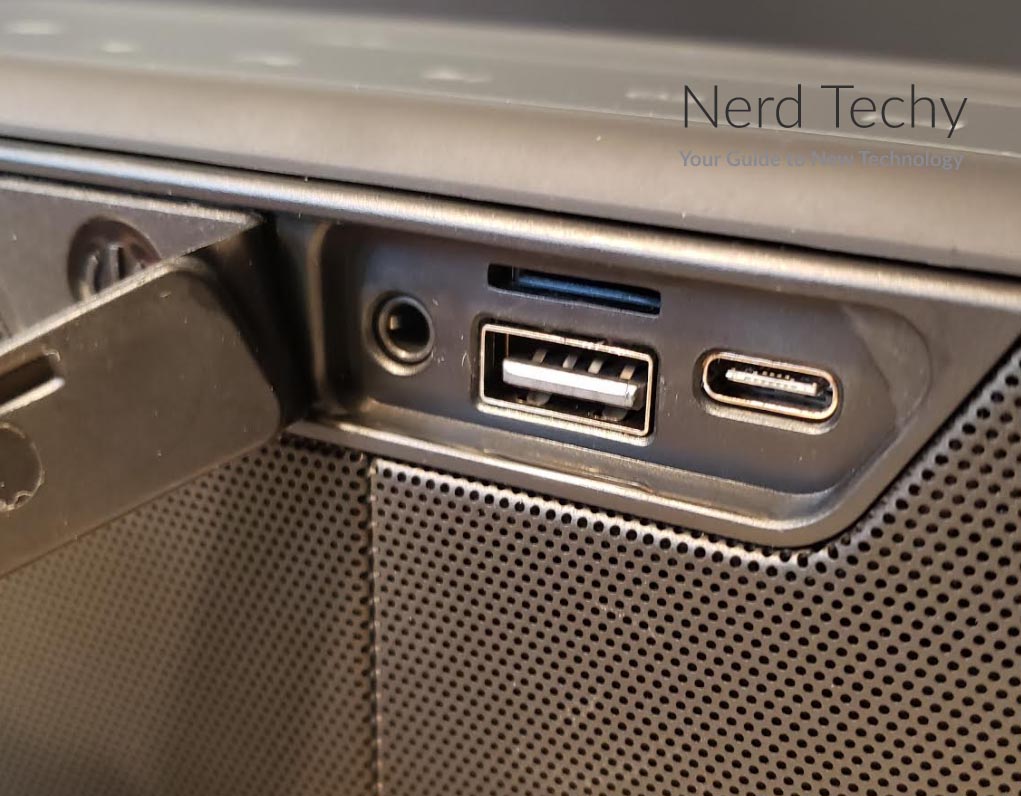 This isn't a feature we find ourselves using all that often, but it's nice in a pinch. It definitely drains the internal speaker battery while you're playing music, at a much quicker rate, but this is quite obvious. So just don't expect 10 hours of music playtime when you've also utilized the USB-A input to externally charge your device(s). The user manual clearly doesn't recommend using the charging feature while playing music through the speaker, but it is possible. It just may have adverse effects on the stability of the music-playing performance.
Built-in Microphone
Although you can't see it, there's an integrated microphone that offers intelligent voice assistant and phone call functionality. Simply press the "mic" icon on the top to activate whichever smart assistant you typically utilize. Siri, Alexa and Google can be verbally activated for full integration with your smart home.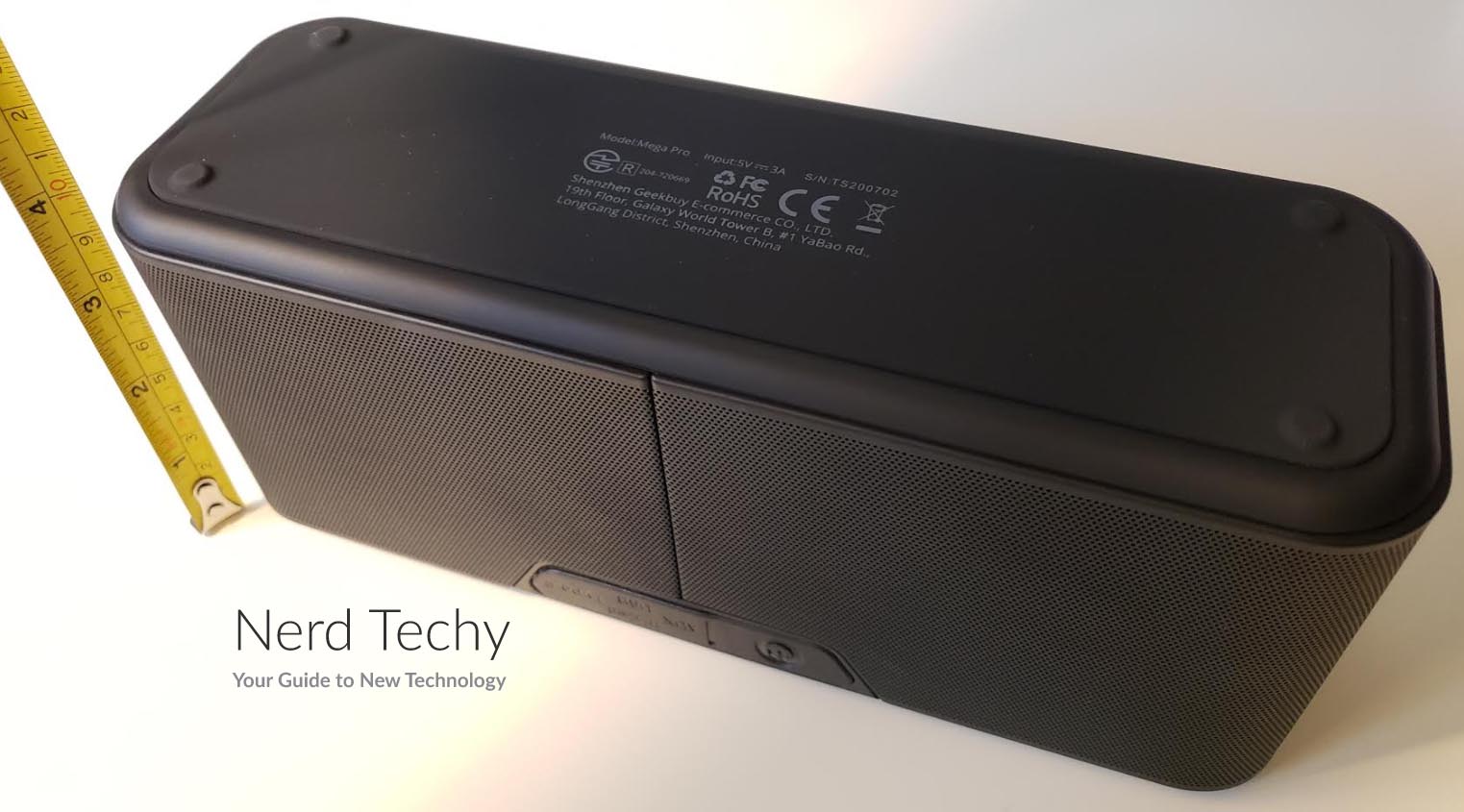 Additionally, the microphone comes in handy if you want to make or receive a phone call. Since most users will pair their smartphone to the speaker, you might find yourself with an incoming phone call or the need to make an outgoing call. Personally, we tried three phone calls and each one went well. We were clearly heard on the other-end without distortion, choppiness or clarity issues. Our voice was clear without any kind of delay in transmission.
Durability
From first glance, it doesn't really seem like the Mega Pro is all that rugged. However, if you take a closer look, you'll notice that there are no exposed cracks or crevices. There's a reason for this. Tronsmart has rated the speaker IPX5, meaning that it can withstand dirt and dust ingress and any splashing water. Because of this, you can rest assured knowing that it's capable of witstanding normal outdoor conditions. You can play it in the rain and dirt without having to worry about damaging the internal components.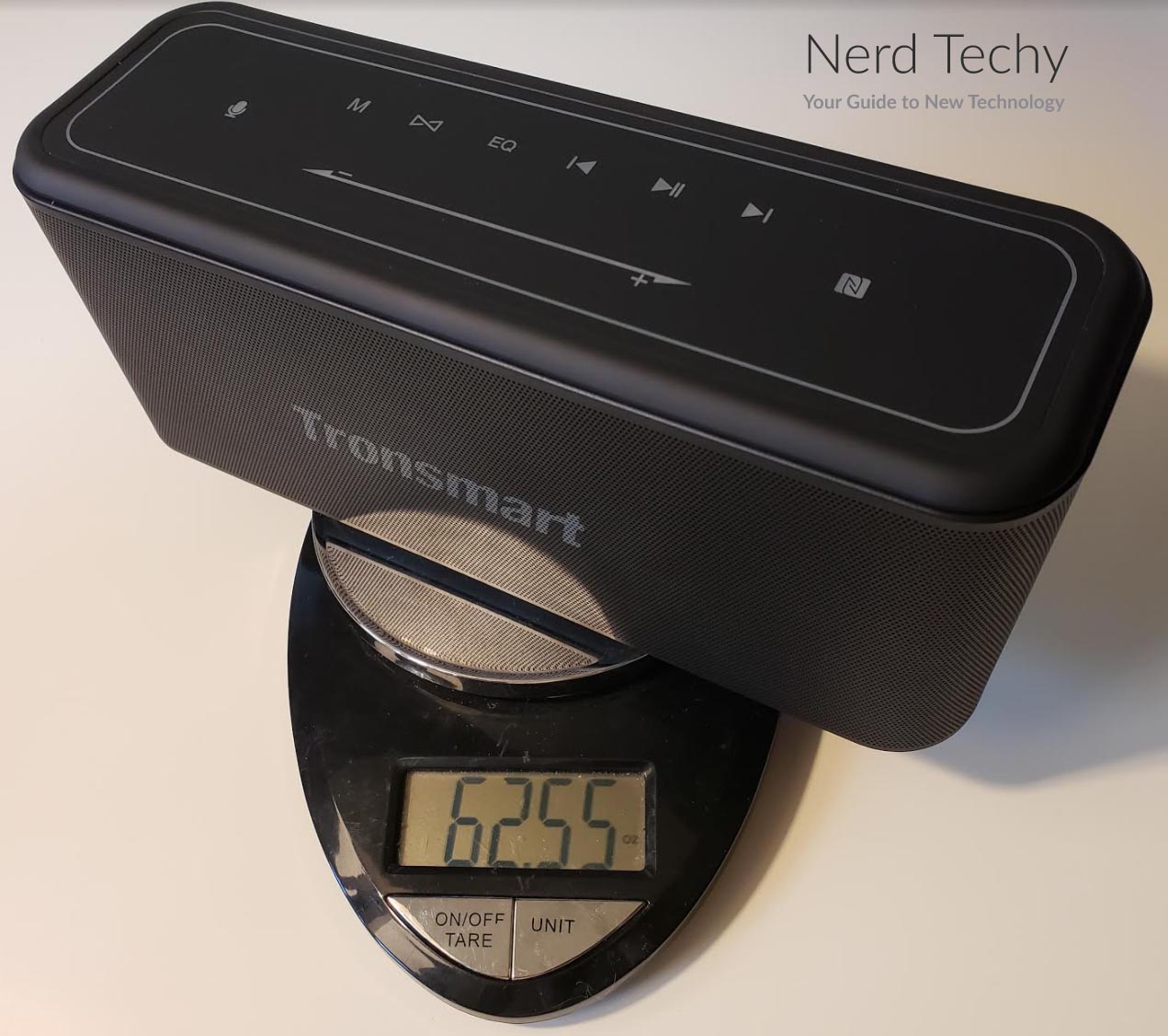 One thing to note is the mass of the Mega Pro. It's a little on the bulkier side with a weight of ~4 lbs. Simply put, you really don't want to drop it. Doing so will likely damage it since it's not rated for drop-resistance. However, it does feel solid and well-made. Holding it in your hand, this becomes obvious – there are no moving parts, clunky buttons or loose parts to worry about.
Final Thoughts
All in all, Tronsmart seemed to do it again with their Mega Pro Bluetooth speaker. It offers plenty of performance with powerful bass and vivid mids and highs. Any kind of music played through the speaker seemed detailed and rich in favorable effects. With the inclusion of SoundPulse technology, it offers a unique approach on replicating studio-quality audio that we all crave.
Although it's a bit bulkier than some of the competition, the Mega Pro is very capable in most regards. The battery life is adequate but not all that impressive if you're one who loves to crank up their tunes to a high-level. In our opinion, it out-performs many in its class and achieves everything it's set out to do.
Best of all, it's covered by a 1 year warranty. From the date of your purchase for the next consecutive 12 months, it's protected against defects in manterial and workmanship under normal use. Basically, if you use it in a manner that it's designed for and it fails to function, you can contact "support(AT)tronsmart.com" for repair or replacement. Additionally, the included warranty card explains that you can increase this warranty for an additional 6 months if you register it upon arrival.
Will you be trying out the Mega Pro? Have you already? Let us know what you think of it by dropping a comment below. We'd love to hear from you!