For a long time, many businesses, doctor's offices, and retail establishments have offered hand sanitizer at the entrance. But until a few months ago, this was a nice added perk, not a necessity. Back in 2019, nobody was going to complain to the manager if the grocery store was out of hand wipes. But it's the year 2020, and coronavirus has turned sanitizer into an essential product. Even with a vaccine on the horizon, there's no reason to think that sanitizer itself is going away. On the contrary, Covid has made people more health-conscious in general. Masks and social distancing will eventually come to an end, but sanitizing isn't as inconvenient as those things. And even in a post-Covid world, washing your hands will still be good hygiene. In all likelihood, people will be washing their hands more often for the foreseeable future.
Of course, some sanitizing options are better than others. Wipes, for instance, are cheap and easy. When dispensed properly, they also offer minimal opportunity for disease transfer. Assuming the person only grabs the end of the wipe and pulls it out, they're not picking up anyone else's germs. On the other hand, wipes produce a lot of waste, so they're not good for the environment. Not only that, but some people will throw used wipes on the ground when they're done with them. For retail establishments or other businesses, this means more litter in the parking lot.
Note: At no extra cost to you, we may earn a commission for purchases using our links. Learn more.
Gel, soap, and alcohol sanitizer don't create any extra waste or mess. You rub it into your hands, and the excess evaporates. But with a traditional pump dispenser, you're still touching the same surface as a bunch of strangers. An automatic dispenser allows hands-free operation, while still remaining waste-free.
Today, we're going to review three of the best touchless hand sanitizer dispensers on the market. First, we'll look at the Ponydash Touchless Hand Sanitizer Dispenser. This is a mid-sized automatic dispenser with an adjustable pump strength and waterproof design. Next, we'll check out the SwiftFinder Touchless Hand Sanitizer Dispenser. This is a bigger, freestanding dispenser with a large tank that's ideal for high-traffic areas. Last but not least, we'll look at the ANVASK Touchless Hand Sanitizer Dispenser. This compact sanitizer is lightweight and portable, so you can use it anywhere. Let's dig a little deeper, and see how they all stack up!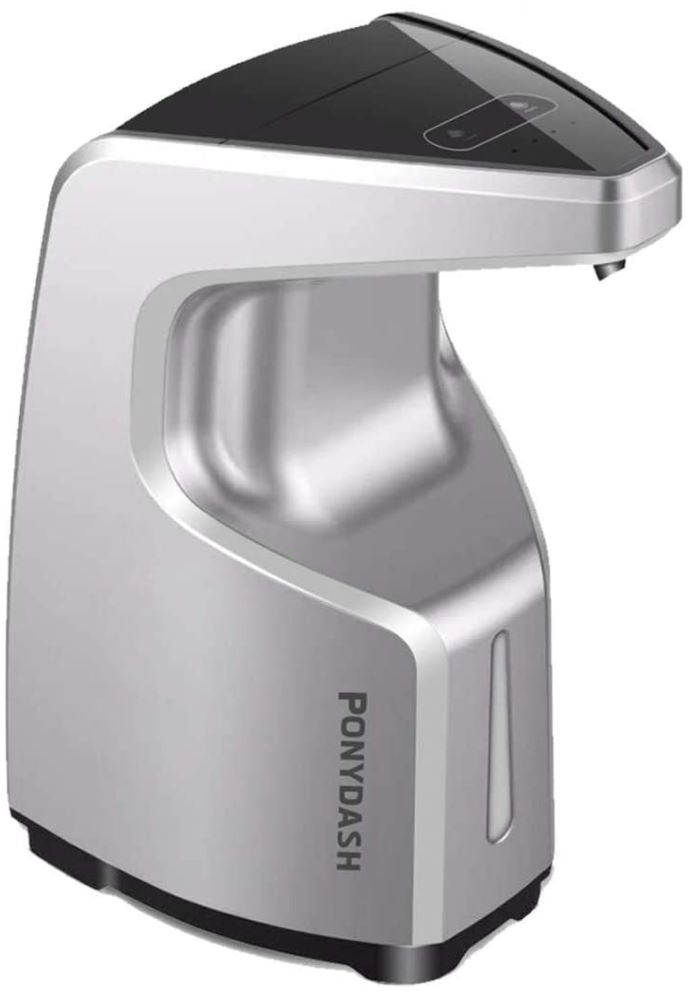 Ponydash Touchless Hand Sanitizer Dispenser
The Ponydash Touchless Hand Sanitizer is designed to be used in either a home or professional environment. It has an attractive appearance, with a sloped top and a finish that's available in three colors. It can be ordered in silver, rose gold, or tiffany blue to match a variety of color schemes. At 8.3 inches tall, 5.4 inches wide, and 4.4 deep, it's medium-sized, with a mid-sized reservoir. Ponydash doesn't specify a capacity, but it's either 16 ounces or so close that it may as well be 16. The empty weight is only 1.3 pounds, so it's very easy to move around. Even with a full reservoir, you're only adding about a pound of weight.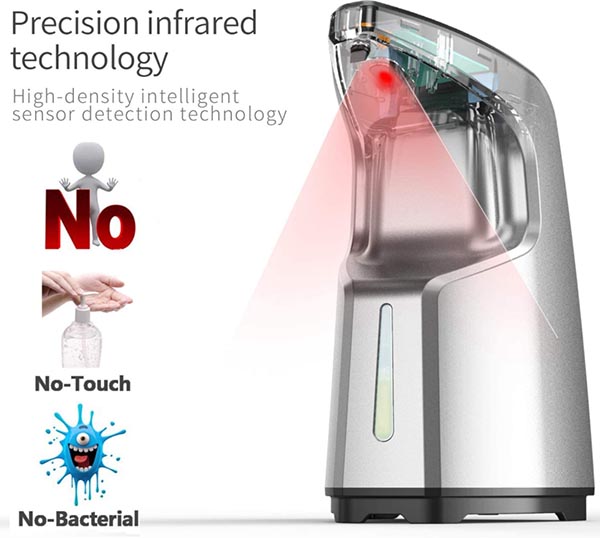 One neat thing about the Ponydash dispenser is that it doesn't have to occupy any counter space. It can also be mounted on the wall for use in bathrooms, doctor's offices, and showers. To be fair, it won't be as portable in this configuration, but it'll take up less space. Not only that, but it's water-resistant, with a rating of IPX6. It's not submersion-proof, but it's more than capable of withstanding a shower or some sink splatter. Even the battery compartment is water-resistant. The four AA batteries are housed beneath a thick plug, which screws and locks in place for better security.
The dispenser is protected by Ponydash's 2-year manufacturer's warranty. This covers you for any defects in materials or workmanship. Make sure to fill out and send in the warranty card, though. If you don't, the warranty won't be valid, and you won't receive any coverage.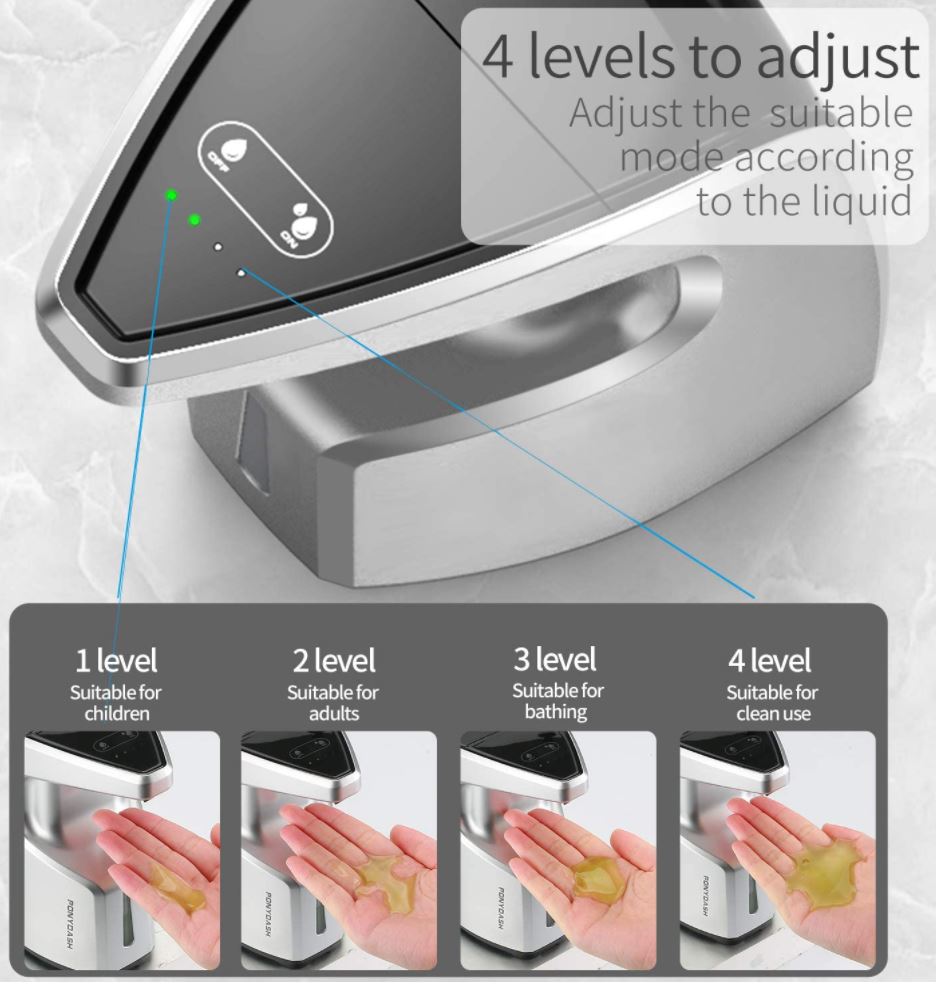 Pump Performance and Options
The Ponydash Touchless Hand Sanitizer Dispenser has a built-in infrared sensor behind the dispenser tip. This projects an infrared beam, which reflects back to the sensor when something is in front of it. The beam is nice and wide, so you don't have to fiddle around with it to activate it. That said, the sensor is a bit twitchy with black nitrile gloves. They're dark enough that they don't consistently reflect enough of the beam for it to trip.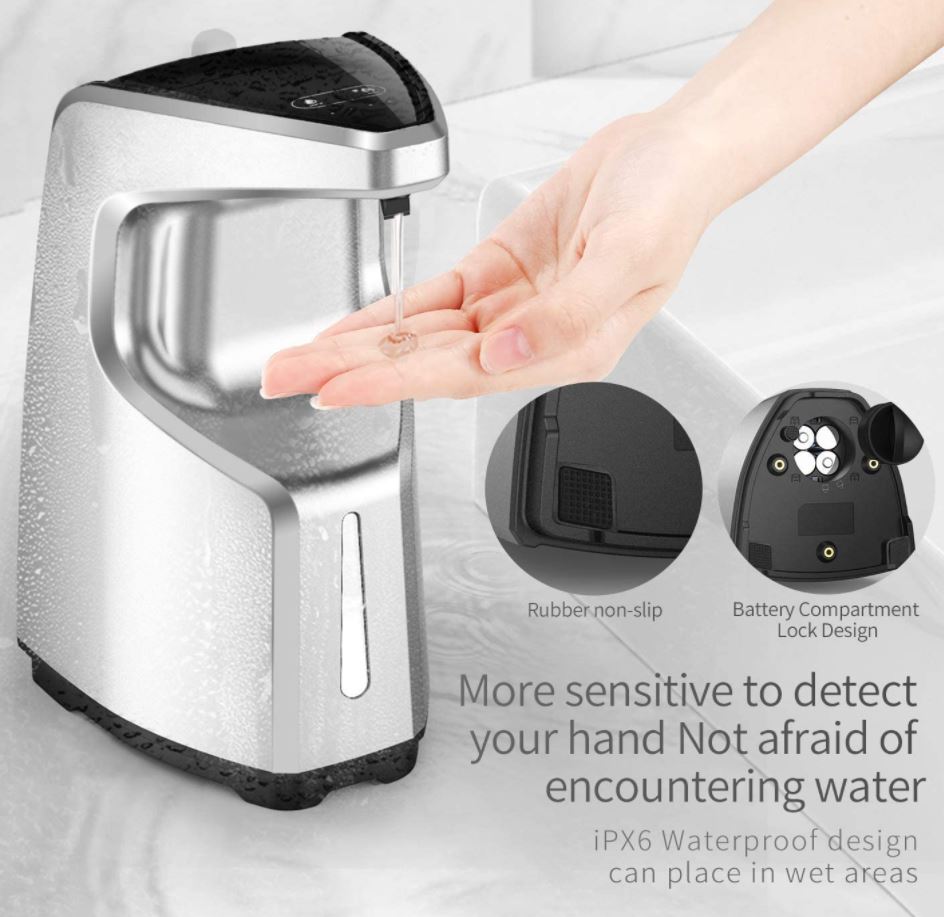 The motor runs smoothly and quietly, and can handle any type of sanitizer. The Ponydash dispenser can be used not just for gel, but for alcohol or even for body wash. Regardless of what you're using, the nozzle snaps shut quickly when you move your hands. This eliminates spilling and dripping, which can be a problem for many sanitizer dispensers.
The Ponydash sanitizer can be adjusted to four different levels. At the lowest level, it will only dispense a dab of gel. At the highest level, it will dispense a large amount. Ponydash advertises these levels for different sized people. For instance, low is for kids, the next two settings are for adults, and the top setting is for whole body use. However, it also makes a difference what kind of material you're using. As Ponydash points out, the highest setting is almost always best for body wash. However, the converse is true for alcohol. Since alcohol is runnier than gel, it will dispense more quickly. You'll normally want to use a lower setting to avoid wasting sanitizer.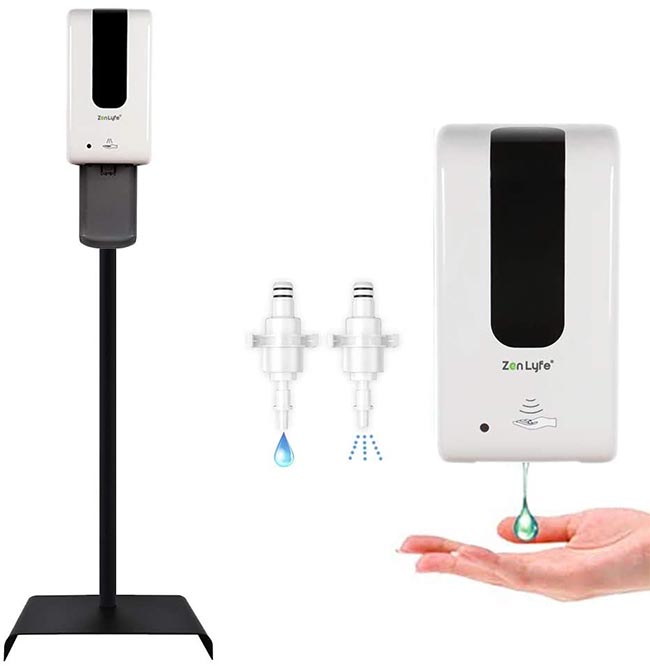 SwiftFinder Touchless Hand Sanitizer Dispenser
The SwiftFinder Touchless Hand Sanitizer Dispenser is purpose-built for heavy-duty use. At 20 inches high, 8 inches deep, and 8 inches wide, it's a bit beefy. However, this size is needed to accommodate the 40-ounce tank, though for hundreds of individual hand cleanings. It's a bit heavy, weighing in at 11.53 pounds including the stand. The dispenser unit is available in black or white, and dispenses from the bottom.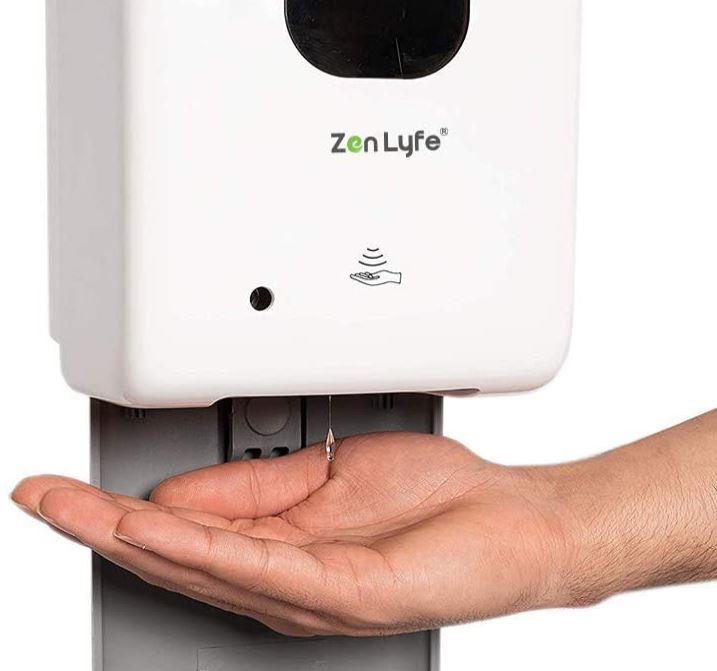 The stand itself is made of sturdy black anodized aluminum, and has a telescoping design. It can adjust up to 48 inches in total height, which puts the dispensers sensor at 37.4 inches. That's low enough for a child to reach easily, so the whole family can use it. It's also child-safe in another way. Because the base is heavily weighted, it's bottom-heavy, and won't tip over easily. It's far from tip-proof, but the heavy base at least makes a tip significantly less likely. Of course, you could also put the dispenser on your counter, but that's not what it's made for.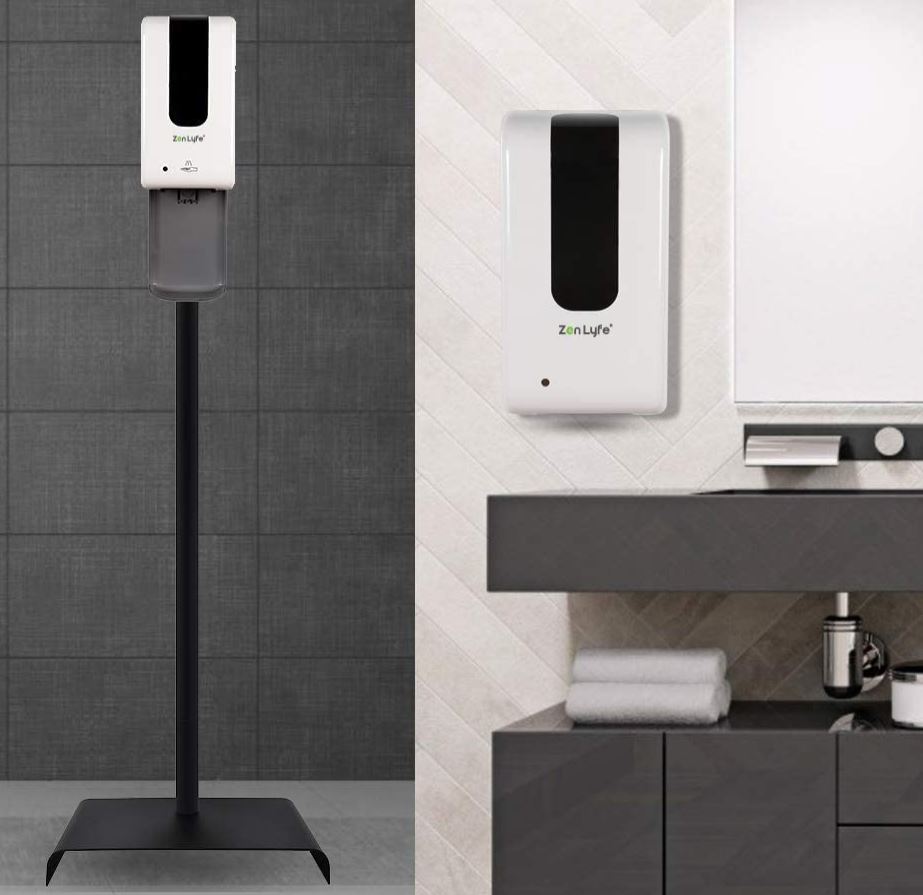 The SwiftFinder dispenser can be powered in two different ways. In most cases, you'll want to use batteries, which is easy enough. The unit takes four C-cell batteries, which install conveniently in the back. This makes the dispenser easy to reposition despite its large size. Alternatively, there's an AC adapter included in the kit, which plugs into the right side of the unit. This way, you'll never need to change batteries, although you'll be tethered to a power outlet.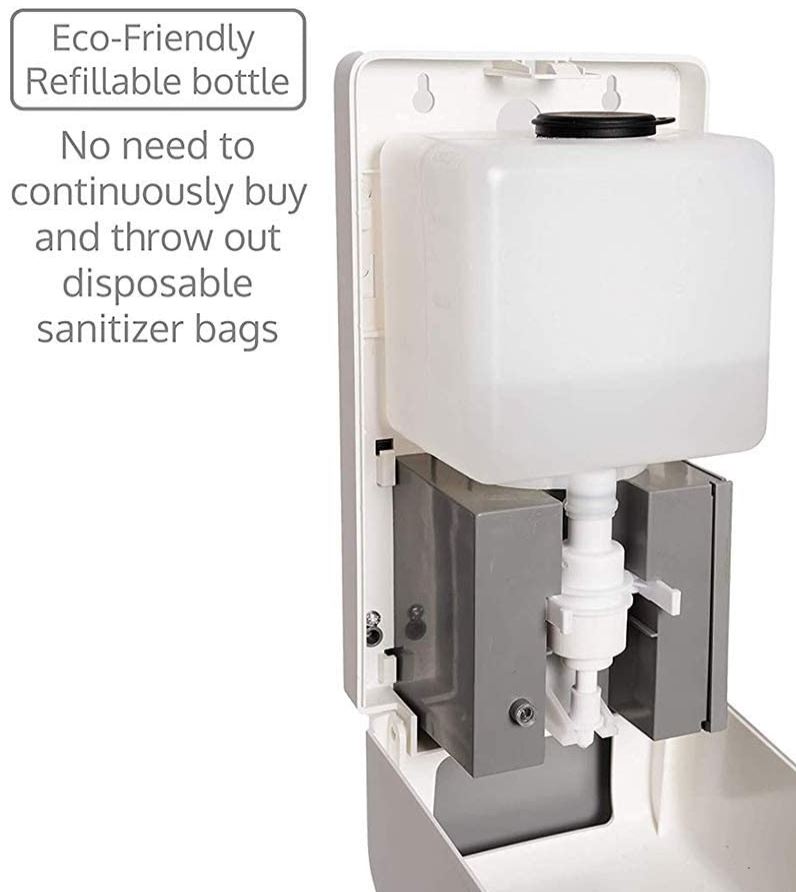 Pump Performance and Options
Like the Ponydash dispenser, the SwiftFinder dispenser uses an infrared sensor. It seems to be a bit more sensitive, though, and it's easier to trigger. This is a good thing for usability, but can lead to the occasional drip or outright miss. There's no setting adjustment, either. The dispenser will always operate at the same, consistent rate.
That said, there are other ways to control how much comes out. The SwiftFinder Touchless Hand Sanitizer Dispenser includes two different pump heads. The first is an ordinary, drip-style tip which can dispense gel, soap, or alcohol. The second is a spray head, which is used for alcohol only. This gives you a bit of versatility in terms of what kind of cleaner you want to use. That said, because the quantity isn't adjustable, the SwiftFinder dispenser isn't very useful in the shower. There's no way to conveniently get enough body wash to clean your entire body.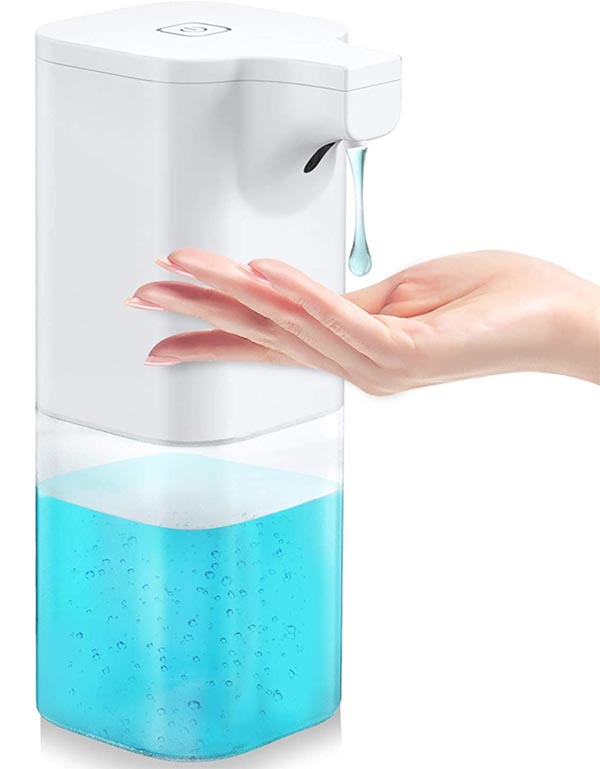 ANVASK Touchless Hand Sanitizer Dispenser
With a tank size of only 12 ounces, the ANVASK Touchless Hand Sanitizer Dispenser is the smallest on our list. This makes it well-suited for applications like bathrooms, or anywhere counter space is a concern. At only 7.8 inches tall and with a 2.9-inch square footprint, it's exceptionally compact. Needless to say, this design is not without its downsides. Because of its limited capacity, it's not well-suited for high-traffic areas like retail stores.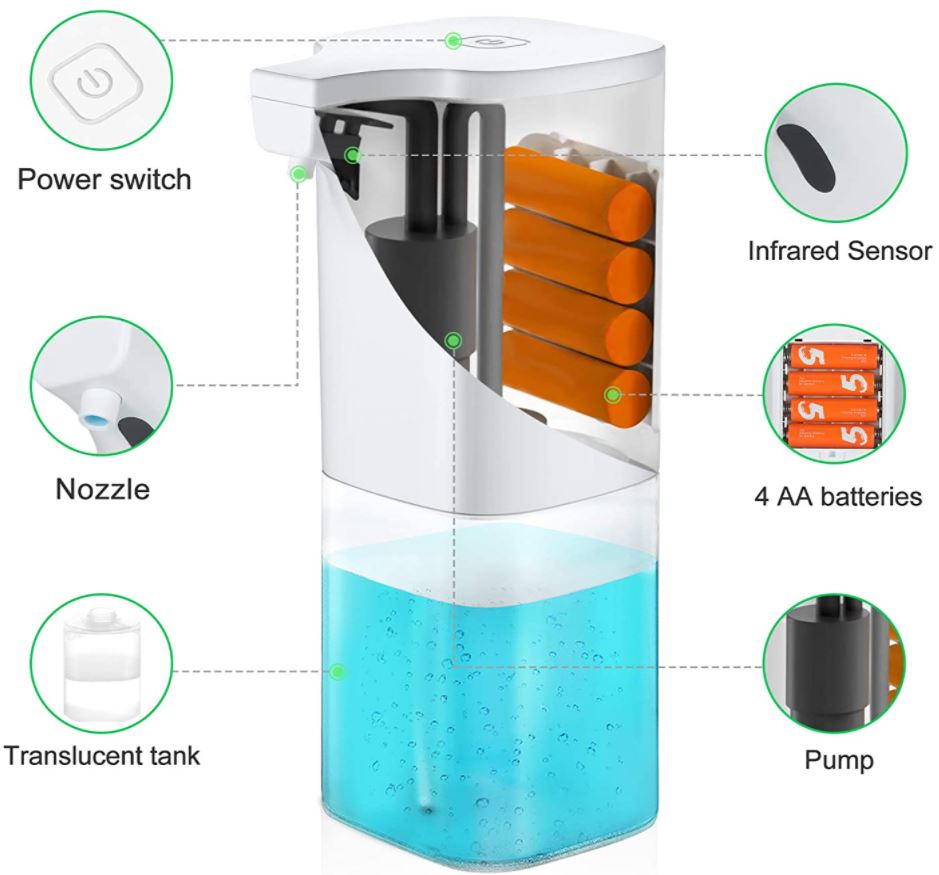 The housing is white and clean, with a power button on the top. This housing sits on top of a clear tank, which allows you to easily see the current level of sanitizer. The four AA batteries install in the back, and are included in the package. There's even a low voltage light on the housing, which lets you know when the voltage is getting low.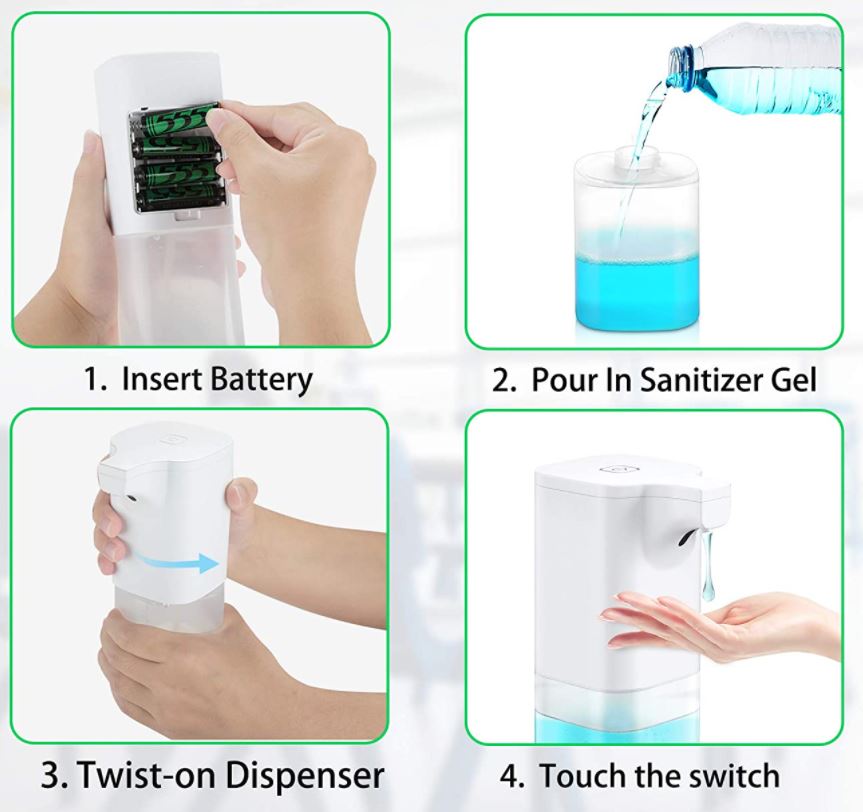 Pump Performance and Options
Like most touchless dispensers, the ANVASK dispenser has an automatic infrared sensor. It also has a leak-proof design, with a tip that closes immediately when the motor stops. As a result, you won't have to worry about leaving a bunch of soap all over your bathroom counter.
The main drawback of the ANVASK dispenser is that it will only handle gel. It doesn't do soap, and it's too fast for dispensing liquid alcohol sanitizer. It also doesn't have an adjustable speed or interchangeable tip. You get a single squirt of gel for washing hands, and that's it. But if that's all you need, you're getting an excellent deal.
Final Verdict
As you can see, all three of these touchless hand sanitizers has plenty to offer. That said, each of them has its own specific niche. We started out by reviewing the Ponydash Touchless Hand Sanitizer Dispenser. This is perhaps the most versatile of the bunch, because of its mid-sized design and mounting option. You can use it on the countertop at home, or put it on the wall at a business. Not only that, but the four different dispenser settings allow you to choose how much sanitizer you get. Turn it down for kids and sanitizer gel, or crank it up for adults and body wash. The water-resistant design also makes it perfectly safe to use in the shower. Unless you need to use it with black nitrile gloves, it's as reliable as they come.
The SwiftFinder Touchless Hand Sanitizer Dispenser is better-suited for retail and commercial use. If you have hundreds of people coming through the door every day, it can handle the job. The large, 40-ounce tank is big enough for almost any application, as is the tough, durable stand. The free-standing design makes it perfect for entryways, where wall mounting isn't always practical. And the bottom-heavy base is great for kids, since it reduces the risk of tip-over. On the downside, the SwiftFinder dispenser is a bit large for home use, but that's not what it's designed for.
Last, we reviewed the ANVASK Touchless Hand Sanitizer Dispenser. With a capacity of only 12 ounces, it's a bit small for large-scale use. That said, it's perfectly-sized for homes and doctor's offices. You can set it on the counter in a bathroom or exam room without taking up a whole lot of space. It only dispenses gel, not soap or alcohol, but that's just fine. At this size, it wouldn't be terribly efficient for those purposes. As a purpose-built gel dispenser, it works very well. Not only that, but it's very affordable, perfect for a last-minute Christmas gift or any other occasion.
Of course, sanitizing your hands is only part of preventing the spread of disease. If you want to be even better protected, it's important to also clean frequently-used surfaces. The 59S P55 UV Light Sanitizer Bag is an excellent way to clean your smartphone, keys, baby toys, and more. That's one more layer of protection you can add.
Please consider sharing:
Note: At no extra cost to you, we may earn a commission for purchases using our links. Learn more.