Installing audio-video equipment can be frustrating at the best of times. First, you need to understand all the features of all your components. Next, you need to make sure everything from the TV to the soundbar to the set-top box is compatible. And after all that, you still have to pray that everything works when it's been wired up. If you get that far and something fails, it can be enough to make you want to pull your hair out. All of a sudden, you're left with a conundrum. Something, somewhere in your whole setup isn't working as it should, and troubleshooting is a pain.
One of the easiest things to troubleshoot is whether or not a cable is working. This is fortunate, since cables are also one of the cheapest things to replace. Now, we're about to review three of the best HDMI cable signal testers available. First up, we'll examine the Signstek UNI-T UT681 Handheld HDMI Cable Tester. This is a comprehensive home tester that's suitable for pros and DIYers alike. Next, we'll look at the Parts Express HDMI Cable Signal Tester. This is a compact, affordable tester for home users who want to test a few cables. Last, we'll review the gofanco Prophecy Portable HDMI Tester. This pro-grade tester is a bit pricey for casual use, but it has a ton of great features for professionals.
Note: At no extra cost to you, we may earn a commission for purchases using our links. Learn more.
How to Troubleshoot a Bad HDMI Signal
So, you're not getting any signal over your HDMI cable. It could be your devices, it could be the cable, it could be your settings, and it could even be user error. Regardless, if your TV or other device isn't working, you'll need to troubleshoot. Here are some steps you can take to get everything working.
Check the cable connections: This sounds basic, but it's easy to leave a cable partially inserted. This is particularly true for brand-new devices or cables, which haven't been worn in yet. We're not saying you should force the cable in. If something is wrong, you'll only make things worse by jamming it in. But it's good to double-check to make sure all the plugs are all the way in. On a similar note, make sure the cable is plugged into the correct port that's selected on the device.
Try a different port: If your device or display has multiple ports, try a different one. It may or may not solve the problem, but it's a quick and dirty way to find out if the port itself is to blame.
Turn on your devices in a different order: If you've been turning on the TV first and the Xbox second, try reversing the process. In theory, this shouldn't make a difference for most configurations. But for whatever reason, it can sometimes solve the problem. This is particularly true for AV setups with ARC or eARC connections. Because of firmware differences between devices, in these cases, it often does matter what order they're started in. Regardless, this is another easy, non-invasive thing you can check. If the order does make a difference, make a note of it, so you don't have the same issue in the future.
Double-check your resolution: Most displays will automatically adjust to the input resolution, and vice-versa. However, sometimes you'll run into an issue. First, check your display, and see what resolution it's set to. Next, check your device, and make sure the output resolution matches. For instance, if you have a 4K TV, it should theoretically upscale 1080p video automatically. But if for some reason it doesn't, changing the resolution on your video player can make it work.
Try simplifying the setup: If you're using an AV receiver, try plugging your video player directly into the TV. This won't solve the problem, but at least you'll know what part of the system is causing trouble. The same goes for external speakers. Try connecting them directly, rather than through the receiver, and see if they work. Hopefully, you'll be able to isolate what part of your entertainment system is defective or incompatible. Not only that, but you might sometimes be able to jury rig a solution. For instance, if the audio signal from the AV receiver is the problem, you could still use it for video. You'd just need to connect the speakers directly until you have a permanent solution.
Look for firmware patches: Not all devices receive manufacturer software updates, but when they do, it's usually important. This is particularly true for game consoles, TVs, set top boxes, and other devices that are already online. If you've got a brand new console or smart TV that hasn't been connected yet, try getting it online before you panic. There may already be a manufacturer update that fixes your problem.
If none of the above steps work, the problem is either your HDMI port or your cable. Thankfully, testing HDMI cables is as easy as testing an electrical cable. You just need the right equipment.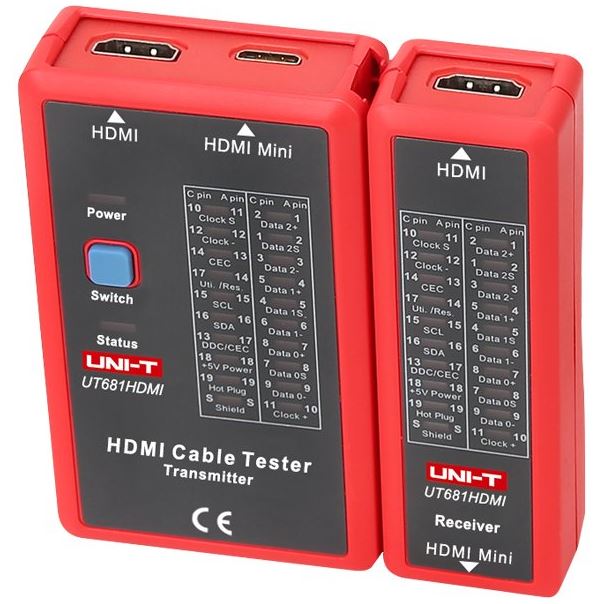 Signstek UNI-T UT681 Handheld HDMI Cable Tester
The Signstek UNI-T UT681 Handheld HDMI Cable Tester is a fully-functional cable tester for homeowners or pros. It's housed in red ABS plastic, with a hinged design that collapses for easy storage. On the top, you'll find three HDMI ports. The left two ports are ordinary HDMI and Mini HDMI, and function as outputs. This allows you to test ordinary HDMI cables as well as Mini HDMI-to-HDMI cables. The left side port is an ordinary HDMI port that functions as an input.

The front of the unit functions as a display, with 20 different LED lights to test the different wires. In all, the tester will scan all 19 wires in a USB cable, as well as the overall cable function. Each light can indicate a good connection, an open circuit, a wrong circuit, or a crossed wire. The exact nature of the fault will rarely be of interest to homeowners. If your cable is bad, you're just going to replace it; after all, they're affordable. But this type of information can be useful to pros for diagnosing some devices. If you'd rather save time, you can switch to simple yes or no testing. Tap the power button during startup, and it will switch between the different modes.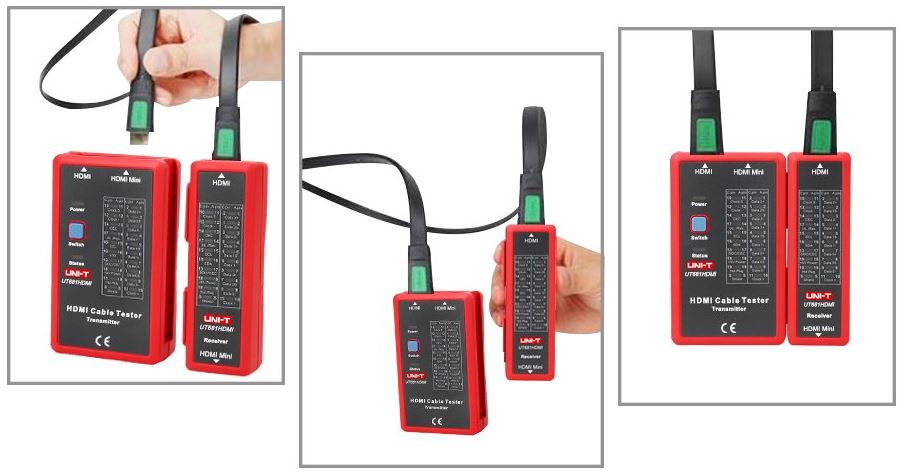 The Signstek tester requires a single 9-volt battery, which is not included with the kit. That said, they're cheap and easy to buy at any corner store. The battery will last through hours of use and dozens of tests, so you won't have to replace it often. This longevity is further increased by the Signstek tester's auto-off function. If it's left unused for 10 minutes, it will automatically shut down to save battery life. When the voltage drops to 7.2 volts, a blue indicator light will flash. This lets you know when it's time to install a fresh battery. The tester will still have a few tests left at this point, but you'll want a new battery as soon as possible.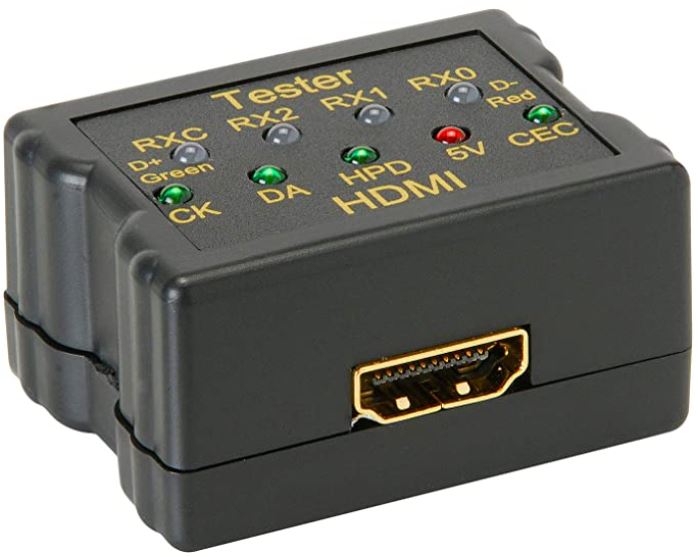 Parts Express HDMI Cable Signal Tester
The Parts Express HDMI Cable Signal Tester is a compact, pocket-sized tester that's designed for home users. It's a bit basic for most pros, but it's great if you want a cheap, effective solution. That said, it can still work for some pros, if you only need to know whether or not a cable works. It also provides diagnoses on the seven most important wires inside the cable. You won't be able to diagnose everything. But you'll be able to see if the cable or port is causing color shift or sparkle. This is enough to repair almost any issue a field tech is likely to encounter. The front of the unit houses two rows of LEDs, which make it easy to read and understand.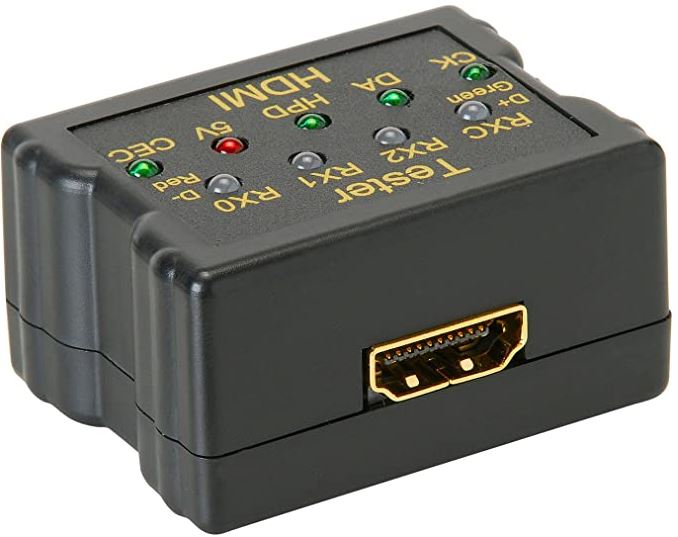 To aid in this function, the Parts Express tester doesn't just work with cables. It can also be connected to another device, either at the source or display end. That way, you can diagnose a faulty port by testing with a known-good cable.
At the end of the day, the Parts Express tester's best feature is its size. It's easy to throw in a tool bag or box without wasting a ton of space. It's also easy to carry around. Since it will literally fit in the palm of your hand, it's far more portable than most cable testers.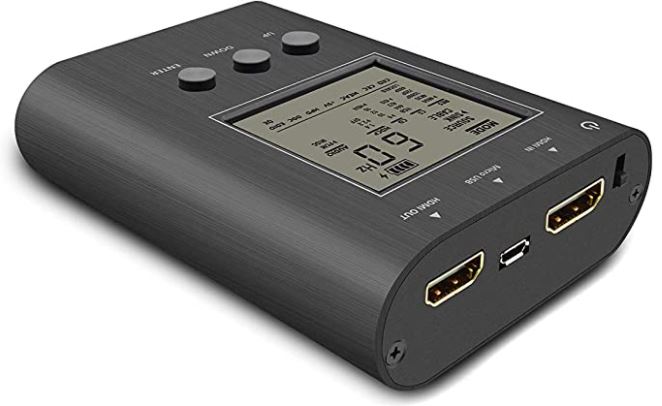 gofanco Prophecy Portable HDMI Tester
The gofanco Prophecy Portable HDMI Tester is a rugged, pro-grade tester for IT professionals. It's constructed from anodized aluminum, so it can take a beating. This comes at a steep cost, but that's to be expected for a professional tool. Not only that, but it has a rechargeable battery. As long as you keep it topped off, you'll never run out of juice.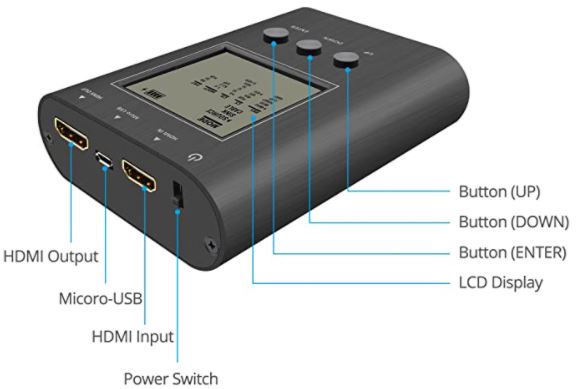 The gofanco tester works in three different modes. First and foremost, it works as an ordinary cable tester. It will test all 19 wires inside the cable, and a detailed LED display shows a ton of details. No matter what type of diagnostics you're trying to perform, you'll be able to do it here. It's sensitive enough to detect faults even on HDMI 2.0 cables, which are more finicky.
In addition to that, the gofanco tester performs two other important functions. First, it works as a source emulator. In this mode, it can be used to generate various types of signals. It can create signals in different resolutions, aspect ratios, and color spaces. You can even adjust color depth and HDCP. With all of these options, you can replicate virtually any type of signal. This is hugely helpful for device troubleshooting, since you can see which input formats a display accepts.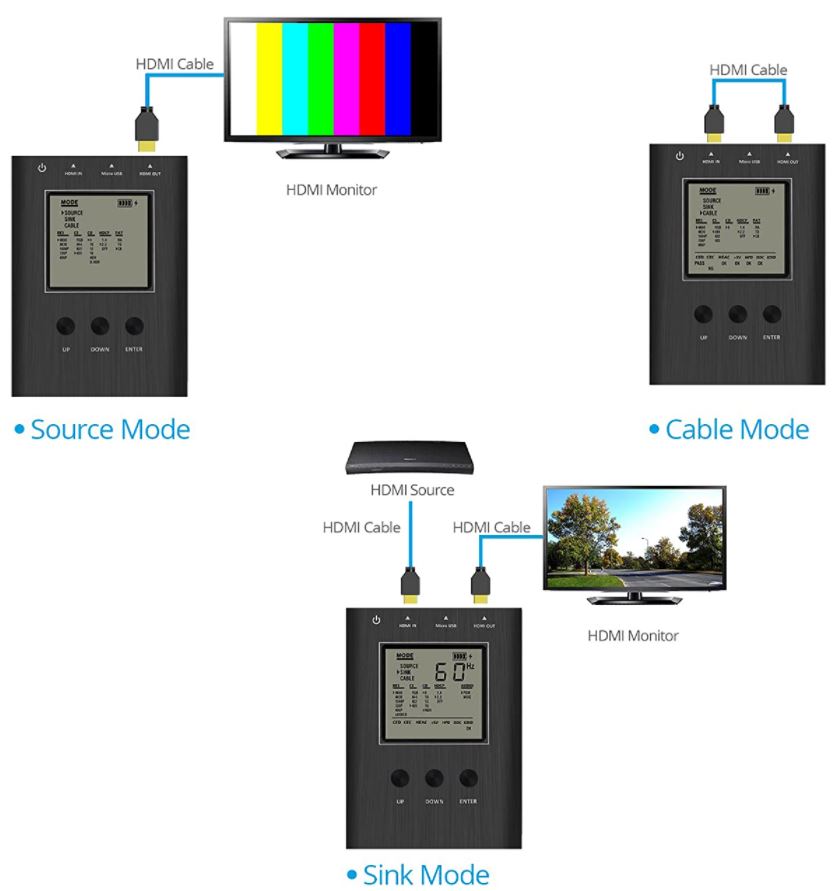 Finally, the gofanco HDMI Cable Signal Tester can function as a SINK device. In this mode, it find detailed information when connected to a video output. This makes it easy to sort out compatibility issues with different outputs. For example, if you're not sure what exact format your Blu-Ray player is outputting in, you can find out.
Final Verdict
Clearly, these testers each has its own unique benefits and drawbacks. Let's go over what we've learned. We began by reviewing the Signstek UNI-T UT681 Handheld HDMI Cable Tester. This tester is reasonably-priced for home users, while still offering some features for pros. Most importantly, it can identify faults on individual wires within the cable. This can be helpful for advanced troubleshooting, or for hobbyists who want to repair old cables. If you goofed while making a splice, it's helpful to know which connection you need to fix. That said, home users will still find the Signstek tester easy to use. As an added bonus, it will also test Mini HDMI to HDMi cables for smartphones and tablets.
The Parts Express HDMI Cable Signal Tester is the best choice for home users who want a basic tester. It doesn't have all the features of the other testers, but it's not as big. Not only that, but it has a few benefits of its own. In addition to its small size, it has a comparably small price tag. This makes it a great choice if you're only going to use a tester a few times. After all, it doesn't make sense to buy a tester that costs more than whatever cables you might save. Not only that, but you can test ports as well as cables. This actually makes the Parts Express tester more versatile, in some ways, than more expensive testers.
The gofanco Prophecy Portable HDMI Tester is our top choice for IT professionals. The LCD display is easy to read, and displays far more information than most HDMI cable testers. Not only that, but the gofanco tester is useful for more than just cables. It can determine the technical details of a video signal, or replicate a signal of a specific type. This means you can easily diagnose devices along with your cables. Consumers may balk at the price, but pros will appreciate the quality.
Note: At no extra cost to you, we may earn a commission for purchases using our links. Learn more.