Home projectors are a new twist on an old technology. Before streaming, Blu-Ray, DVDs, or video tapes, there were projectors. Of course, these old-school projectors used film, and were for deep-pocketed enthusiasts only. Modern digital projectors can play from the same sources as your TV. This means you can use your streaming stick, computer, or game console. You can get a big screen experience for a small screen price.
Of course, some digital projectors are better than others. If you want to find one that's worthwhile, it can help to look at projectors from established manufacturers. Bomaker has been in the business for a while, producing everything from projectors to wireless earbuds. Now, we're going to review their S5 and C9 projectors.
Note: At no extra cost to you, we may earn a commission for purchases using our links. Learn more.
The Bomaker S5 Projector is a mid-sized home projector that's designed for a wide variety of applications. It can produce a very small or very large image, and connects to your home's WiFi network. The Bomaker C9 Projector shares many of the same features. However, it's a bit more compact, with a higher contrast ratio. Which one is the best for you? To find out, we'll need to take a deeper dive. We'll look at both of their features, benefits, and downsides. At that point, we'll have a clear enough picture to render our final verdict. Let's get started!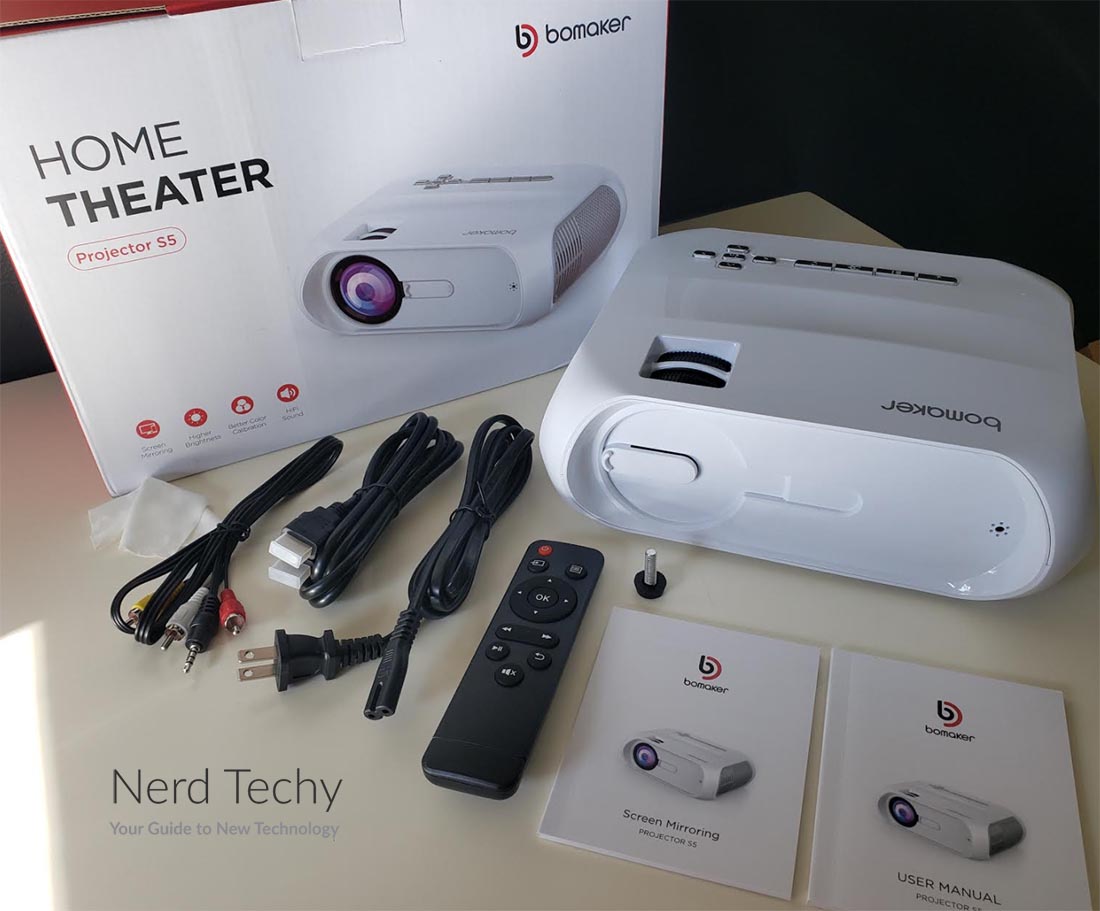 Bomaker S5
The Bomaker S5 Projector has a mid-sized profile. It measures 9.8 inches wide, 7.8 inches deep, and 3.5 inches thick. It has a sleek, modern appearance, with a rounded case that's constructed from grey ABS plastic. The sides contain large black panels, which are vented in a circular grid pattern. This allows for plenty of air flow through the inside of the unit. The result is that the fan doesn't need to work terribly hard, so the S5 runs quietly most of the time.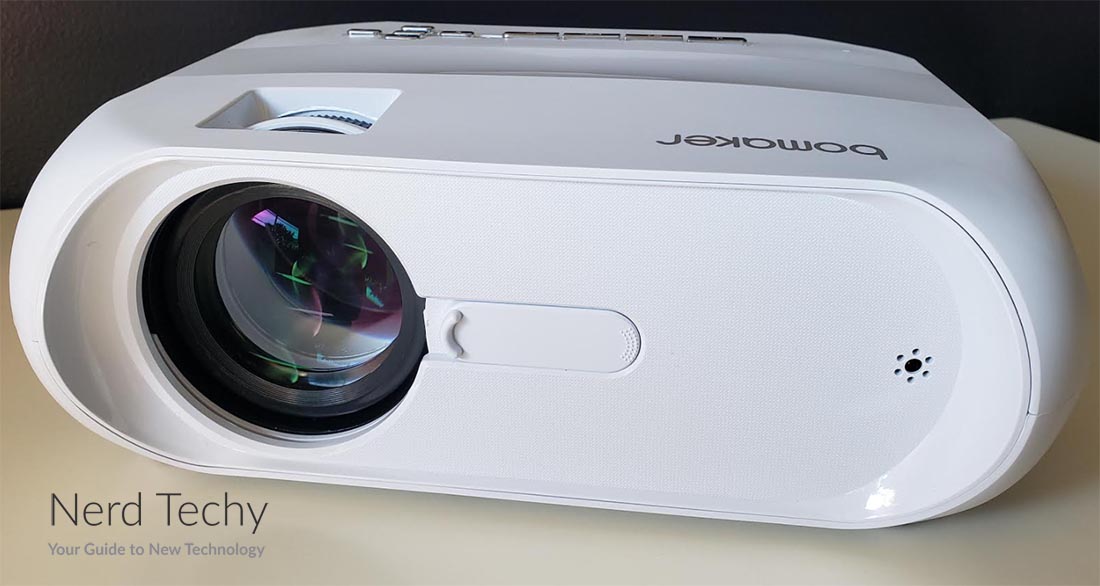 The lens is housed in the front, and the housing is recessed, which is unusual. However, it's a welcome design feature, since there's less hot surface exposed. This means there's less risk of accidentally touching a blazing hot housing. The keystone adjustment is located on top of the housing, just behind the lens. There are two dials, one for horizontal adjustment, and one for vertical. Towards the back of the top, you'll find a set of control buttons. You can play or pause videos, rewind, fast forward, and navigate the intuitive menu. You can also use the remote if you want to, but the on-board controls do everything you need.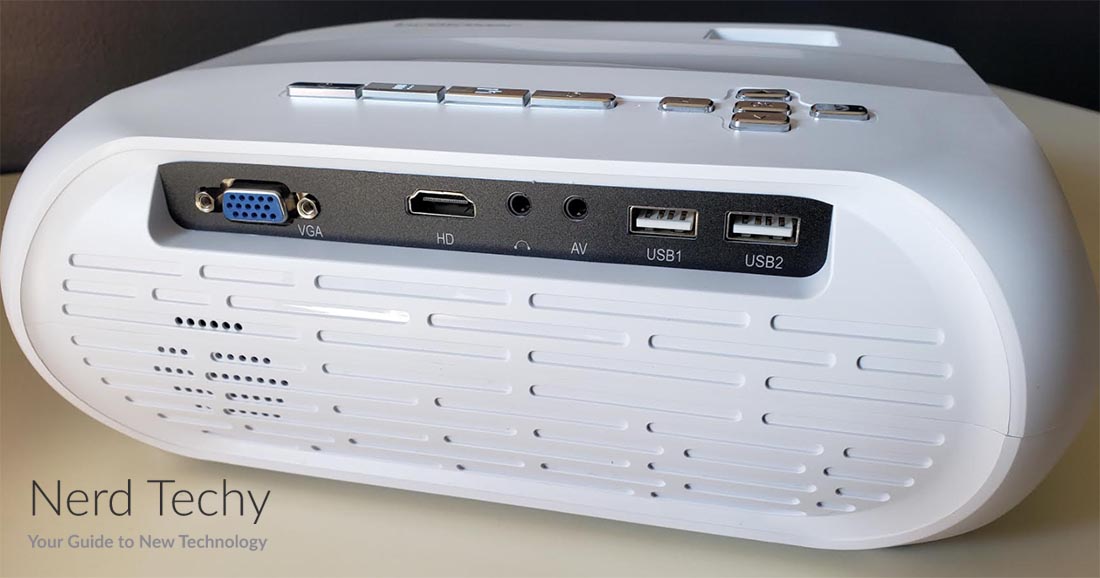 The S5 has soft, rubbery feet that won't damage your surfaces. It also has a standard threaded hole built into the bottom. This means it can be used on a tripod, or hung from a ceiling mount. The power input is located in the right side of the unit, so it's easy to connect and disconnect. On the back, you'll find a row of inputs, where you can plug in your devices. We'll dig deeper into those in a minute.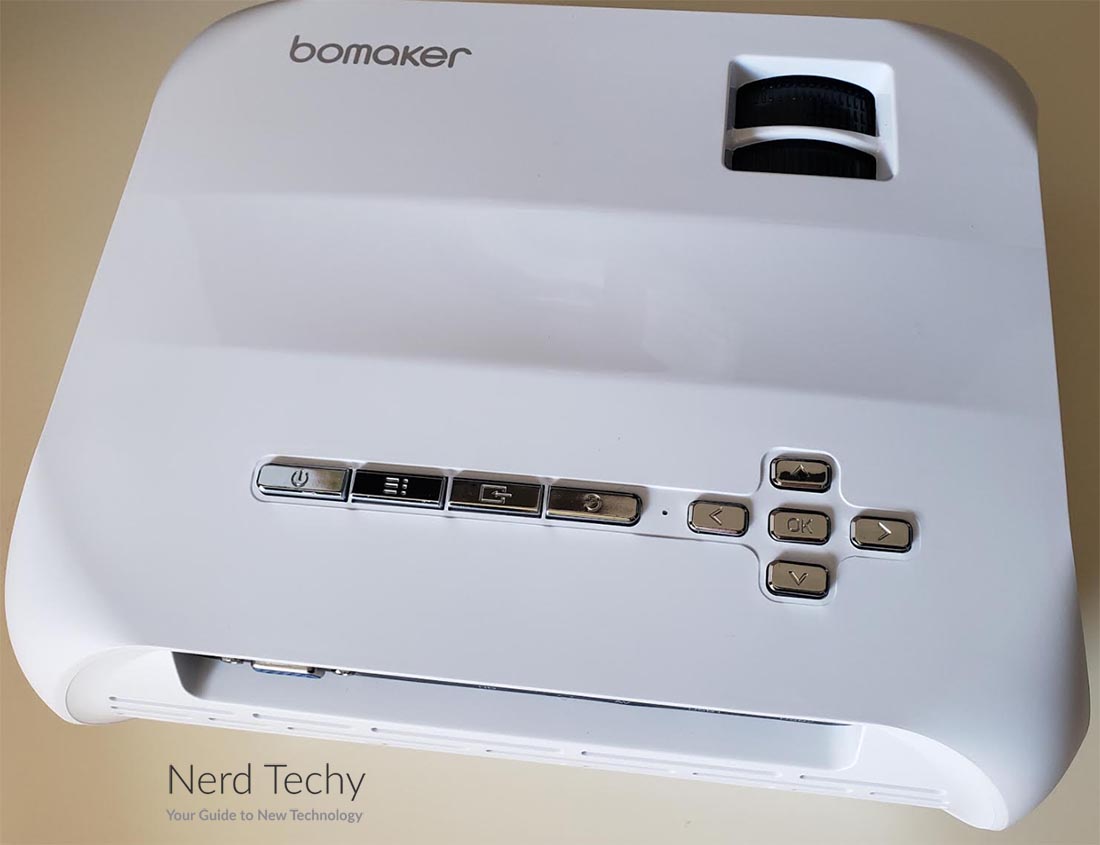 Video Quality
The Bomaker S5 has a native resolution of 720p, but supports a 1080p input. Here's what that means in plain English. If you're playing a video that's 720p or lower, it will play in full resolution. If you've playing a 1080p video, it will still work. However, the resolution will be downscaled to 720p. This is common for home projectors, where full 1080p video is a rarity.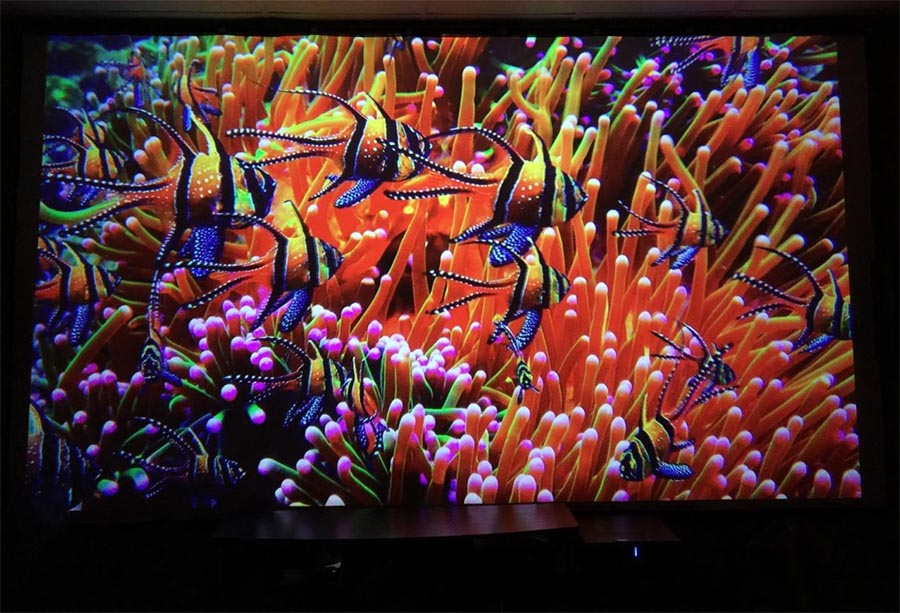 The image quality is quite good, with bright, vivid colors and excellent clarity. It also has a contrast ratio of 5,000:1. This is the difference between the brightest and darkest colors on your screen. The higher the contrast ratio, the better you'll be able to tell what's happening during the darkest scenes. 5,000:1 is one of the best contrast ratios anywhere on the market, and it's a major benefit.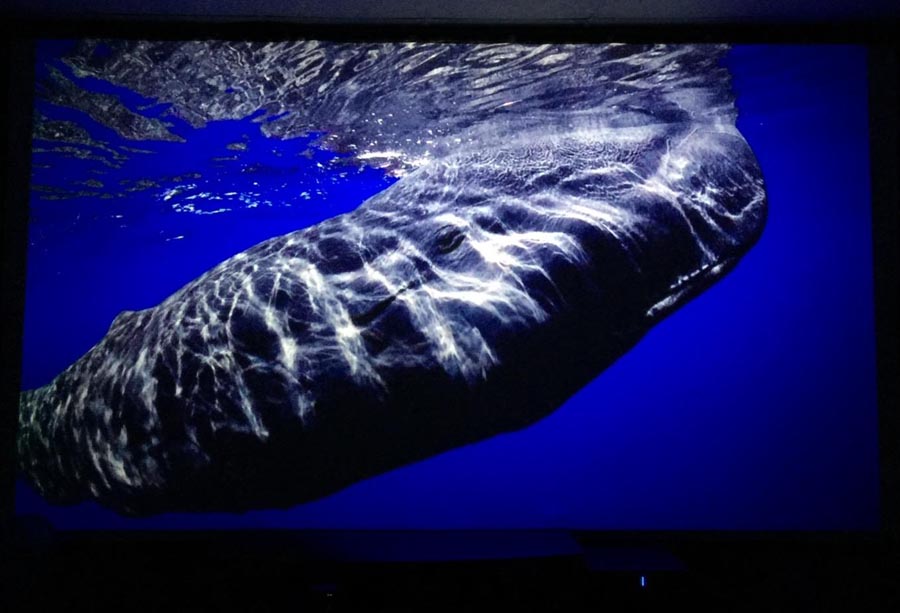 As with any projector, the size of the video will depend on how close S5 is to the screen. Depending on the distance, you can enjoy a clear video at 30 to 300 inches. Bomaker actually recommends 80 to 100 inches, which works out to a distance of 8.2 to 11.4 feet. Outside of that range, the video will slowly get fuzzier. Exactly how big you want the video is a matter of personal preference; there's no single right or wrong answer.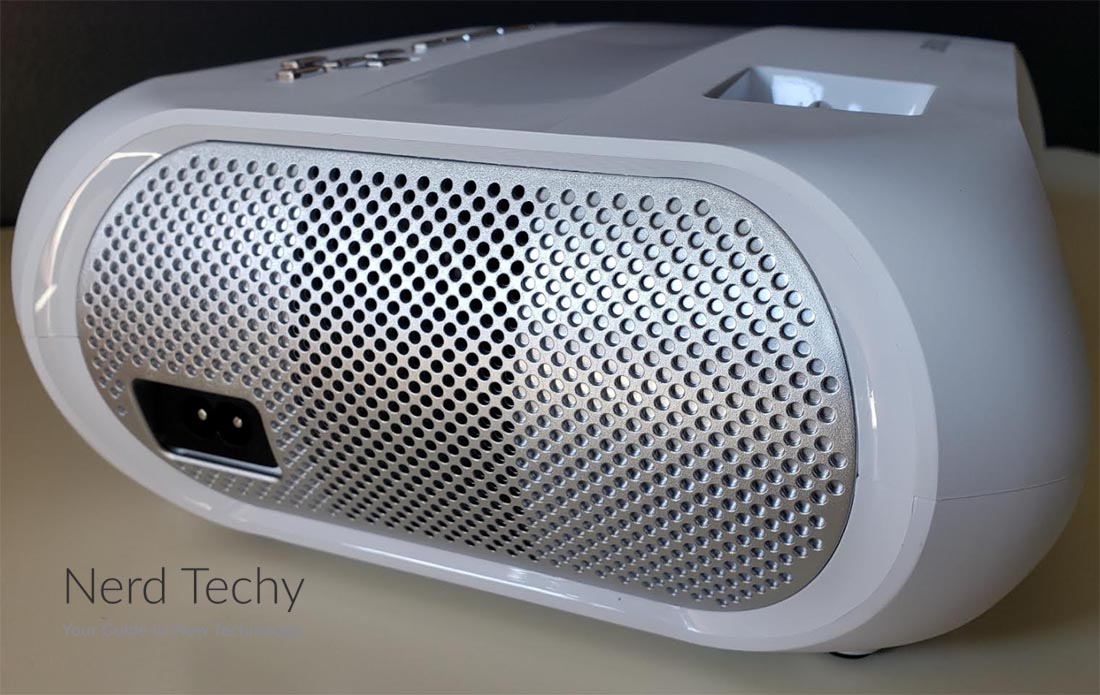 The S5 comes with a pair of built-in 3-watt speakers. The sound is nice and clear, and sounds surprisingly good for the size. However, the volume is limited by their small size. If you're just watching a movie by yourself, it's not an issue. But if you're hosting a backyard movie night, you're going to need a set of external speakers.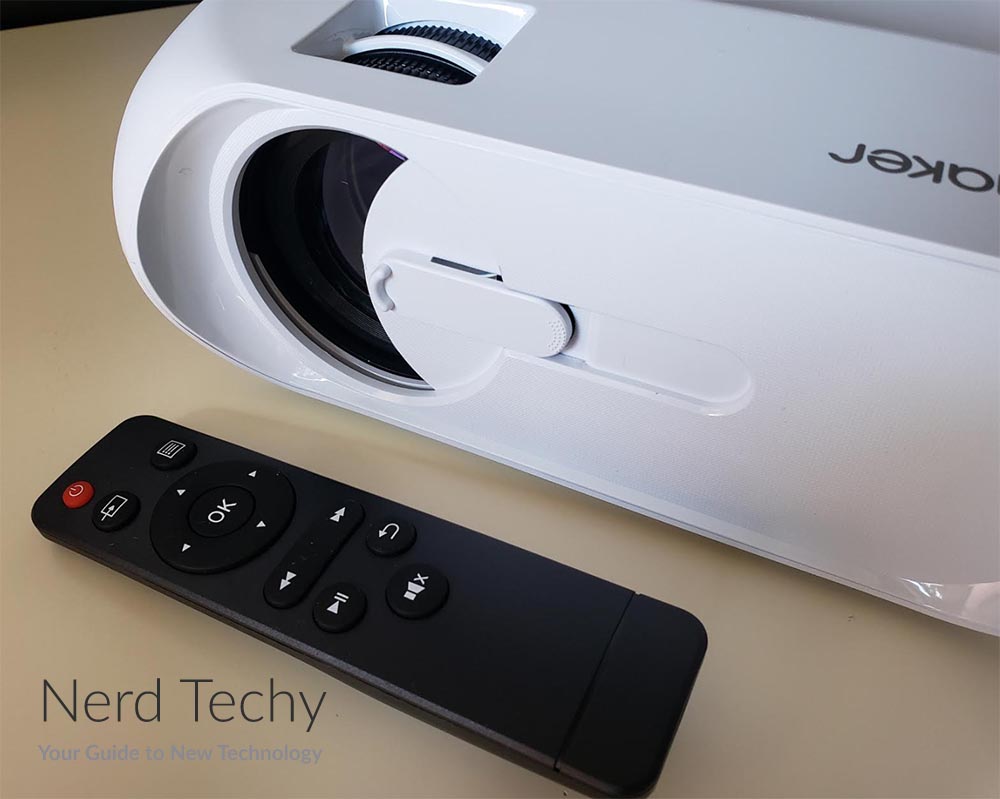 Compatibility
The Bomaker S5 Projector is designed to work with your phone, tablet, or laptop. It connects to your home's WiFi network, where your other devices can see it. From there, you can cast to it just as you'd cast to a smart TV or a game console. This makes it easy to cast streaming videos directly from your smartphone. It will work with any device that has casting capability, so Android, iOS, and Windows devices are all covered.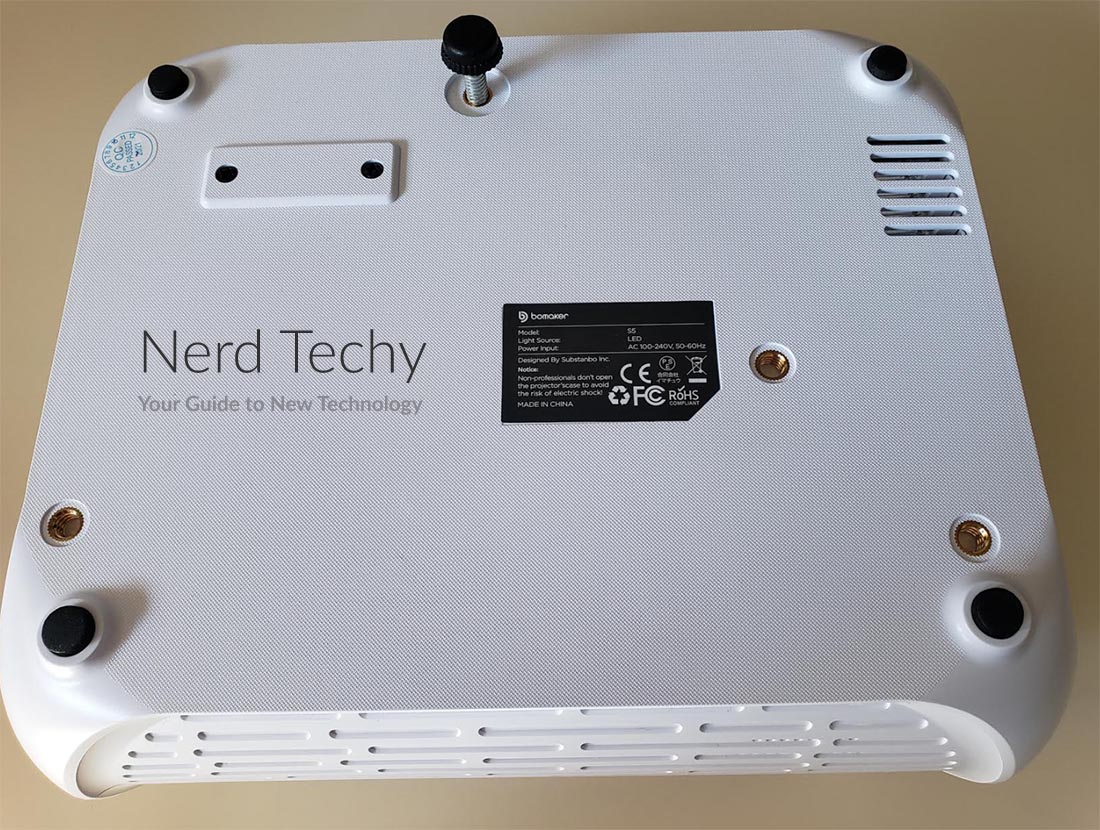 That said, you might want to watch videos from a Blu-Ray player or another traditional source. In that case, you can just plug in with an HDMI cable. There's a single HDMI port in the back, alongside a pair of USB 2.0 ports. These USB ports can be used to connect a streaming stick, or as an alternative for connecting a smartphone. Finally, there's a VGA port. This won't be useful for most modern devices, but it's great if you need to connect an older computer.
In addition, there's a 3.5mm aux jack. This can be used for connecting external speakers. It's also useful for plugging in a set of wired headphones if you're trying to watch your movie quietly.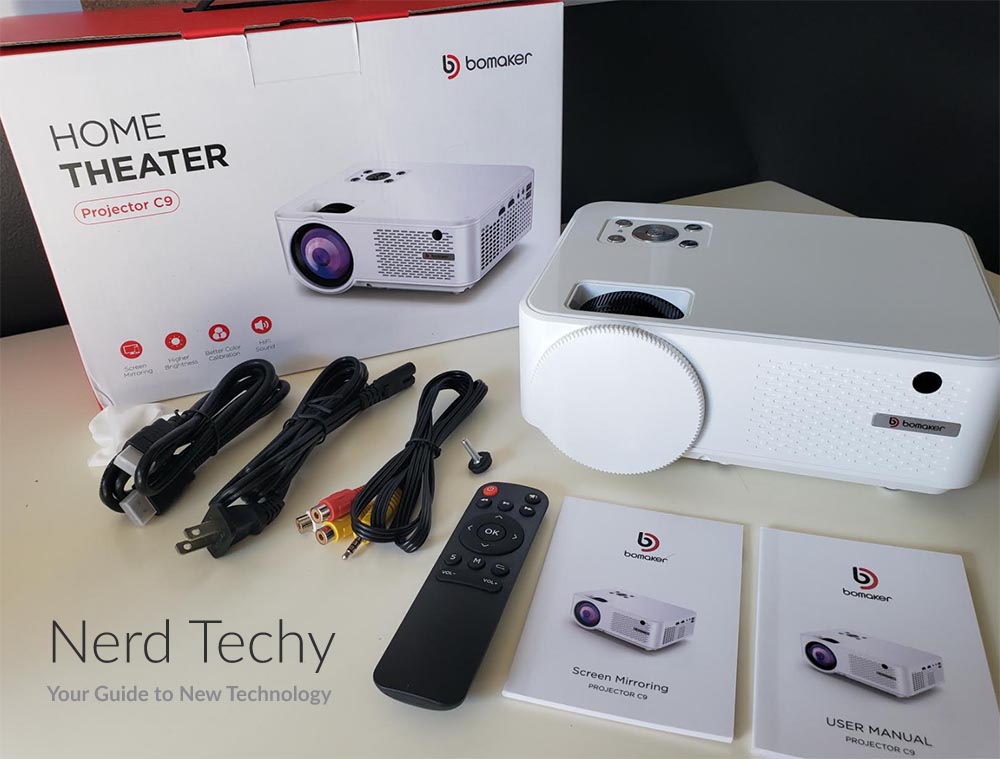 Bomaker C9
The Bomaker C9 Projector has a slightly more compact design than the S5. It measures 8.7 inches wide, 6.5 deep, and 3.4 thick, so it's easy to transport. It also weighs a hair over three pounds, so it's lightweight and portable. The housing is white instead of grey, and has a more squared-off profile. One design feature that remains the same is the lens housing, which is internal to the unit. Similarly, the keystone adjustments consist of a pair of dials above the housing.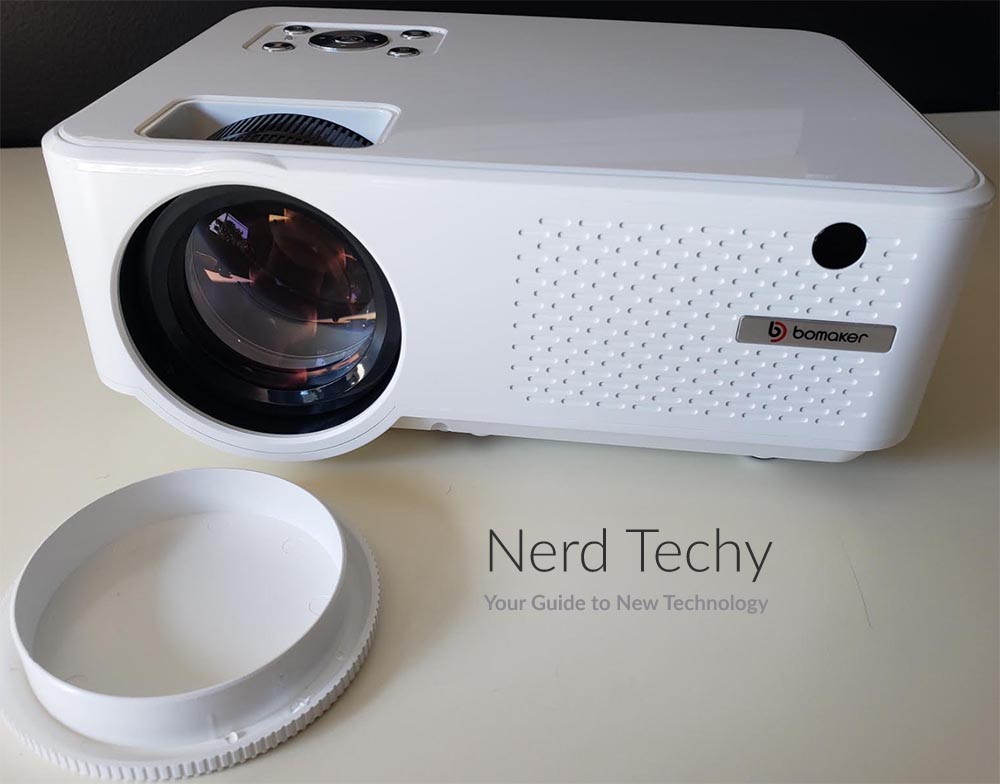 The controls are bright silver, and are located on the top of the housing. A remote is included in the kit, but it isn't really necessary. You can complete any action using the built-in buttons. You can control videos, or navigate the menus to adjust your picture settings. The physical inputs are all located in the back of the unit, with the power supply on the side. This allows for the same easy connections as the S5. The bottom also has soft rubber bumpers on it, to prevent it from sliding or damaging delicate surfaces.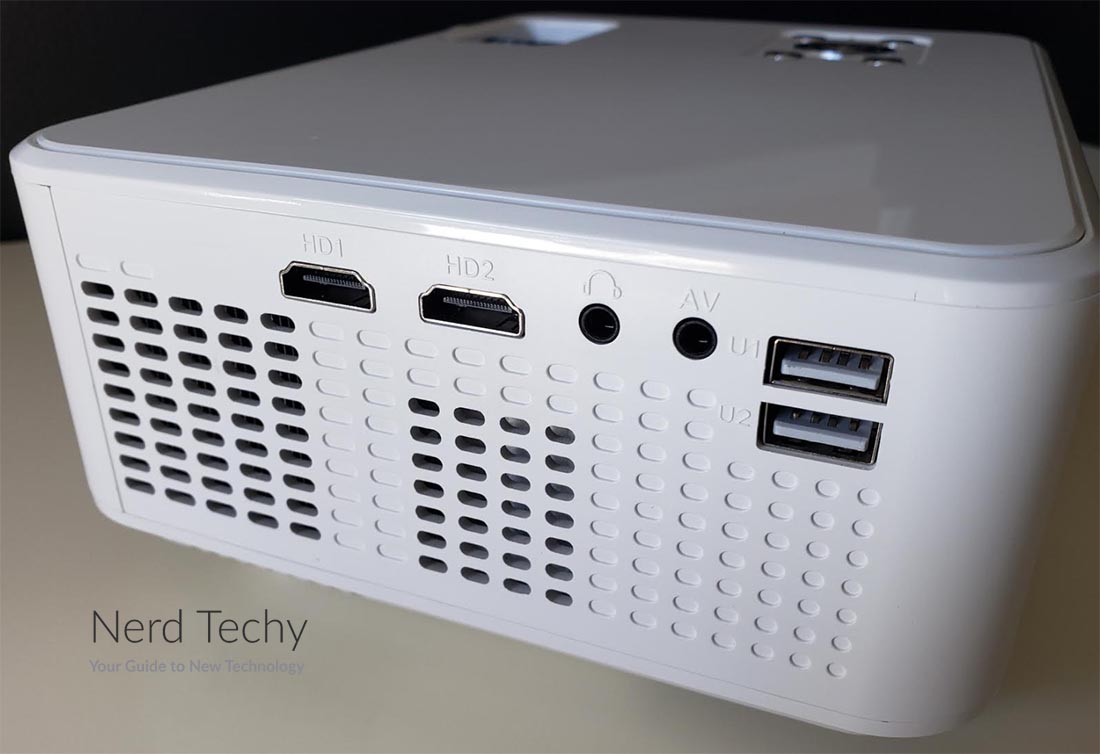 Video Quality
The C9 Projector has a native resolution of 720p, the same as the S5. However, it also supports up to 1080p inputs, so it's compatible with modern devices. The color depth is nice and rich, with comparable fidelity to what you'd see on a quality HD television. The contrast ratio is higher than the C9's, at a whopping 9,000:1. However, the human eye can only really detect a contrast ratio of 3,000:1. In other words, as far as human eyes are concerned, the contrast ratios of the two projectors are the same.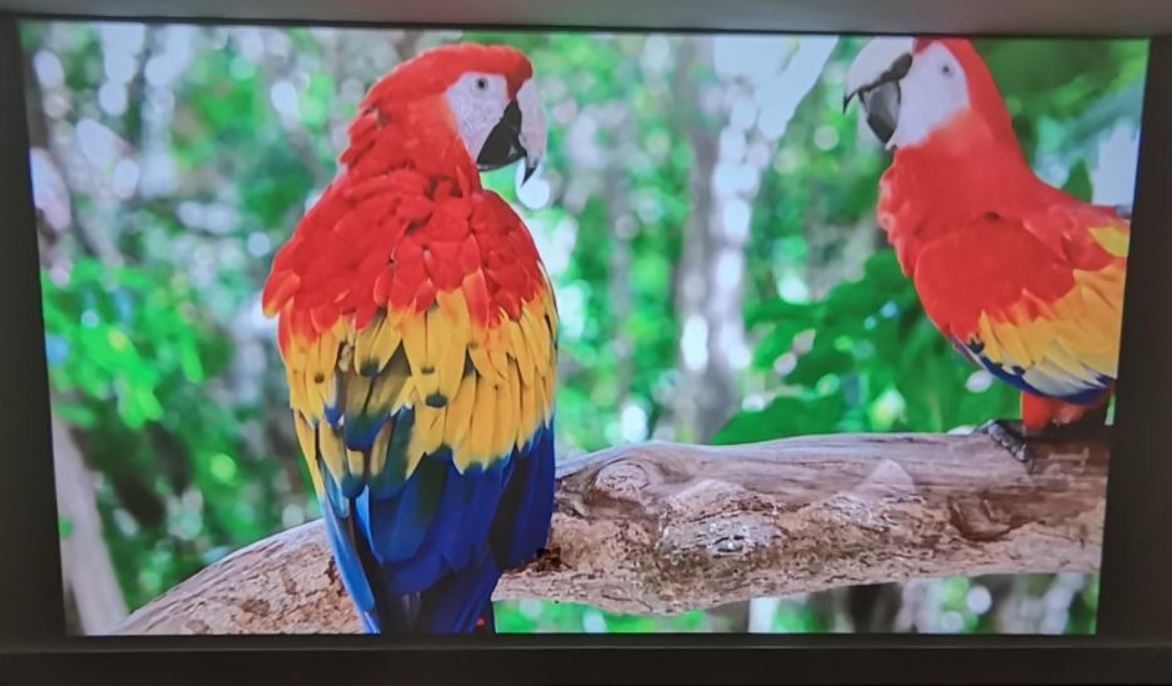 The display size can range from 35 to 300 inches on the diagonal, roughly comparable to the S5. This corresponds to a projector distance of 3.6 to 23.6 feet, depending on display size. As before, the image quality is better towards the middle of this range. As you get very close or very far, the picture gets a bit fuzzy.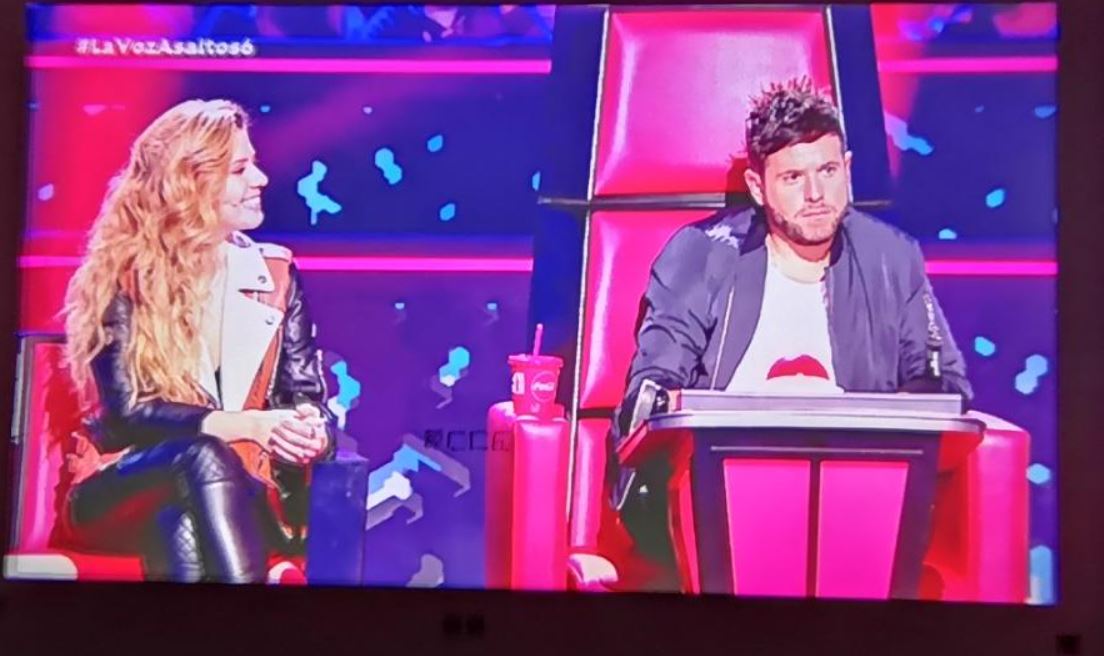 As for the three-watt internal speakers, they're the same as the S5's. They offer good quality, but not a huge amount of volume. They're fine for watching on your own or with a small group, but not for a larger gathering.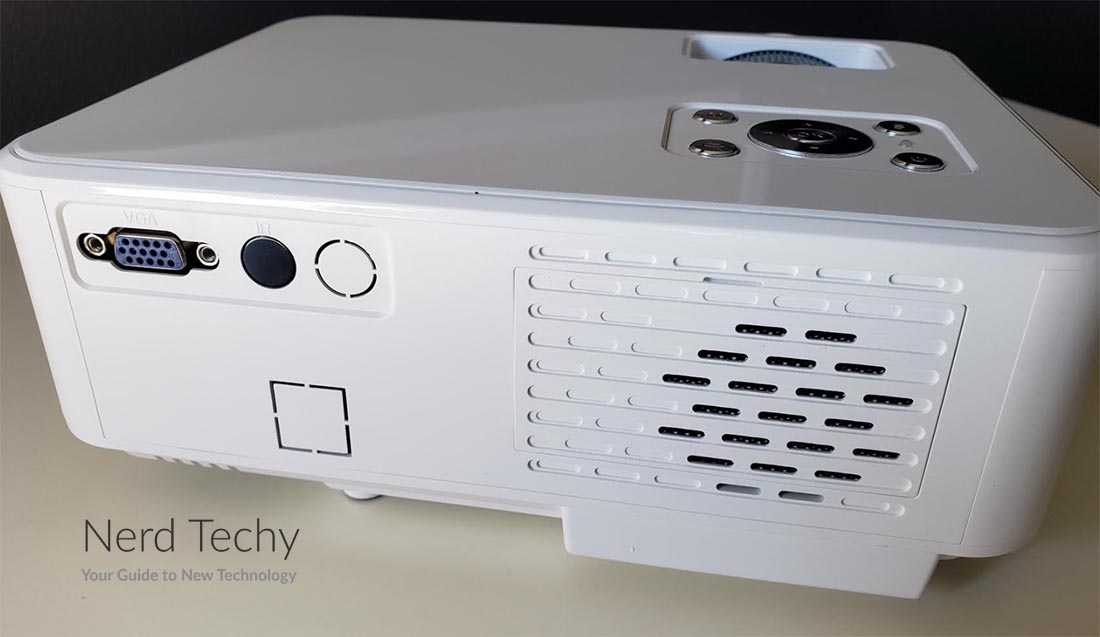 Compatibility
The Bomaker C9 has the same inputs as the S5. This includes a pair of USB ports, as well as the VGA port. However, there are two HDMI ports instead of one. This makes the C9 better-suited for permanent installation. After all, you've got more ways to plug in your devices. Not only that, but the C9 also supports casting, just like the S5 does.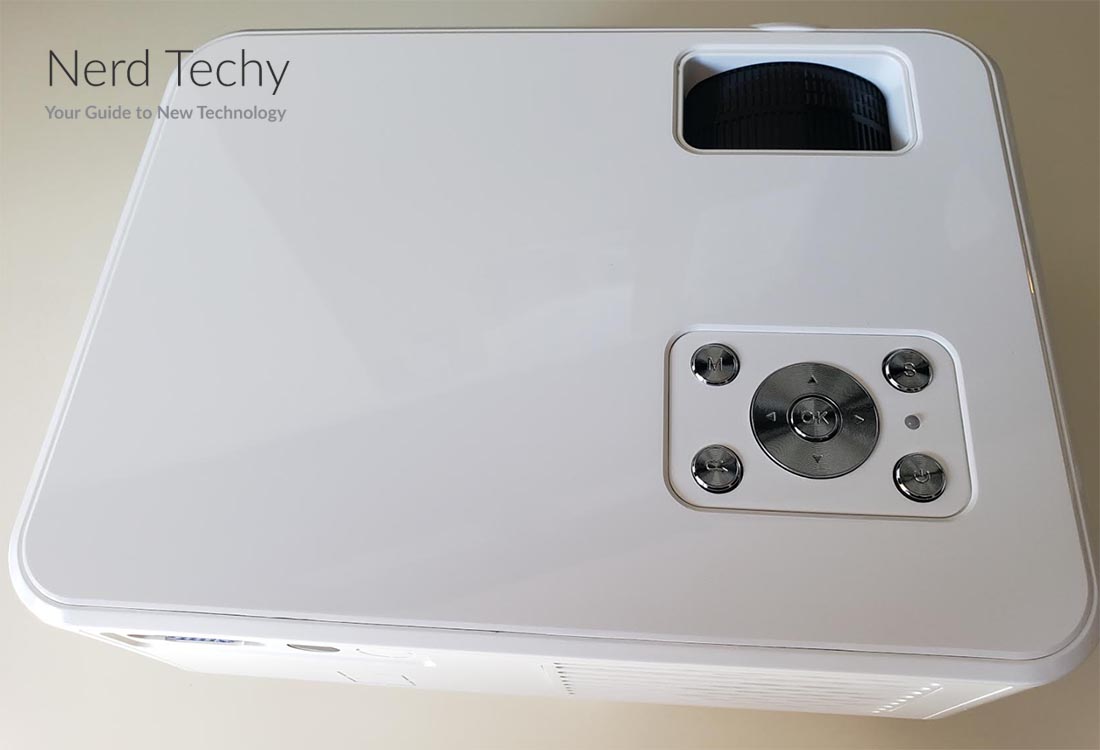 The only thing you can't really do is play videos from an SD card. To do that, you'll need a projector with an SD card slot, like the GooDee YG600. Admittedly, this is a niche application. But it's essential for playing videos from action cams and other devices that require SD storage.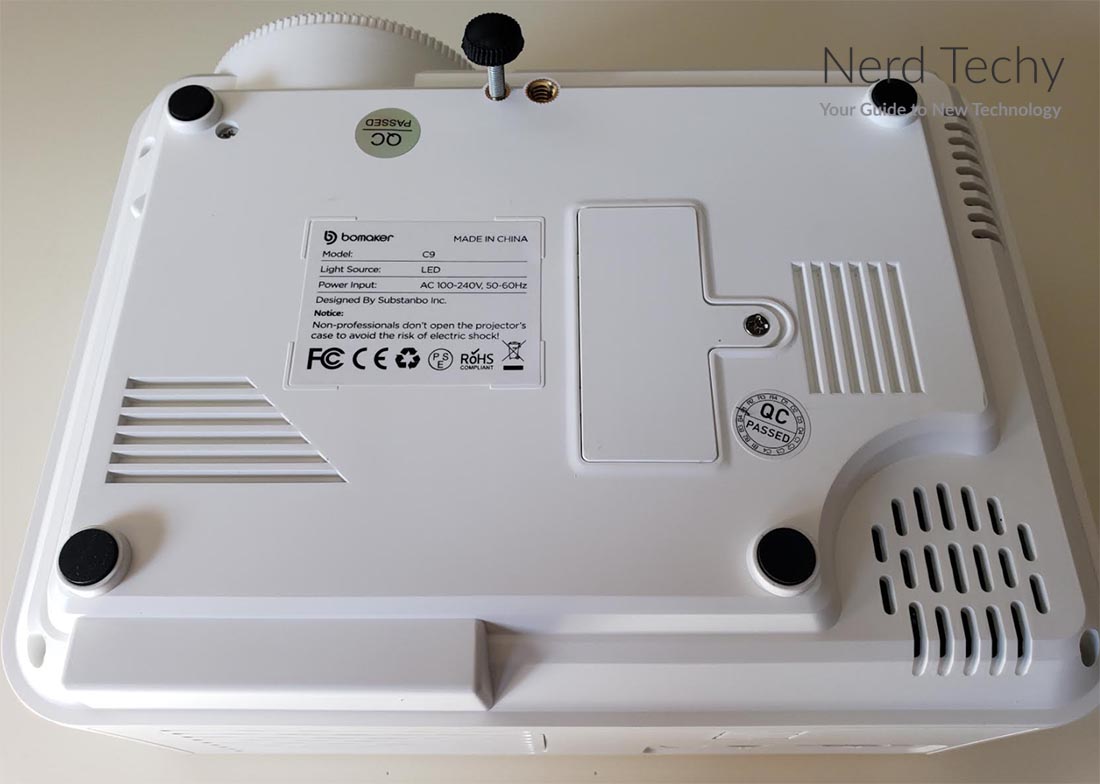 Final Verdict
Clearly, both of these Bomaker projectors are good quality. But which one is the right choice for you? We started by looking at the Bomaker S5 Projector. This is a full-featured, mid-sized projector that's great for home or professional uses. It has a threaded bottom that fits a tripod base or ceiling mount, so it's easy to install. Alternatively, the rubber feet make it suitable for temporary use on any floor or furniture. It accepts a variety of inputs, but the one that makes it stand out is WiFi. This allows you to easily stream from your smartphone or laptop, just as you would with a smart TV. Not only that, but the image quality is on par with most of the better home projectors.
The Bomaker C9 Projector is the same as the S5 except for three differences. First, it has a slightly more compact form factor, which makes it more portable. Second, it has a higher contrast ratio, which is more or less irrelevant given the S5's already-excellent contrast ratio. Finally, it has an additional HDMI port, which makes it better-suited for long-term, installed use. Do those features justify the higher price? It all depends on what you need.
Please consider sharing:
Note: At no extra cost to you, we may earn a commission for purchases using our links. Learn more.