Quick Analysis
Pros
Exceptionally wide coverage for medium to large-sized homes.
Fast internet speeds.
Very simple installation process.
Excellent security and parental controls
Beautiful, streamlined appearance with a sleek design.
Cons
Lack of WiFi 6 support.
Can require frequent resets from time to time.
Not long ago, wireless router coverage was not a major concern. If you were a particularly demanding user, you might have had two or three devices online. So as long as you were smart about placement, even a cheap router could get you the coverage you need. But that was before streaming services and mainstream online gaming. Now, every TV, smartphone, and game console in the house is online. With the advent of the Internet of Things (IoT), the number of connected devices is growing exponentially. Refrigerators, light switches, smoke detectors, and other household devices are all going online.
This means that your old WiFi router isn't going to do the job — at least, not by itself. You need a wider system that covers the entire house, so all your devices will have a signal. That's where a mesh router system comes in. A mesh router uses two or more devices to spread the wireless signal around your house. It's similar to a range extender, but each node is a fully functional router, not just an extender.
Today, we're going to review the Meshforce Whole Home Mesh WiFi System M3s Suite. This is a three-piece WiFi mesh system that can cover up to 6,000 square feet. But coverage isn't everything. How good is the connection speed? How reliable is it? And what type of security features does it offer? Once we've looked at all of those aspects, we'll know everything we need to know to render our verdict. Let's dig deeper, and see what the M3s has to offer!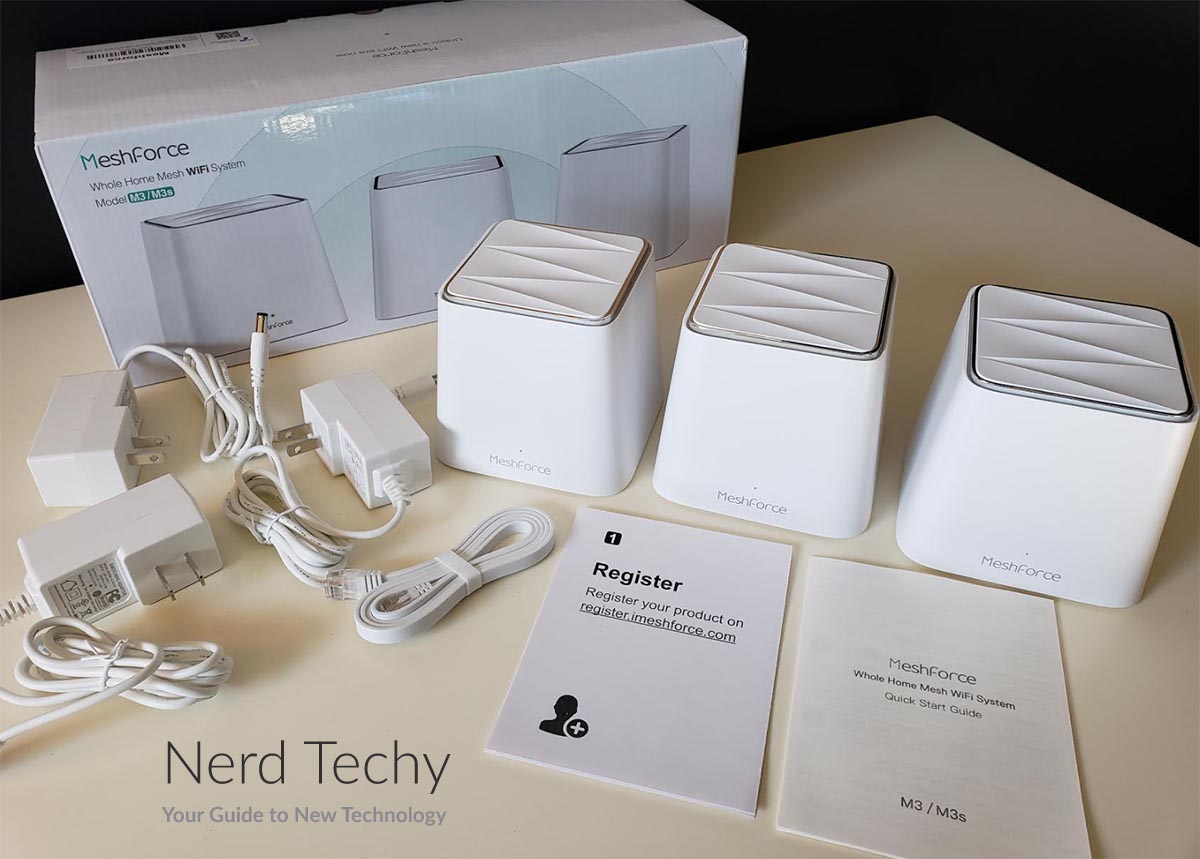 Design & Installation
The Meshforce M3s is the complete version of their M3 router system. While the M3 is a single router, the M3s includes three units, so you have everything you need. Nothing else is required to set up a mesh WiFi network. Each of the units is sleek and white, with a trapezoid-shaped design. The case is constructed from white ABS plastic, which has a satin finish. This low-gloss look is easy to clean, and doesn't attract a lot of attention on your shelf or desk.
Similarly, you won't see a whole bunch of lights like you will on most routers. There's just a single LED indicator that lets you know whether or not you're connected. This is great if the router is in your bedroom, since the lights won't keep you awake. On the other hand, it could be problematic for advanced users who want to do troubleshooting.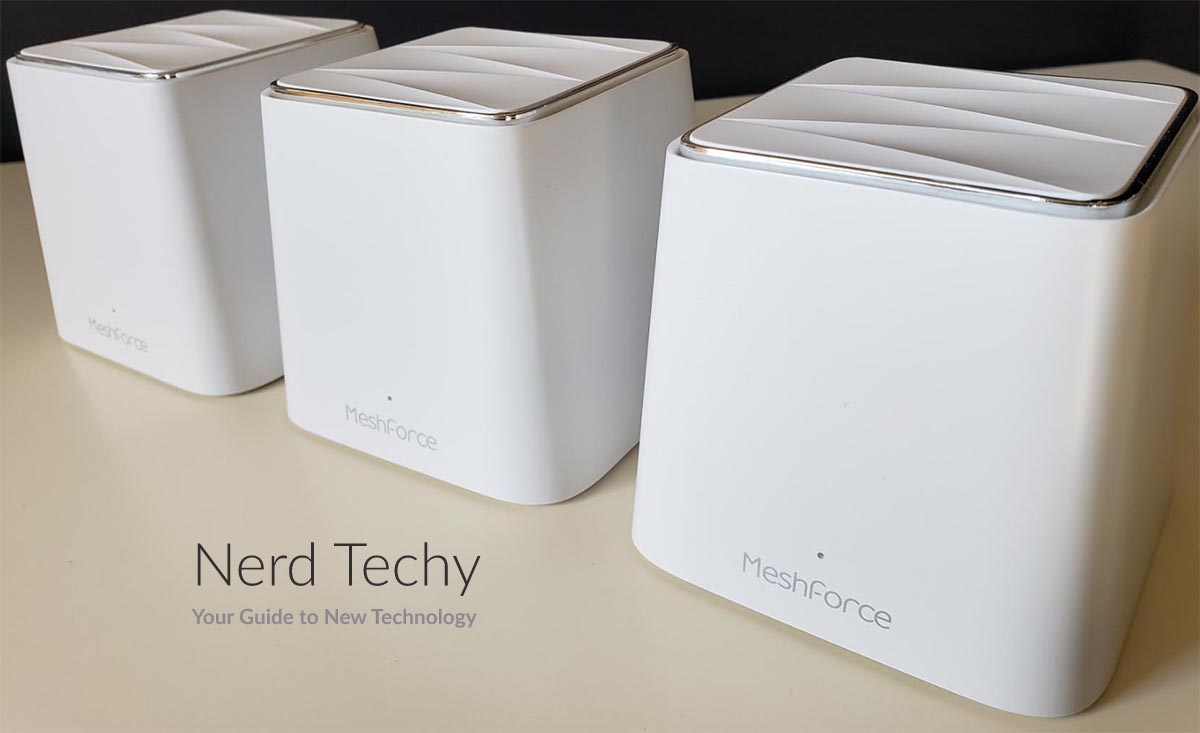 Each M3 router unit measures about five inches on each side of the base, and just over six inches tall. This blocky size and the contemporary profile make it an attractive feature on any desk. That said, if you want to hide your router away, you might want one with a slimmer profile. In that case, consider the GRYPHON Guardian. It's a mesh WiFi router with a 2-inch profile, although it doesn't come in a kit. You'll have to buy each unit individually.
On the back of each unit, there's a row of five Gigabit Ethernet ports. As with most routers, one of these is for connecting to your home's cable modem. An Ethernet cable is included in the kit for this purpose. The other four ports can be used for connecting PCs, game consoles, and other Ethernet-capable devices.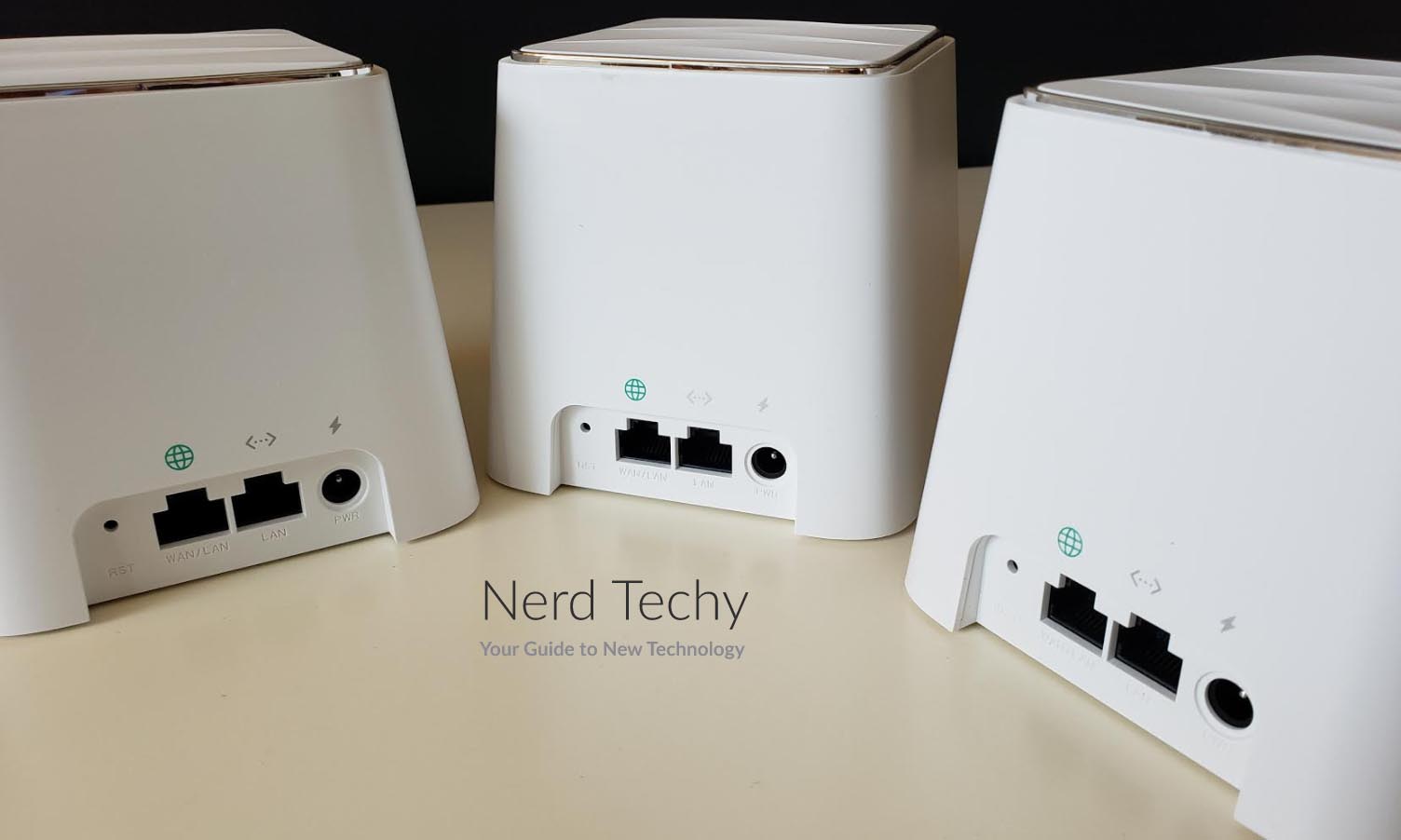 To set up the system, choose one of the M3 routers to act as your "main" unit. This is the one you'll connect to your cable modem. Next, download the My Mesh mobile app, which is free on Android and iOS, and follow the install instructions. The guide says it takes about 10 minutes to install, but consider this a minimum. In reality, it depends on how long it takes you to figure out where to put the other router units. This can require some trial and error if you're trying to maximize your coverage area. If less than the maximum will still cover the whole house, it will take less time to position everything.
All three routers in the M3s kit are covered by Meshforce's 12-month warranty. If there are any defects, you'll receive a replacement or a full refund.
Speed & WiFi Coverage
Like most modern routers, the M3s Suite is a dual-band system. This means that it supports both 5GHz and 2.4GHz WiFi signals. The 5GHz channel provides up to 867Mbps of bandwidth, or just shy of full Gigabit speeds. The 2.4GHz channel adds an additional 300Mbps, pushing you over a Gigabit when you're on both bands. The 5GHz channel has a shorter range, because of the shorter wavelength. The longer-wavelength 2.4GHz channel might be slower, but has a longer range and better penetration.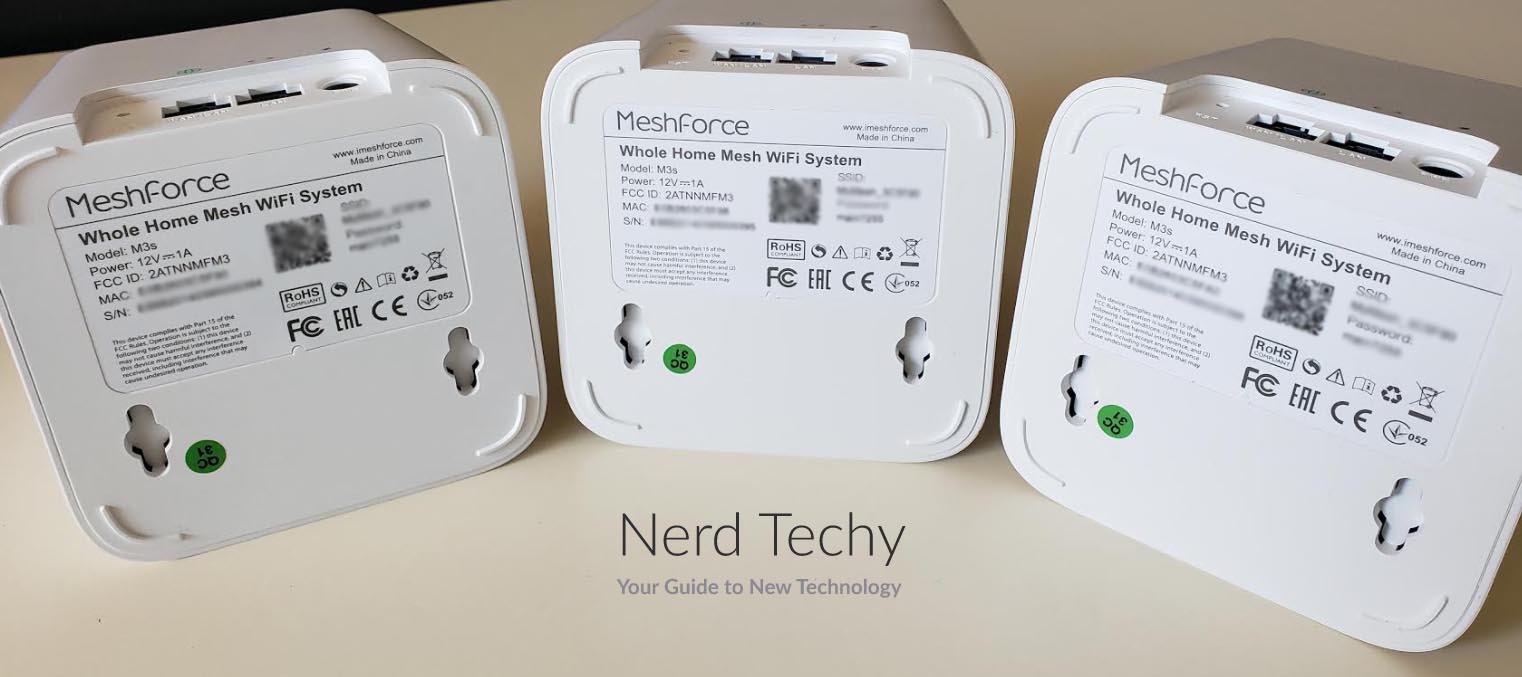 The maximum bandwidth of over 1,100Mbps should be plenty for most home users. That said, hardcore gamers and people with lots of devices will want even more bandwidth. In that case, check out our review of the TaoTronics AC3000 Mesh WiFi Router. This is a three-band system, with a whopping 3GHz of total bandwidth. That kind of performance doesn't come cheap, but it's well worth the investment if it's what you need.
Each M3 router can cover just over 2,000 square feet on its own. Allowing for some inevitable overlap, the complete M3s Suite can cover about 6,000 square feet. We should be clear that this is a rough approximation. Brick walls and other masonry, for instance, can limit your signal's range. Conversely, you'll get better range in a house with an open floor plan. Your total coverage will also depend on how close together your routers are. If they're all packed in the same area, you won't get the benefit of multiple overlapping routers. Try to spread them out as much as you can, in order to cover the widest possible area.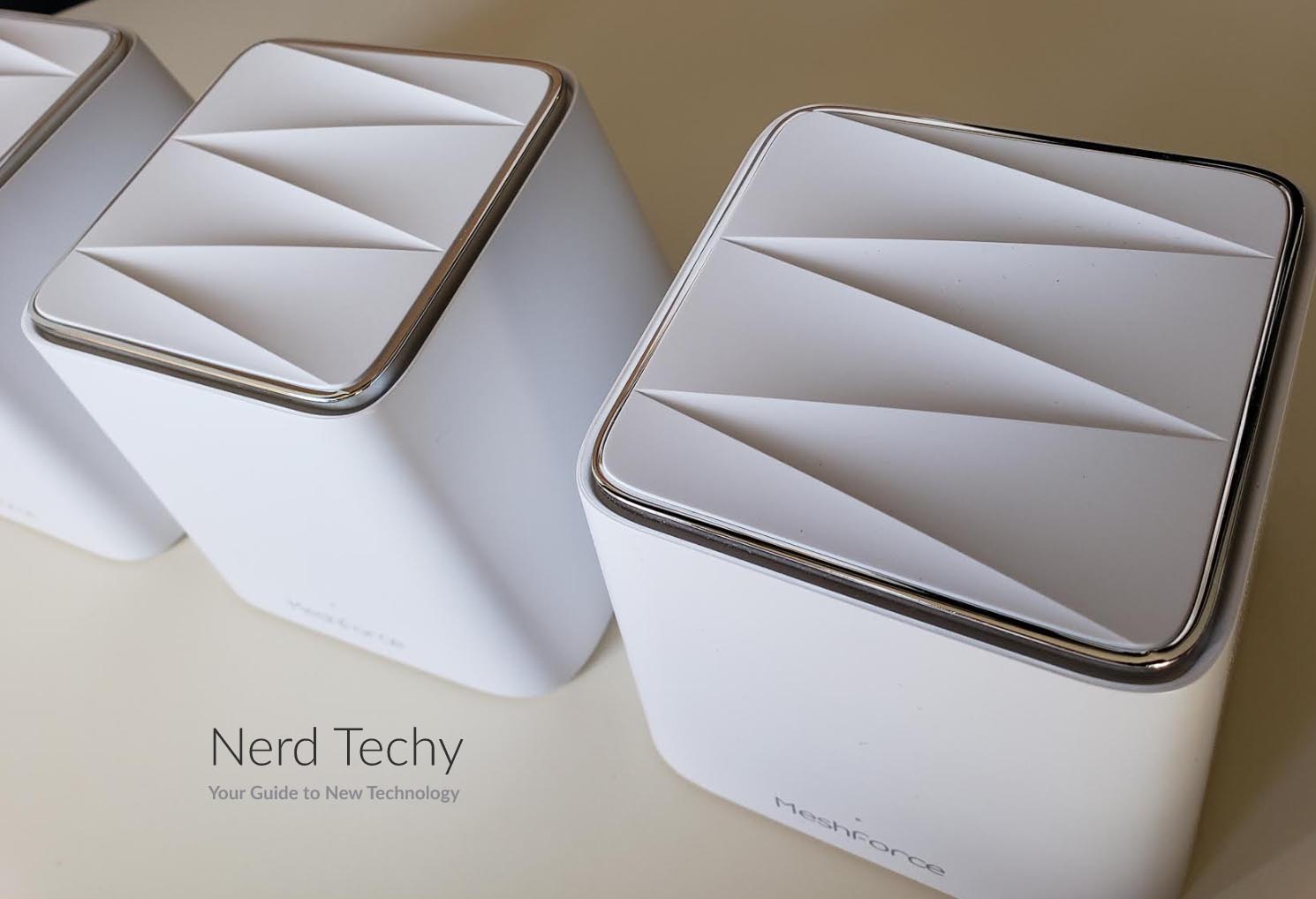 Another way to get better range is to add more units. The M3s system can be expanded by adding additional M3 routers, which are sold separately. You can expand up to six routers in total, for a maximum coverage of 12,000 square feet. Forget about your average suburban house, or even your larger-than-average house. 12,000 square feet is enough to cover retail stores and other large indoor spaces. Similarly, it's sufficient for a mid-sized corporate office.
The M3s Suite is rated to support up to 60 devices. In theory, this makes it compatible with IoT devices, since you can connect so many of them. However, its performance is hampered by the fact that it doesn't support WiFi 6. WiFi 6 is the latest WiFi protocol, designed to allow seamless connections from dozens of devices. Without this, the router eventually ends up throttling your bandwidth unless it gets reset. It's not a huge deal, but it's something you should be aware of with any non-WiFi 6-enabled router. The more devices you have connected, the more often you'll have to reset it.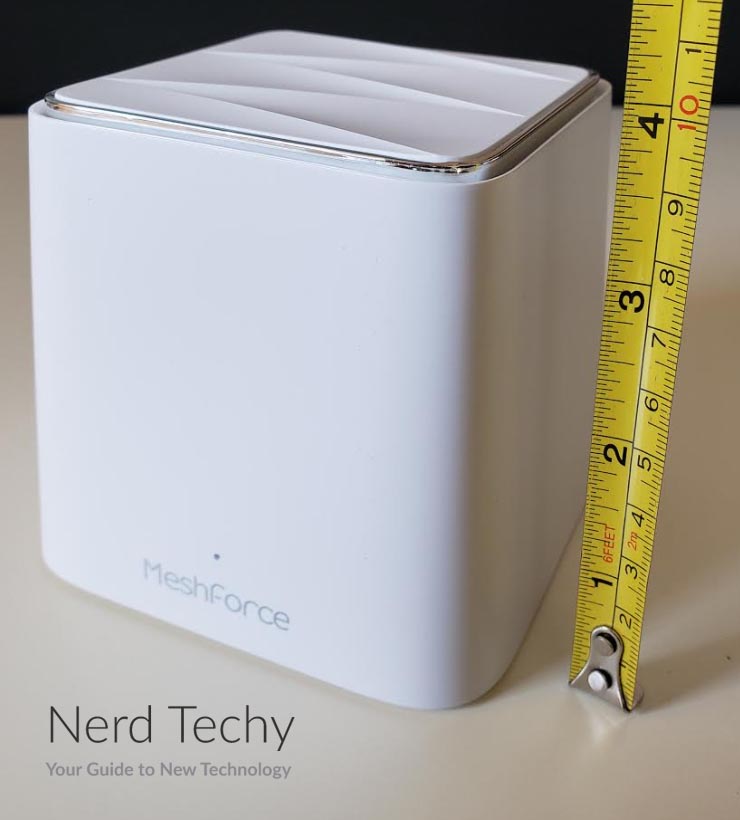 If you want a more advanced mesh WiFi router, the ARRIS SURFboard mAX Plus W30 is an excellent choice. It's a bit spendy, but it's exceptionally fast, and it supports WiFi 6 for your smart home devices.
WiFi Features
After you've set up the M3s system, you can use the My Mesh mobile app to adjust a variety of settings. Perhaps the most commonly-used feature is the parental control option. There, you can set specific permissions for specific devices. This way, you can ensure that each of your kids has an age-appropriate online experience. Not only that, but you can also set bedtimes for individual devices. You can watch Netflix all night, while your third grader's internet can get cut off at eight o'clock. With all of the concern these days about kids getting too much screen time, it's nice to be able to limit it.
You can also use remote management to view your WiFi network's status when you're not at home. Admittedly, this is a niche application. But if you're running a home server, you might need remote monitoring from time to time.
The M3s system also creates a separate guest network alongside your regular network. The guest network is totally isolated from your regular network, for your protection. So even if a hacker were to access your guest network, they'd only be able to get online. They wouldn't be able to see or access any of your other devices. This makes your network considerably more secure. It's especially useful for businesses that offer free WiFi to their customers. Your point of sale system and confidential business computers won't be on the public network. You can give your public network password out freely, and even post it in your window. Your business systems aren't going to be exposed.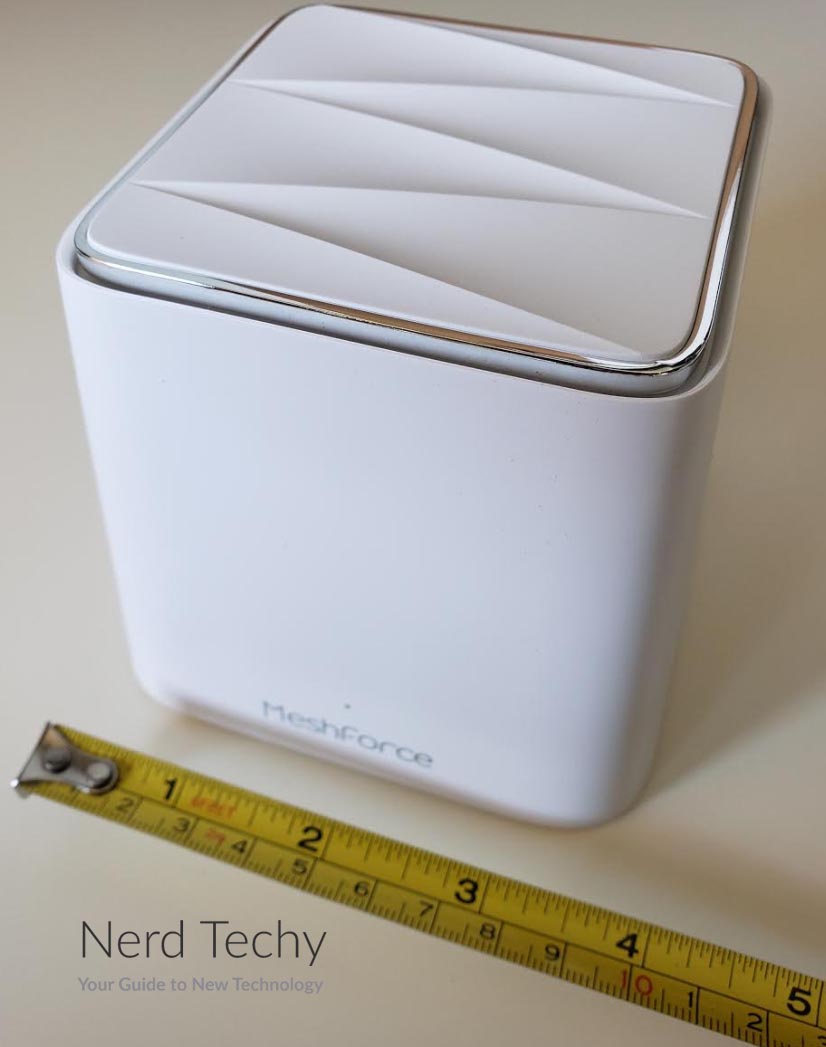 Final Verdict
So, is the Meshforce M3s Suite worth your time and money? For most purposes, yes. Let's start with the most obvious downside: the lack of WiFi 6 support. This can be limiting if you want to connect a lot of IoT devices. Even under the best of circumstances, you'll have to reset the router from time to time. That said, if you're not trying to connect a bunch of IoT devices, there's a lot to like here.
To begin with, you get a truly impressive 6,000-square foot coverage area, expandable to 12,000 square feet. That's sufficient for all but the largest commercial spaces. You also get the benefit of a secondary guest network. This is only somewhat useful for home users, but can be critical for businesses. After all, you don't want to give out the password for your primary network.
Along with that, you get all the parental control options you could want. You can limit what type of content your kids can access, as well as what time they can get online. Keeping tabs on your kids screen time has never been easier. With its easy-to-use app and ten-minute setup, the M3s Suite is one of the more comprehensive mesh routers out there.