Quick Analysis
Pros
High-definition cameras that produce high resolution images.
No smartphone required. This is an al-in-one unit.
Extremely durable, 16.5 foot snake cable.
Three different lighting modes.
Excellent screen quality with a vivid picture.
Cons
Attachments are poorly engineered.
Somewhat bulky design, not as compact as some others.
If you need to see inside a small space, an endoscope, or borescope, is practically a requirement. With a good borescope, you can see inside pipes, conduit, engine blocks, and other hard-to-reach places. This can save you hours of work, so spending a few bucks on the right tool is a no-brainer. That said, borescopes come in various qualities. Some are tough, rugged, and up to the challenge. Others are flimsier, and are only good for a few uses before something fails.
The most important feature to look for is a high-quality camera cable. Look for one that's flexible, but not excessively flexible. You want to be able to push it through a 90-degree corner or a U-bend, but you don't want it flopping around. A gooseneck design is ideal, although some borescopes use semi-rigid plastic instead. There are other features to consider, too. For instance, is there one lens, or two? A single lens is cheaper, but only allows you to look forward. A two-lens borescope typically costs more, but allows you to look to the side as well as to the front.
Note: At no extra cost to you, we may earn a commission for purchases using our links. Learn more.
Regardless of what features you're looking for, it helps to choose a reliable manufacturer. DEPSTECH is one of the best in the business. They're specialists in small camera technology, and produce otoscopes (ear scopes) as well as borescopes. Today, we're going to review their DS430 Dual Lens Industrial Borescope. This is a rugged, aluminum borescope that takes no prisoners. It also features dual 1080p lenses, and three different lighting modes. But what else does it have to offer? And how does it compare to the competition? Let's take a closer look, and find out whether it's worth using.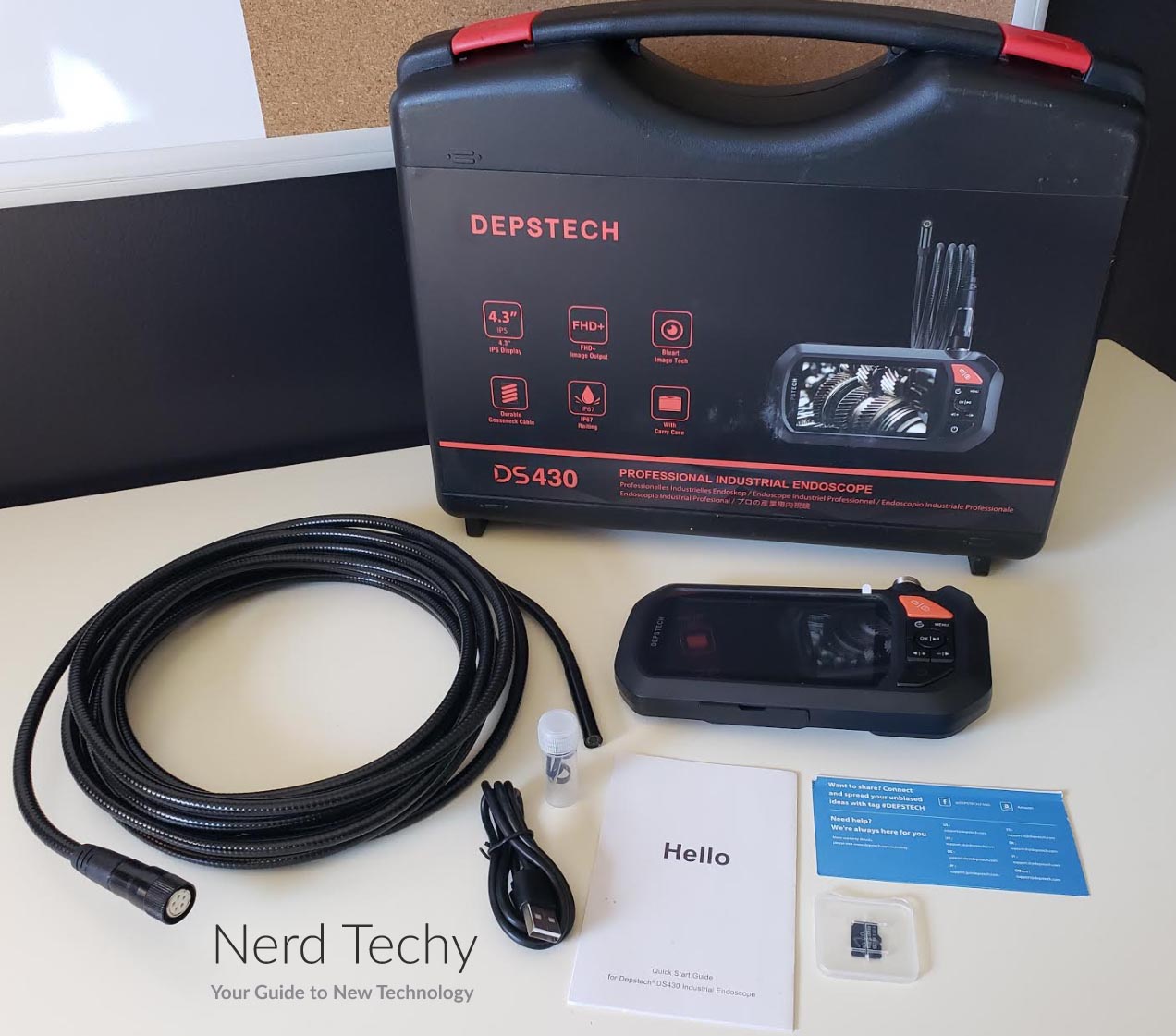 Design & Construction
The DEPSTECH DS430 consists of two parts: a long, semi-rigid camera cable, and a handheld control unit. The snake itself measures 16.5 feet in length, enough to look far down into a house's plumbing system. It's constructed from aviation-grade aluminum, so it's corrosion-resistant and difficult to damage. With its gooseneck-style design, it can be coiled up for storage, or extended straight for maximum reach. At the tip, you'll find the camera, with a front lens and a smaller side lens. The front lens is ringed by LED lights, which we'll talk about more in a minute. At the opposite end of the cable, there's a threaded connection that screws onto the control unit.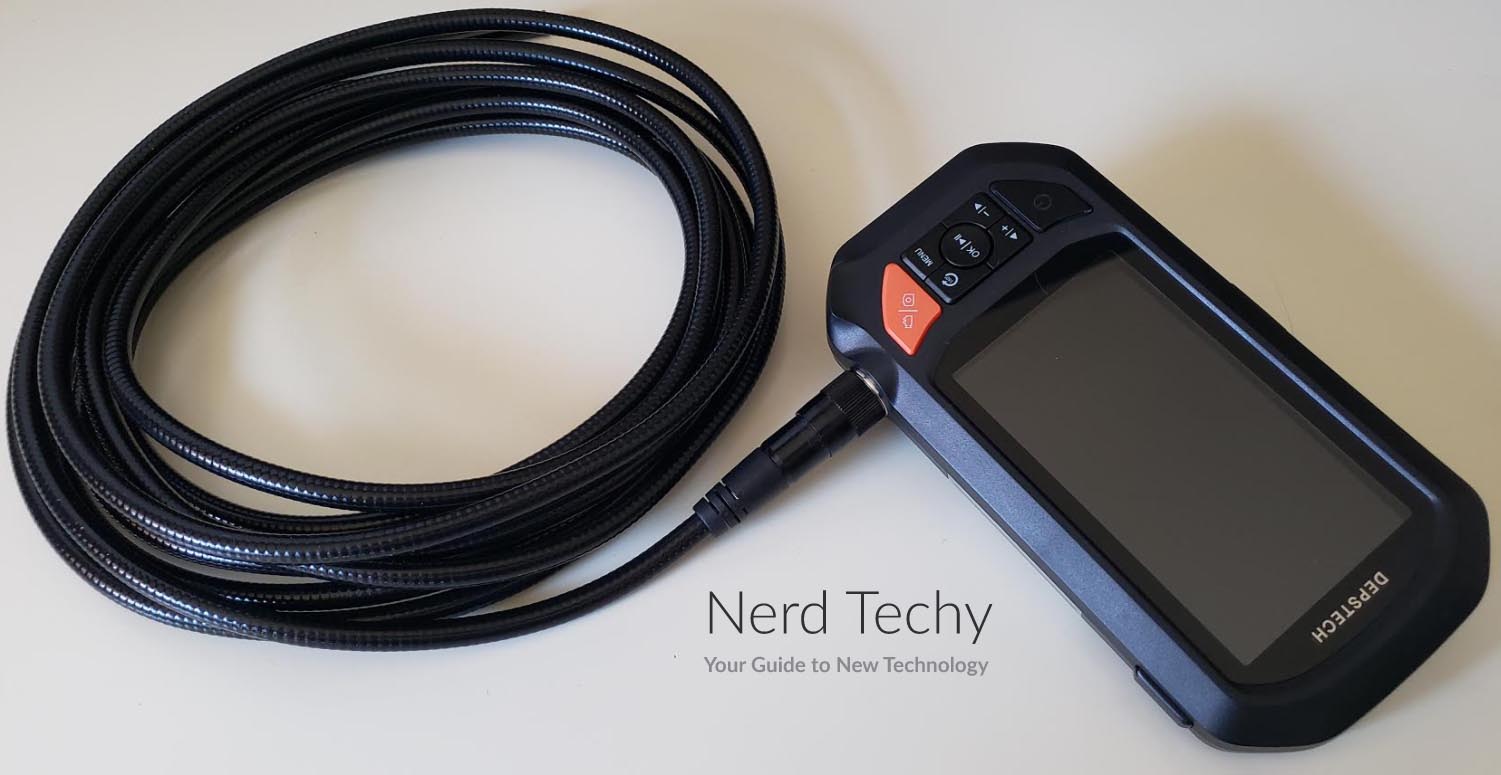 The cable and camera have a water-resistance rating of IP67. This means they can withstand full submersion for at least 30 minutes. That's more than long enough to run the scope and get the pictures you need.
The main feature of the DS430's control unit is the beautiful, 4.3-inch display. The display is full HD, and uses an IPS panel. IPS panels are superior to ordinary LCD panels in that they allow for a wider viewing angle. In fact, the DS430's screen has an impressive 178-degree viewing angle. So even if you're holding the control unit awkwardly to access a pipe, you can still see what you're doing.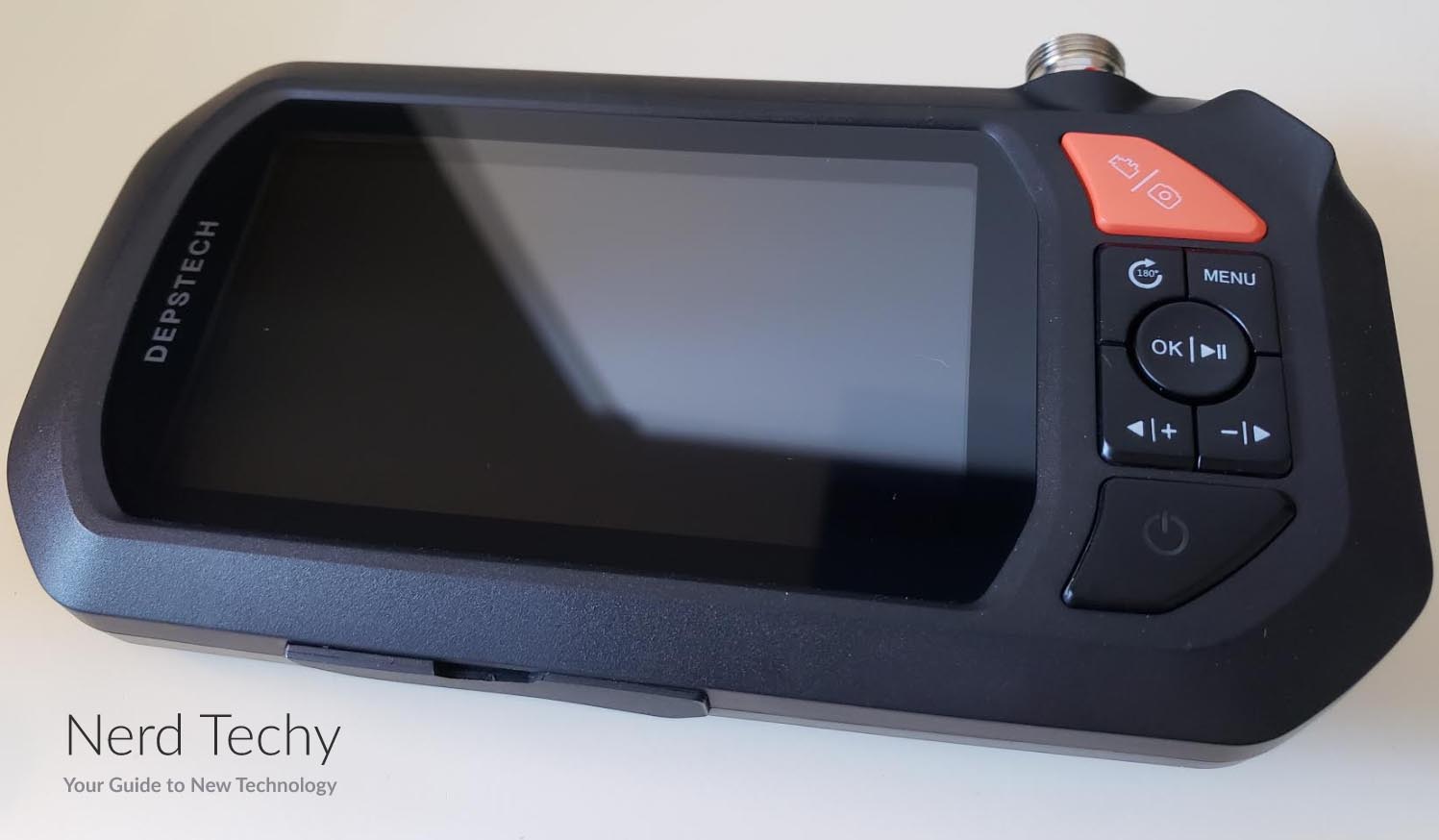 The controls are located on the right side of the screen, which makes them easy to operate with your thumb. This placement obviously favors right-handed users, but even southpaws don't have to worry too much. The buttons are physical controls, not just a touchscreen, so pinpoint accuracy is not required. At the bottom, there's a simple on/off button. Above that, a set of buttons control playback and menu navigation. The top left button on this pad allows you to instantly switch between the front and side cameras. At the very top, a bright orange button switches between videos and still photos. Thanks to this intuitive design, the learning curve is nearly zero. You can master the DS430 in less than five minutes.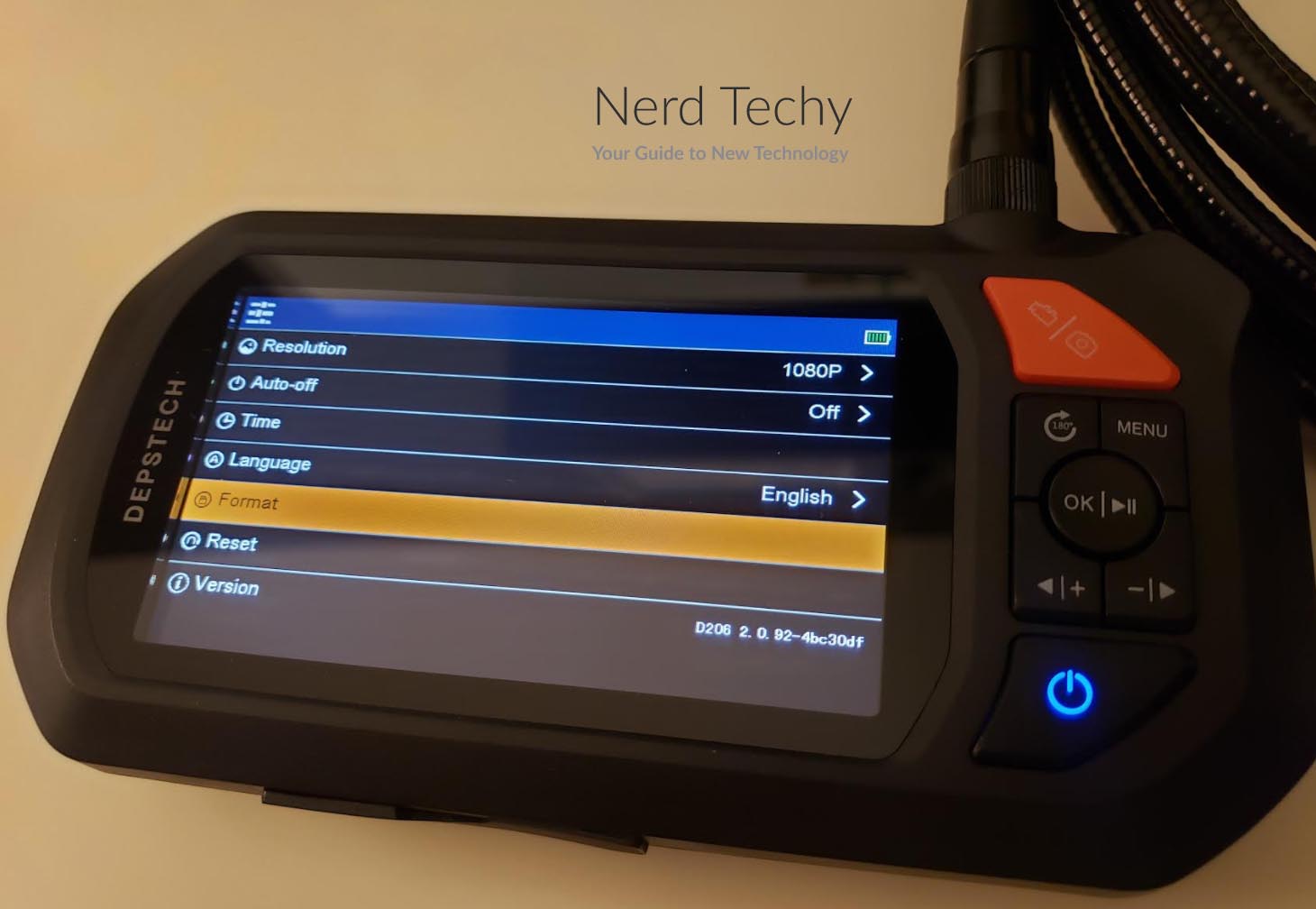 On the bottom of the control unit, you'll find a flip-up cover that conceals a hidden compartment. In there, you'll see the Micro SD slot, as well as a small reset hole. Next to those, there's a Micro USB port for charging. A USB cable is included in the kit, so you've got everything you need to keep the battery charged.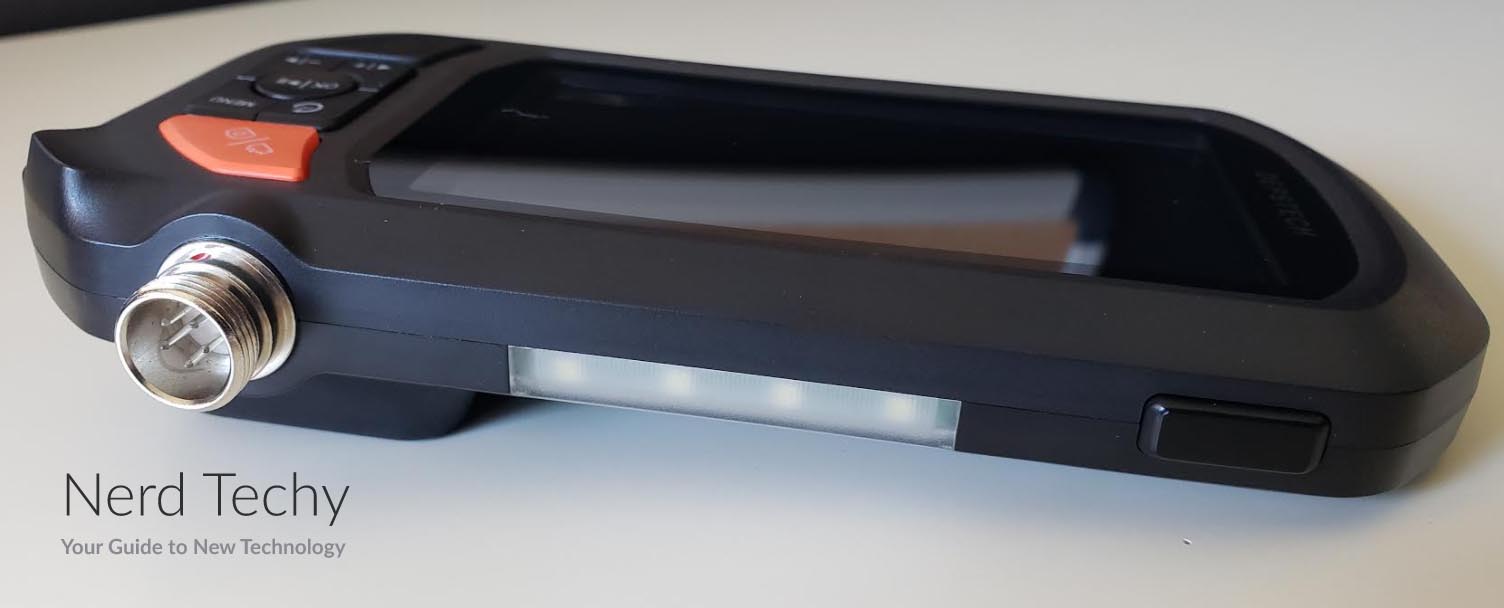 Along with the borescope itself, the DS430 kit includes a hard carrying case. At 12.95 x 10.79 x 3.19 inches, it's a bit bulky. Instead of carrying it in your toolbox, you carry it alongside your toolbox. That said, the large size is necessary to accommodate everything that goes inside. After all, the cable is fairly long, and needs a bit of space, even when it's coiled up.
Image Quality and Lighting
The DS430's camera has a resolution of 2,592 x 1,944 pixels, or roughly twice as many pixels as ordinary HD. This provides an incredibly crisp image, even if you're looking at incredibly fine details. That said, you won't really notice on the DS430's screen. That's not a criticism of the screen. It's just that at that size, your eyes wouldn't be able to tell the difference even if it were 720p. The pixel density is simply too high. On the other hand, if you were to watch videos on a larger screen, you'd see the difference.
Both the front and the side lenses have a range of 178 degrees. Because of this wide range, they don't have to be pointed directly at something to film it. As long as you're in the general area, you'll see what you're looking for. The focal range is slightly different between the two cameras. The front camera has a range of 3-10cm (1.2-3.9 inches), and the side has a range of 2-6cm (0.8-2.4 inches). This is in keeping with their different purposes. The front camera can see further down a pipe, while the side can focus better on the sides of the pipe.
In addition to the seven LED lights around the front lens, there are four LEDs on the side. These allow you to illuminate wherever you need it. The lights can be adjusted independently from the cameras, between three different modes. Depending on the environment, they can be very bright or very dim to meet your needs.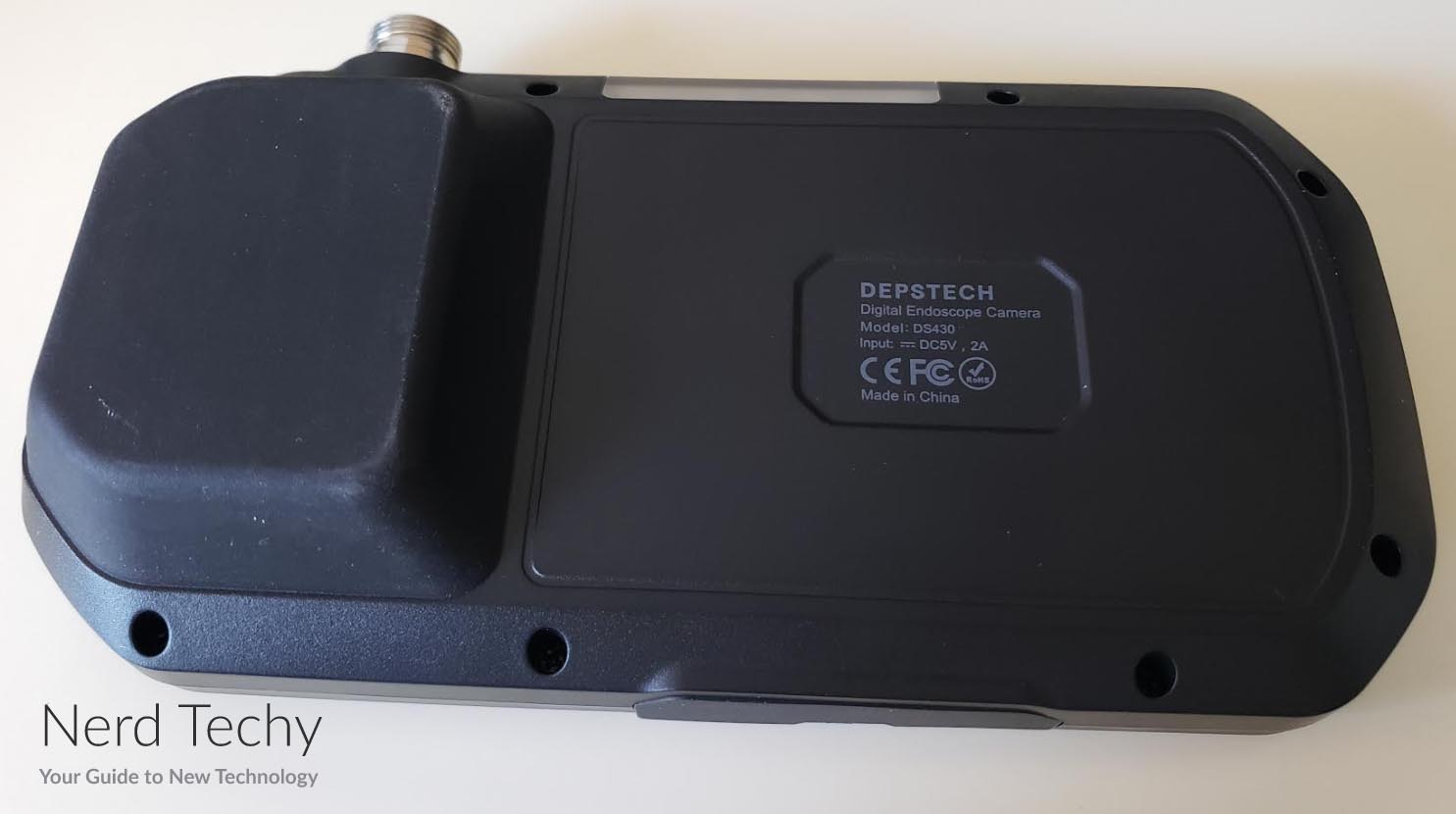 Storage and Playback
The DEPSTECH DS430 is designed for you to review photos and videos directly on the screen. In most situations, that's all you should ever really need. Simply run the scope down a pipe or into an engine and review what you need to see. However, there are situations where you might want to review pictures or videos later. Maybe you need a second opinion, or you need to watch on a larger screen. In that case, the 32GB SD card is removable. Pop it out and insert it in a PC or laptop, and you can easily review videos and pictures. You can even save them to a hard drive for your records, or for later review. This is particularly helpful if there's an insurance claim involved, since these photos and videos can serve as documentation.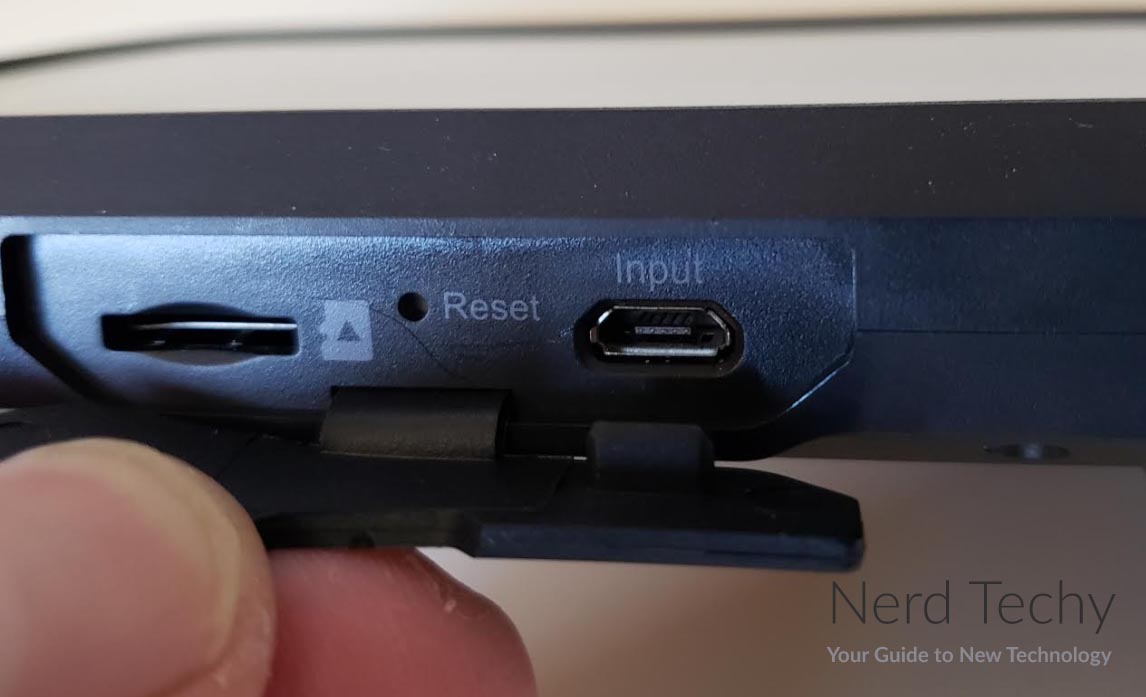 One downside of the on-board screen is that it adds to the size of the unit. Instead of a simple control stick, you have an entire unit with a built-in screen. Admittedly, this is a small drawback, since most of the bulk consists of the large cable. Still, you can save some size without a built-in screen. For instance, the DEPSTECH WiFi Endoscope is designed to pair with your smartphone. This way, you can review footage on your phone screen via a WiFi connection. You'll also be able to skip using the SD card, and record directly to your smartphone.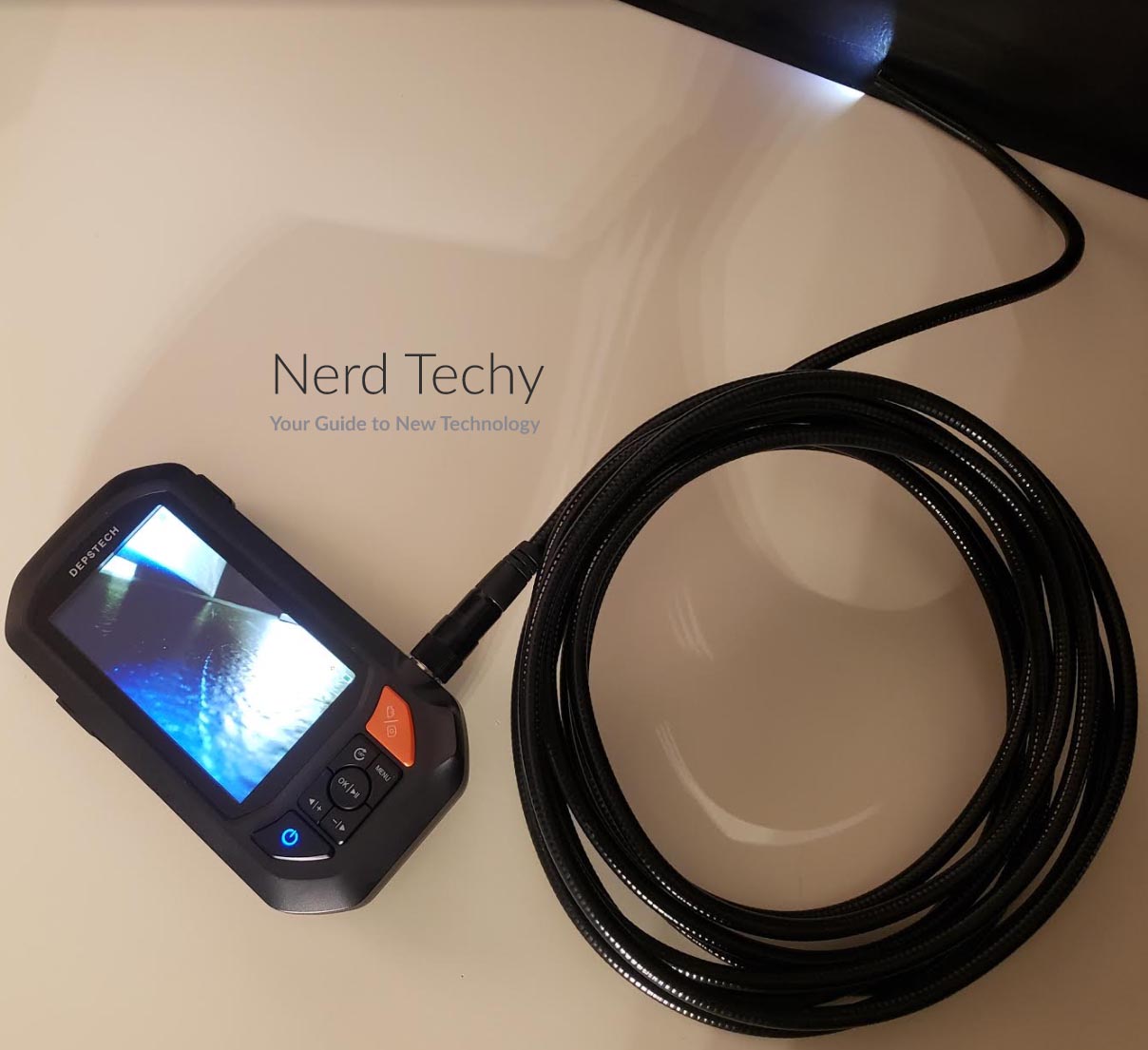 Battery and Extras
The DS430 boasts a powerful, 3,000mAh battery that holds enough juice for four to five hours of work. It recharges in less than two hours, so you should theoretically never run out of juice. After all, recharging overnight is easy. And if you're using a borescope for more than five hours in a single day, you're doing a very unusual job.
In addition to its powerful battery, the DS430 includes a couple of extras that make it easier to use. The first is a magnet attachment, which is designed for retrieving metal objects. The most obvious thing you might want to retrieve is a ring, which can easily get lost down the drain. However, you can also retrieve screws, nuts, and anything else that may have gotten lost. This can require some patience, though; the magnet blocks most of your view, so it can take some fiddling. There's also a hook attachment for snagging anything the magnet can't. Be careful; the hook is easy to bend, and should only be used for retrieving light objects.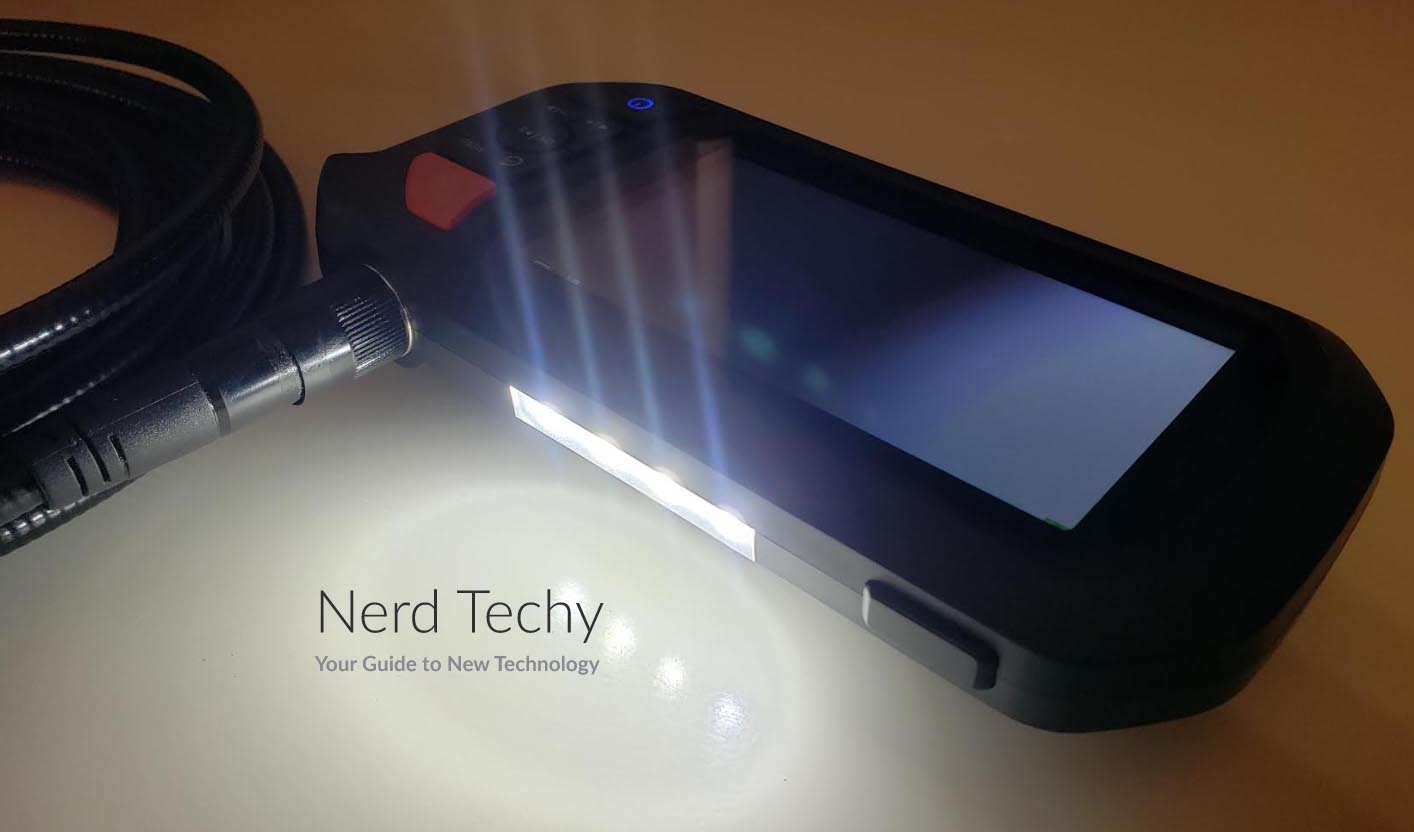 The entire kit is covered by a two-year manufacturer's warranty. You're protected from any defects in material or workmanship. If anything goes wrong, you'll receive a full refund or a replacement.
Final Verdict
The DEPSTECH DS430 Dual Lens Industrial Borescope is one of the more rugged tools in its class. With its aircraft-grade aluminum cable and IP67 water-resistance rating, it can handle a beating. As a result, it's suitable for professionals who need a daily driver. The dual lens design is far from unique, but it's well-executed here. With ultra-high resolution and a 178-degree field of view, you get better visibility than with most borescopes. Similarly, the lighting is very good, with options that are suited for both clear and murky environments.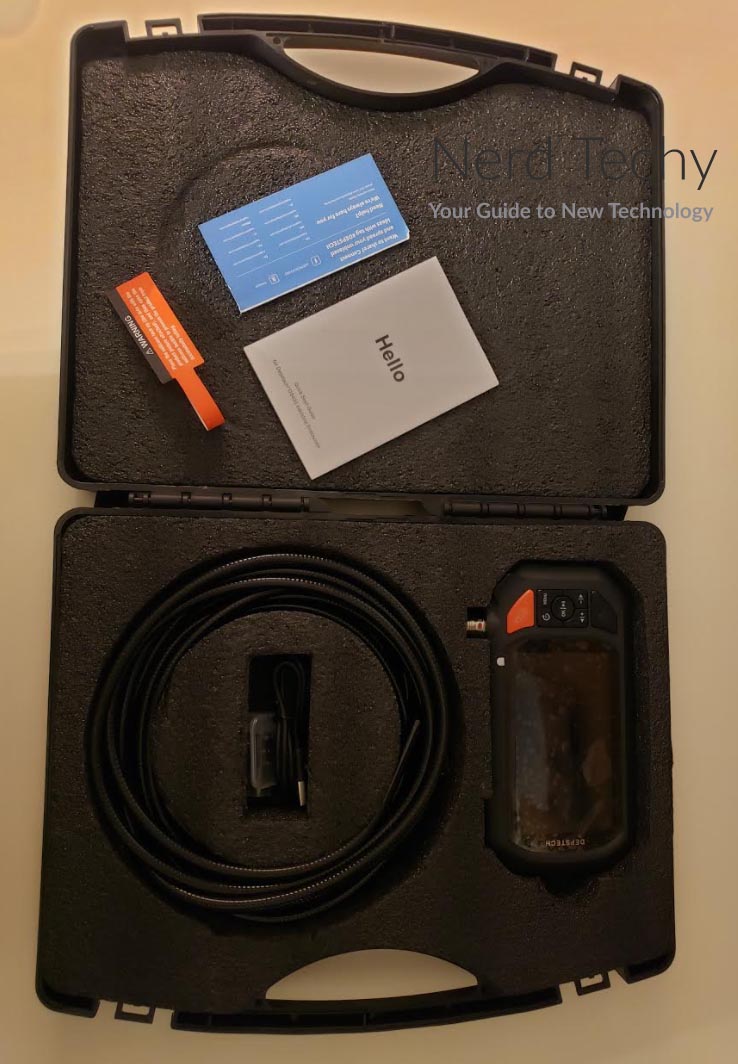 The controls are easy to use, with an intuitive menu that takes just a minute to work out. To be fair, there are a couple drawbacks. The case is a bit bulky, and the attachments are poorly designed, as if they were an afterthought. That said, everything else is top notch. The battery has plenty of life, and videos are easy to watch and review. The built-in display also means you don't have to worry about syncing with your smartphone. That's one less app you have to install, and one less opportunity for your phone to be compromised.
Please consider sharing:
Note: At no extra cost to you, we may earn a commission for purchases using our links. Learn more.