Not that long ago, there was only one way to look inside your ears. You had to visit a doctor, and have them do it for you. Now, we should be clear that this is still the best course of action when you're actually sick.
We're all about the can-do, do-it-yourself spirit of modern America, but there are limits. When it comes to your physical health, you really should leave things to the professionals. That said, there are many possible reasons you might want your own otoscope.
Note: At no extra cost to you, we may earn a commission for purchases using our links. Learn more.
For example, you may suffer from excessive ear wax. If you've been diagnosed with this condition, there may be nothing you can do but occasionally clean your ears. A home otoscope can help you see where the buildup is, so your ears don't become plugged.
For another thing, you may have a pet with a medical conditions. With your own otoscope, you can keep tabs on them – following the vet's instructions, of course. You may also want to look inside other small areas.
Otoscopes are popular tools for electronic enthusiasts, for looking inside devices. In some cases, you can diagnose a problem without even cracking open the case. Finally, you might actually be a doctor. In that case, you're perfectly qualified to diagnose your own family members in the comfort of your own home.
Best Digital Otoscope Camera for Ear Wax Removal
We're about to review three of the best digital otoscopes that we could find. In case it's not clear, otoscopes are devices for looking inside of your ears. Old-school otoscopes were optical – meaning you had to look through a physical viewport. These are digital, and transmit a live feed to a video screen.
To decide which one is the best, you'll need to understand a number of aspects of their design. We'll talk about how each one is put together, and how the physical components work. We'll discuss the display quality, as well as the video resolution.
In addition, we'll look at the battery capacity, and how they're charged. We'll also talk about cleaning, long with any accessories that are included in the package. After we've considered all of those factors, we'll make a final comparison between the three. Let's take a closer look!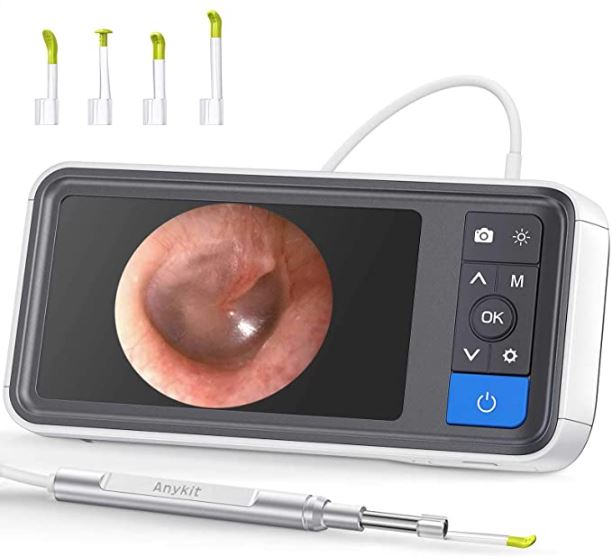 AnyKit Digital Otoscope
The AnyKit Digital Otoscope consists of two main components: the monitor and the probe. The monitor is about the size of a smartphone, and has a shell made primarily of matte white plastic. The front panel is a deep slate grey, with a screen to the left and control buttons to the right. There's a blue power button at the bottom, with menu navigation buttons just above it. In the same area, you'll also find buttons to adjust the brightness and access the menu. The top left button can be used to save a snapshot, in addition to the default video function.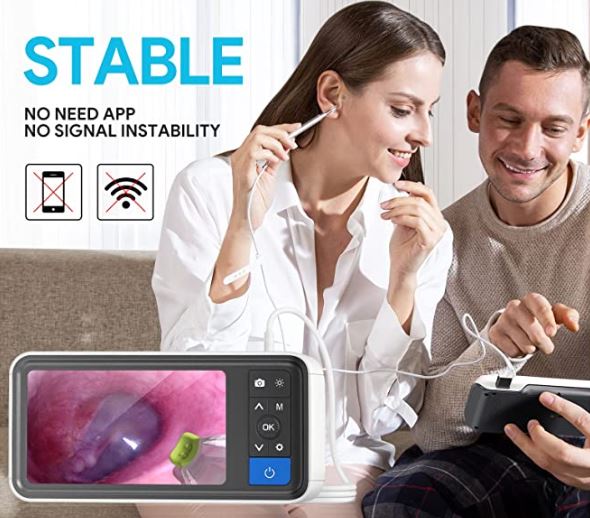 The probe is made from stainless steel, and is about the size of a Bic pen. It has a little cutout in the side, which makes it easy to grip. At the tail end, there's a cord, which plugs into the side of the monitoring unit. At the tip, there's a set of six adjustable LED lights. These provide illumination inside your ear, so you can actually capture a video. Without them, you'd literally be flying blind. And at only 3.5mm in diameter, the tip is small enough for practically any ear.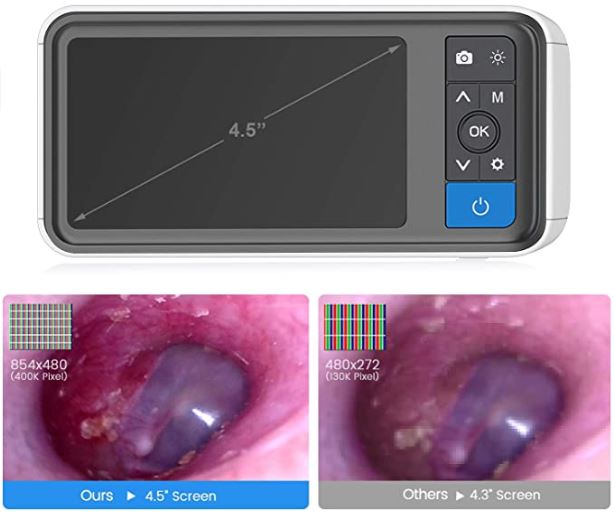 To help you get the most out of the probe, the kit includes a set of soft silicone ear picks. These are designed for ear wax removal, and come in four varieties. Two are big, for adults, while two others are smaller, for children. Each size has two different pick shapes and angles. In addition, you get three black specula. These are the roughly cone-shaped tips that go on when you're looking into your ear, nose, or throat. The three tips are different sizes, to be comfortable in different sized ears.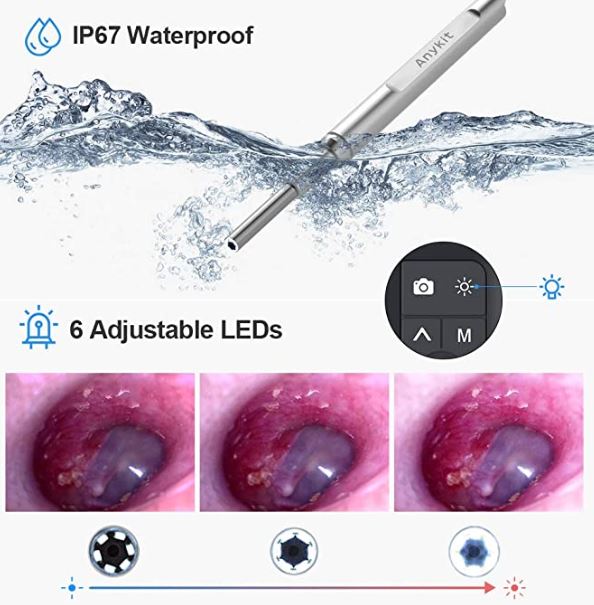 When the otoscope is active, your video will be shown on a 4 ½-inch screen. That's around the size of a small smartphone screen, and it's all you'll really need. The video and display are 720p HD, so you get a reasonably good view of what's going on. You can view your feed live, or save it to a video file. The AnyKit otoscope can accept up to a 32GB memory card to store your videos. That said, there's no way to directly transfer files to your computer. You'll have to remove the memory card, put it in your computer, and transfer files from there.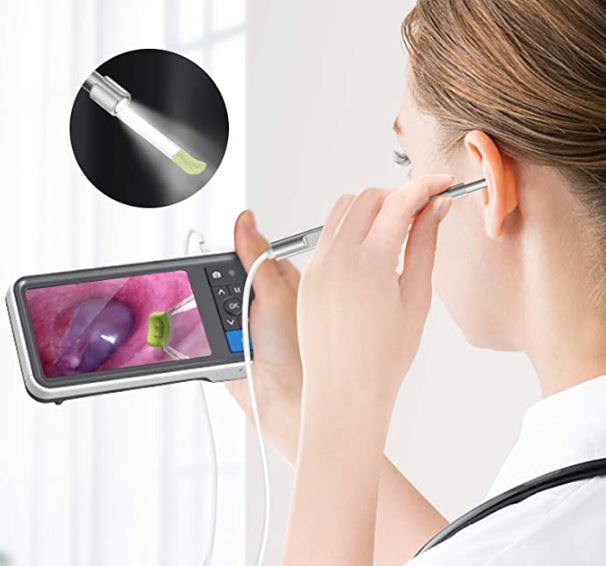 This otoscope has a weather-resistance rating of IP67. The 7 tells you that it's submersion-proof. It can withstand submersion at depths of 1 meter for a minimum of 30 minutes. In practice, this means you don't need to have any concerns when you're cleaning it. The probe can be sterilized with alcohol, or immersed in boiling water.
If you're using water, though, you'll need to leave the tip immersed for a full 10 minutes. Any less, and you won't get full sterilization. For what it's worth, the 6 indicates that the unit is entirely dust-proof. That doesn't make much difference either way with this kind of device.
Power is supplied by a 2,500mAh internal battery. This is enough charge for several hours of operation, which is more than you should ever need. It charges via a USB cable, which is included in the kit. Plug it into any USB charging port, and you'll be ready to go in no time.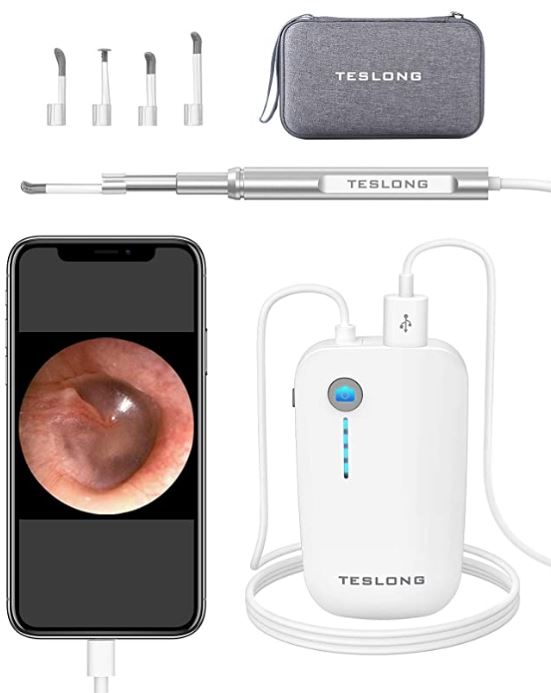 Teslong Digital Otoscope
The Teslong Digital Otoscope also has a 2-part design, but it works a little bit differently. The base unit has a slightly tapered shape, narrower at the bottom than at the top. It has gentle curves at the corners, and a matte white housing that's easy to keep clean. The controls are a bit simpler than the AnyKit scope, with a power button on the left side. On the front, there's a single camera button which can be used to save a screenshot. This sits just above a column of four blue lights, which display the current battery level.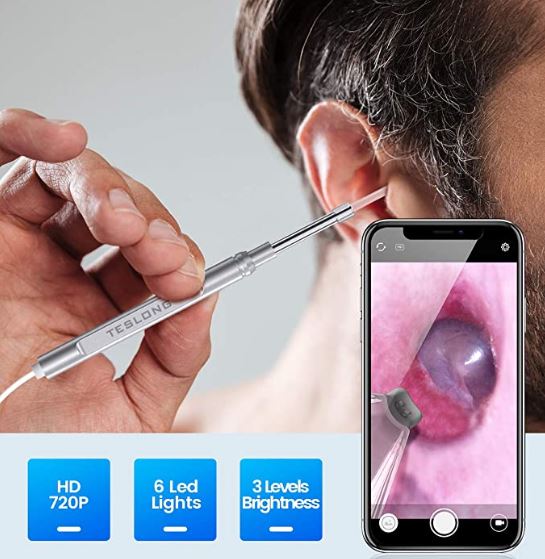 The internal battery has a capacity of 900mAh, less than the others on our list. Even so, it's enough to last for around two to three hours, depending on how bright you set the probe lights. For charging, there's a Micro USB charging port on the right side of the housing. You'll get a short charging cable along with it, so you've got everything you need to get started.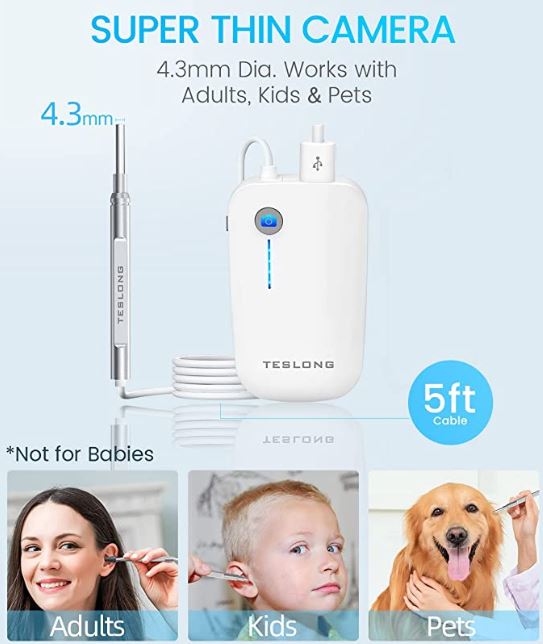 The probe is compact and made of stainless steel, much like the AnyKit's. It's easy to hold on to, and very easy to clean. The kit comes with a set of four picks, for removing ear was from your ears. These are different shapes and sizes, so you can find the one that works for you. In addition, there are three different specula, with different sized tips. The smallest measures 4.3mm in diameter, and the largest measures 5mm. The lights at the tip are adjustable, and there's a built-in heat sensor. If the tip gets too hot, the lights will automatically shut off.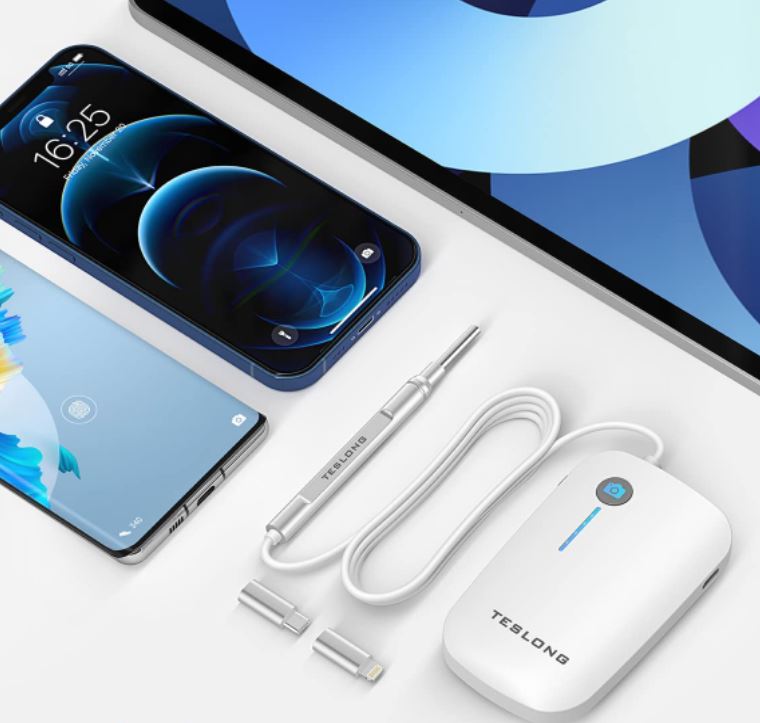 The camera itself has a resolution of 720p. The video quality is crisp and clear, with excellent color clarity. It's designed with a focal length of 2-3 centimeters, or roughly an inch. This is the ideal distance for viewing your middle ear. When it comes to cleaning, you'll have the same options as the AnyKit. Use an alcohol swab, or boil the probe in water for 10 minutes. One thing to be aware of is that the base unit is not waterproof. You can wipe it with a damp cloth, but that's about it.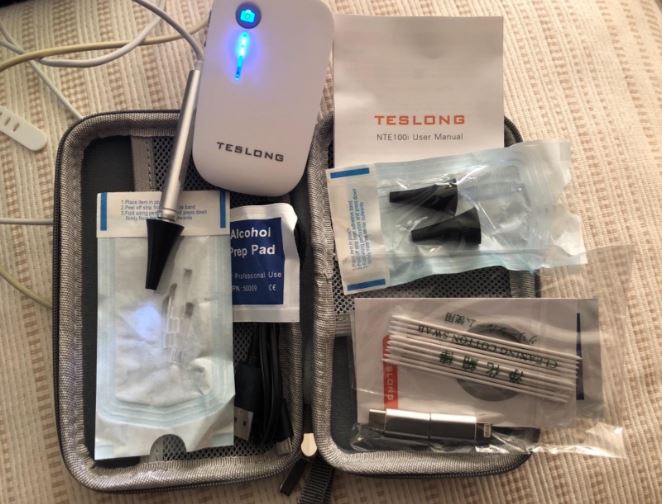 As you may have noticed, there's no built-in monitor. To actually see what you're doing, you'll have to install the USEE app. This app is free to download and install on Android, iOS, Mac OS, and Windows. Whether you're using a computer, tablet, or smartphone, you'll be able to view your live feed.
A smartphone is ideal when you're on the go. Then again, a computer gives you more storage space for your videos. Either way, it's simple enough to get started, and the video quality is good. Better yet, the kit comes with a nifty zippered carrying case. Storage and transport are simple, and it's easy to keep track of everything.
ScopeAround Ear Wax Removal Camera
The ScopeAround Ear Wax Removal Camera has a white control unit, about the size of a smartphone. It has rounded corners, with a large, 5-inch display at the right of the front panel. At the left, you'll find all the controls you need for its operation. There's an on/off button at the bottom, and a pair of brightness controls at the top.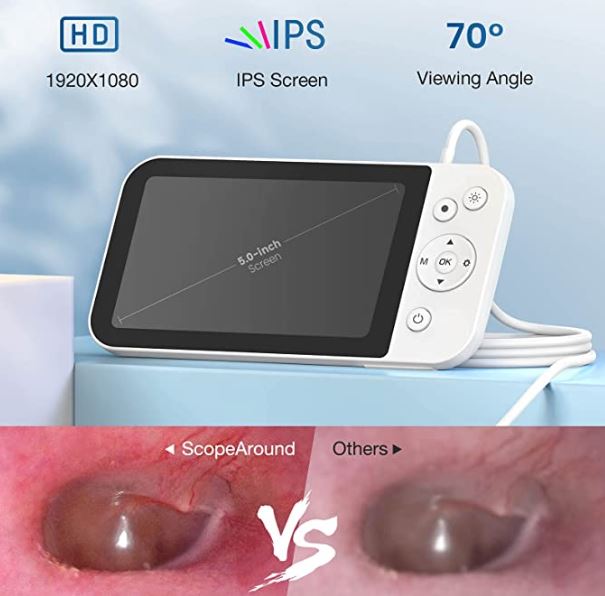 In-between, there's a menu button, along with arrow buttons for navigation. One thing we very much liked about the design is the removable kickstand. Screw it onto the back, and you can prop the display up anywhere. That way, you don't have to hold it in your hand while you're using the probe with the other.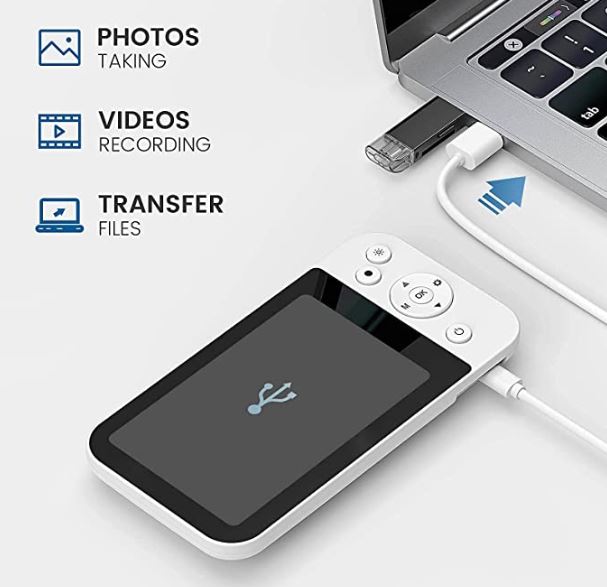 The display is of premium quality, with a 1080p resolution. If you're trying to spot ultra-fine details, you'll have more luck with this one. Moreover, the panel is an IPS design. This means that you can view it at a wide angle, up to 70 degrees on either side. If you're not staring straight at it, you won't see any color distortion. This is different from older-style displays, where colors disappear when viewed from a wide angle.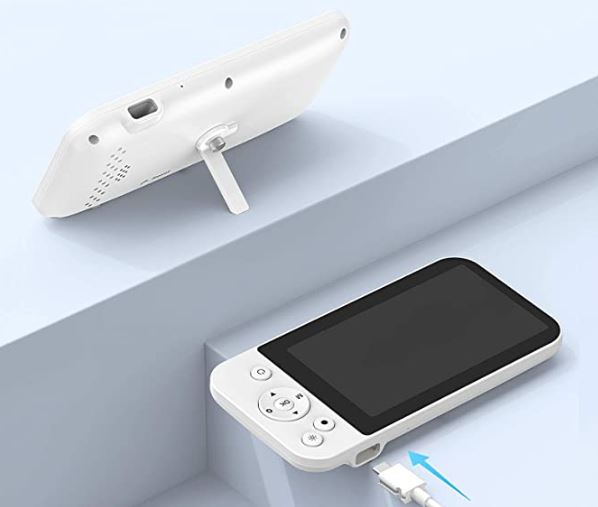 The probe has the same general design as the last two. It's pen-sized, and made from stainless steel for durability. There's even a similar cutout, which makes it easy to grip. The kit includes a set of four ear picks, with angled silicone tips that are gentle on your ears. Each wax removal pick has its own unique shape. Take the time to play around and see what works for you. Along with this, you get a set of three black specula, in three different sizes. A bright light, meanwhile, makes it easy to see even under the most challenging circumstances.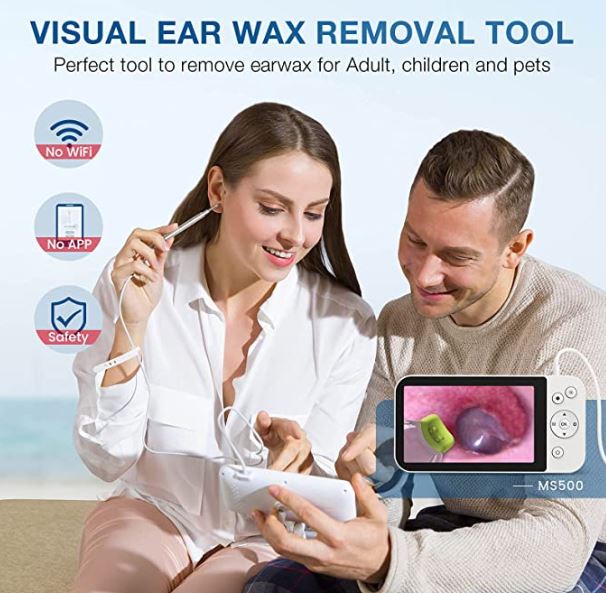 The internal battery has a capacity of 2,500mAh. This is enough for several hours of use, and unless you forget to charge it, you should never run dry. For charging, you'll receive a USB Type-C cable, which can be used with any USB power source.
Your videos and snapshots are saved directly to a 32GB Micro SD card. The card is included in the kit, so you don't have to go out and buy one after the fact. This can be used to transfer your data to a PC or Mac via an SD card reader. Alternatively, you can connect the unit to your computer directly via a USB cable. Your computer will recognize it as an external drive, and you can copy your files from there.
Final Verdict – Which Digital Otoscope is Best?
All three of these otoscopes are great performers in their own right. But which one is the ideal choice for your needs? Let's go over what we've learned.
We started out by reviewing the AnyKit Digital Otoscope. This device has a 720p display, and it's impervious to dust and water. We liked the simplicity of the controls, as well as the fact that there's no smartphone app. The only downside is that you have to swap an SD card back and forth to transfer files.
The Teslong Digital Otoscope has an entirely different design. Instead of an on-board screen, you connect to a computer or smartphone. This means you need an additional device, but it also makes video storage easy. Not only that, but you'll pay less, since Teslong doesn't have to build a costly display into their design.
The ScopeAround Ear Wax Removal Camera is similar in most respects to the AnyKit. However, there are two important differences. First, you get 1080p quality, not 720p. Second, you can plug into your computer directly to transfer files. There's no need to ever remove the SD card if you don't want to.
Please consider sharing:
Note: At no extra cost to you, we may earn a commission for purchases using our links. Learn more.