In days past, if you wanted to have your ears checked, you had to go visit a doctor. Now, we should start out by saying that you should still see a doctor if you suspect a serious problem. Your hearing is important, and it's not something you want to mess around with as a do-it-yourselfer. That said, there are several reasons you might want a home digital otoscope.
For one thing, you might actually be a doctor. In that case, it's a no-brainer. And if you're an ordinary person, you might have a chronic condition that needs monitoring. For example, you might have excessive earwax that needs constant cleaning. With an otoscope, you can make sure you've done a thorough job. The same can be true if you have a pet with a similar condition. Finally, an otoscope isn't just useful for looking inside your ear. They can also be useful for electronics. You can use a tiny probe to look inside a device without disassembling it.
We've reviewed several small camera systems in the past. We've looked at spy glasses, which have tiny hidden lenses in the frames. We've even reviewed spy pens. Cameras just don't get more compact than that. But otoscopes face a few unique challenges. For example, they need to be comfortable. This means the probe tip should be semi-soft, and also heat resistant. They also need to provide lighting if you want to actually see anything.
With all of that in mind, we've chosen three different digital otoscopes to review. The first is the DEPSTECH Wireless Otoscope. This is a battery-operated otoscope that connects to your phone via WiFi. Next up is the Teslong Otoscope. This is a beefier, 2-piece unit that's designed for easy, two-handed operation. Finally, we'll look at the Anykit USB Otoscope-Ear Scope Camera. This is a more slimmed down device that plugs directly into your phone, tablet, or PC. Once we've finished going over all their features, we'll sum up what we've learned and render a final verdict. Let's get started!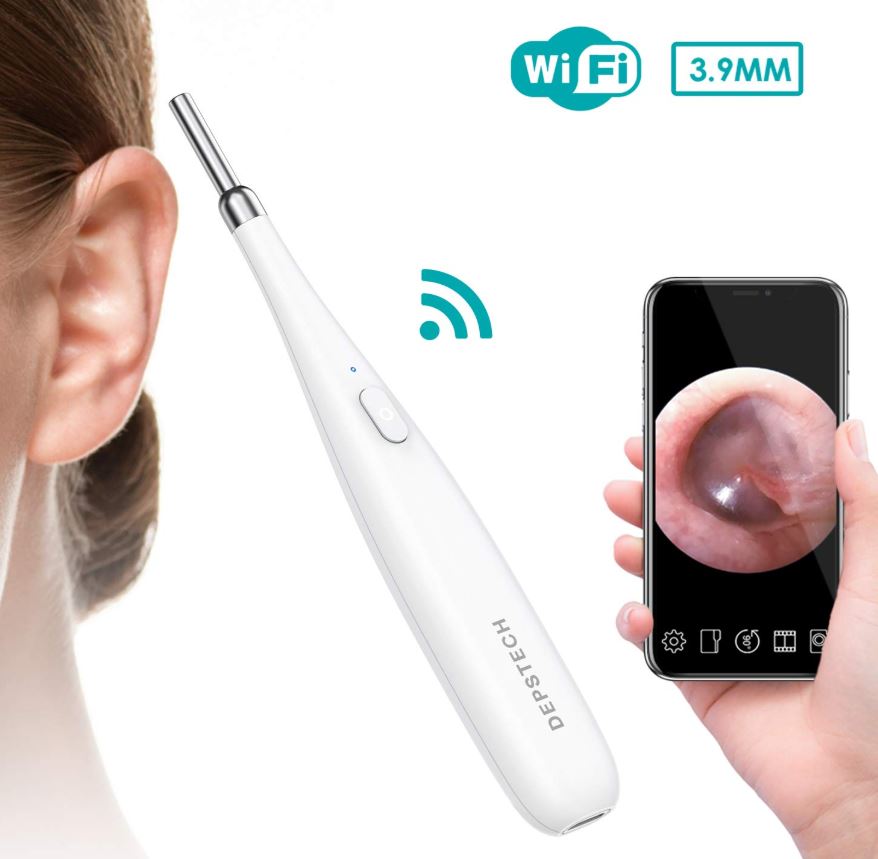 DEPSTECH Wireless Otoscope
The DEPSTECH Wireless Otoscope is exceptionally compact. It's only about six inches long, and less than an inch in width. On the handle, you'll find a single button, which performs two functions. First, when you press and hold the button for 10 seconds, it will power the otoscope on and off. Second, when you tap the button, it will adjust the light level. There are three different light modes, so you can adjust the lighting as needed. Turn it up to see deeper, and it will wash out shallower details. Turn it down to observe closer details. You might be asking yourself how you record video or take pictures. Those functions are controlled by the app, which we'll discuss more in a second.

The ear tips come in three different sizes: 4mm x 40mm, 4mm x 44mm, and 3mm x 23mm. These are much smaller than most other tips on the market. The 3mm tip is particularly impressive. It's useful for children, and for small animals that don't like having their ears examined under any circumstances. The tips are very well constructed, and won't transfer heat from the LED lights into the ear canal. This makes the DEPSTECH otoscope very comfortable to use, even for people with sensitive ear canals. Just make sure to sterilize the tips with alcohol after each use.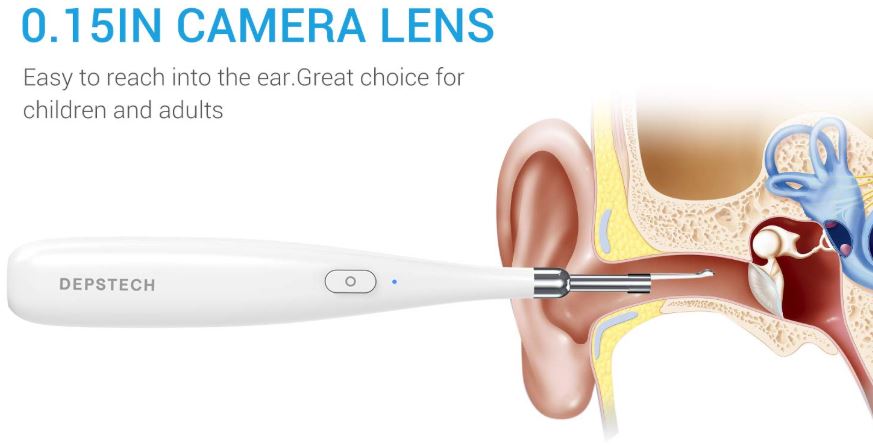 The video quality is very good, with 720p recording and image capture. Considering how small an area you're looking at, that's more than enough detail for most purposes. The otoscope is battery-operated, and will work for about two hours on a full charge. Again, this should be more than enough. How long are you actually going to spend staring into ears? Unfortunately, you'll need to provide your own Micro USB charging cable; there's none in the kit. Finally, you get DEPSTECH's 2-year customer service guarantee.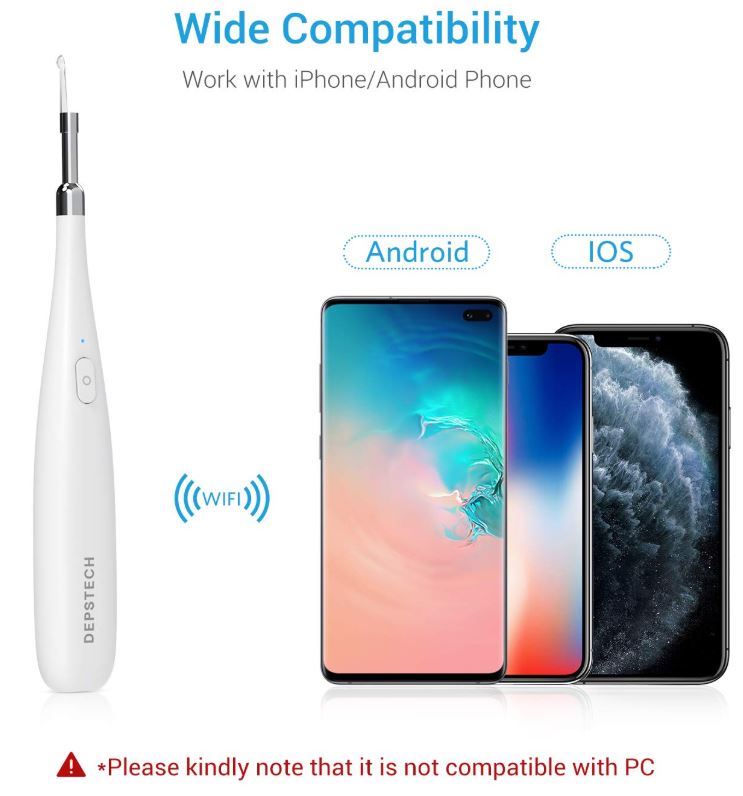 Compatibility and Extras
The DEPSTECH Wireless Otoscope connects to your phone or tablet via WiFi. Better yet, it can be used anywhere, even if there's no WiFi signal in your home or office. The DEPSTECH otoscope will automatically create its own WiFi network when it's powered on. Simply go into your device's WiFi menu and connect to that network. Keep in mind that this is a medical device, not a WiFi router. As a result, the range is not terribly long, at about nine feet. That said, you're presumably going to be watching the screen while you're using it. So this is more than enough range for its purposes.
To use the DEPSTECH otoscope, you'll first need to install the DEPSTECH app. The app is available for free on iOS and Android, and takes just a minute to download and install. On iOS, the app will work on iOS 6.0 and later. That said, on versions earlier to iOS 8.0, you won't be able to record video. You'll only be able to view the live feed. On Android systems, the app will work on all versions 4.2 and later.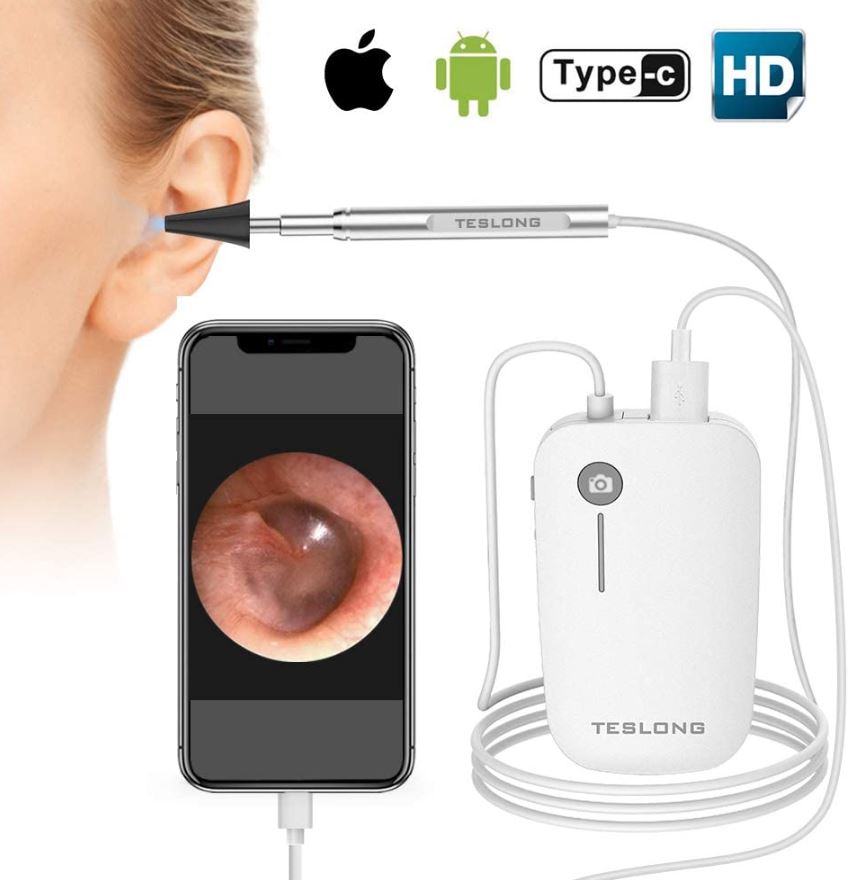 Teslong Otoscope
The Teslong Otoscope is a 2-part unit. The probe itself is exceptionally small, about the size of a Bic pen and only slightly heavier. It's constructed from stainless steel, which is easy to handle and easy to keep clean. It ships with two tips, which have a traditional conical design. One of the tips tapers to a 4.3mm end, and the other tapers down to 5mm. It has a temperature control chip built in. If the chip senses that the tip is starting to get dangerously hot, it will automatically shut off. This is a great safety feature to protect your ears from getting burned.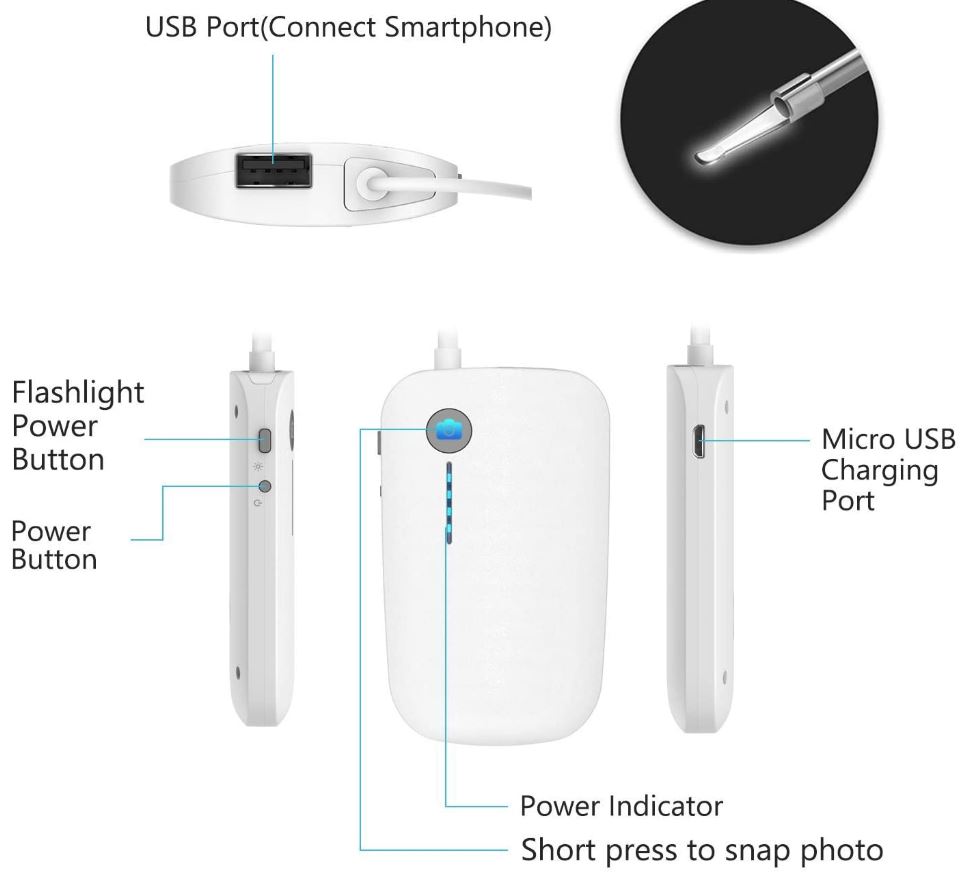 Even better, the entire probe is waterproof. You can still sterilize with alcohol if you prefer, but you can also sterilize with boiling water. If you're going to use boiling water, make sure to submerge the tip for a full 10 minutes. Otherwise, you're not going to get complete sterilization. We should point out that the base unit is not waterproof. Keep it out of the water, or you'll need to buy a new otoscope.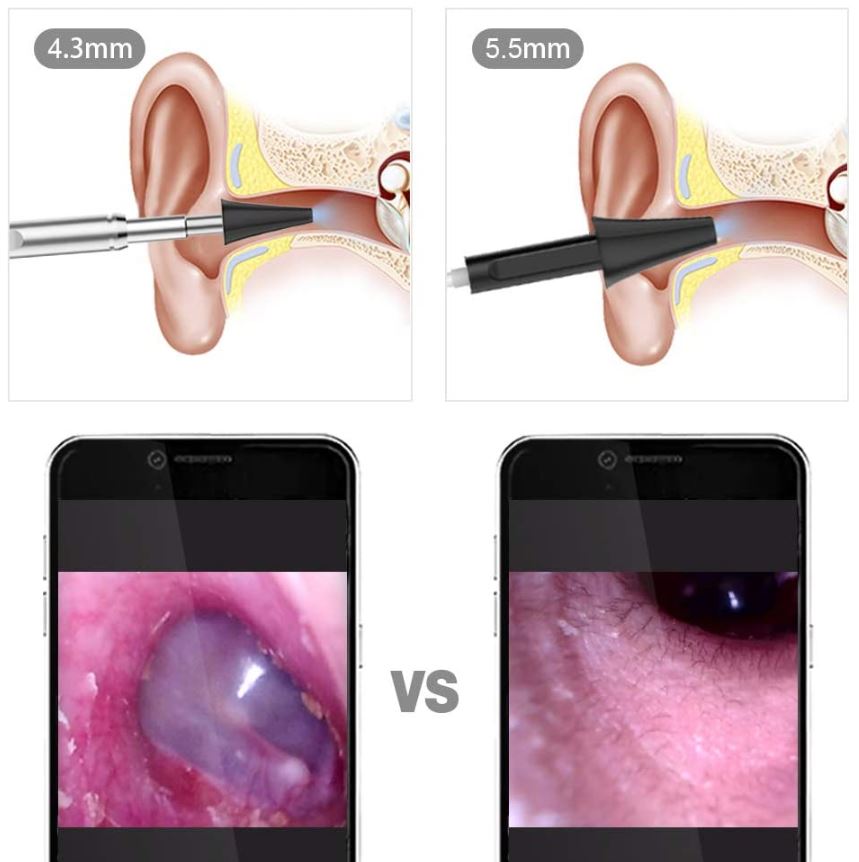 The Teslong Otoscope probe is wired to a white ABS plastic base unit. This unit is designed to be held in your opposite hand, and is appropriately sized and shaped. On the wide face of the unit, you'll find a camera button that can be used to snap pictures. Beneath this, you'll see a row of four blue LED lights that indicate the current battery level. The 900mAh battery can operate for two to three hours, depending on light level. On the palm edge of the unit, there's a small Micro USB charging port. There's a short Micro USB charging cable included in the kit. On the other edge, you'll find the power button.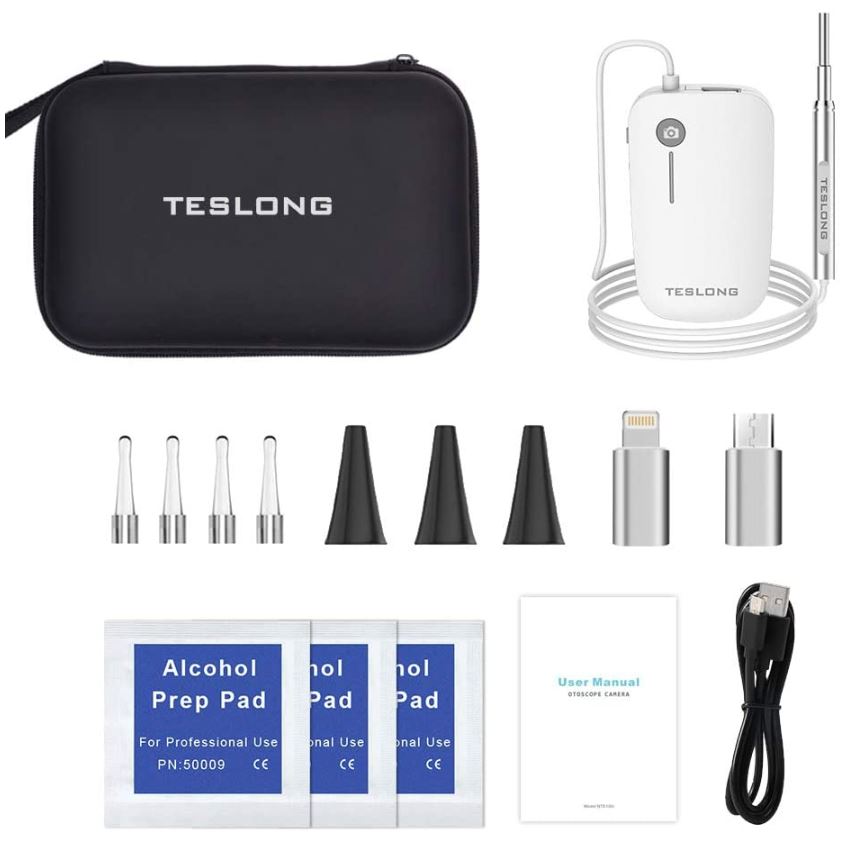 Above the power button, there's another button that adjusts the intensity of the LED lighting. The lighting can be adjusted between six different levels. This is probably more than you're ever going to need. Still, it's nice to have options, and we're certainly not complaining! The probe cable connects into the top of the base unit. There, you'll also find a USB port for connecting to your phone, tablet, or PC. Unfortunately, there's no connection cable included in the kit. On the one hand, this makes sense, since different devices use different USB standards. Then again, it wouldn't have hurt to include one.
The Teslong Otoscope's camera has a resolution of 720p. For the purposes of this camera, that resolution is more than good enough. The camera's focal length is two to three centimeters, or about an inch, give or take. For scoping out your middle ear, this is just about perfect.
Compatibility and Extras
Connecting to the Teslong Otoscope is easy and painless. First, install the "USEE" app on your phone, tablet, PC, or Apple computer. Once the app is installed, plug the control unit into your device's USB port and power it on. Open up the app, and you're ready to go. It really doesn't get much simpler than that.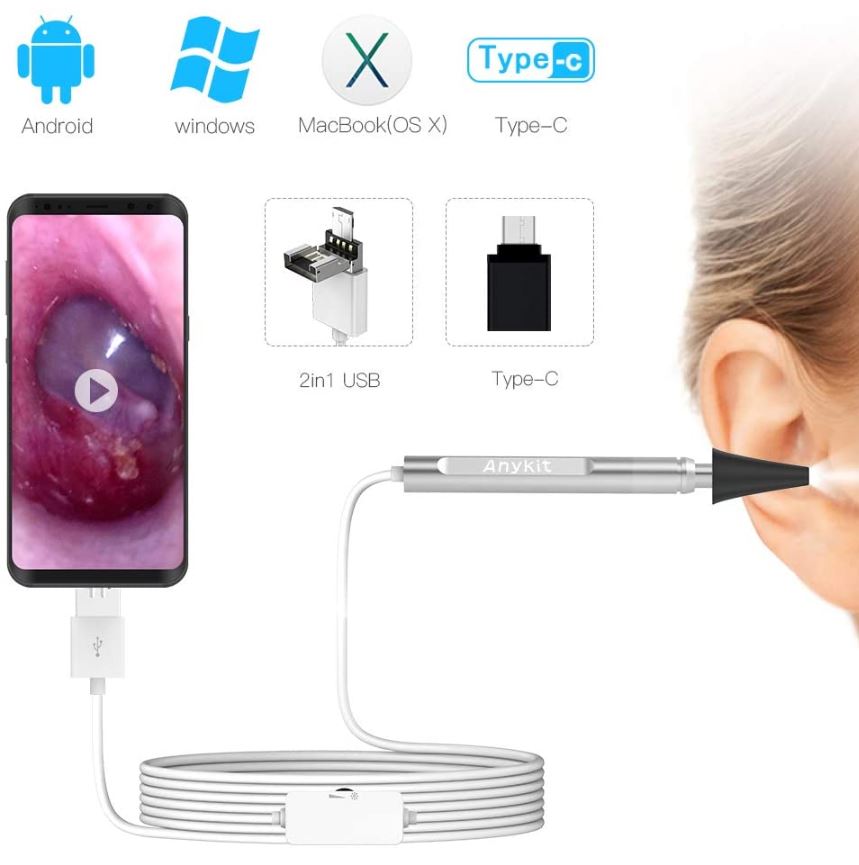 Anykit USB Otoscope-Ear Scope Camera
The Anykit USB Otoscope-Ear Scope Camera consists of a probe connected to a six-foot USB cable. The probe is constructed from stainless steel, with a similar design to the Teslong probe. It's long and slender, with an indentation on the side that makes it easier to adjust. The ear tips have a conical design, much like the tips on professional otoscopes.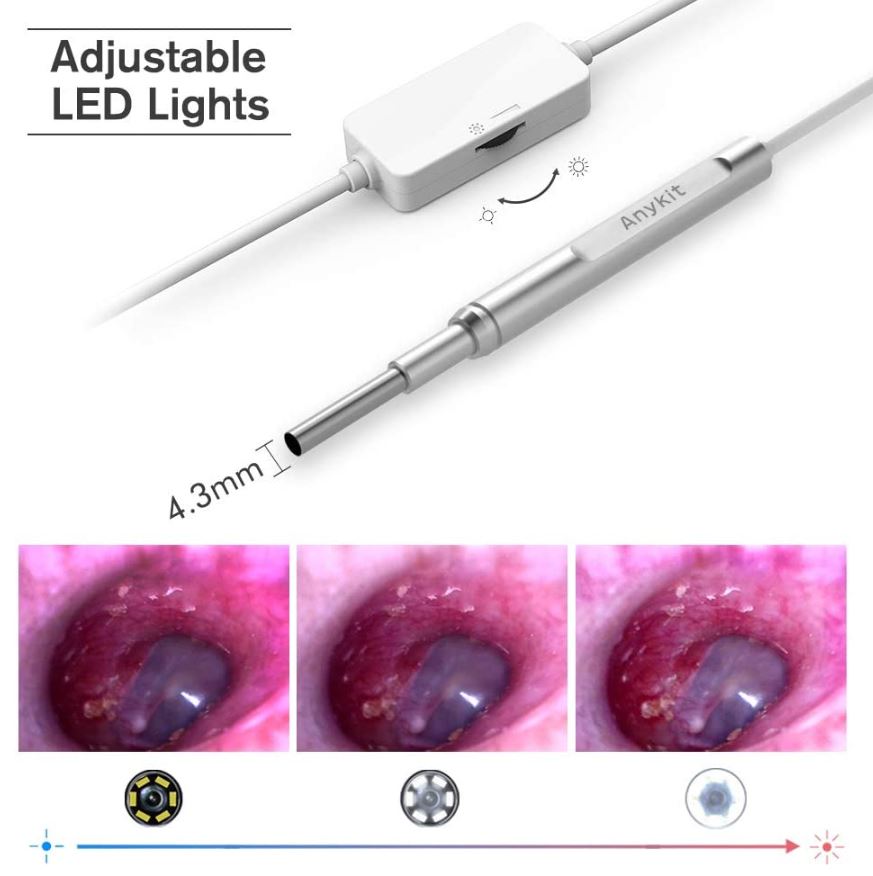 There are two different sizes of ear tip: 4.3mm and 5.5mm. The 5.5mm is the largest tip of any otoscope on our list. If you're trying to look into a larger ear canal, it will block outside light easily. You won't have to shove a narrow tip painfully far into your ear to get proper lighting. As always, make sure to sterilize the ear tips after use. The probe is not waterproof, so you'll need to use alcohol for this purpose.
A six-foot white USB cable extends from the back of the probe. This cable has a unique, 2-in-1 tip. By default, it's a standard USB 3.0 cable. However, the side of the tip can be snapped to the side. When it swings away, it will reveal a Micro USB tip. In addition, you get a small black USB Type-C adapter. This adapter connects to the Micro USB tip. Since you get three options, you can connect your otoscope to just about any device. In addition, there's an adjustment wheel on the cable. This wheel can be used to adjust the brightness of the probe's LEDs. Since it's a wheel and not a button, you can set the LEDs to any brightness level you desire.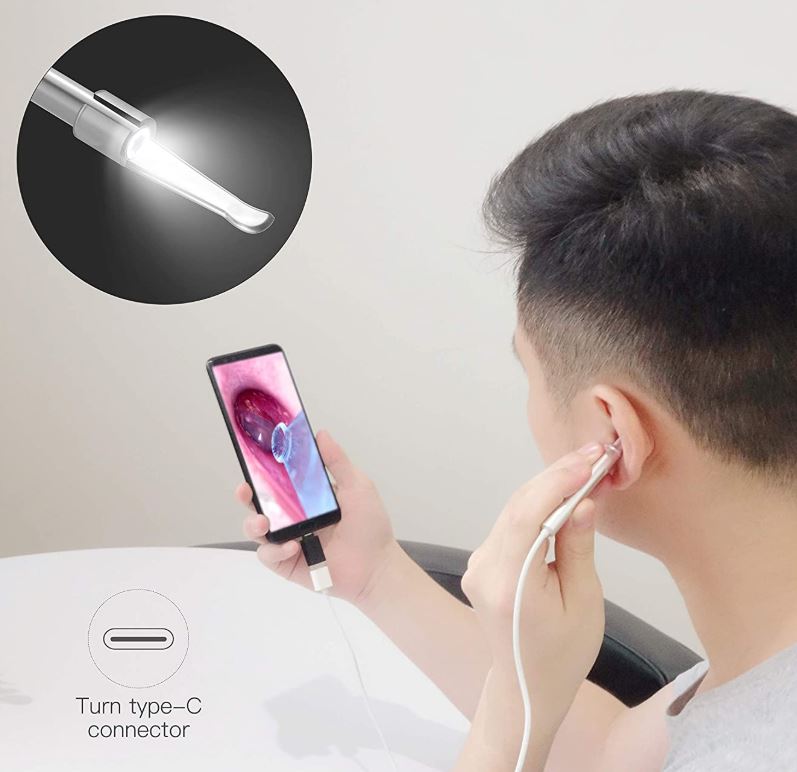 Like the other two otoscopes on our list, the Anykit otoscope records in 720p. Recording and screenshots are performed through your app, not on the probe itself. The focal length is the same as the Teslong's, at two to three centimeters. This is ideal for an otoscope for most purposes.
Compatibility and Extras
The Anykit USB Otoscope-Ear Scope Camera is compatible with most devices. You can connect it to any Android device, as well as any PC with Windows 7 or later. It's also compatible with MacOS desktops and MacBooks with MacOS 10.6 or later. Unfortunately, it's not compatible with iPhones or iPads, which we found disappointing.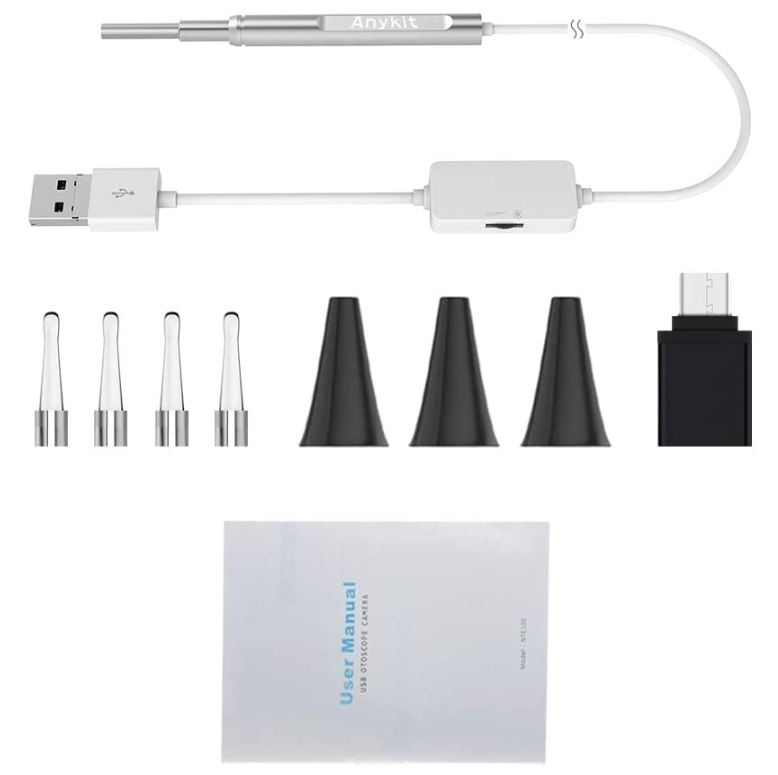 The exact app you need to use the Anykit otoscope depends on your system. If you're on Android, you'll want to download the free "Elementary USB Camera" app from the app store. On Windows 10 machines, just use Windows' native Camera app from the Start menu. On Windows 7 or 8, you can use the "Endoscope camera" or "Amcap" apps. Finally, on MacOS, just run Photo Booth or QuickTime Player.
Final Verdict
So, where does this leave us? First off, we looked at the DEPSTECH Wireless Otoscope. This is a great choice for anyone with sensitive or small ear canals. The 3mm ear tip will not cause discomfort, and the heat protection is spot on. Moreover, the wireless design means that you won't have to worry about being tethered to your device. You can work freely, without a wire tugging at you. The only thing we didn't like was that there's no charging cable in the kit.
The Teslong Otoscope is a great choice if you want to be able to work on literally any device. You can plug into an Android device, an iOS device, a PC, or a Mac. And the controls are very easy to operate. The waterproof design is also a big plus if you prefer to sterilize with boiling water.
Finally, we looked at the Anykit USB Otoscope-Ear Scope Camera. This device is fairly minimalist, but it's still easy to use. The 2-in-1 cable is innovative and easy to use. And the ability to operate all controls through your app is a nice touch. We also liked the extra large 5.5mm ear tip. That said, the Anykit otoscope won't work with iOS phones or tablets.