There are many challenges to picking an appropriate color laser printer, including the total cost, from the price to replacing cartridges, as well as page output, ease of use and connecting to a variety of devices without issues.
Performance is usually covered first, because if it doesn't provide the variety of options you're looking for with a decent amount of speed and clarity that you'd expect, it's not going to be worth the investment.
What's just as important as that though, is whether or not you have access to economically priced toner and how long your printer is going to last over long term, frequent use.
This is not only limited to how well the hardware will hold up, because as technology advances with a range of devices offering greater productivity and access to effective software, it must be able to keep up technologically as well.
We're going to cover all of these areas in this review of the HP Laserjet Pro M452dn, to give you an accurate view of how well it can serve you, from multiple perspectives.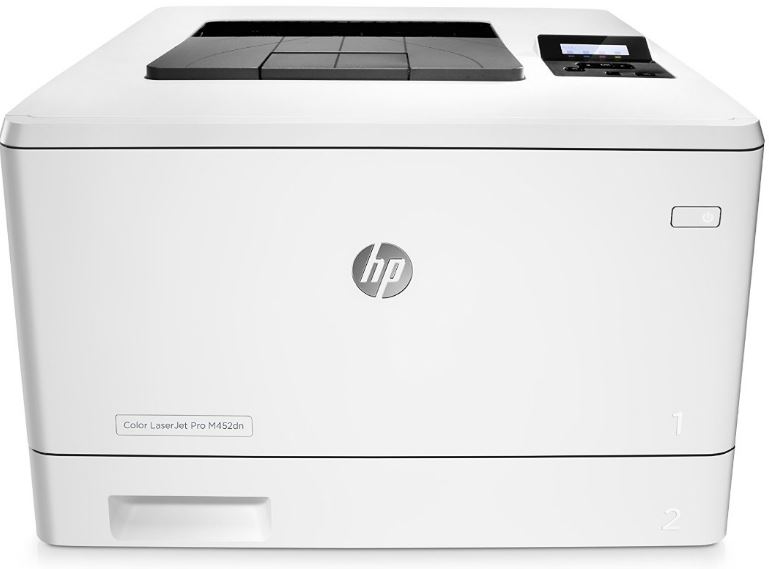 Beautiful Color Printing Options
If you own a small or medium sized business, you likely know the impact that a pleasing presentation quality can have, and how important it is to have a printer that serves you well.
The HP Laserjet Pro M452dn offers great professional quality with up to 38,400 x 600 enhanced dpi color resolution from a 600 x 600 input dpi capability, as long as you're using HP Advanced Photo Papers or similar quality paper.
Printing in black and white is effective as well, with up to 38,400 x 600 enhanced dpi when printing a variety of mediums, such as unspecified plain paper, paper matte and even brochures.
Automatically printing on both sides of a piece of paper is an option, and you can also print on envelopes with an input capacity of 37 envelopes at a time in the accessory tray. You can select between a wide range of media types including light, heavy, pre punched, satin, labels, cards and photos, among others, as well.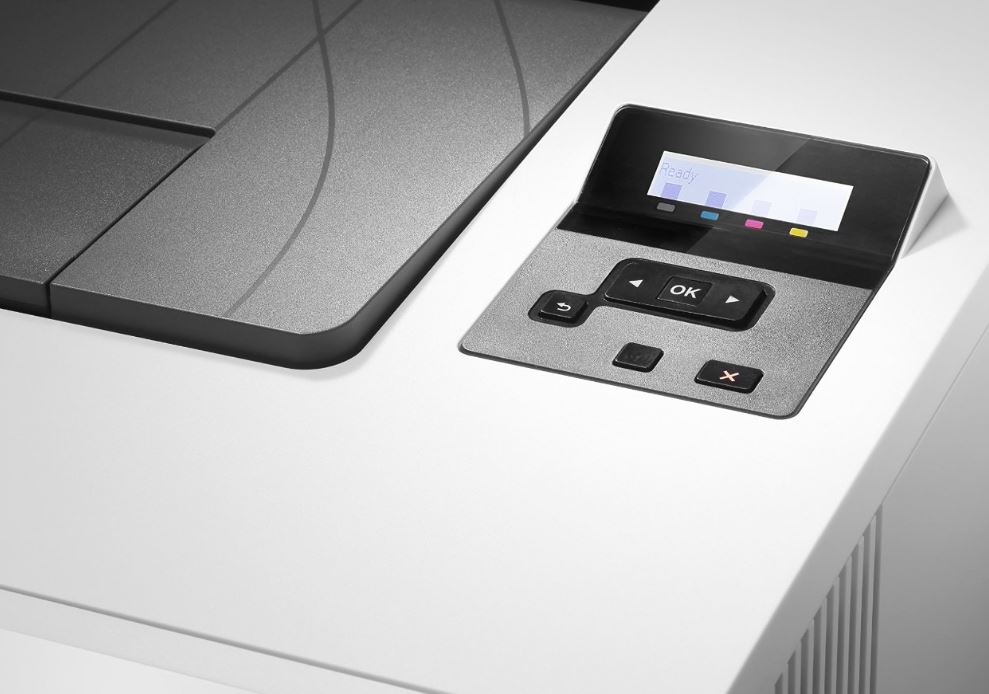 Fastest in Class Printing Speeds
There are two aspects to printing speeds which impact offices the most, and they are the average speed at which a given page will be printed, and then how long it takes for your printer to recognize, coordinate and organize printing jobs so that they begin immediately.
What the HP Laserjet Pro M452dn does to provide quality in this area, is first and foremost offering an optimum printing speed of 28 ppm, whether printing in black or color toner.
While it's quite unreasonable to expect that your color printer will begin printing a complex, professional quality color job the very instant you give the command, HP boasts the fastest wake up and print speed with this printer, within its class at just 8.9 seconds.
This makes it an effective option for small and medium sized offices, because rather than guessing on when your job will start and complicating the process for other employees, your job will likely be already in progress by the time you reach the printer.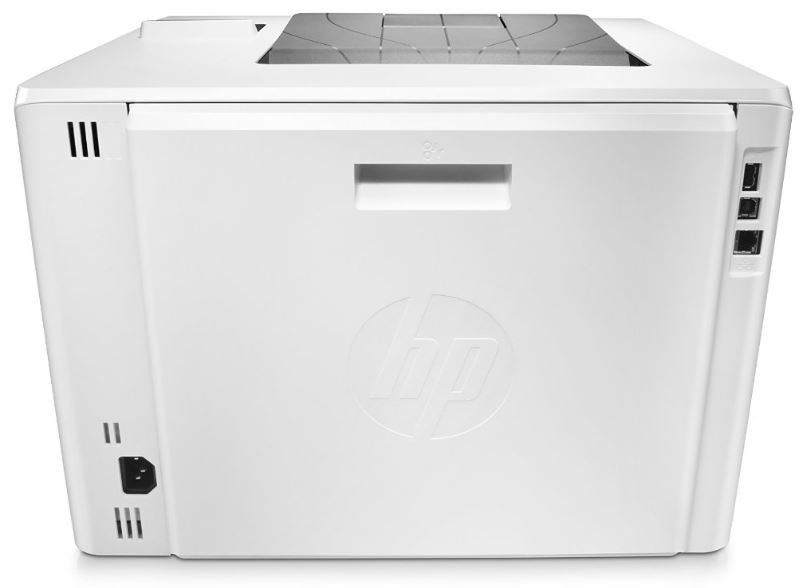 Economic Toner Options and Low Power Consumption
We're not all into micromanaging, however if it is your forte, you know how much better life can be when you have an effective option that saves you money.
That's a big part of the advantage of owning the HP Laserjet Pro M452dn color printer, because you can take advantage of high yield color and black toner cartridges that are designed to have a long and reliable life span.
It's a very economic option for professionals, because you have your choice between toner cartridges as well, where they provide anywhere from roughly 2,300 to 6,500 pages worth of toner, depending on the cartridge.
You'll also get professional quality color printing, but what's even better, a comparatively low total cost of ownership, which is said to be the lowest in this printer's class.
With a maximum of only 570 watts of power consumption and an average of 17.6 watts when ready and 2.4 watts while sleeping, it's even further of an economic choice, when you consider that the optimum page output per month is between 750 and 4,000 pages.
The standard paper tray has a maximum capacity of 250 sheets, with the option of adding one additional standard paper tray which isn't included. The multi-purpose trays can carry 50 sheets as well, and with a maximum output of a 150 sheet output bin, you can store up to 300 sheets of total input capacity at a time.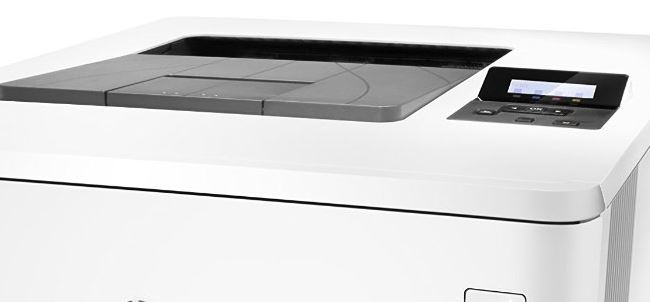 Ease of Use and Durability
Connectivity and security solutions are very important for a business office's printer technology, which is why HP has included security and management solutions for all of their printers.
These optional features include access to software that will notify you when you should replace toner cartridges as well as keep all of your data secure by providing a security key validation process for each user, as well as secure powering on and off.
You will also be notified on when you should perform regular maintenance on your printer, so that you don't have to manage scheduled times yourself.
In terms of connectivity and ease of use, there is an Ethernet connection option to give and control access to every device on your network, and also has a high speed USB option for saving and copying directly from external drive.
While it has only standard Ethernet network capability, it does work on a wide variety of operating systems, and will serve your office well in that area.
There's a 2 inch monochrome graphic display built into the HP Laserjet Pro M452dn as well, that although it may take some time to get used to and access the functions that you want, it's easy to use and read.
To top it all off, it comes with a one year on-site warranty with a year of access to technical support via telephone, email and live chat, and has additional warranty options with extended support that you can purchase as well.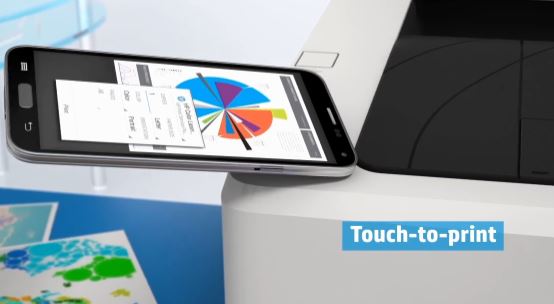 Mobile App
Printing directly from your mobile device is easily done with the use of their free app. Whether you have an iOS, Android or Windows Operating System, it opens up a whole realm of possibilities by letting you wirelessly print using a super-cool "Touch to Print" feature. When the mobile app is installed and running, all you need to do is hold it nearby the printer and the task will be sent directly for fast printing.
Conclusion
When it comes to color printing performance, the HP Laserjet Pro M452dn is not the best in its class, but while it doesn't support borderless printing, you do have access to high quality color printing with a huge variety of media types.
It's definitely engineered to provide advantages in economy by taking advantage of both low power consumption and high yield toner cartridges.
It's price is a little bit steep for some budgets, but all things considered it performs quite well for a printer with at least one of the lowest total costs of ownership in its class. If you're looking for a cost-sensitive and effective option with high quality and quantity output, it's surely worth the price tag.
The print and job start up speeds are impressively fast, to the point where your office can run smoothly, and also requires very little management, as solutions are made available to you, to let you know when the best time to change toner cartridges and schedule monthly maintenance is.
There is a major disadvantage in that you can only gain access to your office network via Ethernet cable, however it is secure, fast, reliable and secure with password integrity checks. Overall, a worthwhile investment for those looking to enhance their color printing capabilities.