There are many benefits to owning a pair of Bluetooth wireless headphones. Not just in that they're mobile and allow you to move around freely without running over cords, but also for greater sound quality with the latest in technological advancements.
That being said, a wireless connection is not required in order to have high quality audio through a set of headphones, so this type of headphone technology is susceptible to greater amounts of scrutiny in all areas.
If you don't have a stable connection or easy access to a wide range of devices, the drawbacks can quickly outweigh the benefits, leaving you with an overall inferior set of headphones.
We were generously sent a pair of 1byone Bluetooth Wireless Headphones to test out, review and determine whether or not they provide everything they say they will. We're going to discuss each of its qualities, as well as durability, comfort, ease of use and how well priced it is when compared to other Bluetooth 4.1 in-ear headphones of similar value.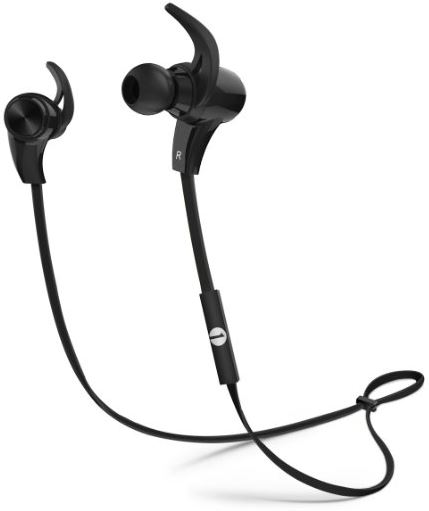 We'll also review the advanced features and capabilities, which may seem terrific with many brands of wireless headphones, but often disguise design and construction flaws which are noticed later on, after months of use or when hearing their audio quality for the first time.
Superior Audio Quality
Performance is one area where the 1byone Bluetooth Headphones really shine. They utilize advanced audio hardware technology to provide amazing sound that many high-end corded headphones don't produce, but is quickly becoming an industry standard for high quality listening.
For starters, the latest in cVc technology has been added to these headphones to enhance the quality of vocal audio that they produce, as well as dampen the distracting noises that occur when using a microphone in loud areas. It's also meant to boost the effectiveness of Bluetooth transmissions by screening packet losses and bit errors information, further increasing the sound quality and clarity.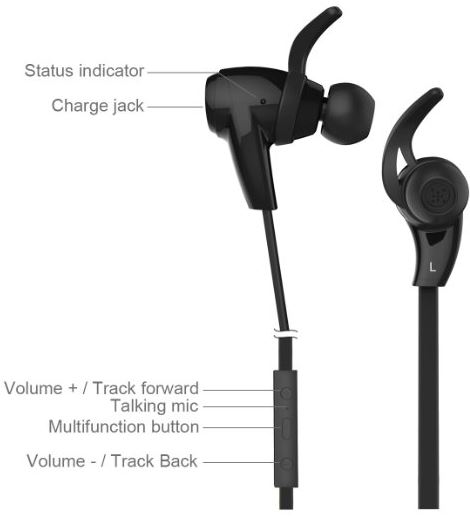 In the past, achieving professional sound quality over Bluetooth connections was definitely not the norm, as high resolution sounds require 24 bit speeds, where the industry standard has been about 16 bits.
These headphones support high resolution audio by including aptX HD technology that provide fast digital signal processing and stronger signal to noise ratios, as well as greater input and output subsystems to handle the data going back and forth.
Adjustable, Secure and Comfortable for Your Ear
With any in-ear headphone, it's important that you get not only the style that you like because of their look, but also ones which are designed to fit and accommodate the size of your ear, as well as the environments which you want to use them in.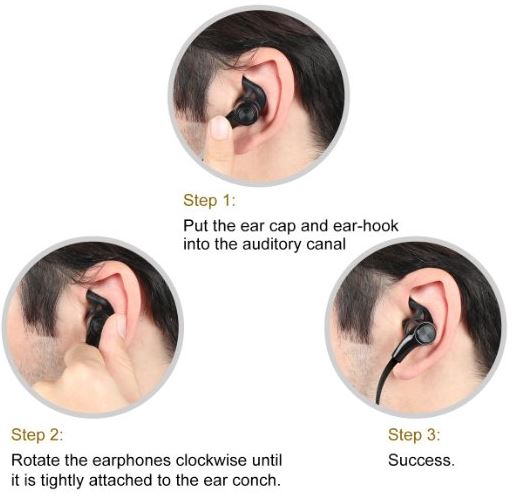 This used to mean selecting between different types of headphones, but the 1byone Wireless Headphones provide the small, medium and large earplug size options that other in-ear headphone brands offer, with the added benefit of being able to adjust he ear hook as well.
Being designed to stay secure whether walking around the house or performing demanding exercises such as sports, it really delivers what it promises in this area.
Durable Design and Construction
Everyone who's owned a pair of headphones likely knows how annoying it can be to have headphones that provide excellent performance and comfort die on you, leaving you without a quality option to listen to audio while on the go. 1byone has made extra effort to make their headphones easy to use, long lasting and able to endure adverse conditions, however it's very hard to achieve with Bluetooth technology.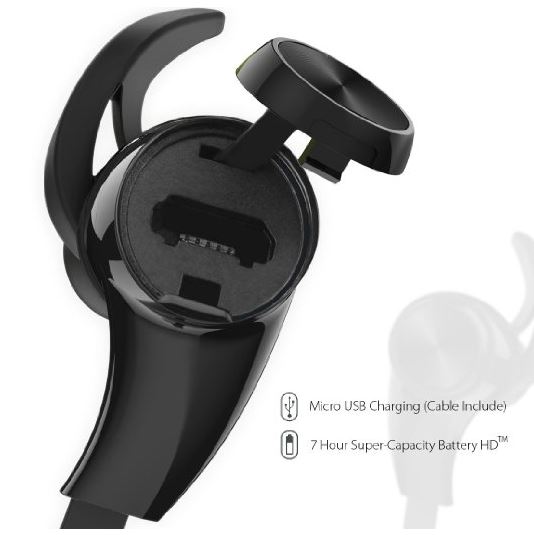 Overall, they're sweat proof and durable, however they're by no means waterproof, so you won't be able to wear them while swimming as getting their internal hardware wet may result in a drastic loss of Bluetooth signal strength.
One aspect that we haven't covered at all yet, is the Li-polymer battery which is capable of lasting for 7 hours of continuous use when fully charged. Its core is made by Panasonic to provide this amount of reliability even after long term use.
Compatibility and Ease of Use
Especially when used for sports, wireless headphones not only offer the benefit of a clean, organized and simple design, but also access to all of their basic as well as advanced features with very little effort, and without this quality, are much less valuable.
When the 1byone Bluetooth 4.1 wireless in-ear headphones offer here are three simple buttons that allow you to change to the previous or next track, play and pause music and adjust the volume with as little effort as possible.
It also uses voice prompt technology that you can activate to freely access additional features, like making phone calls and doing Google searches, completely hands free via intuitive voice commands, and even waking up Siri for Apple iPhones. There's also a battery level indicator which is only compatible with iOS operating systems, which displays your headphones' battery status on your phone.
While this is exclusive to Apple products, these wireless Bluetooth headphones are compatible for use with all Android smart phones as well.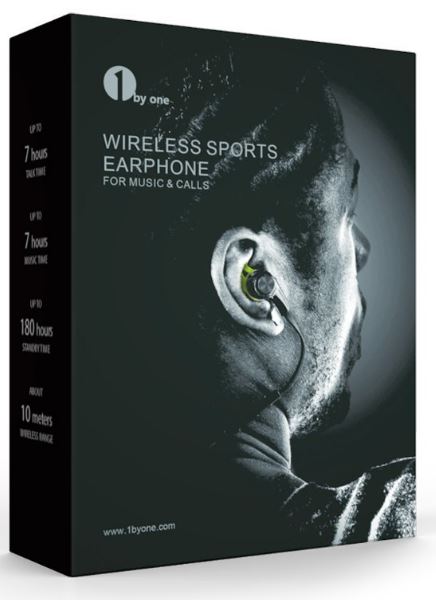 Pros and Cons
There aren't many obvious disadvantages to these wireless headphones when compared with most wired headphones, other than the added challenges of using Bluetooth technology.
1byone is using leading technology to make them among the best for their price range, by providing clear, strong Bluetooth signal even in loud environments, with the latest in clear voice capturing and high definition, high resolution sound.
When compared with corded headphones, they do have a strong disadvantage in that you must charge the battery each time you choose to use it for hours at a time, which can be more of a discomfort than it's worth, based on your preference.
For those running and lifting weights at the gym, or playing sports like basketball, it's an incredible advantage, because you don't have the mess of cords and still achieve very clear and high quality audio.
Also, when compared with other brands of wireless headphones, it's compatible with Apple and Android smart phones, and has many convenient features which can be a big advantage, especially when using the iOS operating system.
They're also about as comfortable and securely fitting as almost any other set of headphones out there, with the option of setting but the earplug and ear hook sizes.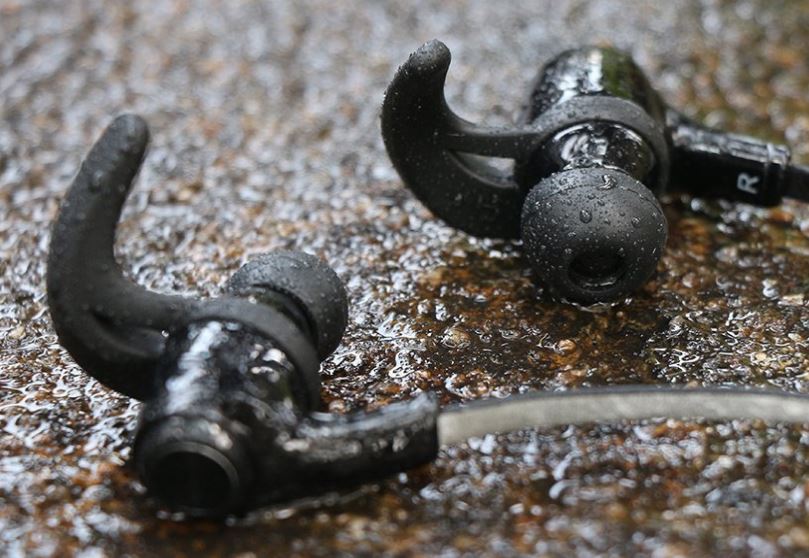 Final Thoughts
The 1byone Bluetooth Wireless Headphones compete well with some of the best headphones on the market, whether wireless or not, because they provide superior audio transmission and high quality playing quality.
The Panasonic battery core is a good indication of their overall durability quality, as they're designed to work as promised over many years, however you must be careful not to submerge them in water, which could leave them ruined.
You'll have greater peace of mind when you're given adequate notice and indication on the charge level of the battery, and also that they're useful for most indoor and outdoor activities, because they're at least sweat proof and designed to have optimum comfort.
They deliver ease of use as well, which is a great feature to have if you don't always have access to your hands when answering or talking on the phone, choosing the music you want to listen to, or even using Siri on your iPhone.
It's also not the most expensive set of headphones in its class, which makes it decently priced while still worth the money you pay for it.