A rock solid AV receiver is essential to any home theater system. The ability to process and amplify realistic audio/video and deliver it throughout a versatile network of devices, like Blu-ray players, video game consoles and your cable box is a huge advantage not only in the quality of audio/video that's achieved, but also the hardware that's compatible with your home theater.
Typically, the inherent advantages of an AV receiver over a standard stereo system has been the number of channels that are available, as well as supporting both digital audio and video.
We're therefore going to be rating the Denon AVR-X1300W and AVR-X2300W based on how well they deliver on the demands of advanced high definition video and high resolution audio data to deliver well-directed, loud and crystal clear entertainment.
The following features are what we believe these AV receivers offer that really make them a unique and powerful option for your home theater system:
7.2 Channels with Consistent Wattage
3D and 4K Ultra HD Video
Bluetooth and WiFi Compatible
Versatile Audio Amplification Technology
Free App for Wireless Controlling
We're going to be covering each of these aspects in detail, and discuss all of the individual features that these AV receivers provide, to determine their performance as well as their relative value based on the technology that's currently on the market.
Another important quality which we're going to discuss is the ease of use that they provide, from overall compatibility to the wireless streaming and remote control options, to help you form a clear opinion on whether or not they're right for your home entertainment system.
7.2 Channels for Optimum 3D Audio Compatibility
One of the main challenges with 7 channel AV receivers like these Denon models, is that although they do provide for both front and rear surround sound speakers, the amplification power is often compromised by the number of channels.
The difference between 7.1 channel, and 7.2 channel receivers like the Denon AVR-X1300W and AVR-X2300W, is that they have 1 or 2 subs respectively.
The current standard on the market for AV receivers is to provide between 5 and 7 channels to support multiple speakers, and as current media caters to what's popular, 5 channels are what's typically supported, however this is subject to change.
Channels 7.1 and 7.2 refer to the multiple subs that optimize low frequency sounds and direct audio so that the front- and rear-facing surround speakers produce appropriate sound based on their position in your room.
Although most media doesn't support dual sub capability, this is actually an advantage, because as technology advances, the 80W and 95W per channel of the AVR-X1300W and AVR-X2300W respectively, will serve you well for many years to come.
Full Rate Pass Through for HDMI
Video quality is another serious performance concern. A major benefit of an AV receiver for a home entertainment system is being capable of supporting all of your media, whether it's 4K Ultra HD or 3D video, 3D audio with zero distortion.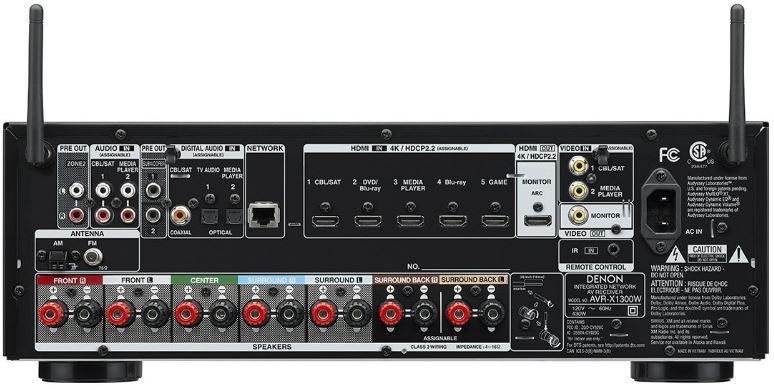 Denon has made every effort possible to ensure that neither the AVR-X1300W nor the AVR-X2300W limit the quality of video achieved via their HDMI inputs and outputs.
For starters, the HDMI ports have 4K/60Hz pass through, to where both models support 3D and 4K Ultra HD video, however the AVR-X2300W also provides for 4K upscaling, so that you can watch all of your favorite shows in beautiful 4K HD.
This also means that both AV receivers deliver 4:4:4 color support, providing a full picture without any subsampling, or in other words without distorting the image due to limited processing speeds that require groups of pixels to be blocky.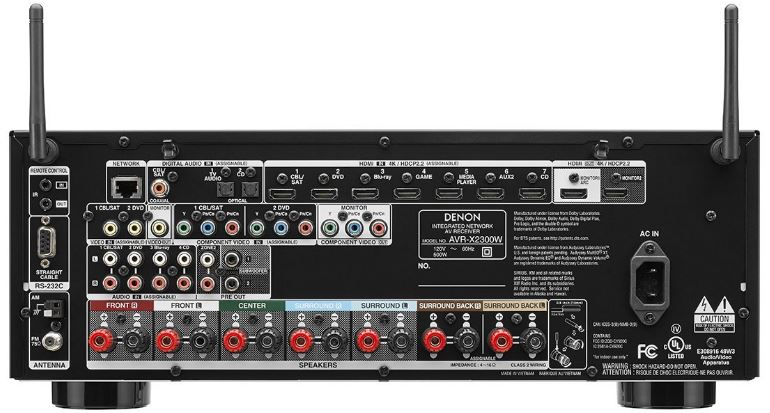 The video quality is further supported by fulfilling BT.2020 requirements that ensure a vast color palette which presents images exactly as intended during post-production of media, with the depth and precision that's required.
Versatile Compatibility Options
Compatibility is one area where the AVR-X1300W and AVR-X2300W vary significantly, although the value of each is justified, considering that each input and output source must deliver consistently high performance.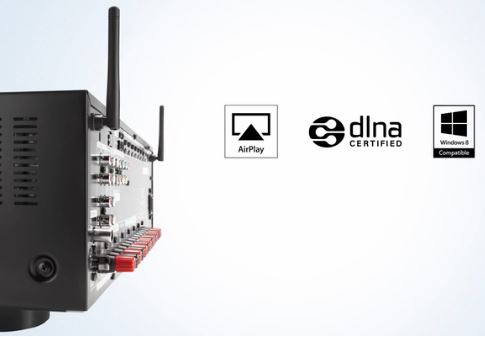 Denon provides 6 and 8 input HDMI inputs respectively, which is more than adequate for most home theater systems equipped with television, Blu-ray players and game consoles, while those with a wide variety of devices will likely opt for 8 inputs for a clean and convenient setup.
The AVR-X2300W has two HDMI outputs while the AVR-X1300W has only one, but they're both HDCP 2.2 compatible, so you won't be limited by the legal requirements of your video devices, depending on whether you wish to view on one or two screens.
However, both AV receivers provide wireless access with some technological advancements to allow you to effectively stream media wirelessly through your receiver.
Equipped with Bluetooth 4.0 and WiFi, which are capable of high speed data streaming, both AV receivers provide high quality video due to low wireless data loss and conserve the battery usage of your wireless devices as well.
While video and audio streaming quality is ensured by their Bluetooth and WiFi technology, another compatibility concern is the data compression technology of wireless devices themselves, and Denon has done an excellent job with overcoming this.
The following is a list of the data compression requirements of wireless devices, from radio to Sony, Panasonic and Apple devices, which the AVR-X1300W and AVR-X2300W are compatible with:
Airplay
vTuner Internet Radio
Pandora
SiriusXM
Spotify Connect
DLNA (Digital Living Network Alliance)
DSD (Direct-Stream Digital, Sony and Philips)
FLAC (Free Lossless Audio Codec)
ALAC (Apple Lossless Audio Codec)
AIFF (Audio Interchange File format)
Total Control of Audio Enhancement Features
Even with access to 80W or 95W channels, there is some amount of audio distortion, and while both of these AV receivers deliver a near-zero 0.08% THD, Denon has provided excellent audio enhancement technology to overcome this constraint.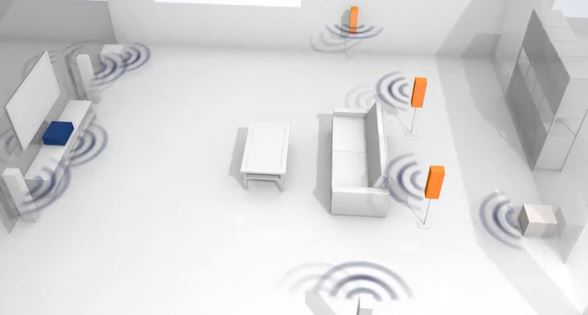 What's more, one of the major advantages of any home theater system receiver, whether stereo or AV, is the ability to optimize the sound based on volume, directionality for your speakers and the EQ options based on your entertainment choices.
Although Denon does deliver 7.2 high power channels for sound, both receivers are also engineered for 3D sound which turns audio into different entities to literally move around you, rather than be directed from a central location.
This is made possible by the integrated Dolby Atmos technology that's compatible with up to 5.1.2, which transforms your home entertainment system into a realistic 3D audio environment with dynamic, clear detailed sound.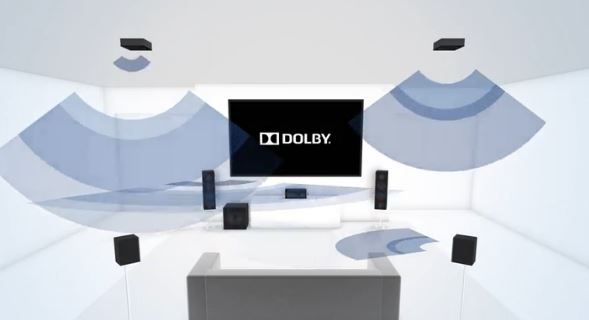 Both models are equipped to run DTS:X in case you don't have the 6 speaker requirement of Dolby Atmos, which you can access via firmware update, and delivers realistic 3D sound, and ensures comprehensive access to theater quality surround sound overhead effect soundtracks.
In terms of distortion correction, much of it is determined more by the room you're in than the technology you're using, which is why Denon has included Odyssey MultEQ XT technology.
What this does is analyze your room based on the way sound reflects off of objects thus distorting it before it reaches your ears, and corrects your receiver's audio output to each speaker to create the perfect listening environment, no matter your volume or equalization settings.
Complementary Smart Remote Control App
With the massive amount of audio and networking options provided by these high quality AV receivers, it becomes much less simple to access and control all of your settings and devices.
Denon has thus included a free app which is compatible with iOS, Android and Kindle Fire as well as an on screen Setup Assistant, making it such an easy system to install and begin using, even providing PC browser access to the entire setup process.
This also means that you don't have to squat in front of the system to program precise settings, making it comfortable and fun to play around with on the large screen of a tablet, providing an easier way to update the receiver's audio software as well.
For added ease of use, there's a USB, HDMI and microphone input port on the front panel of both receivers, giving you quick access to streaming from devices that aren't Bluetooth enabled, as well as providing an option if you choose not to use Bluetooth or WiFi.
There's an Eco mode as well, which reduces overall power consumption dynamically from all 7.2 channels including subs, depending on the volume settings.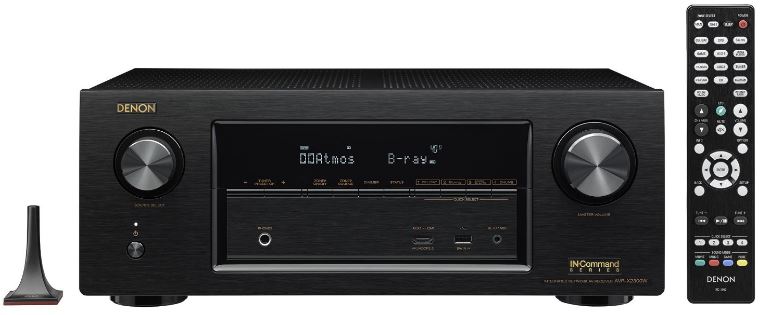 Final Thoughts
Both the Denon AVR-X1300W and AVR-X2300W are powerful options for any home theater system, especially considering the coming advancements in audio technology across all media.
The major area where the AVR-X2300W is comfort and ease of use, providing an option to view video via full pass through HDMI outputs in two different rooms, however both come stocked with theater quality 3D audio features and 3D as well as 4K Ultra HD video.
The channel wattage of the AVR-X1300W is slightly lower, and doesn't include 4K upscaling like the AVR-X2300W which further justifies its higher price, however with such massive compatibility including Dolby Atmos, DTS:X and Odyssey MultEQ XT technology, the hardware of both receivers is far above average.
Overall, both should provide top-class audio and stunning visual enjoyment for whichever purpose you're using your chosen receiver for. If you have any questions or would like to know more about a specific feature, please let us know by leaving us a comment below.
Meet Derek, "TechGuru," a 34-year-old technology enthusiast with a deep passion for tech innovations. With extensive experience, he specializes in gaming hardware and software, and has expertise in gadgets, custom PCs, and audio.
Besides writing about tech and reviewing new products, Derek enjoys traveling, hiking, and photography. Committed to keeping up with the latest industry trends, he aims to guide readers in making informed tech decisions.