If you're a fan of playing video games to their full potential, you likely know the importance of high quality audio and communication between your friends and allies. While speakers usually provide plenty of volume for a realistic listening experience, to fully immerse yourself into the game with total realism, you're going to need to invest in a high-quality gaming-specific headset. Sound quality, microphone quality, comfort, and responsiveness are essential, as well as the key, core-features.
As the newest release from iDeaUSA, the iDeaGamer S408 4D Gaming Headset appears to have everything and more that you'd ever desire in a high-end gaming headset, but can it really perform as well as it promises? We were fortunate enough to receive it free of charge in exchange for an honest, truthful and in-depth review to provide a fair and balanced conclusion on whether or not it's worth your investment. Let's take a closer look by first examining it's core-features and going over each one in detail.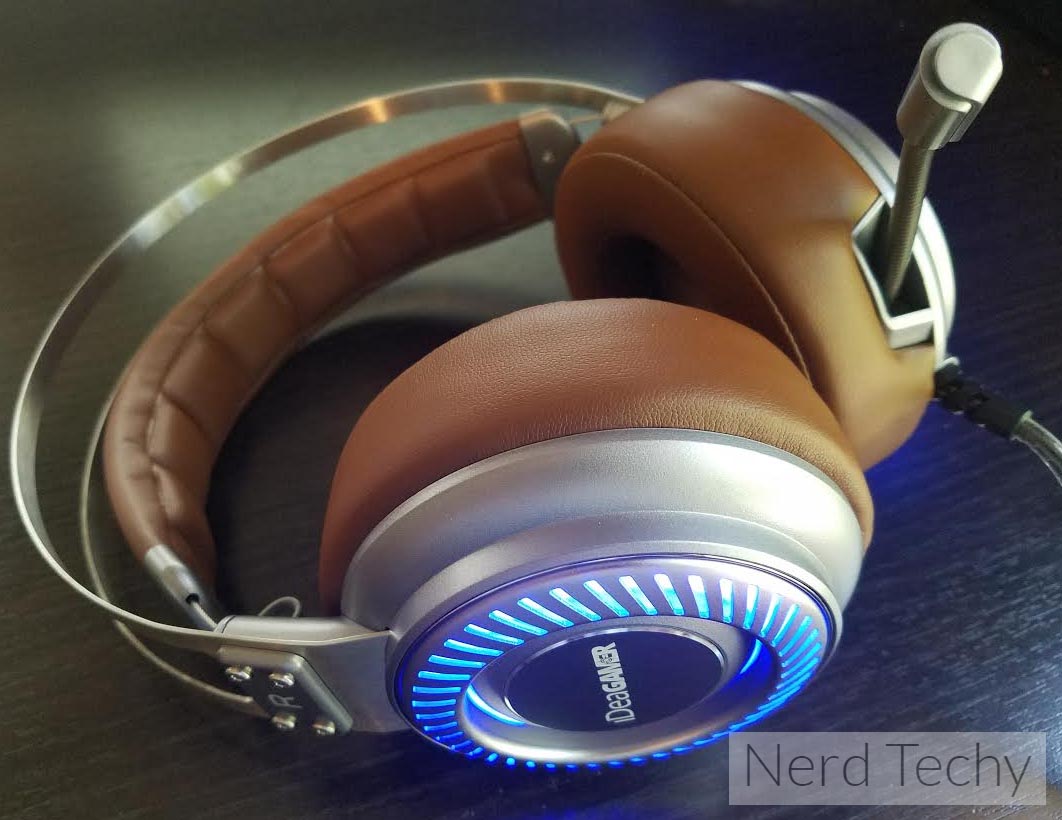 Unboxing and Setup
Right from unpacking it and seeing it for the very first time, we were surprised with its overall size, but relieved that it felt incredibly high-quality and built with the integrity you'd expect in a headset that retails for over $100. It's over-ear, over-sized design isn't really a turn-off – it's quite bulky but that's perfectly okay with us. Right away you'll notice that there was plenty of thought put behind the design and structure of it. A large, sturdy 301 stainless steel skeleton band connects the two ear cups with a soft, padded, elasticated leatherette band that automatically conforms to the size, shape and curvature of your head.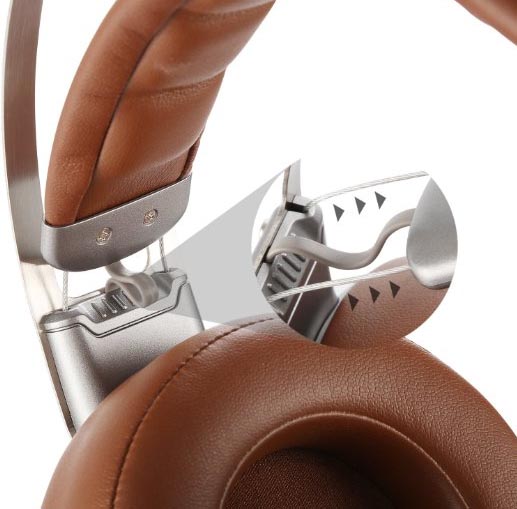 With a wired USB connection, you aren't given as much freedom as a Bluetooth or wireless headset, but since the iDeaGamer S408 4D Gaming Headset isn't specifically purposed for portable use, that's plenty acceptable. Ideal for desktop PC or Playstation, all you need to do to start using it is plug it in. Upon doing so, you'll immediately notice that the outside of each earcup is equipped with blue LEDs – kind of cool and a nice touch of aesthetics! Although there's no real reason for this other than looks, it's nice to see that a little extra thought was put into the appearance.
With nearly an 8 foot cable, you're somewhat limited as far as mobility goes – you won't be able to leave the room with them still on your head. But this isn't necessarily a bad thing – sometimes dealing with the pairing, battery life and durability of a wireless headset is too much of a hassle.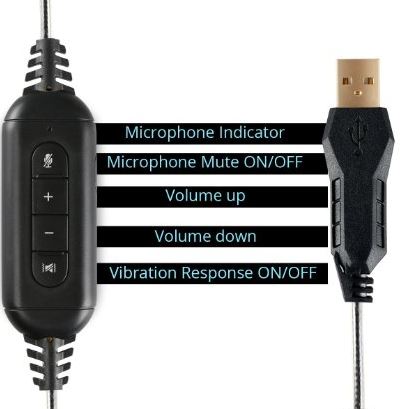 About 2 feet down the cable is a small controller that's been integrated for adjusting the volume, turning off the vibration response or muting the microphone. These controls are conveniently placed and seem to work just fine without the need for any additional software, drivers or added tweaks. However, if you do experience any issues, you can always download the drivers on iDeaUSA's official website for free, at anytime.
Comfort
Upon placing them on your head, both of your ears will be completely covered by each over-sized earcup. Measuring 4.16″ in outer diameter with a 2.16″ inner diameter, your entire ear becomes enclosed into a plush memory-foam padded cup that seals your listening experience and naturally cancels out any distractions. Although the pressure and size of the headset can't be adjusted, we're quite happy with how it feels. Even through multiple intense 4-5 hour gaming sessions, we didn't have any complaints regarding the fit and comfort.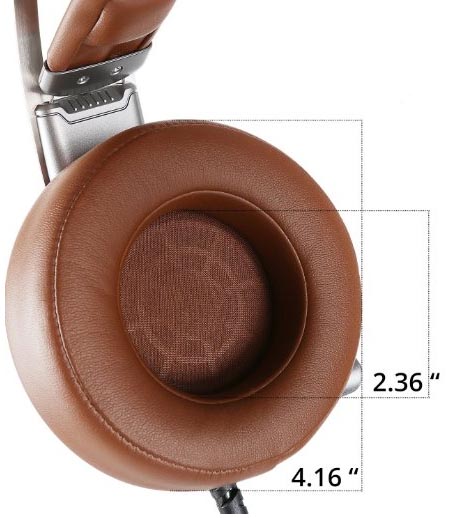 Sound
Likely the most important aspect to selecting the right gaming headset is the sound quality. No matter what kind of game you're playing, if you want to play your best, you need to be auidbly aware of your surroundings. iDeaUSA put special consideration into the sound that the iDeaGamer S408 is capable of producing with 50mm speaker drivers and a 360 degree sound field. To quickly sum it up – it's excellent, 9.9 out of 10 for us.
The 4D listening experience is something that we've never really had the opportunity to experience before. Virtual 7.1 surround sound pairs well with the 4D bass enhancement to provide a phenomenal sounding game with realistic effects coming from different distinctive directions. On the computer, we found that it excels with FPS (first person shooter) games like Call of Duty but works equally well with MOBA (multiplayer online battle arena) games like League of Legends.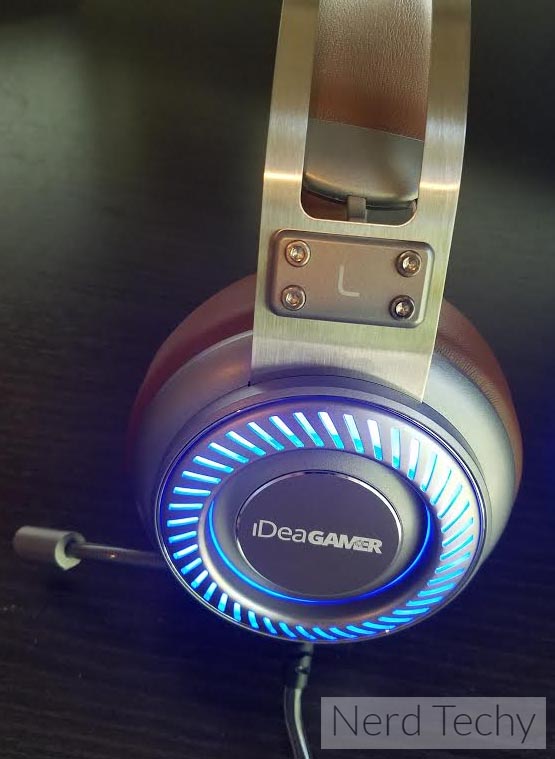 Using it with the Playstation 4, the quality remained the same as it seemed to excel with anything we threw at it. The realistic effects were a huge help in figuring out exactly where enemies were coming from since we could hear sound from behind, to the side and from right in front of us with surprising precision.
The bass effects seemed to always be right on par, although it doesn't seem to be adjustable. One thing that some gamers would like to have is a specific bass-volume adjustment. Rest assured, we're not complaining about how the bass sounds, just that you can't crank up the subwoofers and keep the volume a little bit lower. This isn't a huge issue for most, especially since the headset sounds excellent without a single adjustment needed.
In fact, the bass is likely one of our favorite aspects to the whole headset itself. It gives a gentle rumble when you're listening, but not too powerful – just enough to provide more realism without any ugly distortion or low-end sounds. It's an exciting effect when you're in-game and a grenade blows up or you hear powerful gunfire from close by.
Microphone
Other than sound, a microphone is an essential feature that needs to be taken into close consideration if you're one who plays video games with friends and allies through voice-chat. Whether you use Teamspeak, Ventrilo, Skype or an in-game communication system, the clarity of your voice is important so you can fully cooperate without any hesitations.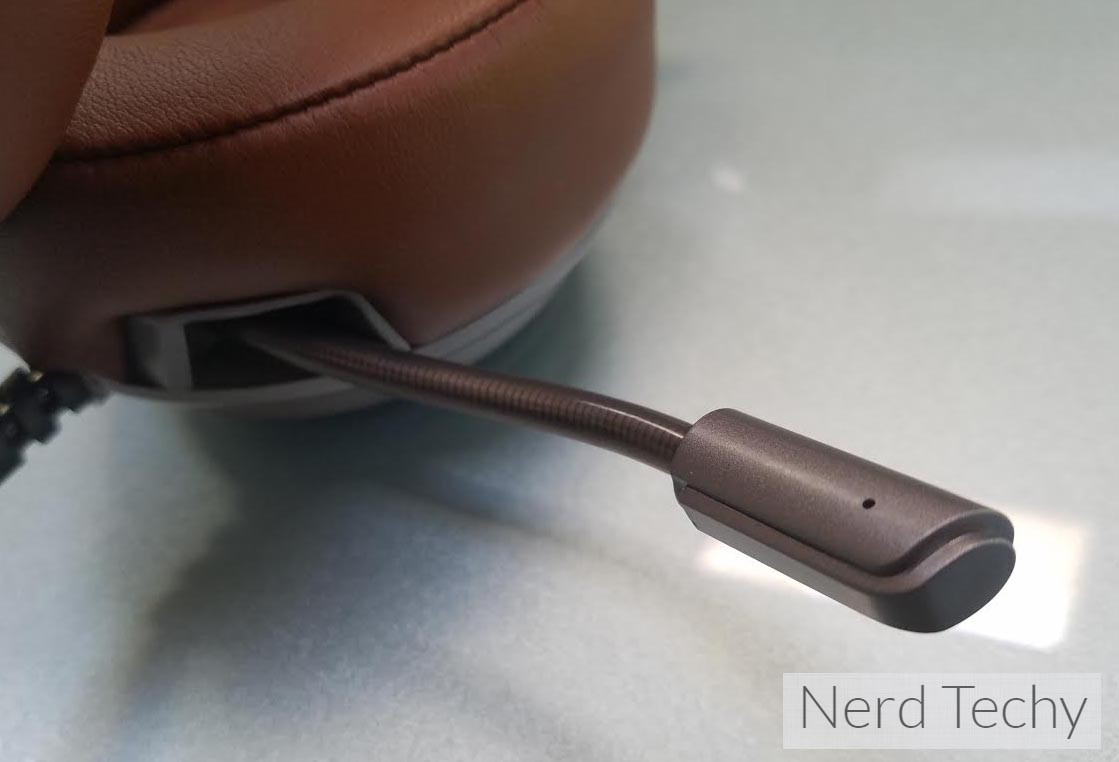 On the left ear cup is a microphone that retracts and pivots to pick-up omnidirectional sound positioned to the side of your mouth. It seems to do a great job at keeping the background noises to a minimum and only providing transmission for your voice. This way, your teammates don't have to be distracted by other things that may be going on in the same room that you're playing your game in.
We tested the microphone on both PC and Playstation and found that it works equally well. Although it doesn't retract that far out of the ear cup, it definitely picks up all of the verbal communication without any issues. The physical adjustability of the mic is great. You can bend and twist it into any specific angle you'd like, and it can always be inserted into the ear cup when not in use.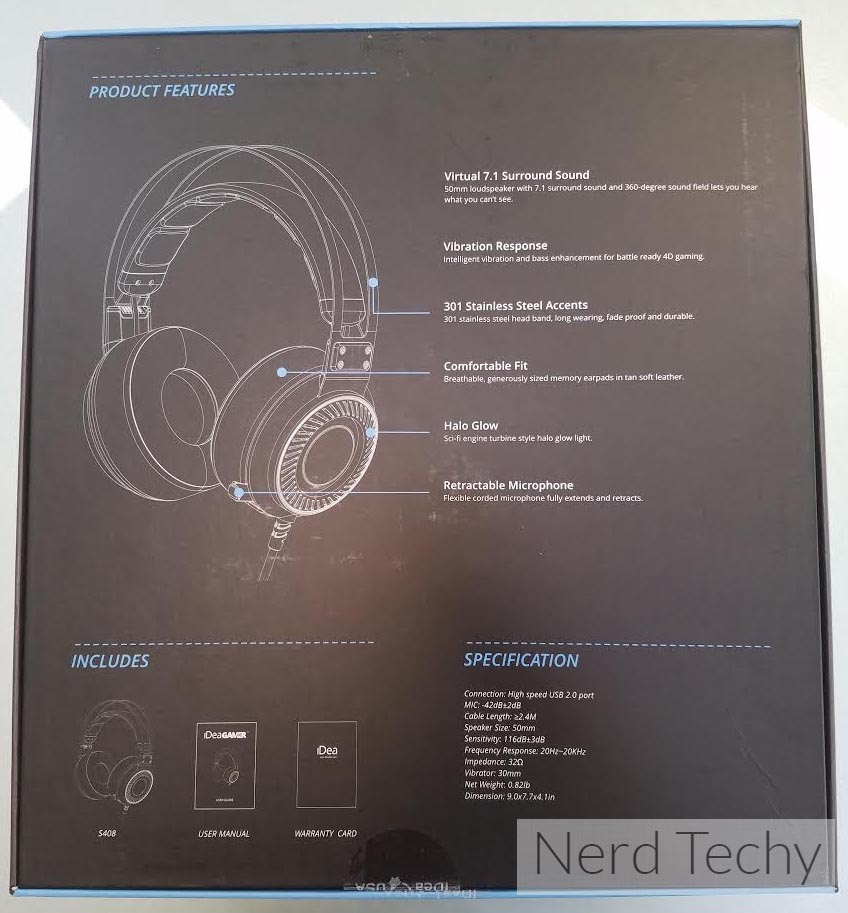 Pros
Incredibly comfortable, well-built, and quality-made.
No adjustments needed. One size fits all.
Tangle-free braided and coated cable with integrated controller.
Incredible sound with realistic bass and surround sound.
Illuminated halo glow light on the outside of the ear cups.
Cons
Fully wired, USB connection cannot be used for devices that don't have USB.
Priced higher than other options.
No headphone (3.5mm) input.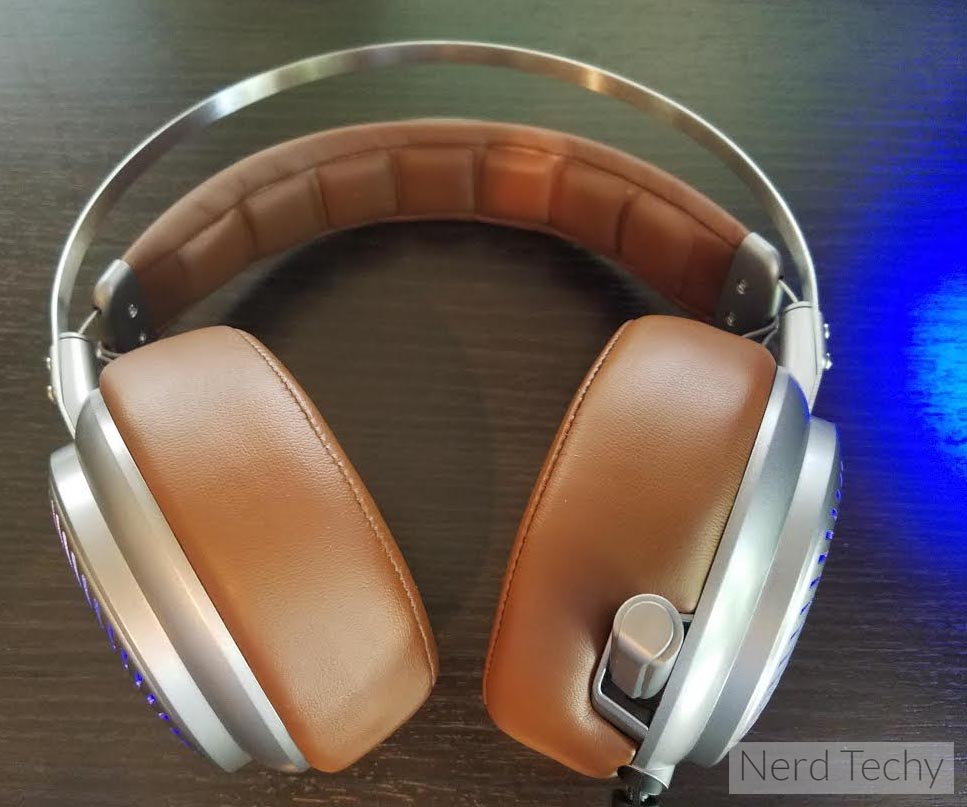 Final Thoughts
Whether you're looking to upgrade an existing headset or invest in your first one, the iDeaGamer S408 4D Gaming Headset provides a wealth of high-end features that assures you'll be closely-tied to the game and the action at hand. With outstanding comfort, phenomenal sound, and quality put into every detail, it's a phenomenal headset, but it does come at a somewhat steep price tag.
Backed by an impressive 12 month warranty and a 30 day money-back guarantee, it's a great investment for both the casual and professional gamer alike. Although the USB connection and bulkiness limits it a bit in terms of portability, we feel that any PC or Playstation gamer would surely benefit from everything it has to offer.