Quick Analysis
Pros
15 connection ports.
Designed for Thunderbolt and USB-C laptops.
100W charging power.
Sturdy, space-conscious design.
Handles up to two 4K monitors.
Cons
Monitors are capped at 60Hz.
A bit expensive.
Only one Ethernet port.
If you own a modern smartphone then your charger is likely one of two types: Thunderbolt 3.0 or USB-C. Thunderbolt is the proprietary charging mechanism for Apple products and USB-C is the more general option that is used by Android phones and other types of smart devices.
Laptops and computers used to connect all the ports you would need to charge your devices. However, now we're facing an impasse in which many computers are losing their charging ports. Even worse, a computer might have a USB-C compatible port but won't have a Thunderbolt 3 charger. So you often cannot use your computer to charge both types of devices. Even if you have the charging pots, you might not have enough of them. This matters if you consistently rely on something like an external hard drive when working on your laptop or computer.
That's where charging docking stations come into play. These devices plug into your computer and extend the kinds of ports you have access to. Docking stations also have a separate power supply so you can charge any of your devices, including smartphones and laptops. In other words, docking stations are a multimedia desk-setup and let you greatly extend your device connectivity.
Today we're going to talk about the Kensington SD5600T Thunderbolt 3 Docking Station. This docking station is a top-of-the-line docking station designed for both Mac and Windows devices. It also has great connectivity features for monitors and HDMI devices. We'll talk about its features, connectivity options, power performance, and more. Then, we'll give our verdict on whether it's worth investing in.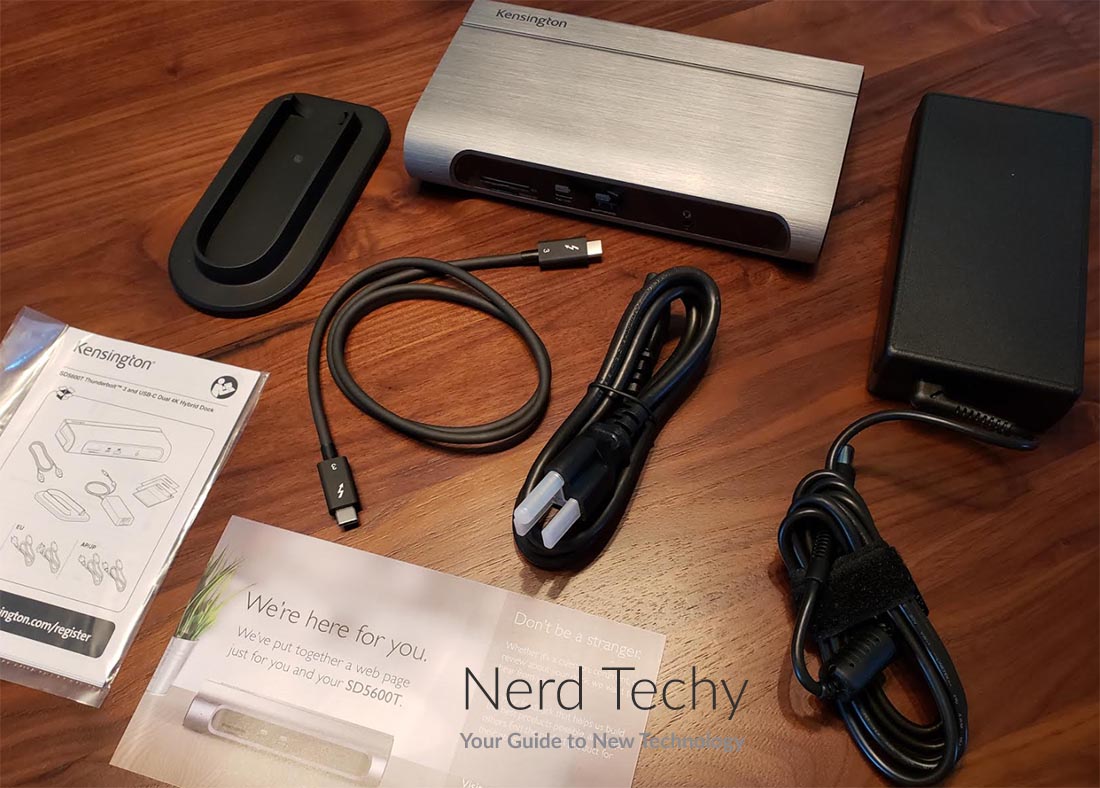 Design and Overview
The Kensington SD5600T is a small rectangular device that can be plugged in and placed on your desk. It's made with a matte finish ABS plastic with a soft gray color scheme. In many ways, it's meant to work as a comprehensive connection solution for all your devices – laptops included. It provides five USB 3.1 ports, 2 HDMI display ports, a Thunderbolt3/Type-C USB host port, a gigabit Ethernet port, a MicroSD reader on the front, and a headphone/microphone input. The front also contains both a Type-C USB input/output next to the MicroSD reader and headphone jack.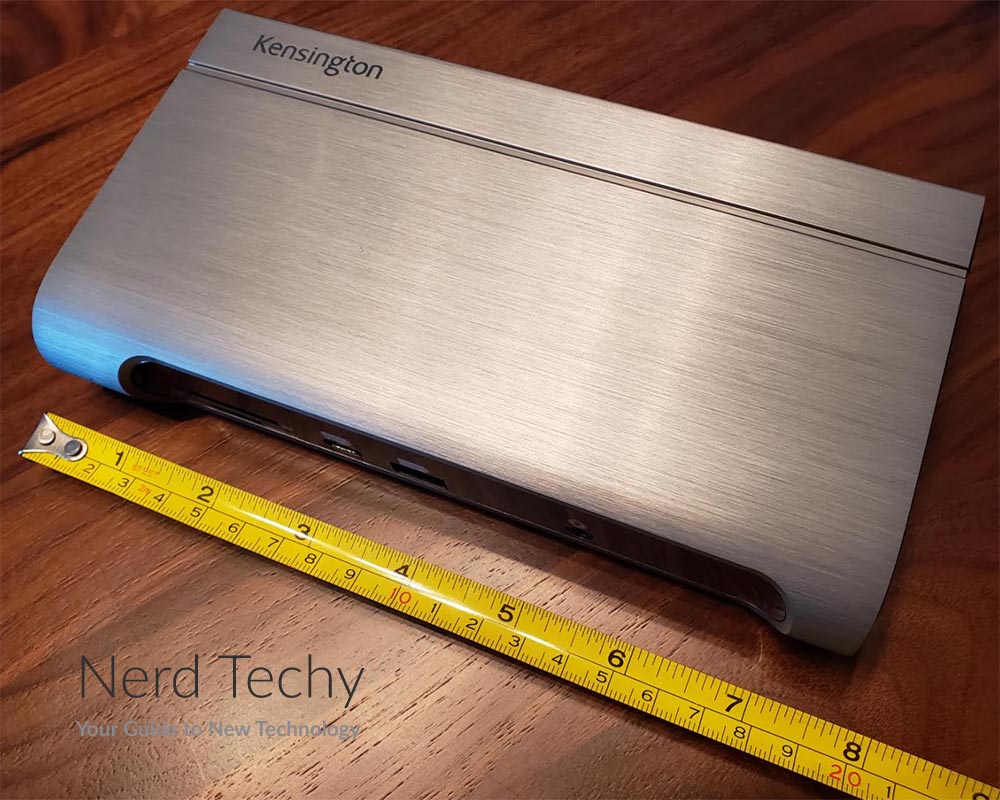 All of these ports might seem overwhelming but they all work independently of each other. The unit itself is about 8 inches long and can be placed either horizontally or vertically on your desk. Overall, it's built tough and is surprisingly solid (heavy) for its size. It's incredibly sturdy and the ABS plastic feels like it can take a beating before breaking. We found some reviews from people who claimed they dropped their docking station large distances and it still works fine. Kensington is mostly known for its high-end offerings so this point hardly surprises us.
One other design feature is that the docking station's power supply is distinct from the device itself. The charging cable has a transformer which means that any heat generated from power is not located in the device itself. This is a good feature because excess heat could affect the connectivity of anything else you have plugged into the docking station. Of course, that means that you will need some extra space near your desk for the power supply. If you want something that's a bit sleeker and takes up less space, we would recommend checking out the Kensington SD4850P.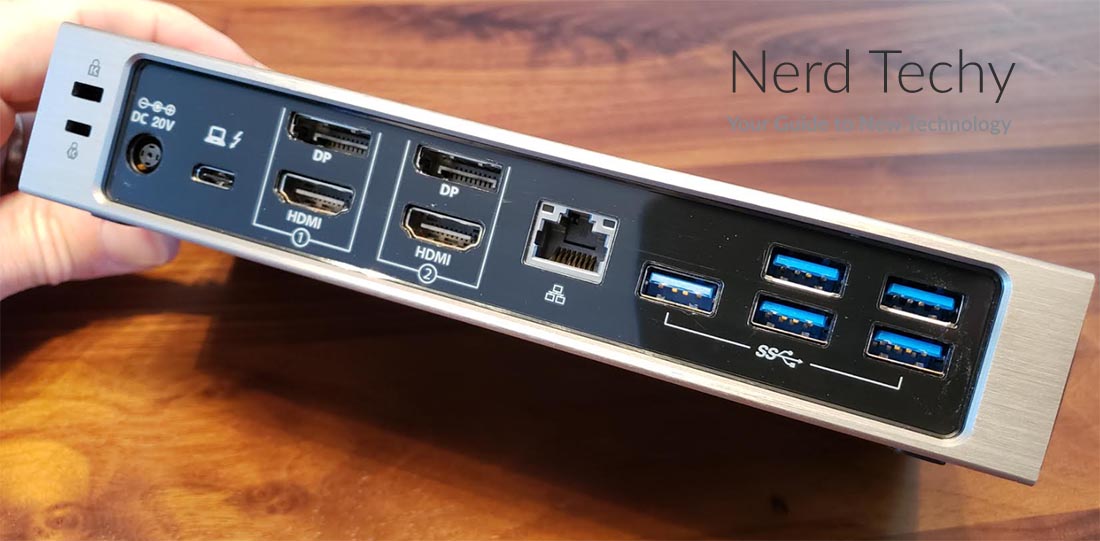 Connectivity Options
There are a lot of connection ports on the SD5600T so we're going to take a look at those first. On the back is the proprietary power port right next to the Thunderbolt port that you connect your laptop to. The power input is actually different from other Kensington devices so you, unfortunately, cannot reuse an older power cable from another Kensington unit. The Thunderbolt port next to the power port sends and receives data to your laptop and will also recharge the battery. The device comes with a 2.6 feet cable that's Intel Certified Thunderbolt 3 which can transfer up to 40 Gbps. One problem with older USB cables is that they cannot move enough data fast enough to avoid performance interruptions, but this new generation of USB cables are equipped to handle it.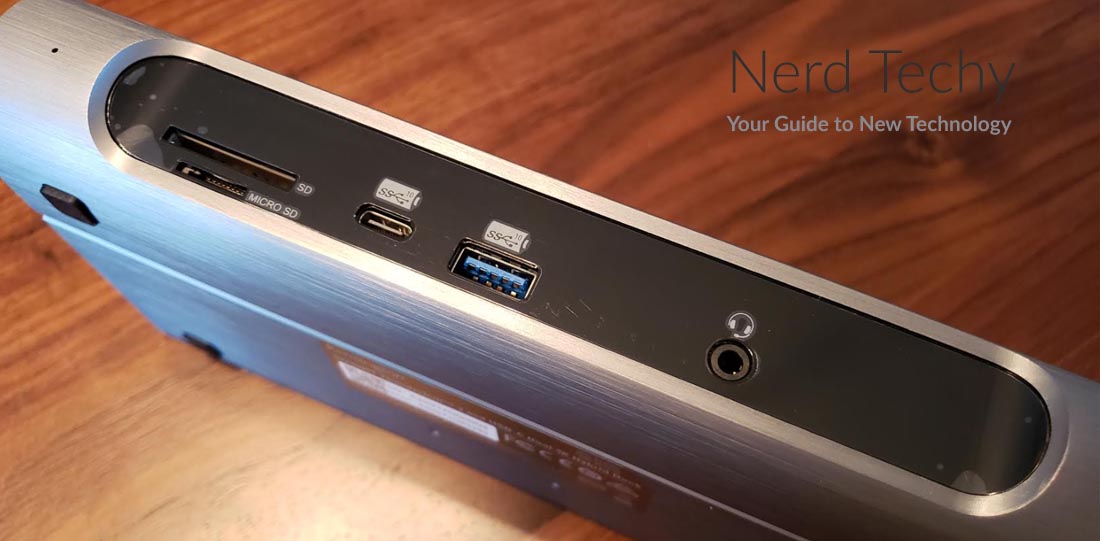 Next to the Thunderbolt port are two HDMI ports. The HDMI ports are one of the best features as both can support 4K monitors. You can run two 4K monitors simultaneously or use one for an 8K monitor. 8K monitors are still not very common, however, so most people probably won't use this option, but it's still nice to have. Keep in mind that your monitors will be capped at 60Hz so unfortunately, you won't be able to take full advantage of your monitor if it has a higher refresh rate of 144Hz.
Next to the HDMI ports is a gigabit Ethernet port that has two LEDs to show the data transmission speed. You can plug the docking station directly into your ethernet if you cannot plug it into your laptop. The upload/download speeds are fairly consistent and tend to hover right around the gig mark, as long as you're not taxing your computer's RAM on a separate task.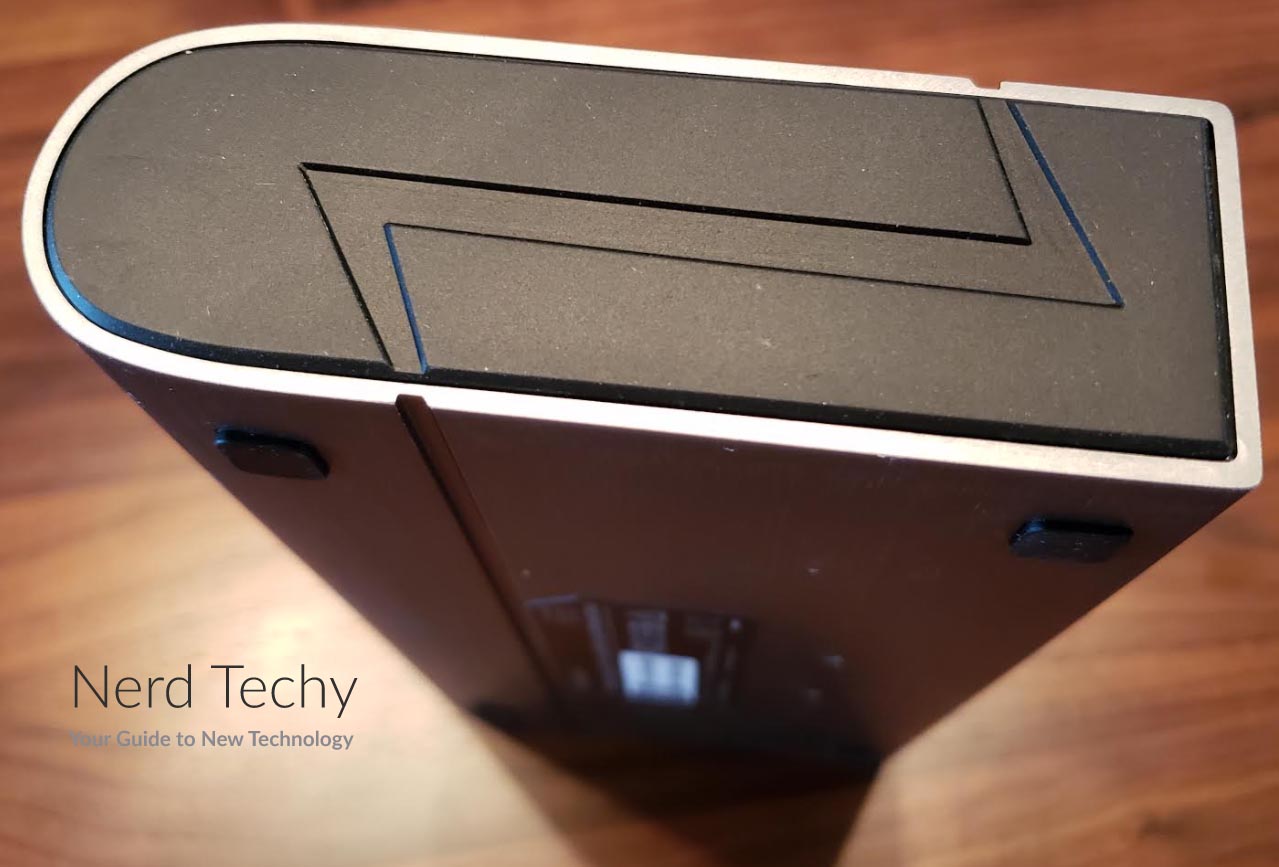 In addition to these connectivity options, the SD5600T also has a 100-watt power supply for charging your laptop with power delivery 3.0. This should be enough to allow you to use your laptop indefinitely when plugged in. However, it'll charge much slower if you're using your laptop while it is charging. The Power Delivery tech lets it change current and voltages in response to your battery's current level so you get a more efficient charge. Current and voltage modulation also prevent battery damage from overcharging, which is a common threat to the lithium-ion batteries that most commercial-grade laptops typically use. Keep in mind that your laptop must be able to support Power Delivery options. If you have a laptop from within the past three years, then you're likely good to go.
The SD5600T also has what is called Kensington DockWorks software, which has some Smart options that optimize your connection. The DockWorks software can decide when it's best to connect to LAN or WiFi. It can even mirror your laptop's MAC ID so it is more visible across the network, and lets IT admins see what's connected to the network. This software package also automatically downloads and updates the drivers of any device you connect so you don't have to worry about sitting down and manually dealing with driver installation. This plug and play aspect makes it very easy to use.
The SD5600T has both Thunderbolt and USB-C connectivity, but it seems to favor Thunderbolt connectivity. The unit supports up to 40Gbps for Thunderbolt cables but only allows up to 10Gbps for USB-C laptops. So while you can still get good bandwidth connection with a USB-C laptop, you'll get better speeds with a Thunderbolt-enabled laptop.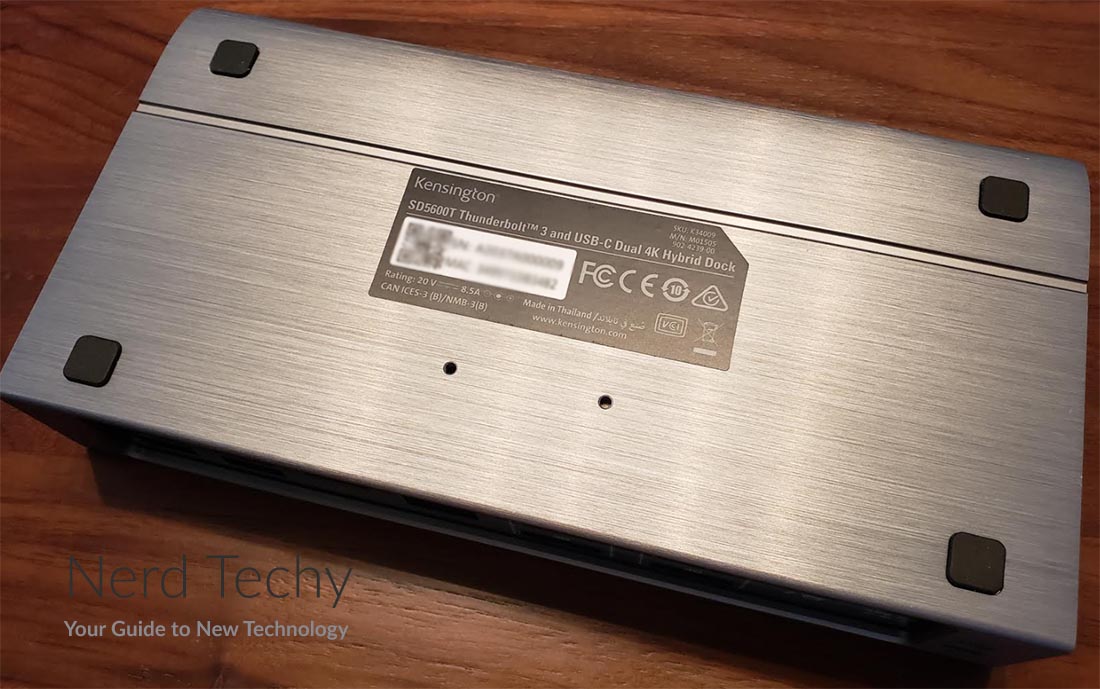 Setup/Installation
Setup and installation is probably the single best aspect of the Kensington. Everything is designed for plug-and-play so you don't have to worry about drivers or software packages. Just plug your laptop into the Thunderbolt or USB-C port, connect any other devices you need, and you're good to go. The charging ports put out up to 100W of power so it's likely strong enough to power virtually any laptop.
The connection speed from the ports is very fast too. Even with the 10Gbps USB-C port, you should not notice any significant lag for read/write speeds. The only difficult part of setting up might be connecting multiple monitors. As we said, 4K monitors are capped at 60Hz so you won't be able to take full advantage of a monitor that has a higher refresh rate. Though, to be honest, you'll probably never need a monitor with a 144Hz refresh rate unless you play competitive shooters. If you just use your monitors for work then you will not notice a difference between 60Hz and 144Hz.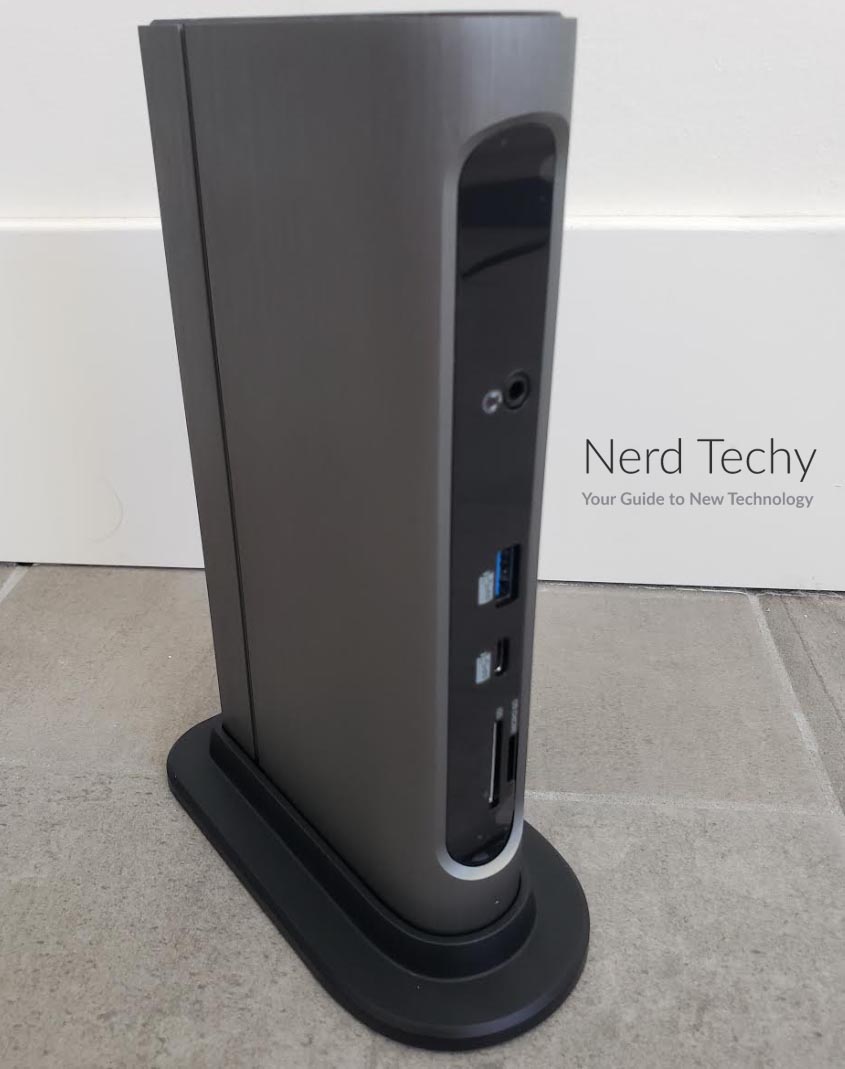 Also, there's one more important point we should cover with regard to installation and setup. If you have a new Macbook with the M1 chipset, then it'll only display on one monitor. This is because the chipset has some limitations. Kensington has some accessories to get around this, but these accessories do not come included. You'll have to buy some extra hardware if you want to use 2 or more external monitors.
The SD5600T is not perfect, however. It has 15 connection ports but it cannot run all of them very well at the same time. If you have every port occupied or as many as you can, you might notice some drops in performance. For example, your devices might charge slower than usual. However, if you just use a handful of ports at once you shouldn't see any performance issues.
Final Words
The Kensington SD5600T is a next-gen docking station that works very well with today's USB-centered tech. It provides numerous ports for all your devices and has a good build-quality that can stand up to a lot of use. It even includes onboard software protocols to optimize connections. Additionally, it can handle up to two 4k monitors at the same time. So if you have a lot of USB devices and need a single station from which to operate them, it really is an excellent choice for the money.
Meet Derek, "TechGuru," a 34-year-old technology enthusiast with a deep passion for tech innovations. With extensive experience, he specializes in gaming hardware and software, and has expertise in gadgets, custom PCs, and audio.
Besides writing about tech and reviewing new products, Derek enjoys traveling, hiking, and photography. Committed to keeping up with the latest industry trends, he aims to guide readers in making informed tech decisions.